Looking for baby registry must haves? I'm sharing 50+ items that we loved!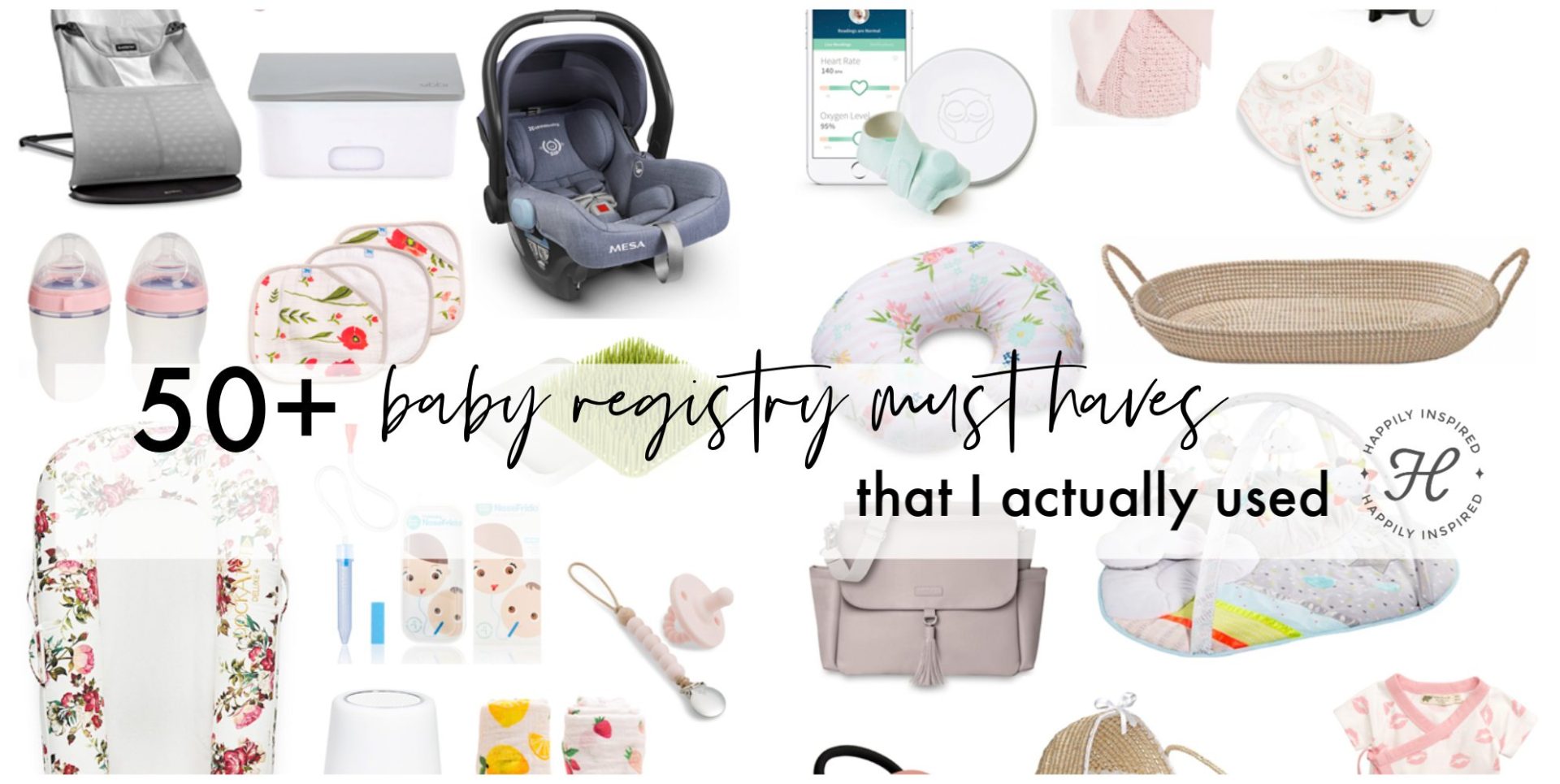 Now that Harlow's completely out of the baby stage (I'm not crying, I'm not crying) I thought I'd share an updated baby registry checklist. These look a tad different from my original buy buy baby registry list (first time mom life) so wanted to keep you all in the loop!
All items I'm listing below I've actually used – tried and true. Some of these baby must haves, Harlow still uses today at 19 months. I always try to find items that grow with them in stages to get the most bang for your buck.
FYI: This is an in depth list of a baby registry must haves. It is not meant to intimidate you! No, you absolutely do not need every single one. Pick/choose what works for your lifestyle. These are what worked for my family, but may not necessarily work for yours.
Every baby is entirely different, but I hope you find some inspiration.
follow my IG account @happilyinspired xx
---
MUST HAVE BABY REGISTRY ITEMS
---
BREASTFEEDING MUST HAVES
Elvie pump: I know this one is pricy, but it's seriously worth every single penny. My mother in law gifted me one, but they have a set of two as well! (I would just pump one breast a ta time) I was super impressed with the suction, the convenience and OMG — you can't even hear it! So long are the days are driving my head into a wall from the sounds of my medela pump all day long!
I am working on a full review blog post, but in the meantime, shop it here! Include this on your registry FOR SURE! It made me feel like I could actually still be a human while taking care of my two kids. I recommend this for parents with multiples. This pump gives you your life back and that's why I justify the price-tag. You can resell when you're done, too!
Elvie Catch: Throw these on while out and about/around the house to catch extra milk. So long are the days of wearing pads to stop leakage and finally do something about that spilled milk. Such a genius idea. The reviews are mixed, but I definitely think these are worth trying and wearing with a nursing bra. They recommend removing every 3-4 hours I believe (not exactly sure on this one, make sure you read fine print) because it's also good to let the gals breathe.
Elvie Curve: This is brand new and the 'Haakaa' replacement if you will. Whenever you're nursing, or just pumping one side at a time — wear this to catch extra milk. Dishwasher safe, 90 day warranty. Elvie Curve is easy to use – simply press the silicone pouch to create natural suction. Express up to 4 oz / 120 ml of milk. While people swear by the 'haakaa' I have smaller breasts, so this would always pop off or spill. It became increasingly frustrating.
---

---
skip hop activity center // uppababy vista // coffee teether // baby bjorn bouncer // wipe dispenser // carseat // comotomo bottles // cloths // grass bottle holder // dockatot // nose frida // hatch white noise machine // pacifier // muslin blankets // Lumi by Pampers Smart Monitor // baby floral turban // 4moms breeze (one of my favorites)
---
BABY SLEEP ESSENTIALS
The American Academy of Pediatrics (AAP) recommends keeping soft objects and loose bedding out of the sleeping area for at least the first 12 months. This recommendation is based on data around infant sleep deaths and guidelines for reducing the risk of SIDS.
---
Wicker bassinet: I wanted something simple, and easily transportable that wouldn't break the bank. I found this wicker bassinet for a STEAL! We could easily transport Harlow around the house, and it got her used to sleeping flat on her back from the very beginning. This made transitioning into her crib a lot easier. I purchased this wicker bassinet stand to keep next to my bed for easy feeding. For next baby (we are going to start trying soon!) This is another baby registry must haves essential! A top seller from this post, too.
*SNOO: We are currently using this with baby #2, and it's AMAZING! Working on a detailed post to share soon! *FAVORITE BABY PICK (they have a renting option, too!) PLEASE SEE HERE FOR SNOO REVIEW
Dock-a-Tot: I absolutely loved this thing! Definitely worth the price-tag (and you can always find them used in your local mom groups). You can purchase the cutest covers (I'm obsessed with the floral). I love it because we could literally dock her anywhere. Worked so well at Grandma's house, too! Not to mention it's beyond comfy, and most mama's swear by this invention. 2 thumbs up! *Do not leave baby unattended and always refer to AAP for sleep guidelines*
The Lumi by Pampers Smart Baby Monitor + Sleep System is my latest obsession! So long are the days of downloading several apps to keep track of babe! Easily track sleep, feeding and changing — the app even alerts you when the baby has a wet diaper! Most innovative technology I've seen! Some of my favorite features include: crystal clear picture even when you zoom in, unbelievable clarity at night, continuous background audio, reminder features and top-of-the-line, bank-level security. Of course, Lumi features room temperature, humidity and you can view your baby from anytime, anywhere.
Lumi was co-created with pediatricians so you get science-backed advice on sleep and developmental milestones all within a touch of a button! The best part? No subscription required. Learn more here, but it's seriously SO good! A ton of more features included, but these are my favorite!
Hatch Sound Machine: I don't know why so many people register for the Dohm sound machine — we got it (via everyone's recommendation) and it sucked. We have a very noisy puppy, so we needed something with more volume. The Hatch rest is a night-light (can pick a custom color) and has a bunch of noise options. I wrote a sleep essentials post here with a little more info! It even has an app. Some may think this is useless, but if I spot a delivery truck coming our way I immediately crank the volume up so Harlow doesn't hear it! Game changer!
Baby Shusher: When Harlow had her newborn photos done, the photographer used this to calm her down. I bought one soon after! It worked so well, and we brought it with us everywhere. In the car, on the go, before bed (with the noise machine).
Swaddles: The Ollie swaddles are life-changing — so many people love. We also loved the Halo swaddles because they had velcro! We also had the Love to Dream gifted to us, and Harlow wasn't a big fan. However, most people swear by it. (Over 260 5 star reviews)
Sleep Sack: We transitioned Harlow into an 'arms out' sleep sack around 4 months (once she started rolling over). She still uses a sleep sack at 19 months (obviously in her size) but it's been a game changer for us! We're blessed with an amazing sleeper!
Muslin Swaddle: In addition to the swaddles I mentioned above — we'd also use muslin blankets from time to time for swaddling. Just love the fabric, and the cute prints! I go crazy for the strawberry/lemon prints! They're multi-purpose, and perfect for every age.
Owlet Baby Monitor: This was another gift we received, and I was so grateful. I definitely struggle with anxiety, and with Harlow being my first (literally no clue what I was doing) this monitor gave me some peace of mind. For those of you unfamiliar with it — it actually tracks the baby's heart rate and alerts you if anything is wrong. Obviously this isn't a baby must have — but, for anyone who may need the extra boost of calm, this may be it!
Baby Bjorn Bouncer: Harlow slept in this thing a lot during the day because she always had to be moving. Such a diva baby, right? This is probably my 2nd favorite baby registry must have. It's simple yet oh-so-practical. I'd just tap my foot on it while I got through emails, and it is so snuggly/cozy for baby. Harlow actually hated the mamaroo. We didn't use a baby swing, but she pretty much lived in this contraption. *baby registry must have favorite!
Pacifier: The cutest pacifier that you ever did see! Why are pacifiers the cutest things on planet Earth though?
Humidifier: This will be used a lot (especially for sick babies) and we love this one so far!
Baby Mattress: I love when buybuy BABY includes 'registry favorite' items because it definitely helps persuade me. I just got this for baby number 2, and the 5-star rating sealed the deal!
Zip-up Pajamas: We love the zip-up pajamas for quick changes overnight! Also so cozy! These are adorable for the summer months. Oh, how I miss these tiny prints on Harlow!
BABY TRAVEL ESSENTIALS
This is a great article on travel essentials for babies via Forbes!
Uppababy Vista: If I had to pick a favorite from my baby registry must haves — it would be this one hands down! The best baby stroller ever! Yes, it's definitely a chunk of change but it comes with a bassinet (that's safe for sleeping overnight in) a child seat and can be used as a double stroller down the line! Not to mention, it drives like a dream. It's beyond easy to navigate, and the design is so sleek. I always get compliments when I'm out and about. The car-seat (below) snaps right in/out for easy transporting. Read more about this stroller here. It's seriously the best baby stroller ever! This is definitely my baby registry must haves favorite!
Car Seat // Mesa: We got the Uppababy car-seat and absolutely loved it. The only con — it's heavy. It also received a 5-star safety rating which is most important. Absolutely love the color (Henry) and works for awhile! We transitioned Harlow out around 10 months. You definitely get money worth here! *baby registry must haves favorite
BabyZen YoYo Plus: OK, so this is definitely not a 'baby must have' but wanted to include my favorites with you just in-case! I wanted a simple, light stroller for traveling (airplanes) and this one also drives like a dream and fits right into the overhead bin. Again, this is definitely on the expensive side, but my reasoning — I'll use for years (with other babies) and I can eventually sell when I'm done. I got the pretty pink color (Khloe Kardashian has it, too!) and it's oh-so-cute! Has other accessories (bassinet, rain shield, blanket, etc) that you can buy separately. The Uppababy stroller is very heavy/bulky so when trunk space is limited – this is our go-to.
Car Mirror: Nothing fancy, but it works wonderfully in the car!
4moms Breeze: This pack and play is a game changer. It folds/unfolds in the push of a button, the design is sleek and Harlow sleeps so incredibly well in it. I used this a lot in the early days when I had to get some cleaning done around the house — a safe place for her to play/explore. This is another baby registry must haves favorite!
Baby Wrap: In full disclosure, Harlow wasn't into being worn (eye roll) but everyone swears by the Solly baby wrap for easy baby wearing. It's like they're back in the womb, and the material is beyond. For next baby, I'm definitely going to try this brand! If you're looking for a simpler carrier, try this one.
Diaper Bag: I'm a big fan of Skip Hop for many reasons, but this diaper bag still looks like new at 19 months. I'm also obsessed with these, and may splurge on one next.
1. ollie swaddles 2. baby book 3. peg perego high chair 4. owlet monitor 5. knit blanket 6. bandana bibs 7. boppy 8. wicker changing station 9. skip hop diaper bag 10. skip hop activity mat 11. babyzen yo yo plus stroller 12. wicker bassinet 13. monica and andy outfit 14. fisher price bathtub
---
BABY MUST HAVES FOR FEEDING
ComoTomo bottles: These bottles are the holy grail of baby bottles. They are the closest thing to mama's nipple, and most babies love them! I've heard so many stories of people complaining that their baby wouldn't eat out of a bottle, but as soon as they introduced them to this brand — they would eat! (no this is not sponsored, ha) I'm just a huge fan! Definitely a top pick for baby registry must haves favorites!
Peg Perego High Chair: I actually used this high chair when Harlow was a newborn. It has the option to tilt back so the baby can lay comfortably. When baby starts to get more alert, sometimes they don't want you out of their sight. This is a game-changer for being able to get things done around the house (with them nearby). Kim Kardashian has the same high-chair! It looks sleek, easy to clean and can fold up easily — we take this on road trips. *baby registry must haves favorite
My Brest Friend Nursing Pillow: I actually registered for the boppy, but immediately returned for this per my lactation consultant advice. The boppy is really flimsy, and I had a hard time getting into comfortable positions for the both of us. If you're struggling with feeding/nursing — this is a game changer! Love this one so much!
Bib: Baby girl must have edition! OK, these are seriously SO cute — you'll definitely win the baby shower gift award if you purchase this! I love getting unique bibs because they literally wear them most of the day due to spit-up etc. These bandana bibs are another favorite in the house. We used them all of the time! Such comfortable fabric, too.
Grass drying rack: Do you even have a baby if you don't have this sitting on your counter? We still use this with Harlow's cups 19 months later, FYI!
Quick Clean Steaming Bags: In the beginning, I hand washed all of her bottles. I used these steam bags all of the time. Everyone loves (another 5 star rating)
Haakaa suction: I had a lot of trouble producing, and my mom groups go crazy for this invention. Most people report amazing success and it adds up quickly. It basically catches the milk from your non-feeding boob. The link does a much better job explaining it than me! This is another baby registry must haves favorite!
Snuggle me Organic Lounger: I never got the lounger, but it's another item my friends swear by! I plan to get it for next baby! It's basically equivalent to a dock-a-tot, just a big comfy cloud for them to lounge on! This is another great option for feeding with bottle, play-time, etc. I personally think this one is better than the dock-a-tot (just based on what I've seen) but will update you once I find out!
Silicone Teether: Once Harlow started teething, these were the only thing that helped soothe her gums. I would put crushed ice in, and she'd nibble on it. You can also put veggies, fruits, etc.
Bumbo Multi Seat: We use this all of the time (even today) and it serves great for playing/eating. A great chair to take on road trips (minimal space) and super handy! We love this for outdoors!
TOYS & PLAY
Skip Hop Activity Center: I absolutely love this one for so many reasons! First of all, it isn't a total eye-sore in the house (not that it even matters after the fact) but definitely helps! It can transition with baby and become a table in the last stage. This will get you a lot of use/bang for your buck! Harlow loved this one so much. I always enjoyed watching her in it. Another baby registry must haves favorite!
Skip Hop Activity Mat: Hello, tummy time! This mat is interactive, and makes a lot of fun noises. Harlow used this for awhile, and we got some really good use out of it. This is another cute one by the same company. PS: I know a lot of people opt for the wooden ones, but I don't think babies enjoy them as much as the bright colors, etc. I get it's 'on trend' but not necessarily the most fun – if that makes sense!
Fisher Price sit-me-up seat: Harlow used this all of the time when she was learning how to sit. It's fun for them to play with, and a great way to help strengthen their core. Definitely a favorite on the baby registry must haves!
Cuddle and Kind Doll: Not only are these stuffed animals adorable, but they help people in need. For every stuffed animal purchased, they give 10 meals to kids in need. Always a fan favorite at baby showers, too!
Teething Toy: I know everyone raves about Sophie the teether, but Harlow didn't seem too thrilled with it. I got her this adorable teething toy, and she absolutely loved it. We actually lost it at Target, and I couldn't get myself to pay for another one.
Musical Instrument Set: Babies love making noise, and these instruments are a hit! Seriously, she loved these!
Baby Einstein Toy: This is a best seller and under $10. Seriously, Harlow still uses this today in the car! The melodies and bright lights make it a hit.
Indestructible Baby Books: These are rip proof, chew proof, tear proof — the works! The vibrant images make this book perfect! Harlow couldn't get enough of tag books either!
Baby Bjorn Bouncer Toy: This toys goes right on the baby bjorn bouncer (in the sleep section) Harlow definitely used this toy the most from 3 months on!
Jolly Jumper: Harlow absolutely loved jumping around in this! I have this saved on my IG highlights (under Harlow) if you want to see her in action!
BABY BATH ESSENTIALS
Fisher Price Tub: This tub is awesome because it grows with your baby. I didn't opt for anything fancy, just an old fashioned baby tub that gets the job done! She loved it.
Hooded Towels: Every baby needs a hooded towel. In fact, my favorite picture of Harlow ever (to this day) is this one post bath. Love these ones from Nordstrom because they're super soft with ratings to prove.
Aveeno Bath: I've only used Aveeno baby, so can't really speak to anything else on the market. It's a subtle smell, and you just want to eat them up!
Aquaphor: Aquaphor is probably our most used baby product of all time. I use this every single day. If she has a scratch, dry skin or rash — i put this stuff on and it completely cures it! I swear by Aquaphor. Mama's BFF.
Cloth Set: I love this adorable cloth set for the bath. You'll use these forever.
Bath Toy: Keep them entertained with cute toys that squirt!
BABY CHANGING GEAR
Pampers: We are a Pampers family. We've only used them, and she's had zero issues! We use Pampers Pure, Pamper swaddlers (until she started crawling) and then once she crawled more — we switched to Pampers Cruisers. These are what she uses today at 20 months old.
Pampers Baby Dry: FOR OVERNIGHT! I cannot express my love for these enough! Once we used these for overnight, she never leaked through – not once! Make sure you size up for nighttime.
Baby Changing Basket: I'm kind of obsessed with all things wicker, and I love this for keeping downstairs (on couch, table, etc). Makes changing baby a little more cute!
Water Wipes: The only wipes we've ever used. 99% water, and no chemicals whatsoever. Harlow's never had a diaper rash, and I attribute that success to these! Another mom friend told me about them, and I can't ever go back!
Changing Pad: We use this religiously — great to put in the baby changing basket, too! They sell the cutest covers for it to go with the theme of your nursery. Have you seen Harlow's floral wallpaper nursery?
Butt Paste: Every time baby poops, put this stuff on there — this trick is a life changer! Again, she's never had a rash and this stuff is a big part of that!
Wipe dispenser: This one is awesome (I don't believe in the wipe warmers — waste of money IMO) and this helps make changing efficient and easy. Also looks cute on the dresser!
CLOTHING
Side snap shirts: These are all she wore in the beginning (besides the zip-up footed sleepers) — helped with changing those fun blowouts. To be completely honest, she just lived in pajamas. I bought so many cute outfits thinking we'd wear them, and she just grew up so quickly! My advice is to get a couple of fun ones, but just know they probably won't get as much wear as you think.
Footed PJ's: I just love the really soft ones — here are some high quality ones! I also love the little me brand.
Baby head wrap: OK, Harlow LIVES in these! I am obsessed. The only thing she will keep on her head. It keeps them warm, but looks absolutely adorable. We have them in just about every color, and everyone is always complimenting her when out! Get a bunch! *favorite baby registry must haves
Headbands: I always loved the baby bling line of headbands. Really soft, and stretchy for ultra comfort. We also love the knotted turbans, too!
Dreft Detergent: I only wash Harlow's close in Dreft. It's natural, smells amazing and pediatrician recommended. It's hypoallergenic and specifically made for newborns. Definitely a top baby registry must haves pick!
ODDS AND ENDS
Nose Frida: Yeah yeah, sounds gross I know. This nose sucker will save your life. I remember my sister being absolutely disgusted (refused to buy) and she finally did, and never looked back. You just want your baby to be as comfortable as possible, and this tool is a life saver! Every mom to be needs it. Another baby registry must haves favorite! This is literally included on every baby must-haves list!
Baby Book: This baby book is my favorite to document all those firsts.
Liquid Gold: My friend Blair told me about these to increase milk supply and they definitely helped. I had trouble producing, so needed any extra boost I could get. Something to think about if you need a bit of a boost! Isn't the packaging so cute?
Gas Reliever: So this was definitely scary for me! Harlow had crazy constipation/gas, so had to pick up one of these. It really does work!
Baby food maker: I didn't use this, but my sister loved it. In all honesty, I just bought her baby food (didn't have a ton of time, and I was super tired). It has 5 star reviews, and can definitely be passed down for awhile!
---
I tried my best to cover everything we had on our baby registry must haves list! Again, you don't even need most of these — just what my family found to work best! We were very grateful in the sense that a lot was gifted from family/blogging.
---
BABY REGISTRY CHECKLIST:
Mesa car seat

Pack n play (multi purpose – can be used as a changing table, for sleeping, playing, travel, etc)

Stroller

Baby carrier

Comotomo bottles

Swaddles/blankets

Crib/bassinet

Baby lounger (we loved the dock-a-tot)

Nose Frida

Aquaphor, butt paste, Aveeno baby wash

Bath Tub

Towels/washcloths

Baby video monitor

Diaper bag

Diapers/wipes

Clothing (5-10 daytime outfits)

Hats

Pacifiers

Burp cloths

Sound machine

Tylenol (pain reliever) and/or Motrin
---
Looking for more baby content? Make sure to check-out: