These baby registry must haves will ease you into motherhood! Anything to add? Let me know below!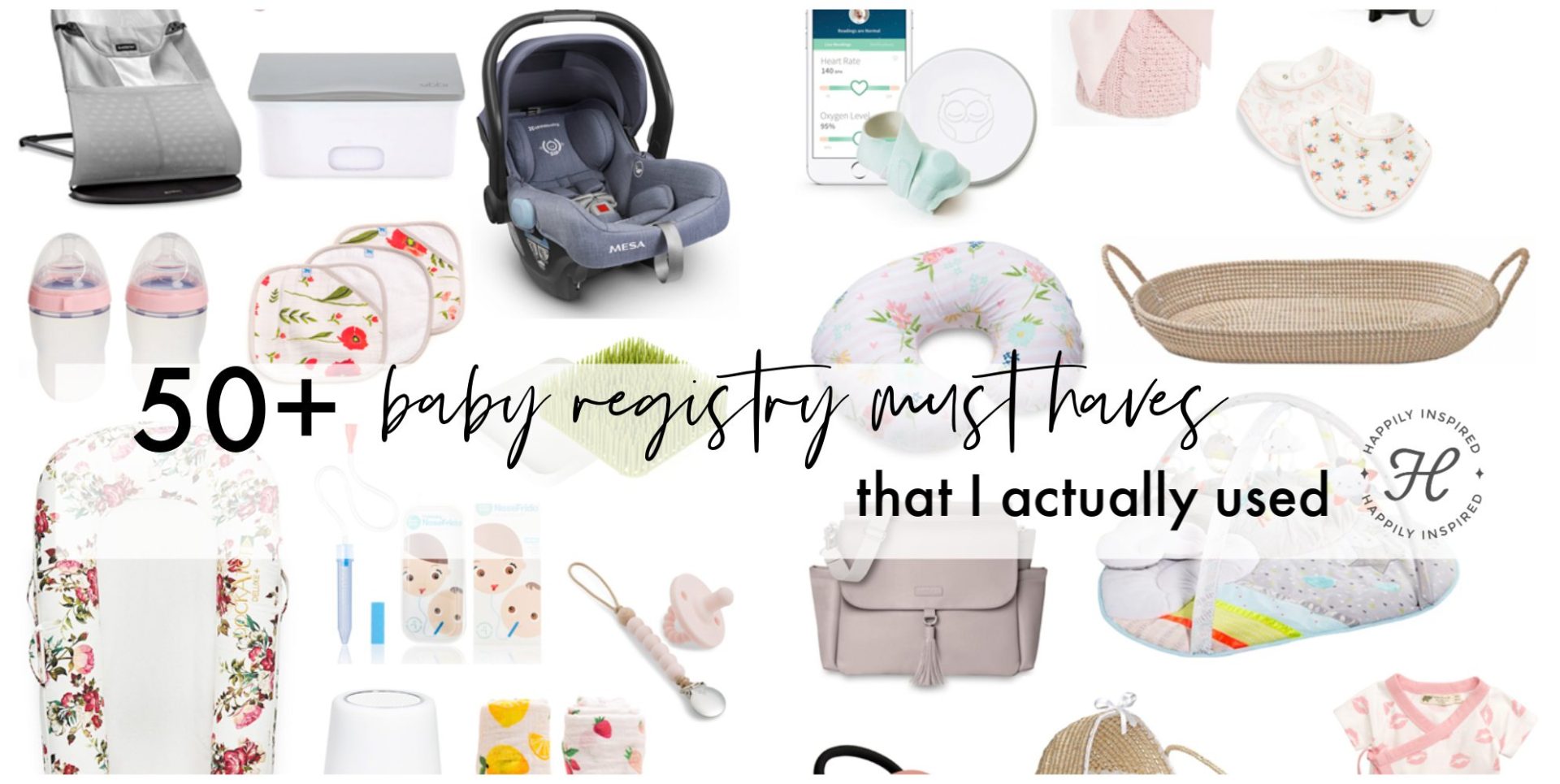 Now that Harlow's completely out of the baby stage (I'm not crying, I'm not crying) I thought I'd share an updated baby registry must haves list. These look a tad different from my original buy buy baby registry list (first time mom life) so wanted to keep you all in the loop! All items I'm listing below I've actually used – tried and true. Some of these baby must haves, Harlow still uses today at 19 months. I always try to find baby must haves that grow with them in stages to get the most bang for your buck. 
Looking for more baby must haves? Make sure to check-out:
FYI: This is an in depth list of baby registry must haves. It is not meant to intimidate you! No, you absolutely do not need every single one. Pick/choose what works for your lifestyle. These are what worked for my family, but may not necessarily work for yours. Every baby is completely different, but I hope you find some inspiration. Oh, and cute baby girl must haves too! I find so much joy in all things baby registry – it's a fun obsession.
REGISTRY MUST HAVES FOR BABY 
My must have baby items in one post! Updated for 2020!
---

1. skip hop activity center 2. uppababy vista 3. coffee teether 4. baby bjorn bouncer 5. wipe dispenser 6. carseat 7. comotomo bottles 8. cloths 9. grass bottle holder 10. dockatot 11. nose frida 12. hatch white noise machine 13. pacifier 14. muslin blankets 15. nanit baby monitor 16. baby floral turban 17. 4moms breeze (one of my favorites) 
---
SLEEP
The American Academy of Pediatrics (AAP) recommends keeping soft objects and loose bedding out of the sleeping area for at least the first 12 months. This recommendation is based on data around infant sleep deaths and guidelines for reducing the risk of SIDS.
---
MUST HAVE BABY ITEMS CONTINUED
TRAVEL
1. ollie swaddles 2. baby book 3. peg perego high chair 4. owlet monitor 5. knit blanket 6. bandana bibs 7. boppy 8. wicker changing station 9. skip hop diaper bag 10. skip hop activity mat 11. babyzen yo yo plus stroller 12. wicker bassinet 13. monica and andy outfit 14. fisher price bathtub 
---
EAT
KEEP GOING FOR EVEN MORE BABY REGISTRY MUST HAVES!
PLAY 
BATH | BABY REGISTRY MUST HAVES 2020
CHANGING 
CLOTHING
ODDS AND ENDS
I tried my best to cover everything we had on our baby registry must haves list! Again, you don't even need most of these — just what my family found to work best! We were very grateful in the sense that a lot was gifted from family/blogging. If you're looking for newborn must haves — sharing my easy checklist below!
What would you add to your baby registry must haves list? Anything I missed? (haha)
---
A quick list of baby registry must haves
Mesa car seat
Pack n play (multi purpose – can be used as a changing table, for sleeping, playing, travel, etc)
Stroller
Baby carrier
Comotomo bottles
Swaddles/blankets
Crib/bassinet
Baby lounger (we loved the dock-a-tot)
Nose Frida
Aquaphor, butt paste, Aveeno baby wash
Bath Tub
Towels/washcloths
Baby video monitor
Diaper bag
Diapers/wipes
Clothing (5-10 daytime outfits)
Hats
Pacifiers
Burp cloths
Sound machine
Tylenol (pain reliever) and/or Motrin
---