Not sure what baby registry must haves to scoop? I've got you covered! For those of you that missed it, I explained the benefits of registering with buybuy BABY here, so make sure to check it out. Not only is the staff incredibly knowledgeable, and personable — the store is legit a candy-land for mama-to-be's and beyond. They have everything you need in one place.
BABY REGISTRY MUST HAVES | CLICK HERE FOR UPDATED LIST (SEPTEMBER 2019)
PS: I've since updated this baby registry must haves post with everything I actually used here! 
---
I've heard it a hundred times, but every baby is different. When I enlisted the help of fellow mama's on what to register for — I chose what I heard the most of, repeatedly. I wanted a rather simple buy buy baby registry filled with baby registry must haves and functional items. This list is carefully curated, and I really did the research and read countless ratings on the pros/cons of each. Ain't nobody got time to return with a newborn! Am I right? I'd love to hear from my experienced mama's on what their baby must haves are. I'm always looking to simplify my life, and shut-eye. I'm 13 days away! Give me those baby secrets!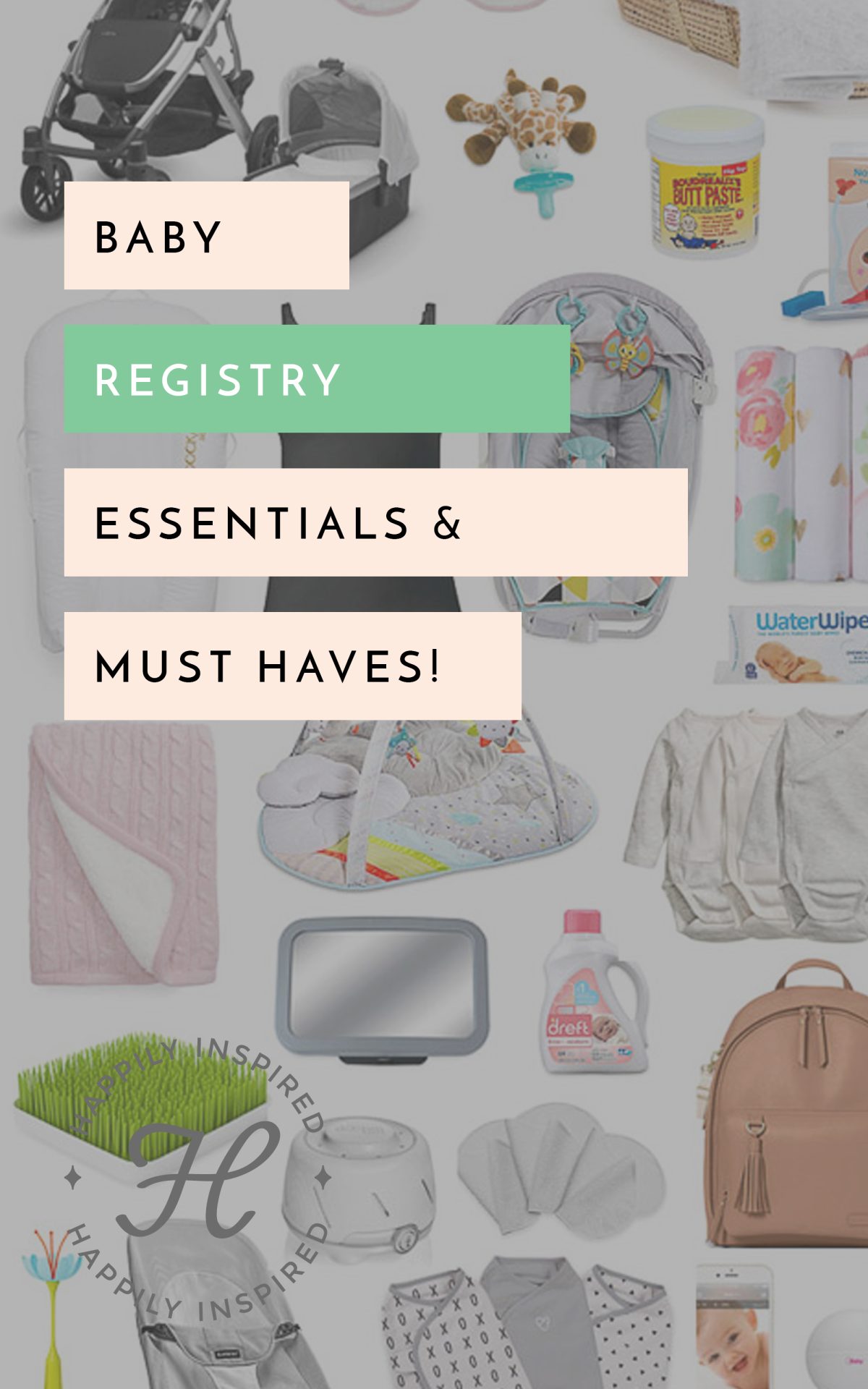 BABY MUST HAVES
BABY REGISTRY MUST HAVES | TOP PICKS
---
BEST BABY STROLLER
This one is definitely an investment, but I've heard so many good things! Not only does it look ultra cute, it's extremely functional. Beauty and brains — I'll take it! It comes with the cutest bassinet (that is certified for sleeping at night) and an infant/toddler seat. The carseat (next on my list) also snaps right in. Here's my favorite part: It can be converted into a double stroller for your growing family. Simply purchase another infant seat, and snap it right in — beyond simple. The seats can be turned different ways, too. So clever! My sister and I used to face each other in our buggy way back when! Ah, the 90's …
As I said above, the Mesa car-seat snaps right into the stroller making traveling a breeze. It weighs under 10 pounds, and includes a 1 button stroller release. It also received a 5-star rating via NHTSA — the highest Government-rated ease of use. Super important, of course. Oh, and isn't the Blue Marl color adorable? Love!
---
OK — my mama friends legit swear by this thing! A definite baby registry must haves! Apparently, it's the baby whisperer and I'll certainly try my chances! The Dockatot Deluxe+ offers a comfy spot for baby's diaper changes, tummy time, lounging, cuddling and napping. Make sure to check out their Instagram here, just love looking at those cute sleeping babes! Oh, and does it come in my size? *baby must haves registry favorite 
Baby Must Haves Favorite
I absolutely love the Skip Hop brand, and their products aren't an eye-sore like most! We liked that this activity center grows/develops as they do. It comes in 3 different stages, and converts into a play table as they get older. That's a mama win!
So, my husband has the back of a 90 year old (he's 27 FYI) so it was really important that we found a baby-carrier that had extra back support. It's definitely more of an investment, but totally worth it for our family. It also has 5-star ratings, and came highly recommended by more than one friend. Your baby can face 3 ways, and it supports a child from birth (no infant seat needed) up to 33 pounds if you're up for the challenge. We also liked that this had mesh fabric, so the baby will stay dry and cozy.
FISHER PRICE ROCK N' PLAY SLEEPER
This was another one that came highly recommended from several mama's. It's a cozy place for the baby to sleep, rock and relax. You can even customize your child's sleep with rocking, vibrations, music and lights (all through your smart-phone) I can hear my mom now, 'where was this when you were little' haha! It's super easy to transport, and can double as a bassinet for night-time. My sister just had a baby 2 weeks ago, and her little man will only sleep in this! Again, everyone raves about this one — definitely going to give it a whirl.
Another baby must haves fave!
These shirts make it super easy to put on/off without pulling over a newborn baby's fragile head. It's a great piece to wear while the umbilical cord heels, and it's honestly adorable. I got a pack in each size up until 6 months. They're so soft.
One of my favorite baby registry must haves!  I'm not going to lie, the thought of sucking snot out of my baby's nose legit terrified me. My mama friends say it's heaven-on-earth and it's a must must must have. A mama's gotta do what a mama's gotta do, right? I love this bundle set that includes: booger buster, gas passer relief tubes, clipper set, reusable carry-all bag and more. It's a great set for new mom's, and I'm excited to see what the fuss is all about!
Super fashionable and functional — I fell in love with the look. It also has 9 pockets, a cushioned changing pad and room for bottles. I really liked that it came with stroller straps, so it easily snaps right onto the stroller for convenience and ease. That means I have more room to store other goodies at the bottom! Like my puppy, Frankie. But, for real! Ha.
This system helps baby fall, and stay asleep. I use one, too — it's gold. Oh, and another repeat baby must have!
The buybuy Baby consultant told me this was a must for all of her kids. It replaces loose blankets in the crib that can cover your baby's face/breathing. In addition to helping your baby sleep safer, and cozier — it also helps them sleep better. It's used in hospitals nationwide (the #1 choice) and a portion of every purchase goes to SIDS alliance. I hope my baby girl approves!
Because, every baby deserves a cute little animal wubbanub! My friends swear by these, and they're so cute. It's patented design keeps your baby's pacifier close by and prevents it from getting lost, dropped or misplaced.
A versatile bib that can work as a burp cloth. My friend, Emily, absolutely loves these so I'm giving them the go-go! I love that they're extra long, and drape over the shoulder easily.
I'm packing this in my hospital bag, and I hear it works wonders for sore boobies. I'm definitely going to give it a whirl at breastfeeding, so hoping this will help give some relief to those first few days that I hear are extra tough. It has over 500 reviews at a 5-star ratings — this stuff is gold, apparently.
PEG PEREGO SIESTA HIGH CHAIR IN ICE
I love the sleek, modern design to this high-chair and it easily accommodates a child's growth. From birth, it can be used as a recliner, or as a high-chair for feeding, playing and resting. It's super easy to fold up, and store away and easy to clean. Another 5-star rating item — my fave!
I'm definitely planning to give an update on these items above once my girl is here. Make sure to stick along on Instagram, too! I'm always sharing on my stories. What are some of your baby registry must haves? Would love to hear from you below! 
This baby registry post is in collaboration with buybuy Baby. As always, opinions are entirely my own. Thanks for supporting brands that make Heart of Chic possible! xx Be sure to check out more Motherhood posts before you go!