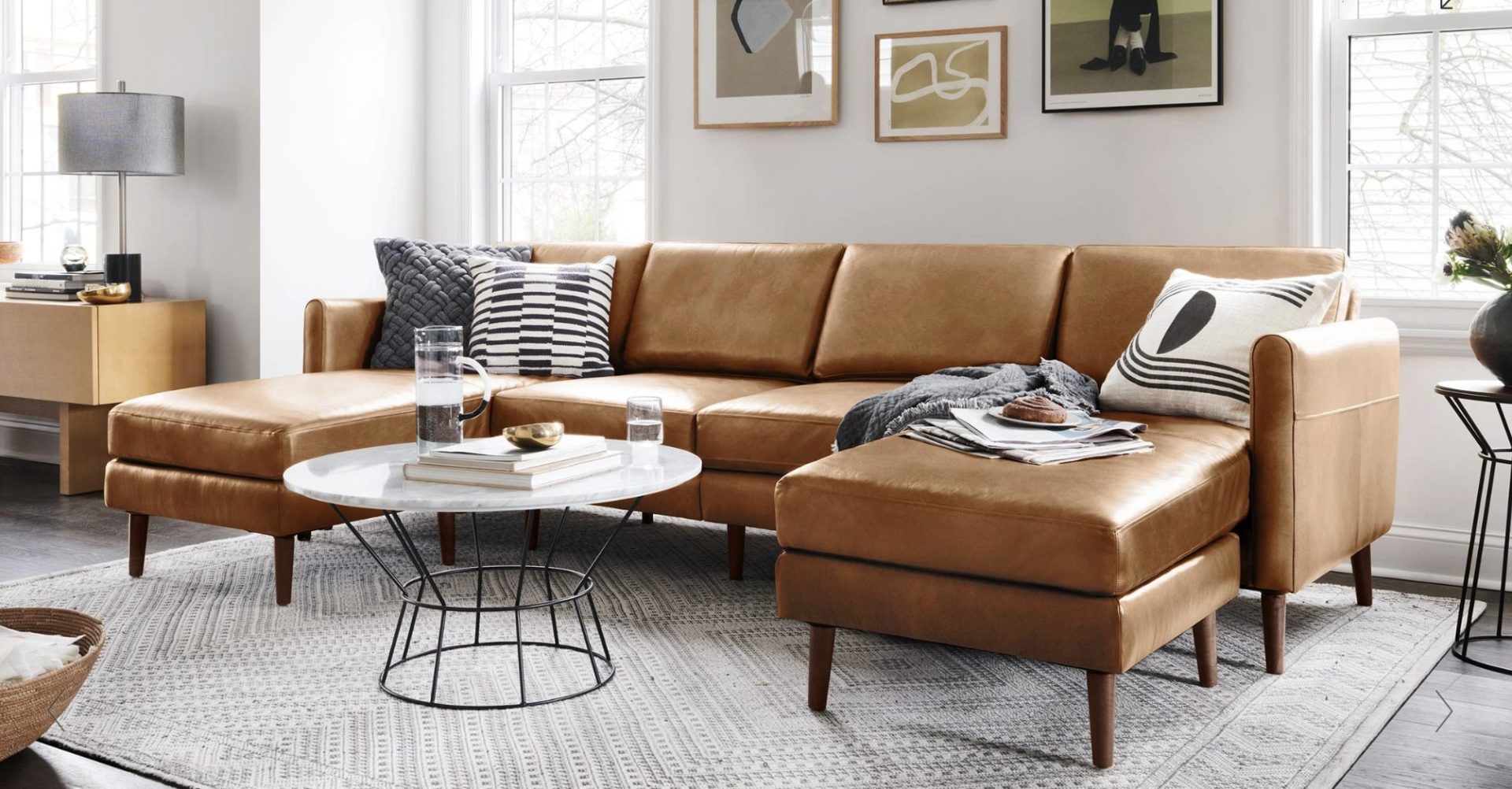 Are you looking for the best leather couch to update your living room with? Lucky for you, we've rounded up some of the most comfortable leather sectional options available that also add some incredible style to your space.
Find your new favorite leather sectional right here on our list! Whatever your style and budget are, there's one that you can definitely fall in love with.
You may also like: 29 Brown Leather Chairs for Every Design Style | 17 Sleeper Sectionals for Your Home | 10 Best Pit Sectionals That Will Cozy up Your Space
---
Brown Leather Sectional
---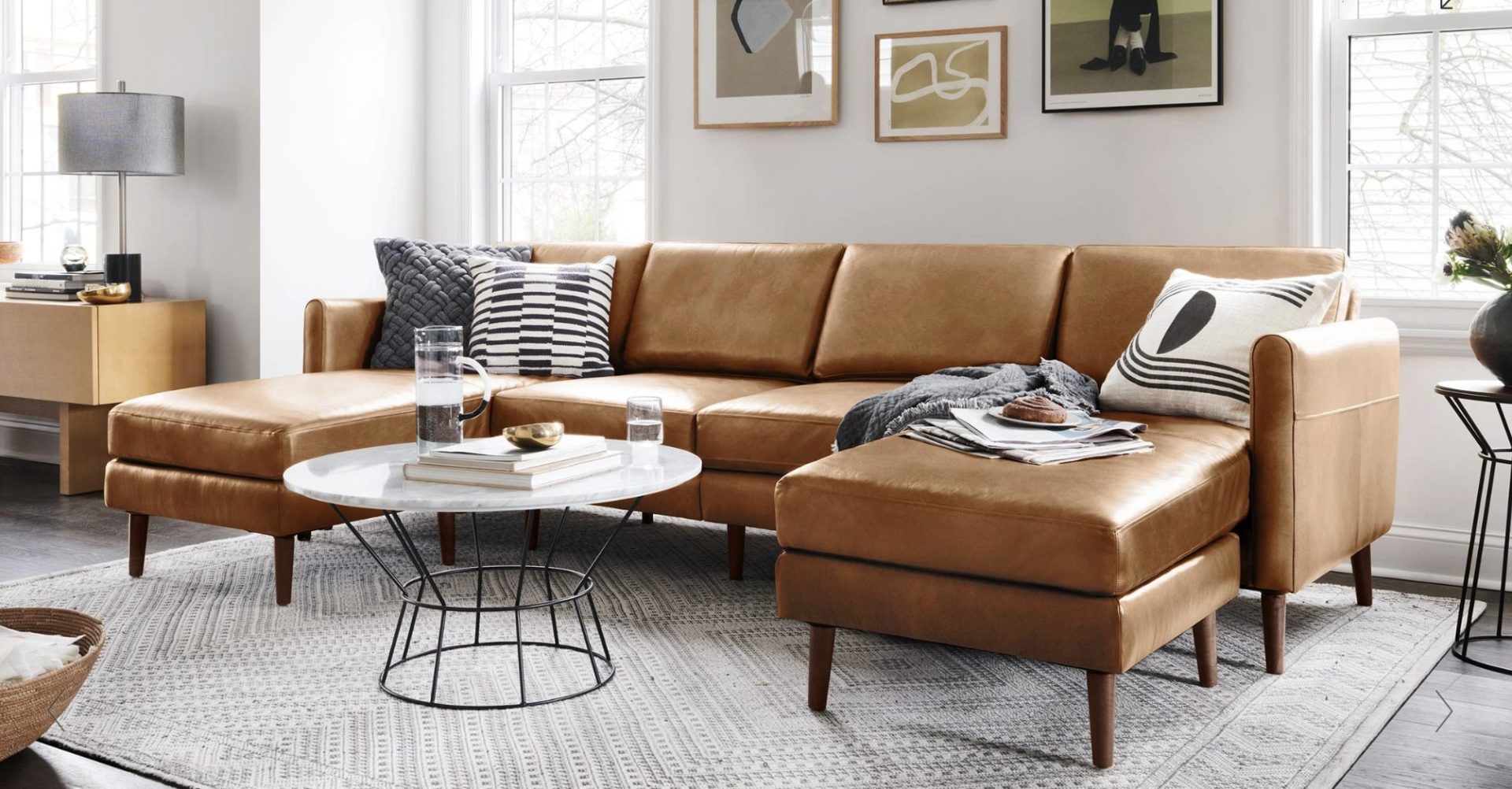 Want the classic and timeless style of Italian leather along with some really cool conveniences like a built-in USB charger? Then the Block Nomad Leather Sofa from Burrow is a perfect choice!
This is one of the best leather couch options in our opinion (which is why we've put it first!) because it's as comfortable and functional as it is beautiful. It has clean lines throughout and elevated legs that make it an ideal sofa choice for any style. You can choose from three different leather colors and three different leg finishes in either wood or metal. Still not convinced? You can even customize the armrests with three different shape and height options!
The overall size is 85 inches long, 35 inches deep, and 33 inches high. Want to add more space and somewhere to kick up your feet? You can add in a movable chaise, too!
If you want the absolute best couch to take Saturday naps in, the Turner Roll Arm Leather Sofa from Pottery Barn more than fits the bill. This seriously looks like one of the most comfy leather couch choices on our list. It has a modern traditional look with its rolled arms and optional nail head trim, but can fit in with any home decor style. The entire collection is here (they have a ton of seating variety!)
It also has a high back and deep seating for ultimate comfort – not to mention its cloudlike down-blend cushions and thick armrests that practically beg you to cozy up on it.
Choose from four different sizes (from 68.5 inches wide to 109 inches wide), a two or three-seat option, and several gorgeous leather colors.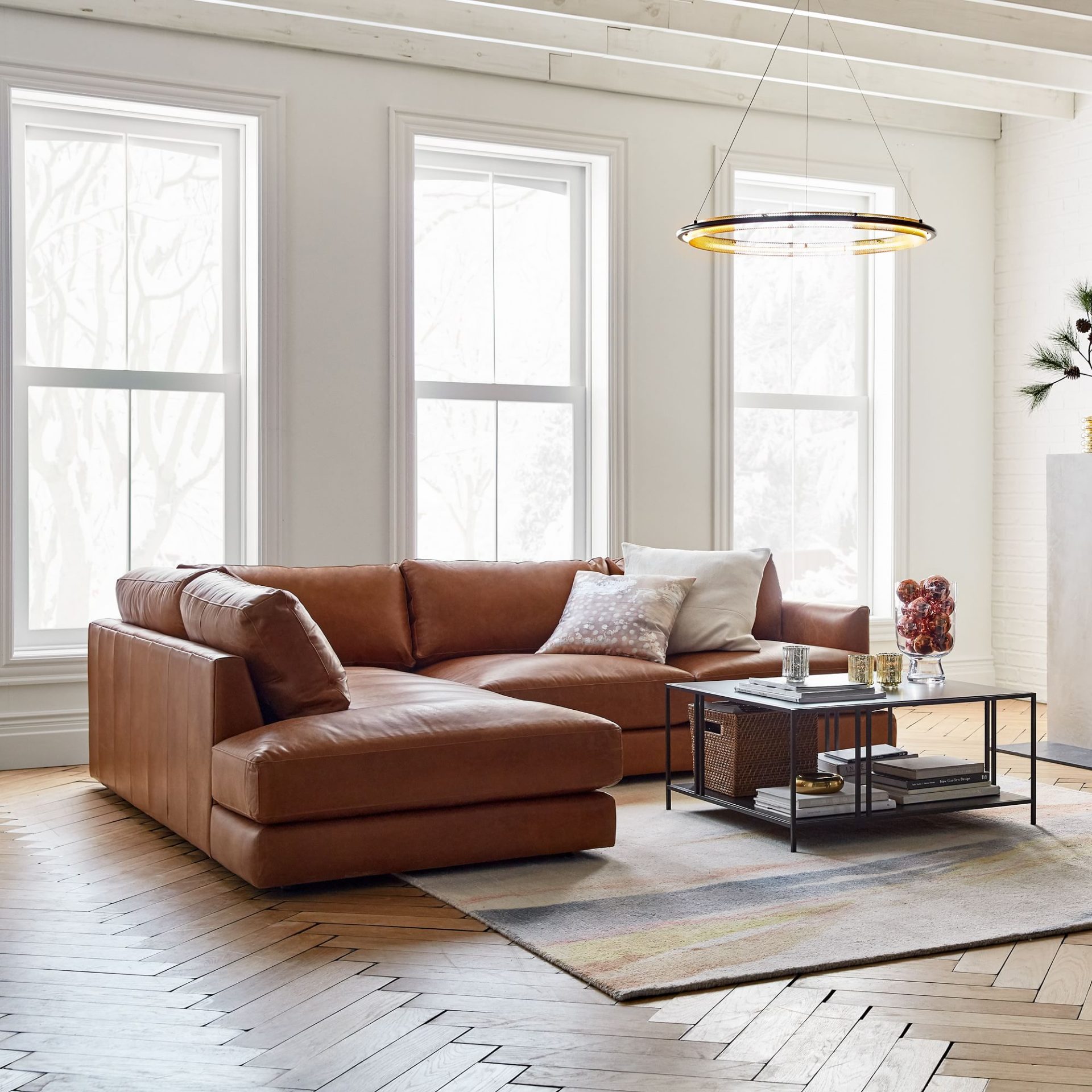 Looking for a casual leather sectional couch that's lower to the floor and oh-so-cozy? Then you need to check out the Haven Leather 2-Piece Terminal Chaise Sectional from West Elm!
Its low-profile and concealed support legs give it a streamlined look that pairs well with any style while the padded arms and plush cushions make it one of the most comfortable leather sectional couches ever. You can choose from a left or right chaise and several beautiful leather colors. Even better is that you can opt for vegan leather, which is just as beautiful as authentic top-grain leather.
You'll have more than enough lounging space with the terminal chaise, which is larger than standard ones and have extra side pillows.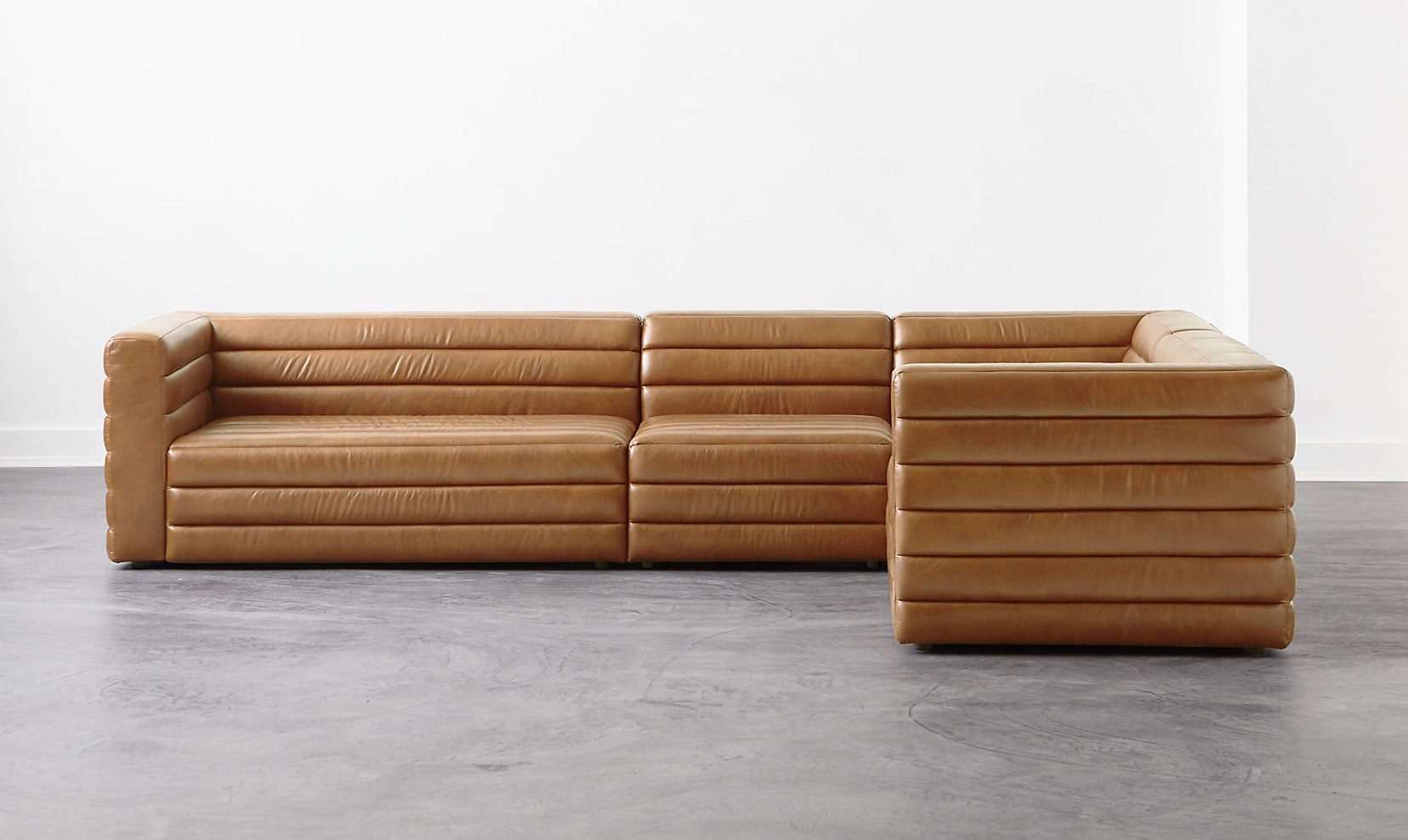 For a comfy leather couch that will stop guests in their tracks and add 70's vintage vibes to your space, consider this 4-piece leather sectional sofa from CB2. It's safe to say that you'll probably be the only one on your block who has a couch with this much personality and detail!
The super plush channel tufting isn't just visually appealing – it's incredibly comfortable, too! It includes a right-arm sofa, left-arm sofa, corner chair, plus an armless chair. We love how this comfy leather couch has the same exact shape and height throughout, making for a truly unique piece of furniture that speaks for itself.
The Strato leather sectional is just under 10.5 feet wide, 8 feet deep, and a little under 3 feet tall.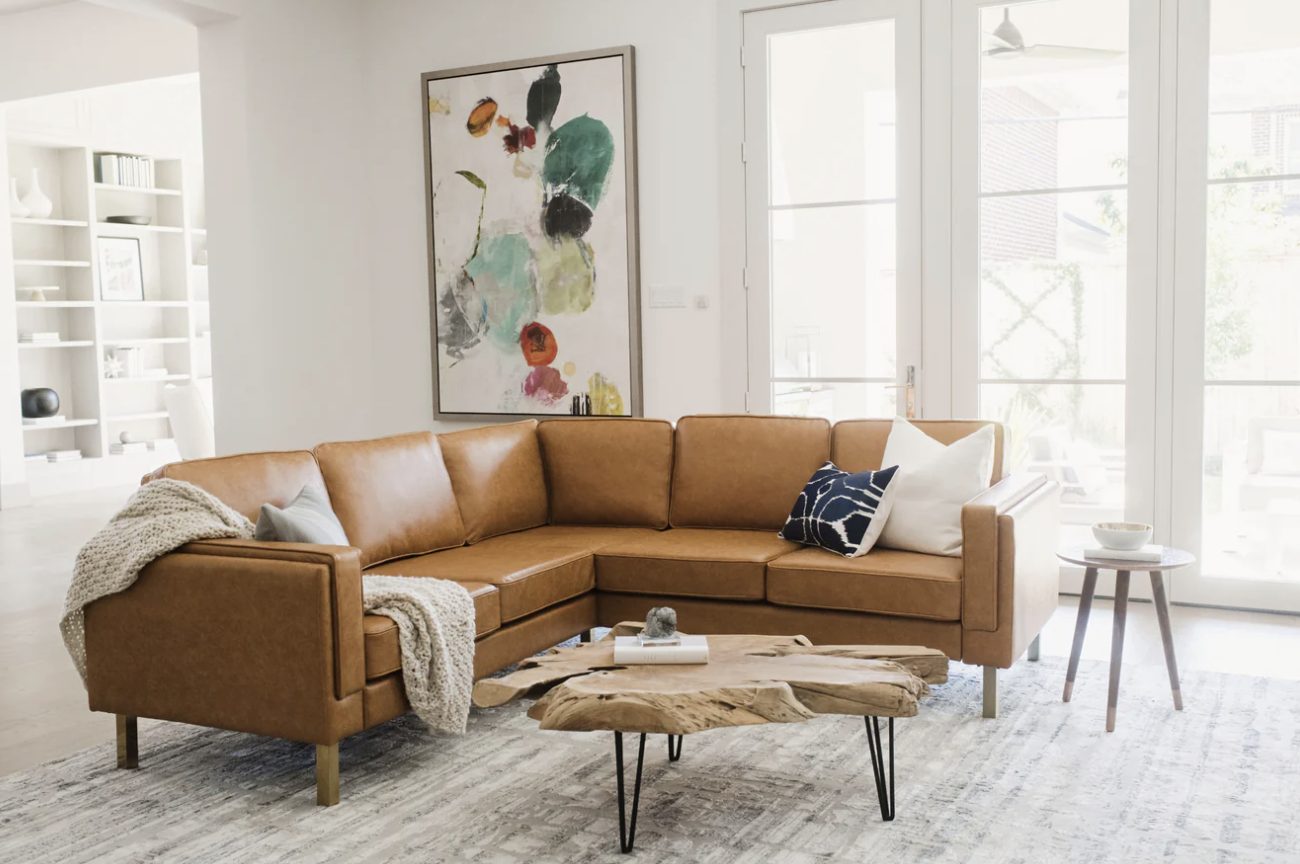 Sleek, slim, stylish, and cozy are what comes to mind with this beautiful leather couch from Albany Park! This one has over 300 reviews with a 4.5-star rating, and we can see why it's so loved. It's versatile enough to go with pretty much any style and the corner shape makes it easy to separate open living spaces from other rooms of the house for a more intimate seating arrangement.
This vegan leather couch has a mesh backing to allow the upholstery to breathe and the plush seat cushions are removable. You can pick between stainless steel legs in a gold finish for a more modern feel or solid wood tapered legs in a walnut finish for a mid-century touch.
It's 7.5 feet wide and deep, and just over 2.5 feet high.
Look no further than the Madrone leather sectional if you're on the hunt for a truly luxurious leather couch. And yes, we know the price tag is a bit (okay…VERY) steep but doesn't this look like it came straight from interior design heaven?!
The low-profile silhouette and track arms with a continuous height all around give any space an instant upgrade and a more modern feel. Not to mention the super deep seating and plush cushions are perfect for binge-watching your favorite show or taking a Sunday nap on. The Aniline-dyed leather is oh-so-soft and has a rich matte appearance with subtle piping, too.
At almost 11 feet wide and deep and just over 2 feet tall, this is definitely one of the most comfortable leather sectional couches on the list.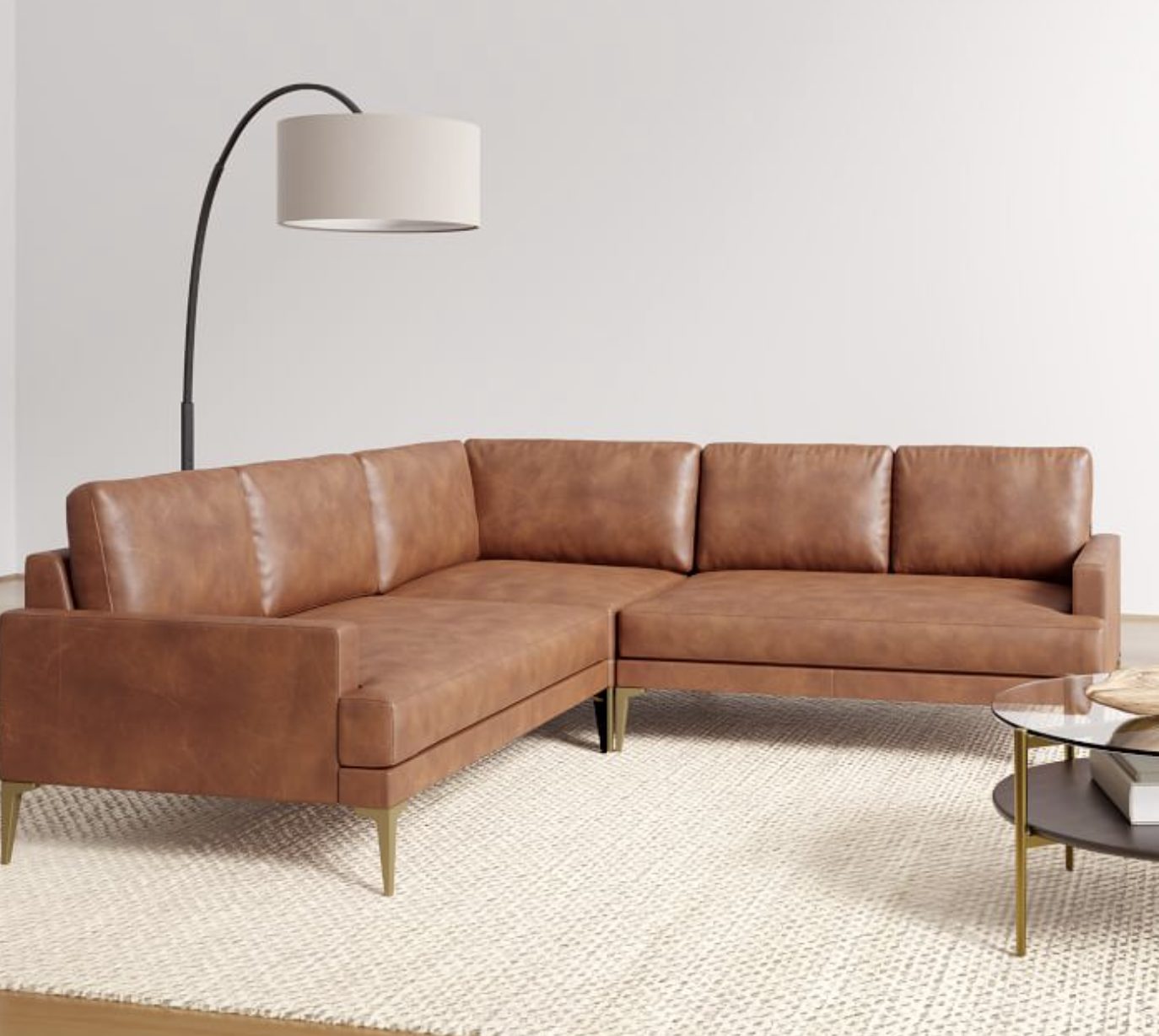 We love the crisp anesthetics of this chaise sectional from West Elm! It's definitely one of the easiest ways to freshen up any room, while offering ample seating and lounging space without looking big and bulky. It's a favorite brown leather sectional option for sure!
The modern shape, clean lines, thin arms, and tall metal legs make it really easy to fit into any style. You can choose from a left or right chaise, two different sizes, several colors, and dark pewter or brass metal legs. There's also an option for faux leather or genuine top-grain leather.
There's lots of room to get comfy in either size (94″ or 105″ wide)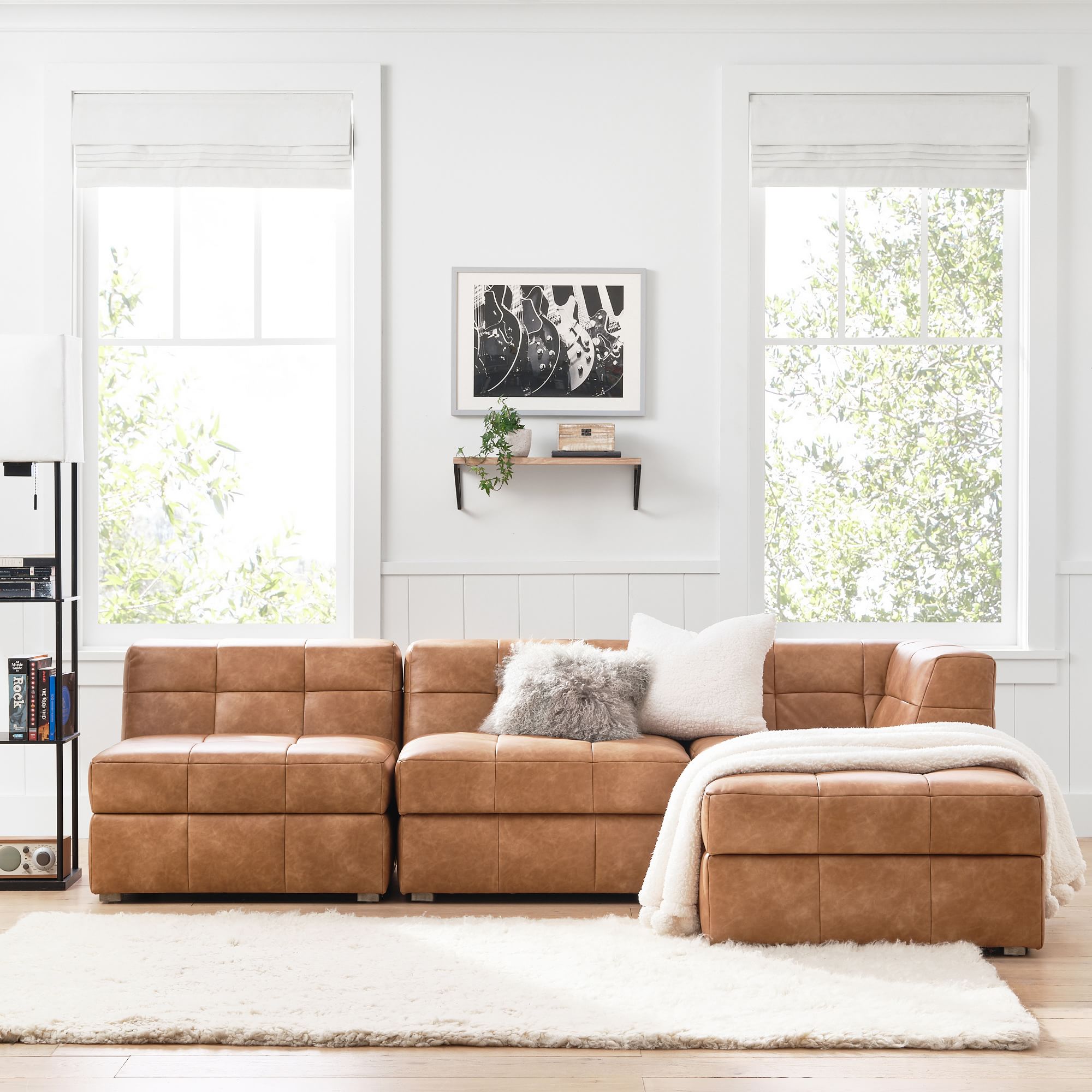 There's a reason this one has "super" in its name…not only is it a really good looking piece of furniture, but it's totally functional, too! It has a ton of storage under each seat and the best part? You would never even know!
This definitely looks like it's one of the most comfy leather couch options on our list with its plush cushions and overall inviting appearance. The square tufted cushions and backs give it some modern style that can work well with most home design styles. You can also choose between caramel or navy vegan leather.
It's just over 8 feet wide, 5.5 feet deep, and just under 2.5 feet tall. This is also one of the more affordable leather sectional couches on the list.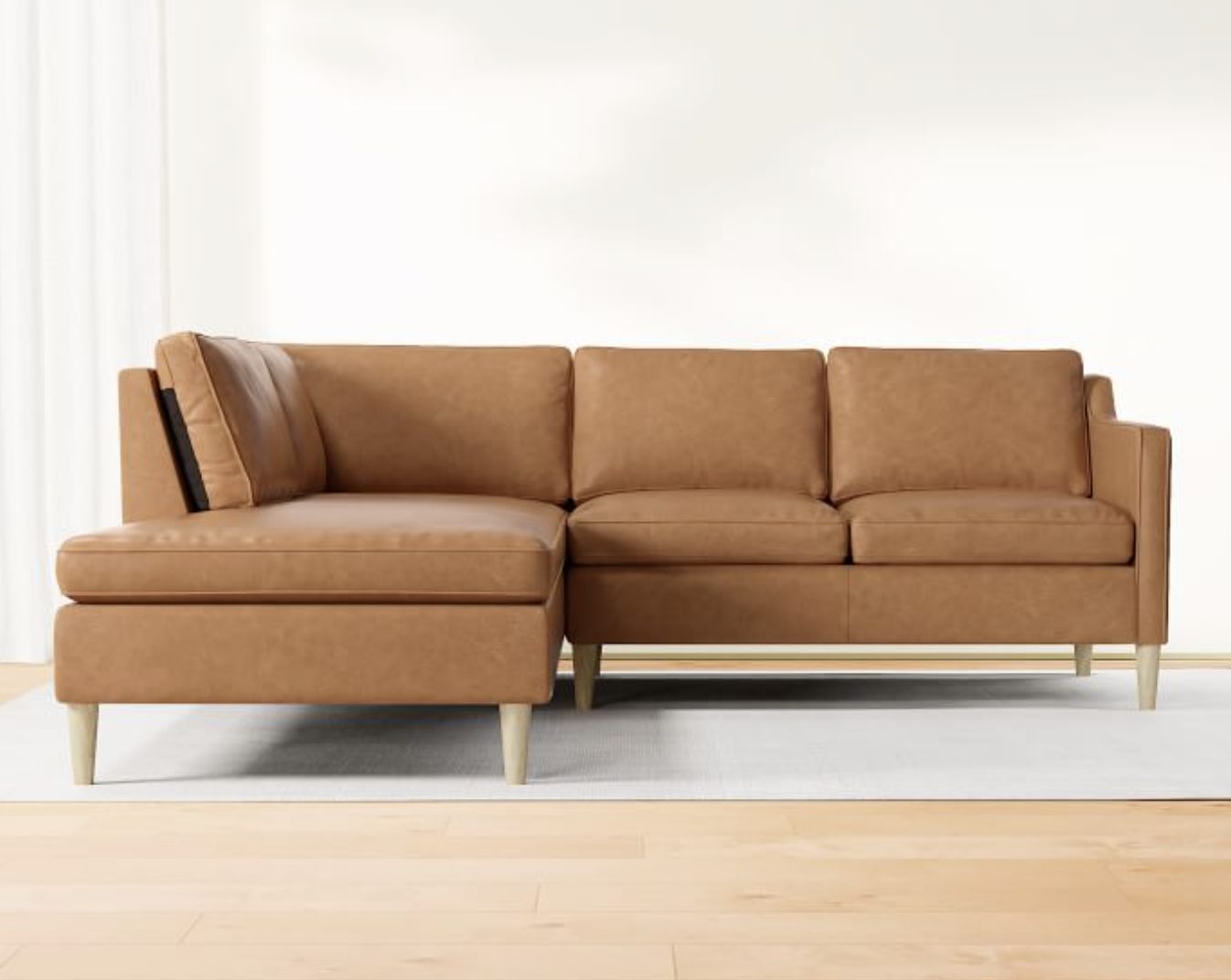 This is another sleek, yet plush leather sectional that's versatile enough for any room or style. Its beautiful simplicity is just one reason we consider it to be one of the best leather couches to choose from. You really can't go wrong with this one.
It has beautiful piping throughout and gently curved track arms which give it an overall softened and timeliness look. You can choose between vegan friendly faux leather or genuine top-grain leather and in a variety of colors.
For even more customization, choose between the 88″ or 98″ wide options.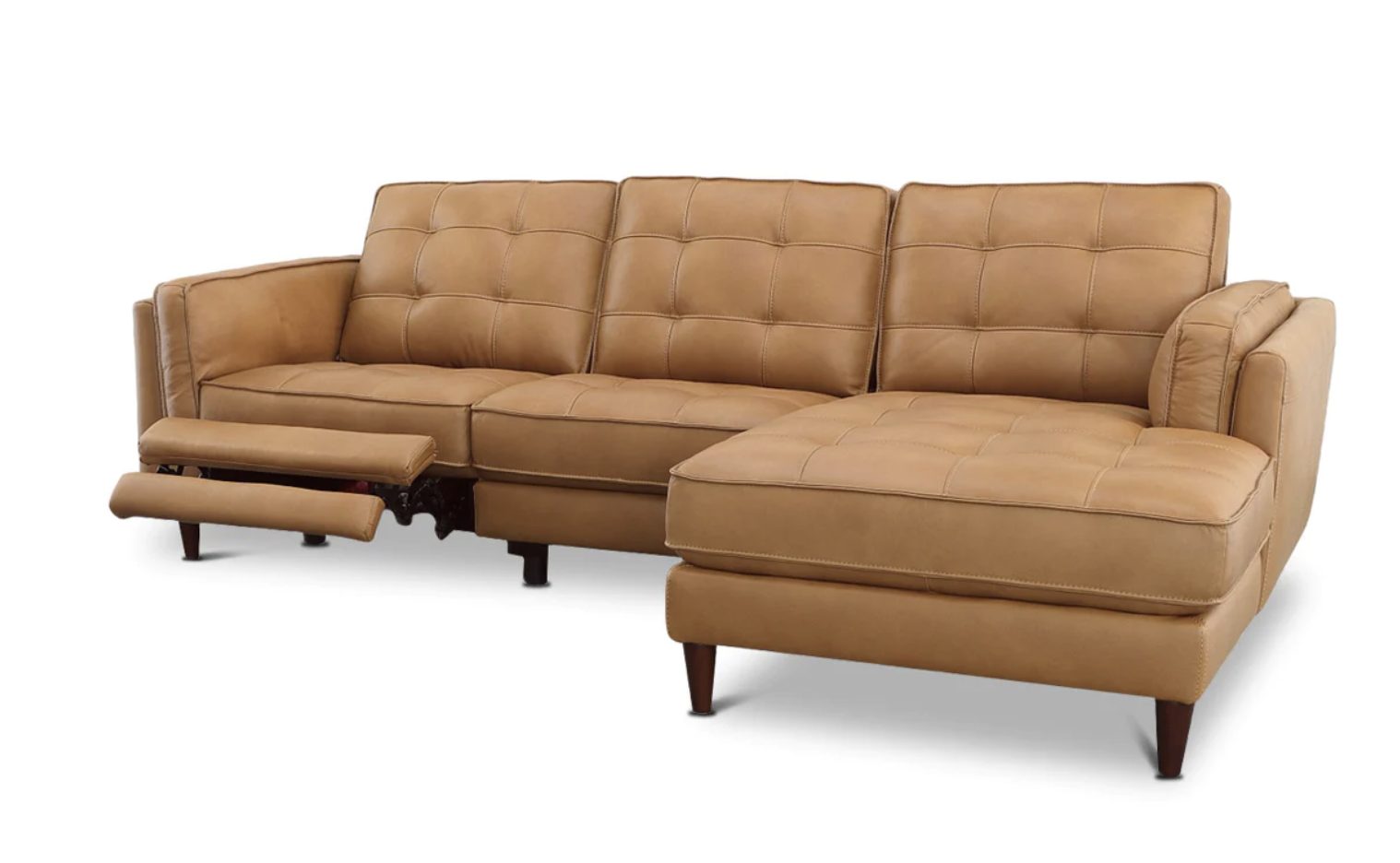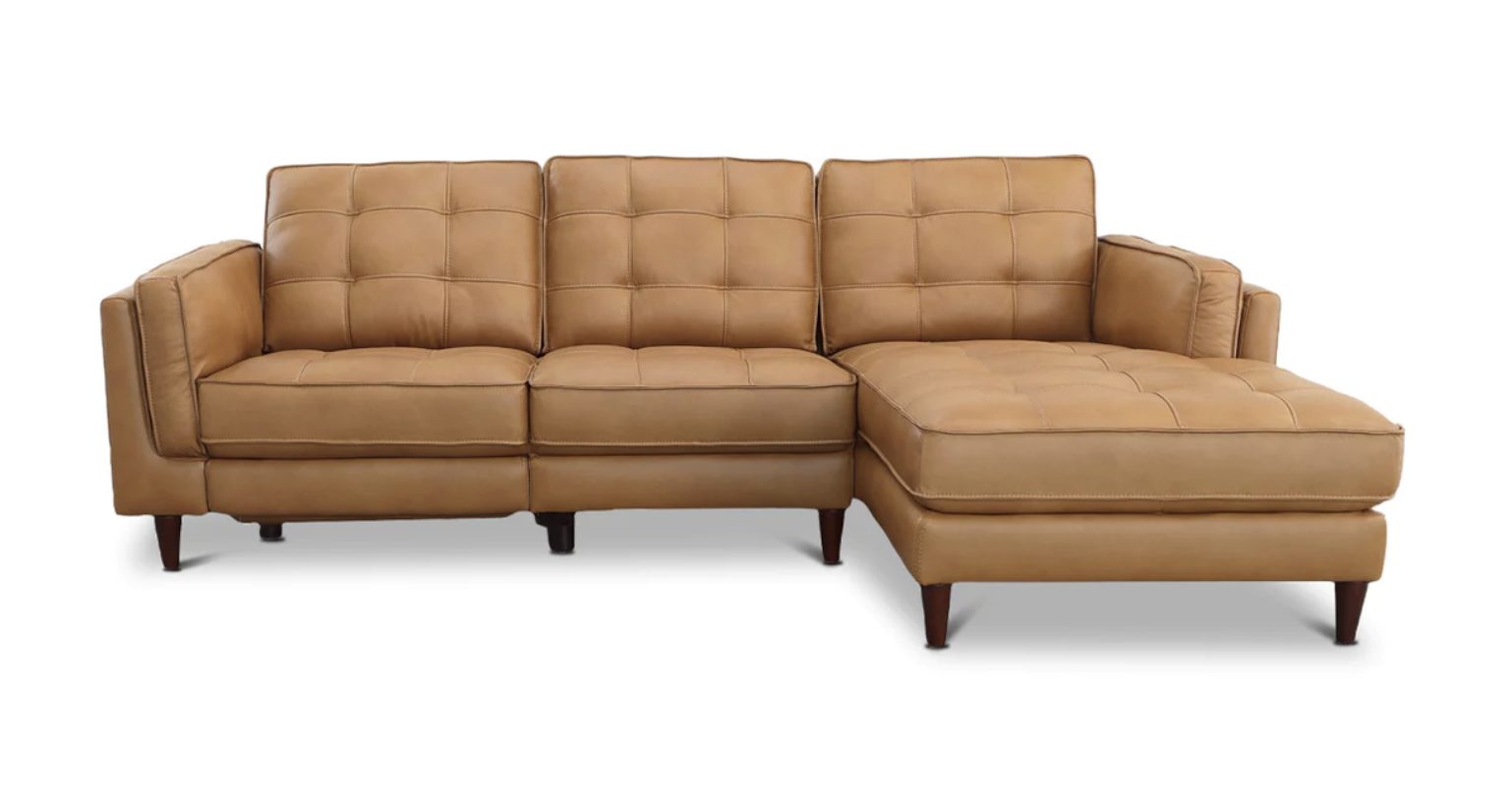 We are crushing on the concealed power footrest for the ultimate mix of style and relaxing. This is a great pick for durable, lasting design and intricate detail that does not go unnoticed! A timeless brown leather sectional that will last forever!
It features a tufted back and seat cushions. Removable back cushions with zippers to hold in place! Also has removable wooden legs! This is a great option if you're on the hunt for a brown leather sectional.
Which one of these brown leather sectionals will you choose?
We know shopping for the perfect sectional is hard, especially when you know you want only the best leather couch, which is why we've put together this list of the most comfortable leather sectional couches you can buy.
No matter what your style is or how much you want to customize your new piece of furniture, there's your most perfect soft leather couch waiting for you!