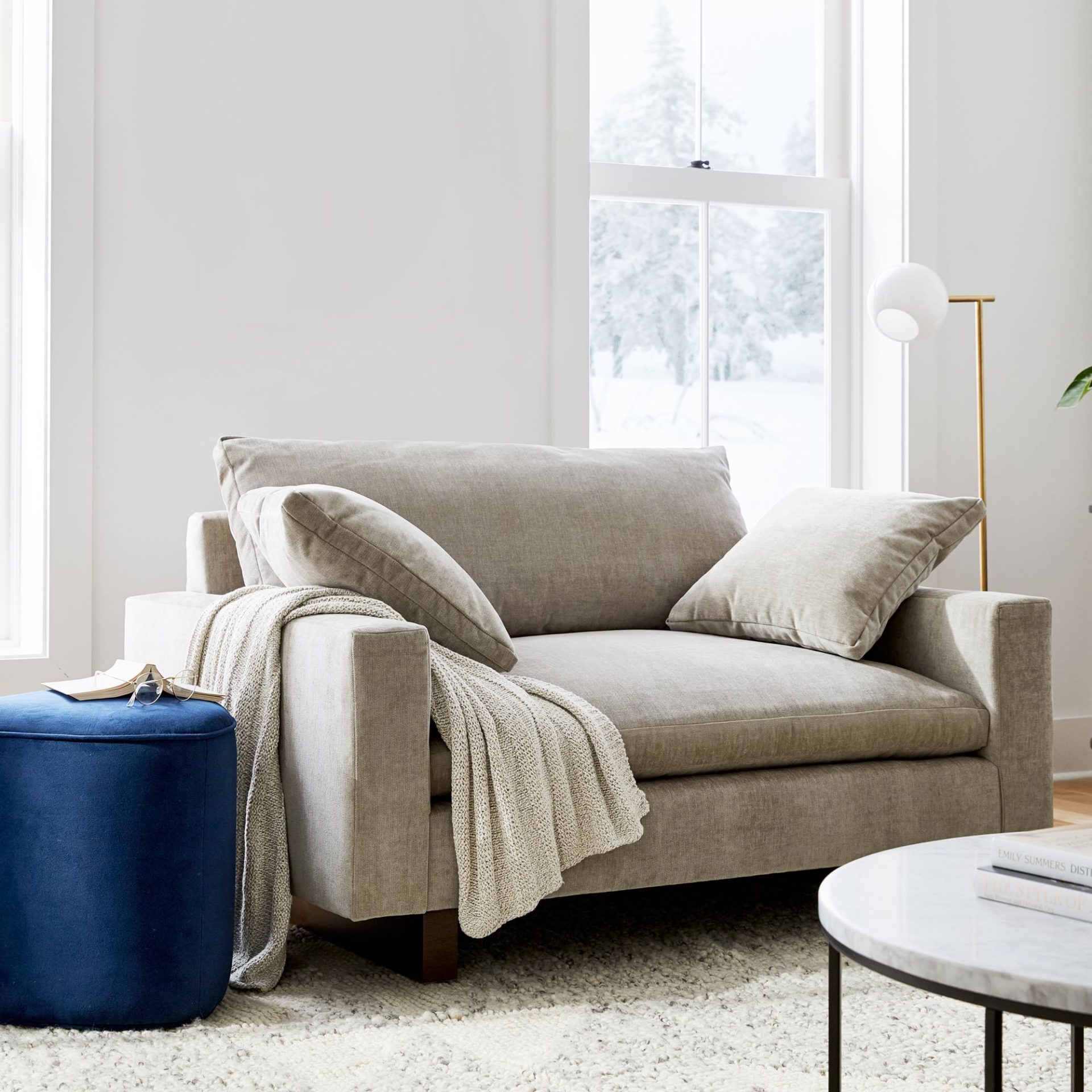 Oversized chairs are the ultimate way to bring up the cozy factor! Whether you're looking for a comfy bedroom chair, office chair, living room addition and beyond — we've got some amazing options below! You'll also like: The Best Comfy Chairs For Your Bedroom to Relax and Unwind, 17 Sherpa Accent Chairs That are Worth It and The Best Swivel Chair on the Market
Oversized Chair
This oversized chair curves 360 degrees for the ultimate lounge spot! Sprawl out, curl up — make yourself comfy! So many options for customization including colors, textures and fabric! The cushions are similar to a cloud-like feel which offer supreme comfort. It will also last forever! 
The Harmony is one of the most comfortable chairs ever and a best seller for West Elm! It has deep seats, plush cushions and gorgeous throw pillows. This oversized chair is like a dream, and we all deserve to kick our feet up from time to time. Another chair that offers customization from colors to fabrics. It will look amazing in any home! 
An oversized chair that's perfect for tv viewing and entertaining. The base swivels 360 degrees (also great for kiddos!) and the durability is unmatched. The cushions also have a zip-off cover for easy cleaning. Customize to your home with fabrics and colors! We love the unique look on this one! A great option for an oversized chair. 
Finally, a chair and twin sleeper sofa that you'll spend lots of time in! This guest-ready sleeper chair features the most comfortable seats that will give you a 'sink-right-in' quality which we all love and adore! Customize with colors/fabrics for your design taste. 
Guests will love the ultra comfortable foam mattress that will keep you cool! An oversized chair by day, and a sleeper by night. It's a versatile design that will go with all designs and styles! A great option for universal style that won't go off trend. 
The low frame, deep seat and oversized cushions give this oversized chair a sink-in feel that's perfect for everyone in the family (furry friends included). The cushion covers unzip for easy cleaning and the durability is unmatched. Just a beautiful chair that will be loved for years to come! 
Each of these chairs are crafted in the USA with hand-built frames! This oversized chair is one of the cushiest seating options that will feel like cozy cocoon! Definitely a fan favorite! 
The removable fitted slipcovers makes cleaning a DREAM! This is the ultimate oversized chair for families alike. The slim, streamlined frame pairs perfectly with any design style and the wide frame is made for curling up after a long day!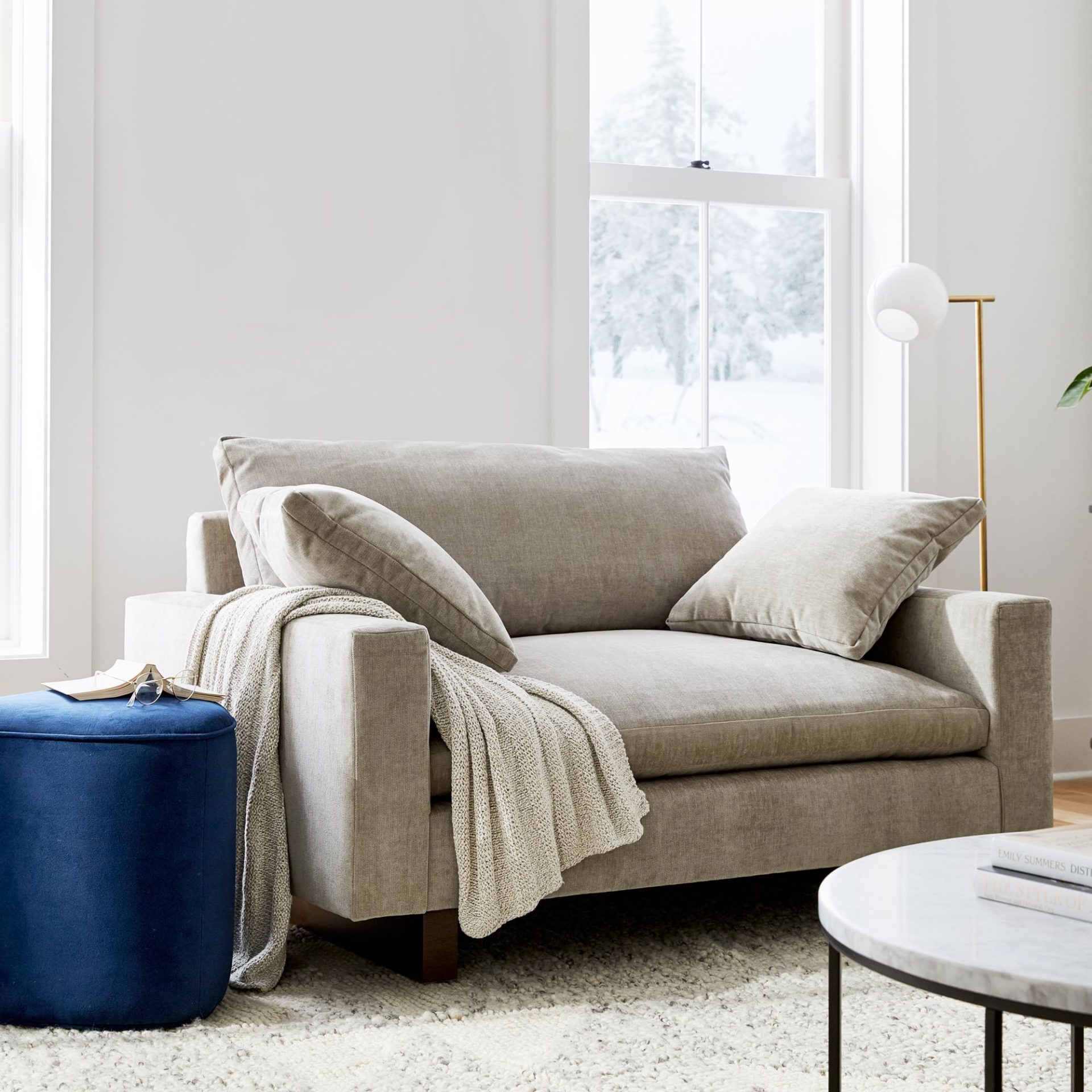 This modern chair screams comfort with pillowy-soft cushions and hand built frames. Customize easily with dozens of textures/fabrics/colors that will match your home decor! If you're looking for a plush oversized chair, this is your chair! It ranks a very plush 1 (with firm being a 5) on the scale. Sweet dreams! 
The Haven chair includes plush seats that you'll spend lots of time in! It has a low-frame (which we love for kids) and the overstuffed cushions can't be beat. Choose the choice of durable leather that you love best. One of their best sellers on the site!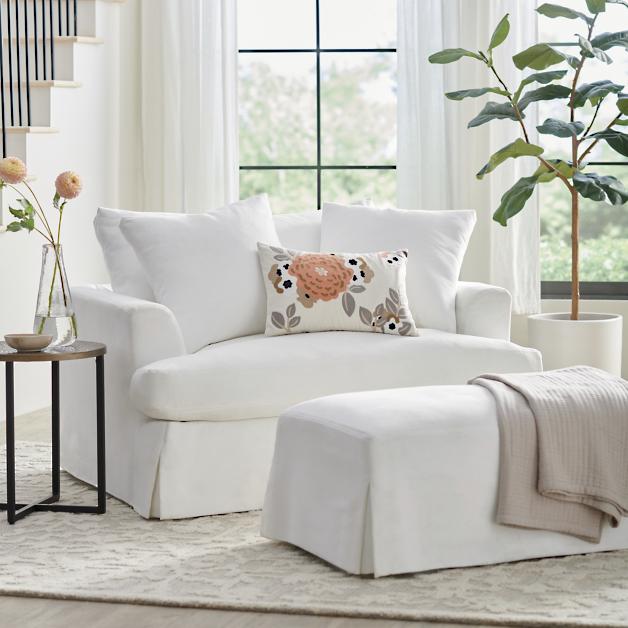 Another great option for families because of the removable, easy-care slipcovers that are designed for heavy-duty wear. This oversized chair and ottoman (sold separately) have a deep seat with feathery soft relaxation. We just love this one! 
Soft feather and foam cushions are perfection for the ultimate relaxing! Also durable with a 'spill and stain' repelling technology that wraps every fiber in protection. We love the frame for stability and structure — the oak feet are an added bonus for organic modern style! It's a great chair for any area of the house. 
This oversized accent chair provides support for long hours of lounging! It's a velvety upholstery (and comes in 3 color options). The best part? It comes fully assembled with complimentary pillows to add for extra comfort and style! Can't beat the price either! 
Easily my favorite oversized chair on the list! This stunning boucle chair has all the cozy, vintage vibes. It also features a soft texture with a luxe seat (low and deep for easy sinking into!) and it's just gorgeous! It was designed by Jannis Ellenberger and a CB2 exclusive! 
MATRA DEEP TEAL VELVET LOUNGE CHAIR
This bold chair is the perfect compliment to any home! It's a gorgeous plush deep teal velvet upholstery and another CB2 exclusive. Just a stunning option!