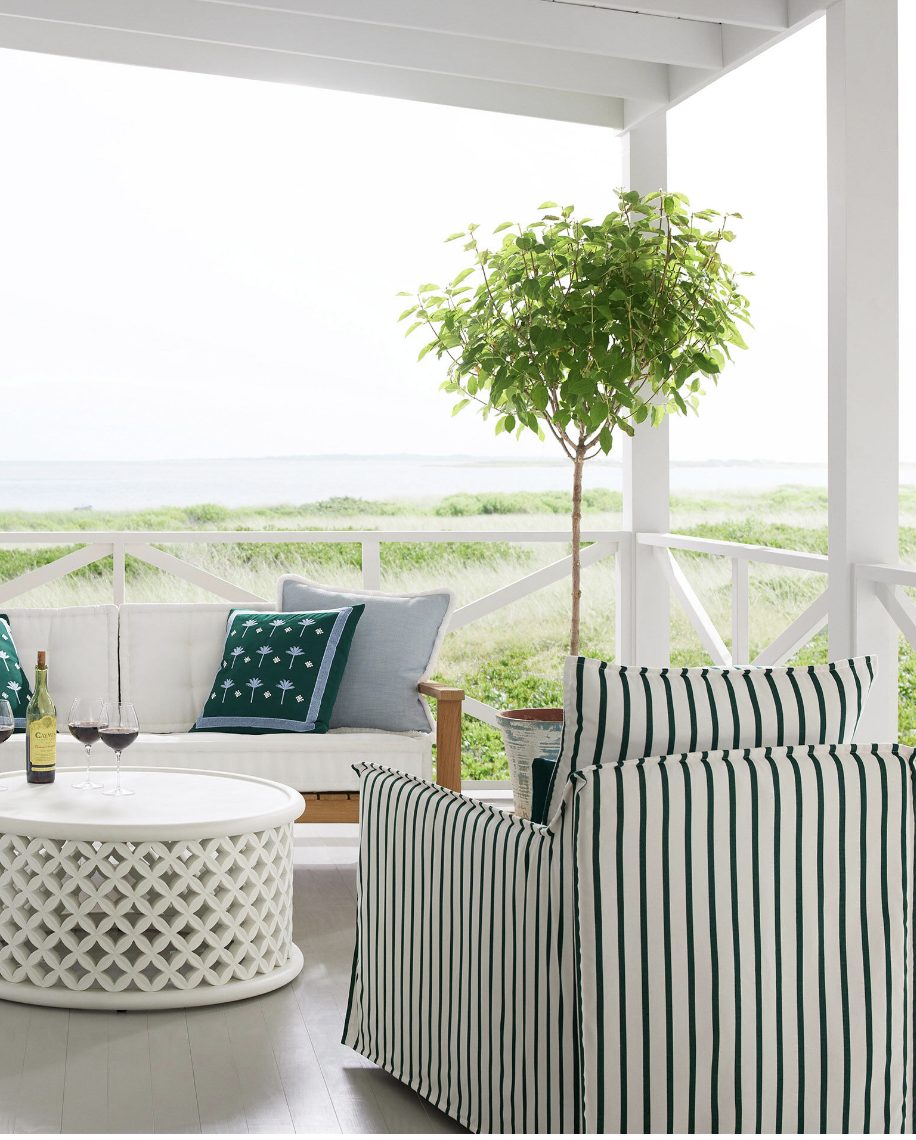 If you're feeling cramped in your house, making your outdoor spaces into social seating areas can be a great way to shake things up to get more space to host guests or relax during nice weather. Of course, you will need furniture to put outside, but so much furniture meant for the outdoors is heavy and inconvenient.
A unique and convenient choice is swivel chairs. These work great indoors and outdoors, eliminating the problem of having to move around heavy furniture every time you want to adjust where you're looking. There are a lot of beautiful and unique options for outdoor swivel chairs, letting you decorate your space in a way that speaks to you.
Need some recommendations? Here are some of the best outdoor swivel chairs available right now.
You may also like: The Best Swivel Chair on the Market| 15 Best Boucle Chairs That will Transform Your Space
---
Outdoor Swivel Chair
---
The elegant artisan teak frame of this chair is the star of the show. Each chair is hand-crafted and built to last and make a statement. The intricate patterns on the back and the gentle curves of the arms are made to catch the eye.
Teak wood is naturally anti-fungal and resistant to rot, moisture, insects, and warping making it fantastic for outdoor furniture. The color will fade to a soft grey over time due to the sun, but the color does not affect these functions and is purely aesthetic and still quite beautiful and classy.
The cushions are removable, but you don't need to worry if they're left in the rain. They are filled with anti-microbial filling and encased in a waterproof fabric, so you don't need to fret about the cushions mildewing for a long time. If they do eventually wear out, replacement cushions are available. These chairs tend to ship within five to nine weeks, depending on your color choice for the cushions.
Material: Mahogany and Eucalyptus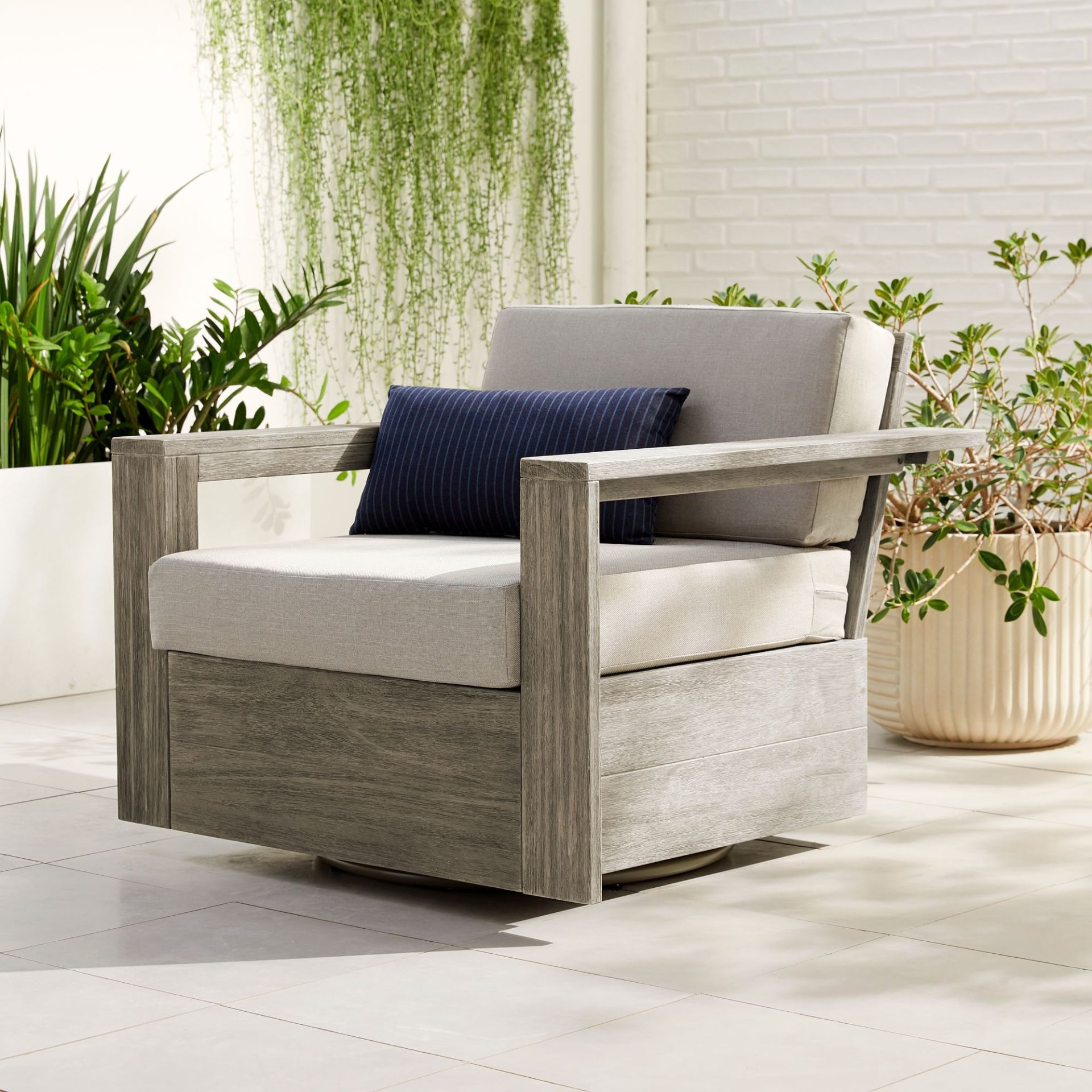 This modern yet classic chair adds a beachy vibe to any outdoor space while still looking classy and fashionable. The frame is a simple square shape that stands out among the rest.
The mahogany and eucalyptus wood is moisture resistant. It won't rot if left out in the rain, keeping your chair in peak condition for a long time. The color will eventually fade, but it will hardly be noticeable if you choose a weathered gray frame for your swivel chair.
The soft yet durable cushions are weather-resistant and won't be ruined if left out in lousy weather occasionally. However, it's recommended to put them away or purchase a cover for your chair to protect it from a storm. If you protect your chair this way, you'll be able to increase its lifespan.
Material: Teak with ivory polypropylene rope
This unique swivel chair has strong ropes connecting its frame, making it look like it wouldn't be out of place in a beach resort. Having this chair in your outdoor spaces will make them feel upscale and luxurious.
The rope and wood are treated with a weather-resistant coating, ensuring the chair stays in good condition. The cushions are removable for storage when not in use or during storms, keeping them dry and in good repair.
The rope structure creates a uniquely supportive feeling when you sit, comfortable and springy.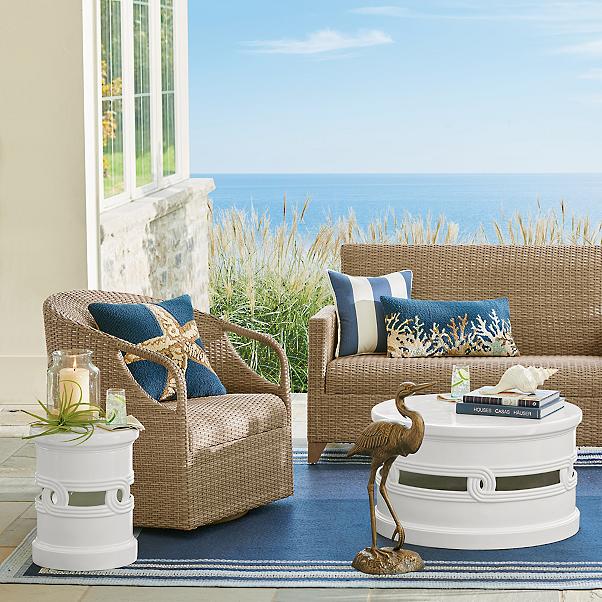 This gorgeous and wicker swivel chair is a gorgeous addition to any sunroom, beach house, or outdoor space. The beachy vibe from this chair will add a pop of color and brightness to a room and complement other wicker furniture wonderfully. While rustic and beachy, this chair can also look great as a statement piece in a modern-style room.
Material: rattan wicker (SO many options for fabric!)
The natural finish on this wicker chair makes it a fantastic complement to any furniture you may already have outdoors. The frame is treated in a weather-resistant coating and is made of weather-resistant material, so the chair should last a long time.
The seat cushion is removable for storage and cleaning. If something spills on it or if it gets left out in bad weather, you don't have to worry about it soaking up the moisture and molding.
The fabrics available for the cushion are performance fabrics that resist stains, mildew, moisture, and fading, so the cushions will look like new for a long time with proper care.
Size: 32″w x 33″d x 28″h

Material: All-weather resin and aluminum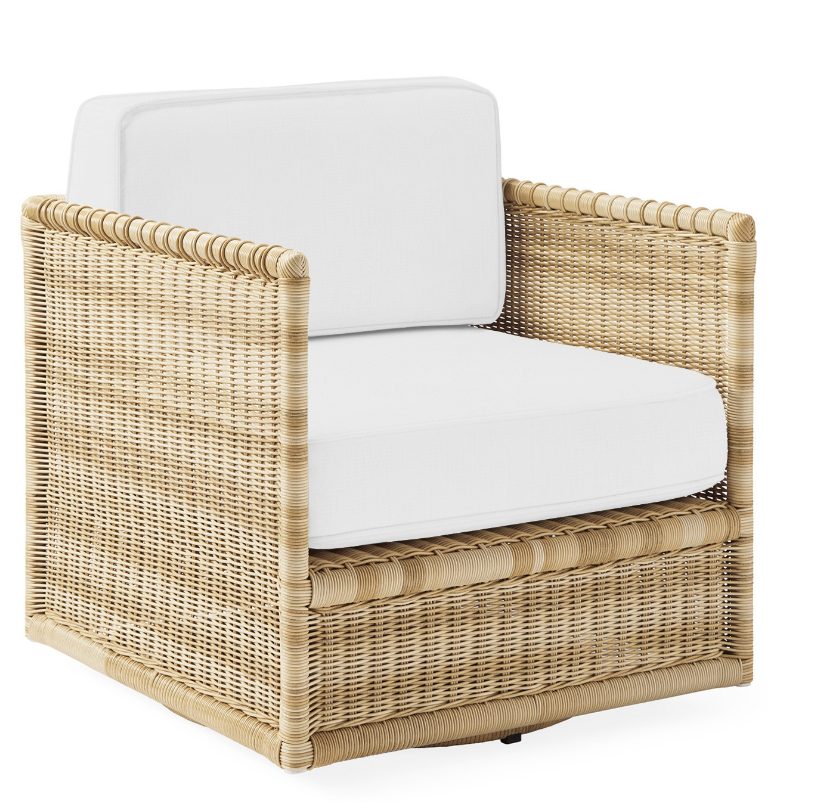 This wicker swivel chair is beachy and beautiful while not sacrificing stability or function. The wicker is reinforced with an aluminum frame and coated with a weatherproof resin to prevent damage to the frame by the wind or rain. The light color of the frame can lighten up any space you put it in and looks great in the sunlight.
The cushions are made of an all-weather foam, and their covers are made with your choice of weather-resistant fabric. There are several choices and levels of durability, so you can customize your chair's strength to suit your needs.
If you want something a little more fun than plain white for the cushions, there are several other fabric options for you to choose from. You can pick stripes or checkers to keep the beachy vibe in shades of blue, yellow, and red.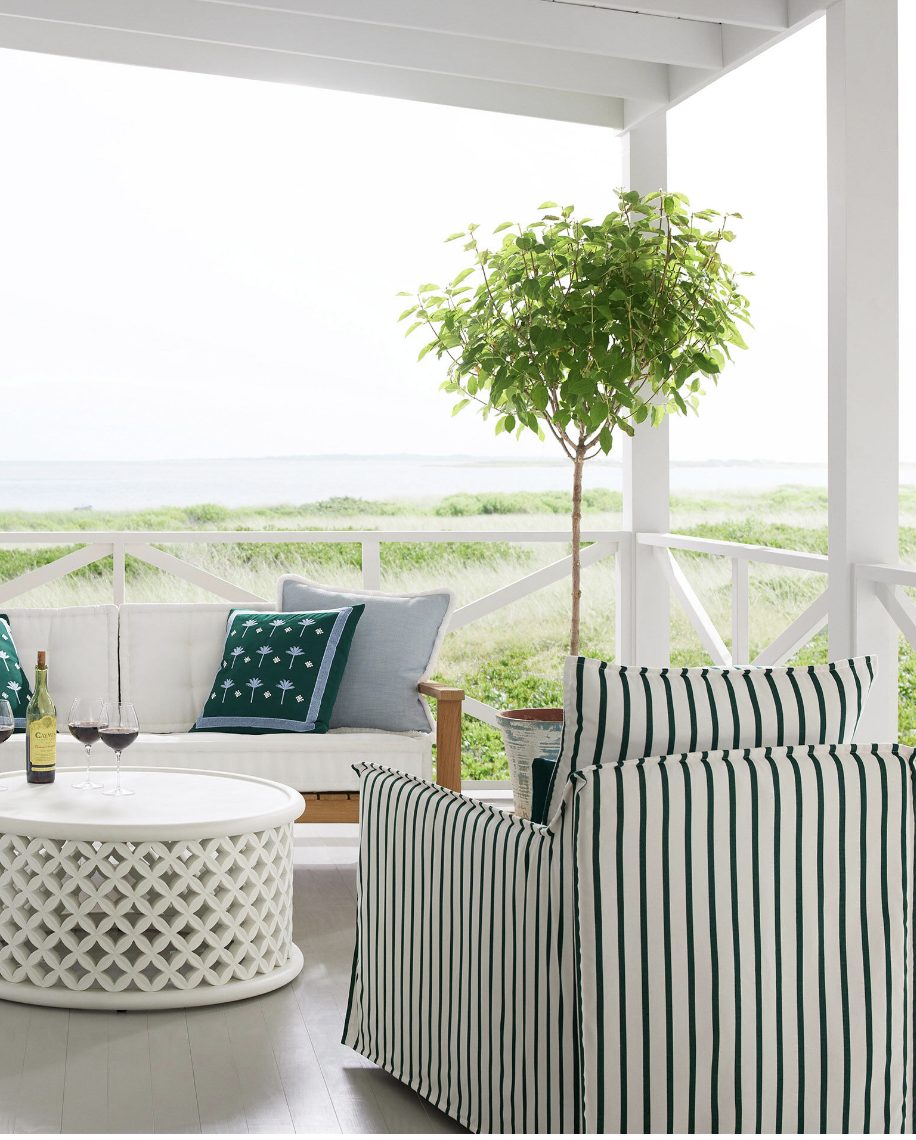 Want to keep the cozy cushioned look of an indoor chair but still have it be durable enough to be outdoors? This slipcover chair delivers. With a weatherproof frame covered in weatherproof fabric, this chair is perfect for living room comfort in the outdoors.
With the cushions and covering, this chair is fantastically comfortable. You'll feel like you're sinking into the cushions when you sit and have no problem sitting and holding a conversation for hours or relaxing outside on a nice day.
Material: Birch, Acrylic fabric
Finally, this beachy and old-fashioned barrel-style chair is a classic look to add to any outdoor space. Filled with waterproof fiber, the cushions provide a cozy and soft seat while still resisting the damage dealt by nature.
The pinstripe fabric is a thick weave acrylic that will withstand high temperatures, direct sun, and weather battering without fading or taking significant damage. Even with this, it isn't a firm and hard fabric like many other fabrics meant for outdoor use. If you want to have this indoors or on a closed-off patio, this chair would also be lovely in a living room or sunroom.