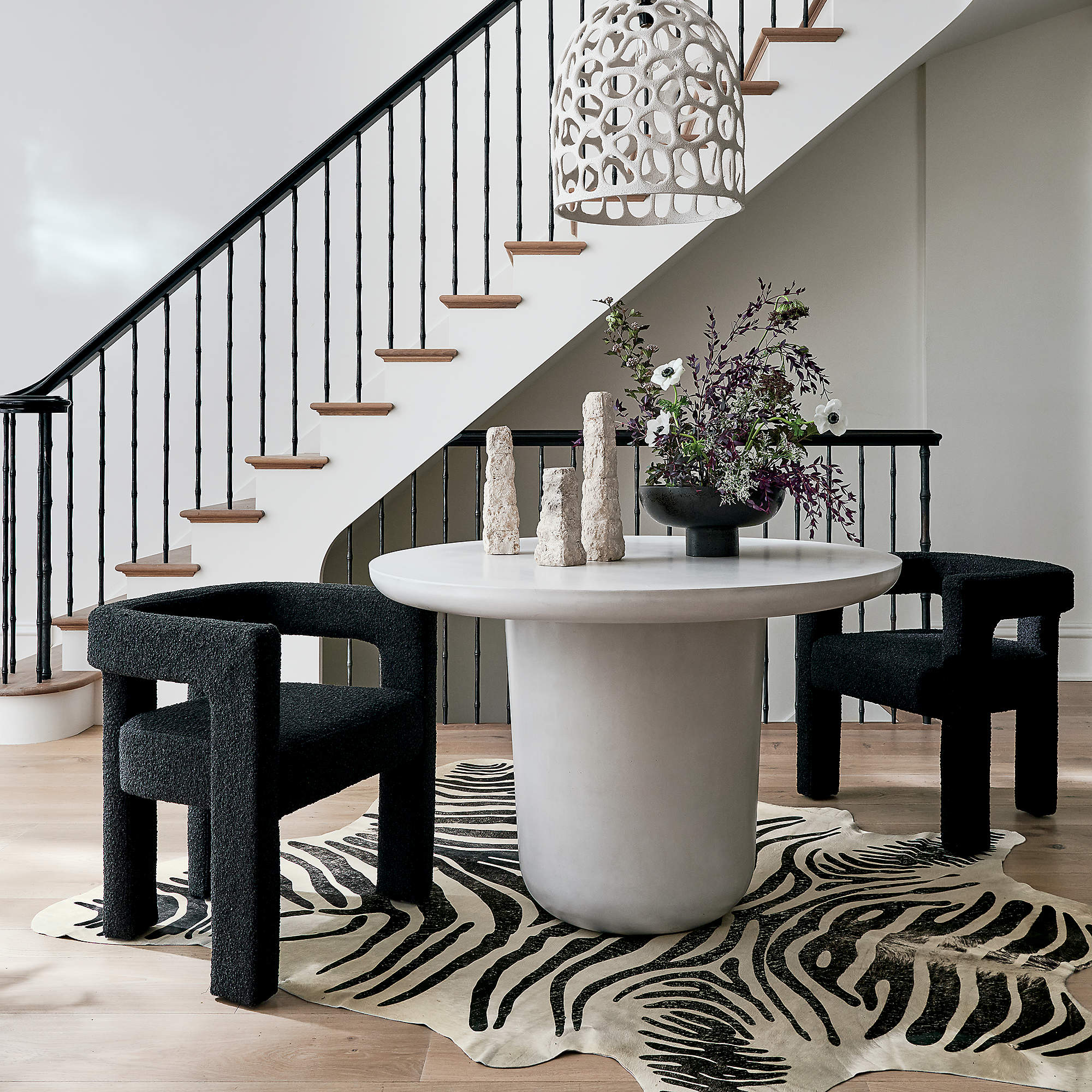 Boucle chairs and furniture have been around for ages, and for good reason! The fabric is textured and comfortable, giving anything made of it a lot of visual appeal without sacrificing functionality.
These furniture pieces are fun, bright, and made in several different styles. You can find boucle accent chairs, swivel chairs, and even dining room chairs! The possibilities are endless with Boucle furniture; you're sure to find something that suits your tastes and needs.
Looking for some recommendations? In this article, we'll be going over some of our favorite boucle chairs!
Make sure to check out: SWIVEL CHAIR | MODERN SOFA PICKS | SHERPA ACCENT CHAIRS
---
Boucle Chair
---
1. Bacio Cream Boucle Lounge Chair
32.75″W x 36″ D x 29.75″H
This oversized and bubbly chair looks just as cozy as it is in reality. The cushions are plush, soft, and springy, allowing you to feel like you've sunk into the comforts of this seat. The upholstery is a high-quality cream-colored boucle, providing a soft texture and a timeless appearance, and the oak legs give an extra pop of color and brightness.
This Cb2 exclusive will work beautifully in any modern, contemporary, or classic styled room, providing immense comfort and a bright and classy statement piece. This chair is estimated to arrive about 2-3 weeks after ordering, so you won't be left waiting months for your cozy new lounge chair!
This modern chair from McGee & Co is an excellent addition to any modern-style home. The arms have a deep slope, allowing a lot of leg room for stretching and getting comfortable. The back is high and curved, giving plenty of support and a fantastic feeling of sinking into the seat.
The soft cushioning is upholstered in ivory, flax, or pebble gray boucle fabric. The attractive texture and the unique comforts of this chair make it well worth the cost! This chair is a beautiful statement piece and will stand out without interfering with the design and flow of a room.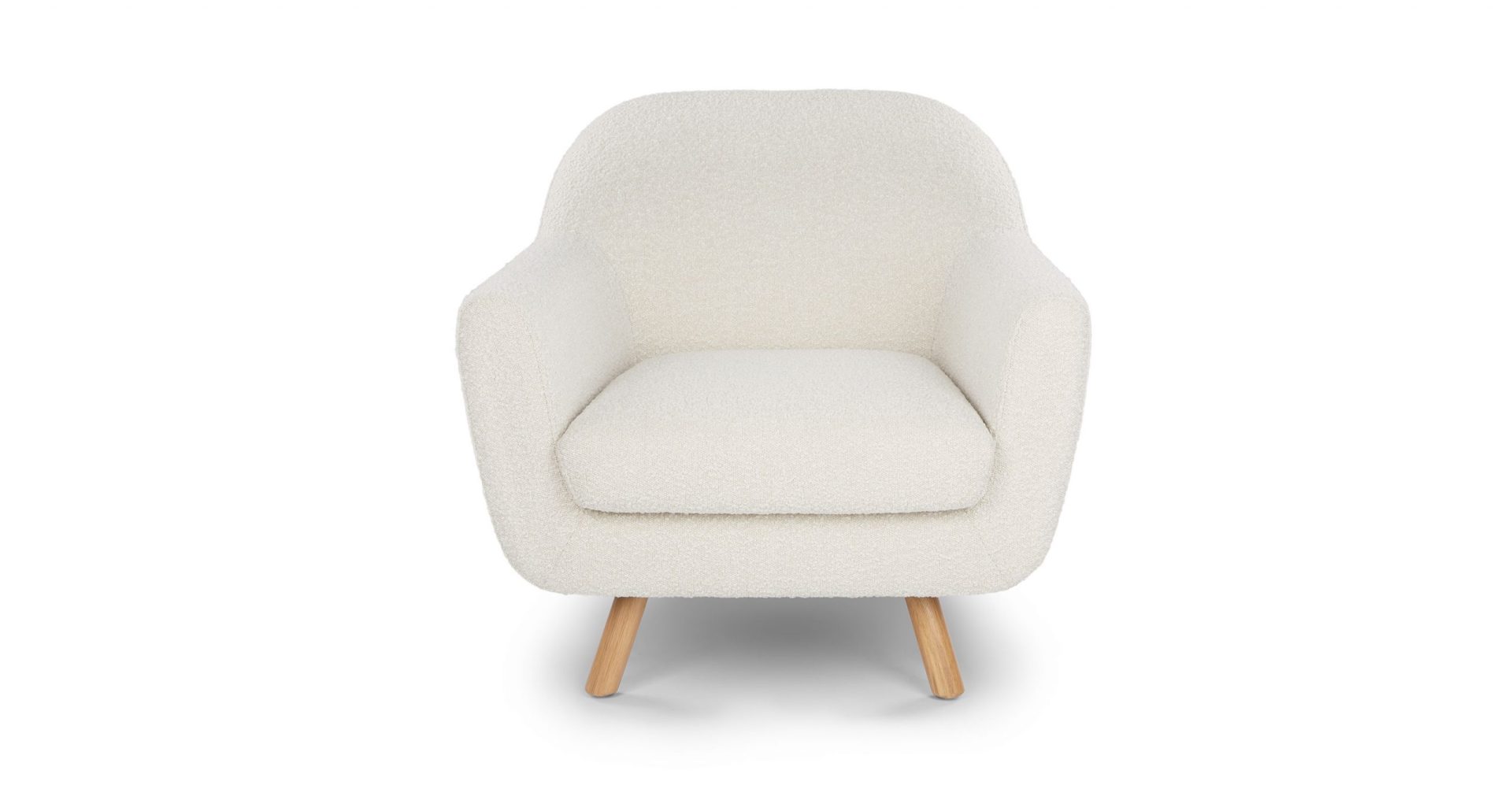 This classic and timeless lounge chair from Article is a perfect chair for any home style, able to mesh perfectly with any existing furniture you may have. The soft ivory or gray boucle upholstery covers plush and soft cushions, and a wide seat allows plenty of room to stretch out.
This seat is perfect for adding extra seating to a room without worrying about clashing styles. The short shipping time of two days to two weeks means you'll have your chair quickly and can start hosting guests as soon as possible!
This unique accent chair has a round and inviting shape, just looking at it tells you how comfortable it is. The incredibly plush cushions are upholstered in ivory boucle. You'll never want to get up again when you sink into the cozy seat.
The legs are made of a beautiful pine wood that compliments the boucle upholstery perfectly. This cozy chair is a statement piece that will look great in any home style since it's so unique! The shape and color almost remind you of a marshmallow, creating a nostalgic and cozy feel about the chair.
This unique and fully upholstered ivory boucle accent chair will catch the eye in any modern-style home. This chair has a unique silhouette for an accent chair and could even be used as a dining chair if you want to use it that way. The soft ivory color will blend into any room without disappearing, acting as a subtle statement piece.
This chair is plush and soft, with a curved back piece for extra support and relaxation. The open back allows for airflow, meaning you won't get too warm while relaxing in this fully upholstered armchair. This chair ships 2-4 weeks after you order it, so you don't have to worry about temporary seating for very long before it's delivered!
This lovely chair is perfect for any contemporary home. This chair has a beautiful hardwood and cast iron frame that looks sleek and interesting, with armrests wrapped in quality leather. The cushions are springy and plush, upholstered in a soft ivory boucle fabric. The back cushion is removable for easy cleaning, making this chair easy to keep looking nice!
If you want to add extra comfort to your chair, there's a version that comes in Sherpa Boucle, creating a shaggy and luxurious texture. This chair shows up early compared to other furniture sets, arriving just 2-4 weeks after your order!
This beautiful and classic-looking chair is perfect for anyone looking for a comfortable place to sit and relax. The frame is made of warm-toned oak wood with cushions upholstered in plush ivory boucle. The included throw pillow creates extra lumbar support, adding to the comfort of this chair.
Suppose you're the type to have a designated reading nook area in your home. In that case, this chair is a perfect addition to your relaxation space. The cushions are thick and padded, letting you sink into the comfortable fabric and relax to the fullest! This chair is delivered within 2-4 weeks of your order, so the waiting period is relatively short compared to other furniture pieces!
8. Boucle Headrest Lounge Chair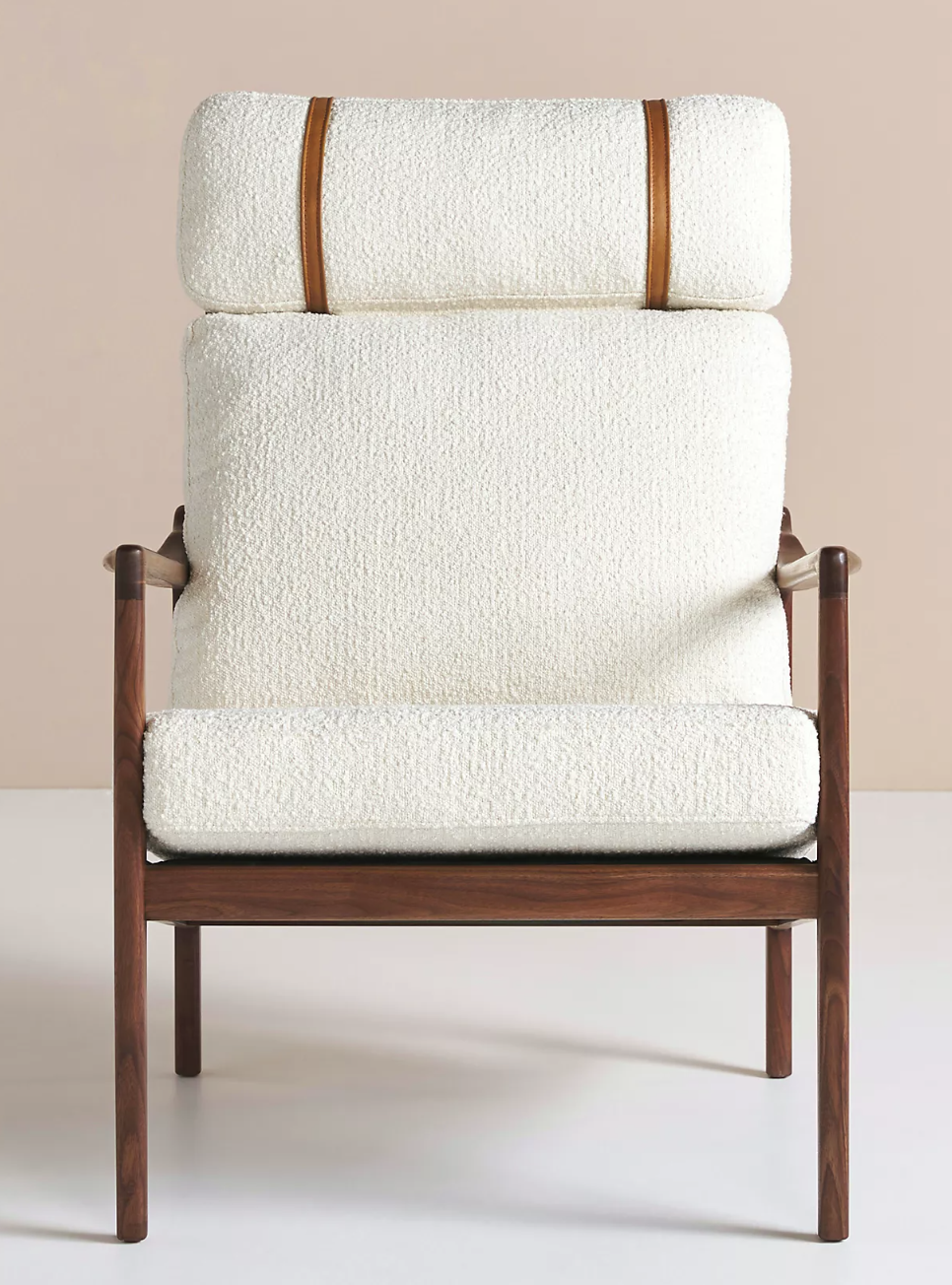 This unique and sophisticated lounge chair is the pinnacle of comfort and style. The gorgeous walnut frame compliments the grey or white boucle beautifully, adding a pop of color and vibrance to your living room. The chair's headrest has striking leather straps for extra style points!
This chair has a beautiful sloping back that lets you sink comfortably into the cushions. The headrest is perfect for letting you keep your head up without straining your neck. This chair is ideal for any living room and decor style, especially in naturalistic and modern-style homes.
This chair ships 2-4 weeks after your order, so you can focus on decorating without waiting months to get your new chairs!
This classic-looking dining chair from Anthropologie is perfect for any dining room. The seat is upholstered in ivory boucle. The frame is made from oak wood, either stained ebony black or untreated and natural in color. If you want the comfort of Boucle without worrying about staining your chairs, this beautiful dining chair will work well for you.
The classic look of the design means that this chair will match any design you already have going in your dining room. Either color available will draw attention and add flair without appearing distracting or looking out of place!
10. Boucle Hagen Dining Chair
This classy and soft dining chair is fully upholstered in ivory or domino boucle, giving a unique look to your dining room. The frame is thin yet sturdy, adding flair without being bulky. If you want a soft and comfortable chair for your dining room that stands out as unique, this Anthropologie chair will work wonders!
This chair takes a while to ship and is estimated to arrive three months after ordering. If you have a spare set of chairs in the meantime and are willing to wait, you'll find this chair is worth the money and the wait!
11. Stature Ivory Dining Armchair
24.75" W x 20.75" D x 26.75" H
If you're looking for a stylish and unique chair for your dining room, the Stature chair from Cb2 will work well for you. This plush chair is fully upholstered in soft ivory or black boucle for maxim comfort. Everywhere you might touch, this chair is cushioned and cozy; you'll almost not want to get up after dinner!
Be warned if you have kids, though: the ivory material can be made messy quickly, so you'll need to watch the kids and ensure they don't drop anything on the chairs!
This modern-style chair has a beautiful and timeless shape, adding a touch of femininity to any room you place it in. The seat is the classic drum shape and can be upholstered in cream or black boucle. The swivel base is made of parawood, adding warmth and color to your space!
This chair ships within 4-6 weeks once you've ordered it, so you can get a beautiful new chair relatively quickly!
13. Gwyneth Ivory Boucle Chair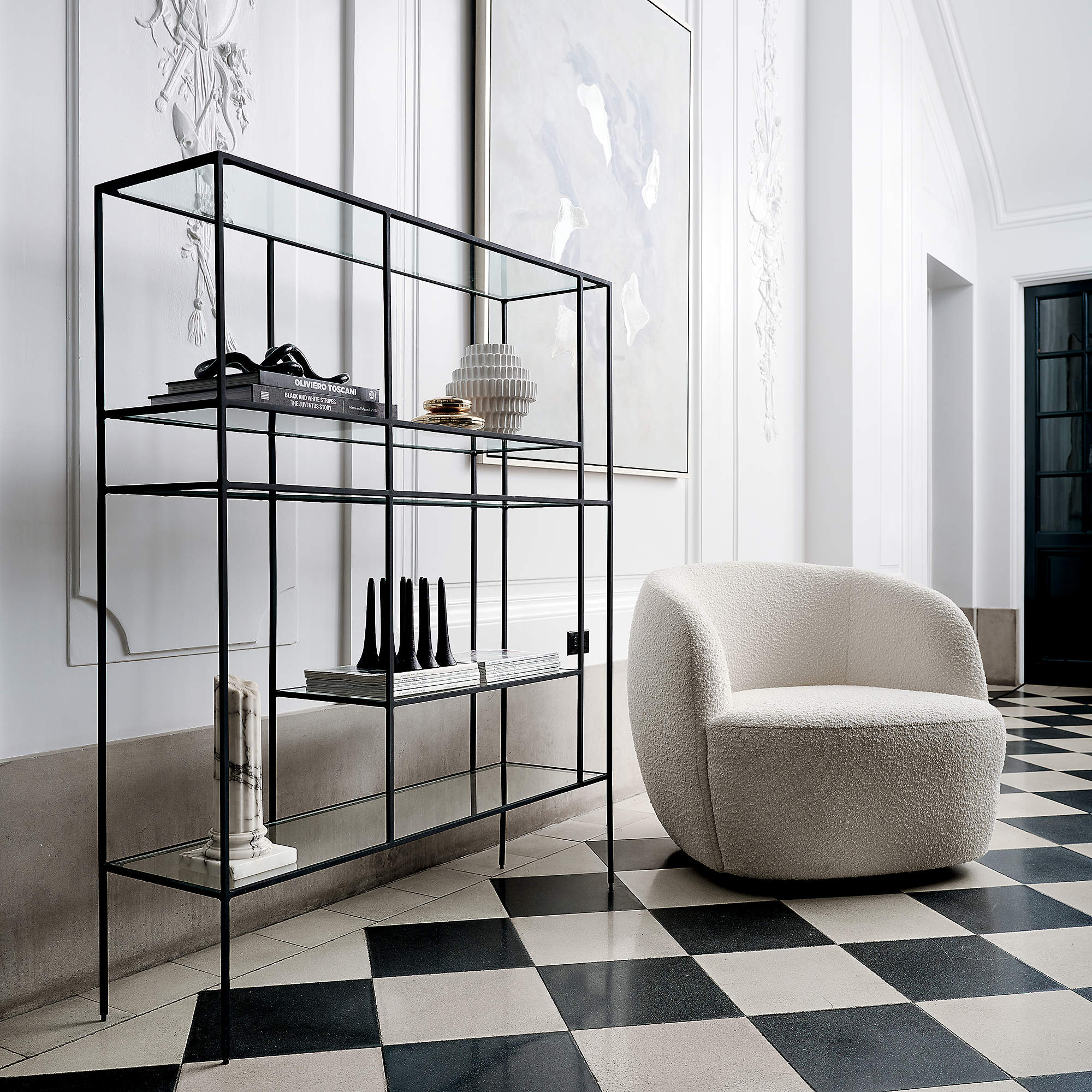 This classic-looking chair is a fun and comfortable swivel chair exclusive to Cb2. Designed in collaboration with Gwenyth Paltrow, this swivel seat compromises nothing, keeping the comfort of boucle-covered plush cushions and the stability of any Cb2 chair. This chair is meant to be lived in and is a fantastic choice for any home.
The best part? This chair comes in a set of two, allowing you to frame your couch with these beautiful chairs! Symmetry looks excellent in any room, and you save money by not having to pay thousands for each chair!
14. Anja Ivory Boucle Swivel Chair
If you're looking for a unique and comfortable desk chair, this lovely swivel chair from Cb2 may be for you. With a chrome base and soft white boucle upholstery, you'll be perfectly comfortable while working or relaxing in your home office. The shape is classy and unique, allowing for plenty of space for you to stretch out!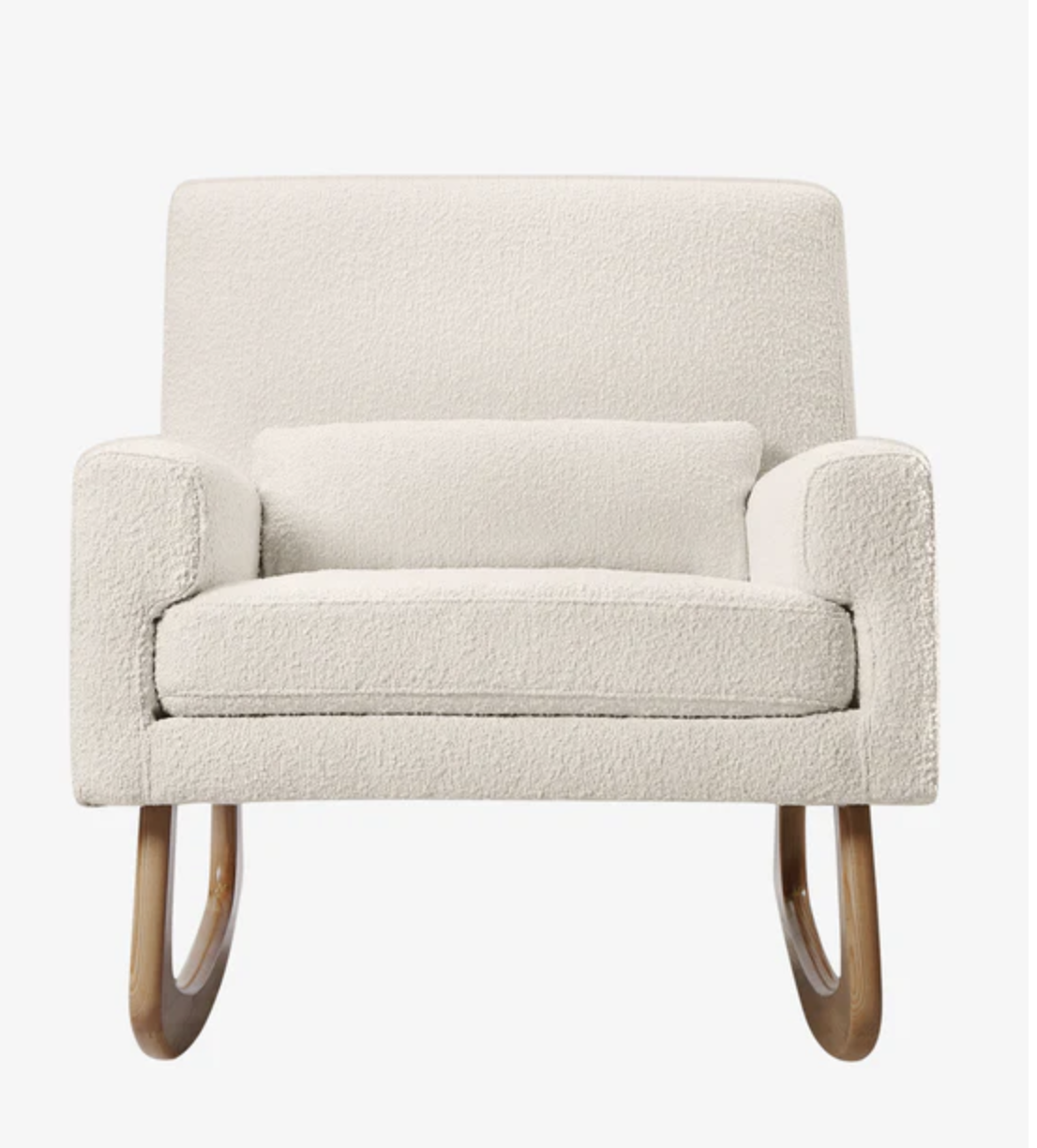 34″ W x 30.5″ D x 34.75″ H
This unique rocking chair from McGee & Co is a comfortable alternative to the classic wooden rocking chair. The Glider has beautiful boucle upholstery, light padding, and a deep seat to create the most comfortable rocking experience. It even has a removable lumbar support pillow so you can make the chair work for you!
This chair wouldn't look out of place in your living room, but it would work wonderfully in any baby's nursery as well. The neutral cream color and the ashwood rocker legs allow this chair to match any color scheme and decoration style.
This chair usually ships within 4-6 weeks, a relatively short shipping time for furniture!