Looking for the best swivel chair? We've got some gorgeous options below that are available now! Hope you find the one you love!
Looking for the perfect blend of style and functionality in your seating? Whether you're looking to enhance your home office, living room, or nursery, swivel chairs bring both comfort and a modern touch to your space.
Join us as we explore the world of swivel chairs, their benefits, and how to choose the right one for your needs.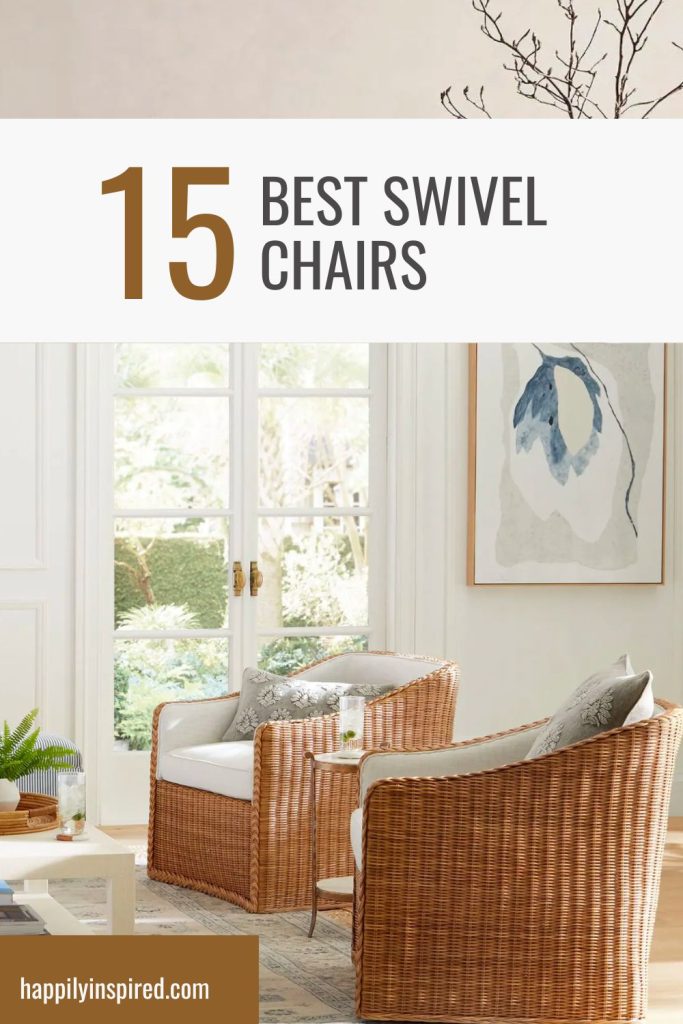 14 Best Swivel Chairs
1.
West Elm Viv Seamless Swivel Chair, $649 – $1,398
Size: 29.5″w x 31″d x 29.5″h

Material: basketweave, velvet, linen, chenille, twill, canvas, boucle

Color: Variable
This gorgeous swivel chair from West Elm is a timeless yet modern piece that will fit beautifully into any living room. You can choose between the back cushion being channeled, as shown above, or seamless and flat. With several colors to choose from among the different fabrics, you can ensure that your chair fits the color scheme of your room. 
2.
West Elm Haven Chair, $749 – $1,449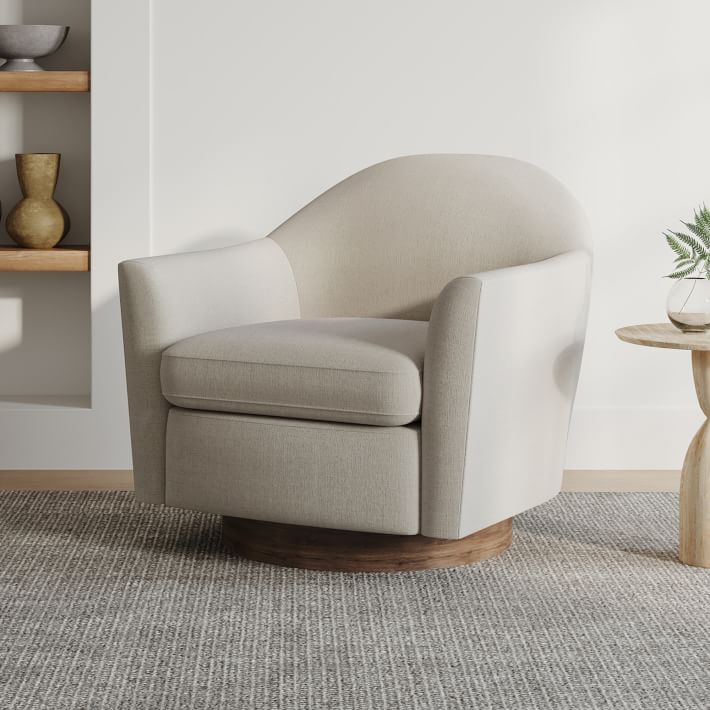 Size: 33.25″w x 32.6″d x 30.5"h

Material: leather, basketweave, velvet, linen, chenille, twill, canvas, boucle, tweed

Special Features: Stain-resistant, high durability, green guard options available
This chair goes beautifully with West Elm's Haven Sofa sets but is a standout piece in any living room. The wraparound arms and exposed wooden base give this chair a sleek silhouette and add to its comfort. 
The frame is made of kiln-burned pine, with reinforced joints and swivel points to ensure the chair is durable. The chair's base is dark walnut wood, a lovely accent to any room, and a nice compliment to any fabric color and material.
3.

Lulu and Georgia Oversized Swivel Chair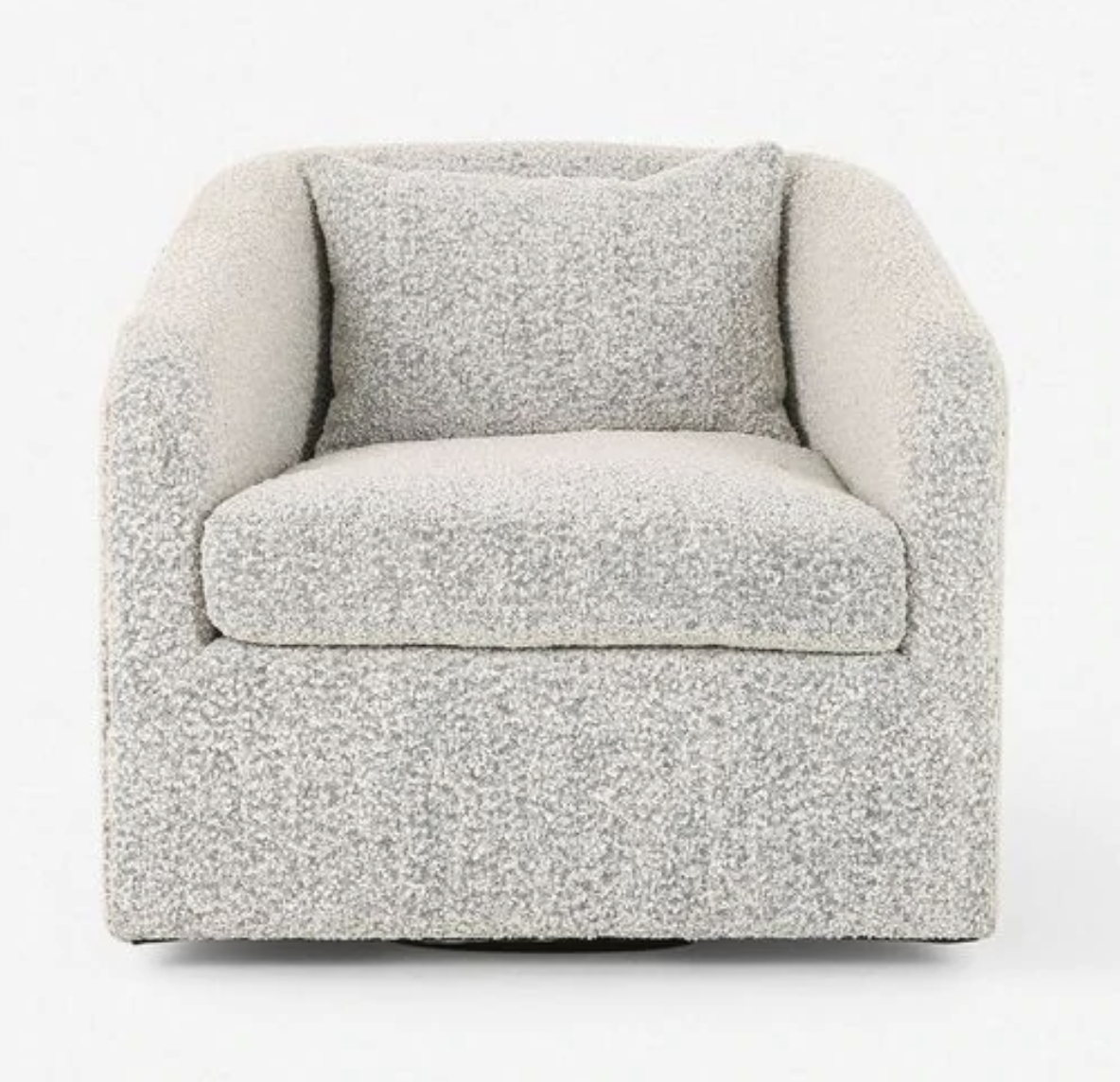 32″w x 35″d x 27″h

Material: Boucle

Color: Cream
This seventies-inspired chair cuts no corners on comfort and modern style. The webbed construction of the cushions ensures comfort whenever you sit down. The boucle has a plush and soft texture, which is excellent for sitting and relaxing. 
The swivel is hidden, so you'd never know that the chair wasn't just a standard armchair until you sit down. The hidden bottom means that the shape is very different from most swivel chairs' circular design. If you're not interested in the more modern-style circular chairs, this chair keeps all the functionality and convenience of a swivel chair while still looking like a classic armchair.
4.

Pottery Barn Larkin Chair
Size:

33″ w x 34″ d x 33″ h

Material: Basketweave, Boucle, Velvet, Chenille, Crossweave, Tweed, Weave
This modern-looking chair is a gorgeous addition to any living room. The soft yet firm polyester cushions and the sloped arms create a comfortable seat. The back is leaned backward, allowing you to stretch out and relax. 
The swivel base turns a full 360, allowing you to face any direction you want and need. The beautiful oak base will add a dash of brightness to any space. 
6.

Crate and Barrel Infiniti Chair
Size: 33″w x 34″d x 33″h

Material: Chenille, Velvet
This chair manages to invoke 1930s Hollywood while still staying modern and trendy. The sleek, sectioned design will make this chair look good anywhere, from a vintage-styled room to a more modern layout. This piece is timeless yet vintage, and the balance in styles is executed flawlessly.
The tight back and slightly firm cushions are cozy and comfortable, making you feel as though you are in an embrace while sitting here. The wide variety of bright and vibrant colors allows you to decide if this piece blends well with the rest of your furniture or if it's a stand-out, bold statement piece.
6. Swivel Barrel Chair
Size: 38″w x 34″d x 28.5″h

Material: Boucle
This chair is designed almost to appear to almost float off the ground, giving it a modern and exciting look. Exclusive to Crate and Barrel, this chair has a sleek, low back and arms, creating a unique silhouette. 
The cozy material, soft pillow filling, and tight back design create a fantastic place to nestle into the cushions and rest. The boucle fabric is soft and fluffy as well, making it hard to resist slouching down here.
7.
Article Turoy Swivel Chair, $599
Size: 28.5″h x 32.5″w x 32″d

Material: Boucle

Color: Ivory, Grey, blue
The Scandinavian-inspired design and beautifully textured fabric mean this chair will be a fantastic addition to any room. It has a slightly sloped back, creating a deep and cozy seat perfect for stretching out and relaxing, and the hidden swivel base gives the shape a classic feel. 
The boucle material has a fun and interesting texture on top of the polyester and foam cushion fillings, making you feel as though you've sunk into the chair whenever you sit down.
9.

Serena & Lily Parkwood Chair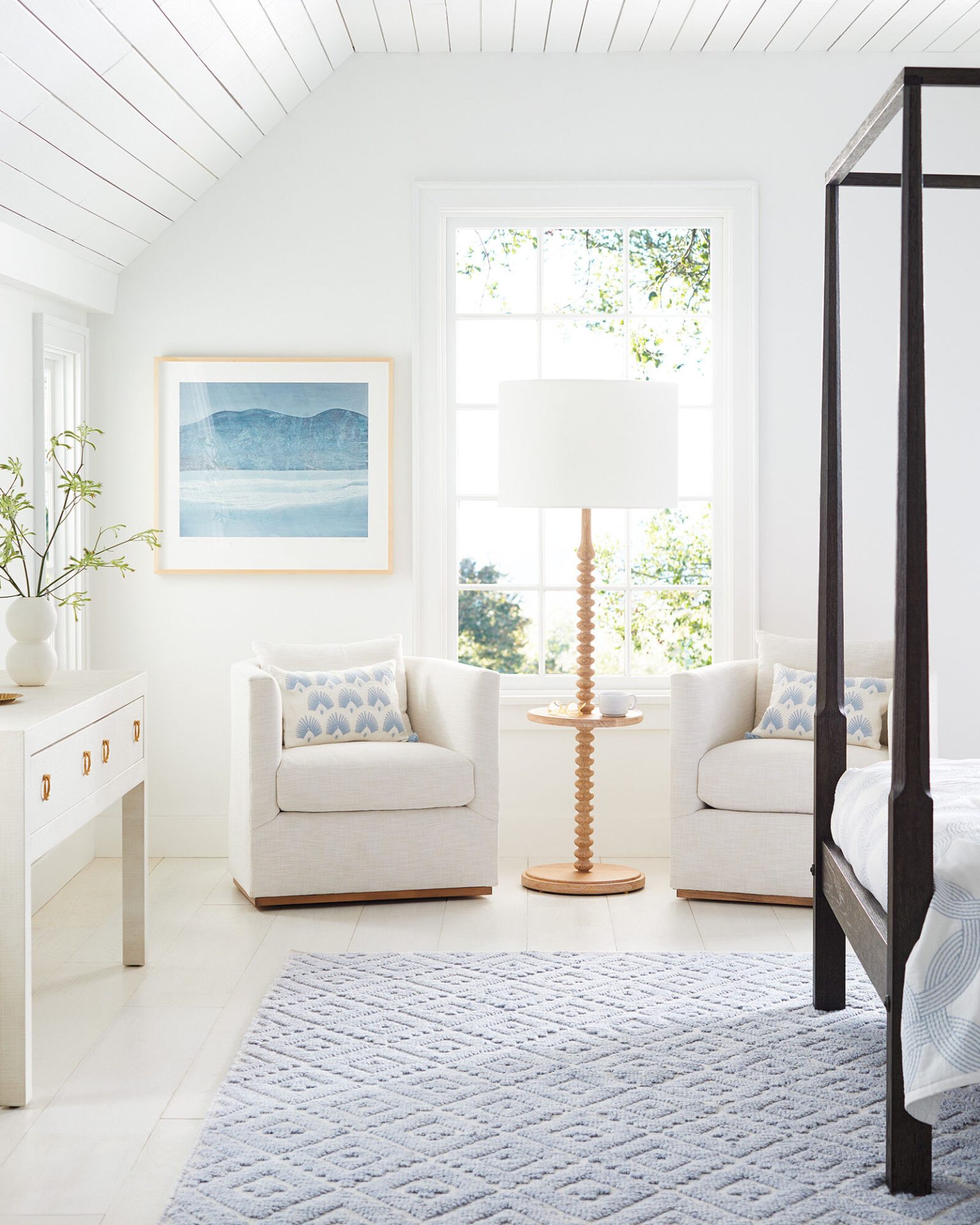 Size: 32″w x 32″d x 32h

Material: Performance, Leather, Velvet, Cotton, Linen

Patterned fabric available
A stylish and timelessly designed chair, this cozy seat will fit anywhere. The clean lines and curved back give it an inviting and casual feel, it's modern without feeling stiff. The swivel base comes in four different colors, depending on if you want a wooden accent or a standout blue or gray. 
The plush back cushion adds back and lumbar support, making you want to sit in this chair for hours. The cushions are filled with soft eco-friendly materials, creating a feeling of sinking into the chair.
10.

Rattan Swivel Chair
Size: 29.25"w x 31.5"d x 30"h

Material: Performance Basketweave

Color: White
This homey wicker frame chair is a lovely accent to a bright family room. The airy look that comes from this chair will suit any room with lots of natural light. The cushions are resistant to UV damage so they will last a long time no matter what.
There are fewer customization options with this chair than many others offer. Still, it makes up with its neutral style that can fit just about anywhere. The other benefit to losing the customization is that this chair should be delivered in about a month!
11.
Kinwell Swivel Desk chair, $158.86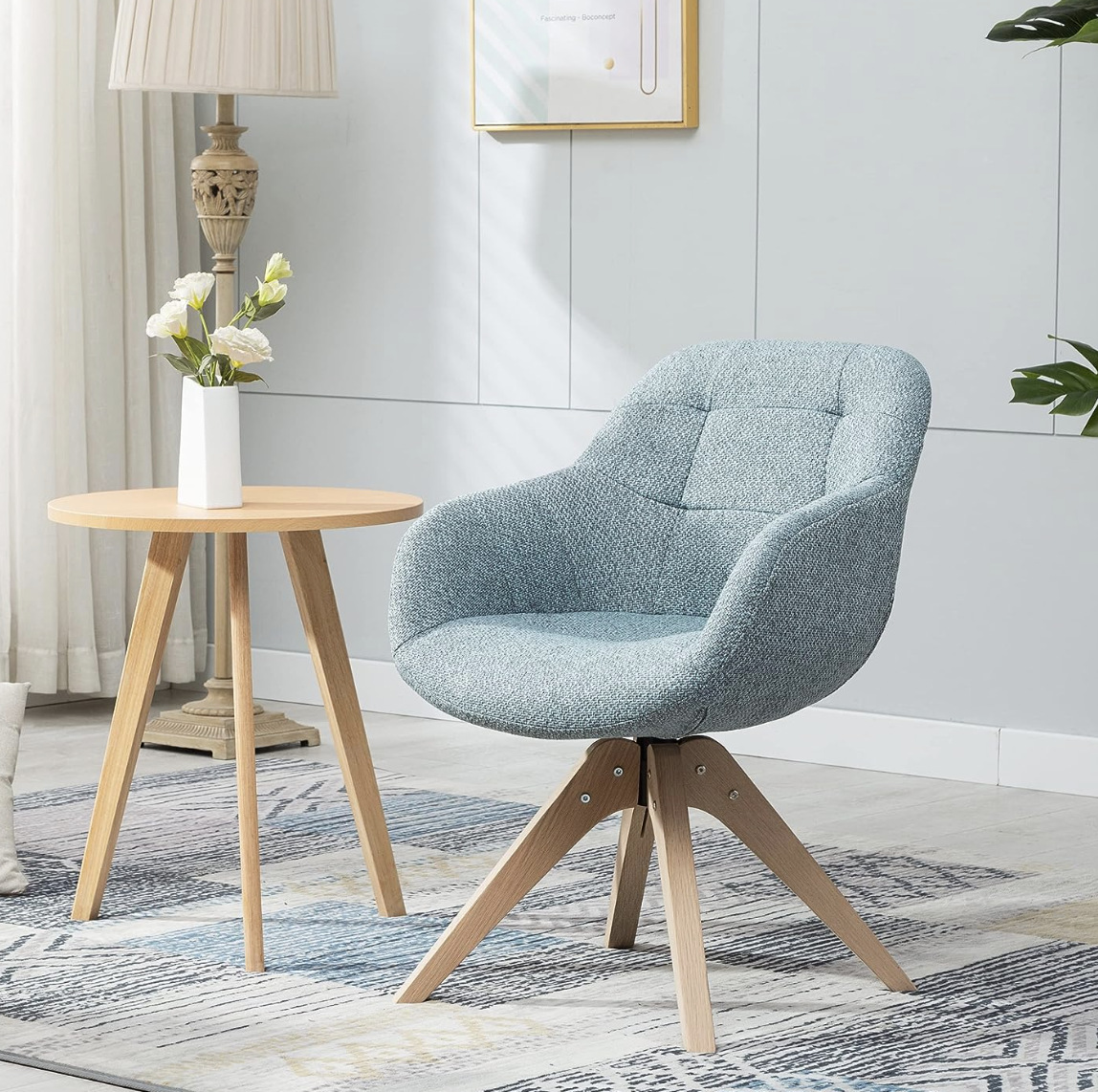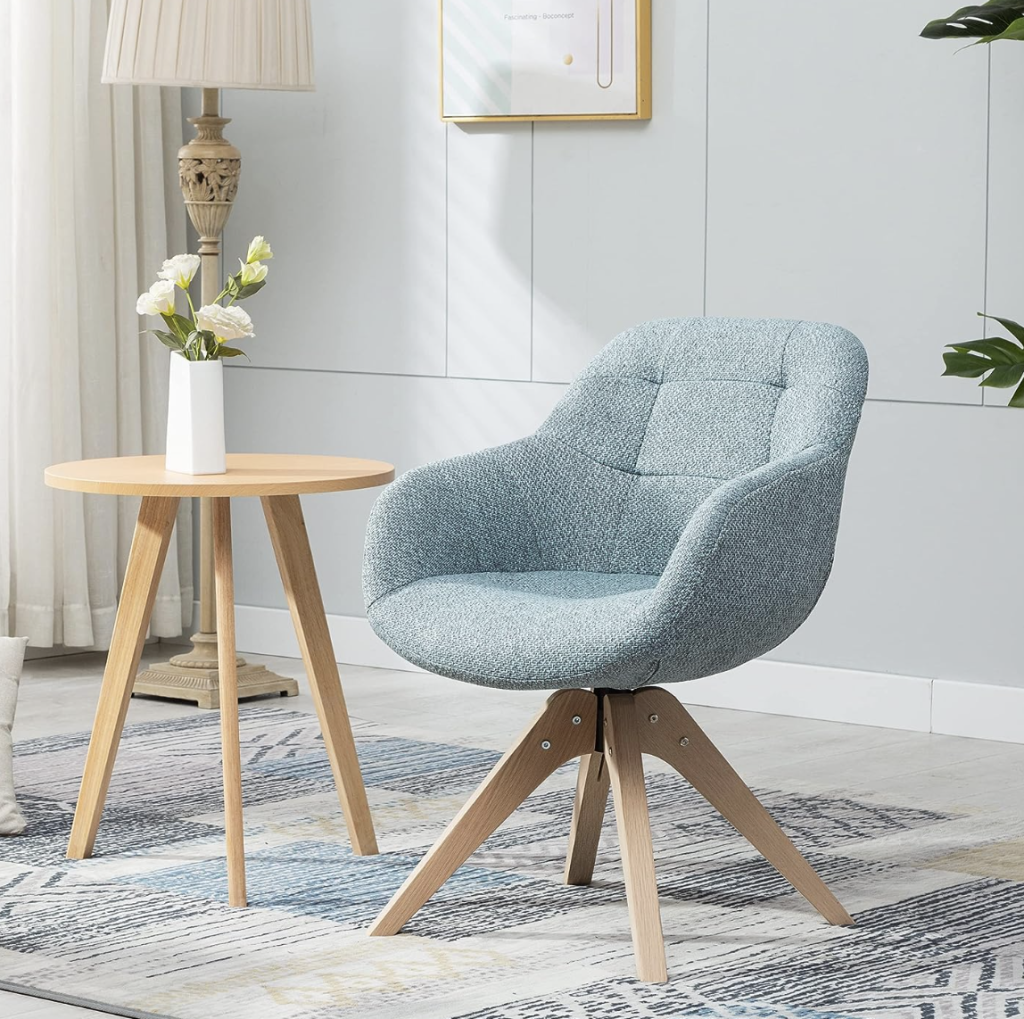 24"w x 22.1"w x 33.5"h

Material: suede, yarn-dyed, PU
This chair is a bit different from the others on this list. Instead of going in a living room, this one is designed as an office desk chair, dining chair, or accent piece. This chair will stand out in any office space with a modern shape and attractive oak base.
The upholstery is filled with soft cushioning, letting you be comfortable while you work. If you just want to sit and relax, this chair is large enough to sit cross-legged or curl up with a book.
12. Leather Swivel Chair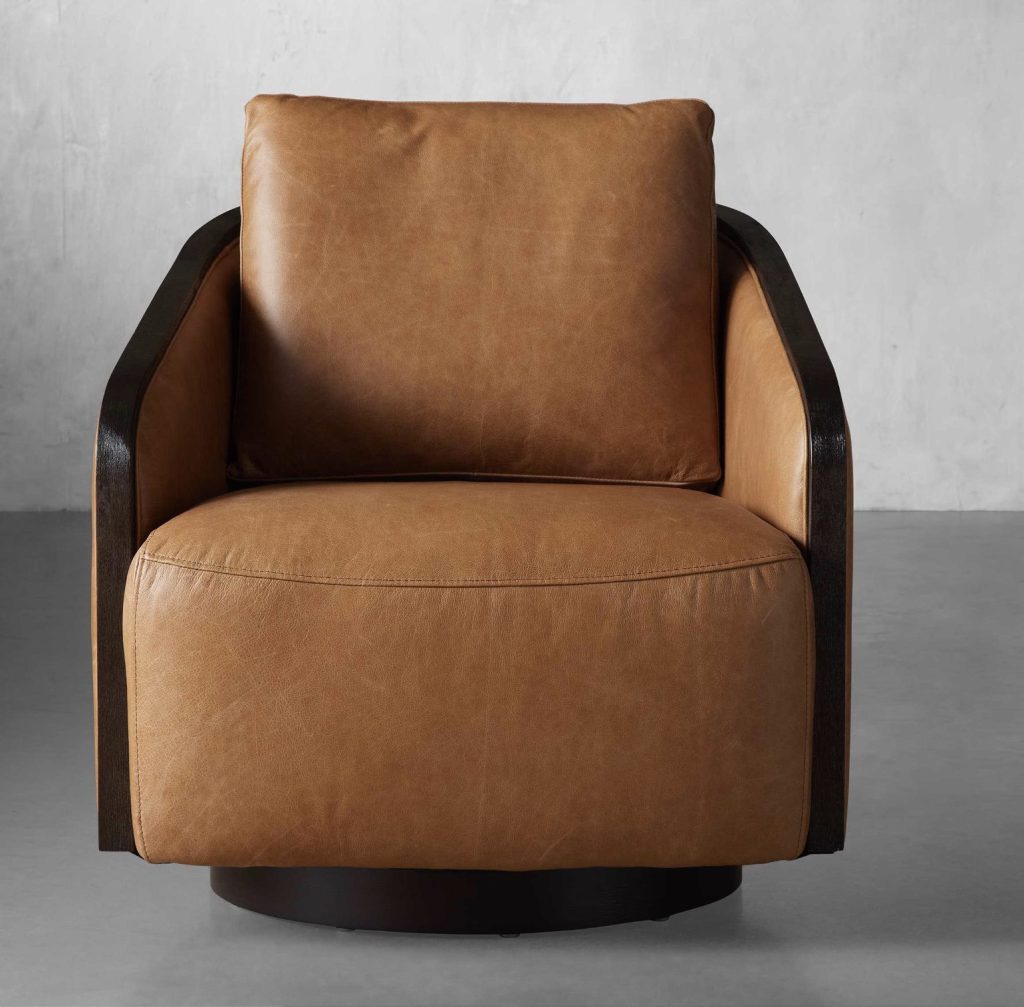 Take a seat, unwind, and welcome the understated elegance of the Pomona Collection. This adaptable Pomona bucket chair is bordered by graceful oak wood, providing coziness through its soft back cushion and gently curved design.
13. Vernon Swivel Chair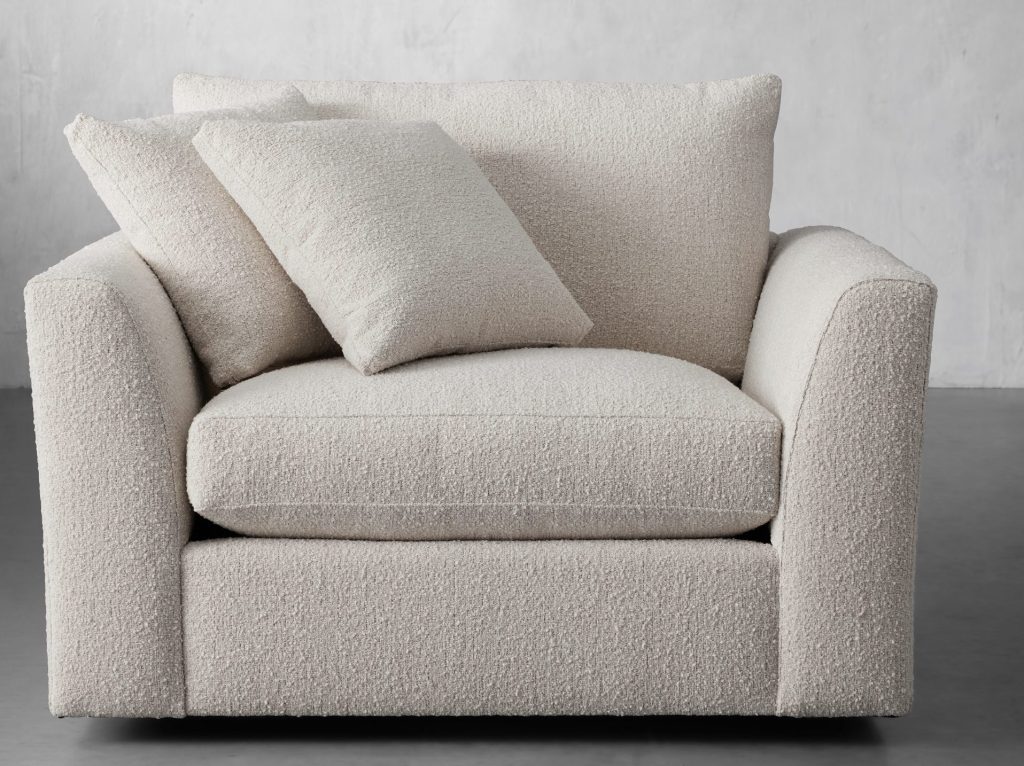 Relax and let Vernon's lofty, sink-into cushions embrace you. With clean lines and broad tapered arms, the Vernon Collection delivers inviting and luxurious comfort that effortlessly complements any decor style.
14. Swivel Recliner Chair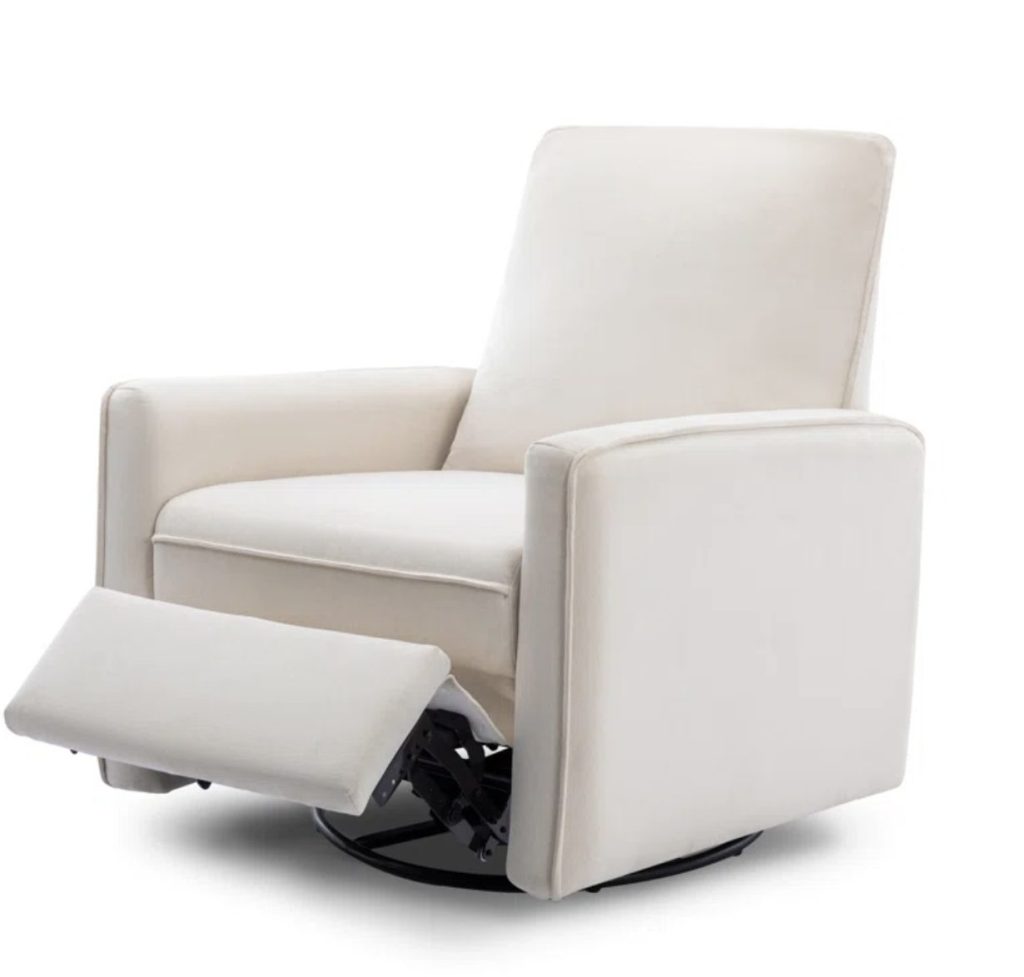 The Penny Swivel Recliner combines timeless design with a modern silhouette. Featuring subtle flange seams, this glider showcases understated accents, and its comfortable cushions provide a soothing spot all day long. Thanks to its classic style, the Penny brings a versatile addition to the nursery that effortlessly evolves with your child as they grow, seamlessly fitting into your living areas.
You may also like: