Looking for the best reclining sectionals? They're like a warm hug for your living room, offering cozy comfort and plenty of space to kick back.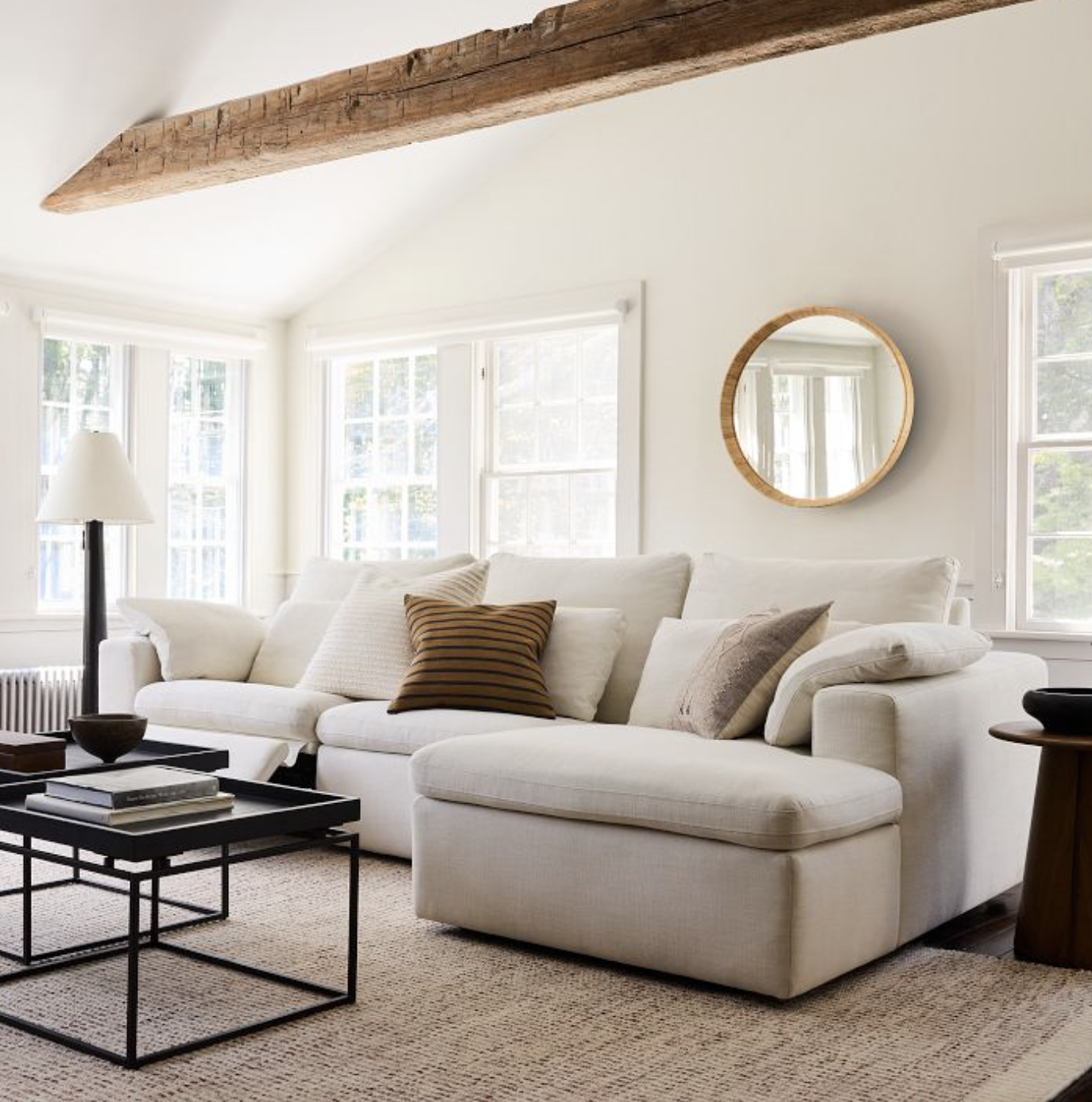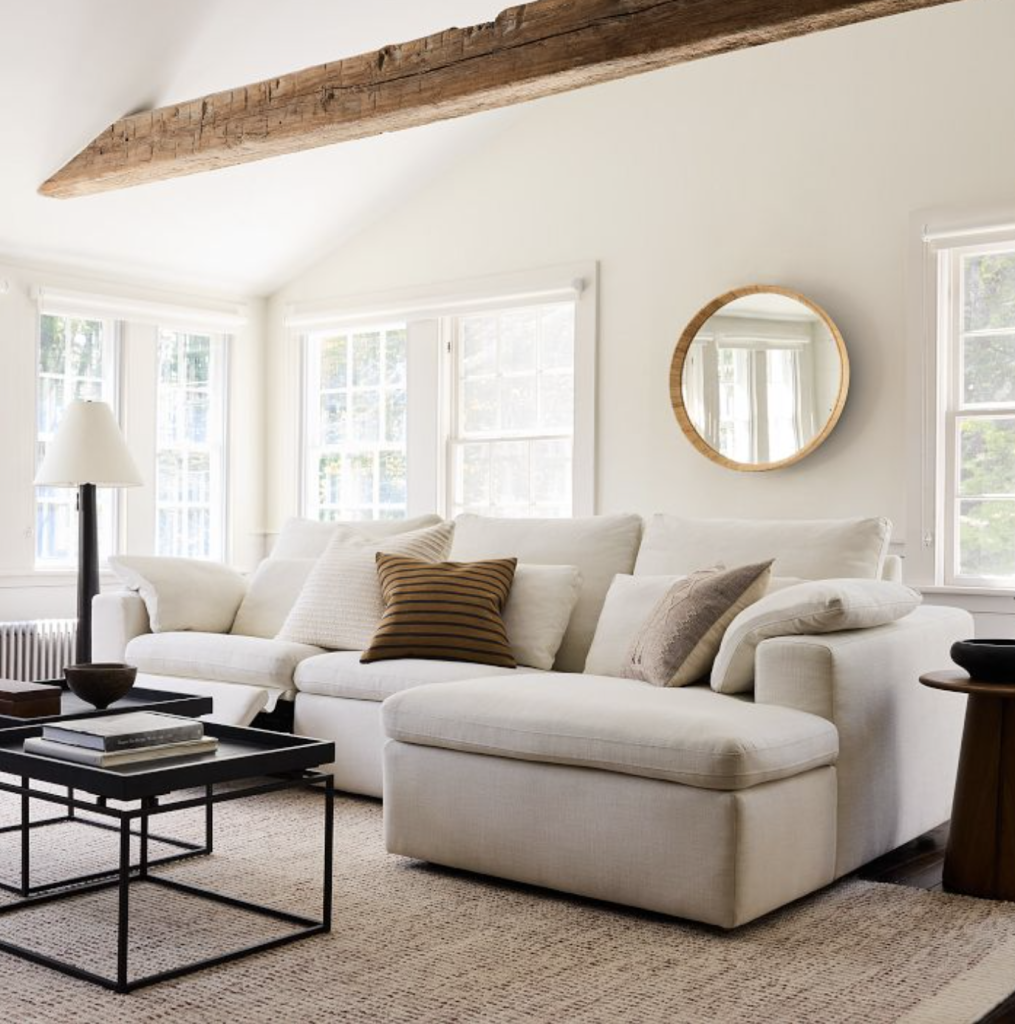 JUMP TO:
In this guide, we'll explore the best reclining sectionals that combine style and snuggle-ability, so you can create the perfect haven for movie nights and Sunday afternoon naps. We are breaking it down into 3 categories for simplified shopping: leather, small spaces and fabric options!
As you scroll (or jump!) you'll find popular and top-rated sofas from retailers like West Elm, Pottery Barn, Arhaus, Z Gallerie and more! Whether you're looking for small sectionals, boucle, or leather. We think you'll find something to ship home in no time! Make sure to check-out our section on sectionals & sofas! We have so many wonderful roundups that will help guide you to that cozy sofa you deserve.
14 Best Reclining Sectional Sofas
1. Reclining 5-Piece L-Shaped Sectional From West Elm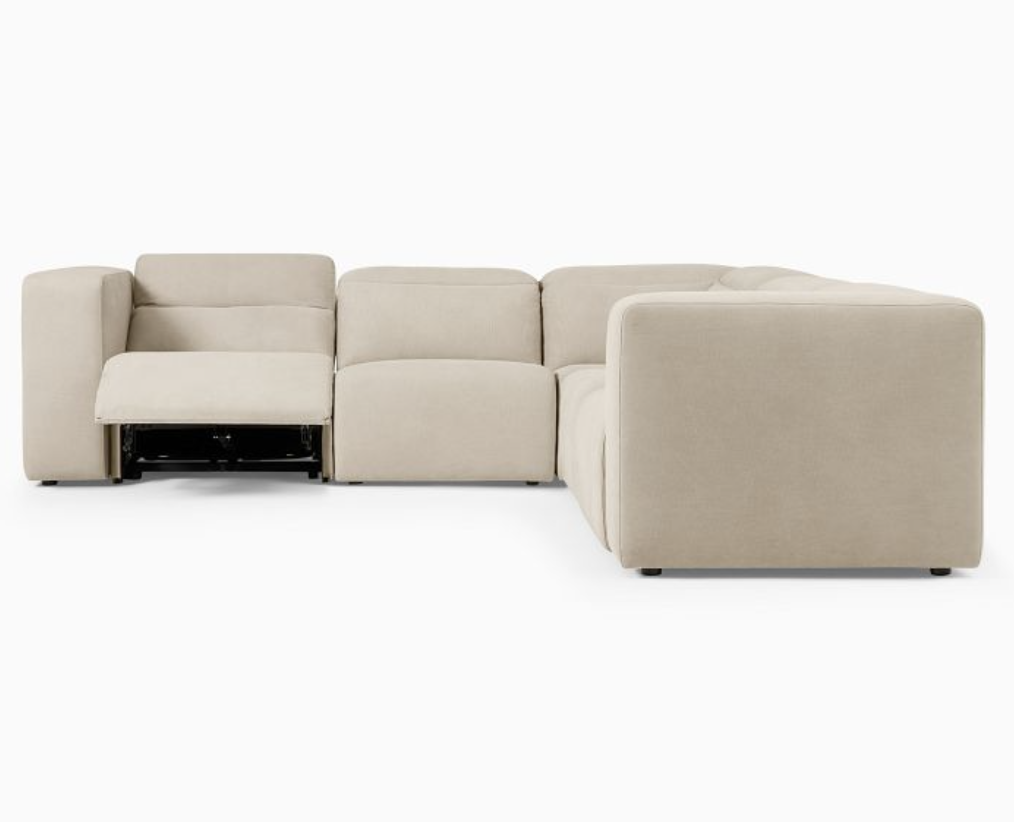 Retailer: West Elm
Dimensions: 119.25″w x 119.25″d x 31″h
Why we love it: We love this sectional recliner! It's got everything: push-button reclining for instant relaxation, a sleek modern look with a low-slung design, and it's built to last. It's the perfect sofa for lounging after a long week. A durable seating experience that's one of our favorites on the list! It gets the top spot!
2. Modular Sectional With Electric Recliner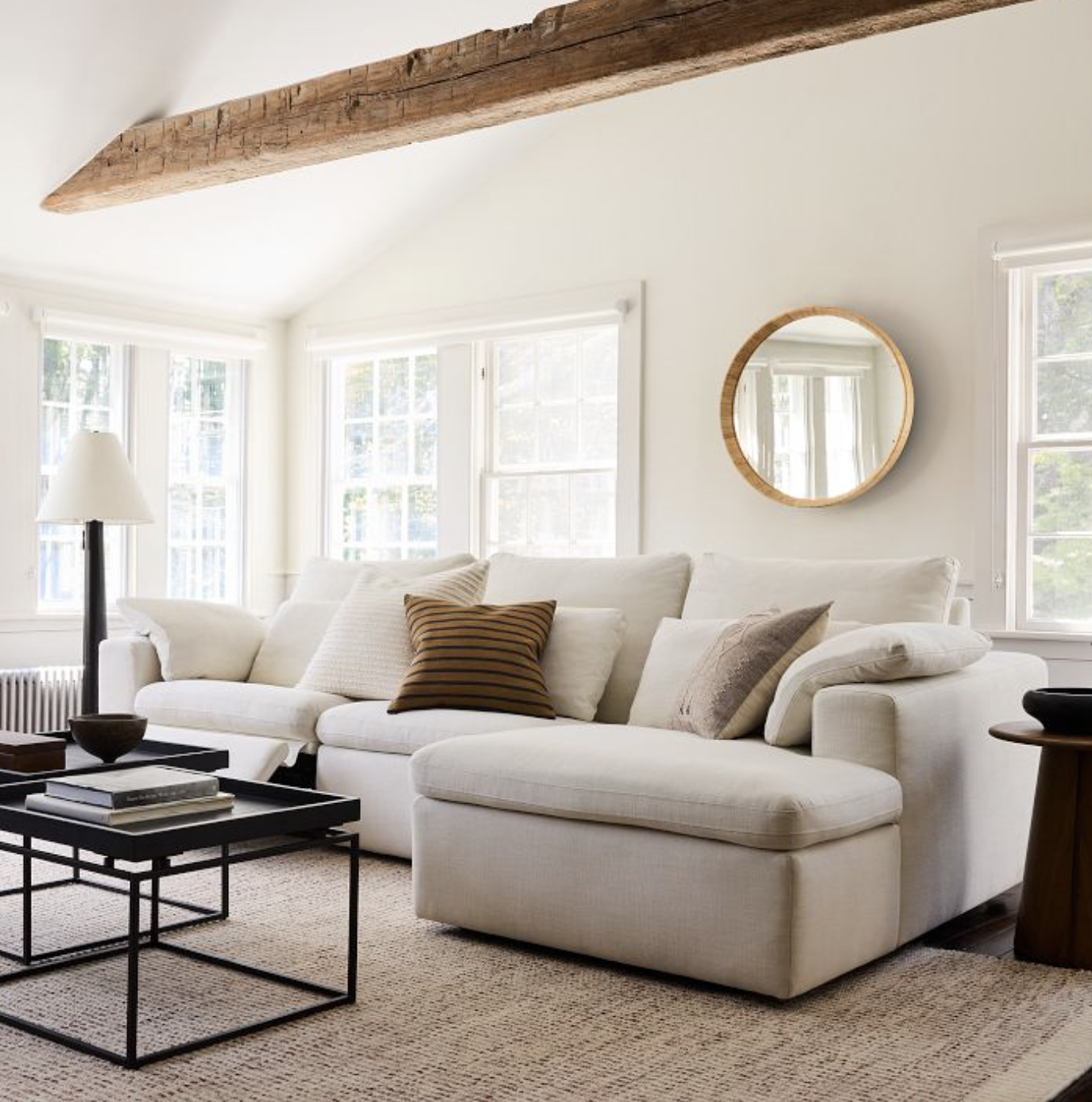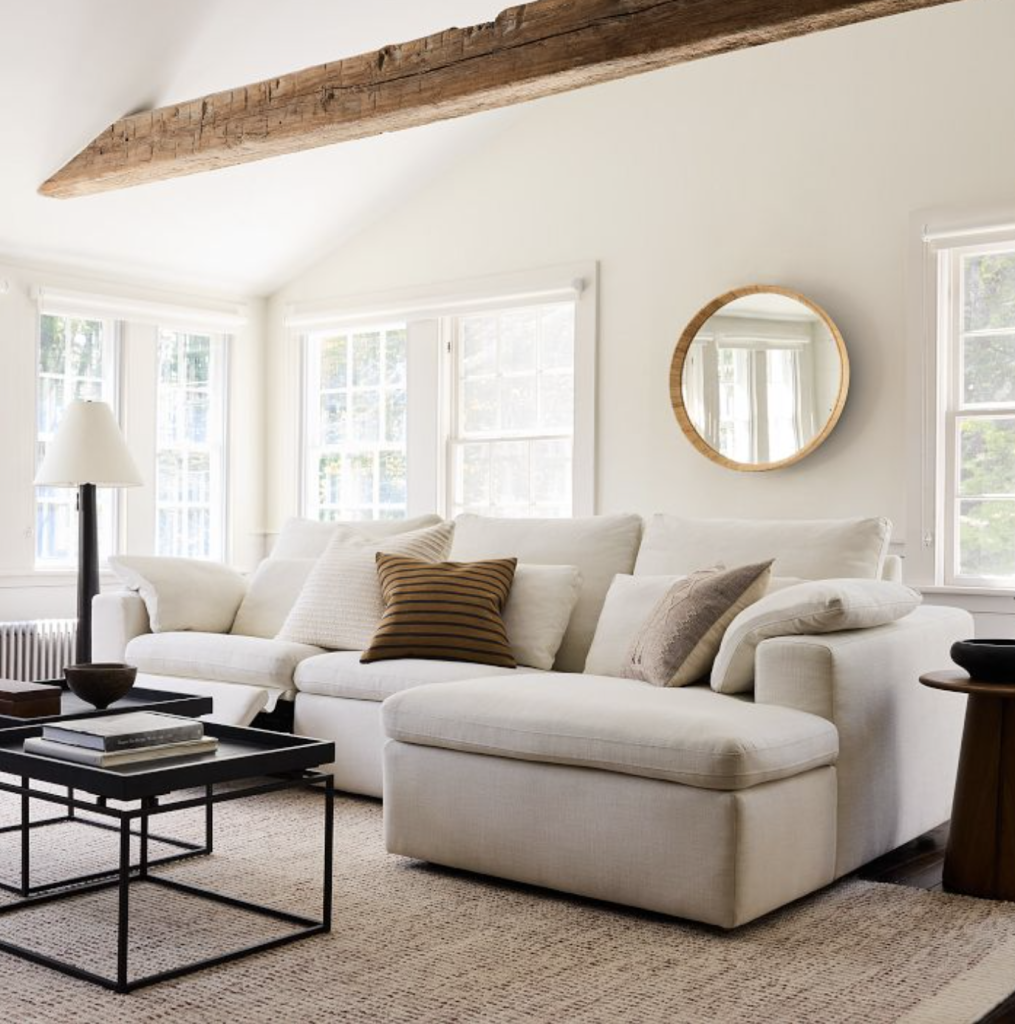 Retailer: West Elm
Dimensions: 125.3″w x 65.5″d x 38.6″h
Why we love it: The Harmony Modular is renowned for its exceptional comfort. Available in different styles. You can tailor the backs and footrests to your preferred lounging position. Its deep seats and plush cushions offer remarkable coziness, and it's designed for long-lasting durability. It also has a ton of fabric options that you can choose from making it versatile to your home's need! A great contender if you're looking for a traditional sofa. I have been eyeing this one for my family!
3. 4-Piece Reclining Sectional With Countless Configurations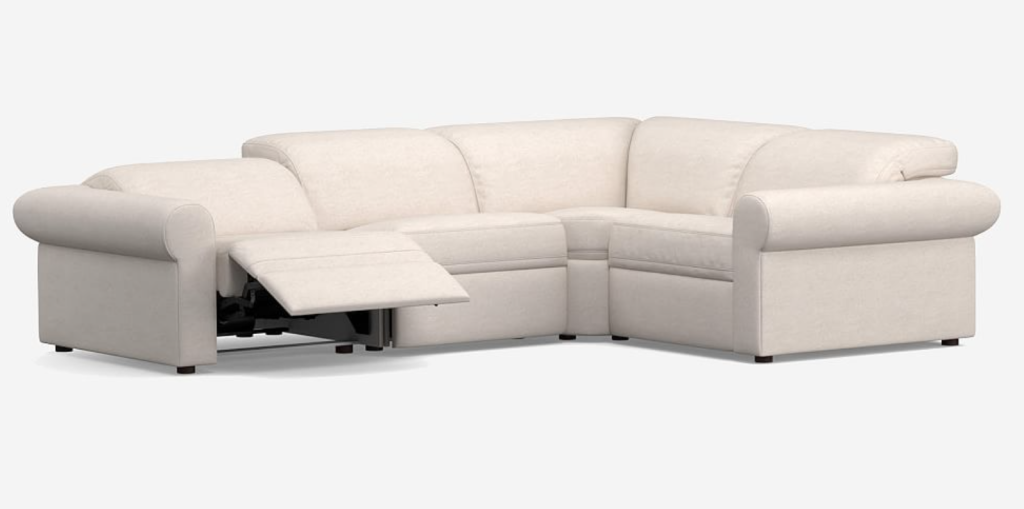 Retailer: Pottery Barn
Dimensions: 116″ w x 85.5″ d x 46″ d x 31″ h
Why we love it: This sectional lets you customize your comfort by adjusting headrests and footrests independently. Who doesn't love a power headrest? Designed to save space, it tilts forward as it reclines to avoid the wall. Perfect for reading, movie nights, or afternoon naps. The kiln-dried hardwood frame parts helps prevent warping. One of my favorite modern sectionals that will last for years to come.
4. Arhaus Sofa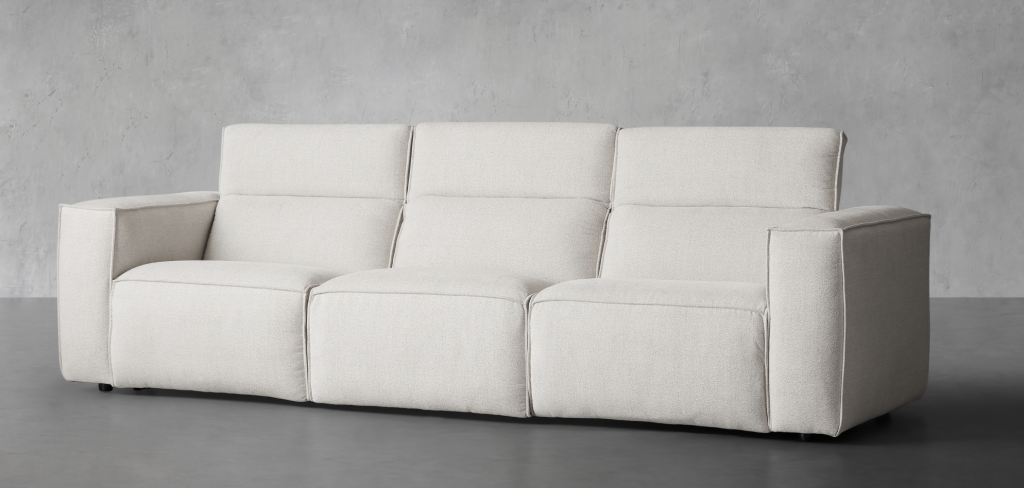 Retailer: Arhaus
Dimensions: 121″ Width x 44″ Depth x 31″ Height
Why we love it: This Arhaus offers the perfect blend of modern style and comfort. The ease of use with reclining of a simple button push is a game-changer for relaxation. It also features a performance stain-resistant fabric making it ideal for families!
5. Modern Reclining Sofa
Retailer: Crate & Barrel
Dimensions: 110.75″Wx110.75″Dx28.5″H
Why we love it: We adore this sectional for bringing together the best of both worlds: classic comfort and modern design. It's designed for ultimate relaxation, with each piece offering customized reclining and pillow backs. It has a deep cushion giving you a cozier comfort, too! If you're looking for theater sectionals, this one would be a great pick as it's more of a traditional look. PS: It has upholstery options galore to fit your needs!
6. Z Gallerie Power Sectional With Adjustable Headrests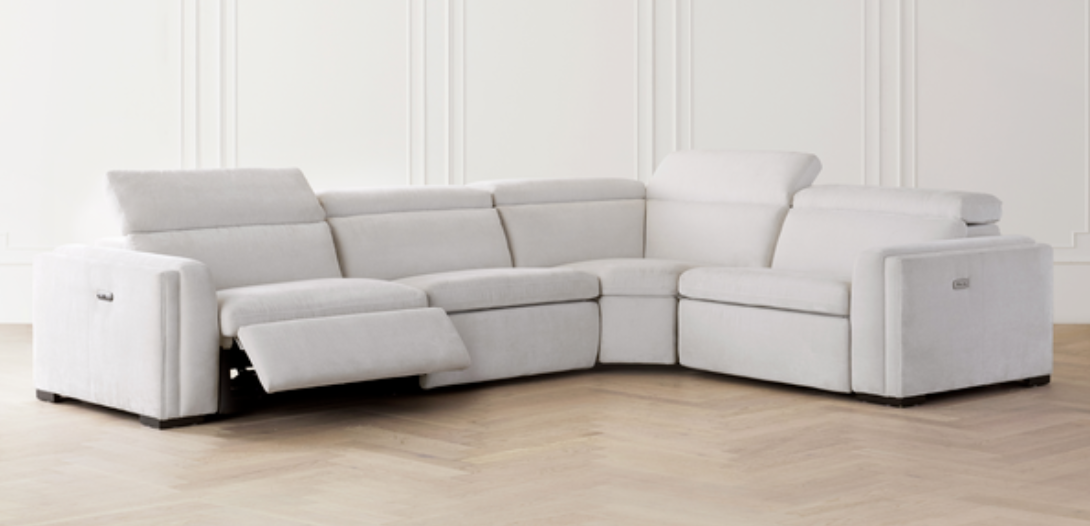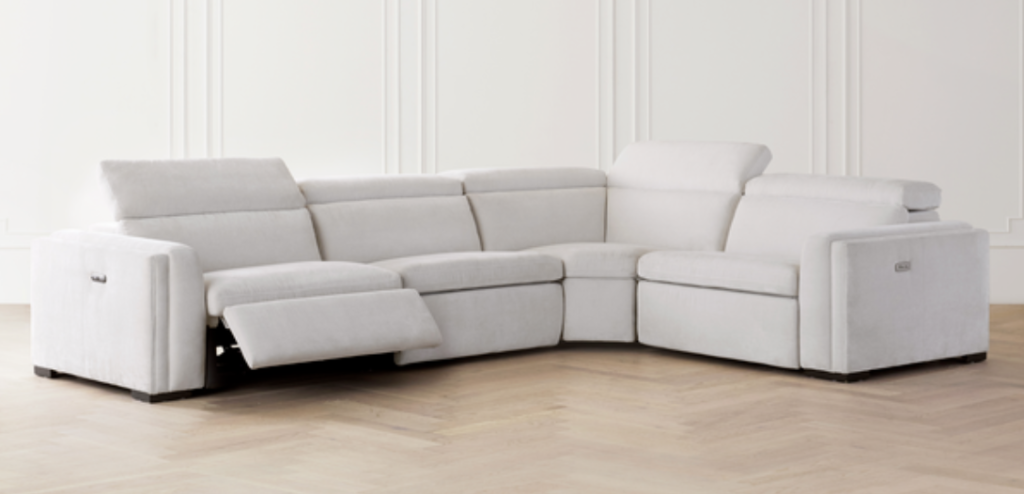 Retailer: Z Gallerie
Dimensions: 140.95″w x 43.31″d x 41.34″h
Why we love it: The adjustable headrests and the option for power reclining seats make this the epitome of relaxation and convenience. It's a brilliant combination of great looks and functionality. The design is modern, yet timeless.
7. L-Shaped Reclining Sectional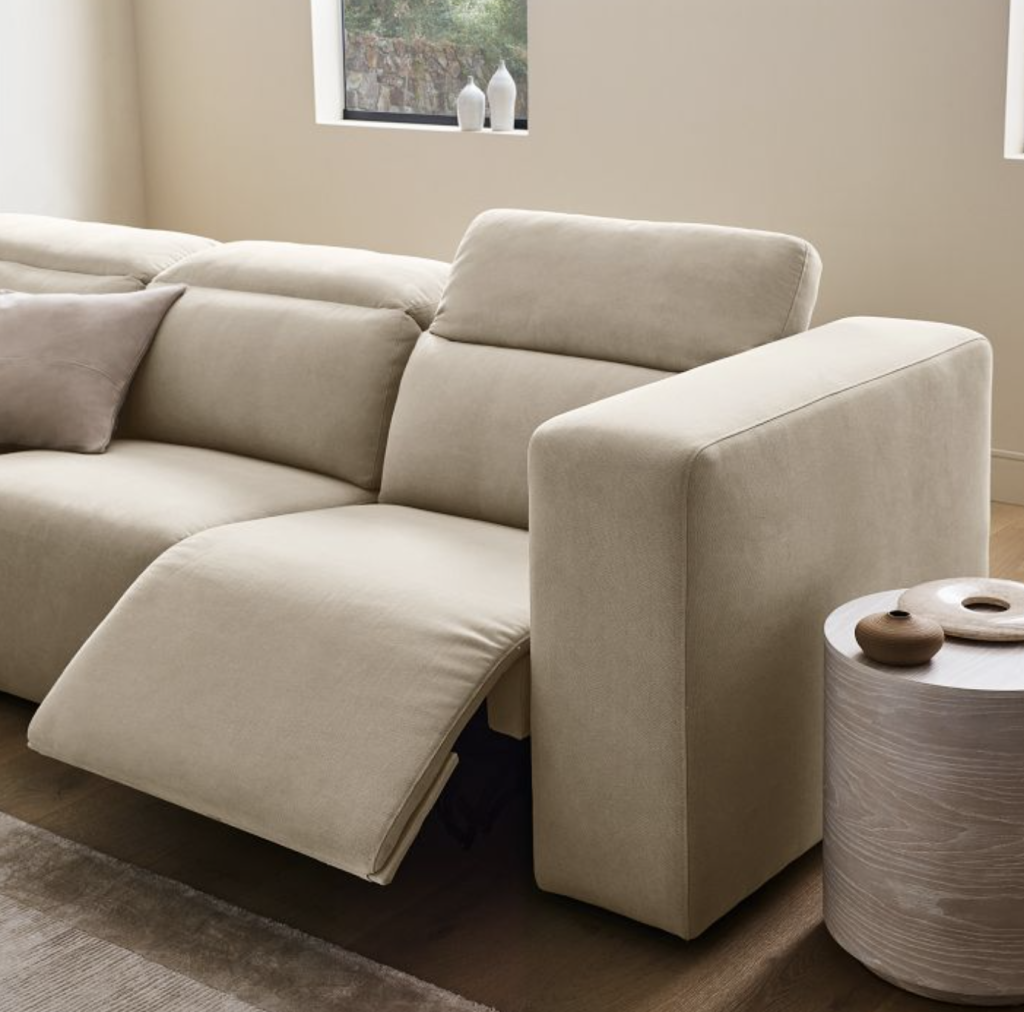 Retailer: West Elm
Dimensions: 119.25″w x 119.25″d x 31″h
Why we love it: It's just a beautiful design! Sleek and modern with a pinch of elegance. Extra deep sectionals, and elevated headrests for the ultimate comfort. Comes in multiple colors, performance fabrics and textures. Additional features include: built-in lumbar support, great hidden features, solid wood frame and more!
Best Leather Reclining sectionals
When purchasing a leather reclining sectional, focus on finding high-quality leather, smooth reclining mechanisms, and the right size and layout for your space. Ensure the sectional offers comfortable seating with sturdy frame construction and a style that matches your space. Stick to the budget and consider a maintenance plan to keep your leather sectional looking great for many years to come!
8. Harris Motion Reclining Leather Sectional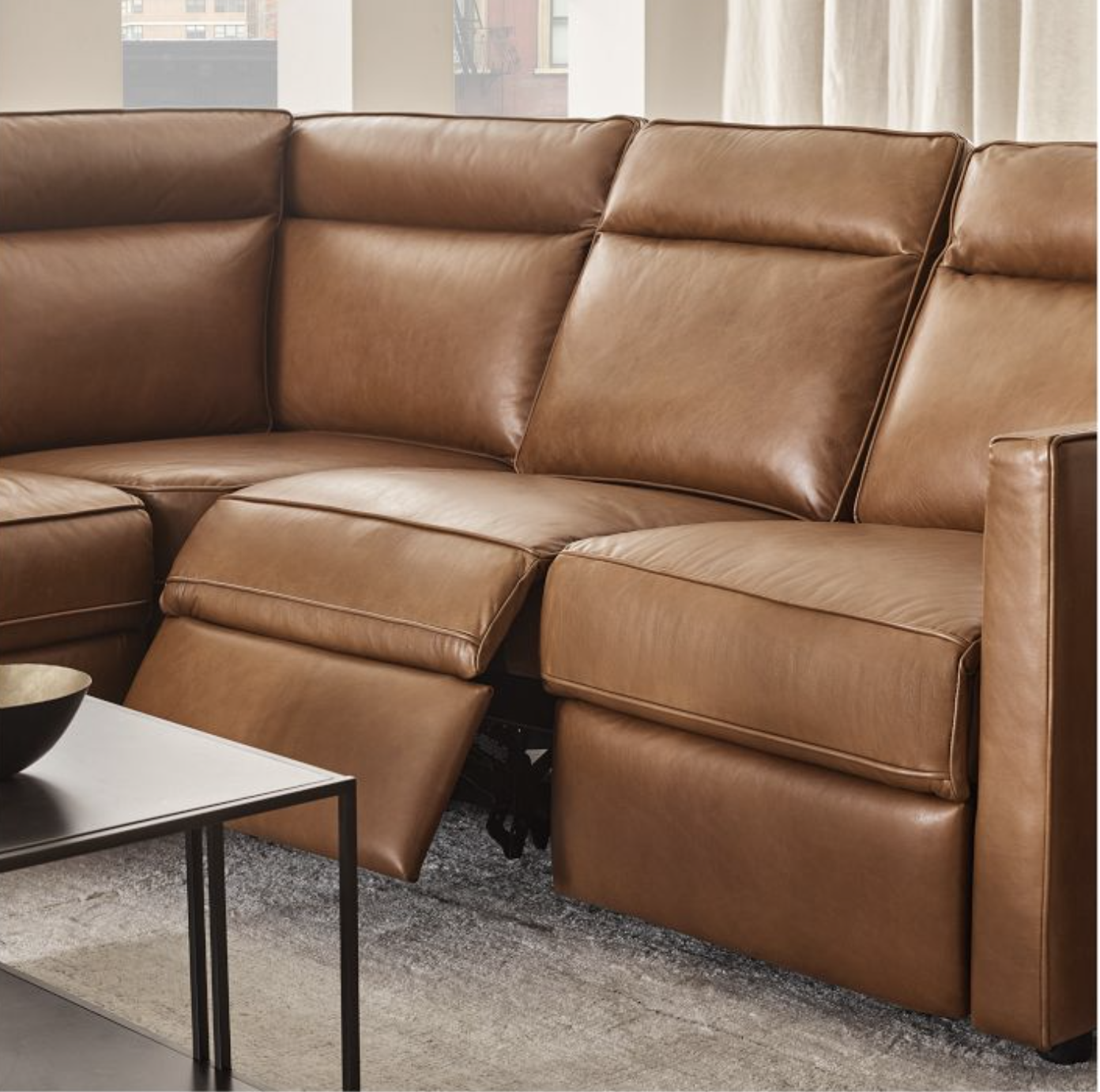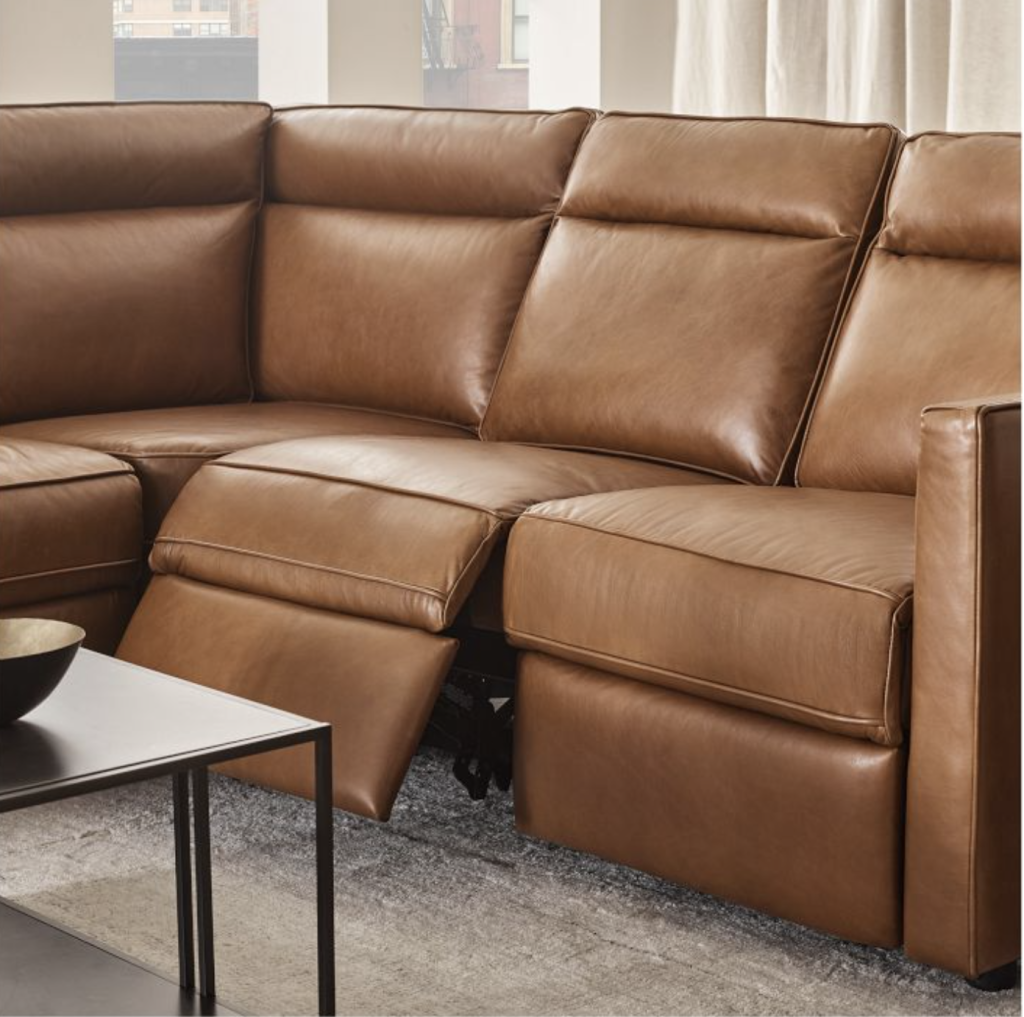 Retailer: West Elm
Dimensions: 25.5″w x 37.75″d x 39″h
Why we love it: Why love it? Easy! It's all about the comfort. You can recline in style, it looks classic, and the feel is just right – not too soft, not too firm. Plus, it's built tough. This is a great for high traffic areas — can definitely withstand wear! This is definitely more of a traditional look (we had this growing up, so it's timeless!)
9. Rowland Leather Three Piece Motion Modular Sofa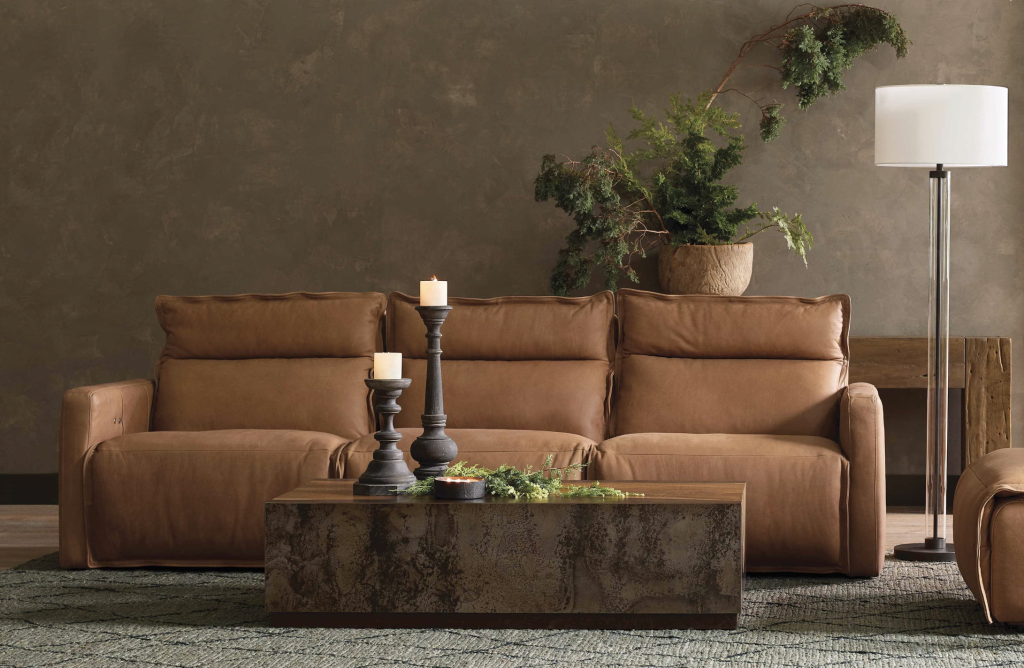 Retailer: Arhaus
Dimensions: 114″ Width x 43″ Depth x 38″ Height
Why we love it: If you're looking for a sink-into sofa, this is the one! It checks all of our boxes for style, comfort and simplicity of use. Just a gorgeous design that will elevate any room of your home — whether a movie theater room, or living area! The only downside: limited arm space. That may not matter for many because you'll be busy sinking your entire body into this deep cushion design.
10. Power Reclining Loveseat With USB Charging Ports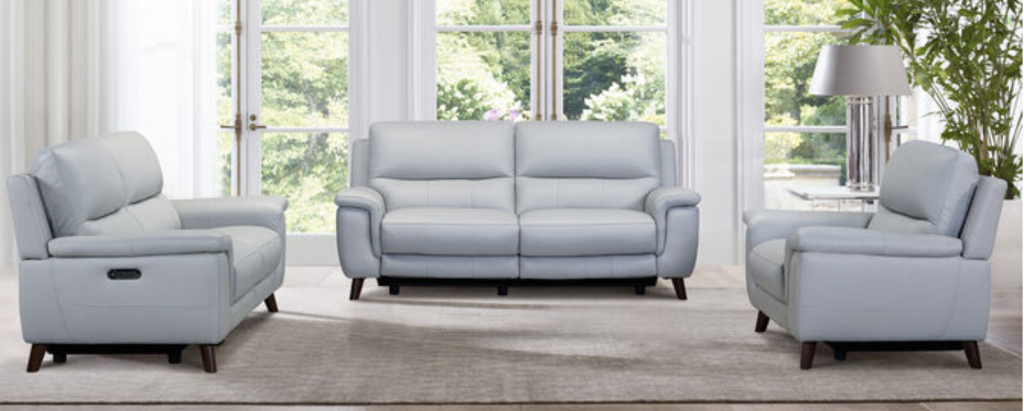 Retailer: Slumberland
Dimensions: 65w 37d 37h Inches
Why we love it: It has built-in USB chargers and taller backrests for maximum comfort. A great option for a love-seat, and smaller spaces.
Best Reclining Sectionals for Small Spaces
When buying a small reclining sofa, think about your home's need, comfort and size. Look for plush cushioning and soft upholstery for coziness. Ensure you have enough space, not just in width but also in depth if your room is narrow. Opt for a style that suits your taste, and don't forget to test the reclining mechanism to ensure smooth operation. Consider fabrics that are easy to clean, especially if you have kids or pets.
11. Axel Motion Reclining Chaise Lounge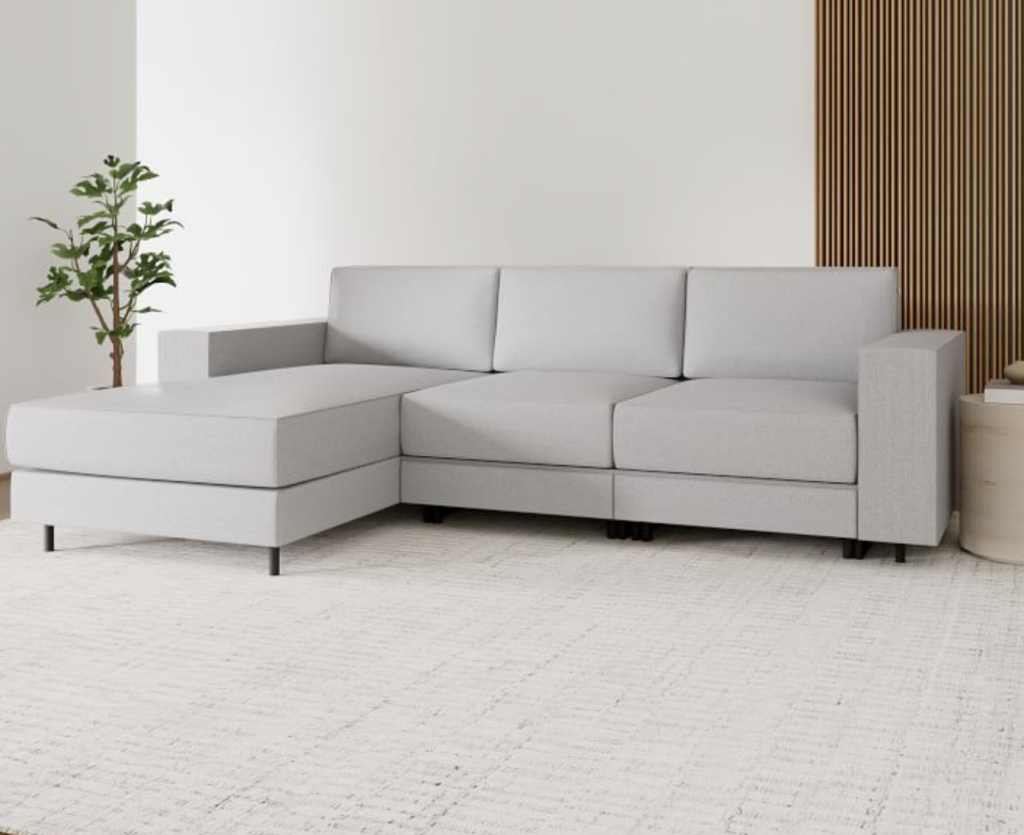 Retailer: West Elm
Dimensions: 108″w x 69.5″d x 33″h
Why we love it: Our top pick for the best reclining sofa for any space big or small. It features very smooth clean lines, has a modern feel and upholds stains. With the click of a button, it reclines. Simple and functional that will last! All wood is kiln-dried for added durability making it a great addition to your home.
12. Two Seat Motion Sofa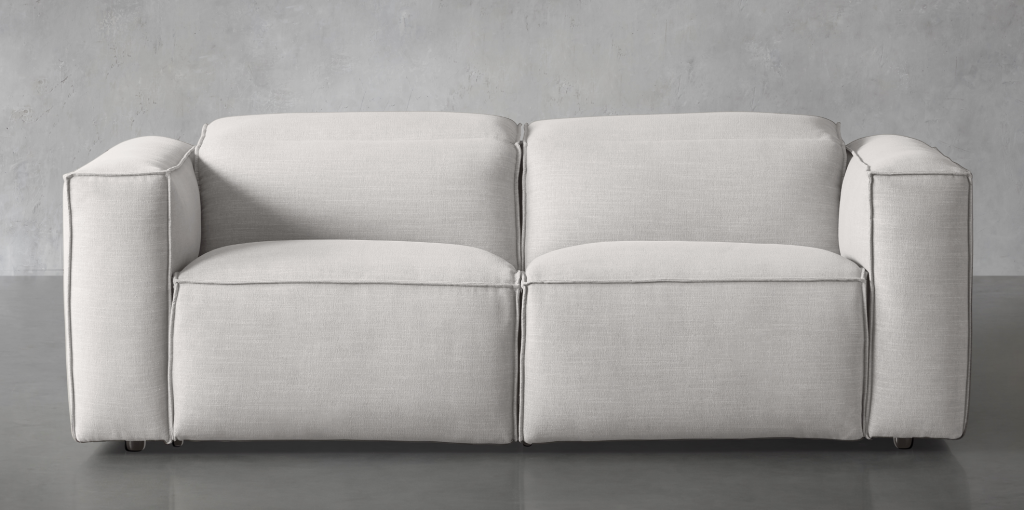 Retailer: Arhaus
Dimensions: 88″ Width x 44″ Depth x 31″ Height
Why we love it: A cozy, simple design that will last for a lifetime. Easy to move, easy to arrange — just an all around perfect option for a reclining couch in small spaces!
13. Leisure Power Recliner Sofa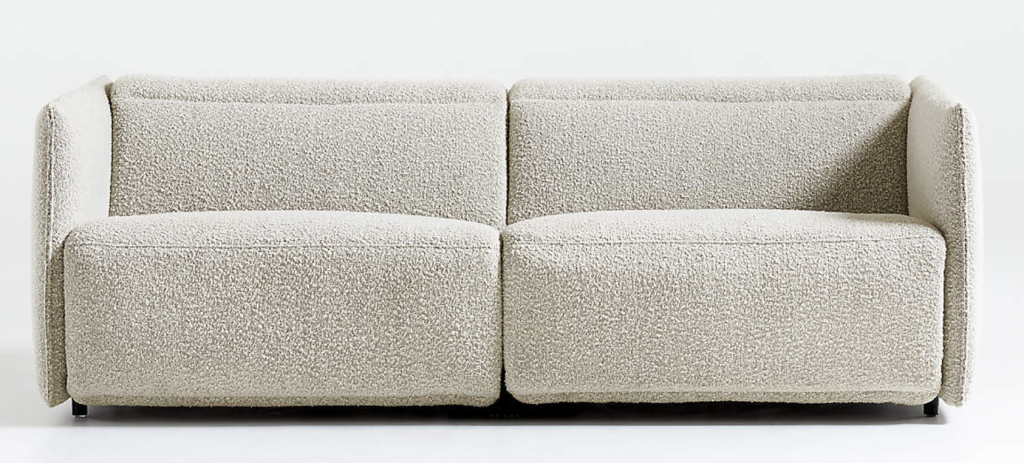 Retailer: Crate & Barrel
Dimensions: 84″Wx46″Dx28.5″H
Why we love it: It's all about the freedom to lounge in any position you like, thanks to the separate back and footrest controls. And the best part? You won't even see the buttons; they're cleverly tucked away on the inner side of each arm to keep things looking sleek and modern.
14. Small 2-Piece Chaise Sectional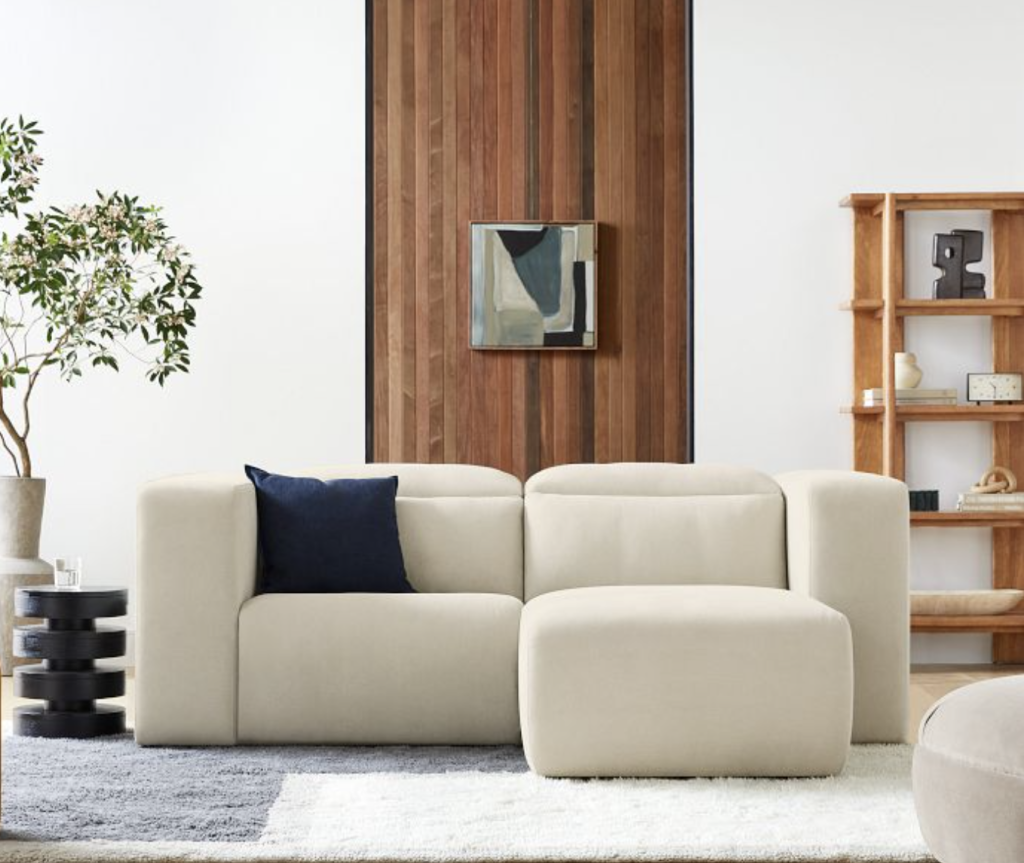 Retailer: West Elm
Dimensions: 92.5″w x 68″d x 31″h
Why we love it: It is oversized, yet small enough for small spaces. We love the modern design and cozy elements.
So, there you have it! Reclining sectionals are a fantastic choice for your home, offering a cozy and customizable lounging experience without sacrificing style. The discreet control buttons keep things looking sleek and modern, making them a smart and comfy addition to any living space.
To Conclude:
As you search for the ideal reclining sectional, remember to consider factors like size, style, upholstery, and functionality. Ask yourself the right questions to guide your decision, ensuring you'll find the perfect addition to your living space. We hope this guide has been helpful in your quest for the ultimate reclining sectional. Happy reclining!
Are reclining sofas reliable?
Certainly! Reclining sofas are totally reliable, and that's a big plus for us folks who want our furniture to stand the test of time. The best part? You can count on them for a comfy and cozy spot to kick back, relax, and unwind. Plus, they come in various styles, fabrics, and colors, so you can personalize your perfect seating experience. So, if you're thinking about adding one to your home, rest assured that these sofas are not just comfy but also dependable – a win-win for any living room!
YOU'LL ALSO LOVE: