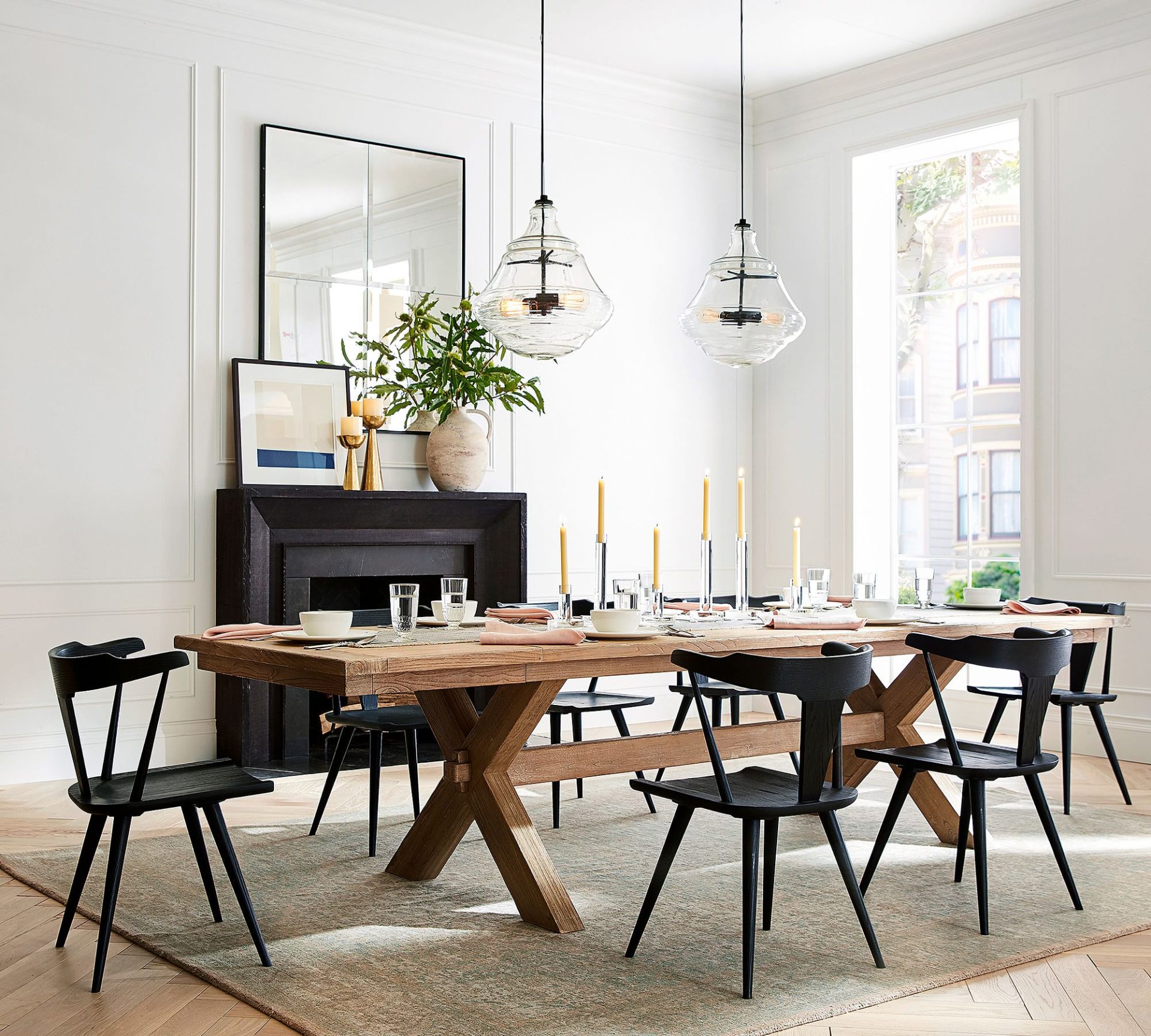 Dining tables are essential in any home. If you love having a lot of guests over, you might want a large table so everyone can sit and eat, but if you have a small home or a small family you may not want the table to take up that much space all the time. Extendable tables are a fantastic compromise, stretching to a large size and compacting to a reasonable size for everyday use.
Extendable dining tables suit all decor styles, from rustic and classical homes to modern and contemporary ones. These tables are gorgeous, and you're sure to find one that works for you!
Make sure to see: 10 Best Small Round Dining Tables we Love | 12 Round Dining Tables for 2022 that are Amazing | 10 Stain Resistant Couches that are Comfortable
Extendable Dining Tables
---
POTTERY BARN
The Pottery Barn has beautiful furniture of all different styles, from rustic to contemporary. They have a wide selection of extendable dining tables, so no matter what size or look you're going for, you will find it here!
Toscana Extending Dining Table
This gorgeous table is made of  Sungkai wood, a hard oak-like wood that's very popular in Indonesia. It's classy and simplistic while still having an eye-catching and exciting design. If you like this but want a smaller version, there's a circular extending version as well!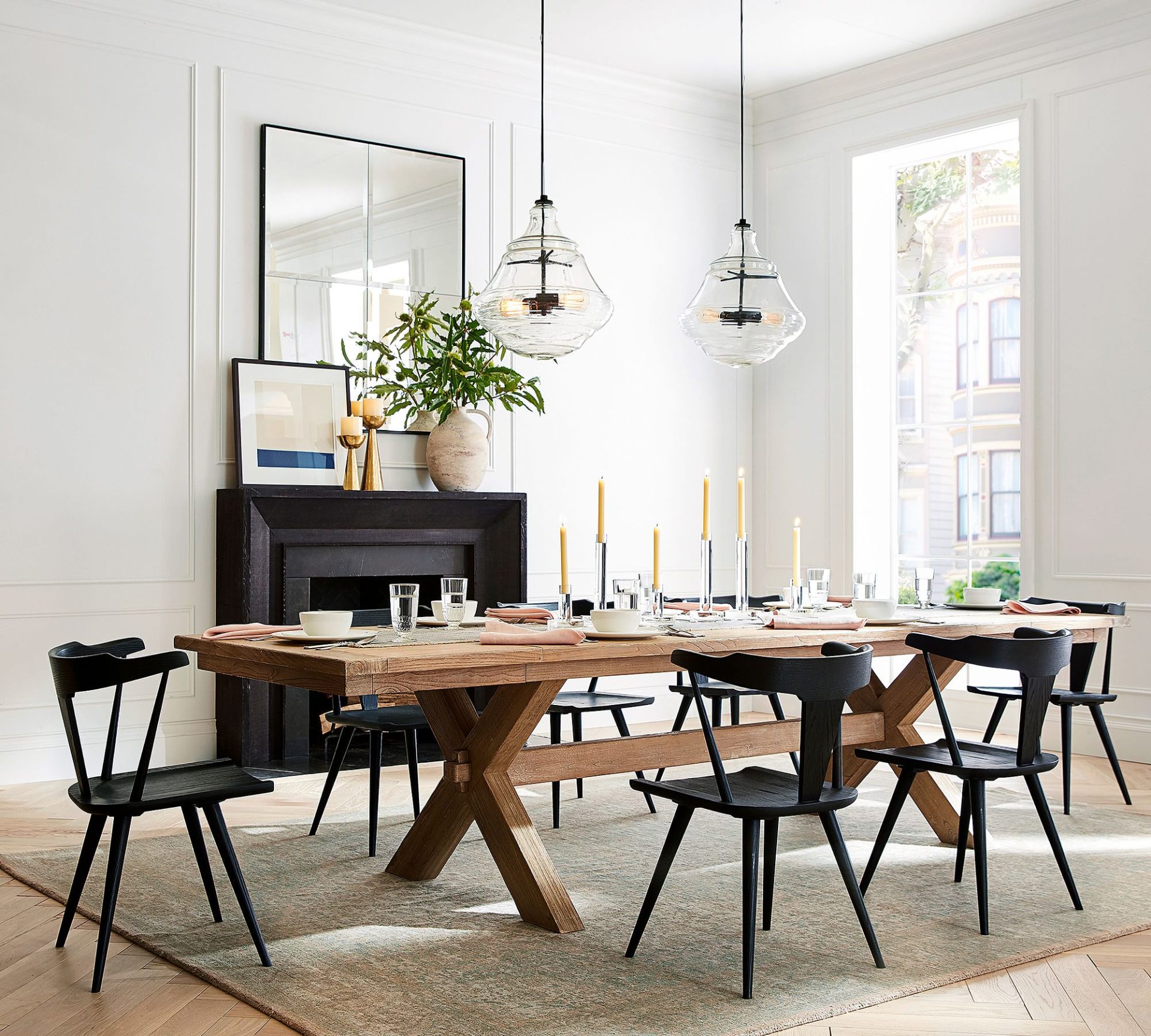 The round extendable table is made of the same type of wood as its rectangular counterpart. The cross shape of the legs has been moved to the supports, and the extended slats give the table more visual interest.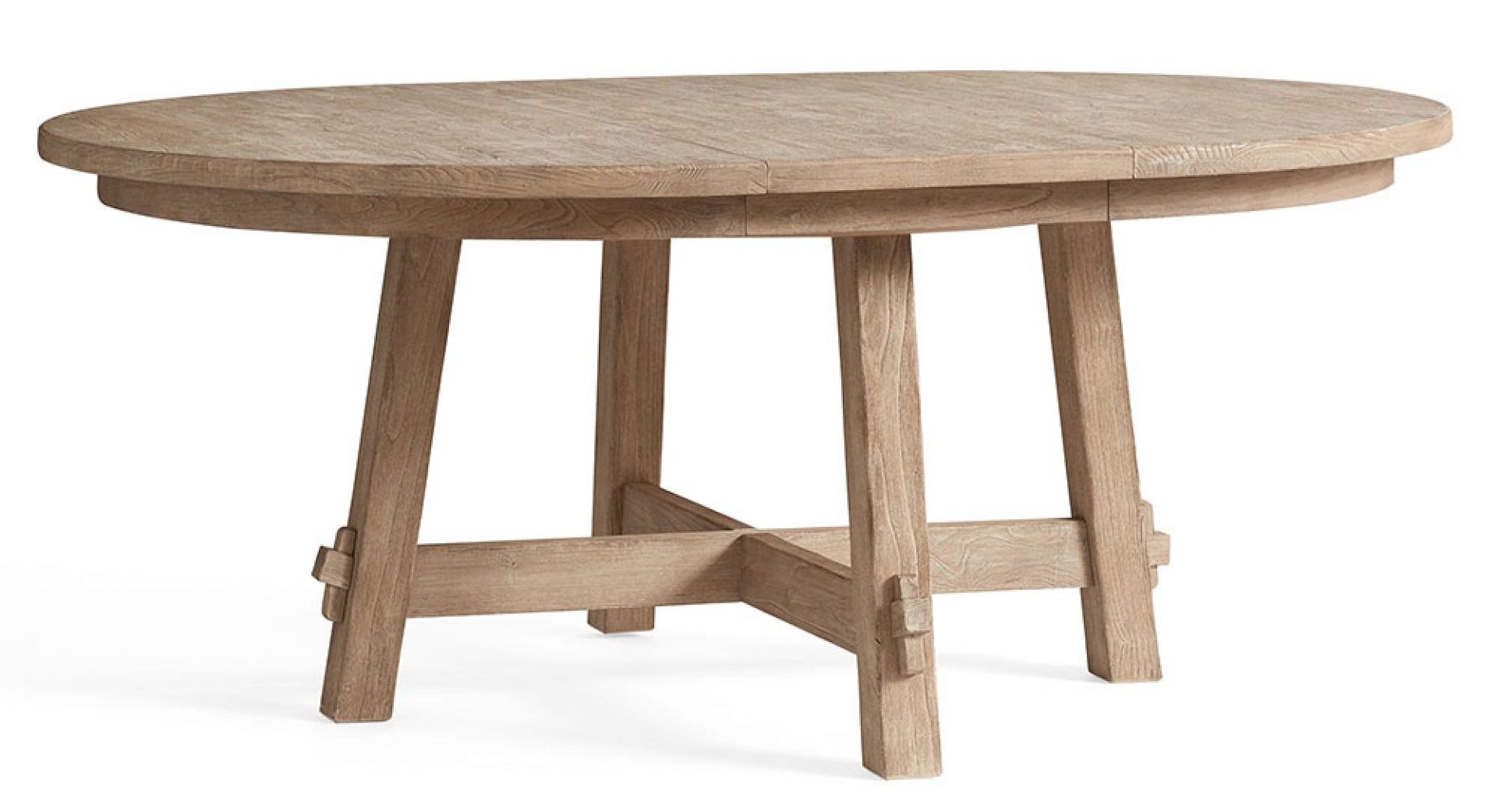 Benchwright Dining Table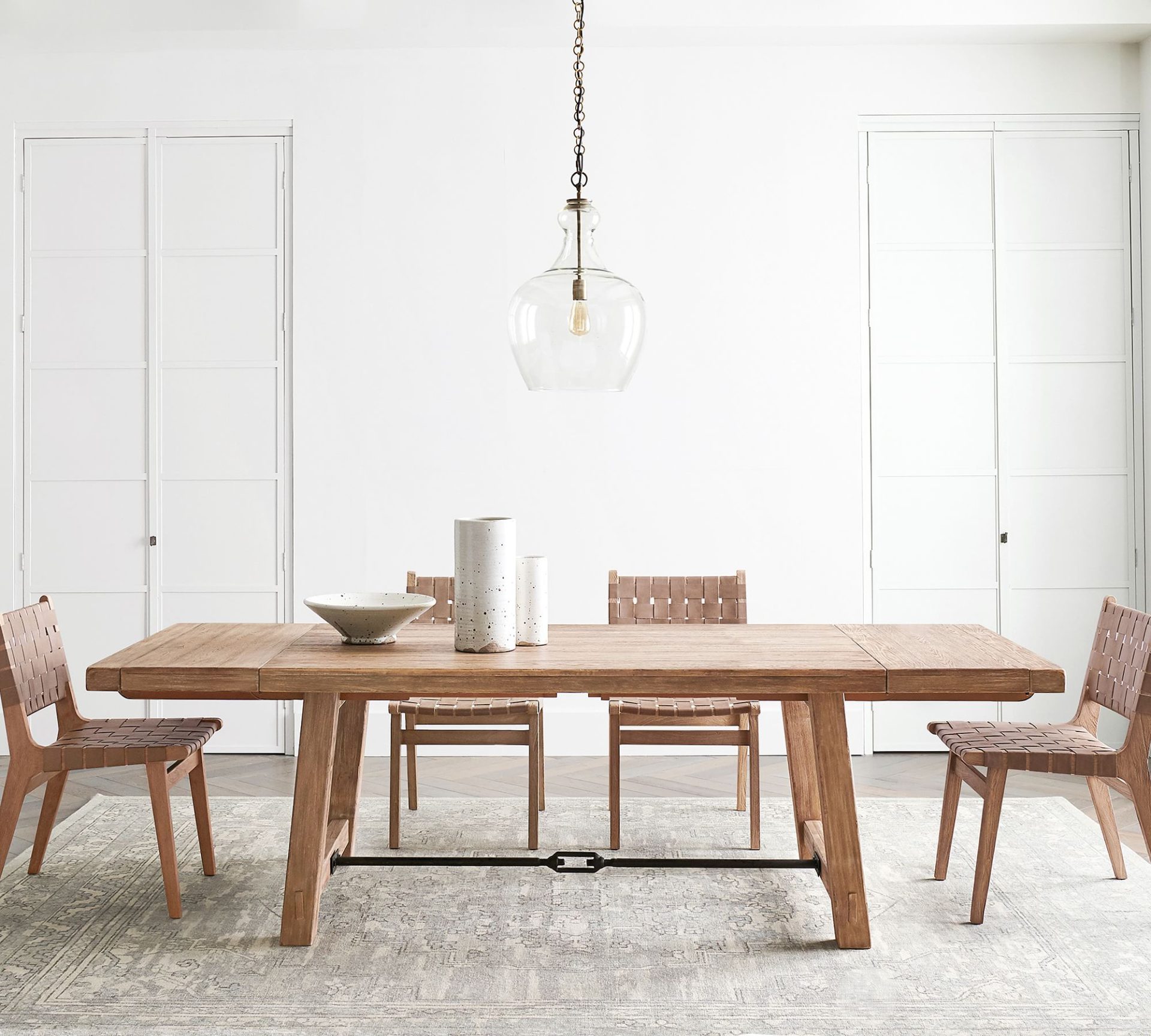 This table has a rustic appearance with iron supports and a rough visual texture. It wouldn't look out of place in a country family's home or any home with a rustic or industrial design. If your home decor includes any cast iron, black steel, or rough wooden accents, this table would be a fantastic statement piece! Leaves connect to the outside edges to add extra length when you need it.
Folsom Storage Dining Table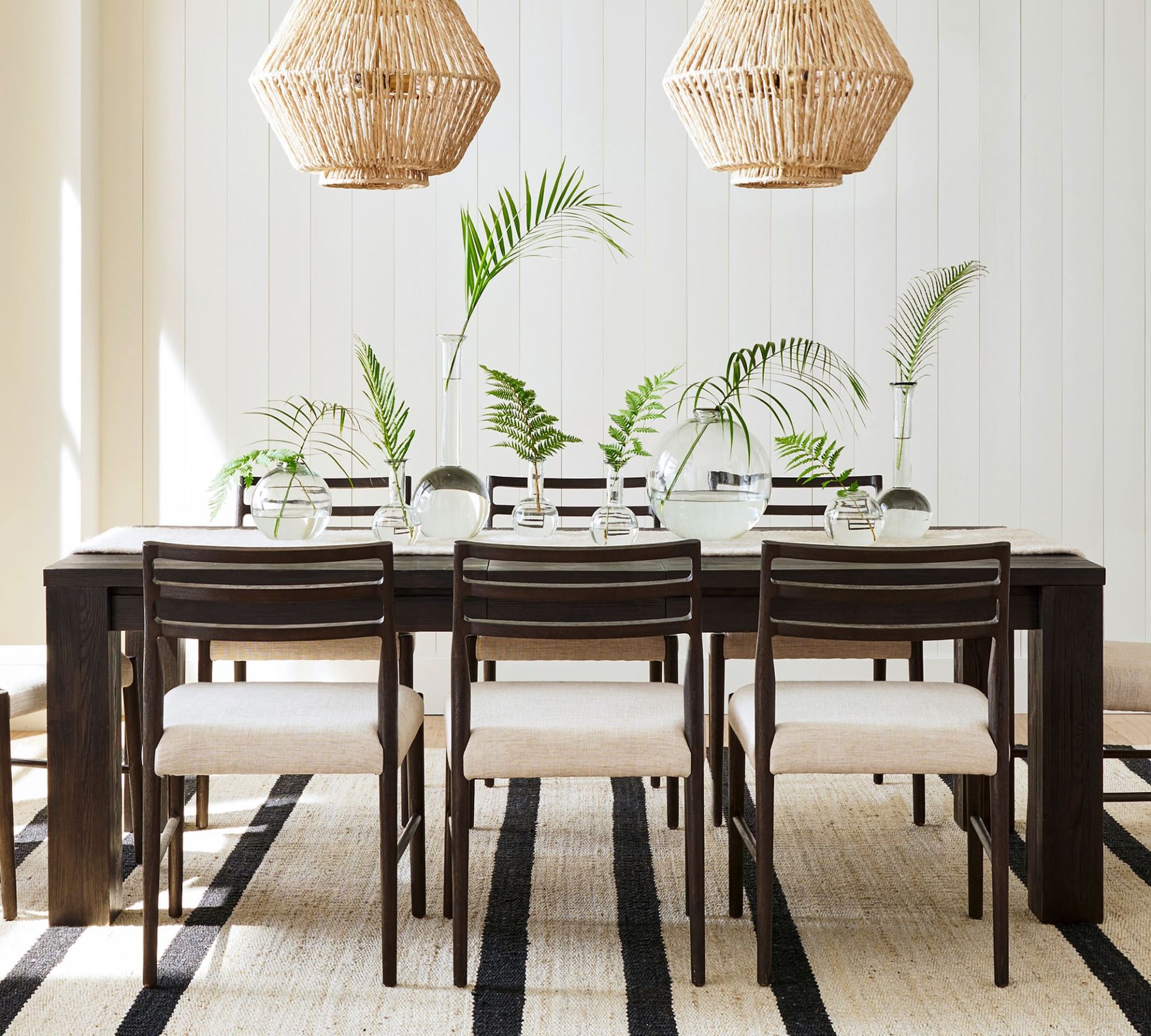 This minimalist table is a gorgeous and classy design, simple without sacrificing style. The dark, stained pine wood is beautiful and will look great in any space. The table has room in the middle for leaves to give it more length. There are drawers on either end of the table, giving it great functionality for storing extra napkins or cutlery, making it practical on top of being beautiful.
Banks Extendable Dining Table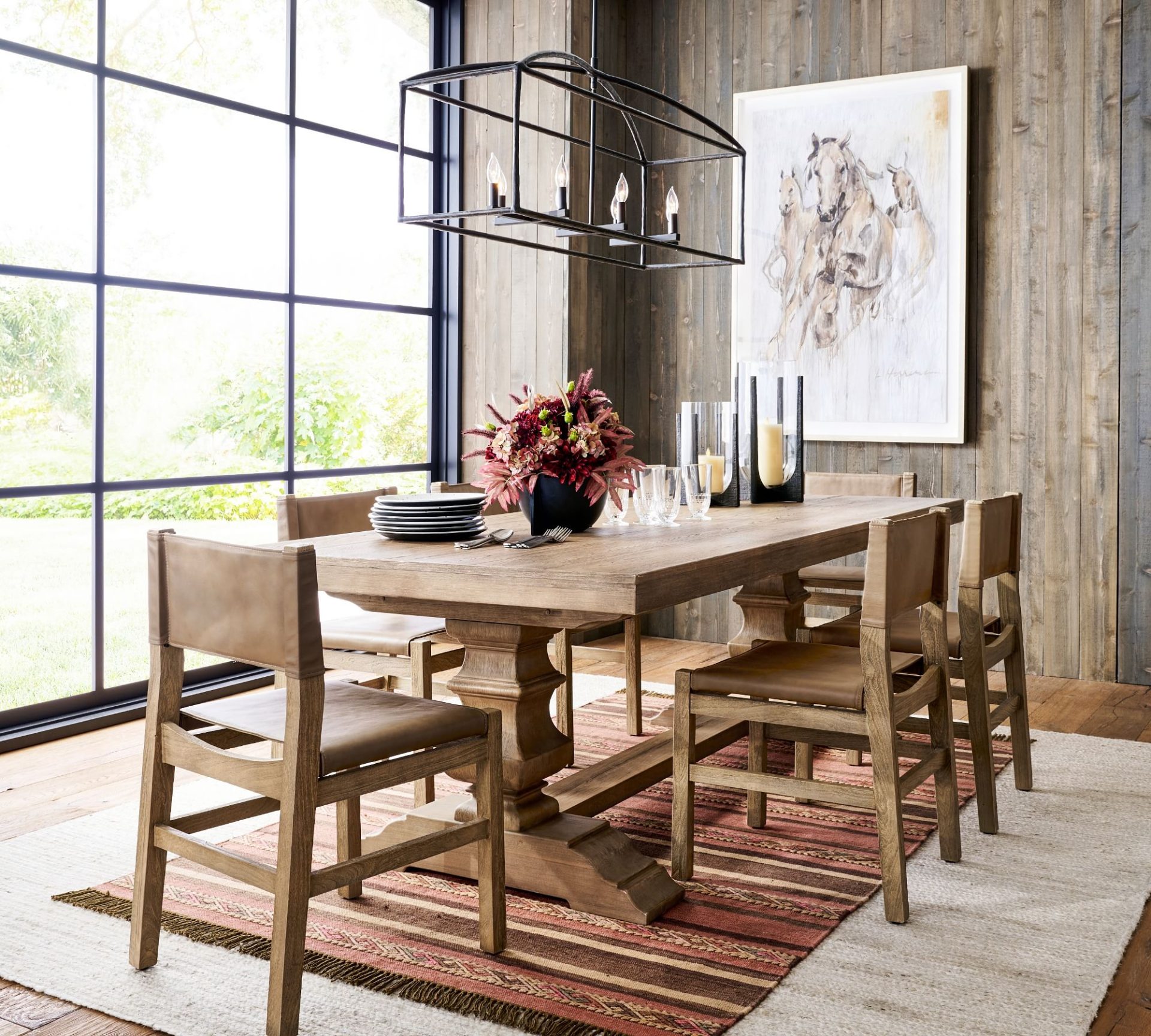 This table is a classic, almost antique design that wouldn't look out of place in a family home. The legs are carved in a nearly sculptural fashion with detailed shapes. It's made of poplar wood and finished in a dusty, natural color. It has two leaves you can add to it, giving it some great extra length when you need it!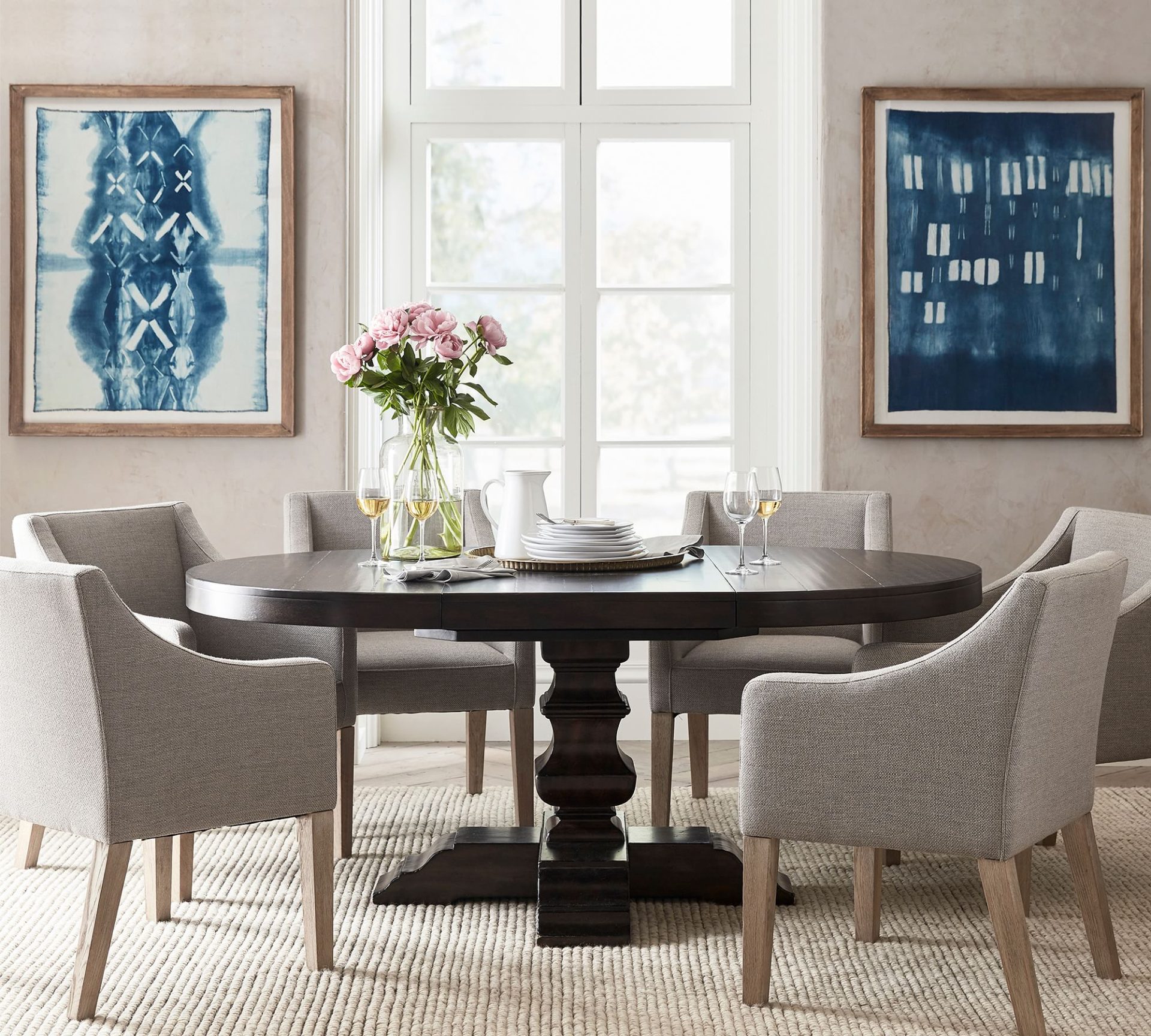 This table also comes in a circular version if that fits your space better! The base has the same sculptural look as the rectangular table, keeping the same classical feel in a more compact area. This table also comes with one leaf for you to add to it.
Mateo Extending Dining Table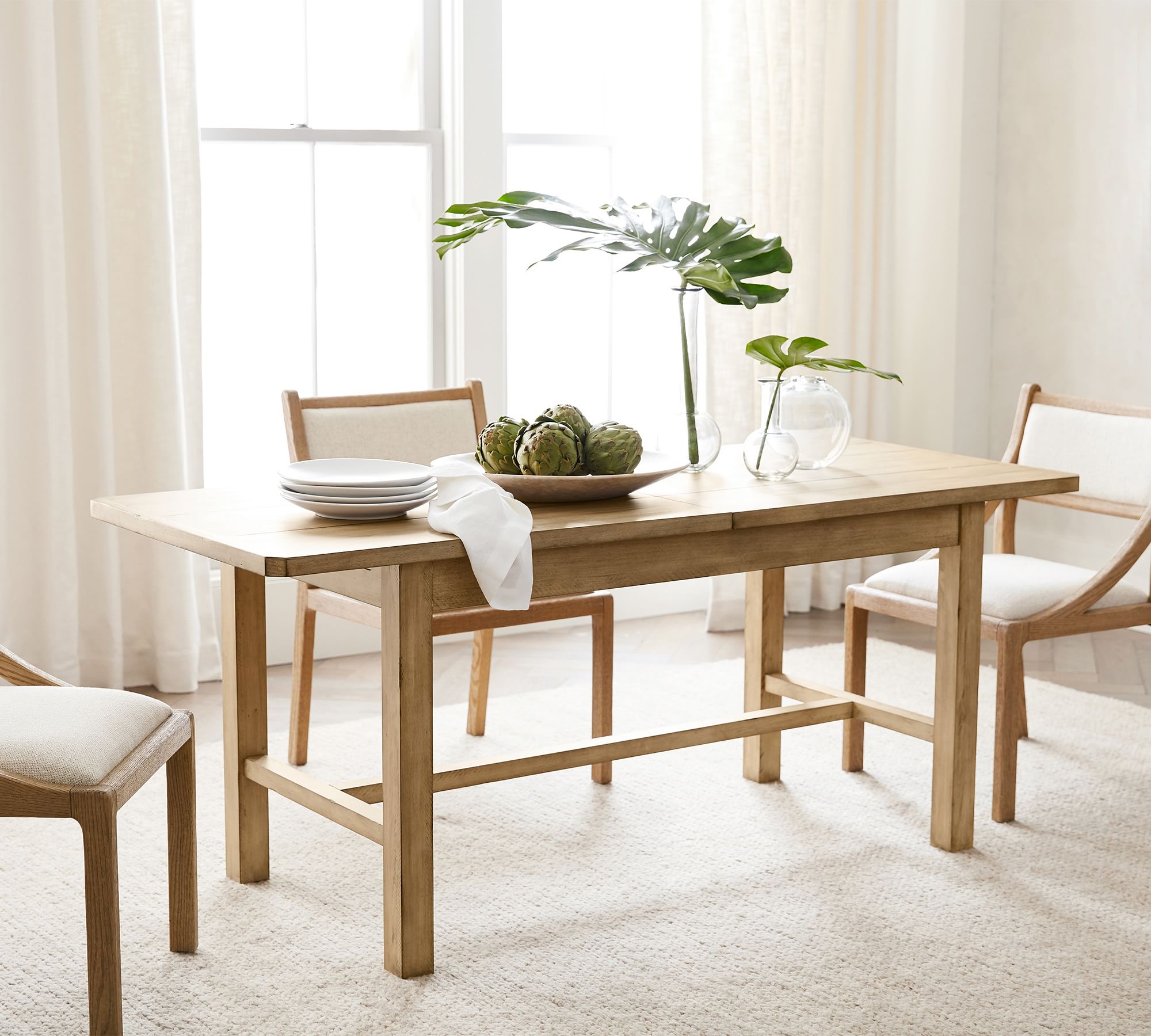 This sleek and contemporary table has a beautiful, minimalist design that would look nice in any home. The light poplar wood gives it a natural look, brightening up the space it's in. It comes with one leaf to add when you need extra room. This table is a statement piece without sticking out like a sore thumb!
Hart Dining table
This bright and rustic table would look right at home in a country cottage with its simple and classic design. The color scheme is light and beautiful, and the natural wood top is made from reclaimed pine. This table will work well if you want something to brighten your space.
This one also comes in a circular version, so you can add that farmhouse feel to any space, no matter the size or shape!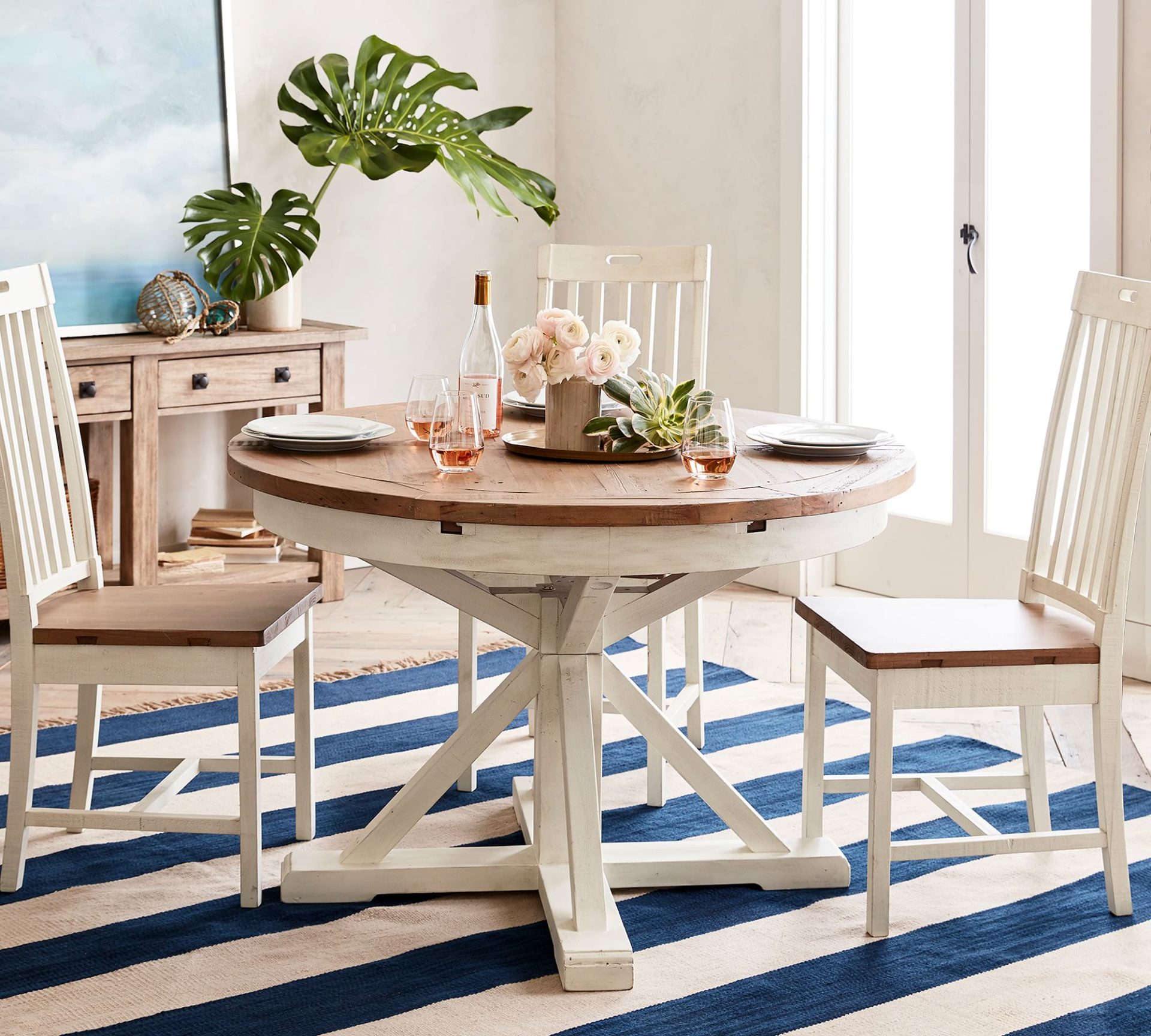 Erza Extendable Dining Table
This beautiful, rustic pine table is a fantastic piece for any home. It has a classic and timeless look that stands out in a good way! The shape is simple yet beautiful, with the legs coming together triangularly. This table has a leaf that slots in the center for added space, so you'll never have to worry about your table being too small for guests!
The Pottery Barn has many extendable tables beyond what's shown here. There are tables to match any decor style and home. If none of these strike your fancy, browse their catalog and find your perfect table!
West Elm
West Elm has a lot of gorgeous designer furniture, suitable for any home. They have a wide variety of styles, made to be versatile, practical, and beautiful. Their selection of extendable tables is just as lovely as the rest of their furniture!
Emerson Rectangle Extendable Dining Table
This gorgeous, natural-looking pine table is a beautiful addition to any home. The wood is vibrant and expressive, with every piece having its natural marks and grains that add to its personality. The surface texture is rugged and raw but will smoothen with time, making this table age with you in a unique, special way!
Portside Outdoor Dining Table
This unique table is made of gorgeous moisture-resistant mahogany. It's meant for the outdoors and will be a fantastic statement piece on your deck or other outdoor dining space. This table also comes with two benches and two chairs, making it easy to get a complete dining set!
Mid-Century Expandable Dining Century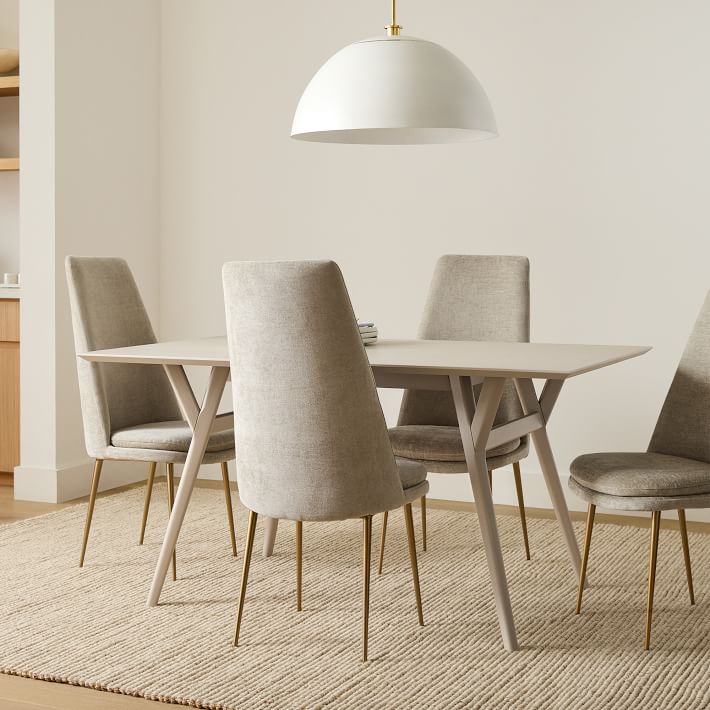 This table is modern and sleek, made of beautiful ash wood or eucalyptus wood, depending on your choice in color. The frame is minimalist but unique and standout, and it gains an extra 16 inches in width when you add the leaf in the center! This table will look beautiful in any home due to its simple and versatile design.
Arhaus
Arhaus has some beautiful furniture that's versatile and unique. Their products are a work of art, and there's always something that will look gorgeous in your home.
Leighton Dining Table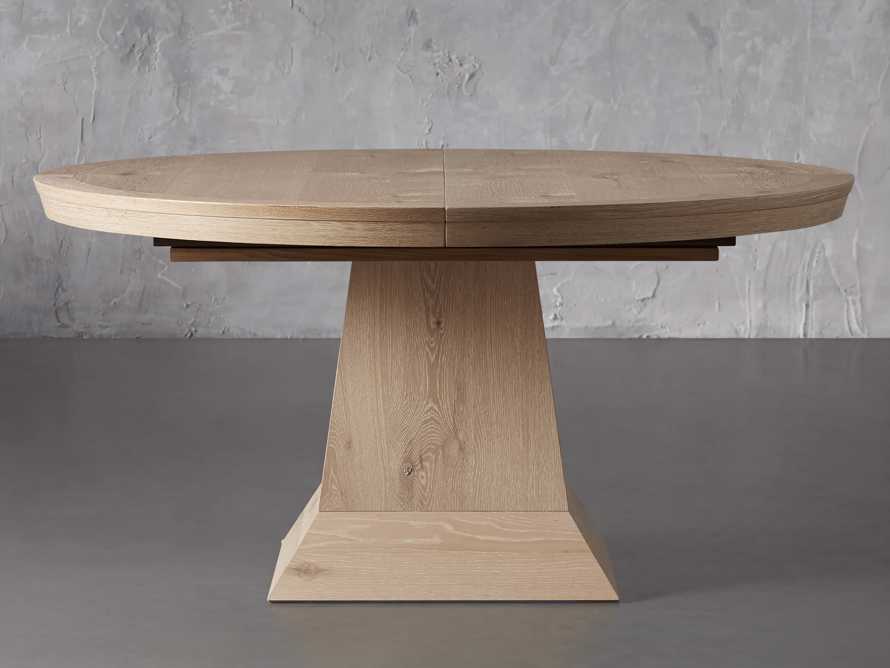 This table is classy and formal with a pedestal base. The distressed wood texture is unique and beautiful, each unique due to its individual color differences and variations in pattern. The table comes with a leaf to add length, so this compact table can fit any guests you have over without any worries.
Toulon Extension Dining Table
This gorgeous French farmhouse-inspired table is a classy and beautiful choice for any home. The deep mango wood is unique and interesting, acting as a fantastic statement piece and catching the eye. It's a perfect family dinner table, and with the leaves that attach to either side, you'll have plenty of extra space for guests.
Crate & Barrel
Crate & Barrel can always be counted upon to deliver high-quality furniture. Their pieces are beautiful and durable, and you're sure to find something that suits you and your decor style.
Diset Wood Oval Extendable Dining Table
This gorgeous white oak table is simple yet unique with its construction and shape. The legs poking up through the table give it a textured and dimensional appearance, while the color of the white oak gives it a natural and soft look. This is a perfect family dining table, seating four without the leaf and six with it.
Lakin Extendable Dining Table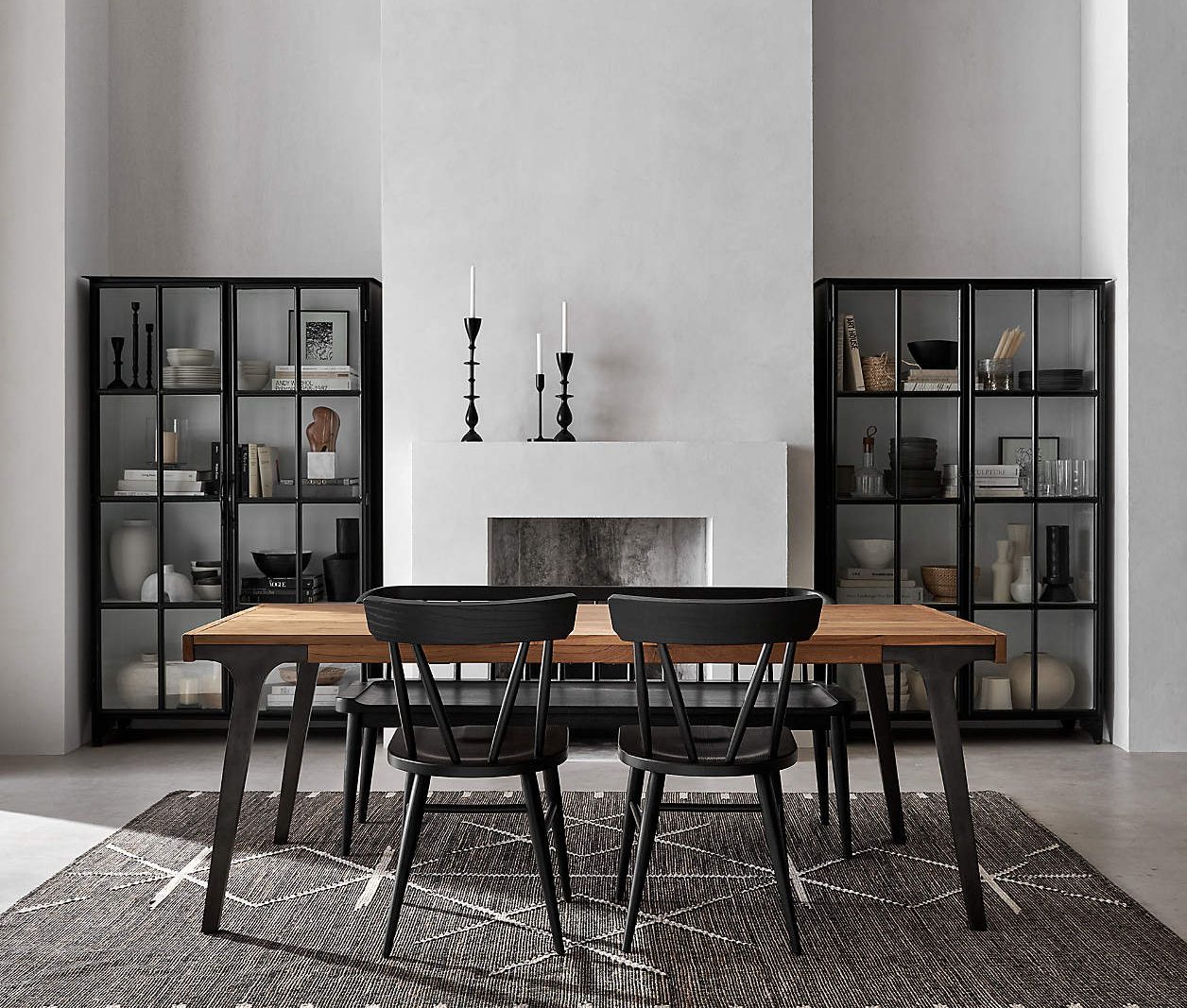 This modern and rustic table is a masterful blend of wood and metal, with a refined faux cast iron frame and a repurposed teak wood top. The two materials mesh beautifully and create a unique look. This table comes with two detachable leaves that allow you to seat eight people instead of six, making it perfect for dinner guests.
Other Brands
Many other brands and sources can give you beautiful tables and furniture. These tables are from many places, and you're sure to find something you love.
Knife Edge Rectangular Table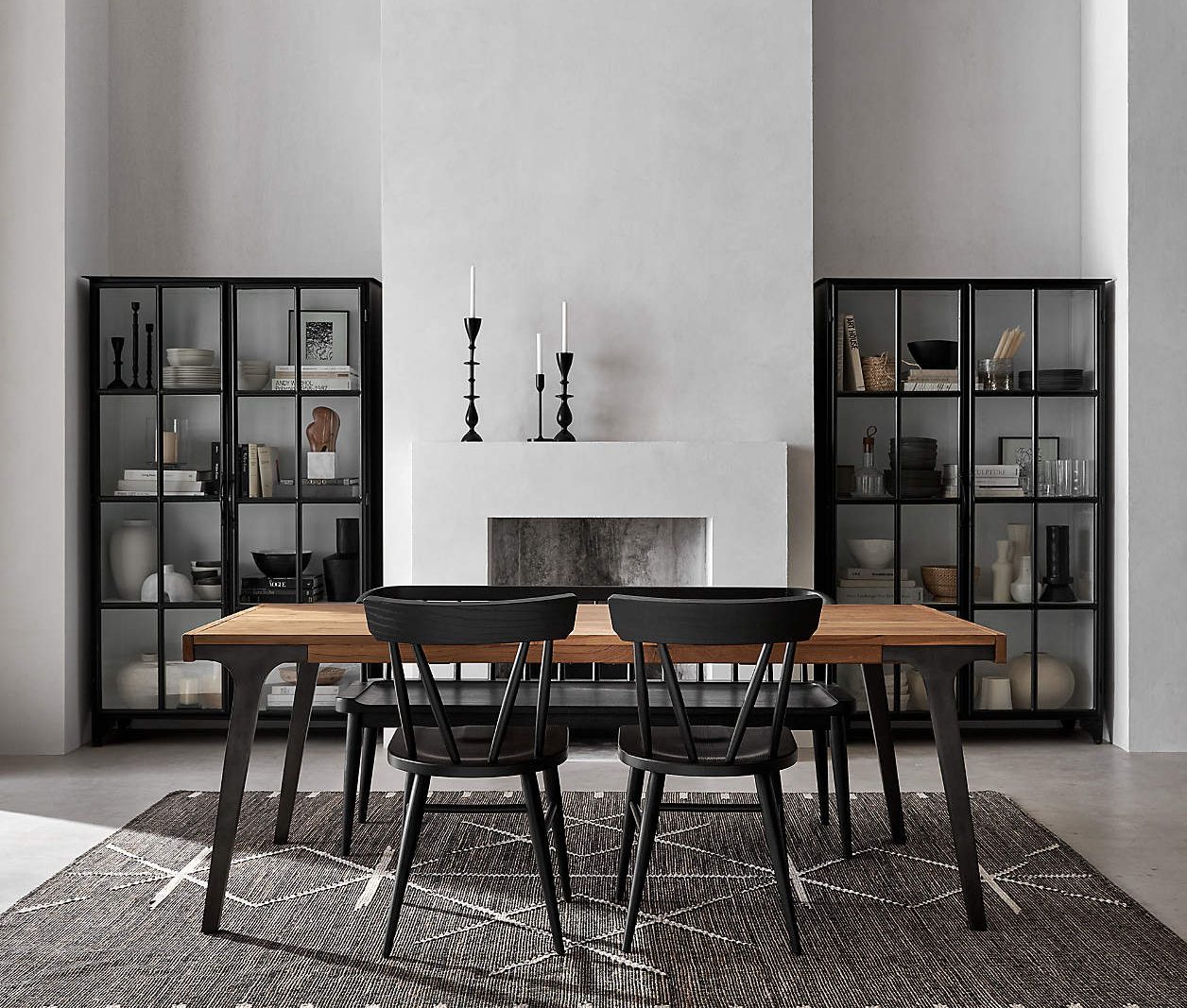 This unique table from Williams Sonoma is a gorgeous statement piece. The V-shaped legs are different from most others, giving it a lot of depth and visual interest alongside the deep ebony finish. The two leaves attach to the ends of the table, adding a ton of length, perfect for guest dinners and family gatherings.
Mid Century Modern Extending Dining table
This gorgeous extending table from Etsy is different than any other on this list. Its leaf is built in, so you have no extra parts to store when the table is not extended. The beautiful, natural-looking stain adds a hint of nature to the room, and the natural patterns make each one unique.
Nicola Rectangular Expandable Dining Table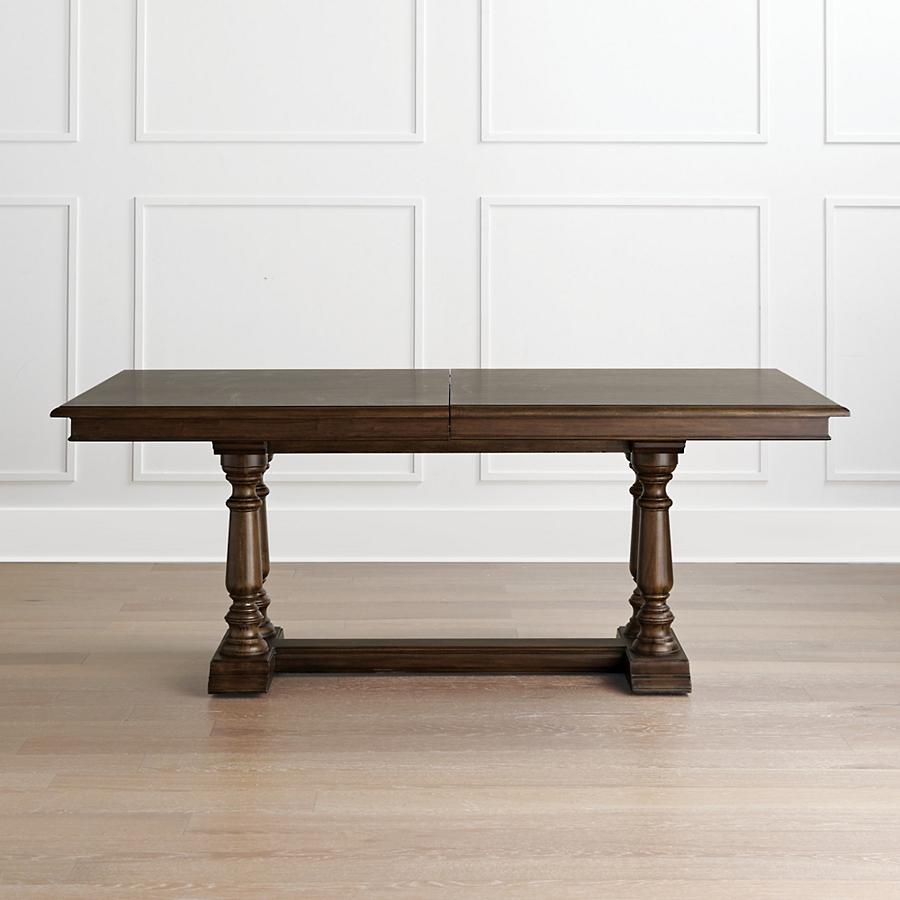 This European-style antique-inspired table from FrontGate is a classic and timeless addition to any room. The deep mahogany wood is a beautiful and eye-catching color, while the legs and edges are carved in a sculptural style. This table is large enough to seat eight with the leaf and six without, making it perfect for dinner parties and family meals.
Lauren Extendable Dining Table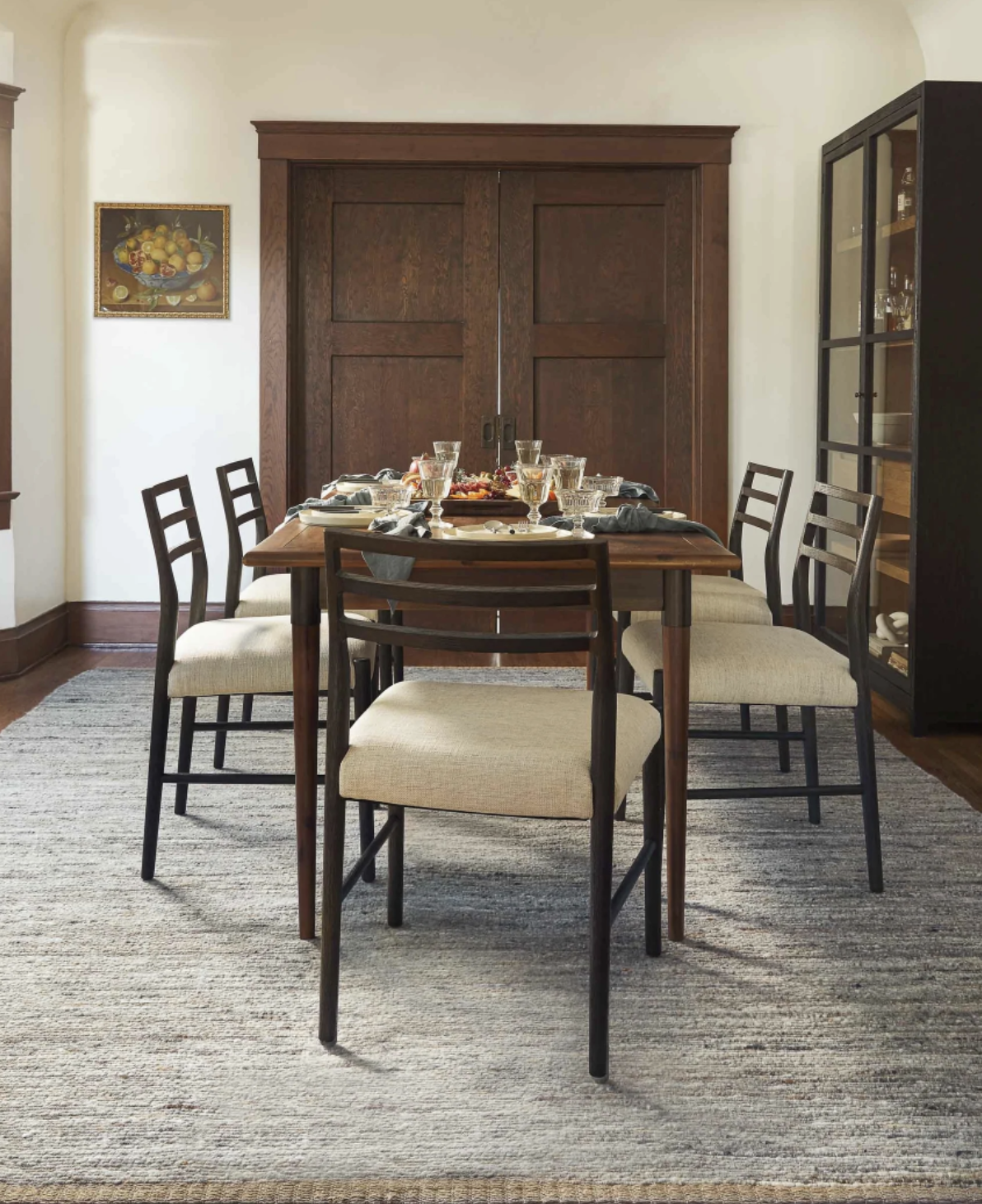 This acacia veneered table from Lulu and Georgia is simple and versatile. The design is subtle but elegant, with slender legs and iron accents, able to mesh with any decor style. This table is very large with the leaves attached, so it's perfect for large dinner parties and gatherings.
Farmhouse Counter Height Extension Table
This gorgeous wooden table from Amazon is a classy and rustic choice. The design is simple yet eye-catching, with a deep veneer almost resembling walnut wood. The leaves that come with this table give it a lot more depth, allowing you to have your table be 62", 74", or 86" deep, depending on whether you use neither leaf, one, or both.
Whiteline Modern Living Table
This modern and contemporary table from Walmart is a fantastic choice for any home. The eye-catching design of the legs is accentuated by the glass top, giving it a sleek and exciting appearance. The extensions make this an ideal table for any guests, adding plenty of length and allowing you to seat several extra people.
Beach House Expandable Dining Table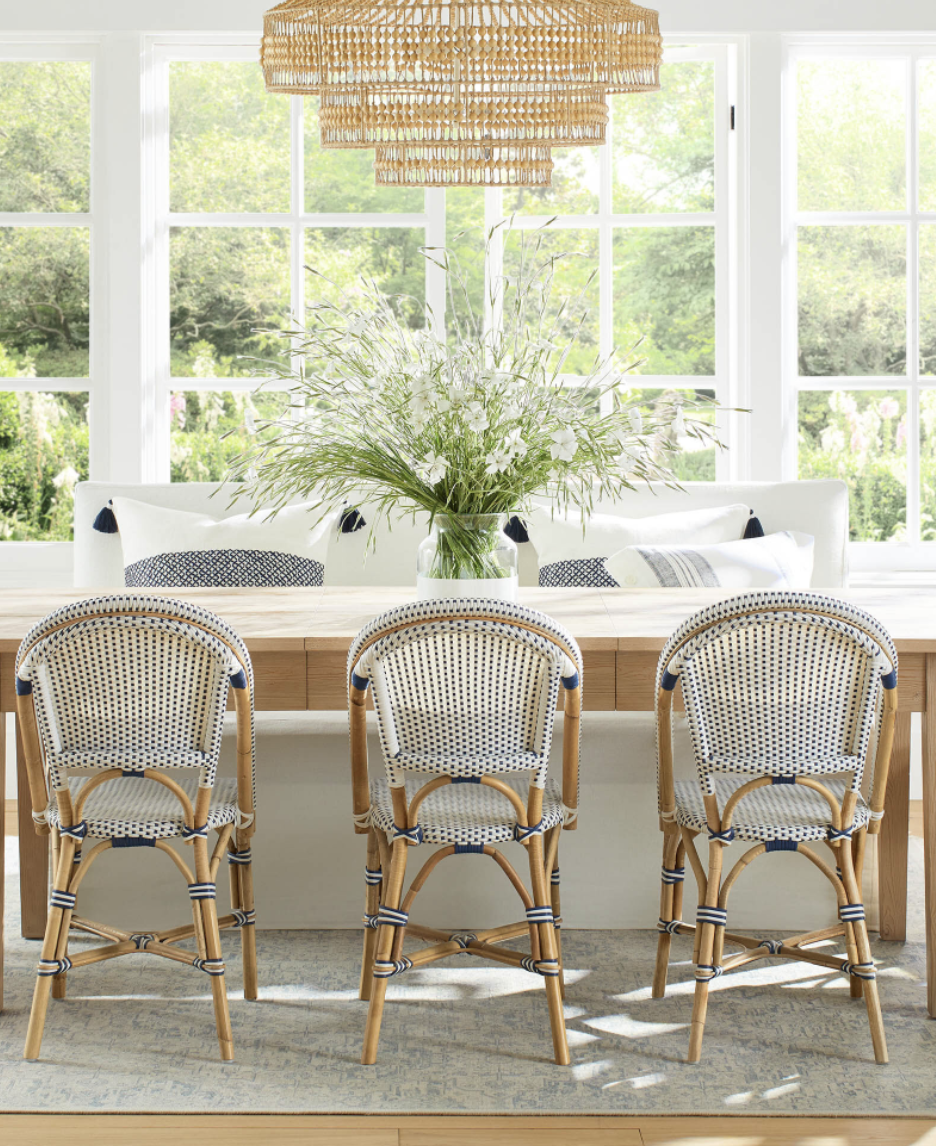 Last but not least, this lovely and refined table from Serena & Lily is a simple design suitable for any space. The drawers on either end are classy with brass pulls and practical for storing extra silverware or napkins. The soft, warm color will match any decor style, and the drop-in leaves are perfect for hosting guests for meals.