Spice up your outdoor happenings with a dining table that offers the best with both function and style. Today, we're chatting best extendable outdoor dining tables. Extendable dining tables are a convenient way to accommodate extra guests for entertaining! 
Are extendable tables worth it? 
Yes! They're extremely durable and a great option for ample seating that doesn't involve scrambling for more tables! We're sharing some quality extendable dining tables that will elevate any outdoor space and bring loved ones together. We highly recommend if you enjoy entertaining! 
What do you call a dining room table that expands? 
Extendable tables. These tables look like a regular table but come with a secret weapon — extra sections. These extra sections (or leafs) allow you to extend length to accommodate extra guests.
What are the disadvantages of extendable dining table?
The only downside to an extendable dining table is having a place to store the extra sections when you're not using them. 
Extendable Outdoor Dining Table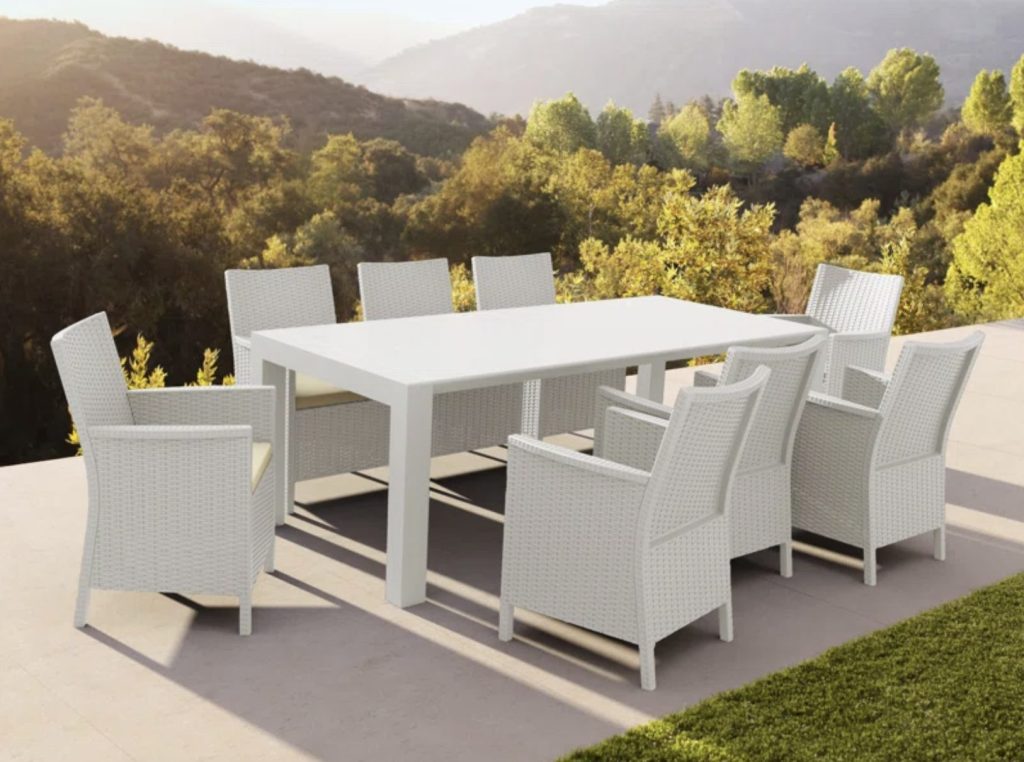 If you're looking for a modern vibe, this extendable outdoor. Dining table offers a sleek look that seats everyone! It's crafted from a polypropylene resin with an aluminum frame. This will definitely stand the weather! It has a removable leaf that lets you add length (or collapse) depending on the amount of guests are around the table. Bonus: grab your hose to clean it! Comes in 3 colors.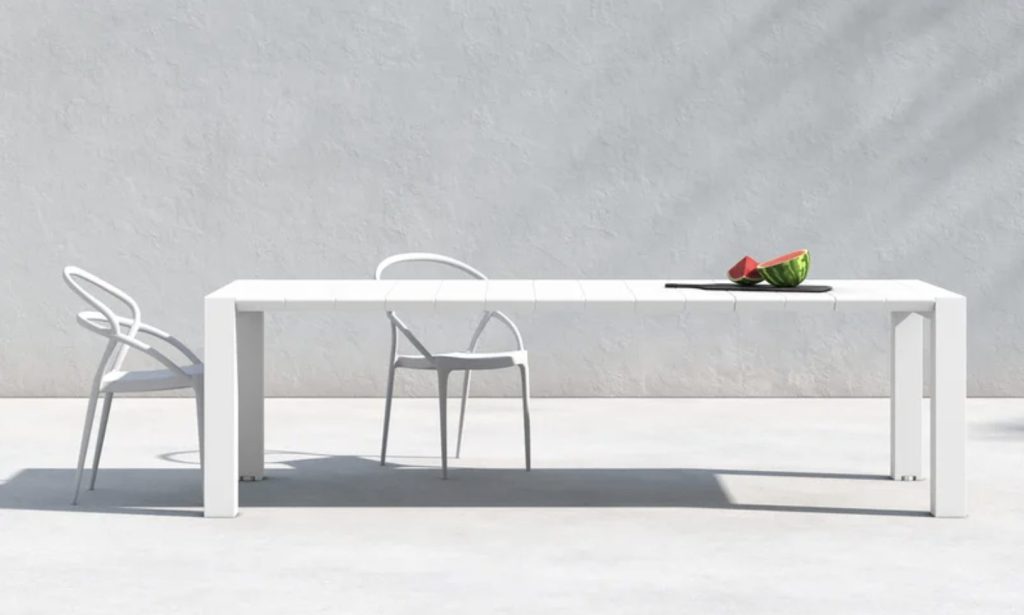 This elevated outdoor dining table adds a clean, modern aesthetic to any patio! It comes in 4 colors, and includes a removable leaf to accommodate people. It's resistant to water, mildew, rust and UV rays so it's definitely going to last for awhile! We envision enjoying the fresh air with best friends all spring and summer long!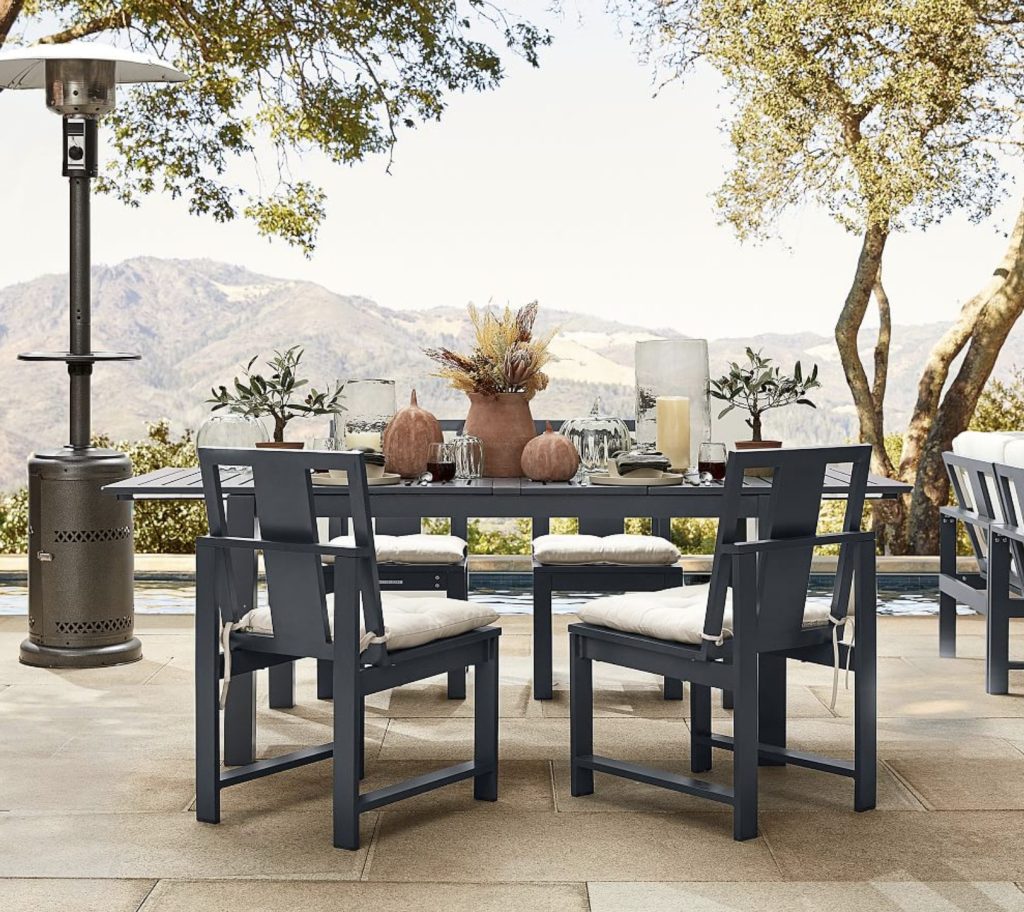 This versatile, best-seller extending dining table is a show stopper! It's crafted from rust-proof aluminum in a slate gray finish. It's such a modern yet relaxed vibe that would elevate any outdoor space alike! It comfortably seats up to 6 people and 8 when extended.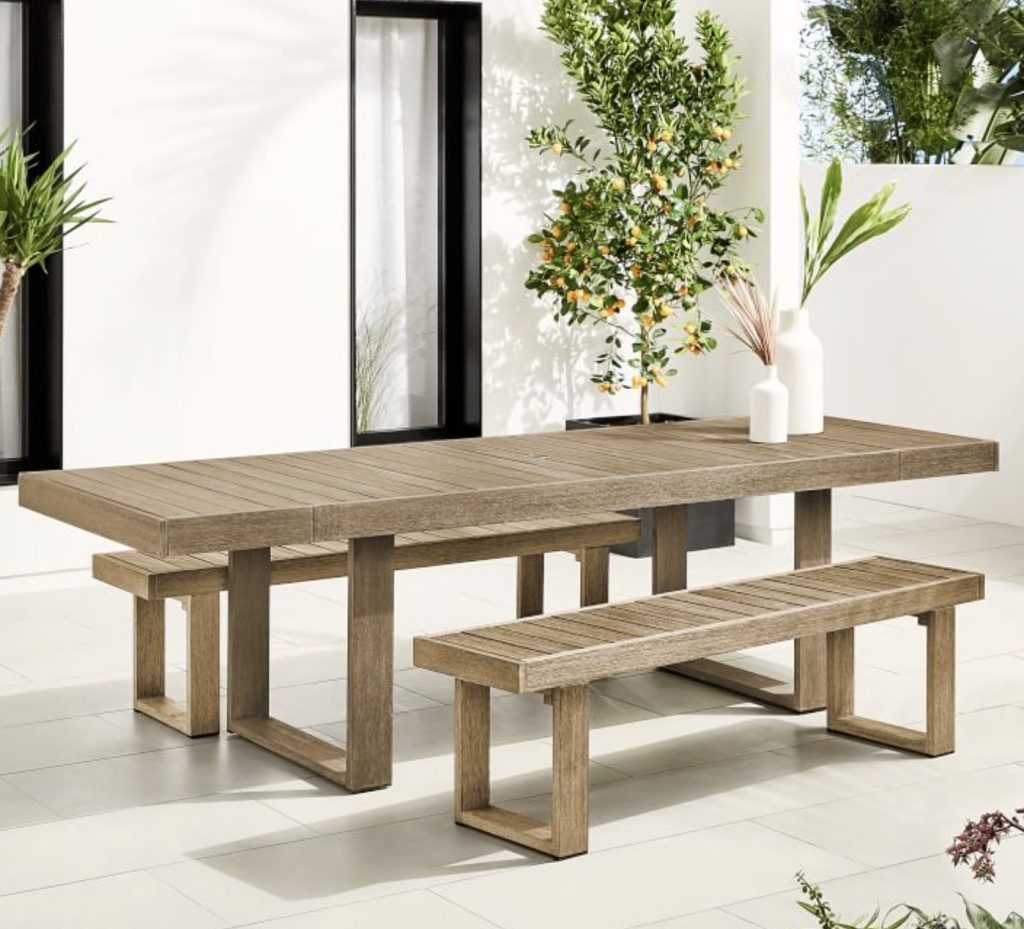 The Portside expandable dining table comes with 2 spacious benches (seating up to six people). It's a gorgeous eucalyptus wood and features moisture resistant mahogany. We absolutely love the aesthetic of this piece — definitely a favorite from our list! The ends of the table extend for easy entertaining. If you're wanting an umbrella hole, it's a great option.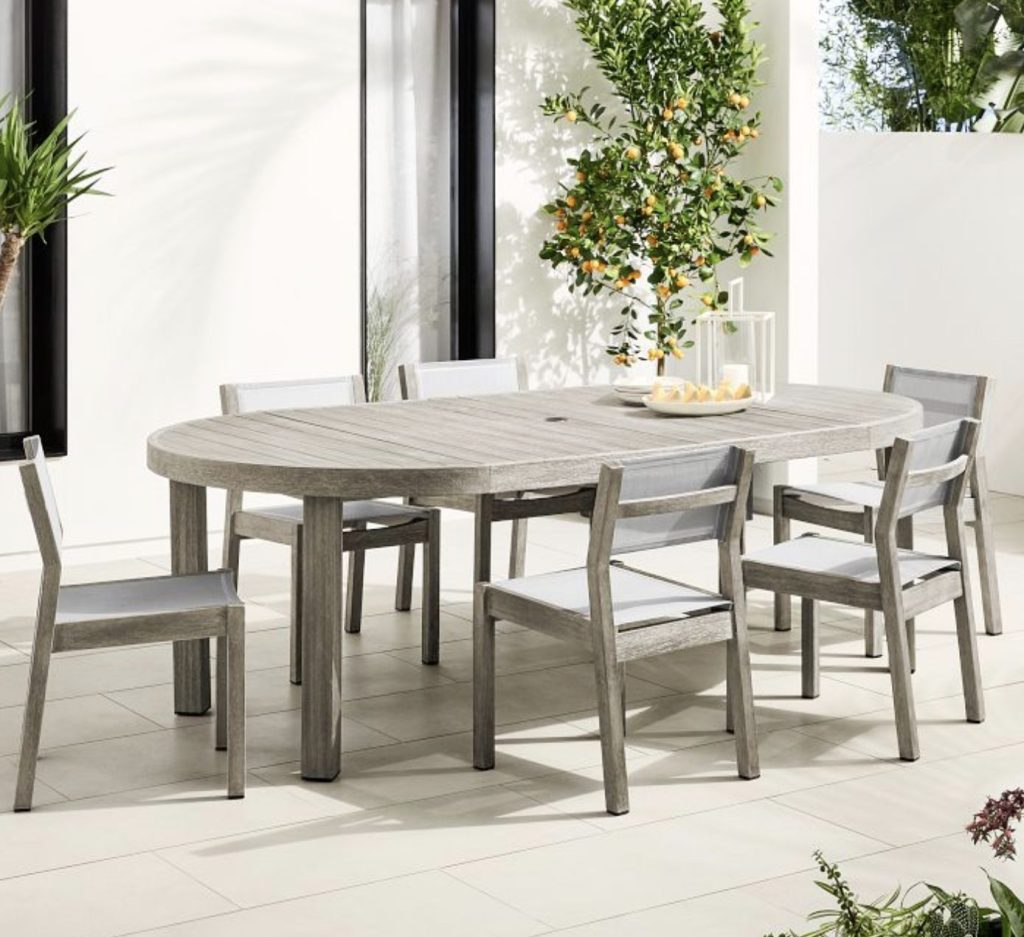 This is a similar version to the table above but instead features a round extendable outdoor dining table and 6 chairs. It's such a beautiful addition to your next outdoor dinner party or backyard bbq. Bonus if you have a pool to cool off in! It's made in Indonesia. 
An outdoor table that's built to last! We just love the architectural lines and the bold, oversized frame. It expands to allow extra space for guests. An amazing choice if you appreciate a traditional wood cut.
This table comes in 2 finishes (black or mast) and looks heavenly under the stars. If you're looking for a simple outdoor table, this one is definitely for you! The benches are sold separately, so just heads up! 
You're going to love the modern farmhouse style on this outdoor extendable dining table. It's made from kiln-dried, sustainably wood which means it'll last for awhile. Let's transport into the jungle, put away the screens and connect! This table is a dream. 
If you're looking for a contemporary table with a modern flair — this extendable outdoor dining table is for you! It's durable and boasts the highest quality materials from renewable sources. It can seat up to 8 (under 150 pounds) and it's a eucalyptus material
Popham 13-piece Outdoor Patio Extendable Dining Set
If you really want to bring the party, this table can seat up to 12 guests when extended (8 when folded). It includes 13 pieces and has 5 star raving reviews. It features UV protection making it perfect for year-round use without getting damaged. Very charming, sturdy and reliable. A fabulous option for people who love entertaining who have plenty of room! 
A best seller for a reason, but this set was designed for get-togethers in mind. It features rust-proof aluminum and has a weather-resistant powder coating for easy living. It easily extends for when you need to accommodate more guests. It can seat up to 10 people with the leafs which makes it one of our favorite options! Another favorite for outdoor furniture.
Crafted with weather-resistant teak, the oval extendable outdoor dining table is ideal for any outdoor oasis. It includes a butterfly leaf to accommodate both small and larger gatherings. The outdoor dining chairs stack easily making it simple to store. It's just an all around beautiful option for a traditional outdoor table. 
Santa Ana FSC® Eucalyptus Extending Dining Table
The Santa Ana extendable outdoor dining table is ready for years of alfresco entertaining. It has extendable leaves for extra room and is built to last. It comfortably seats 8 when extended. Also love the black legs for a modern twist! 
An elegant design with high-quality wood. Match the cosiness of your indoor with a magical outdoor! A fun space to host family and friends with a contemporary design and the best quality materials. This extendable outdoor dining table can sit up to 10 guests when extended and weighs 100 pounds. It's also water resistant to help Midwest weather! Bonus: your purchase helps support forests and ecosystems worldwide. Definitely a cool perk to purchasing! 
A table that features the best in both function and style! Also can't beat the price with 5 star reviews. It features smooth acacia wood, and a perfect addition to any outdoor space.