Let's chat faux eucalyptus trees. Anyone else obsessed with indoor greenery but can't care for them? Same. If you lack time/energy to care for houseplants, a faux eucalyptus tree is the perfect addition to your decor without the maintenance of a real plant. Eucalyptus trees have become increasingly popular over time because of their beautiful silver dollar leaves, slender branches and dainty features. Not to mention, artificial eucalyptus trees look fabulous just about anywhere you place them! Living room, entryway, bedrooms, etc.
I've also rounded up my favorite faux olive trees and faux fiddle leaf fig trees, too! Can you tell I have a thing for artificial plants?
---
The Best Faux Eucalyptus Trees
This Faux Silver Dollar Eucalyptus Tree from Crate & Barrel is one of my favorites on the list! It's pre-potted and ideal for adding style around your home. They have 2 sizes: 6′ and 8′. It looks beyond realistic with a burst of playful greenery that lasts forever! You can easily elevate your tree with an indoor planter. I recommend finding one that blends with your space.
SHOP ALL FAUX PLANTS HERE
---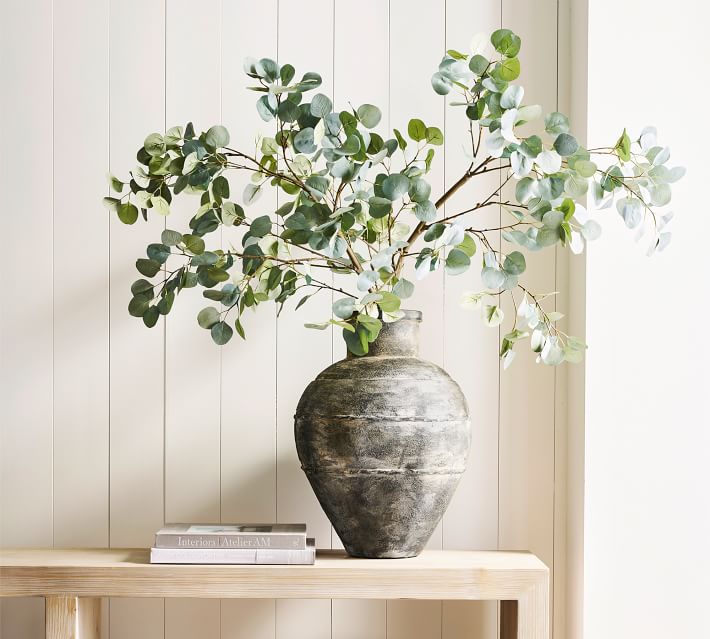 Pottery Barn is another favorite for faux trees. This faux potted eucalyptus tree is perfect for any size space! It's designed with realistic bark and eco-friendly green leaves. This artificial tree will surely brighten up your home office or make any area inviting! All 6′ of it! It will surely bring the outdoors in without all the fuss. I still can't get over how realistic it looks!
Here's another one that's a bit smaller. Hand-assembled for intricate details with 60 silvery-green leaves that look oh-so-real!
---
Target is my absolute favorite place for home decor these days! With two littles at home, I don't want to invest in luxury brands just to see it get destroyed! The Studio Mcgee x Target collab is one of the best things to happen to Target, EVER! This artificial potted plant showcases the most natural look and includes a natural wicker pot for a deal. The side handles are clutch for easy carrying from one place to another. Does anyone else constantly move their faux plants around the house like me? This beauty will look perfect year-round with zero maintenance required!
Here's another Studio Mcgee faux potted eucalyptus tree that will wow! I personally love the beige pot on this one since I've been into neutral! This is another one that will last forever. Place it outdoors while you're hosting a party even!
---
You didn't think I'd be able to get through a roundup without including Amazon, right? Seriously, sometimes they just get it right. I also like to include this option for convenience! They have a plethora of options, so including them all here! But a couple that stood out:
A lighted eucalyptus tree for those dreamy nights at home! It got stellar reviews and it looks authentic. You can never go wrong with twinkly lights ever.
Also can't believe the price point on this artificial tree that got wonderful reviews. It's 4 feet tall, and the perfect compliment to any room of your home. Definitely will not disappoint.
---
Many don't even realize that Home Depot has home decor, furniture and so much more! I always look here first when looking for furniture and artificial plants! This 5′ pre-potted eucalyptus tree is under $120 and you can easily elevate with a pot that you love!
---
Nearly Natural is one of the more popular options when it comes to artificial plants and trees. Standing at 63″ from a white planter, this delicate beauty will bring some cheer throughout your home. The airy eucalyptus leaves, known for medicinal benefits will surely feel right at home anywhere you put it.
If you're looking for a fuller option, this artificial tree stands at four feet. The sturdy branches are filled with gorgeous greenery that will enhance any interior/outdoor space. I love that it has UV-resistant, so you can place outdoors. Would look fabulous in line of your walkway to the home. And no watering! Adds to cart.
---
I bet you didn't think to look on Etsy for faux plants, huh? I know I didn't. When I stumbled across this large faux eucalyptus tree. I literally gasped. It's a bit more unique than the other retailers and the reviews are sky high. I personally love supporting small, so Etsy is always a go-to for me! This seller also has a small option.
---
Birch Lane is another go-to retailer for us! They have reasonable prices and an assortment of goodies for the home! I wanted to include an artificial eucalyptus plant option if you're looking for something smaller!
---
I also purchase a lot of home furniture from Wayfair. They have really admirable price points and I have found their customer service to be excellent. This 2-piece eucalyptus set is unique and so cute! It's the perfect combination of outdoor beauty in an indoor setting. And don't forget — no maintenance required!
Can't beat the price point of this artificial beauty either! I just love the pot that comes with! Ready to style! It's another unique piece that will get a conversation going in your cozy abode.
Wayfair has no shortage of artificial plants, so make sure to view the entire list here.
---
Walmart has some of my favorite home decor, but you have to act quick! The only downside to Walmart is the sold-out inventory that I always seem to run into! I am loving this 4 foot beauty that's under $120! Would look fabulous in a dorm, college apartment, office building, home, etc!