faux fiddle leaf fig tree — image via crate & barrel
If you know a thing or two about interior design, you'll know that fiddle leaf fig trees are all the rage, and for good reason! These tall, dark green trees are very striking with their waxy leaves and narrow profile. Plus, you can fit them almost anywhere, so it's not hard to understand why everyone can't stop doting over these gorgeous trees!
But everything comes with a price, and the price for keeping and maintaining fiddle leaf fig trees might just be a little too much for some people, including me. But again, we're talking to the girl that talks to a plant and it dies, so … that's why I recommend getting faux fiddle leaf fig trees! They are native to the dark, damp regions of Africa, and even slight variations in temperature, light, or soil can damage them. They can be tough to care for.
Insert: artificial fiddle leaf fig tree! We've rounded up some of the best options on the internet, just for you! So, read on to find the perfect faux fiddle leaf fig to beautify your space without any of the added hassles.
PS: I'm also rounding up my favorite faux olive trees!
---

---
The Best Faux Fiddle Leaf Fig Trees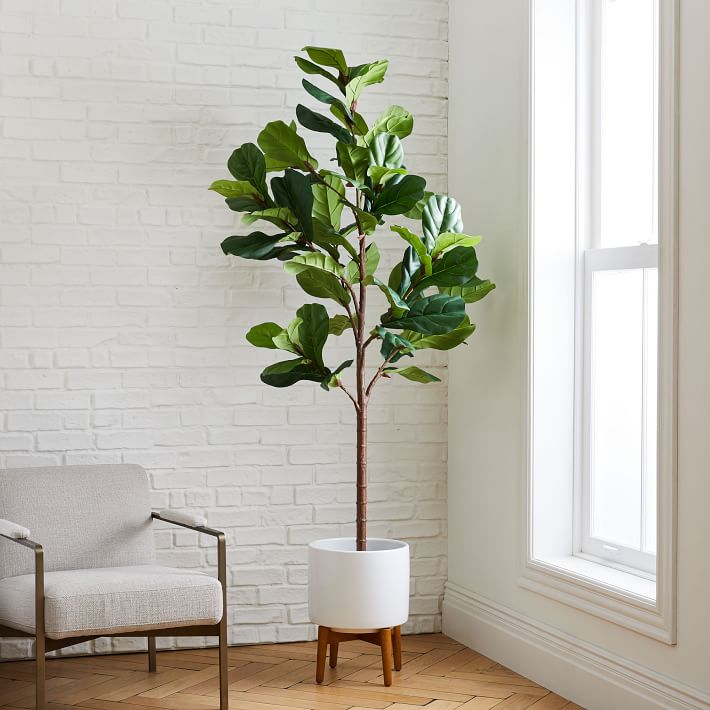 photo via west elm
West Elm is an excellent option for people looking to decorate their home or office space with a few stylish accessories. Thus, you can find some of the best variety in fake fiddle leaf fig trees here. I would recommend the Faux 7′ Fiddle Leaf Fig Tree & Open Weave Zig Zag Basket Planter Set, which is sold as a set of two. You can choose between medium or large sizes. Also, it comes with a handwoven basket planter, so you can use it as is. Plus, of course, since it is a faux fig tree, you won't need to worry about maintenance. You can wipe it with a soft, damp cloth every once in a while, and that should be enough.
The 7′ Faux Fiddle Leaf Fig Tree & Wide Mid-Century Turned Wood Leg Planter Set is another one of my favorites from West Elm. You don't need a green thumb with this artificial fiddle leaf fig tree; you will only ever require a duster from time to time. Nevertheless, this is quite the statement piece with its lush leaves and bendable branches. In fact, it doesn't look like a fake fiddle leaf fig tree at all- it looks like the real deal. What's more, it has a cutesy ceramic planter with solid wood legs that really compliments the dark green of the faux fig tree.
image via pottery barn
Pottery Barn is an upscale home furnishing store and one of the best places to shop for indoor and outdoor furniture and décor products. And this includes fake fiddle leaf fig trees. Although it doesn't offer a lot of options, the Faux Potted Fiddle Leaf Fig Trees is undoubtedly one of the best faux fiddle leaf fig trees out there! It is handcrafted and comes in medium and large sizes. But one thing is for sure; this faux fig tree is sure to brighten any corner of your home with its natural charm. Plus, being an artificial fiddle leaf fig tree makes it so much easier to maintain. And of course, it also comes in a very aesthetic-looking pot, so you don't need to purchase a planter separately.
If you're looking for authentic and unique yet affordable home décor options, you should head straight to World Market because they've got something for everybody. As for artificial fiddle leaf fig trees, the Faux Fiddle-Leaf Fig Plant is one of my top picks. It has broad leaves and poseable branches, handcrafted to perfection. If you want a fake fiddle leaf fig tree on a budget, this is your go-to! However, you might want to switch the planter with a basket. World Market has some of the most real-looking faux fiddle leaf figs of all time. So, I would also recommend the 6 Foot Faux Fiddle Leaf Fig Tree as a great addition to your space. This, too, should ideally be shifted to a basket, though the original planter works as well.
Wayfair has been operating since 2002, and they have only gotten better at what they do. They accommodate virtually all styles and budgets, and thus, it's no wonder they have some of the best faux fiddle leaf figs. My personal favorites are the 26″ Artificial Fiddle Leaf Fig Tree in Pot and the Fiddle Leaf Fig Tree with Basket. They come with a no-fade guarantee which means that your faux fiddle leaf fig will stay evergreen throughout the year. However, they are recommended for indoor use only. They are especially space-saving, which makes them great for small apartment spaces. In fact, these faux fiddle leaf figs are perfect for almost any home.
Amazon is one of the most trusted, leading e-commerce websites, and luckily, they also have a great collection of faux fiddle leaf fig trees. The 18-inch Artificial fiddle leaf fig tree and the Fake fiddle leaf fig tree are my top choices on Amazon. They are both ideal for decorating tabletops or workstations. And they come in beautiful pots, so they would work great as gifts as well.
Target doesn't fail to deliver on its promise of 'Expect More. Pay Less.' In fact, you can find almost anything you can think of on Target. And that includes faux fig trees, too, right? Of course, it does! The Fiddle Leaf Fig in White Planter (4.5ft) – Nearly Natural from Target is handcrafted from the finest materials. It comes in a very picturesque white planter that is an excellent addition to your interior. Or you could also opt for the 8″ Artificial Fiddle Leaf Fig Tree in Pot Black – Nearly Natural if you're looking for something a little fuller. Nevertheless, they are both great faux fiddle leaf figs.
Unsurprisingly, Home Depot is one of the largest home improvement retailers in the United States. And naturally, they have everything you could possibly need for your home space improvement. Some of my favorite picks in faux fiddle figs from Home Depot are the 2.5-foot Fiddle Leaf Fig Artificial Tree in Decorative Planter and the 6-foot artificial fiddle leaf fig. For one, they come in decorative planters, and two, they would really complement your interior space. And they look pretty real, which is the most important thing to consider when shopping for a fake fiddle leaf fig tree.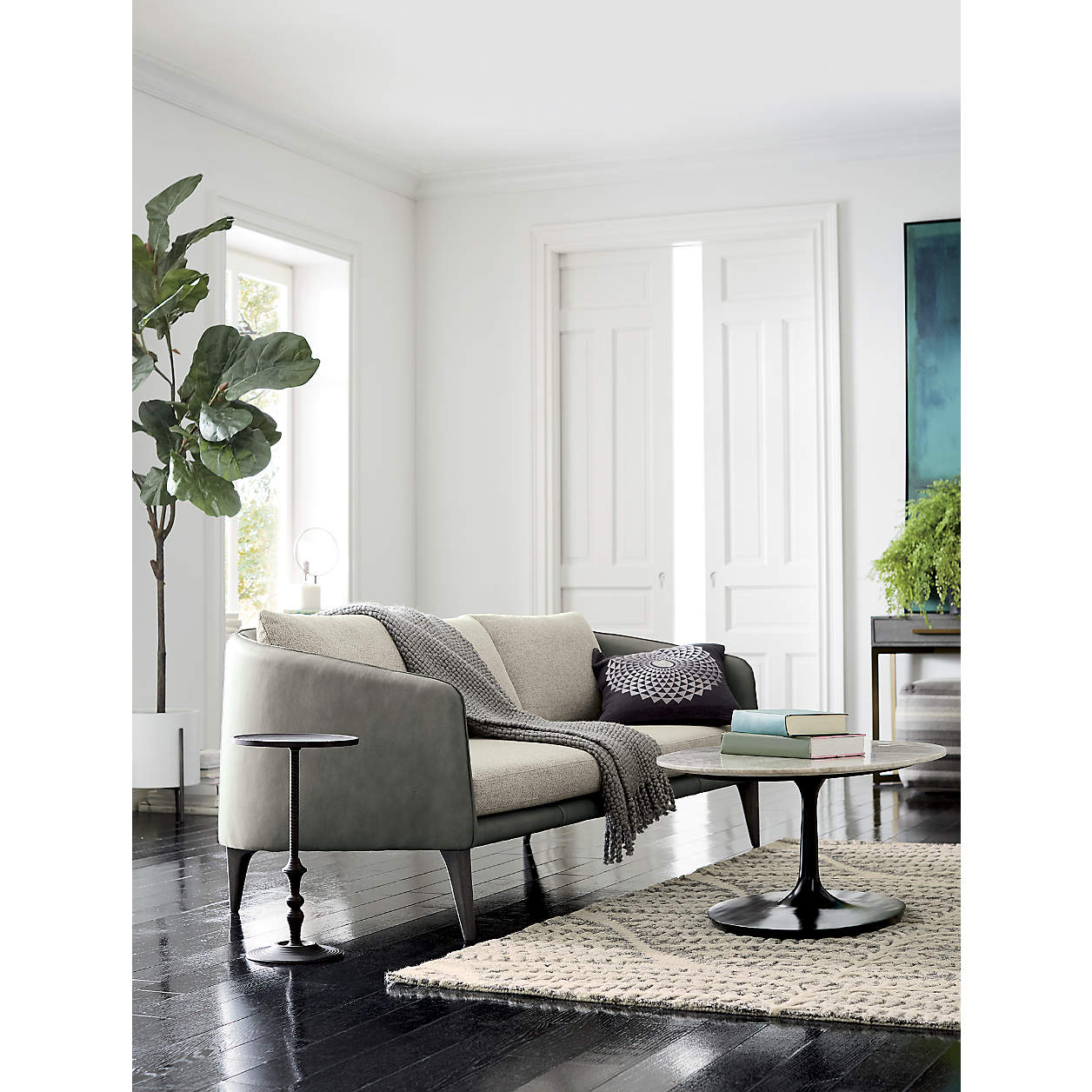 image via crate & barrel
Crate & Barrel is an international home décor store and possibly one of the best out there. Moreover, while looking for the best faux fiddle leaf fig trees, I found their site very useful. They have some really excellent pieces. I would recommend the Faux 7′ Fiddle Leaf Fig Tree and the Faux 3.5′ Fiddle Leaf Fig Tree. Both options look very realistic, and you can add them to your interior without having to worry about maintenance. And I can almost guarantee that nobody would be able to tell they're fake. However, you should consider placing them in a basket or appropriate planter.
---
How Do You Shape a Faux Fiddle Leaf Fig?
To make your faux fiddle leaf fig tree look real, you will have to shape it. But don't worry because it's a piece of cake. You need to fluff the leaves a bit, starting from the bottom and working your way through. Basically, you want to make it look more natural by toning it down a bit and making it look full and hence, real. Nevertheless, you should know that unless your fake fiddle leaf fig tree is from a proper retailer and doesn't already have a lifelike feel to it, there is only so much you can do. Therefore, apart from learning to shape your faux fiddle leaf fig properly, you want to get a good tree to begin with.
What's the Takeaway?
Fiddle leaf fig trees are absolutely gorgeous, which makes them one of the most popular trees for interior decorating. However, the catch is that they are really high-maintenance, and thus, you need to intensively care for them if you want to keep them around. But if you want to decorate your interior with a fiddle leaf fig without having to care for it, you can get a fake fiddle leaf fig! Just make sure it doesn't look fake, obviously. Luckily, you can find some truly incredible faux fiddle leaf fig trees that do a pretty great job of imitating the real thing, but you should know where to look. I've rounded up my top favorite faux fiddle leaf figs in the above text, and I guarantee you will fall in love with every single one of them! So don't forget to check them out.