Bohemian decor is all about embracing eclectic, global-inspired styles that reflect your individuality and creativity. Between the bold patterns, vibrant colors, and mix of textures—a boho living room can be both relaxed and inviting.
Perfect for unwinding after a long day, and great for entertaining guests.
Whether you're starting from scratch or looking to update your current living room, our guide will help you create a cozy and stylish boho oasis that both you and your guests will adore.
What are the Elements of a Boho Living Room?
Photo Credit: Displate.com
While there are no real rules as to how to create a stunning bohemian inspired space—there are some very common elements you can include. Some of the most popular elements to consider while planning a boho vibe are:
1. Natural Elements
The usage of natural elements is one of the most distinguishable elements of a stunning bohemian inspired space. This means choosing furniture made from natural elements like rattan, wood, bamboo, or ceramics. Bohemian inspired spaces also tend to have other natural elements such as indoor house plants that give the space a grounded and inviting feel. 
2. Textures
Regardless of what design style you're trying to emulate—adding texture is always a sure fire way to spice up any space in your home. This means mixing and matching materials, colors, patterns, wood grains, and other elements.
For instance, in a boho space you may have a leather sofa with a chunky knitted throw blanket, rattan backed chairs, and gorgeous plants draped throughout the space. All of these elements work together to bring plenty of visual interest and depth to any design.
3. Natural Textiles
Textiles is just another word that means fabrics. While you can absolutely use synthetic and man made textiles in a bohemian inspired space—it is much more common to find natural textiles such as cotton, jute, silk, or wool.
If you're struggling to achieve a boho style in your space, consider changing up the different textiles in your space like on your couch, rugs, curtains, and throw pillows. Make sure to check out flea markets for hidden gems!
4. Bright Colors & Earthy Tones
While you may naturally envision earth tones when you picture a boho space, there is plenty of room to add a bright and bold eclectic mix of colors as well. Many gorgeous boho inspired spaces will draw different cultural elements and colors to bring even more richness and depth to the space.
Think of the stunning colors and eclectic style of Morocco, Portugal, or Prague.
After all, the definition of bohemian is an unconventional person who is into arts and travel. These worldly elements and cultural staples will always have a place in bohemian design, and balancing bright colors with earthy tones will help keep your space interesting and refreshing. 
5. Layers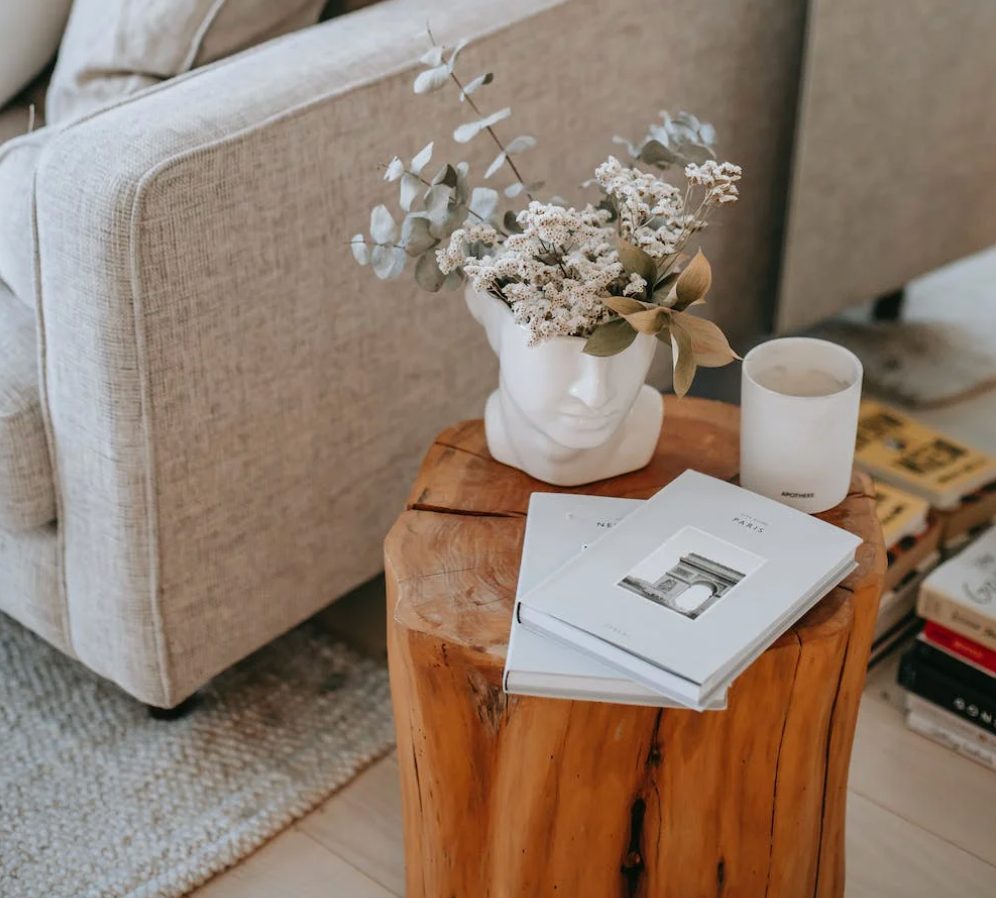 Photo Credit: Pexels
Creating layers in your space will undoubtedly add tons of visual interest and depth into your design. If your couch just has a couple throw pillows, try adding a throw blanket as well. You can also try layering rugs, or using floor pillows to add dimension.
Also be sure to choose your decorations carefully. Having things like candles, vases, photos, and plants around can add a lot of character to your space. Too many trinkets can make your space feel cluttered or chaotic though. Play around with the orientation and design of your decorations to keep your space feeling light and refreshing.
How Do I Make My Room Bohemian?
Photo Credit: Decorilla
The bohemian design style is quite a broad term that can be interpreted in many different fun ways. Start by asking yourself what elements of the boho style speak the loudest to you.
Are you a world traveler that wants to bring the bright and bold colors of your favorite international destinations to your space? Or are you drawn to the grounding qualities of an earthy and natural space?
Regardless of your answer—if something is still feeling off in your living room, go through your room and start asking these questions about each piece:
What is this Piece Made Of?
Identify what each piece in your space is constructed from. If you're feeling like your living room is missing the boho mark, it could be because you have too many modern or man-made materials.
Sometimes it can be as simple as swapping your laminate coffee table for a wooden one, or your polyester blend curtains for linen or cotton. While you can absolutely get away with some man-made materials, too many could distract from the natural vibe of the boho style.
Analyze your Color Palette
The boho style has plenty of room to incorporate as much or as little color as you prefer. While bold colors are welcomed and always have their place in boho design—improper use of color can make your space feel chaotic.
Similarly, sometimes it can be daunting to add pops of color in your space if you're used to only using natural colors. But if you're feeling like your space feels a bit lifeless or dull, you could benefit from throwing in some pops of color!
Jewel tones like reds, blues, purples, and greens tend to work well in a bohemian style space. Also patterns like paisley, florals, and geometric prints can work well also. When in doubt, look at countries that are at the forefront of boho design like Mexico, Bali, India, Morocco, or Turkey.
These countries have had centuries of practice blending natural elements with bold colors and patterns in ways that feel refreshing and exciting in your boho home. 
Mix Old and New
Vintage furniture and older designs often have much more character than some of the more modern particle board furniture we see mass produced today. There are some companies that still make quality new pieces—but they can come at a steep cost.
The good news is that there are thousands of beautiful retro and vintage pieces donated to thrift stores every day. If you are willing to roll up your sleeves and put in some elbow grease, you can breathe brand new life into tired furniture.
The boho style has plenty of wiggle room for you to be as modern, retro, or vintage as you please. In fact—the blending of styles is often what makes this design style so popular and interesting. If your space feels too modern, it may be time to hit the thrift store, or find some vintage inspired pieces that'll give your space the depth you crave.
Similarly, while older furniture can be stunning, it can easily teeter on the side of being tired or dated. It could be time to upcycle some of the thrifted or generational items that have been passed down to you. This can be as simple as removing the hardware and giving it a good cleaning, or sanding down some of the imperfections on a wooden piece and giving it fresh stain.
Boho Living Room Decor
To get you excited about designing or refreshing your bohemian inspired living room—here are some gorgeous pieces we absolutely adore:
1. Kantha Love Seat
The Kantha Love Seat is such a bold and bright design that incorporates tons of different patterns and textures. Each sofa is one-of-a-kind and perfect for those who crave a unique and eye-catching space. 
2. Novogratz Brittany Futon
The Novogratz Brittany Futon is a vegan faux leather sofa that brings so much richness and depth to a space. This couch is ideal for those that have the occasional overnight guest as it also pulls out into a bed. This is the perfect example of a piece that isn't necessarily crafted from all natural materials, but totally works in a bohemian inspired space. 
3. Priya Rug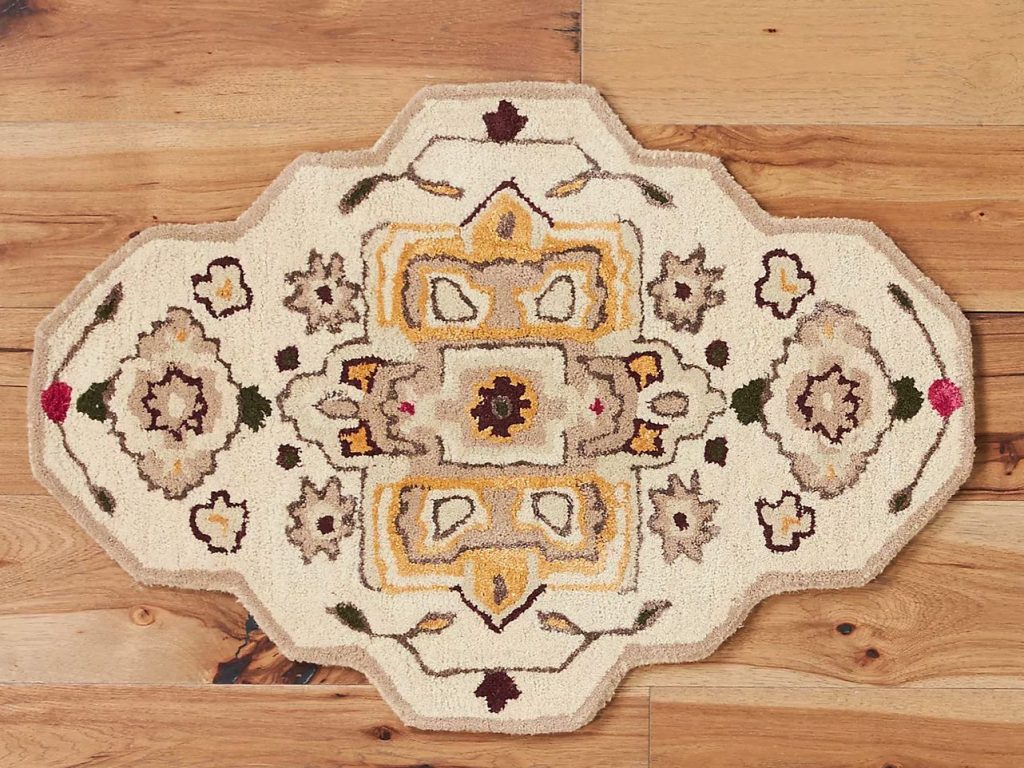 The Priya Rug is a perfect example of bohemian design that can be used in so many ways. The colors are stunning and natural, yet bold and stylish. The unique shape adds plenty of richness and depth to a bohemian space. This rug would even work wonderfully layered with another rug. 
4. Ailsan Rug
The Ailsan Rug features stunning geometric patterns, clean lines, and beautiful bold colors. This piece perfectly ties together different textures and is finished with tassels that give this rug even more visual interest. If you're looking for a way to add extra color to your bohemian space without being too loud—area rugs may be the ideal choice for you!
5. Aburto Coffee Table Set
The Aburto Coffee Table Set features two nesting tables in one. These tables bring plenty of texture and warmth to a space while remaining cozy and relaxed. The circular design of the tables brings a unique and playful vibe to any room, and these tables can be oriented in many different configurations to keep your space feeling fresh. 
6. Pyronia Rattan Cage Coffee Table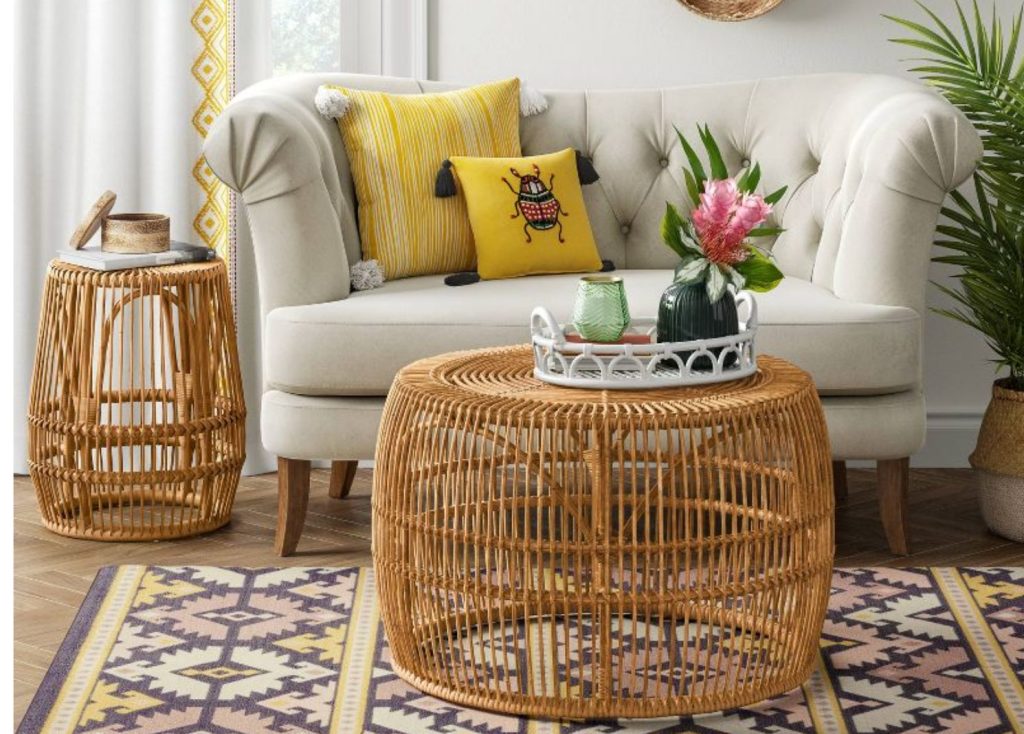 The Pyronia Rattan Cage Coffee Table's natural materials and handcrafted design fit perfectly with the earthy and relaxed vibe of a boho inspired space. The rattan cage design adds a unique and interesting texture to the room, making it a great statement piece for a boho space. While this table looks delicate, it is actually quite sturdy and crafted from high quality materials that are equipped for the heavy demand of the space. 
7. Macrame Wall Art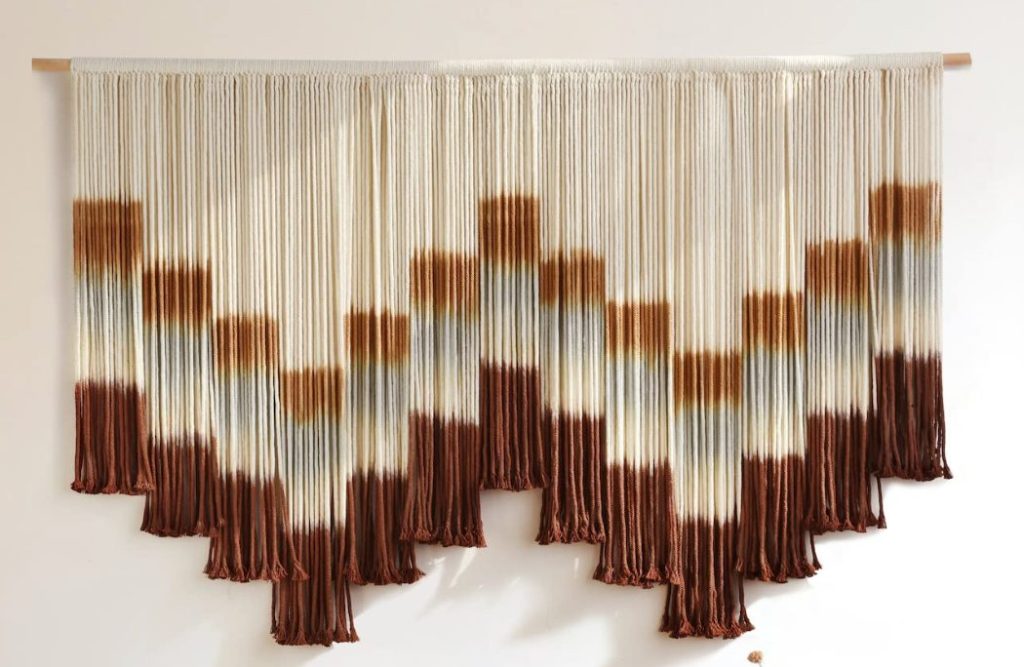 Macrame wall art pieces like this one are another great way to add grounding and interest to a space. This piece is made from 100% cotton and dyed with gorgeous natural colors. This piece would work perfectly as a focal point for a gorgeous boho space. 
8. Rattan String Lights
Ambiance is key when designing a space. Adding mood lighting for a gorgeous evening ambiance is essential for a well rounded space. These rattan string lights are made from a stunning natural material and cast a gorgeous glow in your space. 
9. Seagrass Karina Floor Lamp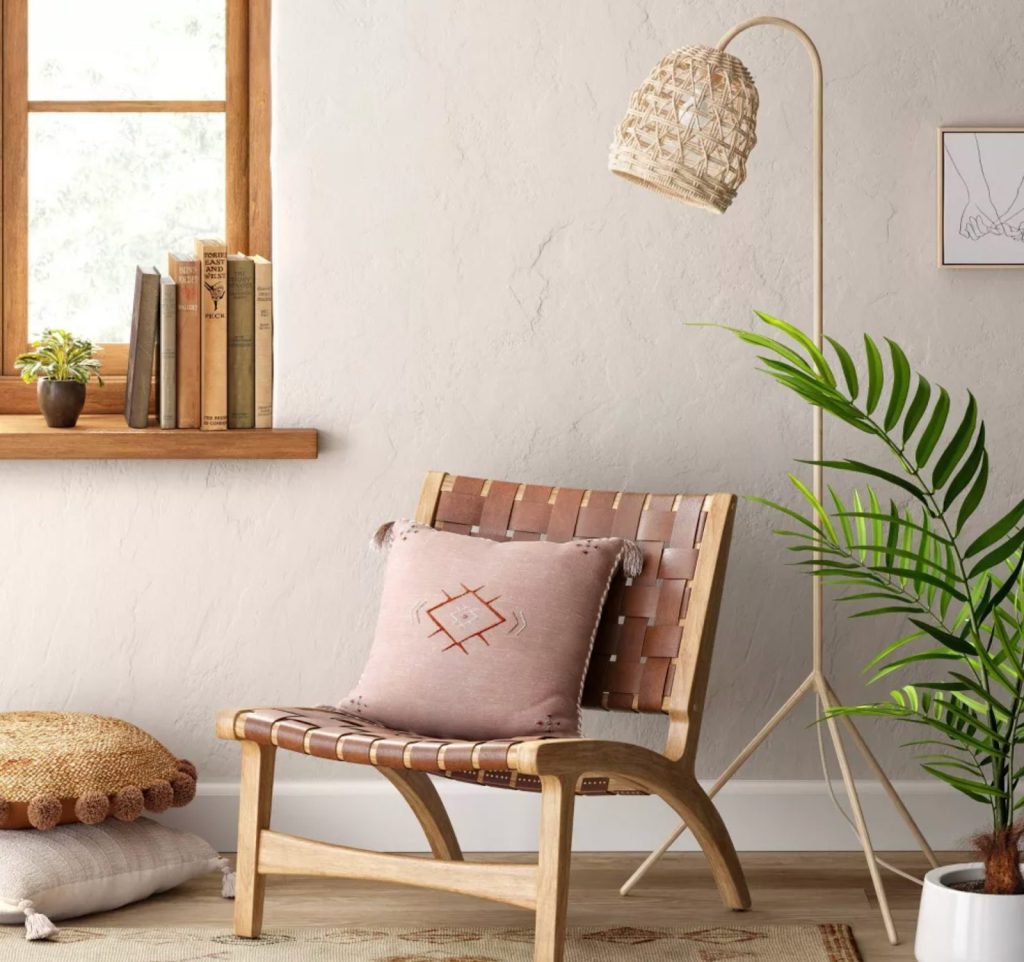 Once again, having the right blend of ambiance lighting is imperative for a well designed space. This Seagrass Karina Floor Lamp would be ideal for a well balanced boho inspired living room!
10. Tassel Throw Pillow
A great way to incorporate more color into your space is by adding throw pillows. These tassel throw pillows come in stunning boho inspired colors and are finished with gorgeous eye-catching tassels that bring a welcoming vibe to any boho space. 
Final Thoughts
It's no wonder that the bohemian style is a staple aesthetic—It is gorgeous, rooted in so much culture, and incredibly versatile. The bohemian aesthetic for home decor is a timeless style that isn't going anywhere. It will continue to grow and evolve as home decor does!
 Hopefully you now feel inspired to freshen up your boho space, or even curate the boho living room of your dreams from scratch!