On the hunt for the best faux olive tree? We've got you covered! Scroll below for the best trees on the market!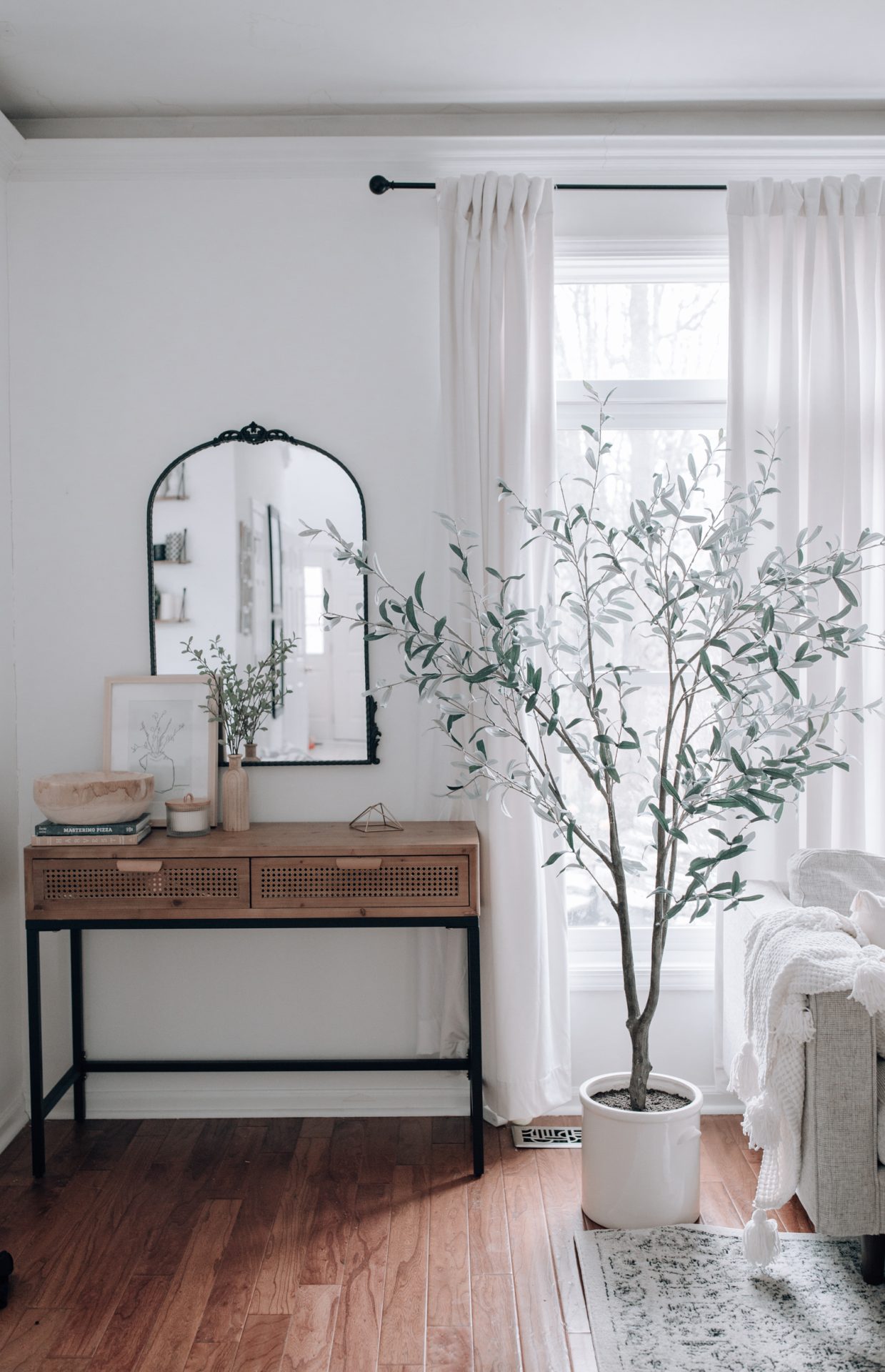 If you've stumbled upon this post, chances are you're looking for a faux olive tree! Olive trees have become increasingly popular over the months for good reason. A little bit of a spoiler alert: I only keep artificial plants in my house because I do not have a green thumb!
Plants require lots of maintenance, and they are often a bit pricey. Thus, we recommend faux trees to liven up your interior without needing to take time out of your busy routine. Amazing, right?
What Size Faux Olive Tree Should I Buy?

Choosing the right size for a faux olive tree depends on various factors, including your room's dimensions and your design preferences. Here are some tips to help you decide:

Ceiling Height: Consider the height of your ceiling. As a general rule, aim for a faux olive tree that is about 2/3 the height of your ceiling. For example, if you have an 8-foot ceiling, opt for a tree that is approximately 5 to 6 feet tall.

Room Size: Take into account the size of your room. In smaller spaces, a shorter faux olive tree, around 4 to 5 feet tall, can work well without overwhelming the area. For larger rooms, you can go for a taller tree to create a more dramatic impact.

Planter Height: Consider the height of the planter or pot in which you'll place the faux tree. The combined height of the tree and planter should fit comfortably within your room's proportions.

Aesthetic Preference: Your personal style and the overall aesthetic you want to achieve also play a role. Some people prefer a more compact tree, while others may want a larger, more prominent statement piece.

Balance: Think about the overall balance of the room. If you have high ceilings and ample space, a taller faux olive tree, around 7 to 8 feet, can create an elegant and striking focal point.

Natural Appearance: Consider how realistic you want the faux olive tree to look. Taller trees often have more branches and foliage, which can contribute to a more authentic appearance.
Ultimately, the size of the faux olive tree should complement your room's layout and style. It's a good idea to measure your space and visualize how different tree sizes will fit before making a decision.
10 Best Faux Olive Trees
1. Ballard Designs Olive Tree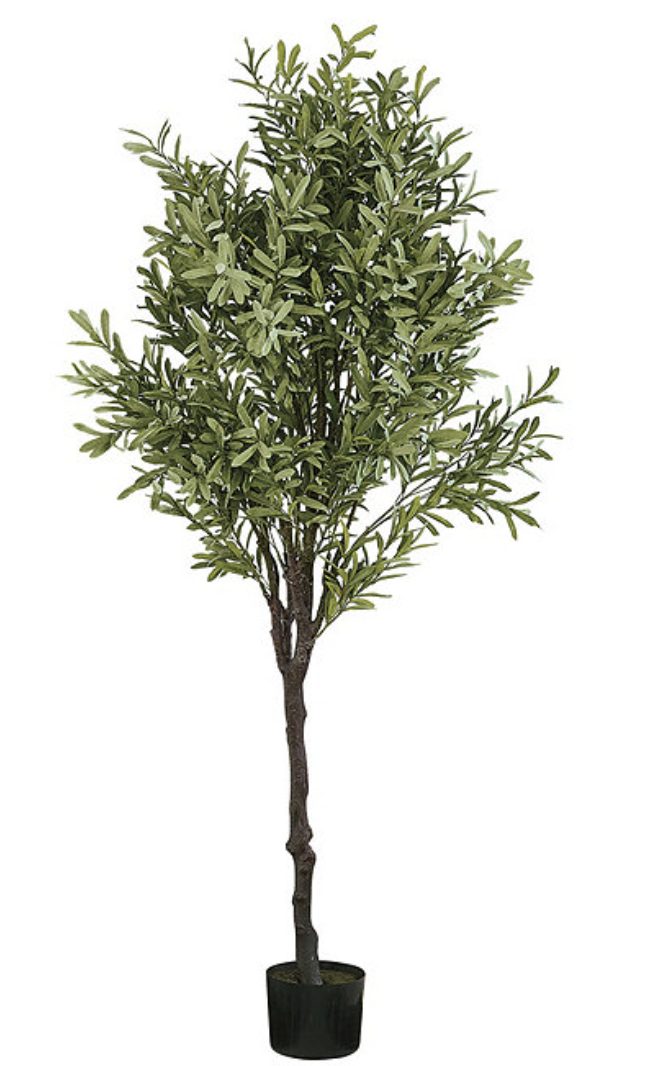 Ballard Designs is one of our favorite retailers for all things home. This faux olive tree comes in two sizes, and one of our favorites from the list. Easily elevate this faux tree with a gorgeous pot, and you've got yourself the perfect companion!
2.

Faux Olive Tree Target
Target is your one-stop shop for literally all of your essential everyday items. So, when looking for faux olive trees in a pot, we recommend the 30″ x 24″ Artificial Olive Plant Arrangement in Pot – Threshold™ designed with Studio McGee available at Target. The lush evergreen plant is perfect for every season, and it would look great in almost any part of your house. Plus, it comes in a super cute white ceramic pot which makes for hassle-free decorating. This is the one I have and absolutely adore (also pictured throughout this post)
Another great pick from artificial olive trees at Target is the 75″ faux olive tree in pot by Studio McGee (can you sense a theme!) I love the gray pot for a decorative touch. The perfect choice for my neutral home decor lovers alike! Aren't the black olives darling?
This is another great option (smaller at 37″) and looks lovely on a console table, shelf, etc.
3.

Crate & Barrel Potted Olive Tree
Crate & Barrell is an international home décor store, and so, it is obviously one of the top retailers for faux olive trees. One of our favorites is the 5-inch Potted Faux Olive Tree because it adds an aesthetic, summery, Mediterranean touch to your space. And it comes in a lovely white pot which is obviously great.
Another great pick is the 7″ Potted Faux Tree with a healthy realistic green foliage which is full but not too full, making it the ideal addition for your home. IT LOOKS SO REALISTIC! On my wish list for sure!
4. Pottery Barn

Faux Olive Tree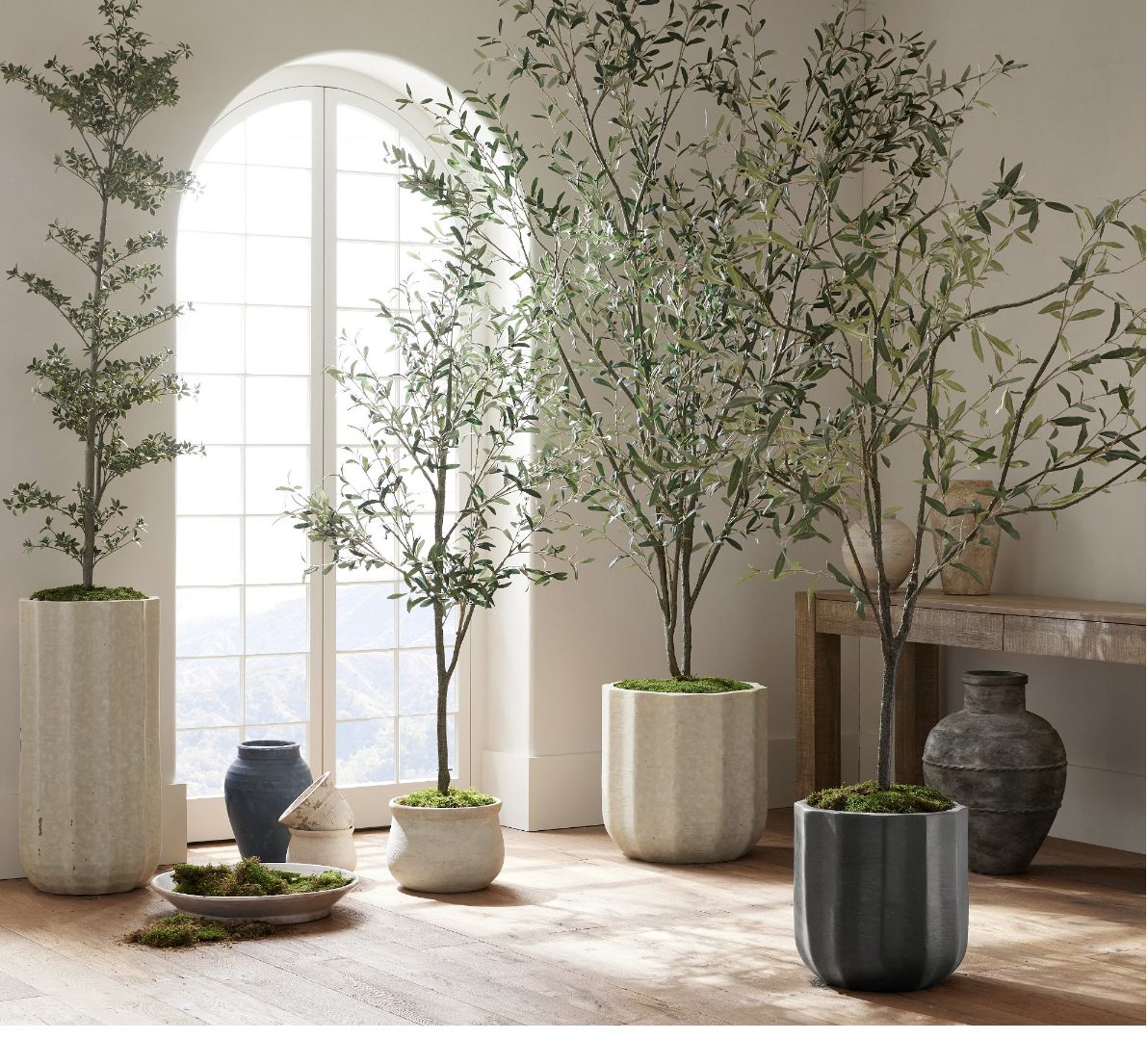 Who doesn't love Pottery barn? We recommend the Faux Potted Olive Trees that come in different size variants. The white square pot nicely complements the silver leaves of the olive, and we guarantee that this elegant tree is sure to draw visitors' attention.
This faux shady lady olive tree is 8 feet and breathtaking! Hand assembled, and the most gorgeous pot! Looks like the real deal and we are here for her!
Moreover, the Faux Olive Topiary Tree has bright great foliage hand-assembled into a circular topiary, making it one of the best faux olive trees out there. The pot goes well with it, but we'd suggest you change it to something more appealing (linking some great pots below)
5. Wayfair

Artificial Olive Tree
Wayfair's 84″ Artificial Olive Tree in Planter is so life-like and thus, adds a touch of sophistication to your home. Also, it comes in a decorative elegant grey-ish planter, so what's not to love? We also recommend the 22.5″ Artificial Olive Tree in Pot because it has a lovely rustic feel to it, and it would look brilliant on your kitchen counter. What's more, it even has little fake rocks to complete the look.
6. Amazon Artificial Olive Tree
Being one of the most popular e-commerce websites, it comes as no surprise that Amazon has some of the best faux olive trees in the game. You should check out their 63 Inch Artificial Olive Tree. It has tiny black olives hanging from the branches, which is an excellent contrast against the green leaves.
If you're looking for something on the lower end cost-wise, this has great reviews and is 3 feet tall! Check it out!
I could honestly write an entire blog post on Amazon faux trees because they have so many! Check-out the full list here and see which catches your eye!
7. H

ome Depot 6 ft. Potted Faux Floor Plant
The 6 ft. Potted Faux Floor Plant with Fruit is another peaceful addition to your collection of indoor plants, though it works great as both an indoor and outdoor plant. Size-wise, it is huge and has black olives suspended from the branches.
This is their best seller and has awesome reviews! 82 inches and simple/easy!
Another great option if you're looking to spend under $100! I love the look, simplicity — everything!
8. Macy's Olive Artificial Tree

Macy's 82" Olive Artificial Tree is nearly natural with thin brown stems and beautiful bright green leaves. It is more suited for relatively bigger, more open spaces because it is massive. Also, since it doesn't require any maintenance, it would be the perfect addition to any home or office space.
9.

West Elm Olive Tree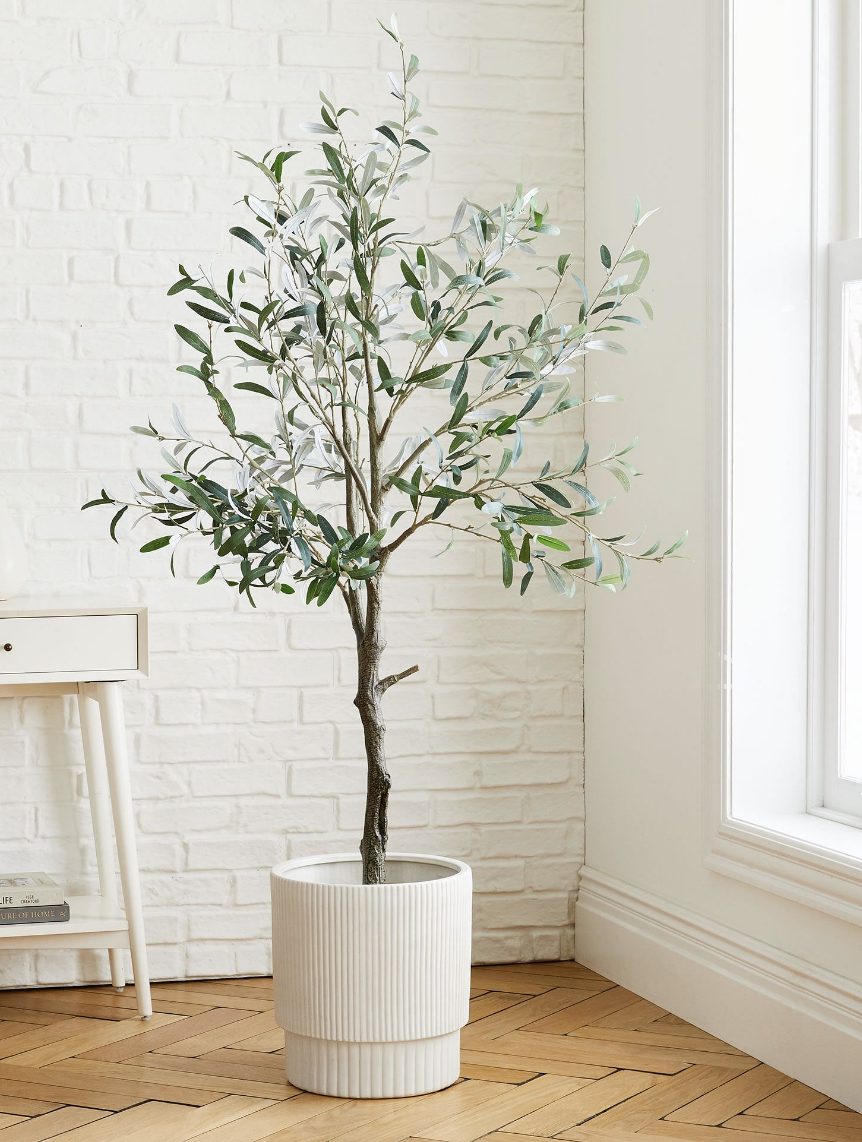 West Elm has some truly regal faux olive trees in pots. Our top picks include the Faux Olive Tree & Large White Fluted Planter Set and the 6′ Faux Potted Tree because they both come in very picturesque pots that really set them apart from your regular artificial olive trees. The stunning planters definitely draw attention to the brilliant olive trees, which is why we choose these among our list of the best faux olive trees.
10. Faux Potted Olive Tree
This faux olive tree has a realistic pot/texture making it so lifelike! One of our favorite features is the indoor/outdoor versatility. An easy way to bring texture, and nature into your space without all of the work! Definitely give this one a try!
YOU MAY ALSO LIKE: