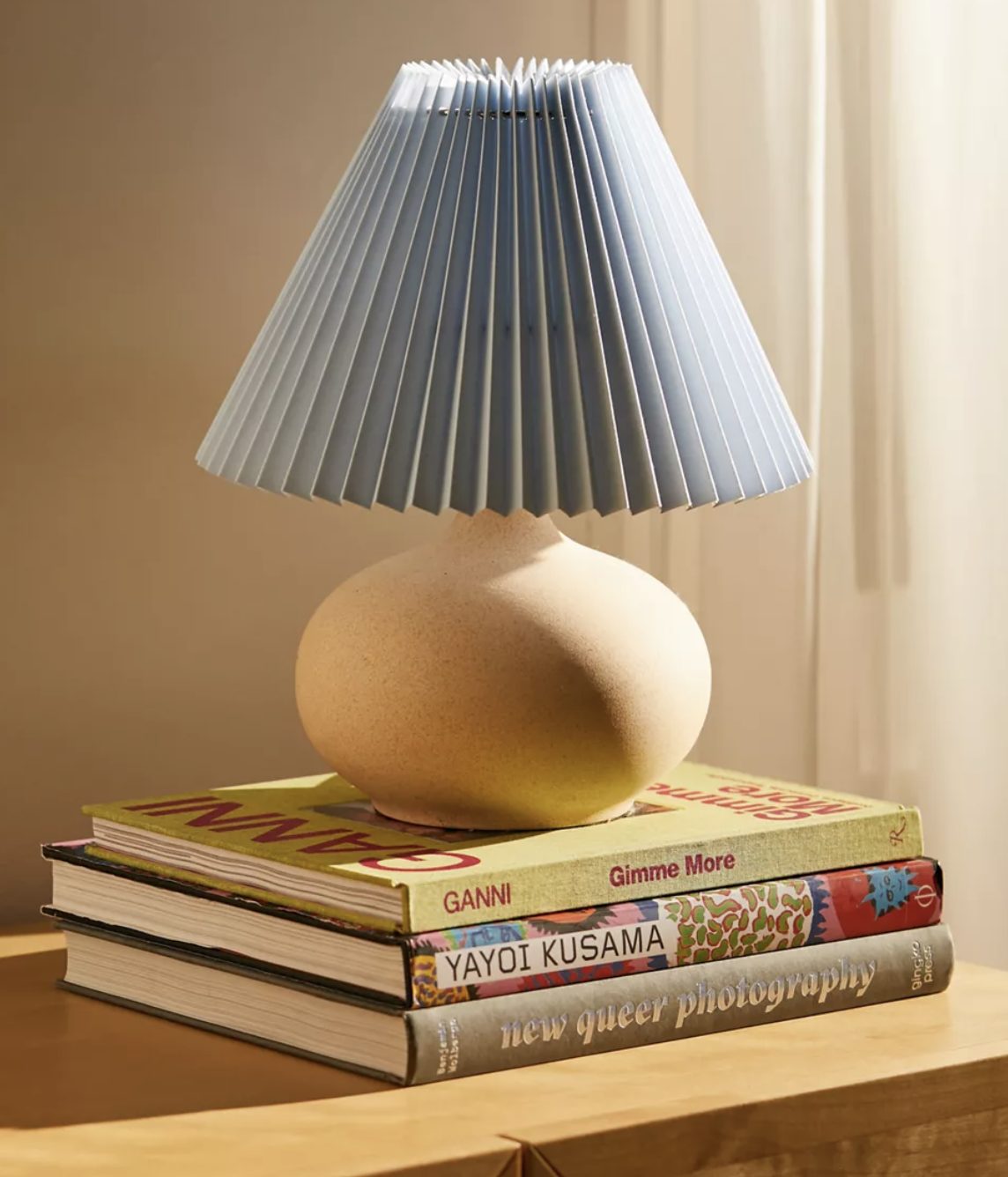 If you're looking to upgrade your space, lighting is a very quick and simple update. Not only will the right lampshade bring texture and intrigue during the day, but can dramatically transform the aesthetic of your space at night.
Here we show you some of our favorite scalloped lamp shades on the market so you can elevate your space.
You may also like: The Best Mid Century Nightstands for Your Space & Home Depot Small Living Room Refresh
---
Scalloped Lamp Shades
1. Scalloped Linen Buffet Shade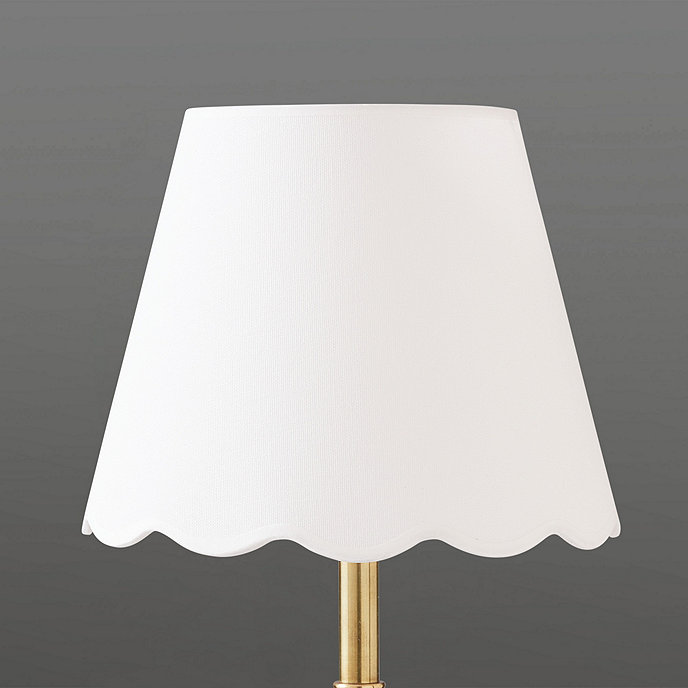 This Scalloped Linen Buffet Shade features a stunning and elegant empire silhouette popular in the early 1800's. This lampshade features clean lines, a sleek profile, and delicate soft curves throughout. This shade is hand finished to ensure the highest quality.
2. Scalloped Seagrass Lamp Shade
This Scalloped Seagrass Lamp Shade this coastal inspired scalloped lamp shade brings plenty of texture and intrigue to any space. This lamp is handwoven with natural seagrass. The woven design allows for light to escape beautifully through the holes, bringing a warm and soft atmosphere to your space.
3. Lillian August Rattan Lamp Shades
These Lillian August lamps come in a pair of two and bring a coastal charm to any space. The scalloped edges have modern pointed ends and sit upon circular bases. These lamps feature a turn knob switch and a brass stand.
4. Blue Scalloped Lamp Shade
This Blue Scalloped Lamp Shade features a stunning royal blue detail around the edges of the dainty scallops. This linen lampshade has a polished brass frame with spider detailing. This shade can be paired with many different bases to fit plenty of different styles and spaces.
5. Pleated Lamp Shade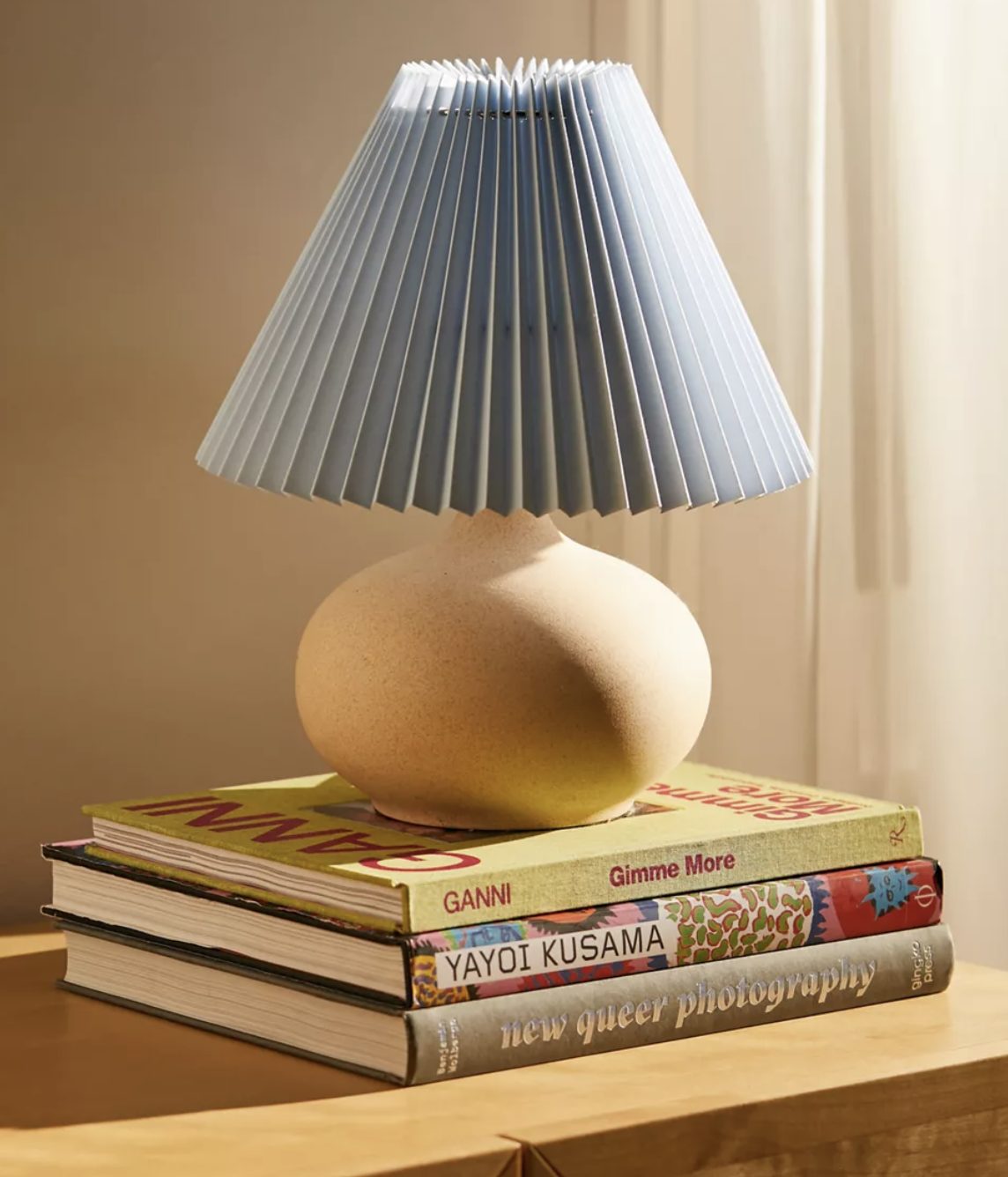 This Pleated Lamp Shade features a delicate tapered silhouette and stunning ripples of delicate pleats. This lamp shade is a stunning baby blue hue and can be styled to fit tons of different aesthetics.
6. Flores Table Lamp with Pleated Shade
The Flores Table Lamp with Pleated Shade is an ideal choice for those who wish to make a statement in their space. This wide brimmed cotton lampshade is balanced by natural wood grain and brass coated hardware. The clean lines and mixed materials bring texture and intrigue to any space.
7. Scalloped Linen Sconce Shade
This Scalloped Linen Sconce Shade features an off-white textured linen, lined with a stunning colored trim. Every shade is made to order, and the color can be changed to perfectly match your space. Pair this shade with with any base to morph the style to fit your space.
8. Lily White Scalloped Fabric Pendant Lamp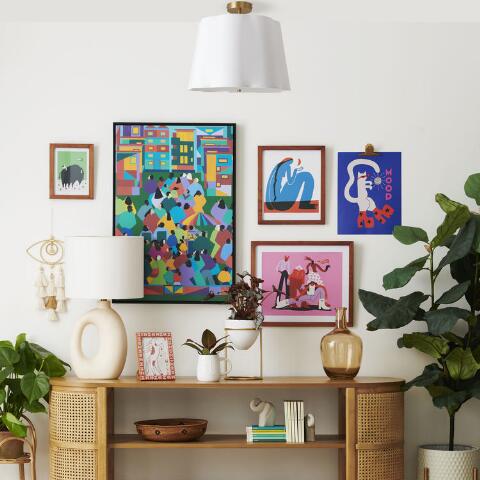 This Lily White Scalloped Fabric Pendant Lamp is hand crafted by artisans in India and crafted from high quality regional materials. This pendant lamp is ideal for those with a modern or contemporary style. The brass features paired with the white linen shade brightens and elevates any space.
9. Dorette Lamp Shade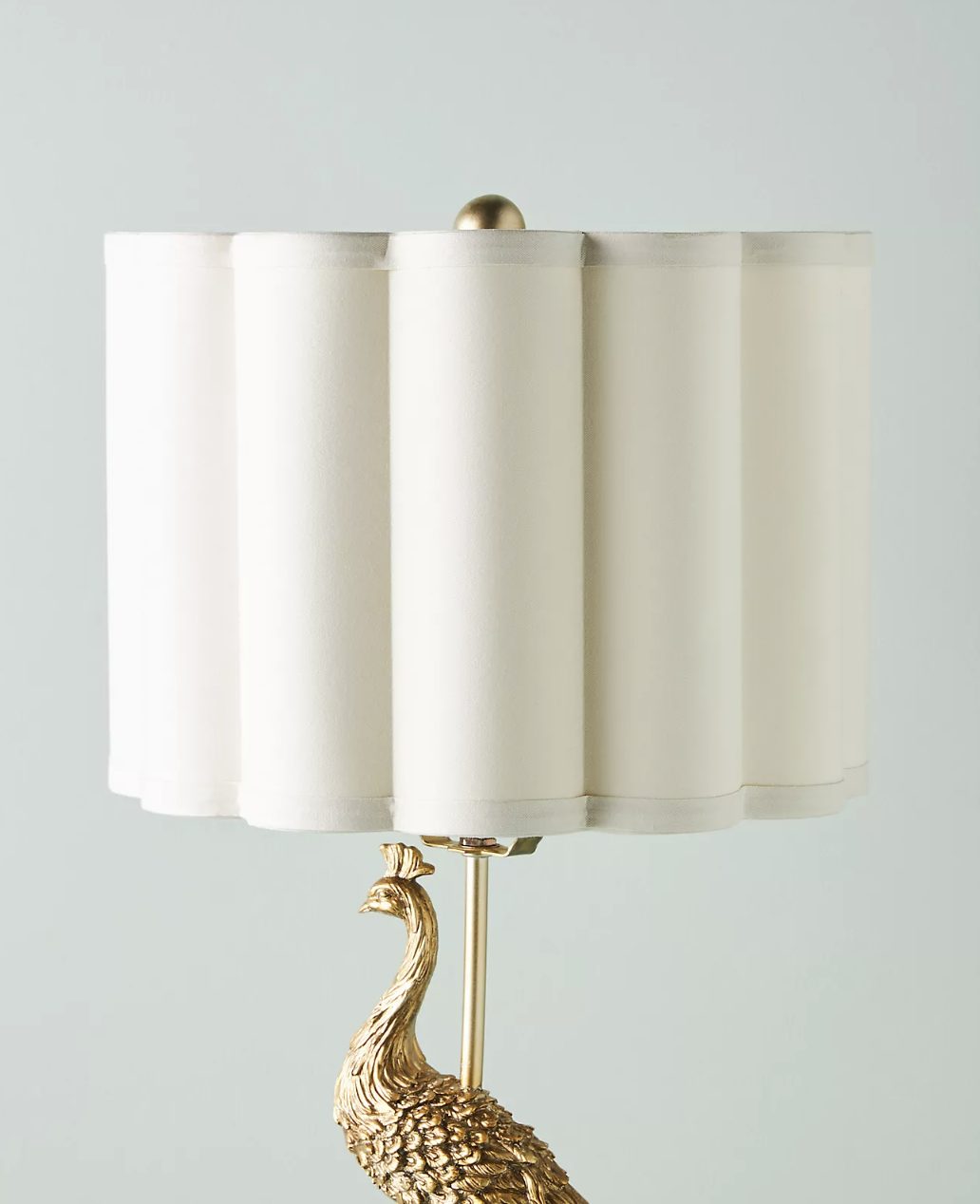 The Dorette Lamp Shade features plenty of dramatic curves and has a slightly tapered silhouette. The shade comes in two different sizes—medium and large. It also comes in either ivory or a deep emerald green. This lampshade brings a bold and sophisticated charm to any space.
10. Ceramic Pleated Table Lamp
This Ceramic Pleated Table Lamp features a dramatic taper and 360 degree pleats. This lamp comes as a complete set and plays with modern geometric shapes. The base is a ceramic white circle topped with a triangular shade. This lamp is ideal for those who prefer clean lines and stunning geometry.
11. Como Bedside Lamp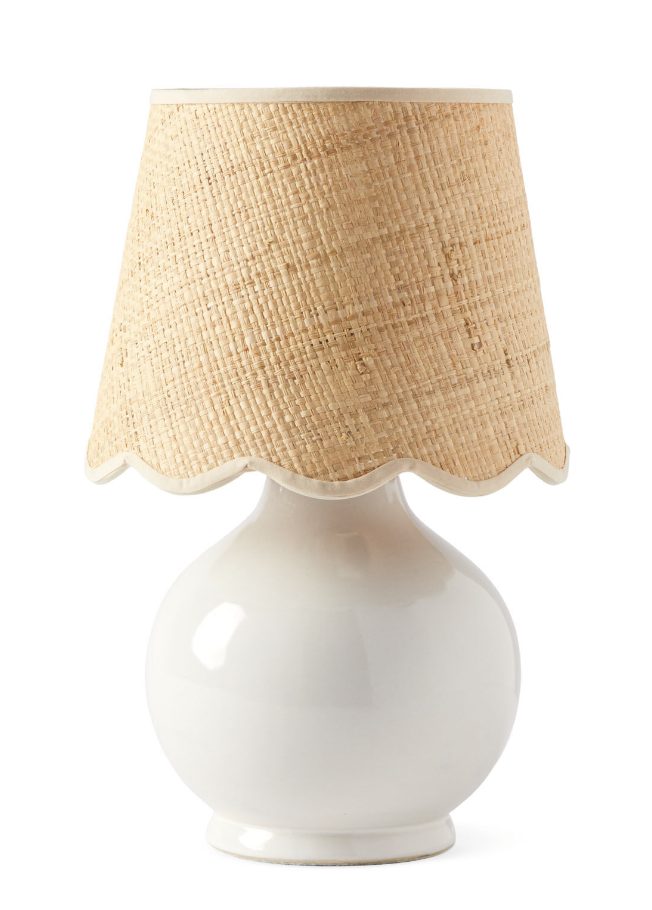 This Como Bedside Lamp comes as a complete set and ties bohemian flair with modern elegance. This lamp is hand finished and features a woven scalloped lampshade and a bulbous ceramic base. This petite lamp brings a coastal boho charm to any space.
12. Fisher Table Lamp
The Fisher Table Lamp blends hand woven raffia with glazed ceramic for a fun textured charm. The woven shade brings a natural warm glow to a space, and the off white base keeps lamp clean and modern. This lamp also features brass coated hardware for even more interest and charm.
13. Duzy Handmade Lampshade
This Duzy Handmade Lampshade features dramatic linen pleats that come to a pleated base. This lamp is versatile enough to be used as a standalone lamp or a chandelier. This lampshade comes in several different styles and sizes to perfectly match it to your space. Each item is made to order and customizable.
14. Bubble Flushmount Lampshade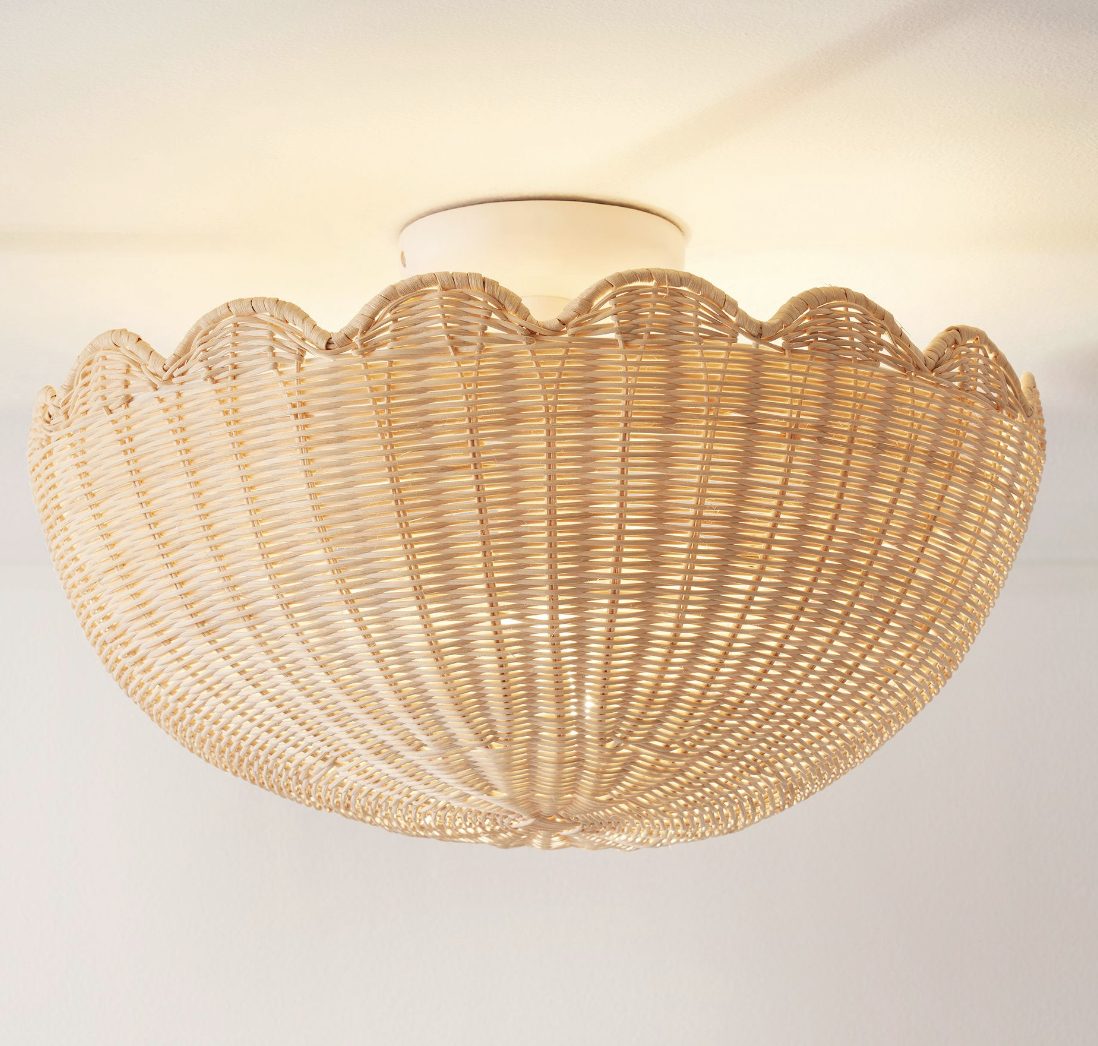 The Bubble Flushmount Lampshade is a stunning handwoven chandelier style lamp. This lampshade is a semi-circular shape and features playful scallops along the top of the shade. This lamp does require hardwiring to install, so professional installation is recommended.
15. Beige Raffia Sconce Shades
These Beige Raffia sconce shades come as a pair and feature stunning woven texted beige raffia. The top and bottom of the shades are lined with designer cotton trim that can be customized in dozens of different colors so you can perfectly match them to your space. These also come in several different sizes.
16. Handmade Scalloped Pleated Lampshades
These Handmade Scalloped Pleated Lampshades come in several different colors, sizes and trim options for ultimate customizability. These shades feature dramatic and playful pleats all around, and can be used on either a table lamp base, or as a chandelier or sconce lamp.
17. Wavy Raffia Lampshade
This Wavy Raffia Lampshade is handmade to order and crafted from high quality raffia. This lampshade features playful pleats all around and trim that highlights the wavy scallops on the top and bottom. This shade can be used as a table lamp, sconce, or chandelier.
18. Khaki Striped Pleated Lampshade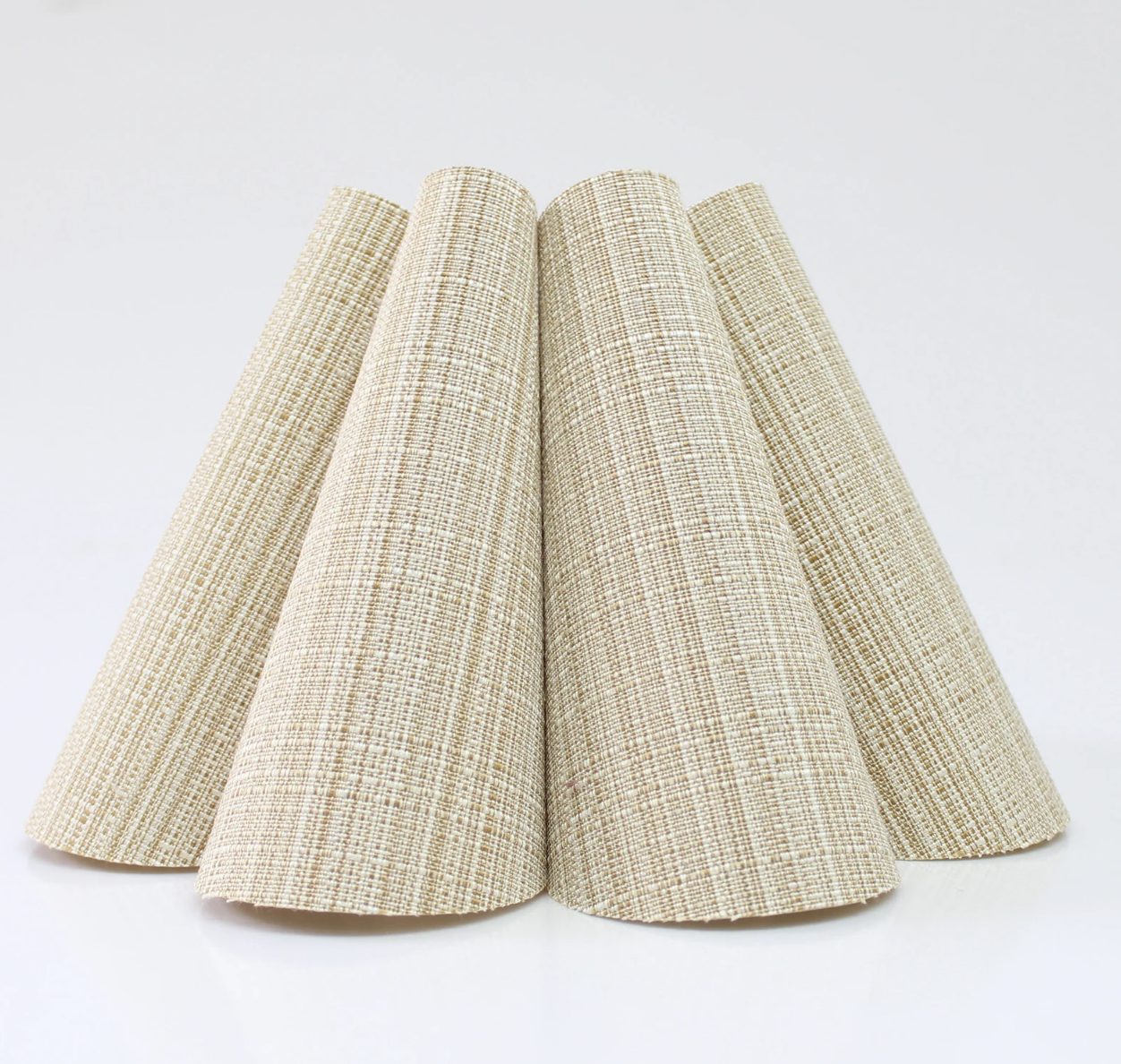 This Khaki Striped Pleated Lampshade is ideal for those who wish to bring stunning texture to their space. This lamp was designed with the intention to "heal unhappy moods in the day." This lampshade can be used on either a table lamp, sconce or chandelier and comes in several different sizes, colors, shapes and trim options.
19. Handmade Hemp Lampshade
This Handmade Hemp Lamp Shade balances texture, beauty, and charm. Each lampshade is handmade and can be customized in different colors, textures, trim and sizes to perfectly compliment any space. This lampshade features dramatic waves throughout and brings a playful feel to any space.
20. Rattan Scalloped Lampshade
This Rattan Scalloped Lampshade is handmade to order in the USA and crafted from the finest materials. The brand Maison Maison designs is known for its thoughtful odes to french antique furniture. This lampshade can be dressed to highlight a vintage lamp base, or as a perfect compliment to a more modern one.
21. Scalloped Bell Lampshade
This Scalloped Bell Lamp Shade features dramatic curves and oversized scalloped edges along the top and bottom. The lampshade features ribbing that is reminiscent of vintage corsets, perfect for a retro aesthetic. This shade comes in an off-white eggshell color that brings a soft glow to a space.
Final Thoughts
We hope by now you have found the best scalloped lamp shades to elevate your space. Scallop detailing is a versatile way to bring a soft playfulness to a space and they are compatible with coastal, bohemian, vintage, and even modern designs.