Coffee tables are an easy way to add a functional, yet stylish piece to any space. They come in a wide range of styles, materials, and price points so that anyone can find the one that's perfect for their space.
Acrylic coffee tables specifically are trending lately and for good reason! They offer the practical use of any other coffee table but because they're clear, they don't make the room look cluttered or smaller. There are also a lot of options to choose from, so whether you want a round or square coffee table, you'll find one you absolutely love.
Make sure to keep up to date on all things home here!
The Best Acrylic Coffee Tables
---
The Eugene Coffee Table from All Modern is one of the simplest clear acrylic coffee tables on the list and can fit in with any style. If you want a very understated, yet trendy centerpiece, this might be the one for you.
It is made from a single piece of clear acrylic that's bent at the sides, which gives it an overall softened shape. If you don't like crisp, harsh square lines but don't want a circle table, this is the perfect compromise.
Its overall dimensions are 13 inches high, 35 inches long, and 35 inches wide. Its tabletop is under half an inch thick, and the entire table only weighs 7 pounds but can hold up to 20 pounds. And because it's a single piece of bent acrylic, it doesn't require any assembly at all!
If you like the Eugene Coffee Table but not the price tag or somewhat limited weight capacity, you will love this affordable clear rectangular acrylic coffee table from The Home Depot!
It features the same look with a single bent piece of clear acrylic which creates a wonderful waterfall shape but can hold up to 110 pounds vs. the 20 pound capacity of the Eugene table.
It measures 32 inches long, 16 inches wide, and 16 inches high. The table is 0.78 inches thick and the entire thing weighs just 26 pounds. And like the one above, there's no assembly required with this table, either!
The Peekaboo Acrylic Coffee Table from CB2 offers the same seamless look as the others we've already covered but seems to be rated higher than others on the list.
This is a really easy way to add some flare to your space and is made of a single piece of softly bent high-quality transparent molded acrylic.
It measures just half an inch thick, is 37 inches wide, 21 inches deep, and 13 inches high. It also weighs just over 31 pounds but can hold up to 100 pounds of evenly distributed weight.
This clear acrylic coffee table is perfect for modern mid-century-inspired spaces!
It has gold-finished corners and feet hardware that easily add glam to any room and a study clear cast acrylic frame This clear acrylic table also has a tempered glass top that can hold up to 110 pounds.
The entire thing only weighs 24 pounds and measures 42 inches wide, 24 inches deep, and 17 inches high. It's one of the more affordable options on the list, too.
This acrylic coffee table is made with a single sheet of premium USA-made, ¾ inch thick clear raw acrylic. It's also at a more affordable price point than many other options and requires no assembly since it's all one continuous piece.
It's bent at the sides like the first two on our list but seems to offer clearer edges than other clear acrylic coffee tables. It also has high ratings for being more durable and resistant to scratches than other acrylic tables on the market.
It measures 16 inches deep, 32 inches wide, and 16 high. It weighs 38 pounds and is said to hold up to 110 pounds of evenly distributed weight.
Another great option is this clear acrylic coffee table from Overstock. It's made with a single piece of crystal-clear molded acrylic and is bent in a trendy U-shape like the others.
The acrylic measures just under half an inch thick and is safe to use indoors or outdoors. This beautiful table is 14 inches high, 37 inches wide, and 21 inches deep. Neither the weight of the table itself nor the weight capacity is listed, but the shipping weight says about 18 pounds.
All in all, this is a great way to add a modern touch to any room without cluttering up the room.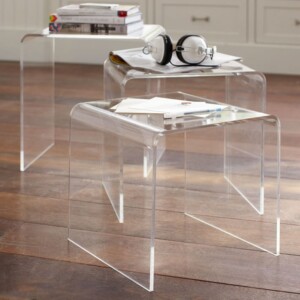 This set comes with not just one square acrylic coffee table, but three! If you're looking for multiple storage options in different sizes, this is a great option. You'll definitely be getting the most bang for your buck with these clear acrylic nesting tables from West Elm and Pottery Barn Teen
The smallest table measures 13 inches square and 12 high, and weighs 5.5 pounds but holds up to 110 pounds. The medium table is 14 inches wide, 13 inches deep, and 14 inches high. It weighs just 8 pounds but holds up to 132. Lastly, the largest nesting table measures 15 inches wide, 13 inches deep, and 16 inches high. It weighs 9 pounds and holds up to 154 pounds of distributed weight.
Even more awesome is that they're Greenguard Gold Certified, so you can feel good about putting these square acrylic coffee tables in any room of your home.
If you're looking for a chic and crystal clear acrylic coffee table, the Felicity Acrylic Coffee Table from Ballard Designs is definitely for you! It instantly adds glam to any space and has a classic coffee table shape while still allowing the room to feel light and airy.
Overall it measures just over 17 inches high, 48 inches wide, and 24 inches deep. The top thickness is just 0.6 inches, and it offers 15 inches of clearance underneath the apron. It weighs a total of 61 pounds, and although the weight capacity isn't listed, the ratings say it's incredibly durable.
This is truly a luxurious, yet practical piece of furniture that will offer storage and uncluttered visual appeal. If you want an acrylic table that's more contemporary and bigger than the typical U-bent ones we've covered so far, check this one out!
Another chic option is the Landis Acrylic Coffee Table from Interlude Home. It's eye-catching all on its own but is even more captivating when just the right amount of light shines through its clear glass and acrylic frame.
It measures 52 inches long, 30 inches wide, and 17 inches tall. The boxed weight is about 167 pounds, and unfortunately, it doesn't have a listed weight capacity, though it looks very sturdy!
This is truly an exceptional piece that will instantly glam up your living room while still being a practical piece of furniture.
If you want to add a hint of playfulness to your living room, this handmade round acrylic coffee table is the perfect way to do so! Made from an independent seller on Etsy, it has several gradient color options ranging from blues, greens, to pinks – so you're sure to find one that's perfect for your own unique style.
Its listed measurements are 15 inches high and wide, and 31 inches deep. It doesn't list how much it weighs or its weight capacity, but it does look pretty sturdy from pictures.
This is definitely the most creative acrylic coffee table on our list and is worth checking out if you want a conversation starter that also serves a practical purpose.
To Sum it Up
These are some of our favorites when it comes to clear acrylic coffee tables, and we're sure you can see why! We love how each one has its own unique style – even the minimalist U-bent ones – while making it seem as though they don't take up any space at all and offering a space for your things.
Whether you're shopping for a round coffee table to add a touch of chic to your room, or you prefer a square acrylic coffee table to add some instant glam, there's something for you! They all come at varying price points, so there are even options for those on a budget.