If you're searching for the best leather office chairs, we've gathered 10 top picks that will luxuriously elevate any office space instantly!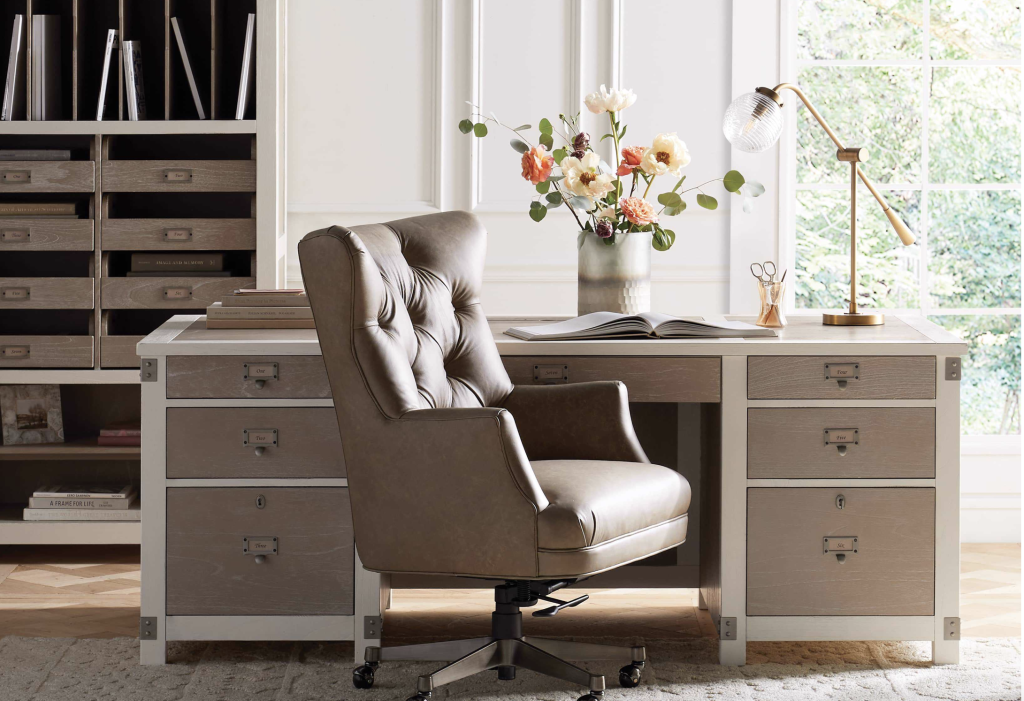 In this article, we've included the best leather office chairs that fit all design styles and budgets. We simply wanted to create a one-stop-shop for easy browsing, and these were some that caught our eye!
Leather chairs are super popular due to their comfort, easy-to-care for material, and long-lasting life. We are also looking to purchase a leather office chair for our new library, and I can't wait to see it all come together! I'll make sure to update this post when I have everything in. PS: On the hunt for more leather furniture? We've got some amazing roundups for inspo!
This post may contain affiliate links, which means we'll receive a commission if you purchase through our link, at no extra cost to you. You can read the full disclosure here.
Here are the best leather office chairs:
10 Best Leather Office Chairs
1. Arhaus Leather Swivel Desk Chair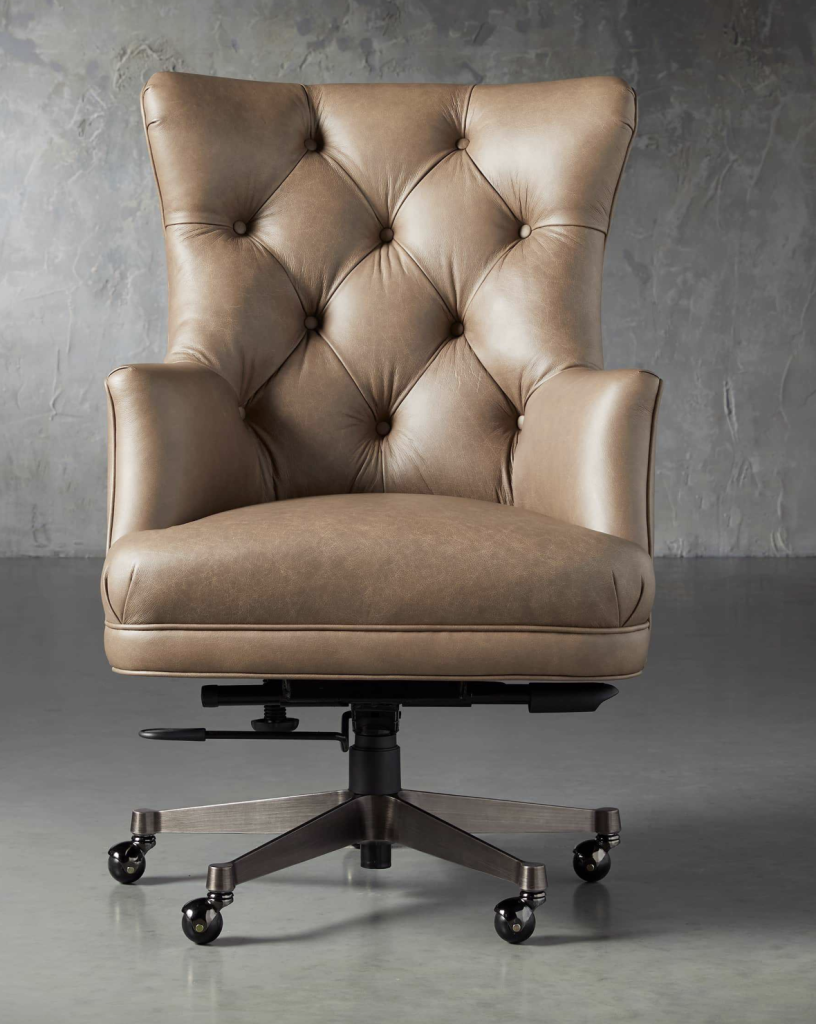 Our first top pick is this stunning Arhaus Addy Leather Desk Chair that will completely captivate any office. The hand-tufted detailing doesn't go unnoticed, and the back cushions create a solid lumbar support with heavy-duty webbing.
My husband has a bad back, and this one definitely fit all of my checkboxes for style, durability and functionality. Arhaus is a lead player in the home industry, and I'm always marveling at all of their products! While costly, we have found their furniture to be timeless and last a lifetime. As I've gotten older, I've realized the importance of quality over quantity.
2. Arhaus Leather Office Chair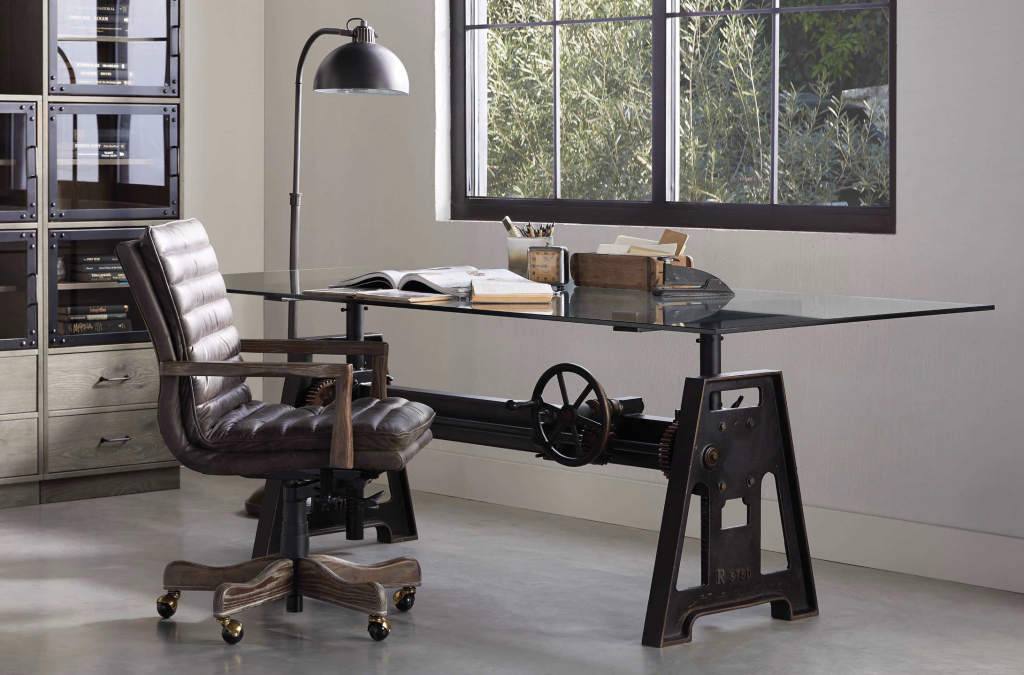 If you're looking for an old-fashioned, rustic leather office chair, you can check-out the Arhaus Cedrick Leather Desk Chair. It boasts sophistication and timeless design with immense attention to detail. We personally love that you can swivel, slide, adjust and tilt to any ideal position! This is a great option for hours of productivity. Doesn't this remind you of your grandparents?
3. West Elm Leather Swivel Chair
The West Elm Helvetica Leather Swivel Office Chair is another great option to consider! It's definitely more modern, but still features that classic, contemporary style. This has an option for both genuine or vegan leather. It's personally one of our favorites on the list! The structured back is ideal for comfort, too.
4. Grandid Road Leather Desk Chair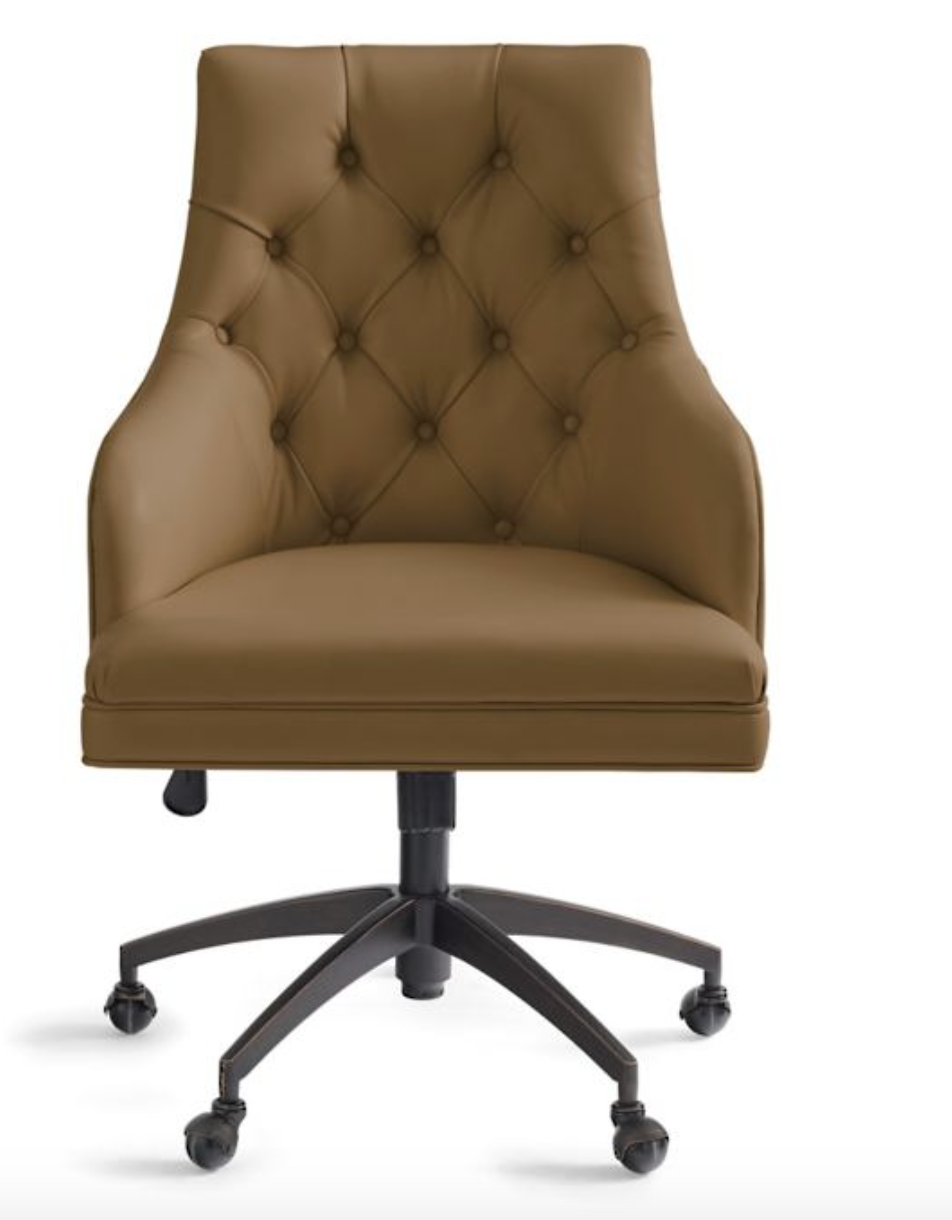 I love that Grandid Road lets you review items! I'm always stalking reviews before purchasing larger items. Are you the same? The Grandid Road Ella Desk Chair is a popular option for great reason! One review that caught my eye in-particular, "Elegant, well-constructed leather swivel chair with height options. Looks beautiful. Very comfortable!" It also has 3 color options to choose from and the price is very fair!
5. Anthropologie Modern Desk Chair
We just had to include this Anthropologie Frannie Leather Desk Chair because it's totally unique! Full disclosure: It is on backorder until February 2024, but some things are just worth the wait! It would be quite the conversation piece at your desk. Do business in style, right?
6. Wayfair Leather Task Chair with Padded Arms
The best budget option award goes to: the Wayfair Lundgren Leather Task Chair with Padded Arms! It comes in multiple colors and is totally functional and stylish. It's highly rated and the perfect choice for long hours of working. A recent reviewer said, "Absolutely beautiful! Comfortable, easy to put together swivels and rolls easily." — definitely has our stamp of approval!
7. Amazon White Leather Office Chair
An affordable price point with multiple color options, the Amazon Flash Furniture Whitney Mid-Back Desk Chair is one of our favorites on the list! It features over 5,000 reviews with 4 1/2 stars. Many reviewers mentioned comfort, chic style and easy assembly. Would be perfect in the office or bedroom!
8. Pottery Barn Leather Desk Chair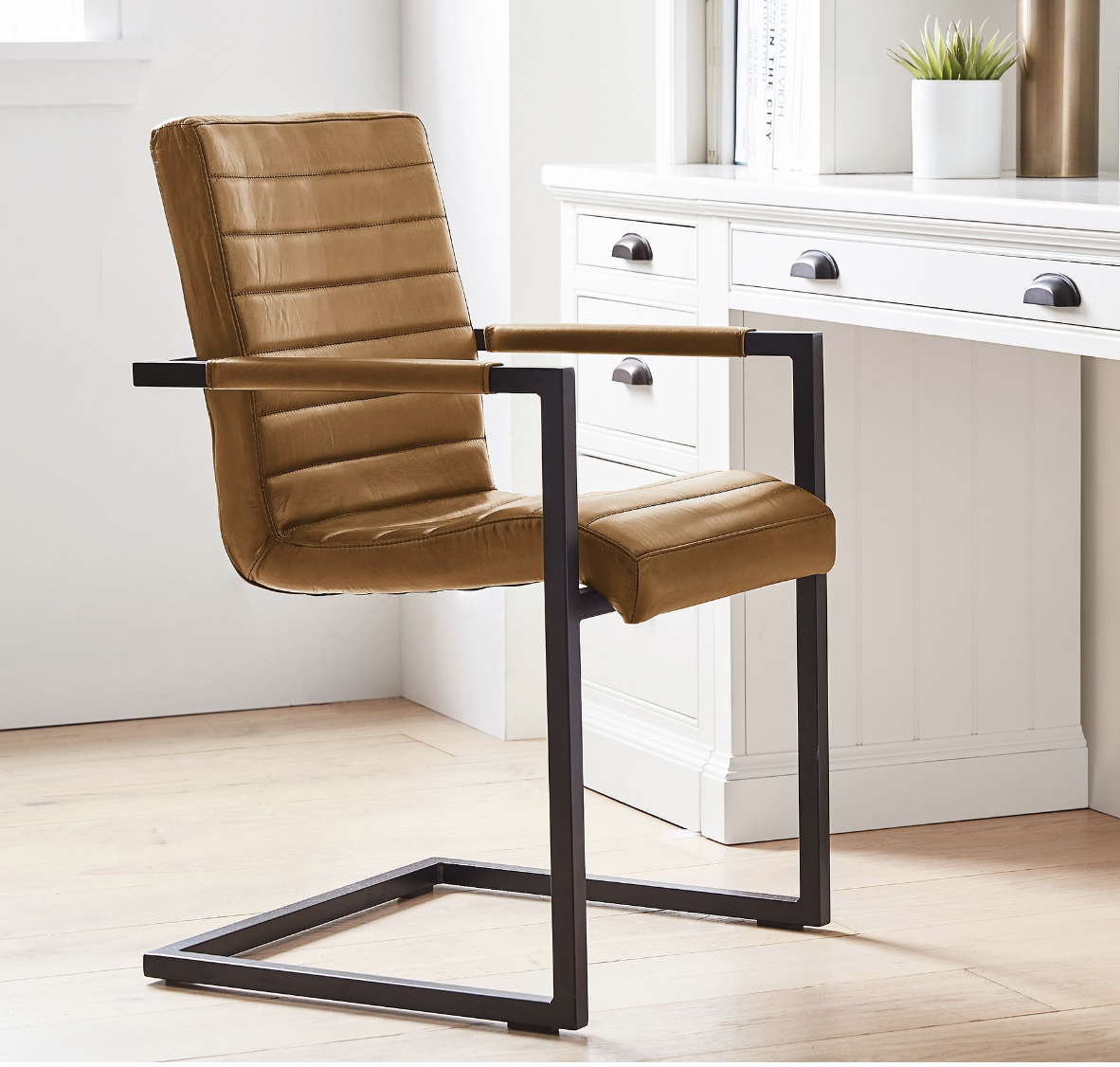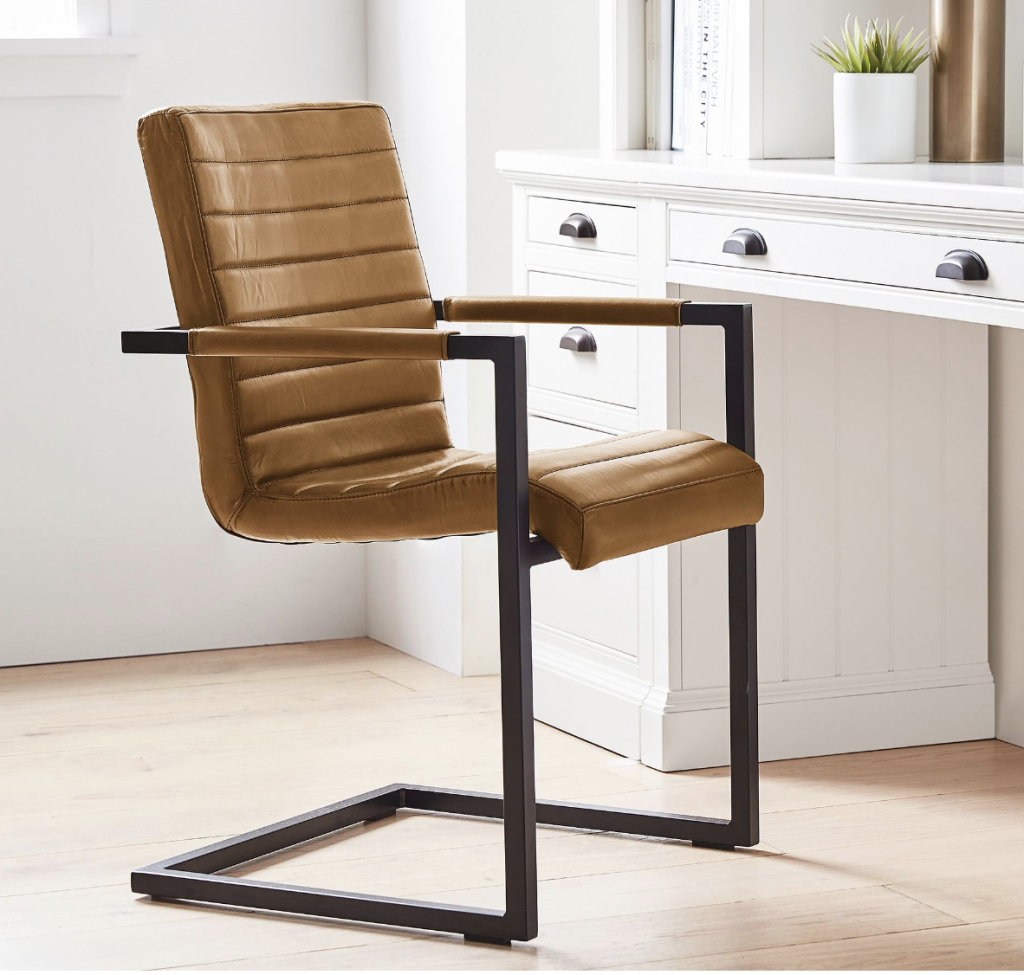 We had to include the best selling Pottery Barn Sabina Leather Desk chair for it's vintage vibes but modern comfort. It's also the first non-swivel chair on our list (if that's your thing). We love the modern frame, ultimate back support and curves. Definitely a best seller for a reason.
9. Article Tan Office Chair
Article is one of our favorite retailers for affordable furniture and home decor. I reviewed their Sven Sofa incase you're curious! We had to include the Passo Charme Tan Office Chair because it's a great price and 5 star reviewed: "Great desk chair, especially for smaller spaces. Fits perfectly under the desk" — if you're looking for a smaller chair, this may be your pick from the list!
10. Hillcrest Desk Chair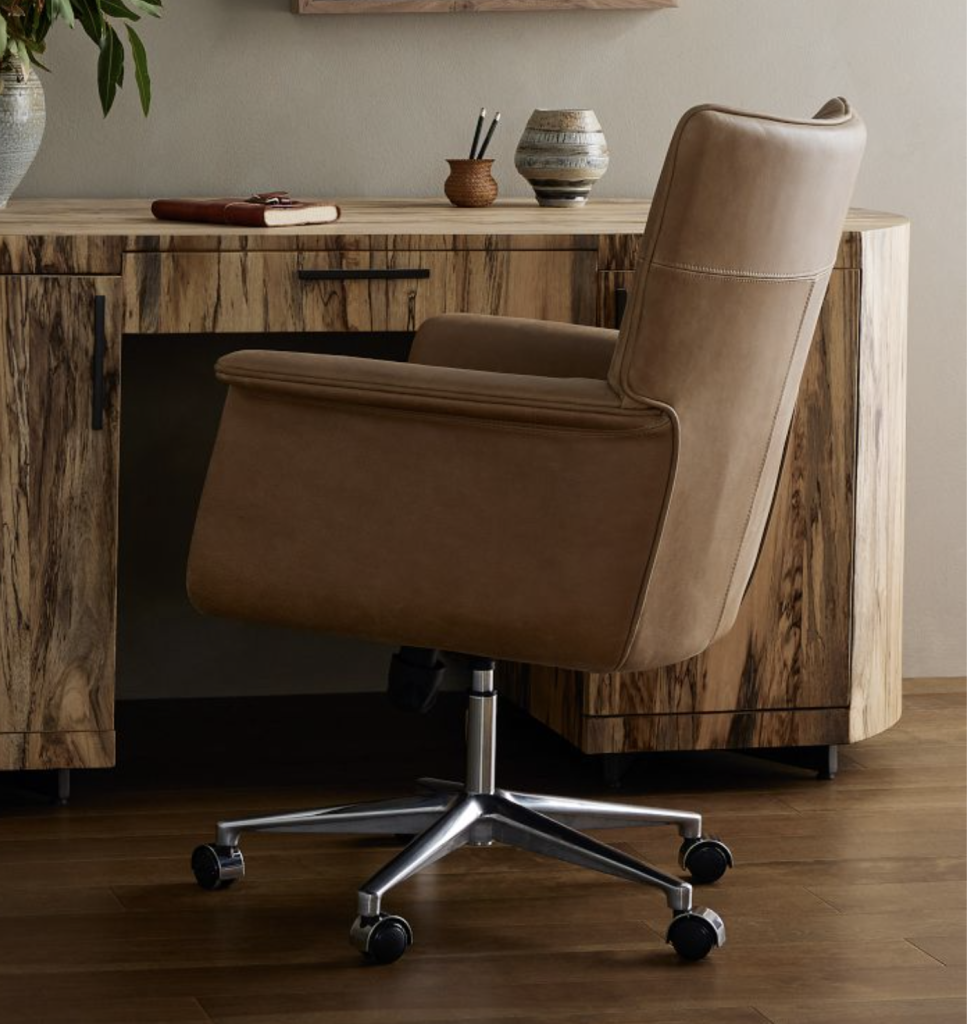 We definitely want to sink into the Rejuenation Hillcrest Leather Office Chair for so many reasons! It's definitely an investment, but this chair will be in your home for years to come. It is upholstered in top-grain leather and is the perfect size for an executive desk! Also features easy height adjustability.
For home decor inspiration, make sure to follow along on Instagram!