Looking for the best lift top coffee tables to complete your living room? We've got 15 stunning options for every design style! Lift-up coffee tables are a fantastic choice as they combine style with practicality and have many other clear benefits.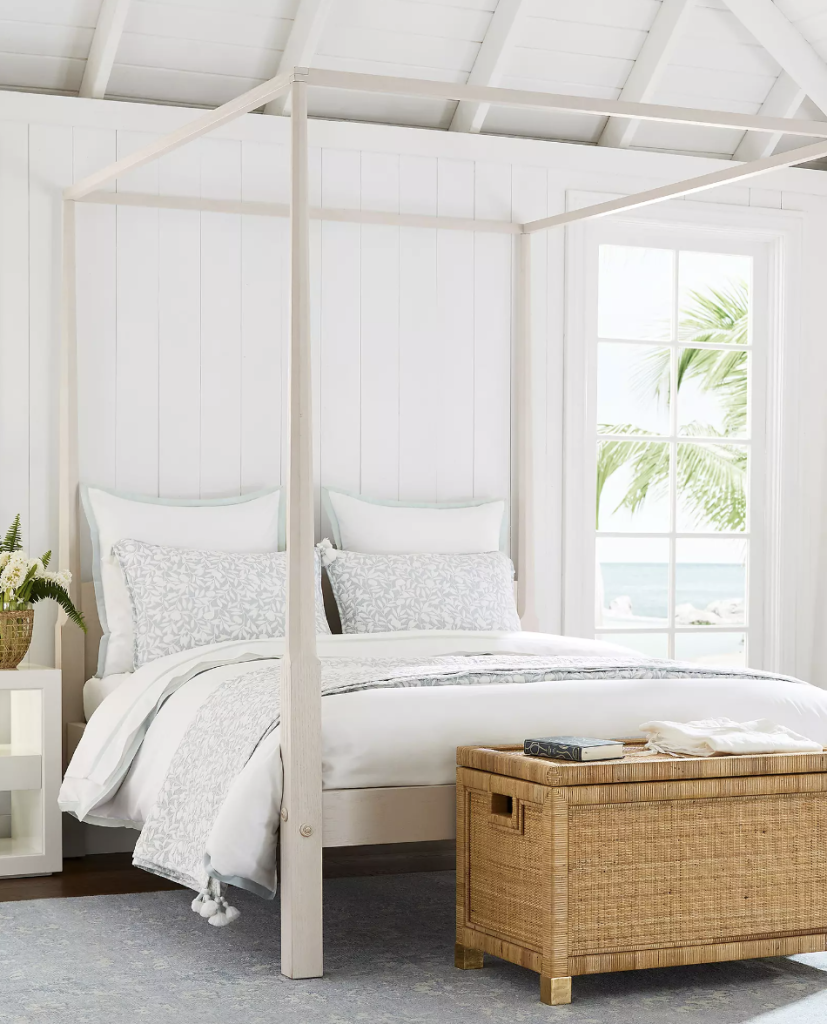 What are those other benefits? They provide hidden storage space, making them ideal for keeping your living area neat and tidy. When purchasing one, consider its lift mechanism's sturdiness, and ensure it complements your decor. Enjoy the best of both worlds with these versatile pieces! Let's jump right into business!
JUMP TO:
PS: We've got more coffee table roundups!
Best Lift Top Coffee Tables For Your Living Room
1. Rattan Storage Trunk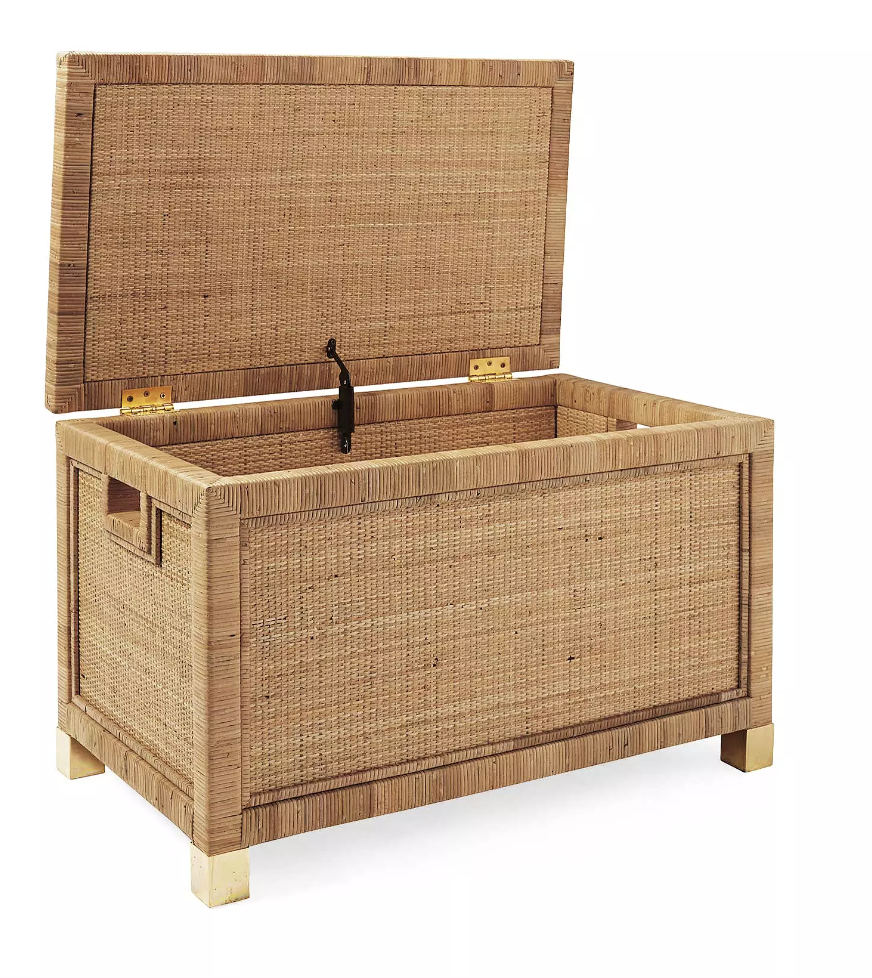 Rattan is like the cozy hug your home needs! Crafted by skilled artisans, this piece blends mahogany and rattan for a warm, textured vibe. It's perfect for storing your living room essentials or keeping your bedroom beautifully organized. It's an excellent choice for that extra touch of charm and order! This is such a stylish choice, and our favorite on the list!
2. Mid-Century Modern Lift Top Coffee Table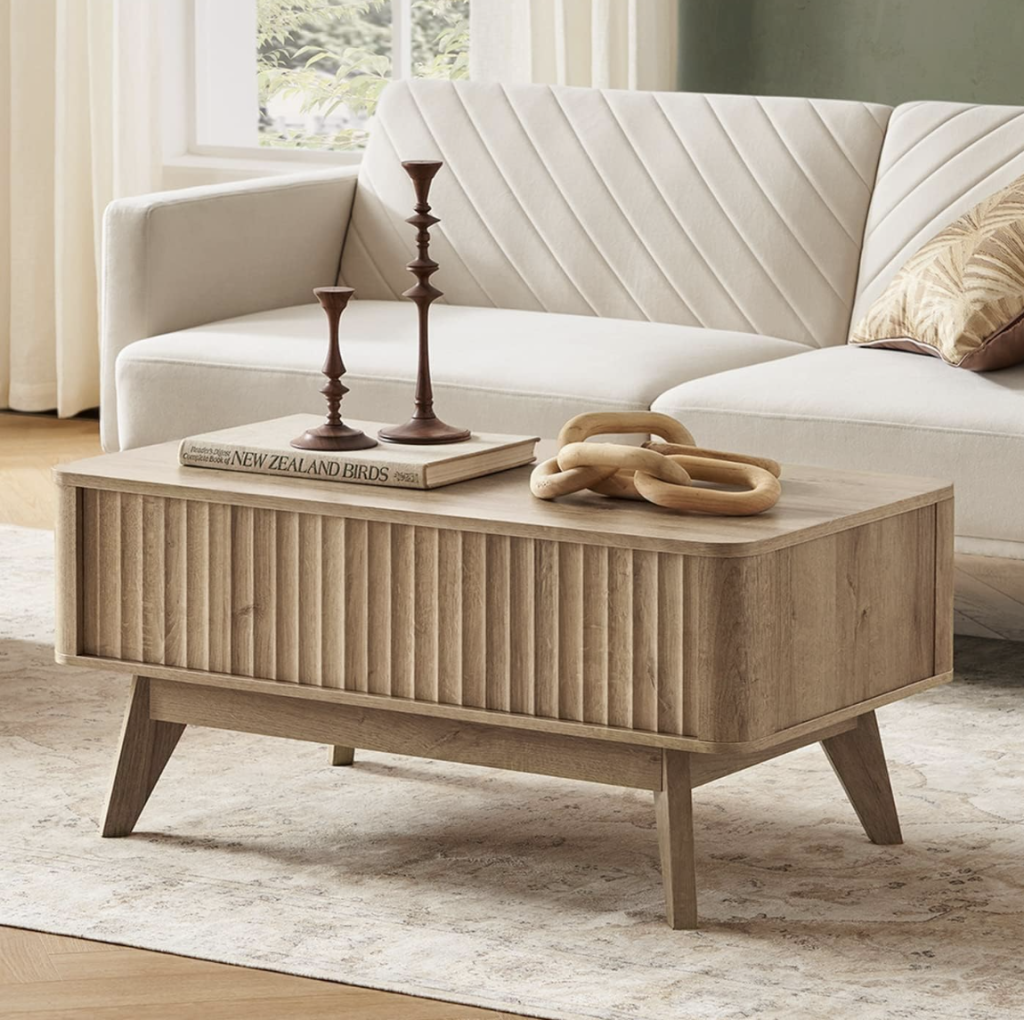 Lift your table game with a top-notch spring system: Smooth, quiet, and efficient, it turns your coffee table into a versatile workspace or dining area. Equally distributing weight across its four legs, the box frame design ensures stability. Plus, enjoy a spacious storage compartment under the tabletop for your everyday essentials like magazines, laptops, and remotes, always within reach. This is a fabulous option for small spaces with good reviews.
3. Lift-Up Work Work Surface Coffee Table From Pottery Bar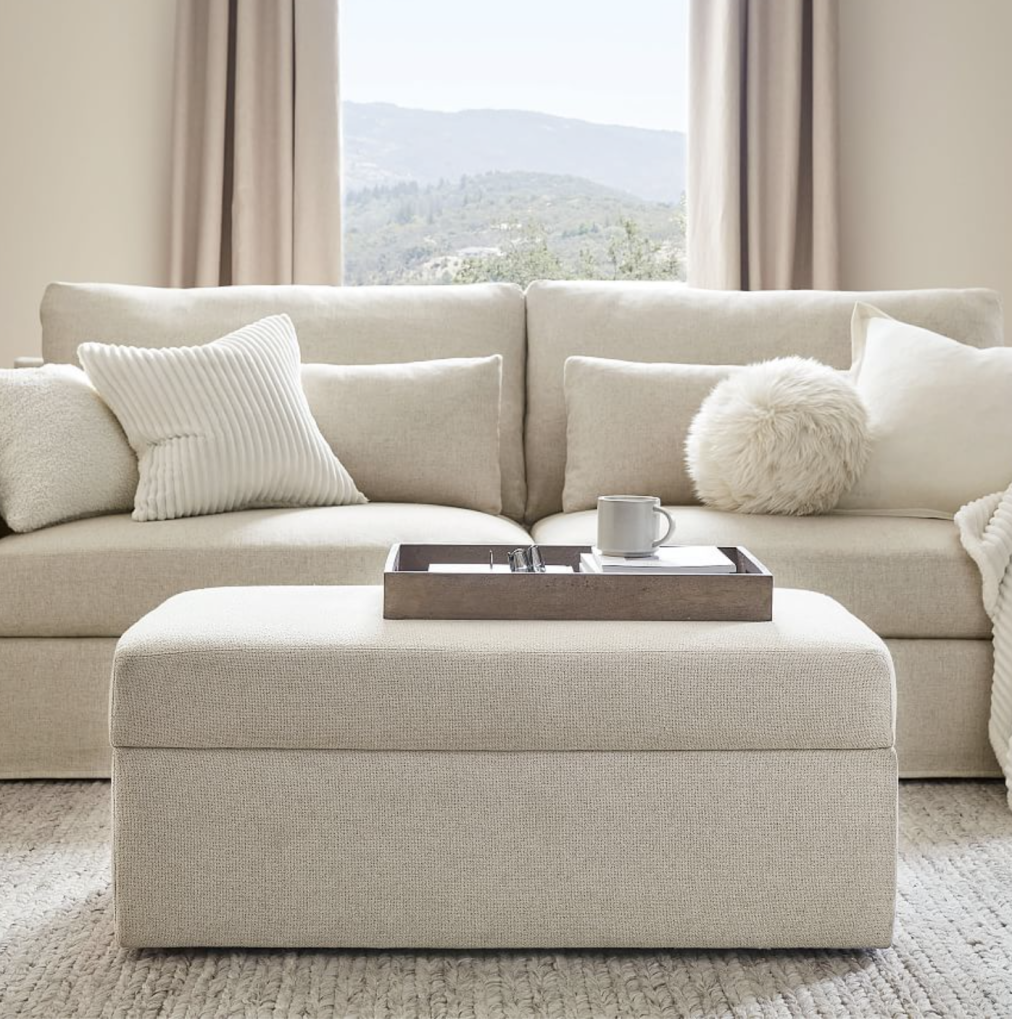 This multi-functional ottoman offers extra seating and a cozy footrest. What makes it exceptional is its ability to transform – it opens up to unveil a handy pull-out table and a concealed storage area inside. Whether you want to store board games, blankets, arrange snacks for a movie night, or create an impromptu home office in your living room, the possibilities are limitless. Talk about double duty!
4. Drum Lift Top Coffee Table
This fully assembled table is made from stunning solid acacia wood and features a swivel top that unveils a hidden storage area. The Buchanan coffee table seamlessly combines nature's charm with practicality, making it a great addition to any living room. We have this same table, and absolutely love it!
5. Pop-Up Coffee Table With Extra Storage Space
This rustic lift-top coffee table, made from solid mango wood with black metal frame, displays natural wood variations. It includes a pop-up top with hidden storage and workspace capabilities. The mango wood is sustainably sourced, and it's crafted in a Fair Trade Certified™ factory in India.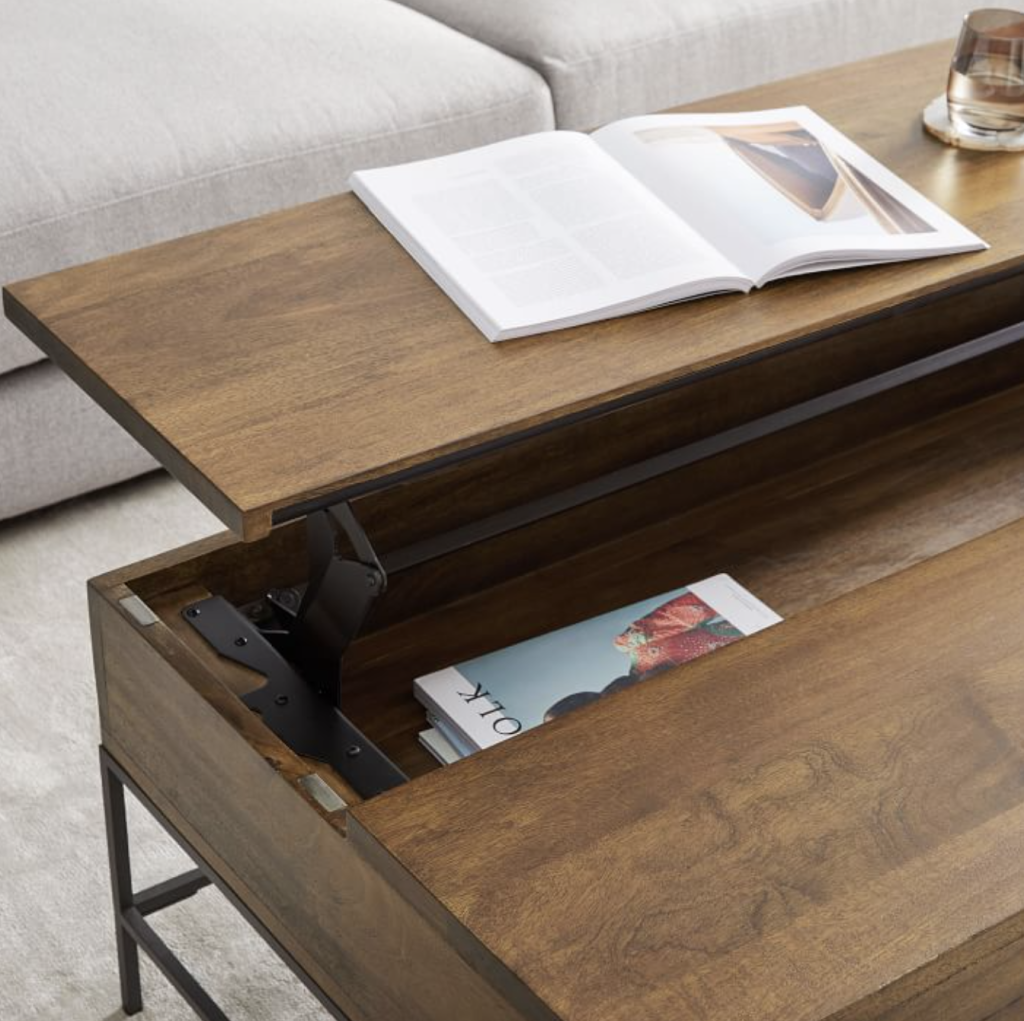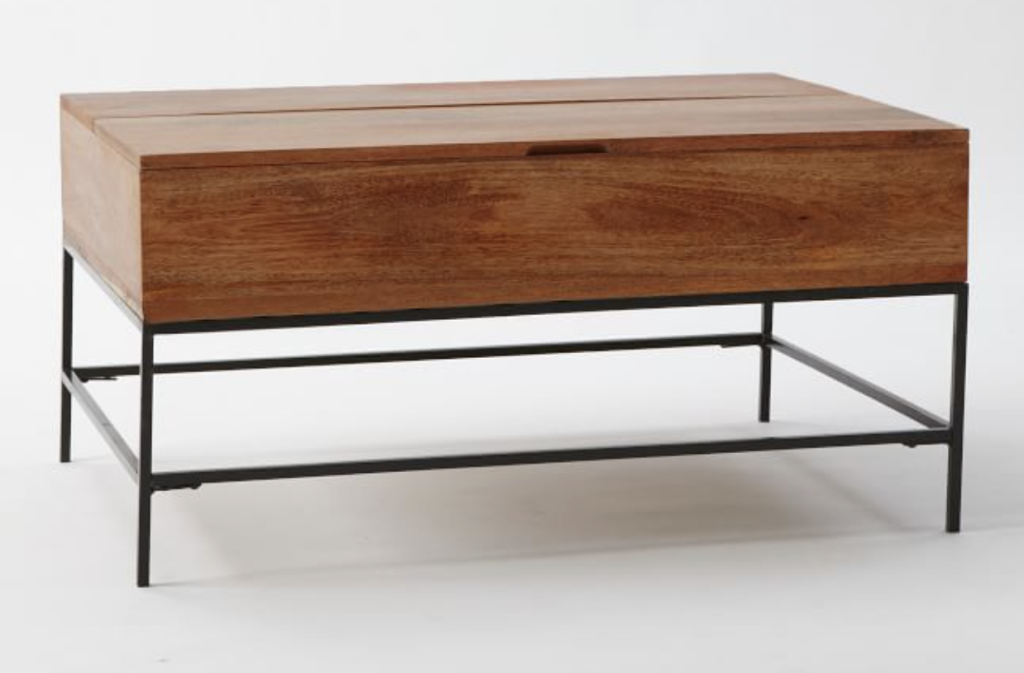 6. Modern Coffee Table With Lift-Top Feature
Quick assembly in 10-15 minutes. The Bidiso Lift Top Coffee Table features gentle closing, a stylish modern look, and hidden storage for laptop computers and coffee table books. Sturdy and safe for long-term use, with reliable customer support. One of the best coffee tables at an affordable price that arrives quickly!
7. Farmhouse Coffee Table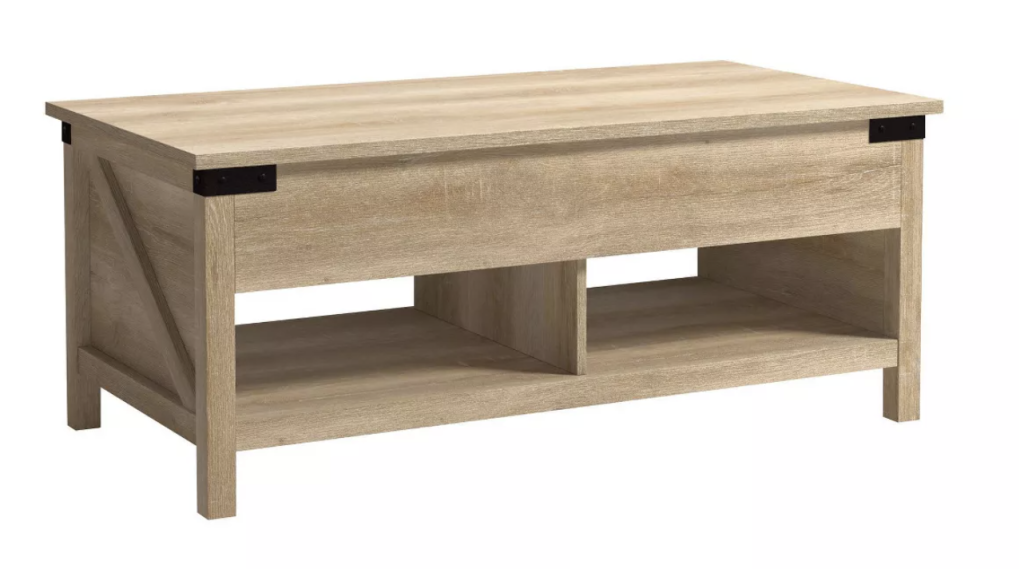 Enhance your living room with this versatile lift-top coffee table from the Bridge Acre™ collection. Its unique design offers additional storage in front of the TV. With a spacious top surface that lifts up for various activities, large hidden compartment, and a lower shelf for coffee table books.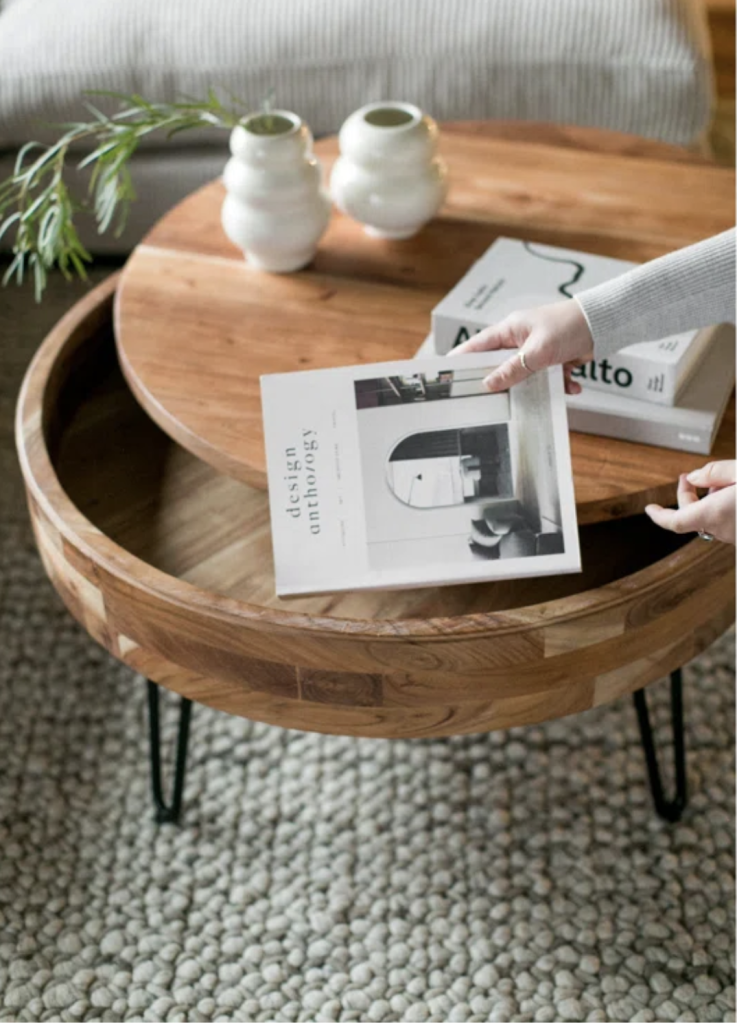 People are loving this round coffee table to store all of their small items. Take it from Candice, who said: "I love the color of the wood. It fits perfectly in my small 1947 ranch house. The storage is an additional bonus to a beautiful accent piece in my living room" — It's a good choice for people that love a timeless piece, and crave a simple option. If you have a small apartment, we think this would be a great choice!
9. Modern Lift-Top Coffee Table With 3 Drawers
One of the best lift-top tables for ample storage space. Not only do you have a lift-top design, but you have smooth-gliding drawers that seriously fit all of the things! Whether you're working on a laptop computer, playing board games, or simply kicking your feet up for some relaxation — this is a great value and one of our favorites from the entire list! Look at those open shelves, too! Talk about the best option for smaller spaces and the side drawers are the cherry on top.
10. Target Coffee Table With A Weathered Gray Finish
This stylish coffee table is highly rated! Take it from this reviewer who said, "Perfect size for small room. Nice to lift top to eat, study, or play solitaire. Has an industrial feel to it which works perfectly with my mid century modern decor" and the hidden storage compartment truly is the cherry on top. One of our top picks for durable materials, and easy assembly! You simply can't go wrong with this contemporary design that will last years to come!
Popular Lift-top Coffee Table FAQs
Do Lift-Top Coffee Tables Work?
Yes, lift-top coffee tables do work, and they are designed to provide a convenient and versatile solution for various activities. The lift-top mechanism allows the coffee table's top surface to be raised and positioned for working on a laptop, enjoying a meal, or other tasks. This feature is especially helpful when you're sitting on a couch or in front of the TV, as it brings the tabletop closer to you. Additionally, many lift-top coffee tables come with hidden storage compartments, making them practical and functional pieces of furniture.
What is a Lift-Top Coffee Table?
A lift-top coffee table is a clever and versatile piece of furniture that's designed to make your life more convenient. It looks like a regular coffee table, but it comes with a cool feature: the top can be lifted and positioned at a comfortable height. This allows you to use it as a workspace for your laptop, enjoy a meal, or work on crafts right from the comfort of your couch.
Related Lift-top Coffee Table Links