Round coffee tables have a flowing, smooth appearance that adds to the elegance of a living room. They complement L-shaped sofas and sectionals by softening the room's overall look. Check out this list of 37 round coffee tables that we think you'll love.
You may also love: 23 Stunning Wooden Coffee Tables with Storage | 26 Marble Coffee Tables for Every Design Style | 27 Best Glass Coffee Tables at Every Price Point
---
Round Coffee Table
---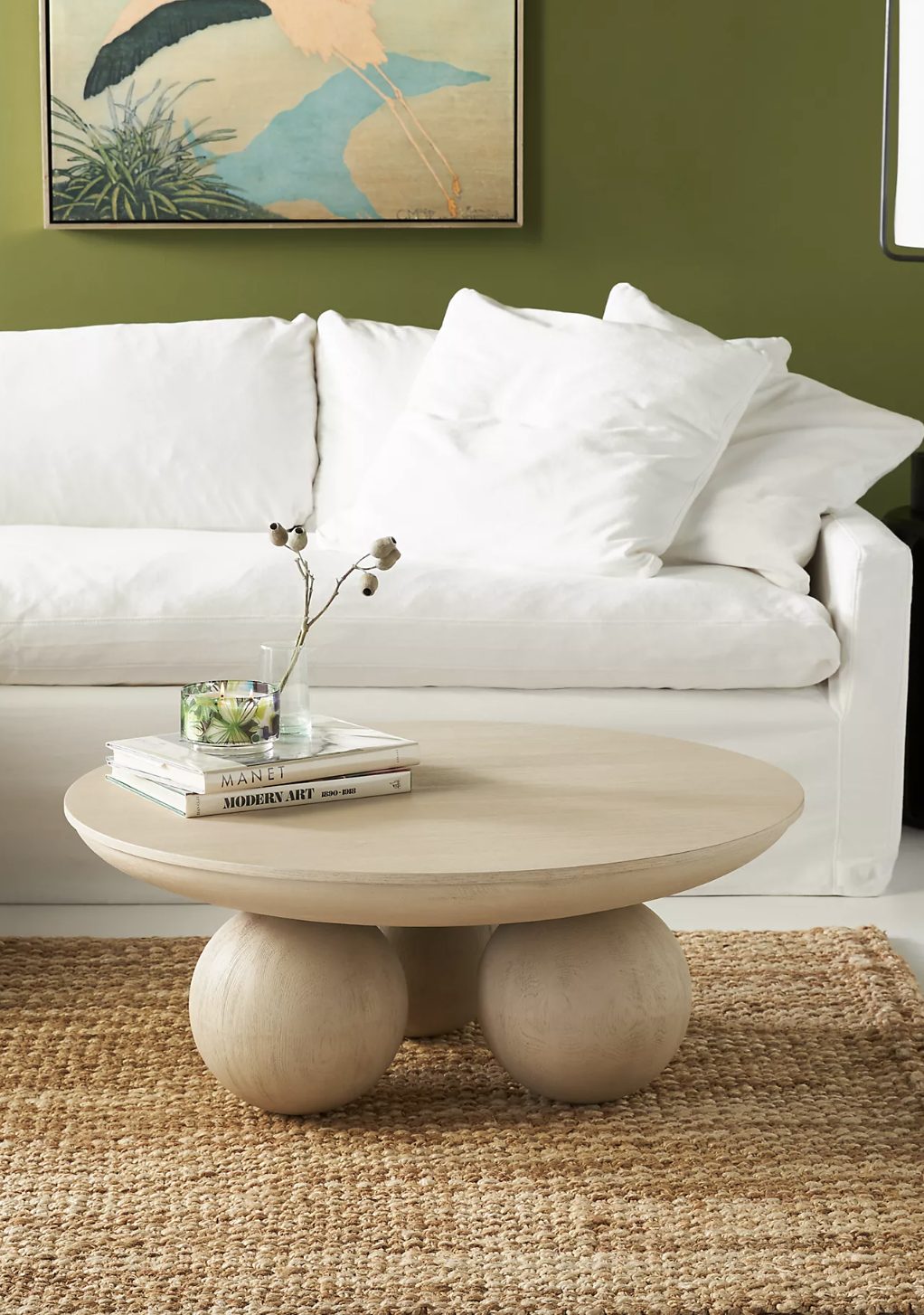 This stunning coffee table is designed to be a focal point for any living area. It boasts expert craftsmanship and a creative, sculptural design.
On a handcrafted Indian rosewood base, blazing rays of antiqued brass connect the lunar marble's cool with the sun's warmth. This stunning coffee table doubles as an art piece.
Abbott's shape may be simple, but the rich wood tones are anything but. Warm up your space and gain extra table space with this handsome table.
This deco-inspired coffee table is a study of simplicity. Cast aluminum quarter-circle legs with an antique finish support the stunning circular top. Legs are inserted into hand-carved cutouts in the wooden tops.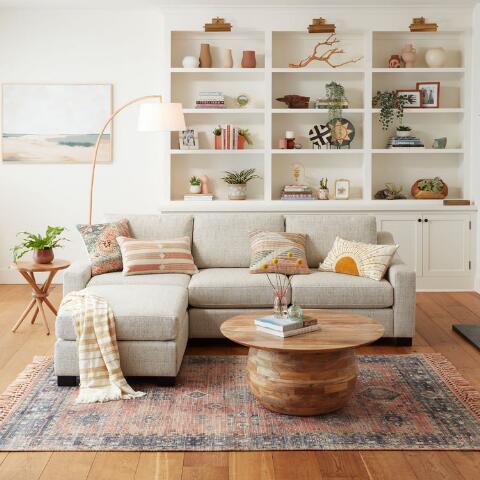 Artisans in Jaipur, India make the Gregor coffee table of mango wood. A robust, rounded base contrasts with a spacious circular top in its balanced geometry.
Volume is made from kiln-dried, sustainably harvested wood. The round shape contrasts beautifully with the clean lines, and the top opens to reveal hidden storage space.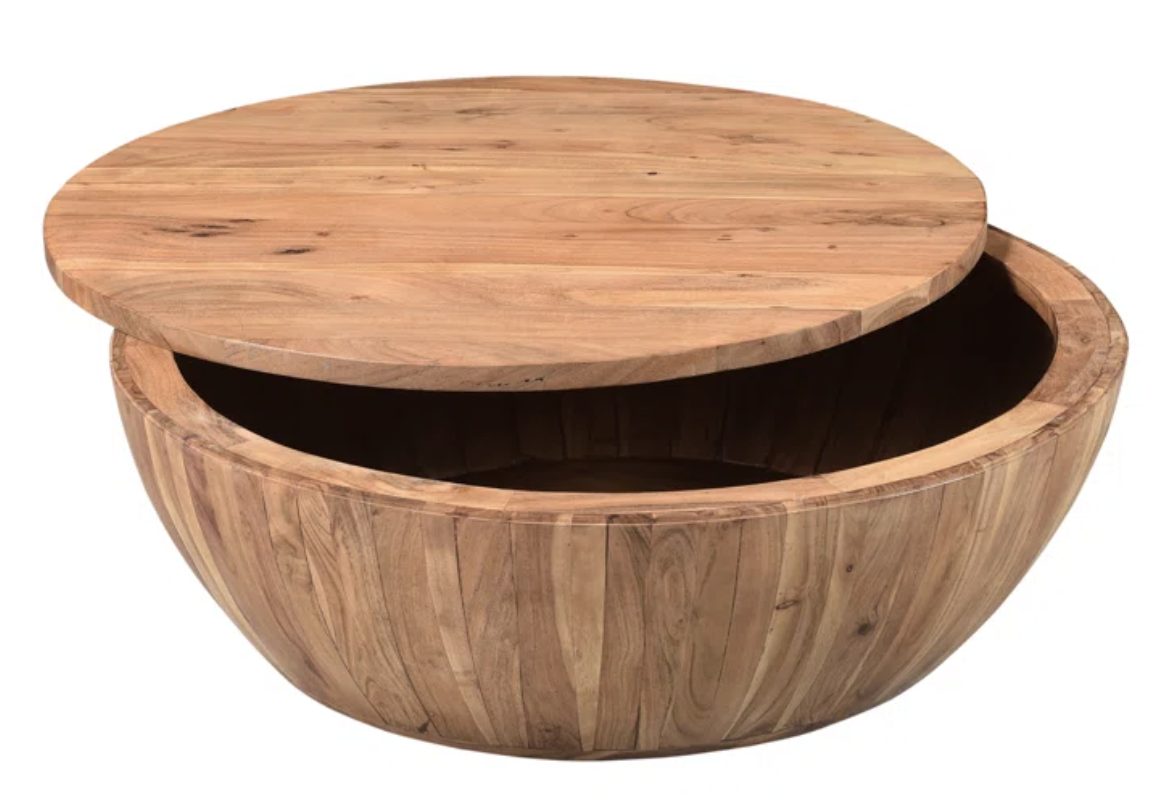 The Buchanan is a drum style coffee table crafted from solid acacia wood. Its swivel top reveals discreet storage below. This piece boasts beauty and functionality.
Smooth marble contrasts a blonde fluted wood base. The Ellington is sure to add a level of sophistication to any space.
Streamline's slim frame is simple and sleek, making it an easy fit in any style of home. Choose a marble top for added polish or whitewashed mango wood for a more rustic look.
Hazel's fresh white table top sits atop sculptural cylindrical legs. This round coffee table is the perfect piece to refresh any space.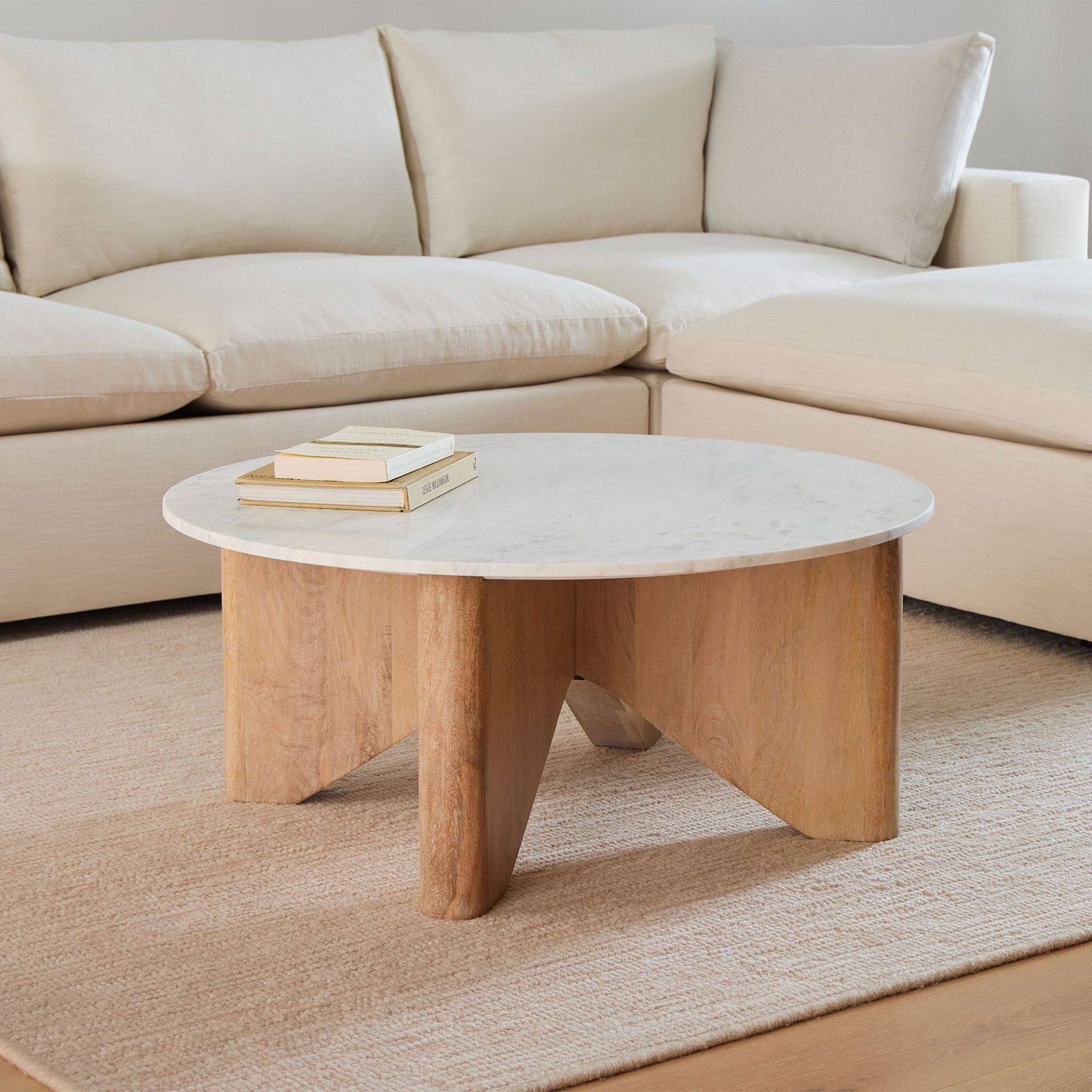 The Maddox Round Coffee Table features a solid white marble top and a chunky mango wood base. This beautiful table will surely add a touch of laid-back sophistication to any room.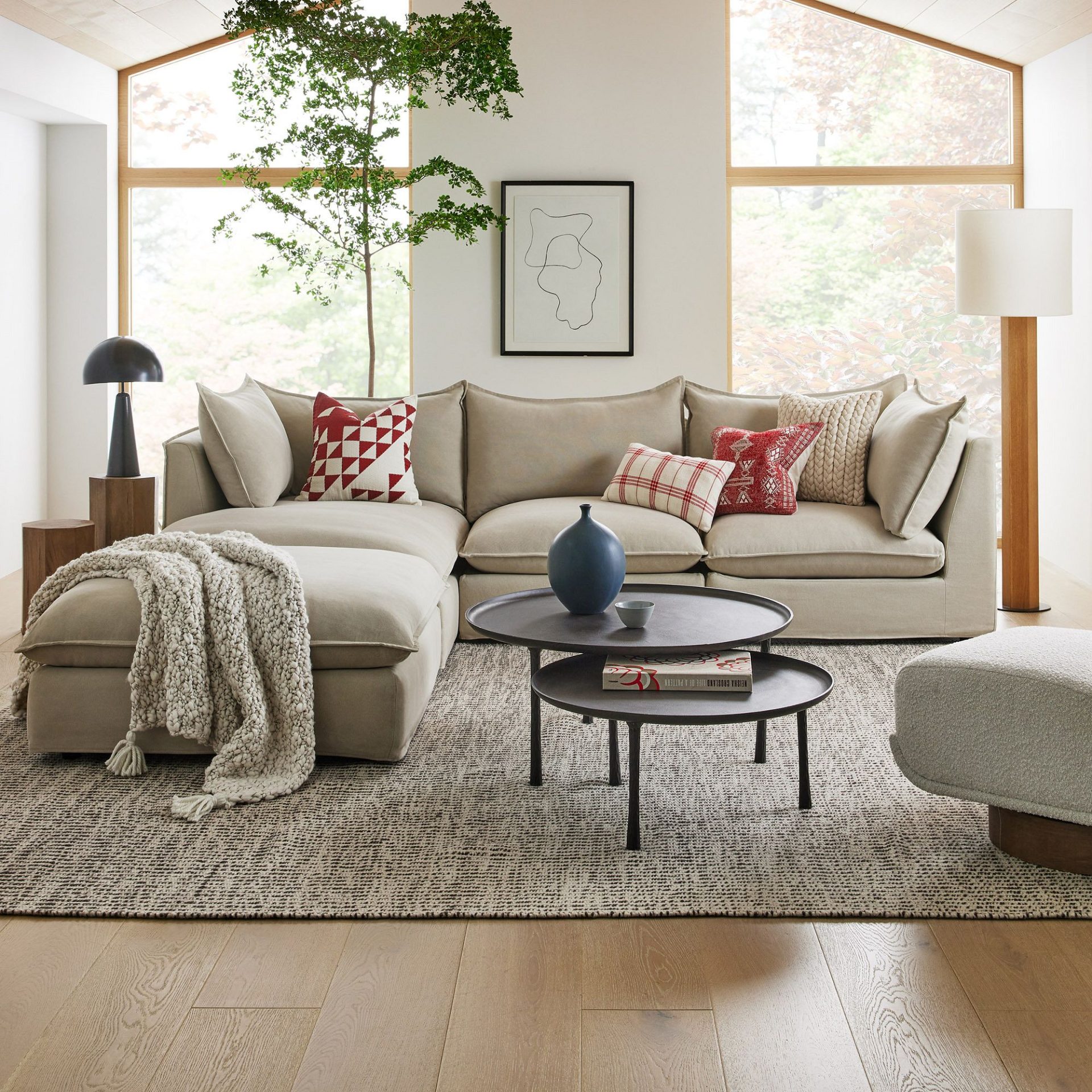 Sintra is a set of beautiful nesting tables. The hand-hammered textured cast metal legs have an organic feel to them that is balanced out by the sophisticated, modern design.
The Volume Concrete Coffee Table makes a statement while seamlessly blending in. Constructed of extra-durable reinforced concrete, this table is made to last.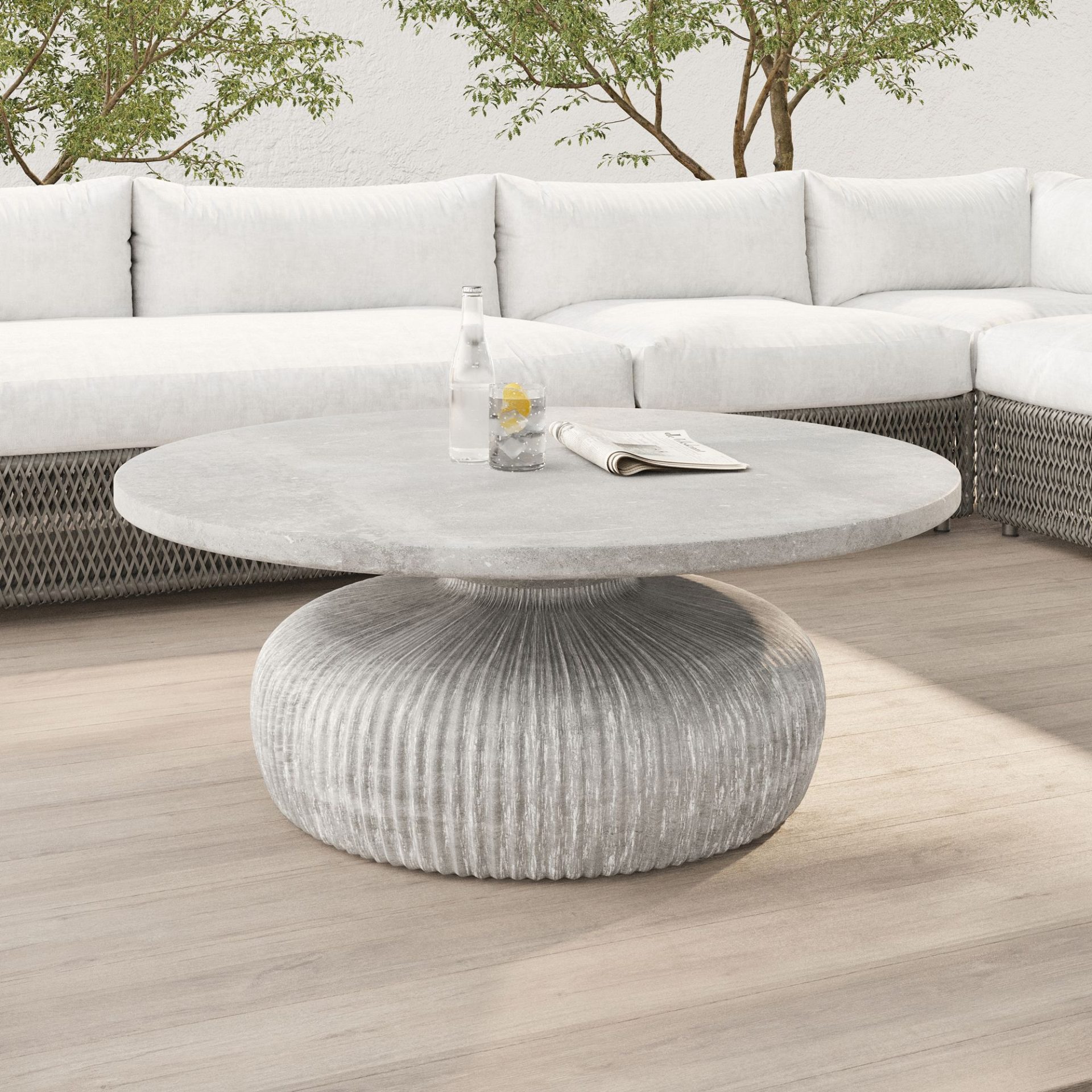 This drum-style coffee table is as hefty as it is handsome. The Tambor will add an industrial style to any indoor or outdoor seating area.
Tambor can also be purchased with a matching side table!
This marble-topped pedestal coffee table exudes sophistication. Its sturdy metal base has a beautiful antique brass finish that perfectly contrasts the polished white marble.
This beautiful hand-molded coffee table features gorgeous fluted siding. It is contract-grade and finished in a semi-matte white glaze that's perfect for both indoor and outdoor use.
Finnley features a stunning mixed-material design that invites elevated style into any room. Your choice of a marble or bluestone top compliments its hand-finished pine.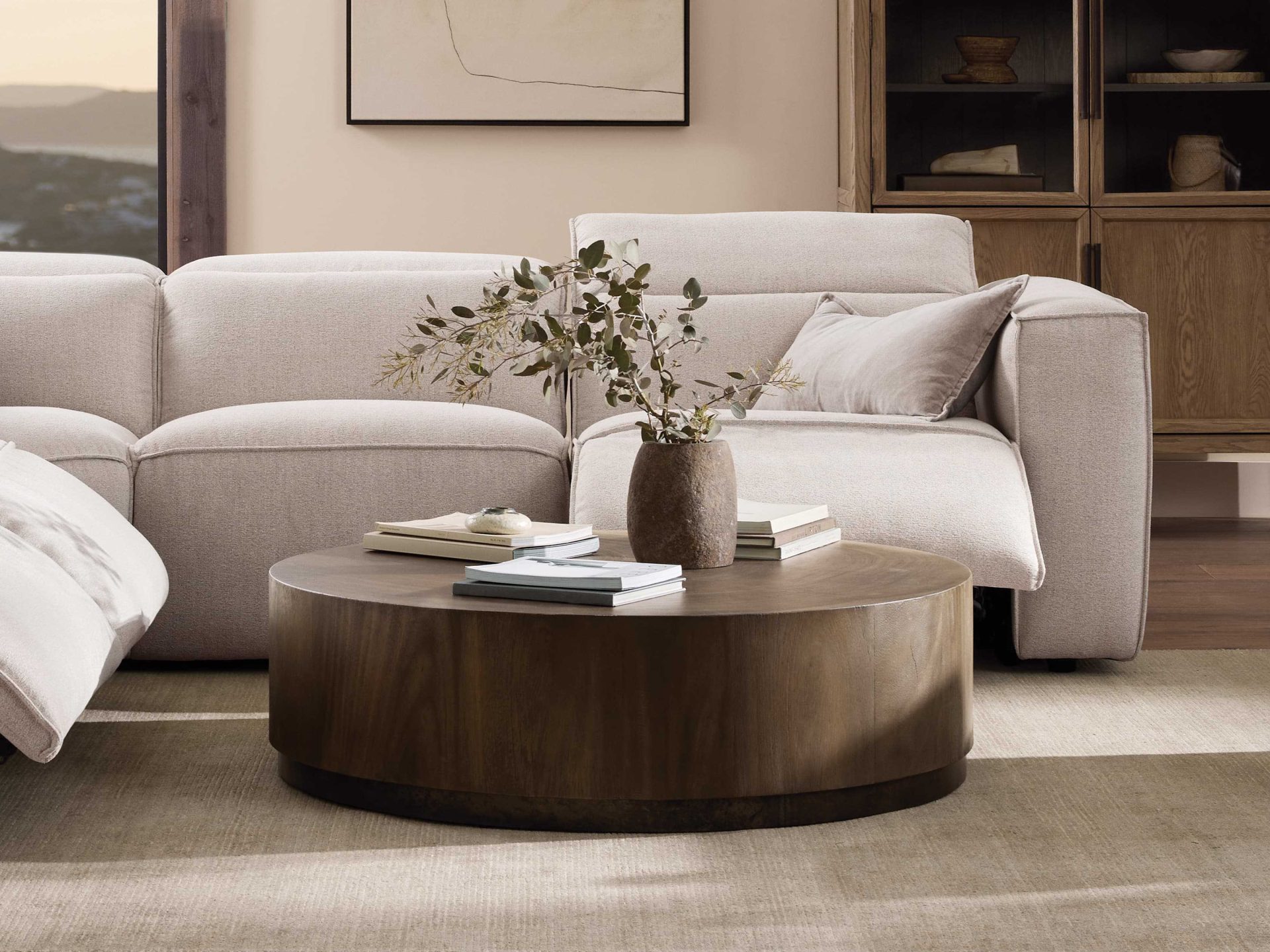 Inspired by the beauty of nature, each Toluca coffee table is handcrafted and one of a kind. Each piece is made to look like the cross-section of a large, fallen tree.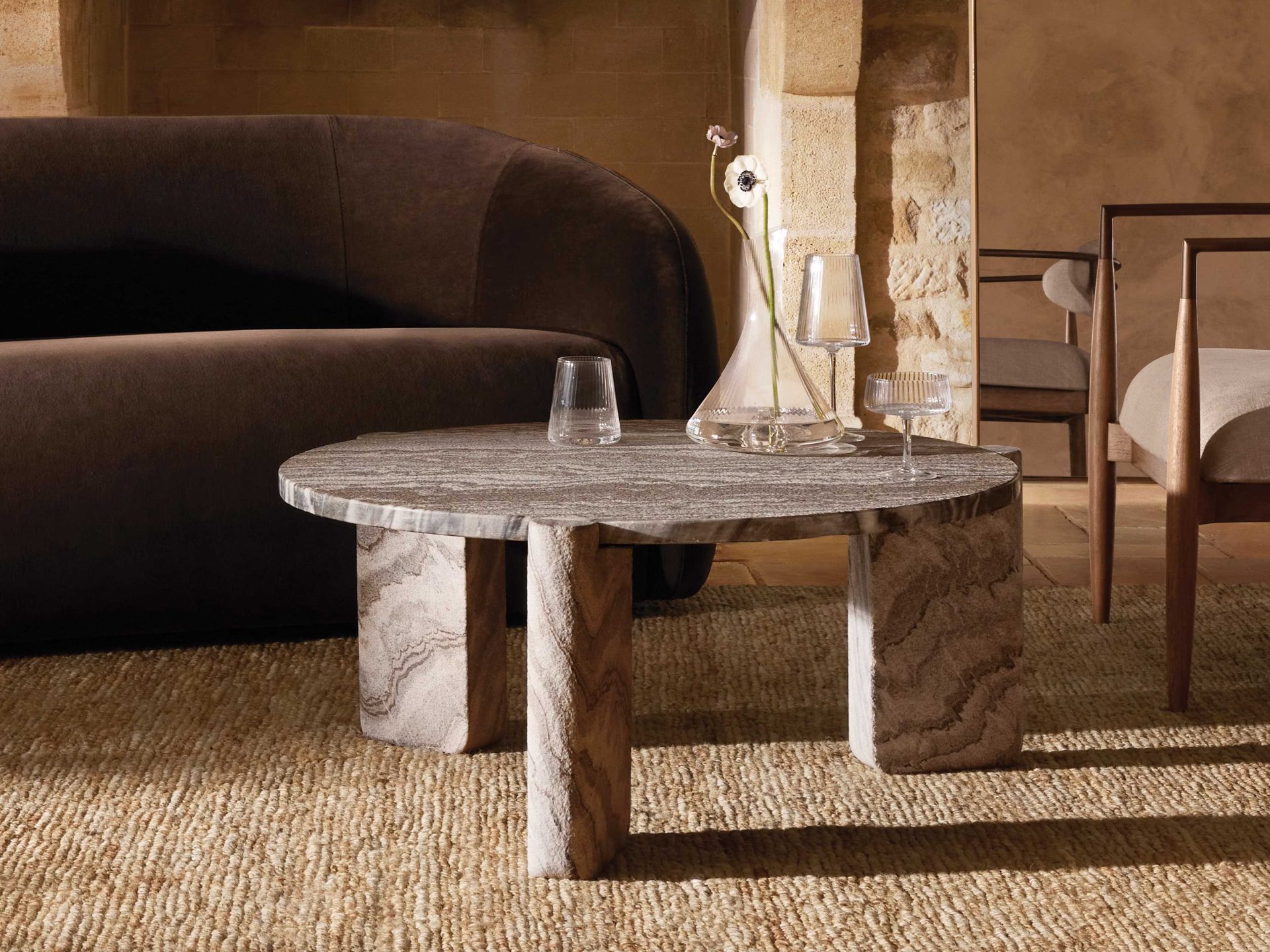 Indian artisans handcraft each Lonelle coffee table from real stone. The neutral color palette and contemporary design make for a striking conversation piece.
Lightweight yet extremely durable, this coffee table is perfect for indoor and outdoor use. With a reverse-beveled tabletop edge and column-style table legs, this table has a delightful modern silhouette.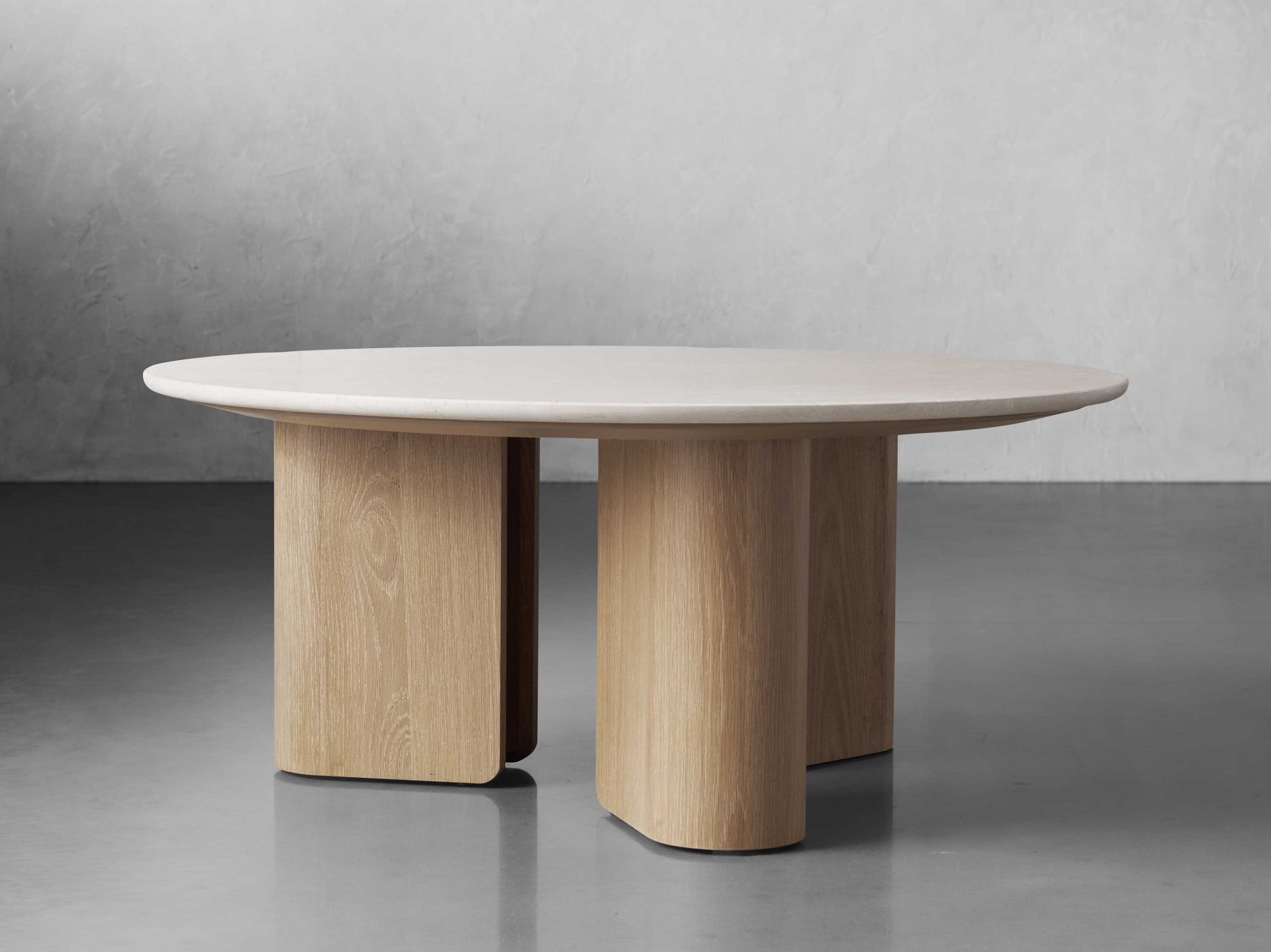 The Jaira coffee table features natural stone, sleek round edges, and reversible legs. This one-of-a-kind piece will breathe new life into any room.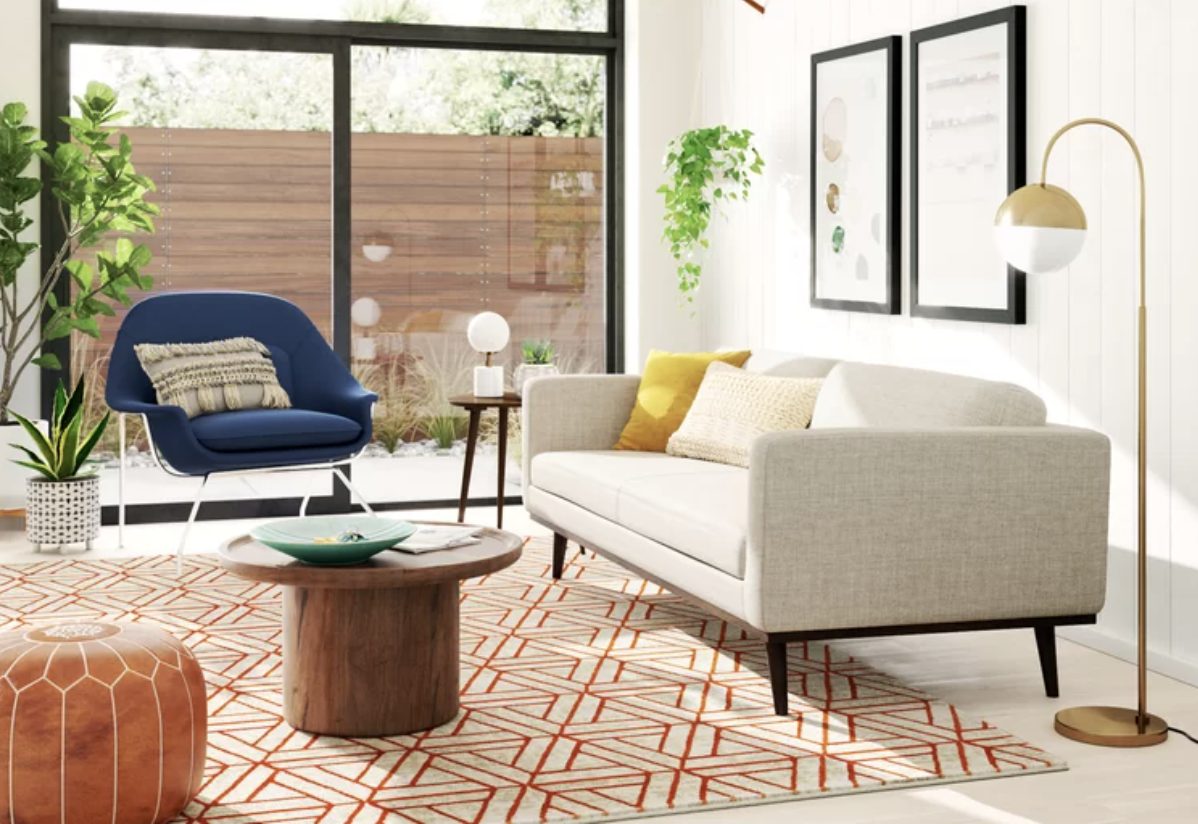 The Acadia coffee table has a minimal, circular silhouette. It is made out of kiln-dried solid wood with distinctive natural grain variation. Raised edges will help keep items from rolling off of the table.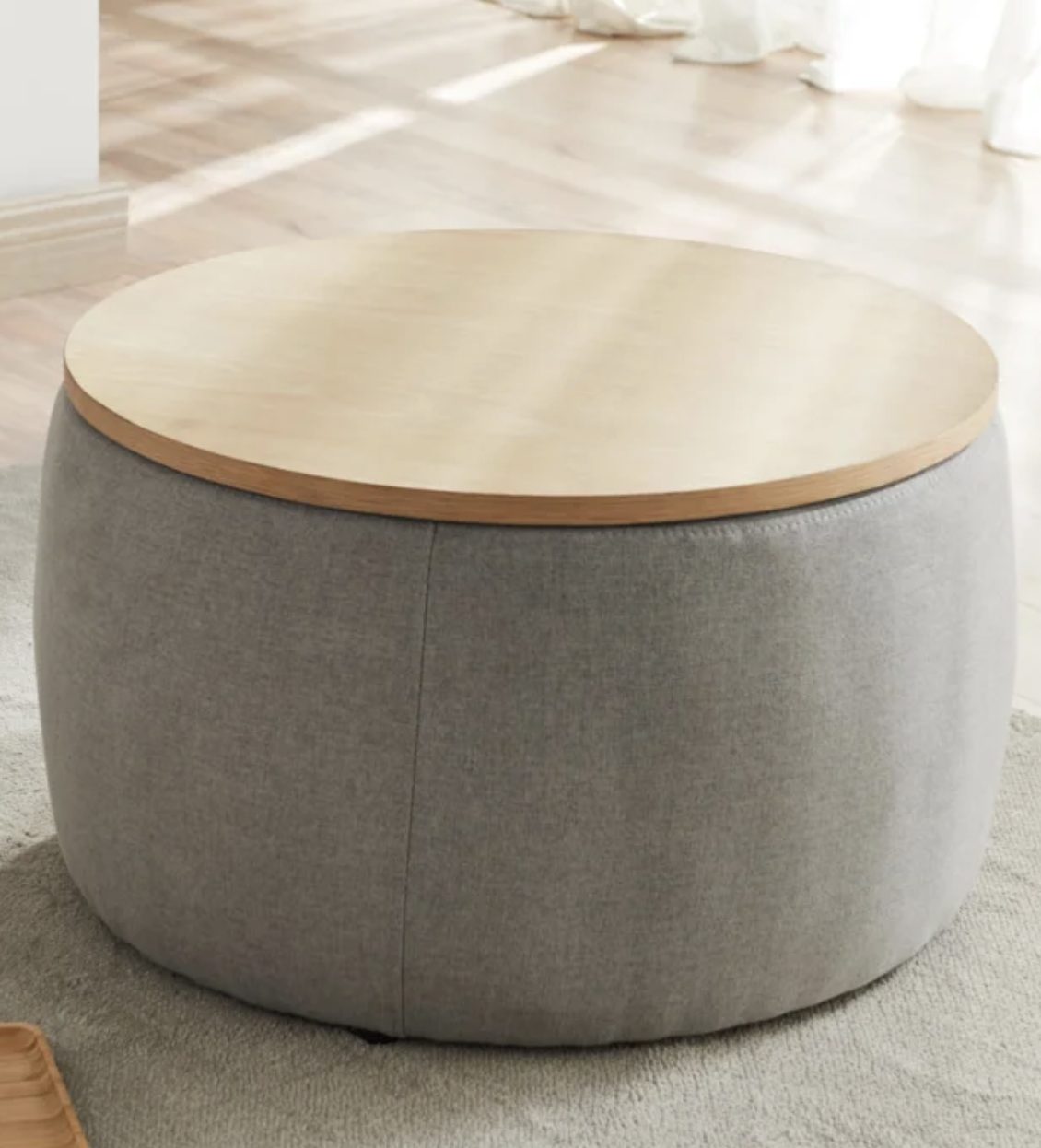 This coffee table features a smooth wide top that can serve and display your favorite decor. This round coffee table, with an easily removable wood top that allows for convenient storage, adds a uniquely charming touch to your modern farmhouse.
This wooden coffee table boasts clean lines, making it perfect for any decor scheme. The sleek tabletop sits atop a beautiful conical base that's built to last.
The Manila hammered barrel coffee table has an elegant rounded shape with a beautiful texture. Whether you choose brass or black, you'll love this piece in your space.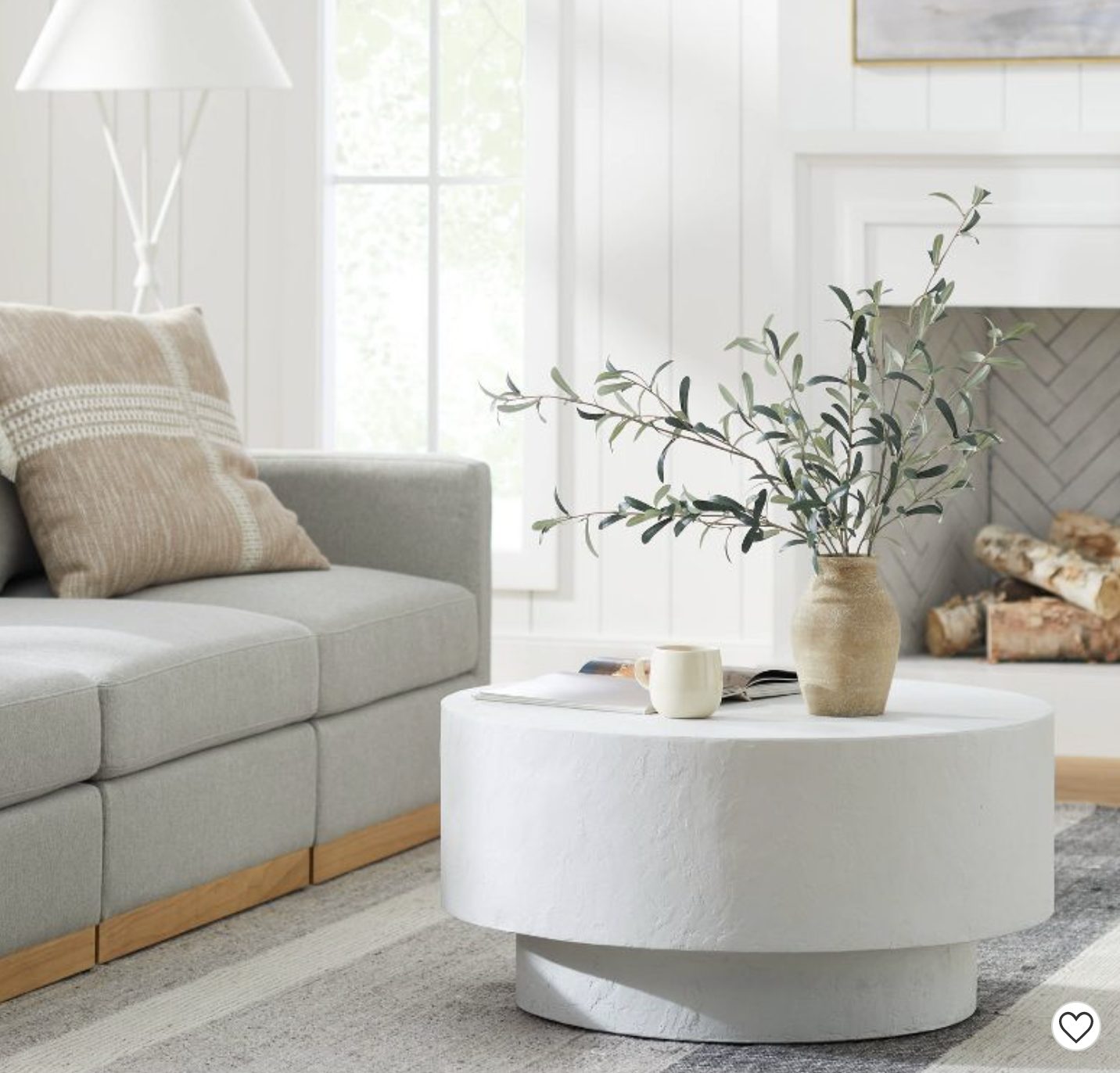 Update your space with the beautiful Arbon Coffee Table. Its round top and broad base boast clean lines and lovely texture, and this table will look perfect in any room.
The Delaney nesting coffee tables result from mid-century modernism and minimalist silhouettes. Crafted from timeless material, its slender steel base supports a stunning piece of Banswara marble.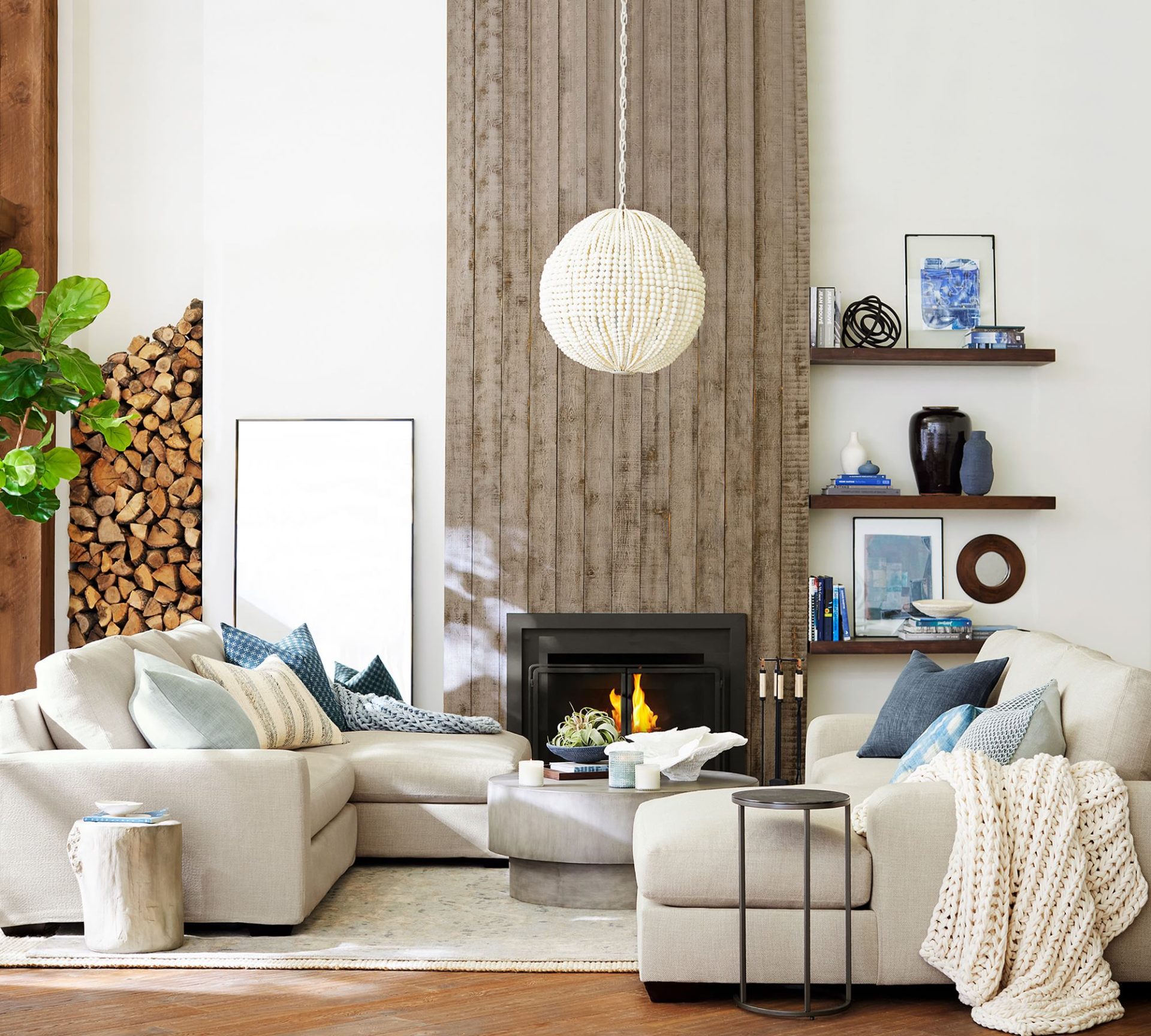 Byron is crafted out of solid acacia wood. With its streamlined profile and beautiful textured finish, this piece is versatile enough to look great in any space.
The abaca plant's solid and durable fibers give this woven coffee table an inviting texture and beautiful coloring. This coffee table is handcrafted from sustainable materials and made to last.
The Larkspur is light and airy, with sleek marble atop thin, forged-iron legs. Timeless materials and a minimalist silhouette give any space a polished finish.
42″ diameter x 15.25″ h
The Torrid coffee table is crafted out of solid wood. A sleek, bullnose-edged tabletop sits on a beautiful pedestal-style base. This table complements any design style.
Fleet boasts a beautiful contrast of hand-stitched leather a bright brass. This round coffee table's tight profile makes it perfect for tight corners. Group two together for the ultimate statement!
32″ diameter x 25" H
This unique coffee table is the ultimate space saver, doubling as a workspace and offering discreet storage! It's as beautiful as it is functional, combining marble, wood, and brass finishes.
16" H x 30" diameter
Crafted of wicker rattan, this coffee table boasts a color palette of beige, white, and tan. With a 200 lb weight capacity, Kaelyn can double as an ottoman or extra seating.
Prudence is made of solid natural nettle wood, which is soft to the touch. It has an open cross-style base that supports a thick, rounded tabletop with a rich, natural tone. Prudence adds warmth and structure to any space.
The Rhianne coffee table is made of parawood. Its minimalist, modern silhouette pays homage to European design, while its round top serves as the ideal platform for your favorite coffee table books.
Tropea's clean, minimalist design echoes the iconic fluted columns of classical architecture. This eye-catching piece is made of fiber stone, a lightweight, durable alternative to traditional concrete suitable for indoor and outdoor use.
Final Thoughts
Choosing furniture is a tad bit like choosing art. When well chosen, a coffee table is functional and acts as an anchor for any seating space. Hopefully, this list helps you find at least one you'll love for years.