What is marble?
Marble is a naturally occurring stone that's created deep underground. It forms when multiple calcium carbonate and limestone layers have been heated and compressed. Marble gets its unique color and veining from deposits like clay, silt, sand, and iron oxide.
Why should you choose a marble table?
Whether natural or faux, marble is a stunning choice for any dining table. Marble tables are timeless, durable, and relatively easy to maintain. The classic look of marble makes it super versatile, blending in seamlessly with nearly any space.
Ready to start shopping for a marble dining table? I've compiled a list of pieces I think you'll love:
The Southampton is a classic pedestal dining table. With a base wrapped in rattan, it appears contemporary. The smooth marble top enhances the cool, tidy, and polished appearance. This table is excellent for small spaces!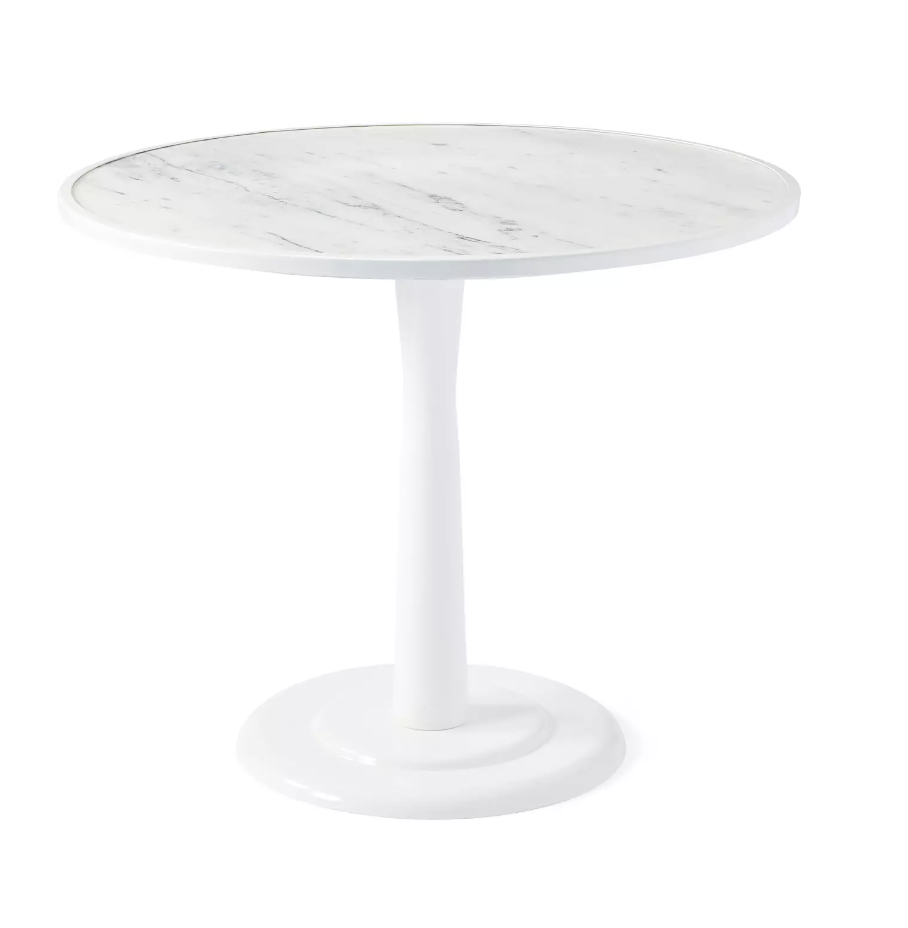 The Wainscott Table was created to stand the test of time by drawing inspiration from classic bistro design and the modern appearance of round tulip tables. The elegant marble top adds elegance, while the sturdy metal base provides durability indoors or out.
The Terrace Dining table takes the elegance of a pedestal base and doubles it! Sculpted from stone, this table should be considered art. This stunning table can comfortably seat ten people, making it perfect for garden parties. Choose from two different table lengths in three color options. 
A sturdy Carrara marble top and a solid spruce wood base create the Harvest Dining Table, a gorgeous table for any occasion. Thanks to its quality materials and expert construction, this table will last your family for many years.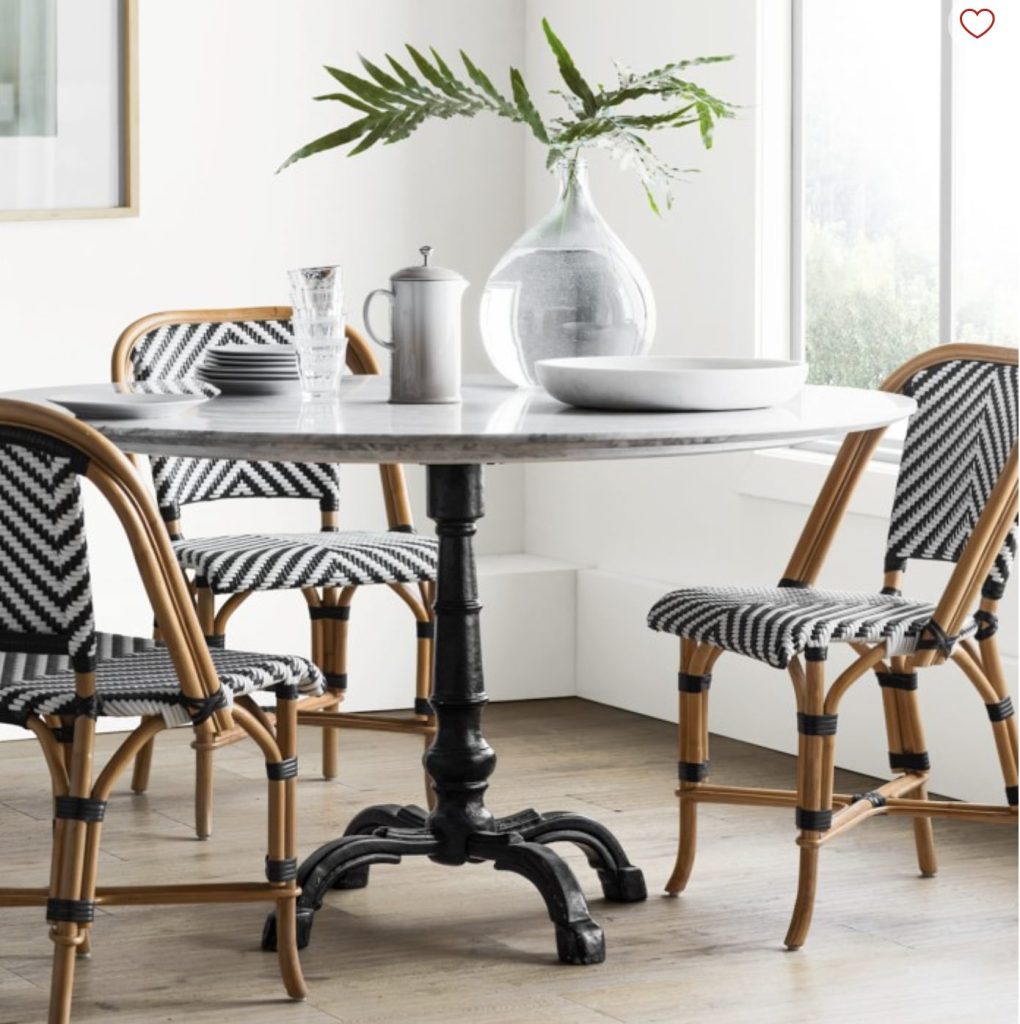 The La Coupole table, which is handcrafted of sturdy cast iron and topped with Italian marble, was inspired by a French café table. This table's timeless design effortlessly complements any decorating style. Pair this table with the Topanga Armchair for a match made in heaven! 
The La Coupole Marble Bistro Table is also available in a rectangular shape with double bases!

72″ W x 36″ D x 30″ H
This stunning geometric table by West Elm is crafted from kiln-dried acacia wood and a white marble top. Despite its simple design, this table makes a big statement. With enough space to seat six people, this table will be a perfect addition to any dining space.
48″ DIAM. x 29″ H
The Orbit Extra Large Round Dining Table is great for entertaining and brings cafe dining style to any space. With scratch-resistant marble and a rust-free base, this table is made to last. Select your preferred size, color, and finish to create the perfect piece.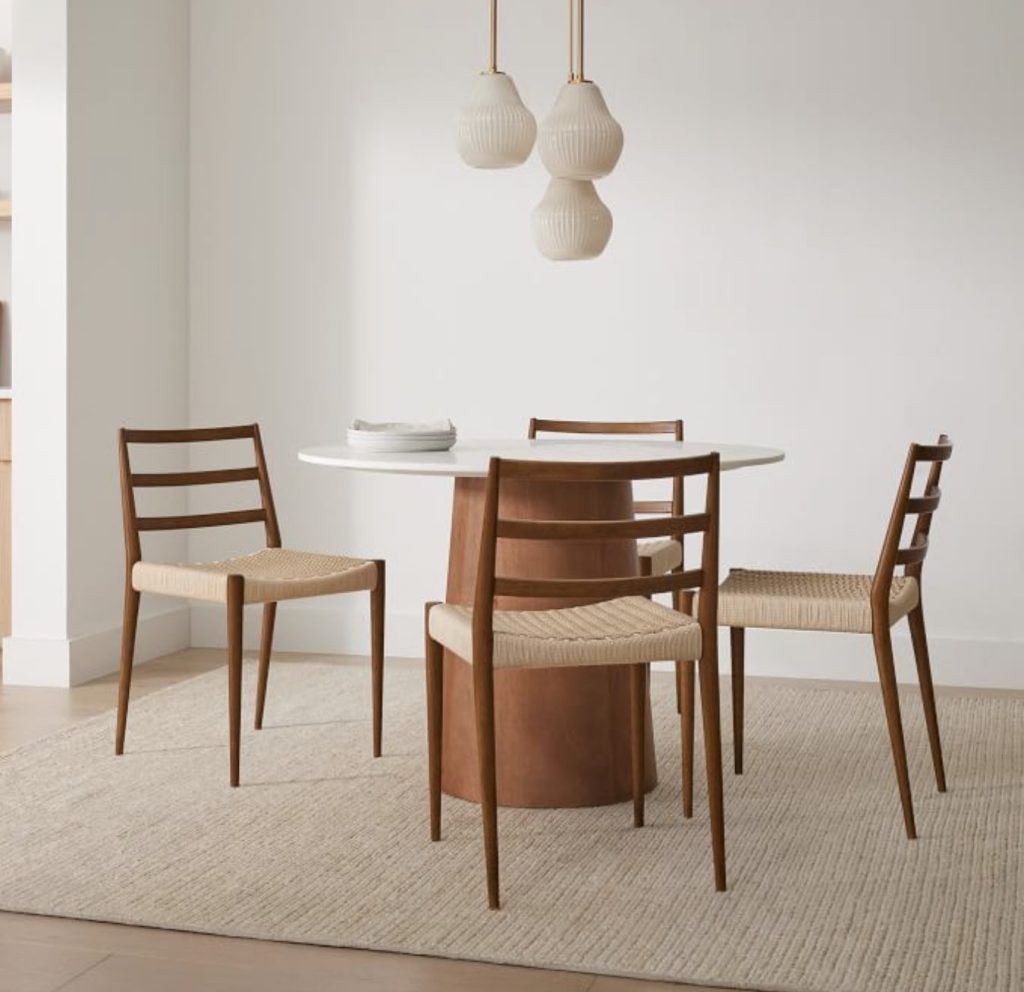 The Anton Pedestal Table features a robust mango wood base and a lovely white marble top with beautiful veining. Its modern silhouette is a work of art. The pedestal base provides ample leg space, making it easy to comfortably seat four around the table.
48″ DIAM x 30″ H
West Elm's Ellington Marble Dining Table features a simple silhouette with complex details. A fluted base has a lovely texture and draws attention to the oak wood grain. The sleek marble top has subtle natural veining that makes each piece unique. The Ellington is perfect for smaller spaces, comfortably seating four.
This stunning table by West Elm adds the best kind of drama to any room. A tabletop crafted from high-quality marble sits boldly atop a conical antique brass base. Thanks to its oval shape, this table seats six people.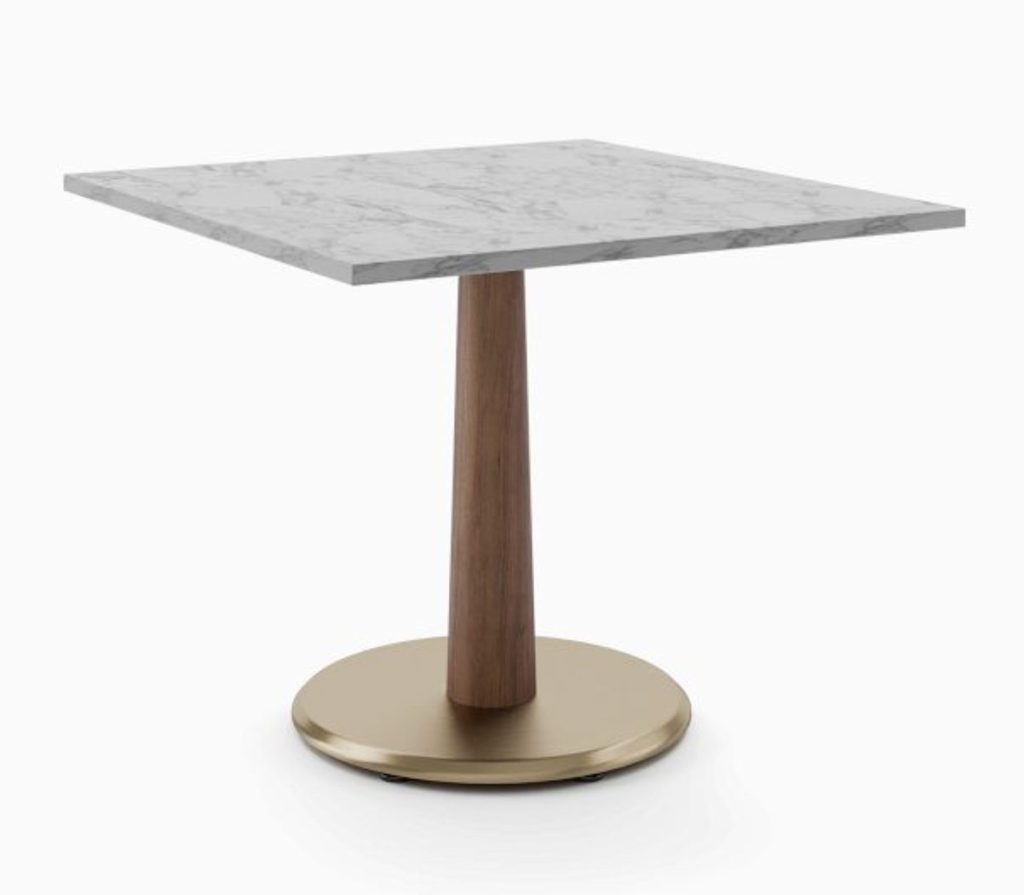 The Claire Restaurant Square Dining Table was designed for restaurants but helps carve out a cozy dining space in your home. This faux-marble top offers improved stain resistance and durability compared to standard marble surfaces, making it perfect for frequently used spaces. 
The Claire Restaurant Dining Table is also available as a rectangle!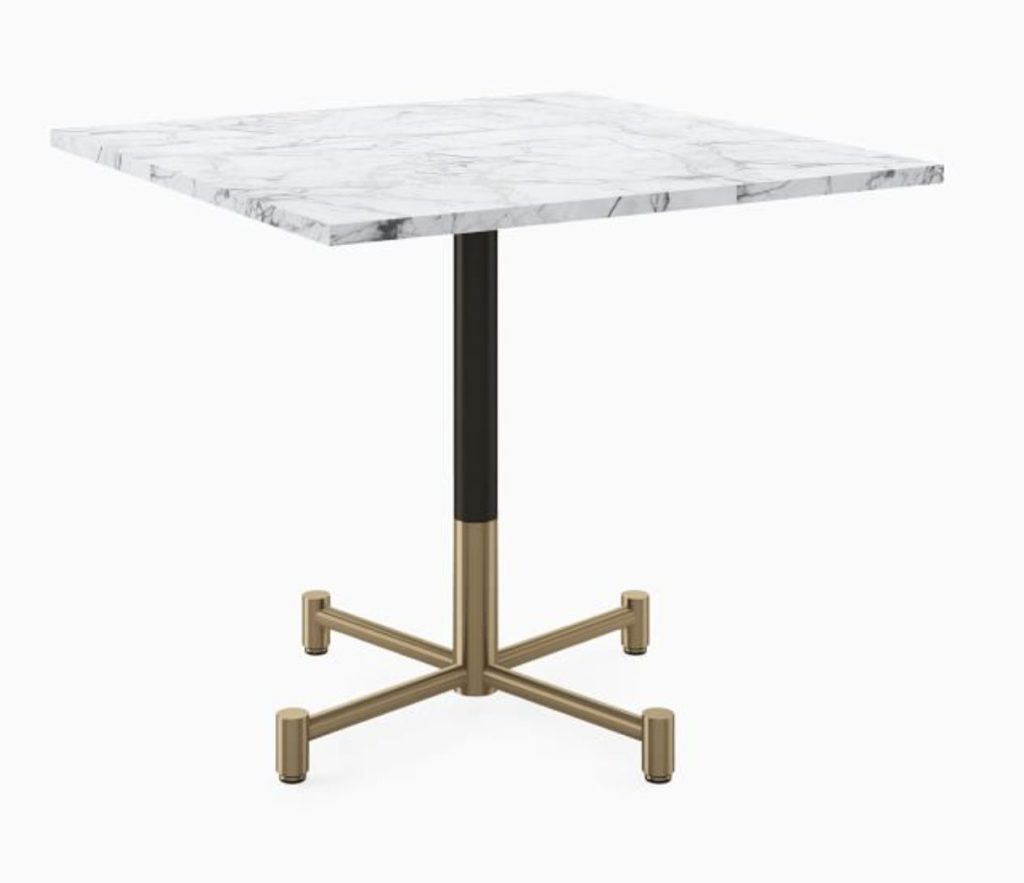 The Branch Restaurant Dining Table features a square, faux-marble top and pedestal base. Comfortably seating four, this table is built with contract-grade materials for years and years of use. Branch's rust-proof metal base has adjustable feet to ensure you'll never have to suffer through using a wobbly table.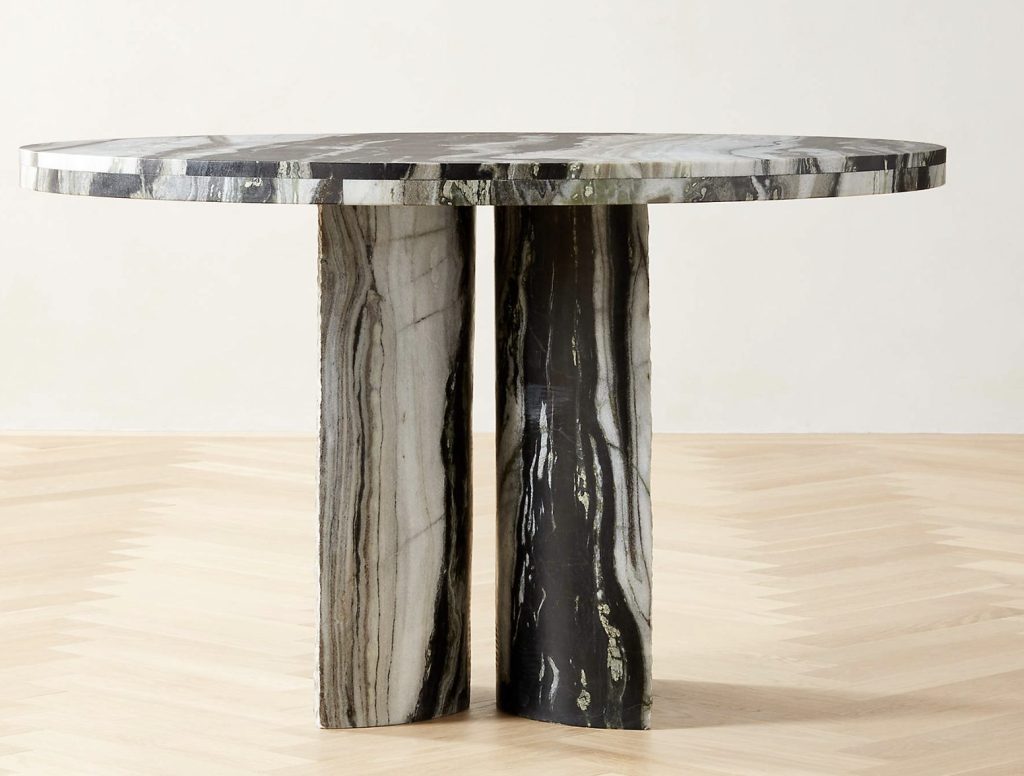 The Julius Round Marble Dining Table is made of spider marble with green undertones. The solid half-circle legs are hand-chiseled, leaving them with a beautiful raw finish. This statement table comfortably seats up to four.
The Kota Round Marble Table, by Mermelada Estudio, is a tiered pedestal table that combines the classicism of polished River White marble with an audaciously contemporary form. Up to four people can be seated at the round, smooth tabletop to enjoy anything from breakfast to late-night cocktails.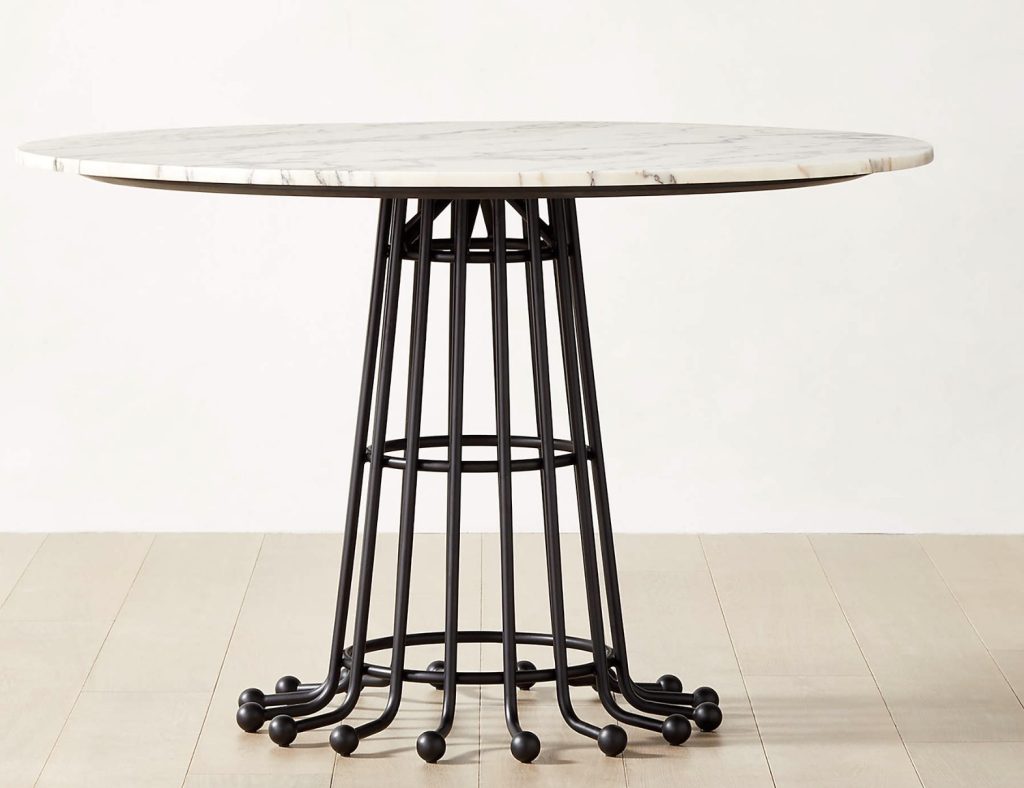 The Divo Round Marble Dining Table, designed by the father-daughter duo Balutto Associati, is a modern take on Art Deco. A striking matte black steel frame holds up a round slab of polished Michelangelo marble. 
The Reign Small Round Marble Dining Table features an intricate cast aluminum base and polished Volakas marble. An antique brass ring completes the dark bronze base. This table makes a perfect dining spot for two.
The Reign is also available as a large round marble dining table.
The Aster Modern Black Marble Table, a Brett Beldock design, makes a statement with solid fantasy marble. An S-shaped cast aluminum base supports the oval marble slab on top. This unique table seats up to eight people.
The Anacapri Square Marble Table pays homage to Japanese woodworking methods. The elegant ebonized ash wood and iron tube base is structurally challenging yet striking in its simplicity. Anacapri's tabletop is made of Italian Arabescato marble veneer.
The Anacapri Rectangular Dining Table is also available as a rectangle.
63" W x 37" D x 30" H
This chic dining table is ideal for giving your kitchen or dining area an air of industrial design. It has a rough feel but incredibly robust, strong, and attractive. Its fine craftsmanship enhances its stunning retro look and comfortably seats up to six people.
This classic tulip-shaped table adds charm and elegance to any dining space. A sturdy cast aluminum base supports a tabletop made from sleek imitation marble. The tulip base allows ample legroom for 4-6 people.
This dining table by FUQIAOTEC is an art piece and dining table in one. Its unique X-shaped base is crafted from carbon steel with a black powder coating. The beautiful sintered stone top closely resembles marble but is scratch, stain, and heat resistant.
Give your dining room a makeover with this classic dining table. An intricately carved trestle foundation provides elegant support for the rectangular marble tabletop. The six-person capacity of this table allows your guests to dine without feeling crowded.
32" L x 32″ W x 29″ H
This DKLGG dining table has a sleek imitation marble tabletop and a simple yet elegant tulip-style base. Crafted from durable materials and anchored with an iron base, this table is perfect for sharing meals, afternoon tea, or dining outdoors.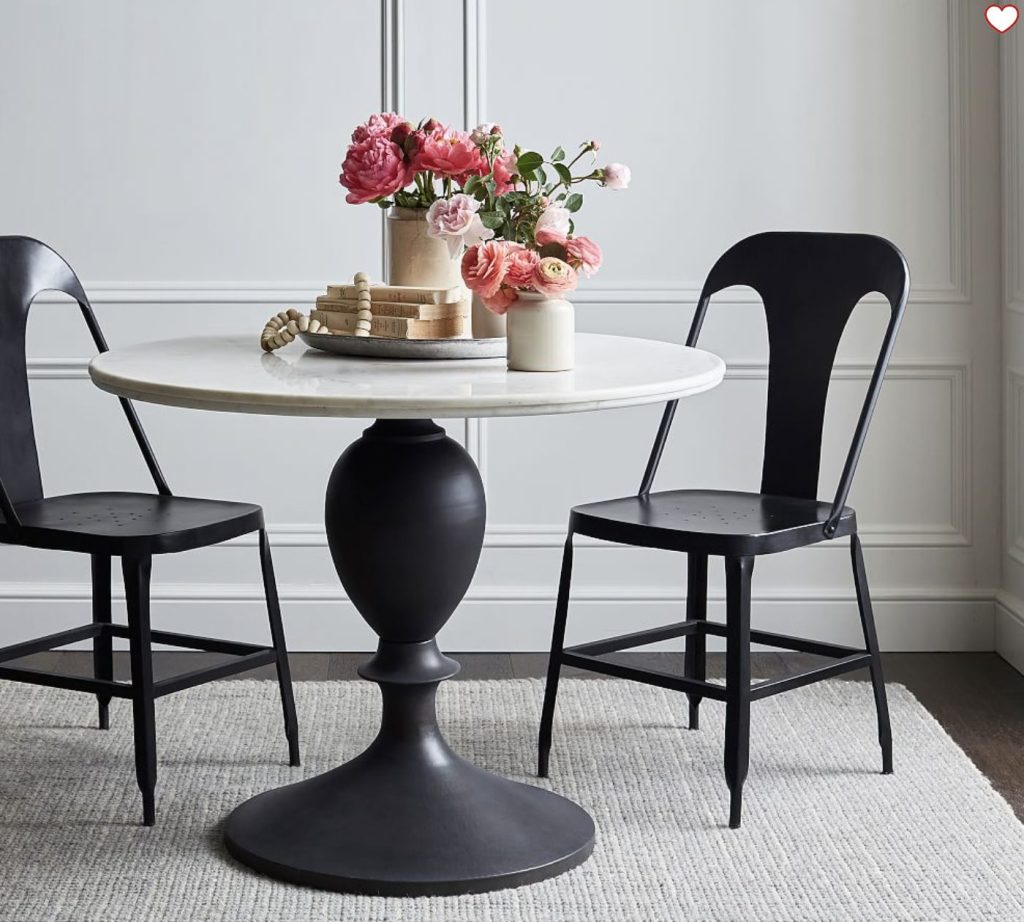 39″ DIAM x 31″ H
The Chapman Round Marble Dining Table is small but mighty. The sturdy iron base, which has a textured-bronze finish, supports the natural veined white-marble top. The Chapman can comfortably seat up to four people.
Rae was influenced by the café furniture that lines the sidewalks of Paris. This table has an effortless rustic-meets-romantic aesthetic thanks to its black metal base, turnbuckle hardware, and natural marble top. Rae was designed to accommodate wheelchairs and is scaled perfectly for smaller spaces.
78″ W x 38″ D x 31″ H
The ivory marble top of the Rockfall table rests on two stoic iron legs. Its monochromatic design looks sculpture-like and goes well with anything—this contemporary, minimalist piece seats six and anchors any dining space with a calm, assured flair.
39" DIAM x 30" H
The Enzo Dining Table boasts a clean and contemporary design that highlights the unique elegance of naturally hand-cut white marble. Any formal or informal dining environment will be elevated by the chic, transitional tulip-style table bases made of iron. Choose from four different sizes to seat up to 8 people.

The Petra Round Dining Table is made from mosaicked marble pieces exhibiting distinctive colors and textures. The solid X-shaped base is crafted from artisan-finished iron finished with a Caribbean Gold Patina.
72″ W x 40″ D x 30" H
The Violetta Dining Table by Arhaus is a true statement piece. Exquisite Calacatta Viola marble tops a solid Romanian oak base. Violetta's warm yet dramatic style easily fits with any dining aesthetic.
The Noyes Dining Table boasts a lustrous off-white faux marble top and a minimal black-finished metal base. This table brings a contemporary vibe to any space, with a footprint perfect for any smaller dining area.
Final Thoughts
Marble tables are a great investment piece for your dining space. When purchasing your table, it's essential to consider the size of your dining area and the number of people you'll regularly need to seat. Be sure to follow manufacturer guidelines on cleaning and maintenance to ensure your piece lasts forever!