Between the clean architecture and unique designs, it's no wonder mid century modern furniture makes for the perfect timeless addition to any home design. View our designer picks below!
ALSO CHECK-OUT: Modern Dining Tables That are Stunning | 20 Best Extendable Dining Tables for Every Design Style & 10 Best Small Round Dining Tables we Love
---
Best Mid Century Modern Round Dining Table
Here we have done the research to help you find the perfect round Mid century modern table for your space. Whether you're looking for ultra modern or slightly rustic approaches to your Mid-Century modern tables, we have found options you are sure to love.
1. Lafontaine Oval Dining Table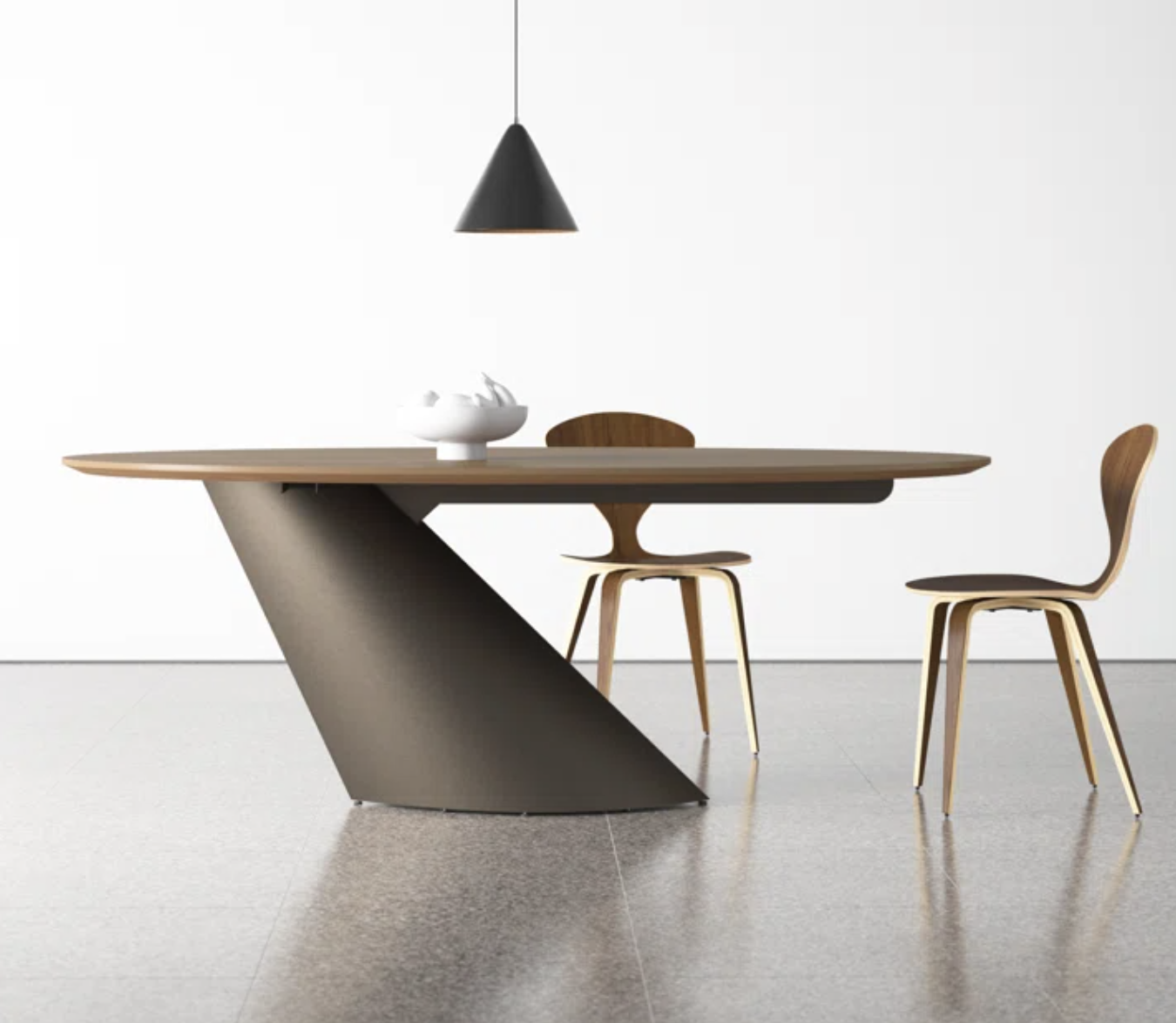 This stunning sleek design table creates the perfect accent in any space. Its anti-gravity, slanted base creates the illusion of motion. The Lafontaine oval dining table is perfect for a contemporary aesthetic.
2. Daedric Oval Dining Table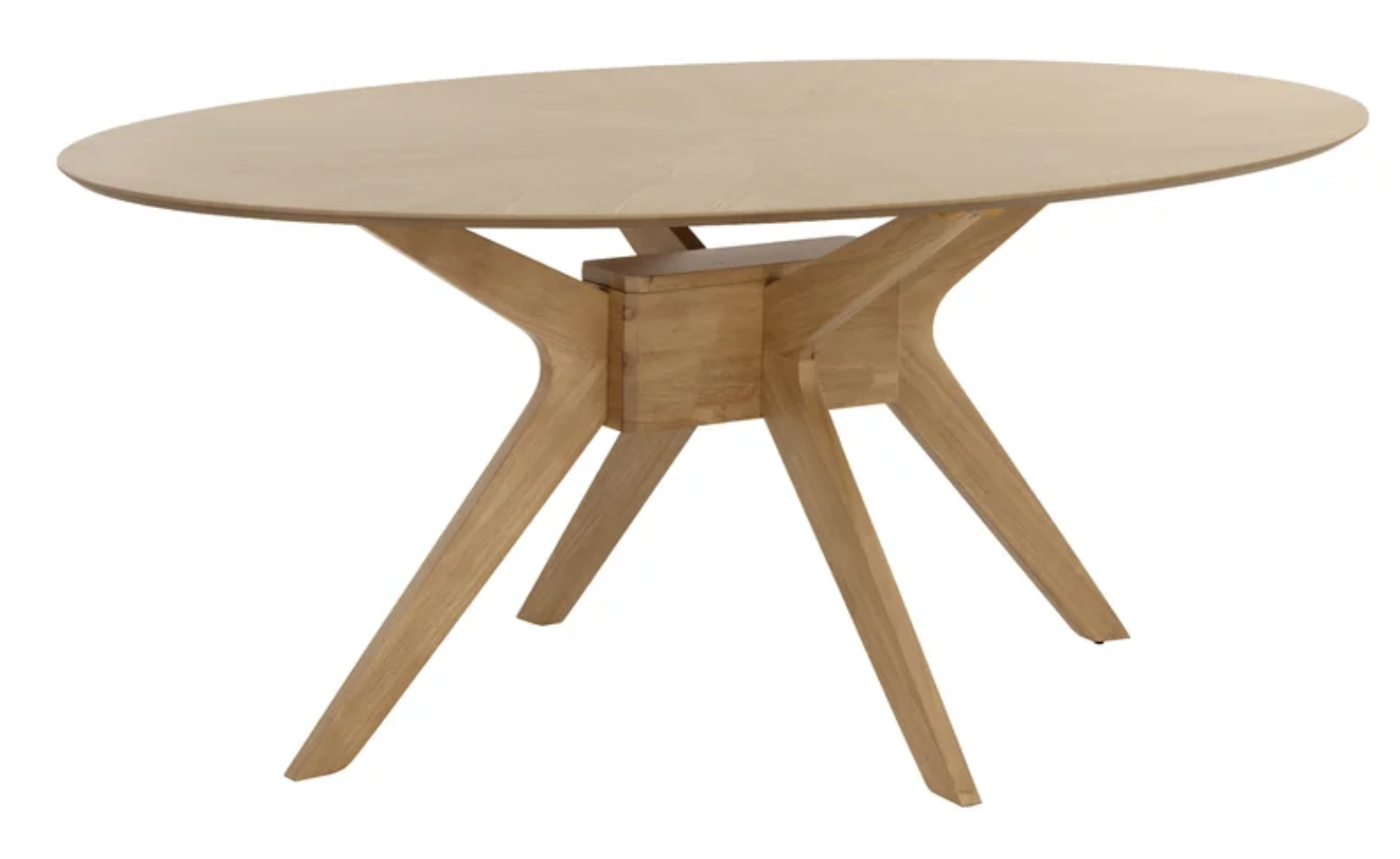 This stunning understated design is perfect for a contemporary aesthetic.The Daedric Oval Dining table offers optimal functionality in your space and a timeless flare you can hold onto for generations.
3. Recycled Metal Dining Table with Wade Black Base
This bold design comes in four different table top finishes— brass, chocolate copper, zinc alloy, and copper. Complete with a recycled cast iron bottom, this recycled metal dining table is built to last while maintaining a sustainable production. Each piece of recycled metal is hand forged.
Choose between either the 48" or 54" options. This piece is sure to make a statement in any home.
4. Round Expandable Dining Table
This sleek round table extends from 42"-60" and is the perfect small space solution for those who like to entertain guests. This table is sustainably sourced and fair trade certified. The legs of this table feature a unique A-frame design which gives them a sophisticated flair.
5. Faux Marble Tabletop for 6 Person Wooden Base
This large faux marble table top can comfortably sit 6 guests. The table top is made of sintered stone and the base is made from a solid wood veneer. Between its natural textures and gold accents, this piece is sure to remain timeless and classic for generations.
6. Natural Oval & Round Table with Extension
This extendable round to oval table is perfect for entertaining. This table accommodates four regularly, and six while it is extended. This table is constructed from solid, premium wood making it sturdy and durable.
7. Warner Round Pedestal Dining Table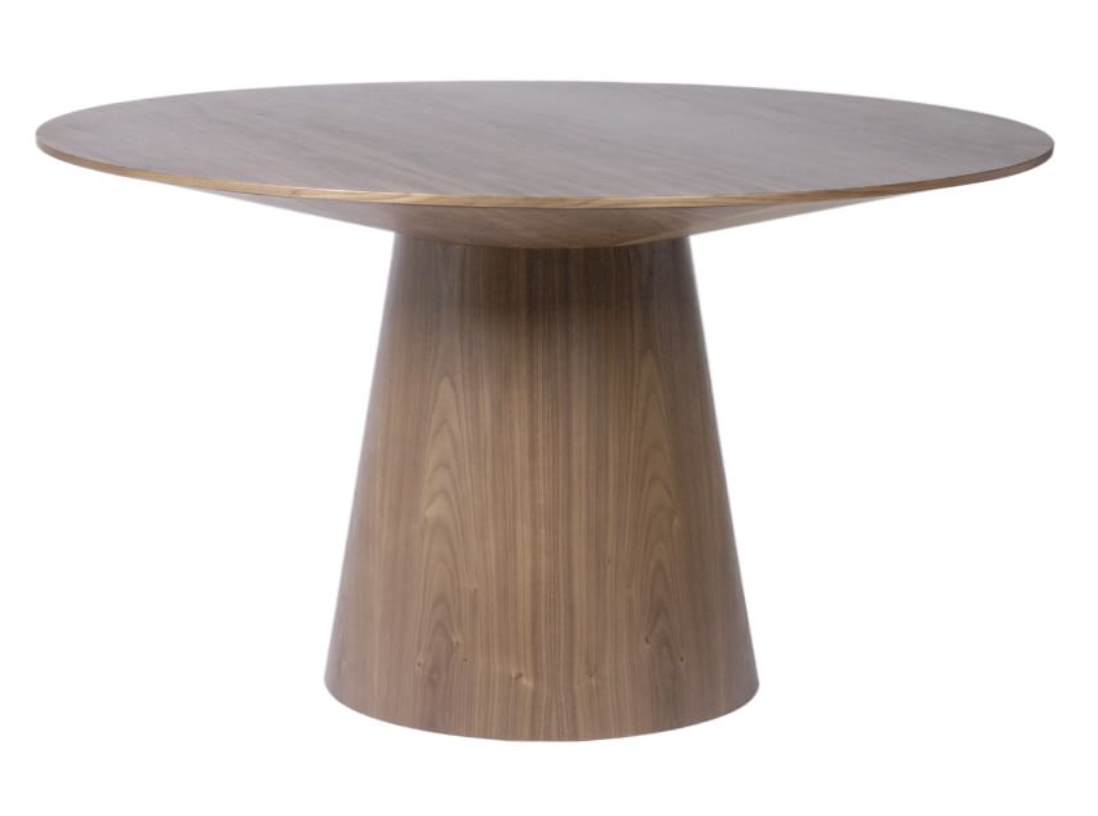 This Warner round pedestal table is made from either American walnut or white lacquer. Either style is built to last and weighs 156 pounds. This table comfortably seats four and measures 53" wide and 30" tall.
8. Tulip Dining Table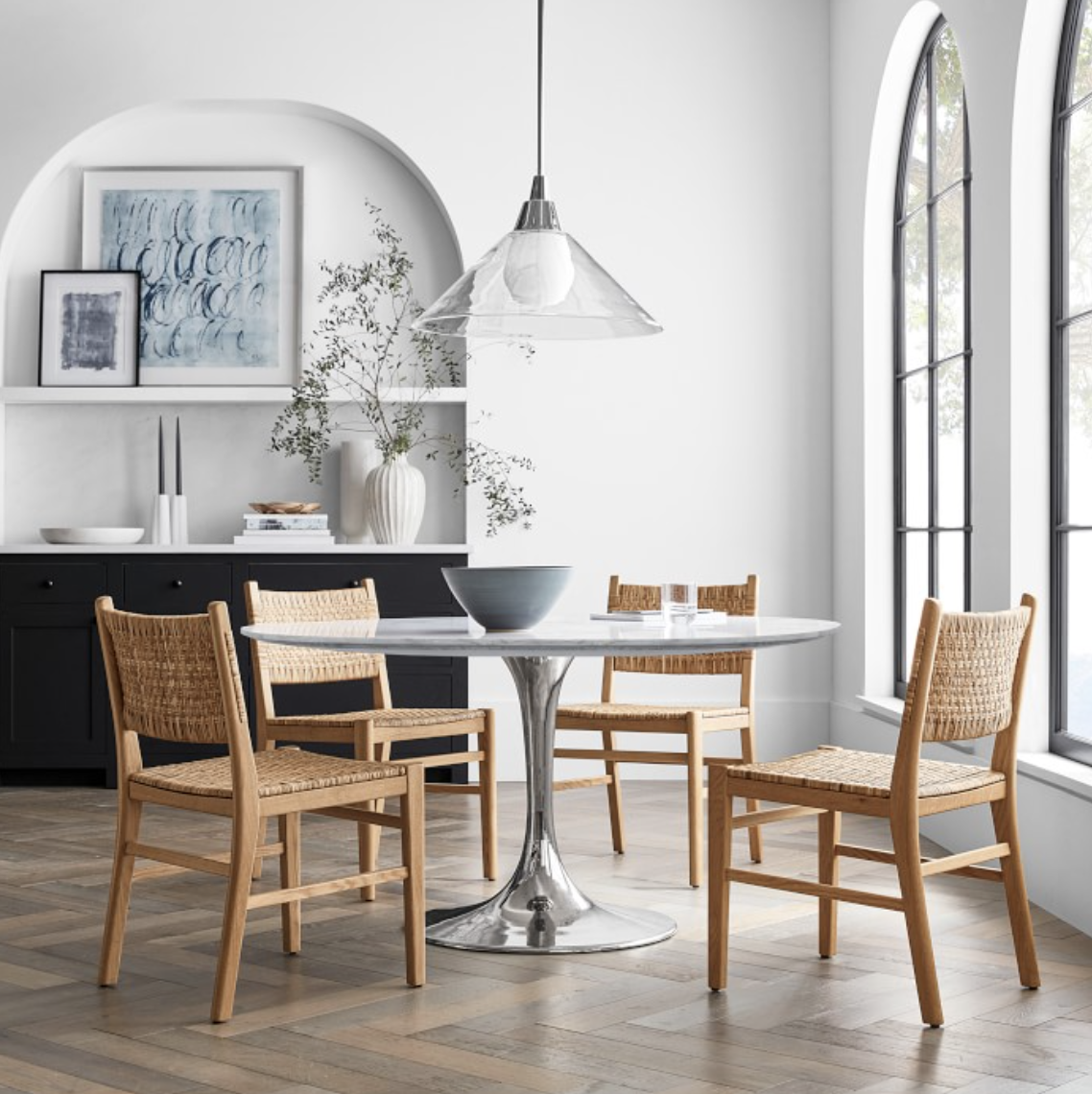 This stunning oval tulip table comes in several different styles and finishes such as Carrara Marble, Black Marble, Turbine Gray, Calacatta Nuvo, Blizzard Caesarstone, Heritage Gray, or Walnut Wood. The pedestal table bases are finished in your choice of aged bronze, polished nickel, matte white or antique brass. This makes this table highly customizable to any aesthetic.
9. Bronx Dining Table
This Bronx dining table is made from solid reclaimed wood. It is large enough for a group of four to sit comfortably while remaining stylish and functional.
10. Wren Dining Table
The Wren dining table is special in that it is made from harvested wood from fallen trees and hurricane tumbled wood. This eco-friendly table is topped with a walnut veneer and is large enough to entertain up to 8 guests comfortably.
11. Hayes Round Acacia Dining Table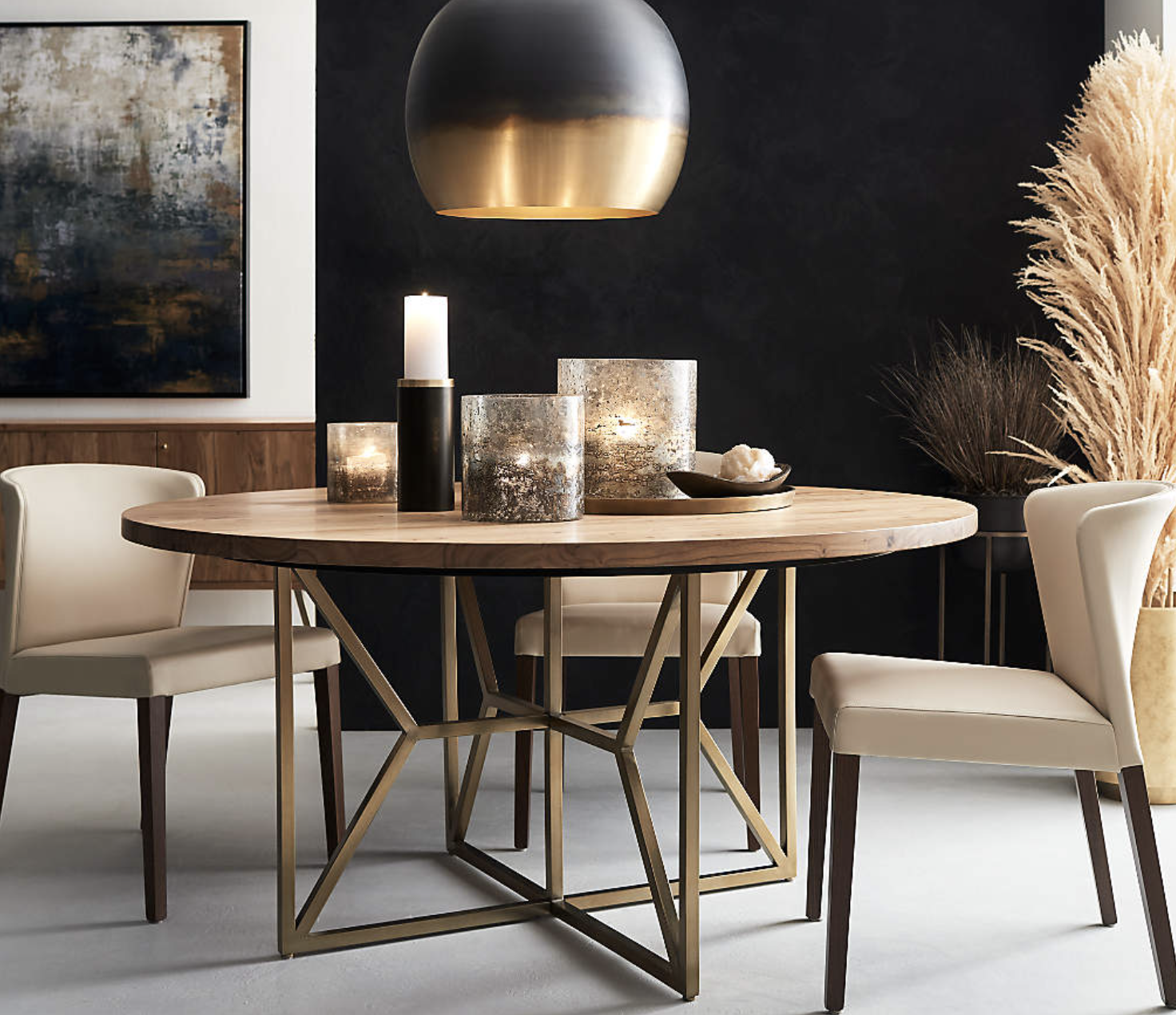 The Hayes round Acadia dining table features stylish angles and is made from both solid Acadia hardwood and a stainless steel angular base. This stunning and modern table spans 60" and is perfect for seating 6 guests comfortably.
12. Piper Mid Century Modern Dining Table
The Piper dining table is a modern breakfast style dining table made from brown walnut. This table was designed with small spaces in mind, as the tapered legs allow for maximum usage of the smaller design. This stylish and modern table can seat 4 guests.
13. Modway Crossroads Round Wood Dining Table
This Modway Crossroads dining table is constructed from sturdy MDF and rubberwood and topped with a gorgeous walnut veneer. This table features a unique intersecting pedestal base, and is ideal for up to 6 guests. A mid century modern round dining table that is effortless and timeless in each and every way!
14. Walker Edison Wood Dining Table
The Walker Edison mid century modern styled dining table is a lightweight and easy to clean addition to any modern home. This table spans 46" wide and 30" tall and is ideal for comfortably seating 4 guests. This table is made from a solid wood veneer and a solid and sturdy steel base.
15. Jax Round Dining Table
The Jax round dining table comes in both 48" and 60" options. The 48" option is ideal for entertaining 4 guests and the 60" will comfortably seat up to 6 guests. This tabletop is constructed from walnut veneer placed over an engineered wood top, and the legs are made from solid rubberwood.
This unique twisted design is built for extra strength and durability while adding a mid century modern flair to any space.
16. Kalle Round Dining Table
The Kalle round dining table is a uniquely designed mid century modern round dining table. It is built on three oblong legs that give this round table an angular flair. It is constructed from oak wood and steel and can be made with either a natural or black finish. This table spans 52" wide and is ideal for seating 4-6 guests. This is definitely my favorite pick from the list — the most gorgeous mid century modern round dining table!
17. Cross Leg Teak Round Dining Table
This uniquely designed cross leg teak round dining table is made from SVLK-certified teak and is built to last. Spanning a whopping 87 inches wide, this table is ideal for hosts who love to entertain big parties. This table is built to wipe clean easily and will look brand new for generations to come.