Dining tables are a necessity in every home. They're perfect for sitting around and having conversations, playing games with family and friends, and enjoying a nice meal. Your dining table is where many memories will be made, so having one that looks nice and matches your home is crucial.
There are a lot of beautiful and elegant options for modern dining tables. Some are sculptural, and some have a more classic feel, but each is unique and perfect for someone's home. If you're looking for a modern dining table, you're sure to find one here that matches your style!
ALSO CHECK OUT: 20 Best Extendable Dining Tables for Every Design Style | 10 Best Small Round Dining Tables we Love | 10 Stain Resistant Couches that are Comfortable
---
Modern Dining Table
Anthropologie Modern Dining Tables
Amelia Dining Table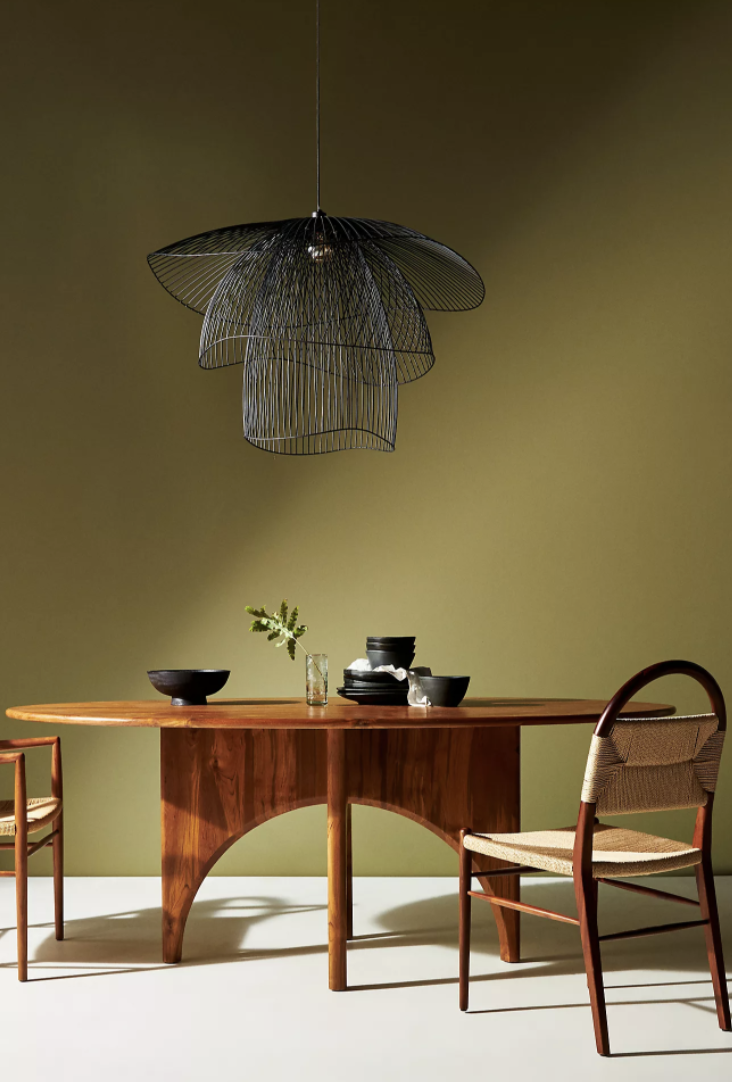 This beautiful teak wood table has an interesting and eye-catching shape, classic and timeless while still modern and sleek. The reclaimed wood makes this table more sustainable than most, helping you keep the planet green. This table is oval-shaped, adding to the space you'll have to serve meals and seat your loved ones.
The deep stain will make this table a vibrant focal piece in your dining room. While still matching your modern decor, this table will stand out as a statement piece.
Margate Table
This table has a fascinating natural look due to the bright reclaimed pine wood and the simplistic shape. The beautiful natural pine color isn't stained or changed but preserved with a clear lacquer. The original grain is kept intact and will add some interest to the texture of the table.
The Margate table is perfect for dinner guests and is sure to attract interest from anyone who visits. The natural look doesn't take away from its modernity, letting it stand out without clashing with the rest of your style.
Cayden Table
This table is the pinnacle of style, with the artistically carved legs and the elegant marble top. The legs are made of resin in a sandy oak color, making it look like wood while being more durable than natural wood. The marble top is made of gorgeous white marble with natural patterns, sure to catch anyone's eye.
This table is the one to get if you're looking for something to match neutral-colored decorations while still being a standout piece. Any meal you serve will look stunning on this table, and the clear lacquer coating ensures that spills won't damage the material.
Maja Dining Table
This table is unique and beautiful with its textured base, simple without losing elegance. The ash wood veneer is a warm color that will match anything, perfect for any home style. The top is large enough for family meals or parties since several chairs can fit around the table.
This piece will look stunning in any space, attracting attention without being garish. This table looks more like an art piece than a table! It's easy to clean, so you don't have to worry that you'll ruin your table by eating at it.
Swirled Drum Table
This table is thick and natural-looking, especially with its reclaimed olive wood material. The wood used to make this table is collected from fallen trees damaged in storms, so these beautiful, luxury woods can be used ethically. The color is all-natural, only protected by a clear lacquer, so it cannot be easily damaged by everyday use.
This table has a lot of character and doesn't look like most tables that are available for purchase. It's unique and gorgeous and will undoubtedly be a standout, eye-catching piece in your home.
Sonali Table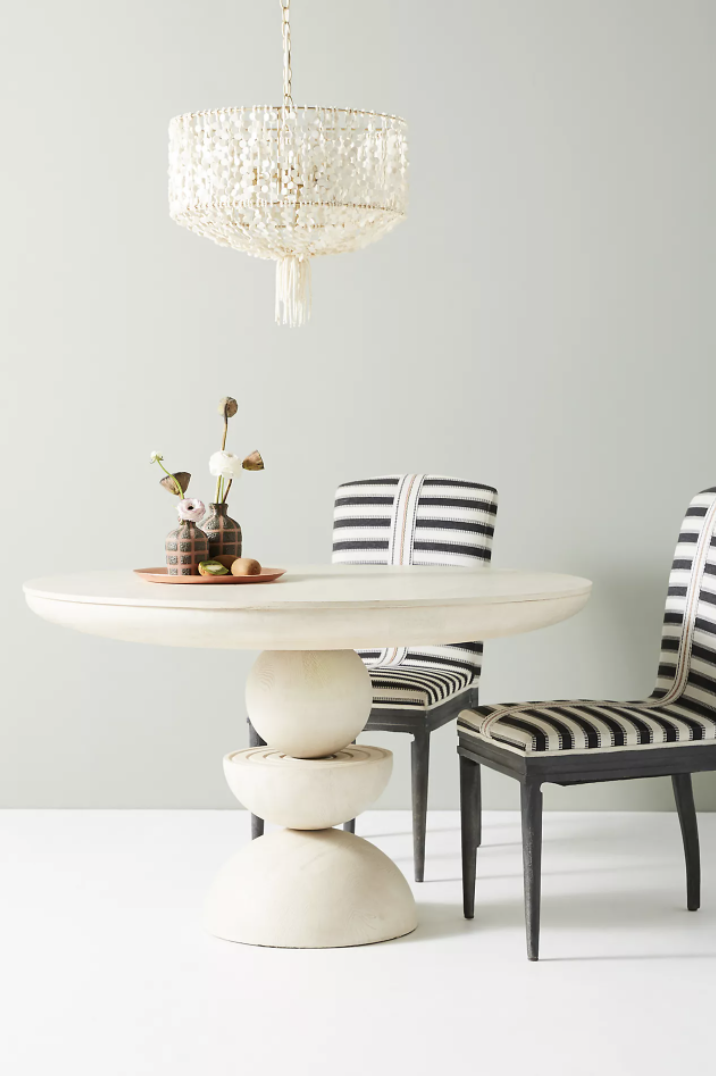 The base of this table is carved in such an artistic manner that it looks like an art piece rather than a table. With a sculptural feel, this dining table will stand out and catch the eye of anyone in your home. Having this table around will make your dining space feel like a museum.
The blonde ash wood finish gives this table a natural and bright appearance, allowing it to match any color scheme you may already have in your home. This table is a perfect place for four people to sit and eat.
Sonai Oval Dining Table
If you liked the previous table but want more space, this is the table for you. This one has the same sculptural look but is wider in an oval shape. This table is perfect if you want something artisanal and unique, with plenty of space for you and your loved ones!
Concrete Indoor/Outdoor Table
72″: 28.75″H, 72″W, 39.5″D
While this table looks like it's made of wood, it's made of concrete. This construction material allows this to be a perfect table for the outdoors, sturdy and long-lasting while keeping the natural wooden appearance. The design looks like tree rings, and before you touch it, you'd never know it was made of concrete!
If you want to use this table indoors, it's also perfectly suitable for that. It will lend a gorgeous and natural look to your home while providing tons of space for meals and hanging out.
Harper Black Dining Table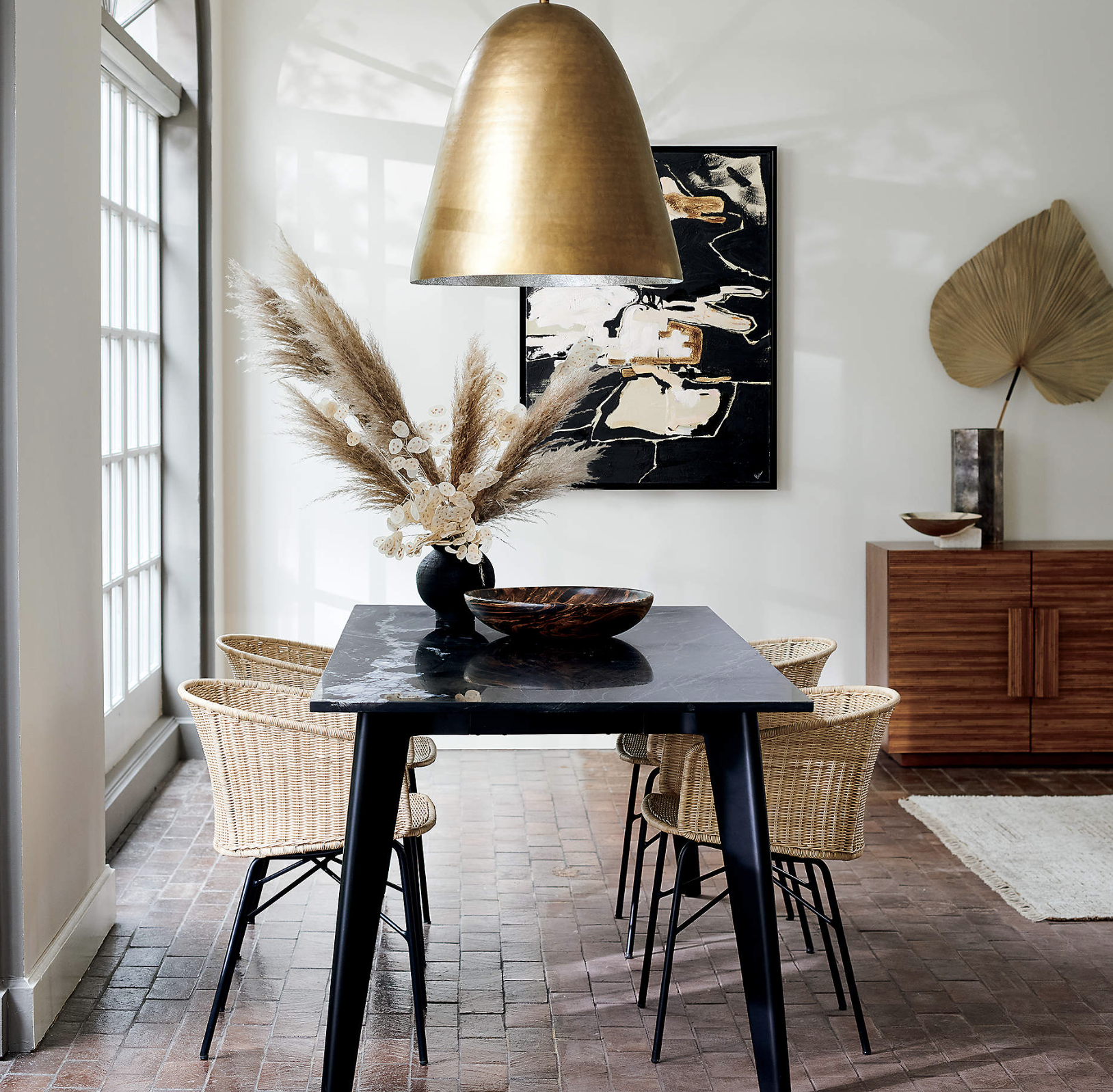 Made of gorgeous black marble, this table is a classy and modern addition to any home. The design is versatile and will match any contemporary decor style with its sleek shape and deep color. The legs are made of black steel for durability and add a rustic look to the table.
This table is part of Cb2's mix-and-match collection, so you can use any set of legs or any top with the other piece to create some striking contrasts and customs looks. These tables will look beautiful in your home and always match your space since they're so customizable.
Annaway Table
This elegant table has a French-inspired, classy, and romantic design while still looking modern. The top is black or white marble, and the base is white aluminum for durability. Unlike many other marble tables that you need to be incredibly careful with, this table is sealed with a clear lacquer to add shine and protect the marble from damage.
This table will make any meal feel fancy and classy while adding an elegant feel to your dining space. It's just large enough to comfortably seat four people, perfect for small gatherings and family dinners.
Walton Ribbed Leg Dining Table
This sophisticated and elegant table has a beautiful take on the slab legs commonly found in contemporary tables. The deep groves provide an interesting texture that differentiates this table from others, and the dark charcoal black finish gives it a classy and bold color. This table is a fantastic statement piece in any home and is sure to attract attention and compliments.
Vienna Solid Oak Dining Table
39.5" L x 39.5" D x 30" H
This unique and modern table looks more like an art piece than a regular table, with the sculptural design and shape of the legs. The top almost appears to be floating due to its singular oak leg intersecting with the black leg, intended to make it appear as if the table were partially supported by its own shadow. The high-contrast design will draw the eye of your guests and will stand out in your home, giving any space an artsy vibe and classy feel.
Silhouette Pedestal Marble Round Table
This elegant, classy table looks like the height of luxury. The top is made of gorgeous white marble that pairs well with the antique brass base. The shape, while simple, makes a bold statement and will draw the eye of anyone who walks into the room. This table is perfect for you if you're looking for a table that will add class and elegance to your dining space.
Jensen Round Dining Table
While this table pulls inspiration from retro designs, it still manages to appear classic and modern. The glass top allows light to pass through and lighten your space, giving the area a more open appearance, while the warm walnut finish on the legs adds a pop of bright color. This table is perfect for small gatherings, providing ample space for guests to sit and relax.
Desert Fields Mid-Century Modern Wood Dining Table
This modern and minimalist table is perfect for any home, adding a warm and classic feel to your dining space. The natural-toned legs create a lovely contrast with the painted white top, lighting the whole piece and brightening the room. This table is perfect for family dinners and social gatherings, providing ample space for people to relax and eat.
Lafontaine Table
78.8" L x 47.3" D x 29.5" H
This ultra-modern dining table has a gorgeous, fluid design that gives it an incredibly contemporary look. The smooth curves and sweeping lines make this table look almost futuristic and are sure to attract attention. This table is beautifully unique and is a fantastic statement piece in any contemporary home.
Maia Table
This vintage-inspired design is perfect for small dining spaces. The sculptural base makes the table appear as if you would find it in a museum's cafe, and the beautiful birch wood veneer creates a lovely and eye-catching contrast, brightening up any room and providing ample space for you and any guests to talk and relax.
INK + IVY Mercer Oval Dining Table
This table has a fascinating and bright design, as light can pass through the intricate wire base. The bronze color makes this table a beautifully reflective surface, and the oval shape provides ample space for dining and conversation.
Circula Table
This table has a unique shape with its thick base and a thin top. The deep black color gives this table a commanding presence when paired with the bold silhouette. If you're looking for an eye-catching statement piece for your home that provides plenty of space for conversations and hosting dinners, this table is a fantastic choice.
What's your favorite modern dining table from our list?