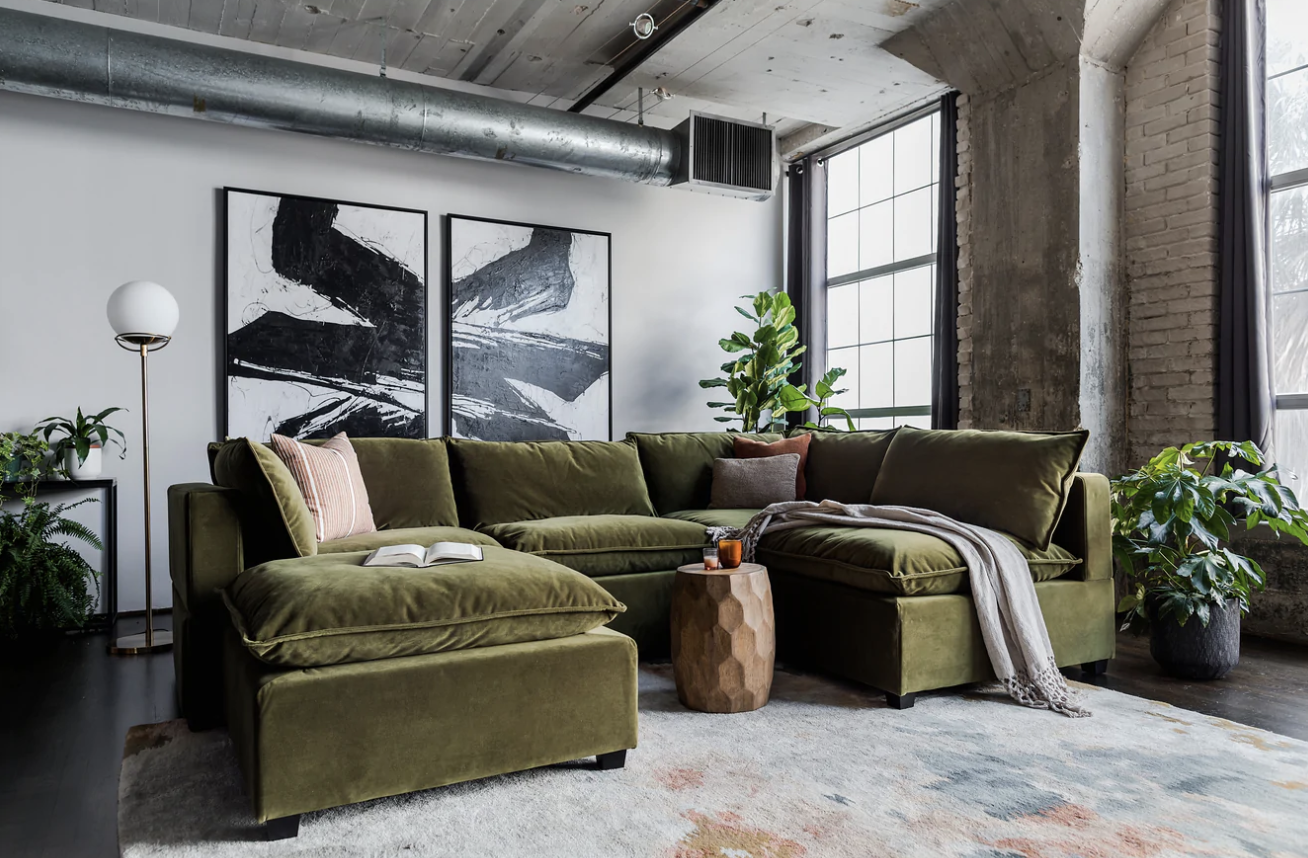 Having a cute, comfy couch is key to any great living room. But, if you have kids, pets, or a love for red wine, buying a new couch can be scary. Thankfully, technology has afforded us so many new, beautiful fabrics that are stain, wear, and fade-resistant. This means we now have more options for fashionable, comfortable and durable furniture than ever before.
With so many options available, the process of searching for the perfect couch can seem daunting. Fear not! We have compiled a list of the best stain resistant couches to help you choose the perfect sofa for your space.
ALSO CHECK-OUT: 17 Sherpa Accent Chairs That are Worth It | 15 Best Modern Sofas and Couches That are Stunning
Stain Resistant Couch
---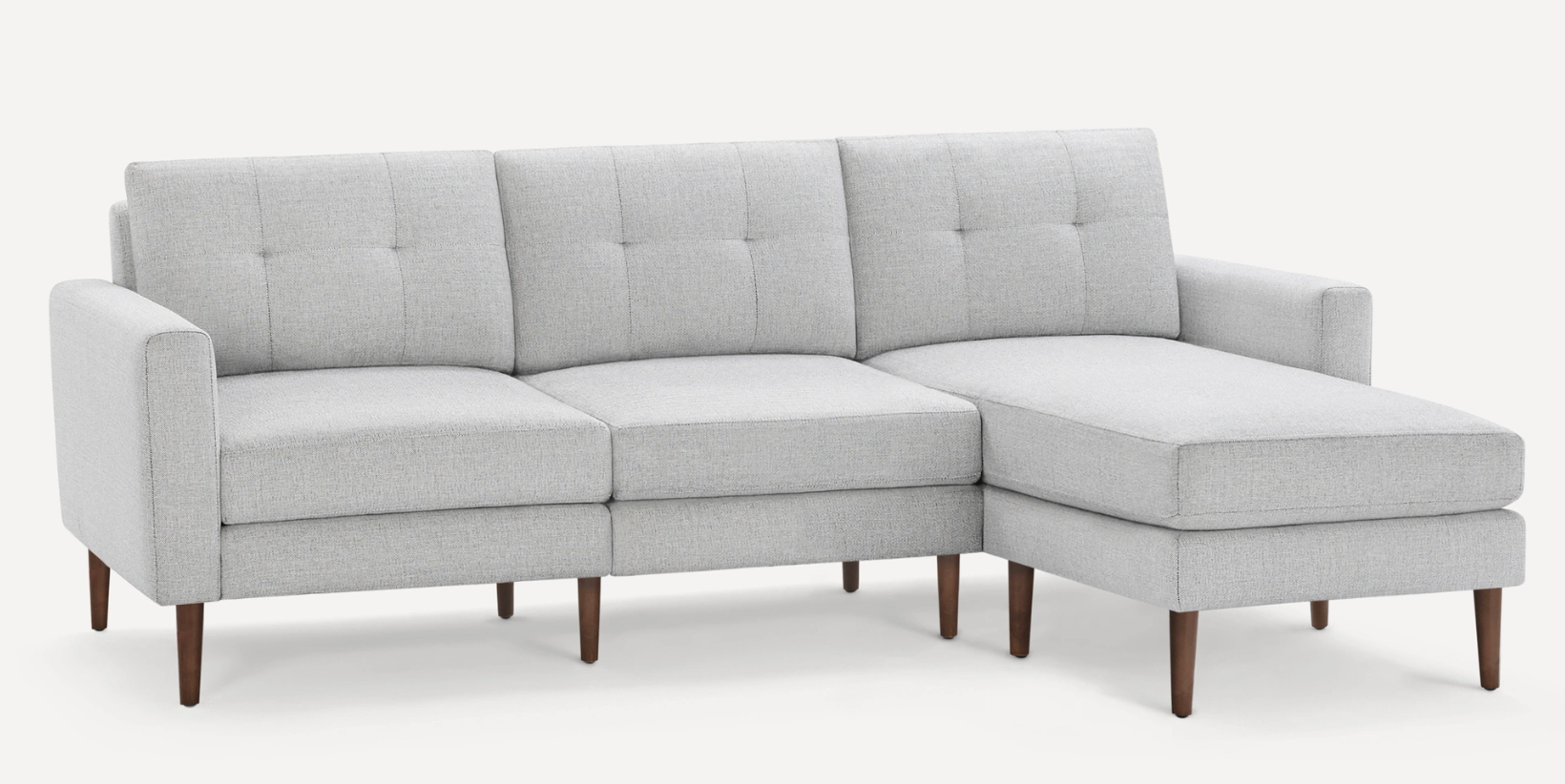 Burrow
The Slope Nomad is a beautiful modular sectional sofa that comes with a reversible chaise. It is upholstered in a tight olefin fiber weave that is both scratch and stain resistant. As if all of this isn't enough, it also comes with a built in USB charging port. This couch is fully customizable, down to the arm style! You can also purchase a sleep kit to turn your Slope Nomad into a cozy guest bed.
Arhaus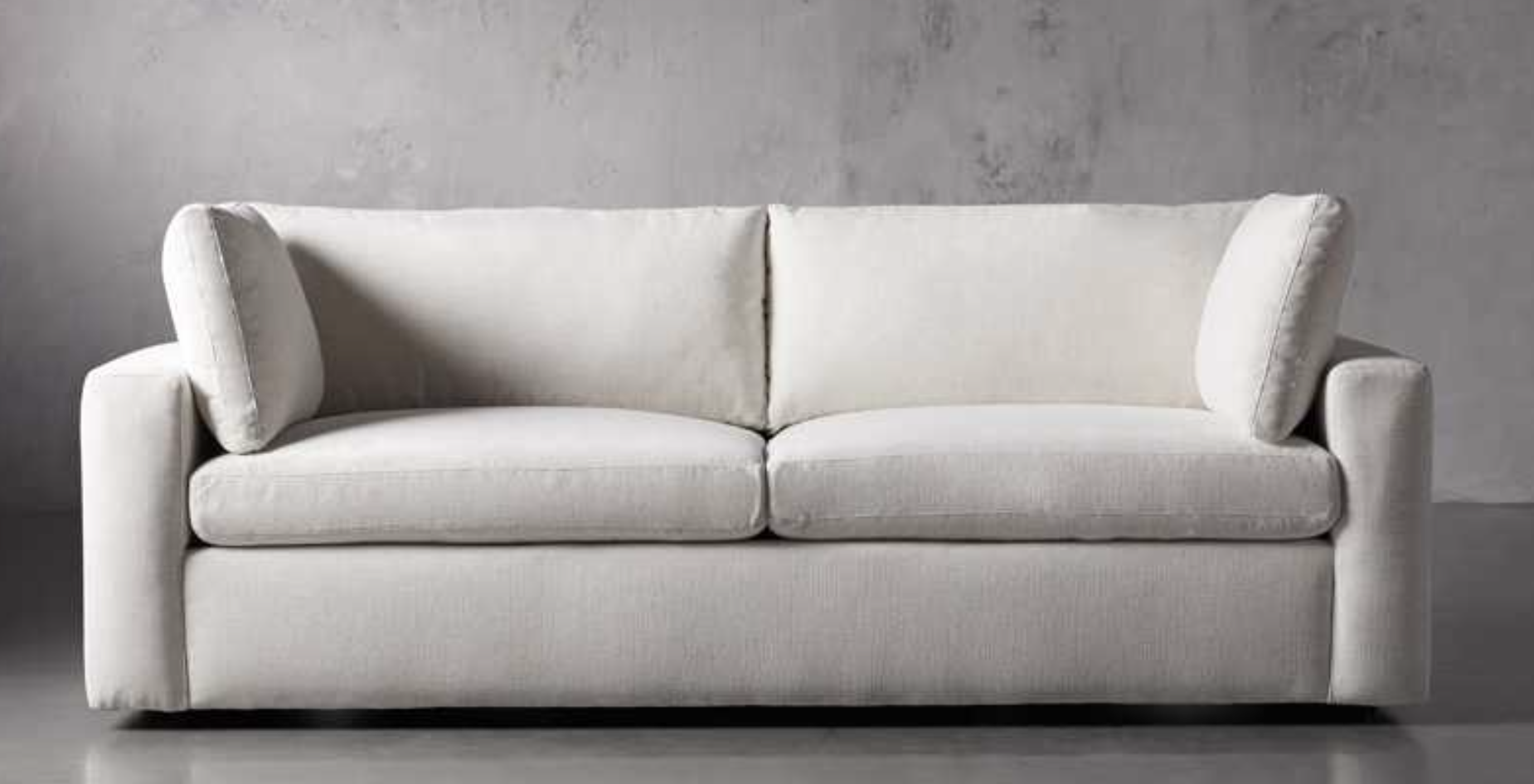 This incredibly comfortable stain resistant sectional couch has a chic, modern aesthetic. Covered in easy-to-clean Crypton® performance fabric that is designed for everyday use, this modular sectional allows you to create the perfect configuration for your space. The goose down-padding is supported by a "no sag" support, meaning you will get to enjoy your sofa for years to come. You can also purchase a "Worry-Free Protection Plan" to put your mind at full ease.m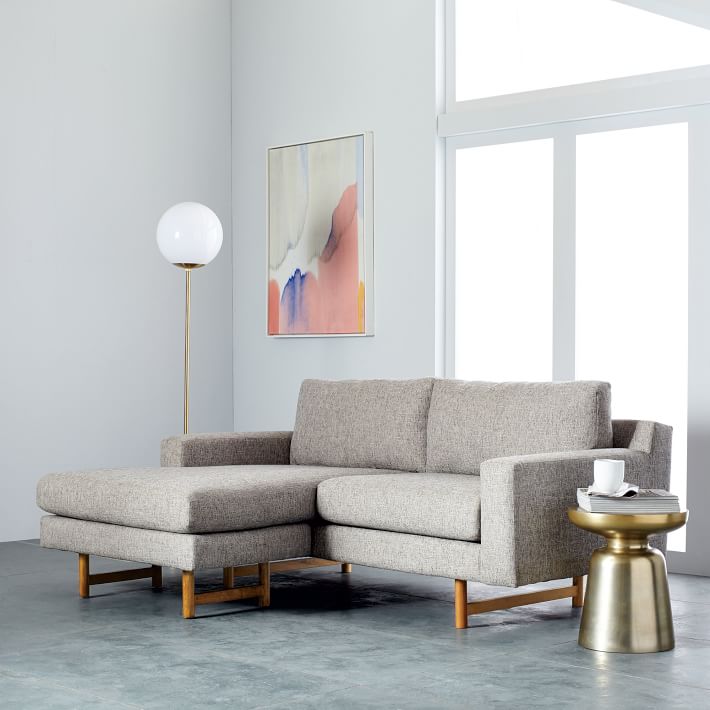 West Elm – starting at $1,599
The Eddy is a modular sofa with a modern silhouette and beautiful trestle-style wooden legs. It has wide back cushions, low arms, and measures just 74" long, making it an excellent option for smaller spaces. This sofa is also available as a 90" couch. The Eddy is completely customizable. Choose a performance fabric for ultimate durability and stain resistance.
Interior Define – $1695
The Maxwell, by Interior Define, has a low profile and deep seat inviting you to sit back and relax. This thick, comfy sofa is balanced out by its slim, but sturdy legs. There are 18 different options for leg styles, so you are sure to find one that suits your fancy. This sofa is fully customizable and includes layered cushions that can be upgraded for an even softer seat. Be sure to choose a Tier 2 Premium upholstery option for the best stain resistant couch fabric.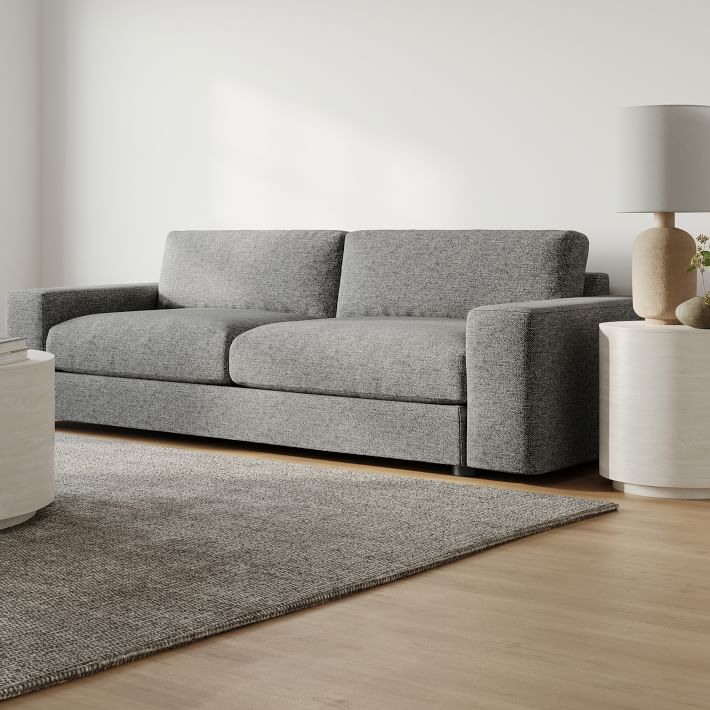 West Elm
This stain resistant sofa has a simple silhouette that invites you to plop down and sink in. The legs are fully concealed for a streamlined look. Underneath the incredibly comfy cushions is a queen-sized pull out memory foam bed that your guests will love. West Elm's Urban Queen sleeper sofa is completely customizable. Choose to have it upholstered in a performance fabric for ultimate durability and stain resistance.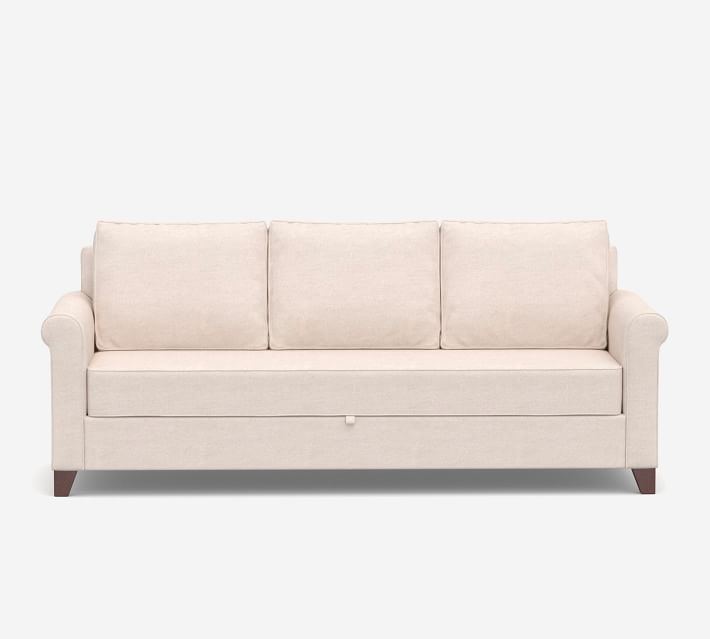 Pottery Barn
The Cameron sleeper sofa slim profile does not affect its luxurious feel. With rolled arms and a plush platform seat cushion, this couch easily converts into a queen-sized bed. This stain resistant couch is constructed with eco-friendly materials and is completely customizable. Select a performance fabric for a couch that is water repellent, easier to clean, fade, and abrasion-resistant. This sleeper sofa is a great choice for smaller spaces and guest rooms.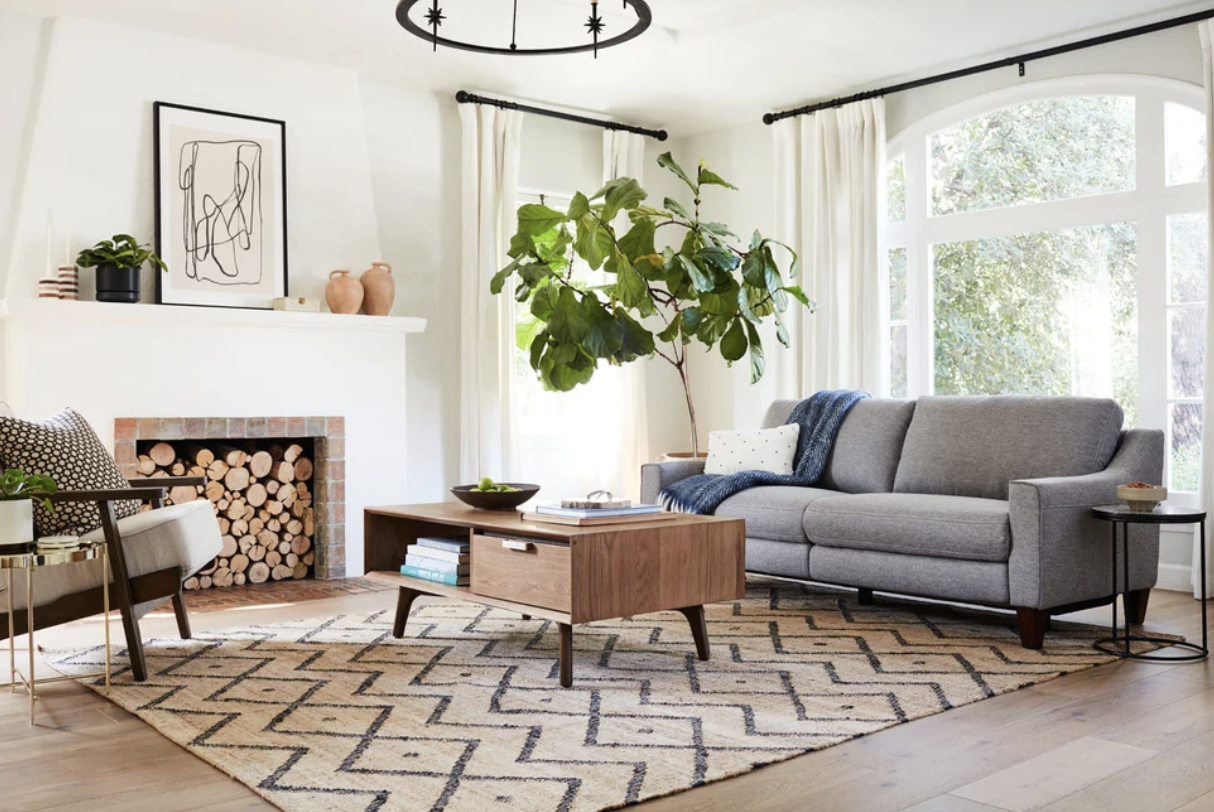 Apt2B
For comfort and support in a small space, this modern power recliner sofa comes in at the top of its class. The Espada by Apt2B boasts built-in footrests and sophisticated woven fabric upholstery that covers a solid wood and plywood frame. With high-density foam cushions and detachable legs, you will find comfort at any height. The back cushions are removable for easy cleaning, and all Apt2B fabrics are designed to be easily cleaned, and kid and pet friendly.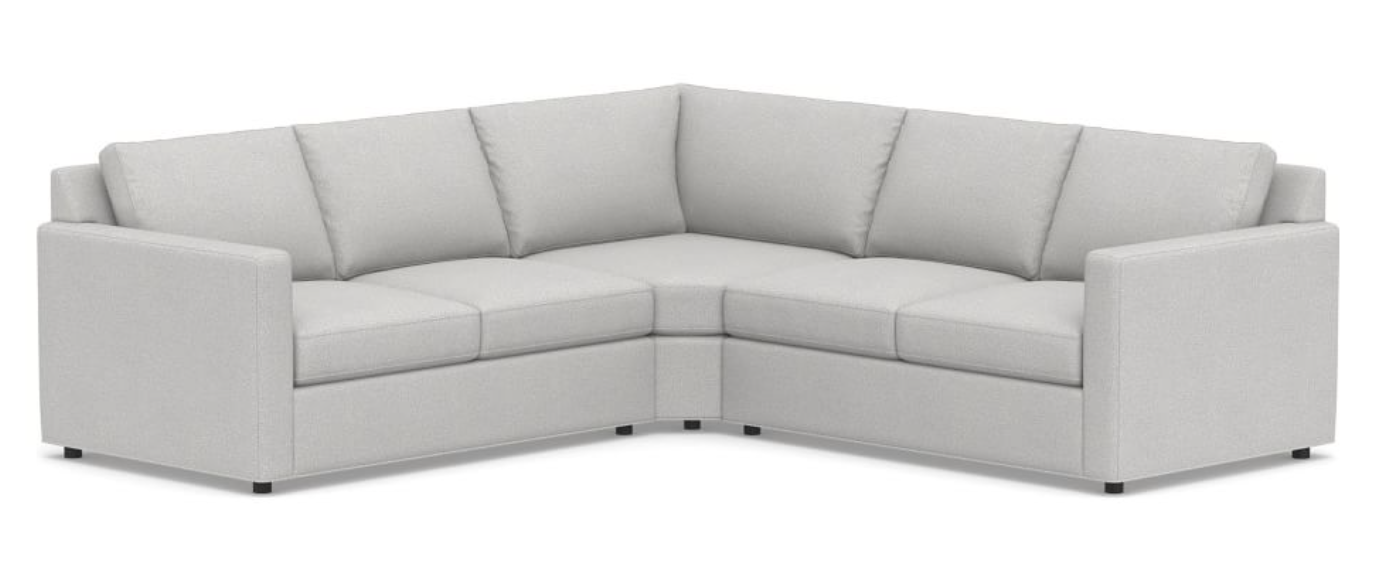 Pottery Barn's Sanford is an L-shaped sectional with a versatile shape that is perfect for traditional and transitional settings alike. With its high back, trim arms, and plush cushions, this stain resistant sectional couch has a sleek profile and moderate size that is perfect for any room. The Sanford is customizable and has removable legs. Be sure to choose a performance fabric for upholstery that is water-repellent, easier to clean, fade- and abrasion-resistant.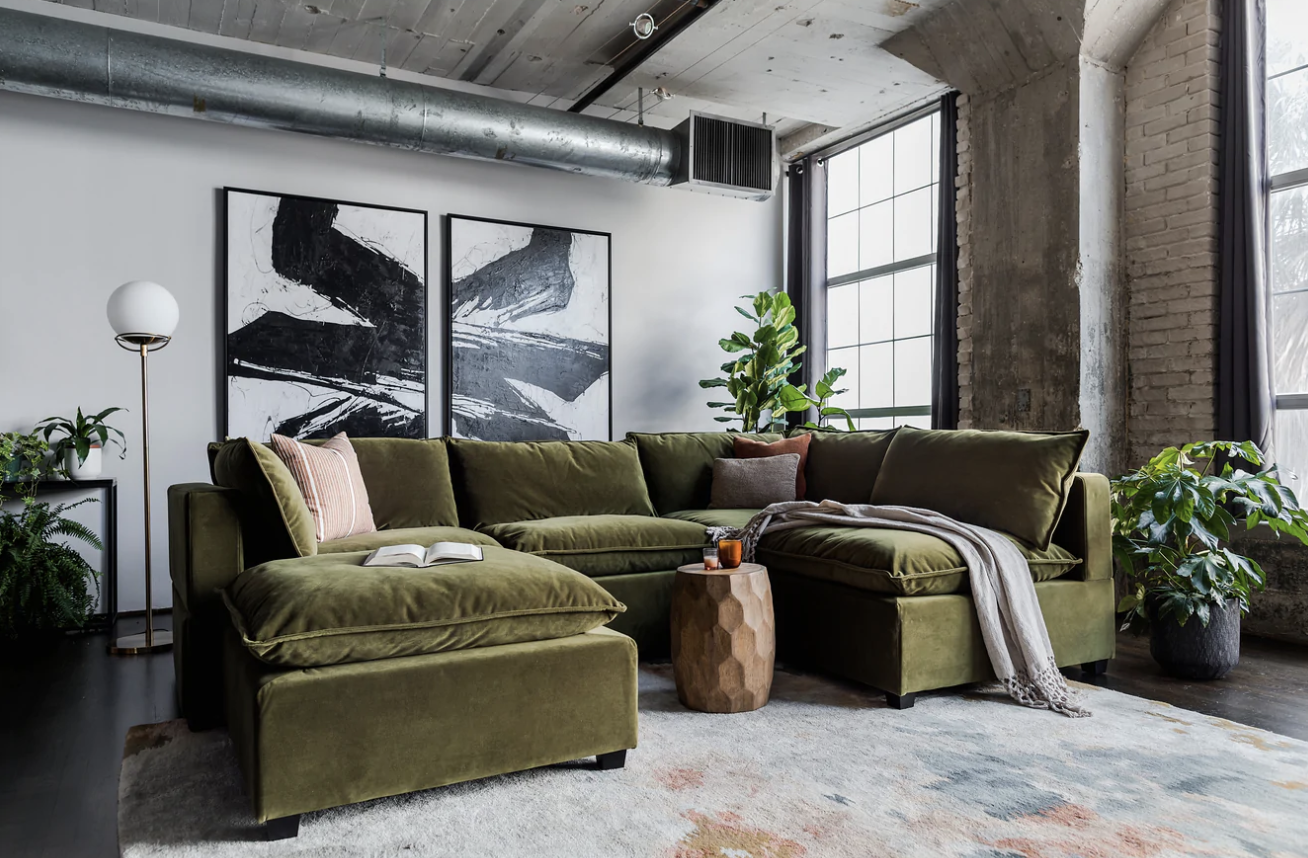 The Kova is an L-shaped stain resistant sectional. Its cloud-soft cushions will invite anyone to sink right in. The Kova's modular pieces make it an excellent choice, no matter your space. You can choose from a variety of colors when ordering. The best part? This sofa comes with a 30-day in-home trial and lifetime warranty, ensuring you get to enjoy it for years to come.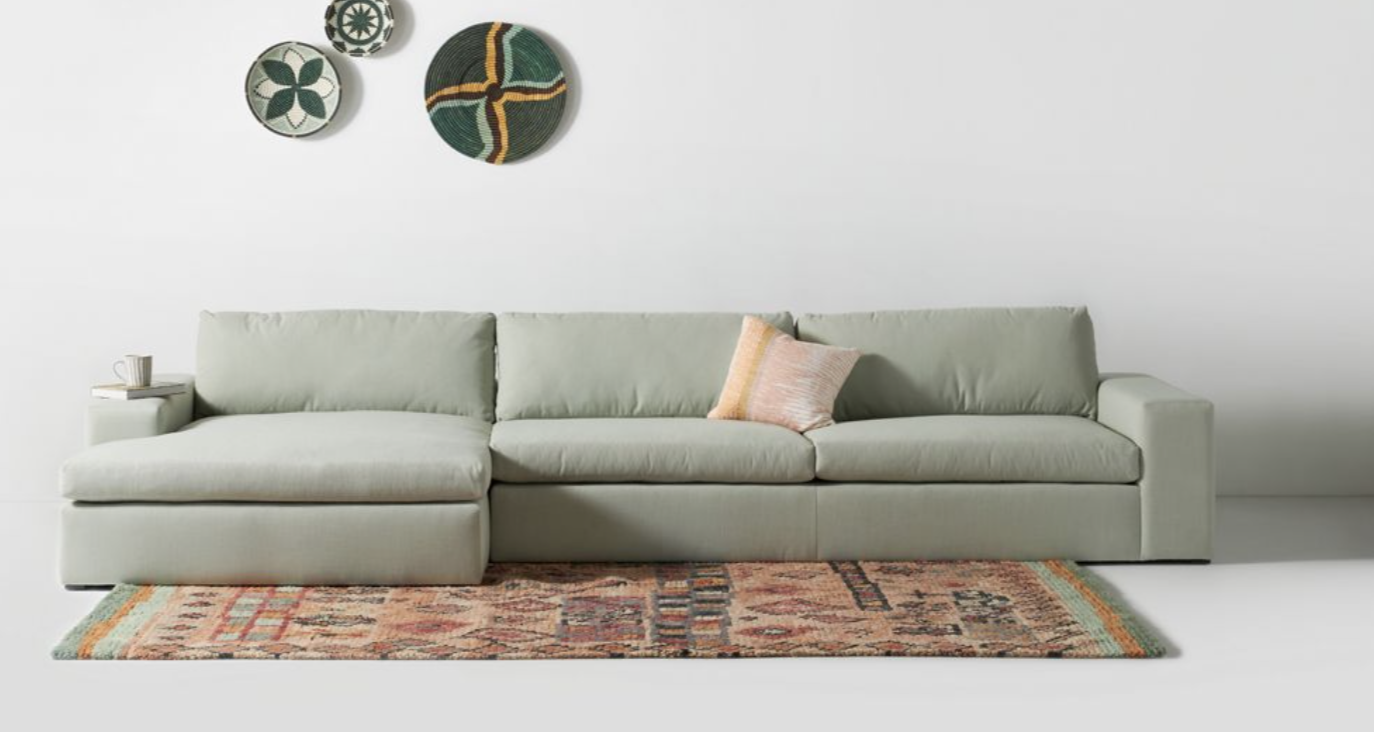 Anthropologie's Dylan Sectional has an ultra-modern silhouette. With a low seat, wide arms, and down-filled cushions, you won't be able to help wanting to sink right in. This stain resistant sectional couch can be covered in either velvet or beautiful performance linen, making it perfect for families and pet lovers alike. You can also choose whether you'd like your chaise on the left or right side.
---
What kind of sofa does not stain?
Sofas that are upholstered in synthetic fibers such as acrylic, nylon, olefin, polyester, and rayon tend to be the most stain resistant. Synthetic fibers repel liquids, while natural fibers soak up spills quickly. Though not synthetic, wool is also great as a stain resistant material.
What sofa material is the most stain resistant?
Wool is arguably the most stain resistant material for sofas. Wool naturally contains lanolin, an oil that repels liquids. However, thanks to technology, synthetic fibers come in a close second place.
Care
As with anything in life, it is important to read your new couch's care instructions before plopping down with a glass of your favorite red wine. Each sofa may have different recommended methods for spot cleaning stains. Be sure to follow the recommended method, so as to not void your new couch's warranty (if applicable).
To keep your new stain resistant sofa looking its best, be sure to regularly vacuum crevices and under cushions, fluff your cushions and pillows, and spot clean messes per manufacturer recommendation. Ideally, your sofa will be kept out of direct sunlight to prevent fading.