Are you looking for a modern sofa or mid-century couch to upgrade your home with? Lucky for you we've rounded up some of the best modern sofas and couches that you can buy in 2022!
That's right — you don't have to research hours on end to find the best one because we've done the research for you. Let's check them out!
15 MODERN COUCHES TO BUY IN 2022
---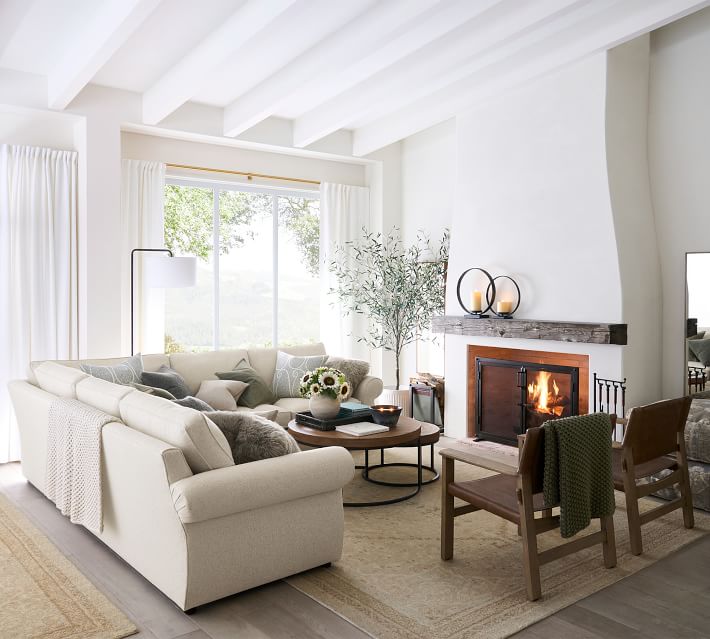 The Pearce Upholstered 3-Piece L-Sectional with Wedge features beautiful rolled arms and thick welted seams for an understated, yet luxurious appearance.
It offers incredible comfort with its down-blend cushions, durable Performance Fabric, and no-sag steel sinuous springs. It even has adjustable levelers for extra stability on uneven floors.
This is one of the best modern sofas that you can buy in 2022 for its intimate seating arrangement, versatile style, comfortable cushions and armrests, and its all-around craftsmanship quality.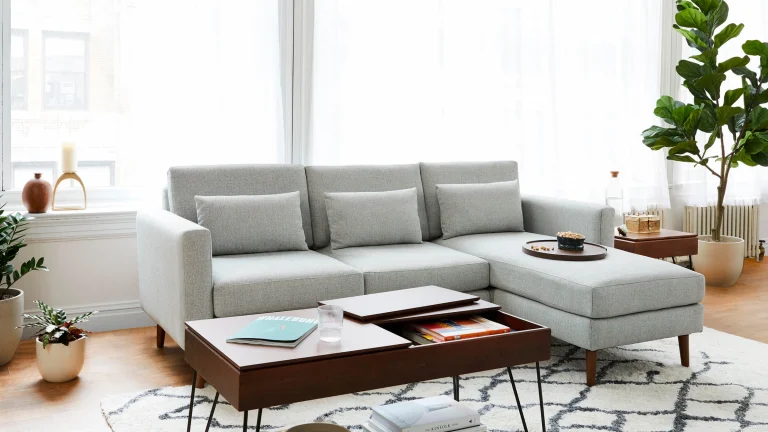 The Arch Nomad Sofa Sectional features clean lines for a modern feel while still looking super cozy and inviting.
Its legs are made from responsibly-forested wood in several different finishes or plated steel styles. You can even flip the reversible back cushions and choose between two styles: tufted or smooth – all of which are incredibly durable and stain-resistant.
And the chaise? Yeah, that's completely movable, meaning you can put it on the left side, right side, or the middle whenever you feel like it!
The Arch Nomad Sofa is worth the price if you need a fully customizable and adaptable mid-century modern sofa that fits your modern needs (like charging your phone from the couch), withstands your life (from pets to kids), and offers superb comfort.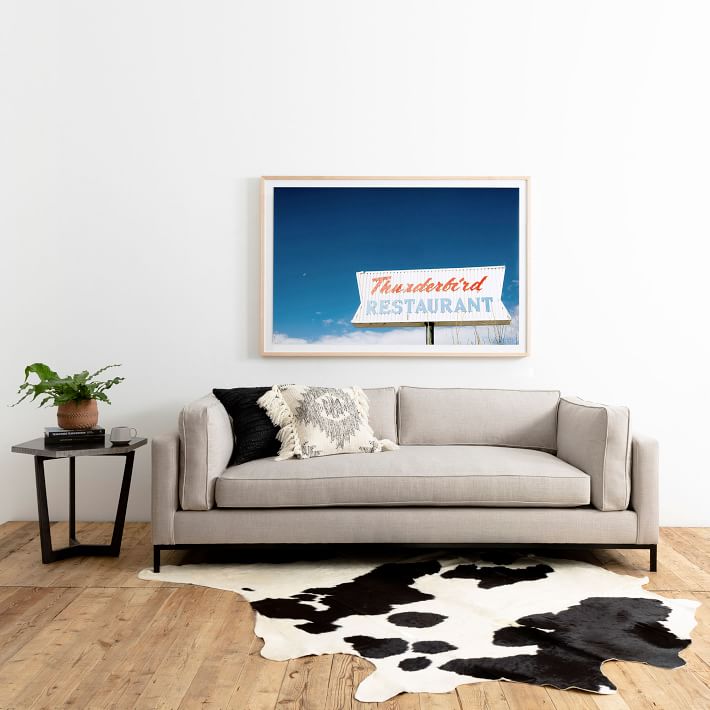 Featuring a beautiful streamlined style with mid-century accents, this is definitely a mid-century modern couch that can fit in with virtually any home (literally and figuratively!)
The Modern Arm Sofa from West Elm is sturdy with its powdered-coated metal legs, comfortable with its polyester foam padding, and convenient with its reversible back, seat, and arm cushions.
This is a great choice for the minimalist who appreciates understated beauty, desires something that is comfortable and stylish, and values both quality and the non-toxic/sustainable approach that West Elm is known for.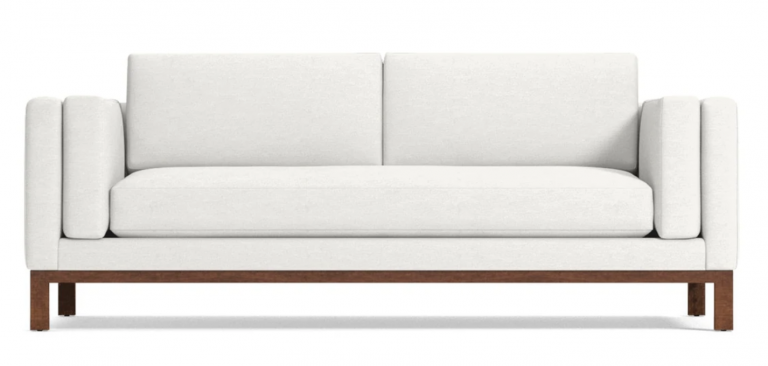 The Walton Sofa from Apt2B is a modern sofa that can fit in with pretty much any home thanks to its simple shape, clean lines, and walnut wood frame.
Its deep seat and thick armrests make it too cozy to resist, while still feeling supportive. Even better? The fabric is all hypoallergenic, easy to clean, and breathable.
The cushions are detached and can be flipped or reversed, with zippered covers that can be removed for quick washing.
The Walton Sofa from Apt2B is a safe choice if you're looking for a comfortable modern sofa that isn't too big or too small, has a versatile style, is eco-friendly, convenient, and built to last.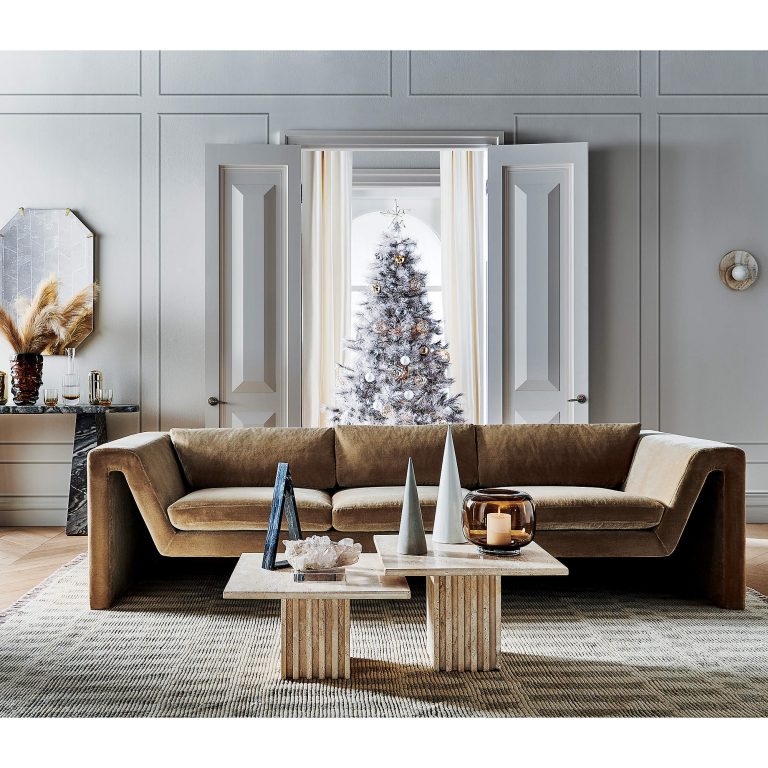 The Perimeter Camel Sofa from VUUE is a CB2 exclusive and is one of the best mid-century modern sofas with all the 70's Italian-inspired vibes.
Its dramatic angles, plush faux mohair fabric, and suspended frame make this an ideal choice if you're into pieces with an obvious wow factor.
The frame is made of solid ash, plywood, and metal and is kiln-dried for longevity, while the fabric is a poly/acrylic blend for that faux mohair appearance.
This is an obvious choice for those looking to add a dramatic piece that features vintage, mid-century modern aesthetics.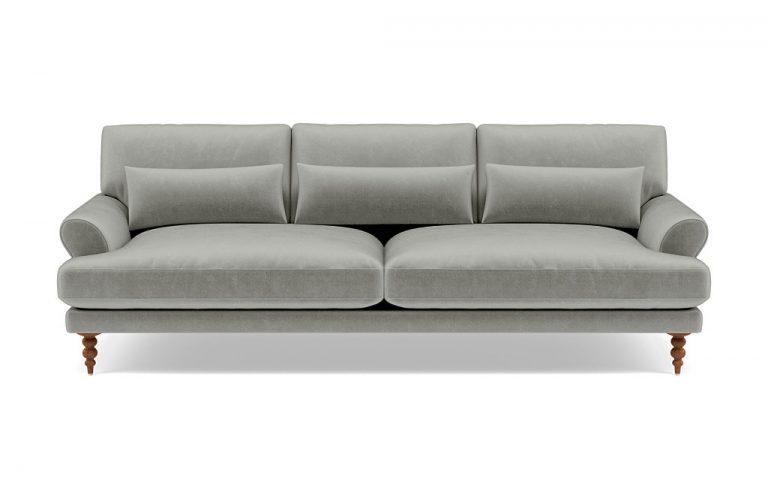 The Co-Founder of Apartment Therapy created this masterpiece and it's everything heavenly! This sofa is comfy, casual and approachable. The deep seat is a persona favorite that invites you to lounge in after a long day! It also looks way more expensive than it is!
It comes in a variety of colors and textures!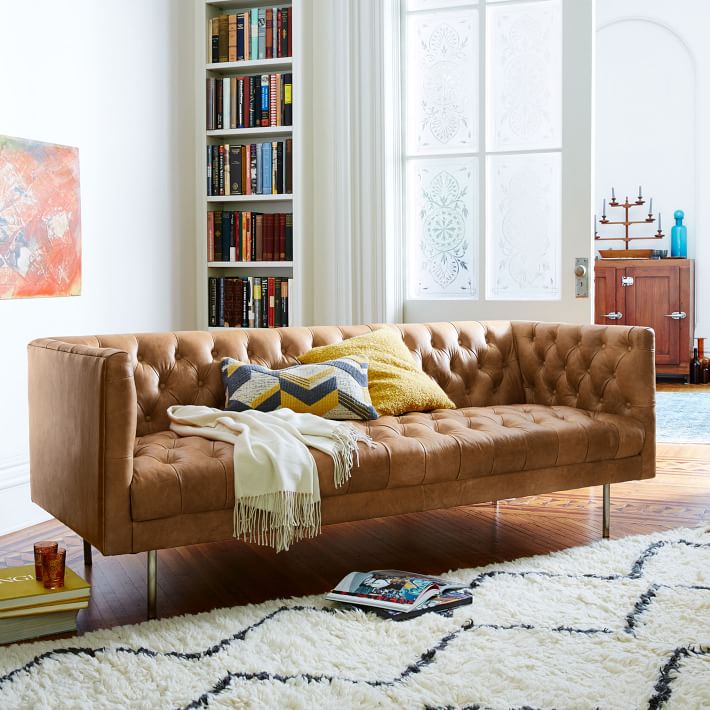 The Modern Chesterfield Leather Sofa from West Elm sets the tone of the rest of your space with its own take on traditional button-tufted sofas.
It features solid metal legs, a slim frame, and button tufting throughout. The single bench cushion offers a deep seat with a firm feel.
If you prefer animal-friendly furniture, you can opt for vegan leather instead. No matter which leather you choose, this is a handcrafted piece that's built to last for generations.
This is a versatile modern sofa that offers an overall streamlined appearance and classic touches that will make your space feel both cozy and updated.
The Dallas 81″ Sofa from All Modern features square arms and straight lines throughout while still feeling warm and inviting.
It is tear-resistant, has two seat cushions, a loose back, and two side cushions that act as armrests. The black metal legs break up the lines and give it a simple updated look without appearing boring.
If you're looking for a modern sofa that feels both minimalist and warm, this one is worth checking out.
The Lamont 83″ Sofa from All Modern is a mid-century modern couch that has both minimalist retro touches and a cozy feel.
It is a low-profile structure, with square arms, tapered feet, and a solid wood frame. The two-seat cushions offer supportive cushioning thanks to their sinuous spring construction and blend of foam and synthetic foam filling.
This is a great mid-century modern sofa that is comfortable, easy to clean and maintain, while still being a beautiful statement piece in any room.
The GS 3-piece Sectional Sofa from Moda Furnishings is possibly the coziest and most inviting modern sofa on our list.
It seats up to 7 on its chenille fabric-covered cushions and has a right-arm facing chaise for extra space.
With rolled arms, thick legs, and versatile grey upholstery, this is a beautiful couch that pairs well with all themes and styles.
This is the modern sofa for you if you need something that offers ample seating while being warm and inviting.
The Parque Slipcover Sofa from Lulu and Georgia is the gentle and casual version of the modern sofa.
It has neutral linen and polyester blend cover, a single bench cushion, and several throw pillows that make your space feel lighter and relaxing.
This is a great option if you're looking for a modern sofa that encourages relaxation and gives your room an airy feeling.
The Sloan Leather Sofa is the spacious mid-century modern couch of your dreams.
The leather will age so well over time and create a cozy abode in your home! Sloan's profile suits a range of body types and the cushion is so supportive and can be upgraded for an extra-soft sit, too!
If you're looking for a comfortable couch that will instantly upgrade your home without too much flair, check this one out.
The Sven Sofa from Article is a crisp and cool take on the mid-century modern sofa that's sure to impress guests. You can see my article sofa review here! We love it!
It has an overall streamlined appearance with a single bench seat, large tufted back cushions, round bolsters, a deep seat, and contrasting walnut legs.
Check this one out if you want to easily freshen up your room with a single piece of furniture.
The Crosby from Maiden Home offers any sized space instant sophistication while still being warm and inviting.
It has straight clean lines throughout, low-maintenance Performance Tweed upholstery in several colors, sturdy contrasting wood legs, and loose cushions that are both supportive and comfortable.
This is a modern sofa with a refined casual feel that is built with minimal style and maximum comfort in mind.
The Jones Modular from Maidan Home is a modern sofa with a total relaxed silhouette for the more casual modernist decorator.
It has oversized spring-down cushions all around that feel like clouds, Performance Textured Linen upholstery that stands up to any lifestyle, and several adaptable sectional configurations to fit your room just right.
This is a great couch for anyone looking to add extra flair and coziness to their space.
How do I choose a sofa for my room?
Choosing the best modern sofa or mid-century modern couch for your room really comes down to your personal preference and your room's measurements.
It's helpful to start out by measuring the space where your sofa will be and then narrowing your options by the couches you know will fit within that space.
From there you can consider your style and what you want out of your sofa. Things like how and where it's made, whether or not it's made from only non-toxic and sustainable materials, and how the overall look will fit in with your home should be considered before buying any piece of furniture.
How to Choose a Sofa Size
When trying to choose a sofa size, you want to consider the space as a whole and any extra pieces of furniture or decor you have or will be adding.
Experts say that your sofa should be about two-thirds of the entire room with 3-10 feet of space between the different seats in the room, but you should also make note of how deep the sofa is and things like how tall your ceilings are so that the proportions look right.
Most people opt for a size around the following size: 40″ deep, 84″ long, and 34″ high with a 17″ seat height.
Best Sofa Brands
There are obviously a lot of furniture brands out there and it's no wonder why it feels overwhelming to choose! The good news is that in our research and experience, we have found that some of the best sofa brands are the ones you've already read about in this post.
VUUE

Moda Furnishings

Ginny Macdonald
The Gist
If you're on the hunt for the best modern sofa or mid-century modern couch that you can buy in 2022, refer to this list first! We have no doubt you'll find the perfect addition to your room that will fit your own unique home decor style.