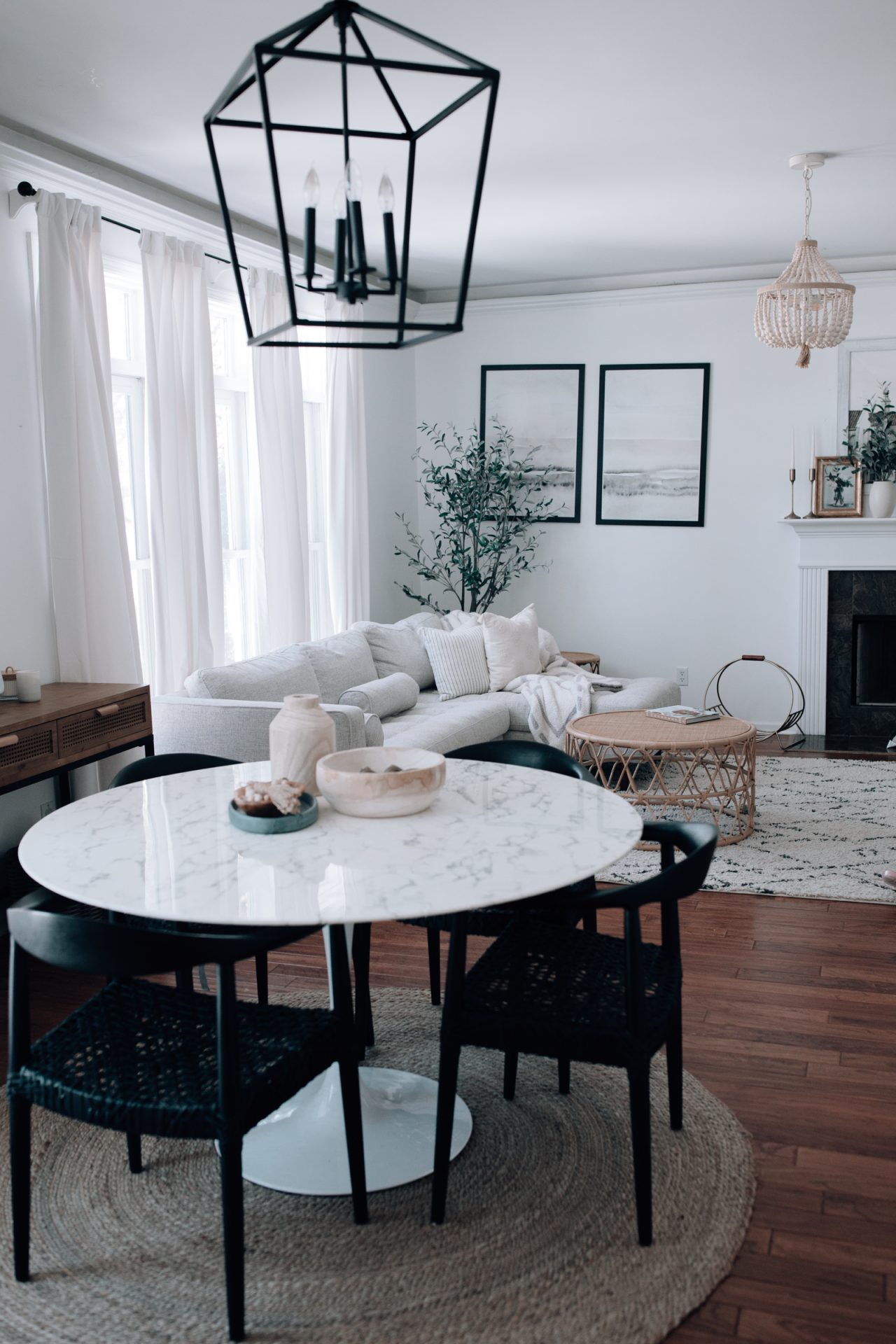 Despite how things may look on Instagram, our kitchen is tight. With two small kids running around, we knew a round dining table would be the best option for us! Not only do round tables look aesthetically pleasing, they also save space and keep everyone connected. This means being able able to see everyone, and keep the conversation going. Round kitchen tables also fuel interior junkies like myself to style and decorate! There's certainly no shortage of design elements: sizes, shapes, colors, etc — you'll see with the roundup below!
Whether you're looking for something artsy, inexpensive, or trendy. We're breaking it all down below! I'll share which one is on my mood board – totally manifesting! We guarantee that you will find the round table of your dreams somewhere on this list. Make sure to share your favorites in the comments below.
12 Best Round Dining Tables
---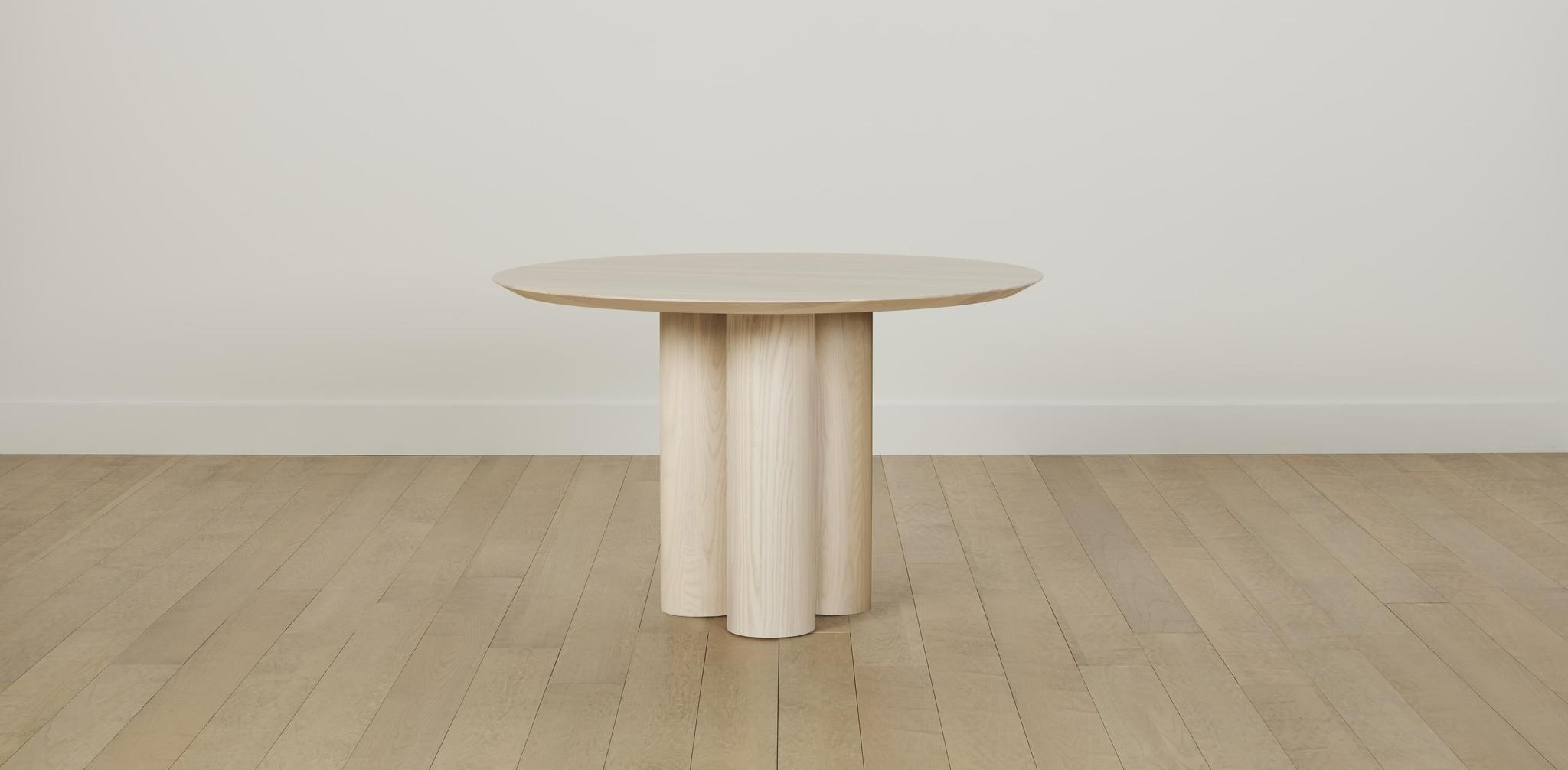 Maiden Home provides luxury, hand-crafted items worthy of decorating a stylish and modern home. I truly love everything they touch. Our favorite Reade Round Dining Table is the perfect addition to your space, specifically if you're looking for a small round dining table. This is an intricate, hand-crafted, 42" table with a greyish undertone and matte finish. You can get it in a range of colors, including pecan, driftwood, grey wash, whitewash, charcoal, and coffee. Other sizes also available. The handcrafted column legs are a true show-stopper and the tabletop is a jaw dropping sculptural centerpiece. It's absolutely insane, and totally to die for!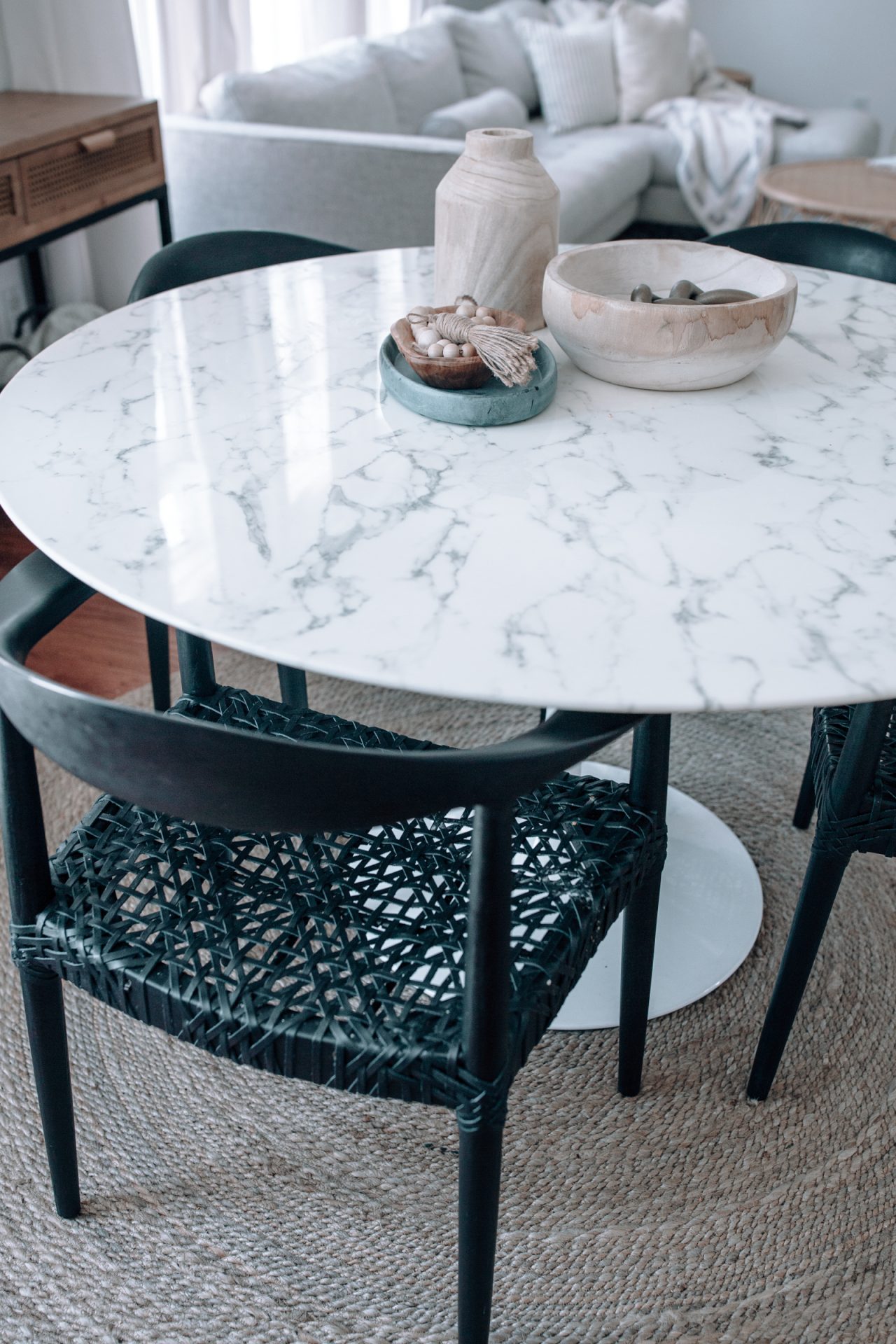 This faux marble table is highly rated and I can attest – it's living in my home. I've had this Amazon table for over 5 years and it's still in pristine condition. This dining table set can easily seat 6! It comes in multiple sizes and base color choices. This is the table we bought when we moved into our first home (our current) and it holds a lot of special memories. Both of my babies have taken their first bites here, colored their first pictures — I'm never worried about spills, etc. It's very fitting for the lifestyle I'm currently living with 2 under 4.
The Warner Round Pedestal Dining Table is available in two color options- American walnut and Matte white. Additionally, it has a synthetic sealant for a professional finish and easily seats up to 4 people. The simple design boasts easy decorating. It will literally go with a variety of chair styles. It's a timeless, classic piece. I'm a big fan of the American walnut color and love the simplicity of the design.
Here it is! MY DREAM LARGE ROUND DINING TABLE! Meet the exquisite Reign Large Round Dining Table. The trendy, marble, round dining table comes with an aluminum base and a dark bronze finish, and can accommodate 6 people. It is also made in India and measures about 60"x30". It's actually insane. Due to the nature of this marble, each item is incredibly unique. So many amazing details, so you'll just want to go to the source for more info!
Lulu & Georgia is also a brand that focuses on décor and home accessories, and it has an excellent collection of round kitchen table sets. The Sol Round Dining Table is a minimalist, large dining room table made of concrete. It includes adjustable levelers and can easily seat about six people. It's popular so if it happens to go out of stock, just pop in their waitlist.
This Italian-inspired white marble table from West Elm is a brilliant round kitchen table, available in 44″ and 60″ sizes. West Elm is known for its unique and versatile products, and this Silhouette Pedestal Dining Table is no different! The metal base has a very regal feel to it, and it would compliment any home. The platform also posts regular sales and discounts, so you can check those out as well.
Our favorite, the La Coupole Round Iron Bistro Table, can be customized as per your choice. You can choose between marble and glass as well as the 42" and 56" size options. Plus, you have the option of paying in installments if you can't afford to pay all at once. This French bistro table is elegant and timeless, and coupled with free home delivery it might just be too good to be true! It's definitely one of my favorites and reminds me of Europe. I envision lots of yummy meals on this beautifully crafted work of art!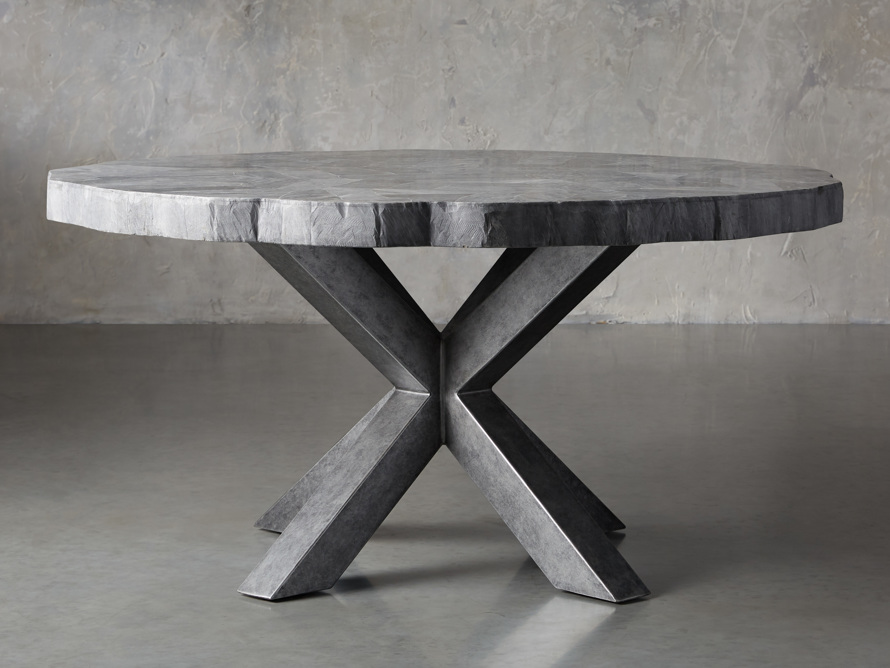 Arhaus does no wrong. If you're looking for a high-end dining table, you should get the Petra, for sure! The hand-crafted, rare natural materials certainly make the price tag worth it. You can pick between three types of finishes- petrified wood, grey marble, and century marble. Choose which size works best for your family: If you need to accommodate six people, you should get the 54″ small round dining table. The 60″ medium-sized table can easily seat eight people. The 70" large round dining table can accommodate up to to 10 people. Woa! That's a lot of laughs.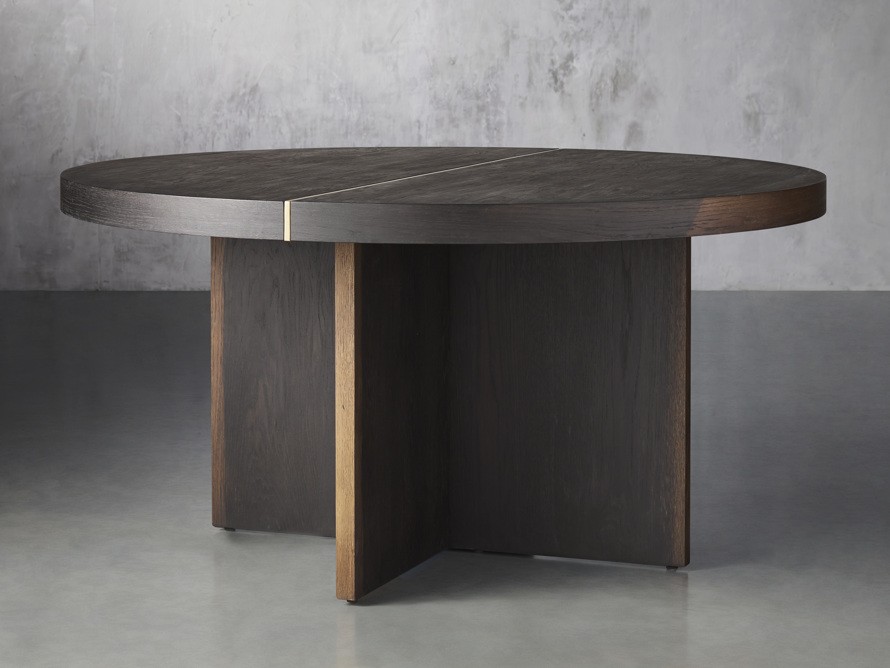 Here's another from Arhaus. The Mihaela Round Dining Table frame is designed using the finest Romanian Oak from trees that are 250 years old. The entire Mihaela collection is also hand-painted and hand-lacquered to ensure a smooth finish. What's more, you can pick one of two finish options- Vin alb and Vin rosu. I also like that it has more of a masculine vibe to it. Really moody and relaxing.
The 47" Stone Ivory Round Dining Table from CB2 is very stylish, yet sophisticated. The vintage-inspired table is manufactured in Taiwan with brass-plated arms and a glass top. It can easily seat up to 4 people, which makes it the perfect small round table.
This dining table from Urban Outfitters is made from acacia wood and crafted to form a cylinder drum base. Urban Outfitters is a lifestyle retail business, but the Ansel Drum Dining Table is one of our favorite products on the platform. Not only is it eye-catching and graceful, but also super affordable. In fact, you can even pay the cost in installments if needed. It's a great round table on a budget!
The Cypher Black Marble Dining Table, also from CB2, features a black marble top. Also, it has an iron base with a brass finish. This table is literally perfect for all occasions- you can pair it with suitable chairs as per the occasion. Metal chairs would make it look more casual, while formal chairs would lend a professional feel.
The Toscana Round Dining Table is made with kiln-dried sunkai wood and veneers. Also, it is resistant to splitting, warping, cracking, and even mildew. What's more, it features adjustable levelers for stability on uneven floors. Plus, it can even extend to accommodate more guests. If you're into farmhouse design, this is a great option for you.
---