If your kids love playing with Legos, consider purchasing a Lego table. Below we'll discuss their usefulness and explain what to look for when shopping for Lego tables.
Are lego tables useful?
Yes! They are immensely useful if you have the space in your home for a Lego table! Having a designated space to play and store these tiny toy construction blocks will save your feet (and maybe even your sanity). In addition, most Lego tables can convert to regular tables, giving your kids extra space to learn, draw, eat, and play!
What is the best table for legos?
When shopping for a Lego table, there are three essential things to consider. 
Will this table provide enough storage for my kids' needs?
Does this table have adjustable legs to grow with your children?
Is it an eyesore? With so many beautiful options on the market, choosing one you enjoy is important, too!
While number three may seem silly, we believe in filling your home with pieces that you love. Here are some of our favorite Lego tables for kids.

35″ L x 20″ W x 21″ H
This activity table is not only beautiful, but it is multipurpose and offers plenty of storage for legos! Convert the table in just seconds by turning over the top panels. With its child-safe construction, you'll never have to worry about the safety of your littles.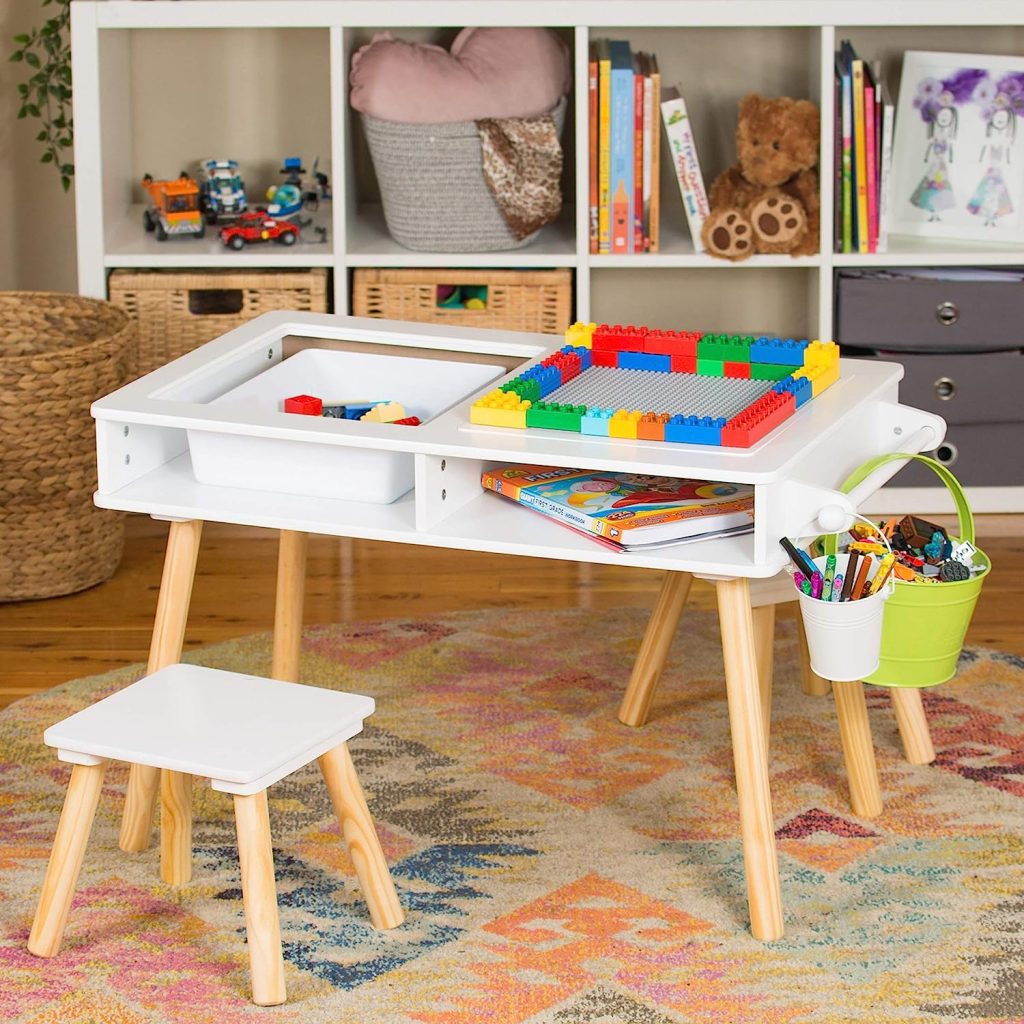 18″ L x 18″ W x 17″ H
The Burgkidz multi-activity table boasts bright colors your kids will love. This square table has four storage baskets and comes with 130 pieces of building blocks. Perfect for toddlers ages two and up, this table is made with non-toxic, durable plastic that's safe and reliable for kids.
This lego table may be small in size, but it packs a punch with its impressive features! Its space-saving design includes handy storage compartments, encouraging children to develop good organizational skills. Complete with two chairs and an engaging marble run game, this table guarantees hours of entertainment for kids. Furthermore, the ability to effortlessly switch tabletops allows for seamless transitions between different activities.
This wooden activity table was designed with growth in mind! It has adjustable legs, meaning it can grow with your kids, making it a lasting investment. Your kids can enjoy building with legos on one side, then flip the tabletop for crafts or games. Three built-in bins make cleanup a breeze.
20" L x 20" W x 17" H
The idoot Kids Activity Table serves many purposes! In addition to a Lego table, it can be used as a dining table or a place to draw, or you can remove the top and use it as a water table or sensory bin. Adjustable legs mean your family can get years' worth of use out of this piece.
17 "D x 33" W x 20 "HWhether eating, learning, drawing, or playing with legos, your kids will enjoy using the Costzon activity table. Made with pine and coated in environmentally friendly paint, this table is non-toxic and boasts a long service life. With plenty of storage and a neutral aesthetic, this table is one the whole family will love.
16″ L x 17" H x 13″ W
The ROGALALY Activity table makes the perfect Lego table for toddlers. Though compact, this table offers tons of storage with two detachable bins and a compartment underneath the tabletop that is 4" deep. The darling bunny ear chairs are so inviting, and the table height is adjustable to grow with your kids. 
The UTEX Activity table features a double-sided tabletop perfect for work and play. A large storage space underneath the tabletop is perfect for storing blocks, legos, and other toys. Additionally, two large bins slide under the table for additional storage.
This adorable full Lego play table opens up to reveal storage and play space. Three collapsible bins easily slide in and out for even more storage. Despite many moving parts, you won't have to worry about your littles pinching their fingers, as this table boasts a pinch-free design.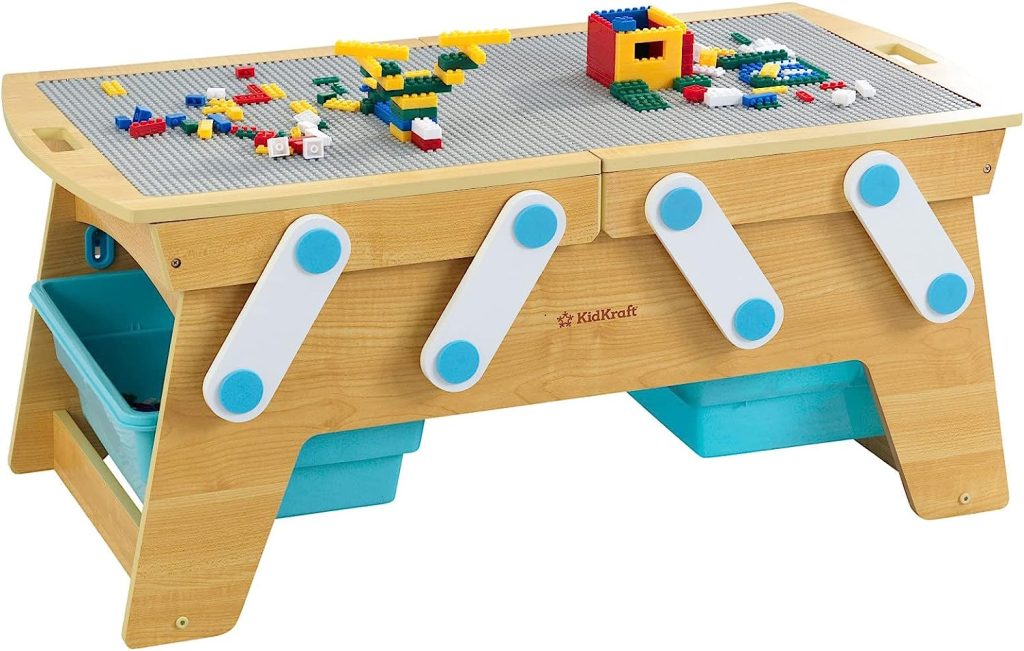 The Millard Set may have a smaller footprint than other Lego tables, but don't let that fool you! With a Lego board, smooth surface, and city action road map, the possibilities are endless for play. The Millard Play Table offers tons of storage, making it an excellent choice for the little Lego lover in your life.
The PIAOMTIEE Play Table Set boast a sleek, mid-century modern design that will blend well in any decor scheme. Your kids will love playing with the Lego mat, paper roll, car track & more. With three built-in storage shelves, there's ample room to store toys.
The OKVAC Kids Table is one of the larger kids' Lego tables on the market. Its aesthetically pleasing appearance, ample storage space, and non-toxic construction will make moms appreciate this table just as much as their kids. Available in three different colors.
Encourage creativity and imagination with the Humble Crew Kids 2-in-1 Activity Table. This versatile toddler table features a smooth removable table cover, allowing you to transform from a flat tabletop to the ultimate construction surface in just moments. Durable yet lightweight, the Humble Crew Kids Lego table set features rounded safety edges in a fun and bright color palette.
This white lego table. provides a multi-purpose surface, with one side designed for construction play and the other side smooth for other activities. Its sleek finish complements various styles of decor, adding an elegant touch to any room. Additionally, the table includes a storage area beneath the surface, allowing you to conveniently organize and maintain a clean play area when you're done.
The KidKraft Wooden Activity Table is as versatile as it is fun. Carefully constructed with rounded corners and durable wood, you'll never have to worry about the safety of your little engineer's little fingers. Built in notches make for easy access for kids.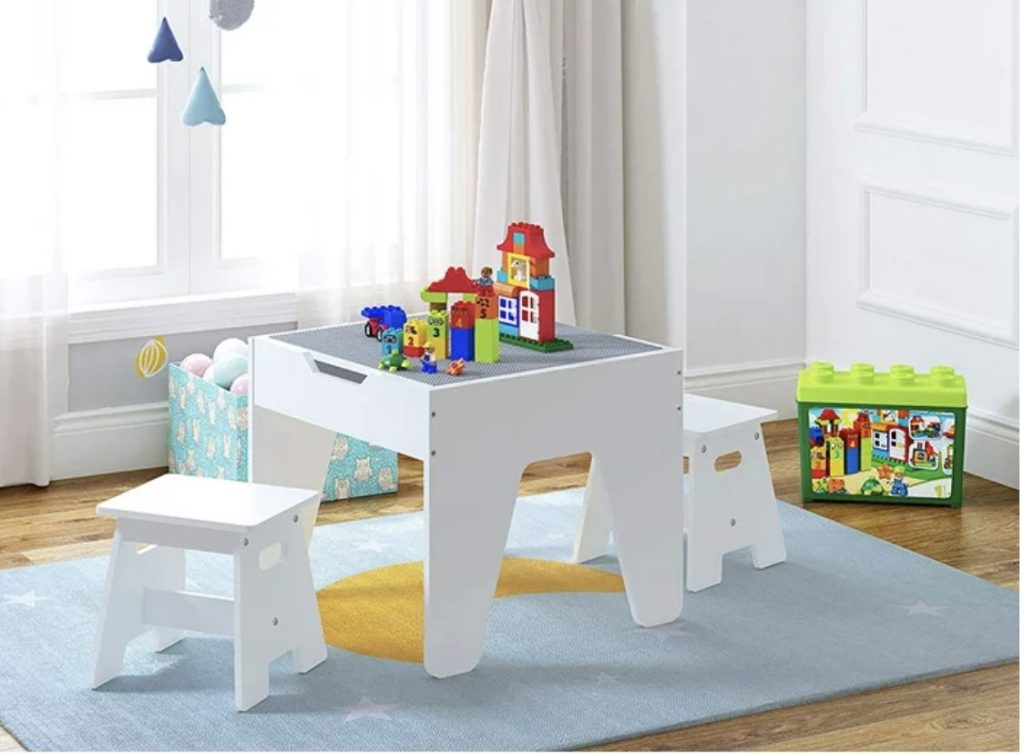 UTEX kids' table and chair set is sized perfectly for children, giving them the ideal place to sit, read, draw, or build with Legos. The possibilities are endless! Under-the-table storage is a convenient way to keep the chaos of Lego play organized, while leaving plenty of room for play.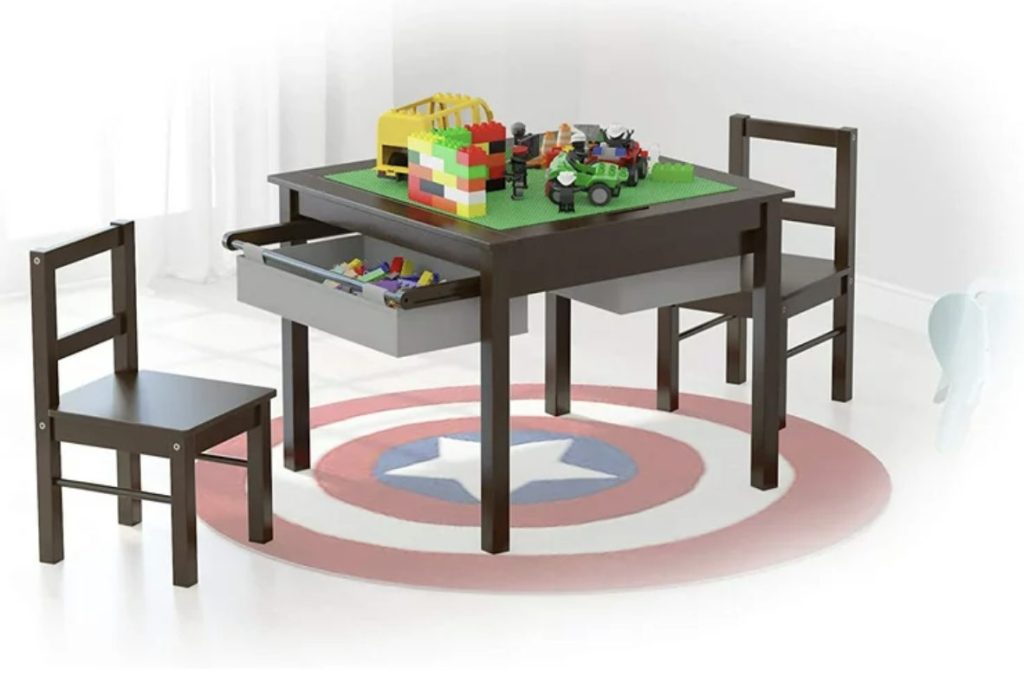 The Double Sided Playboard used for the tabletop surface allows you to easily switch between a construction playtime table and a smooth surface table for creative play. This versatile feature offers the ideal space for enjoyable building activities. Moreover, once the building phase is complete, you can simply flip the top panel to reveal a smooth surface, perfect for engaging in imaginative play.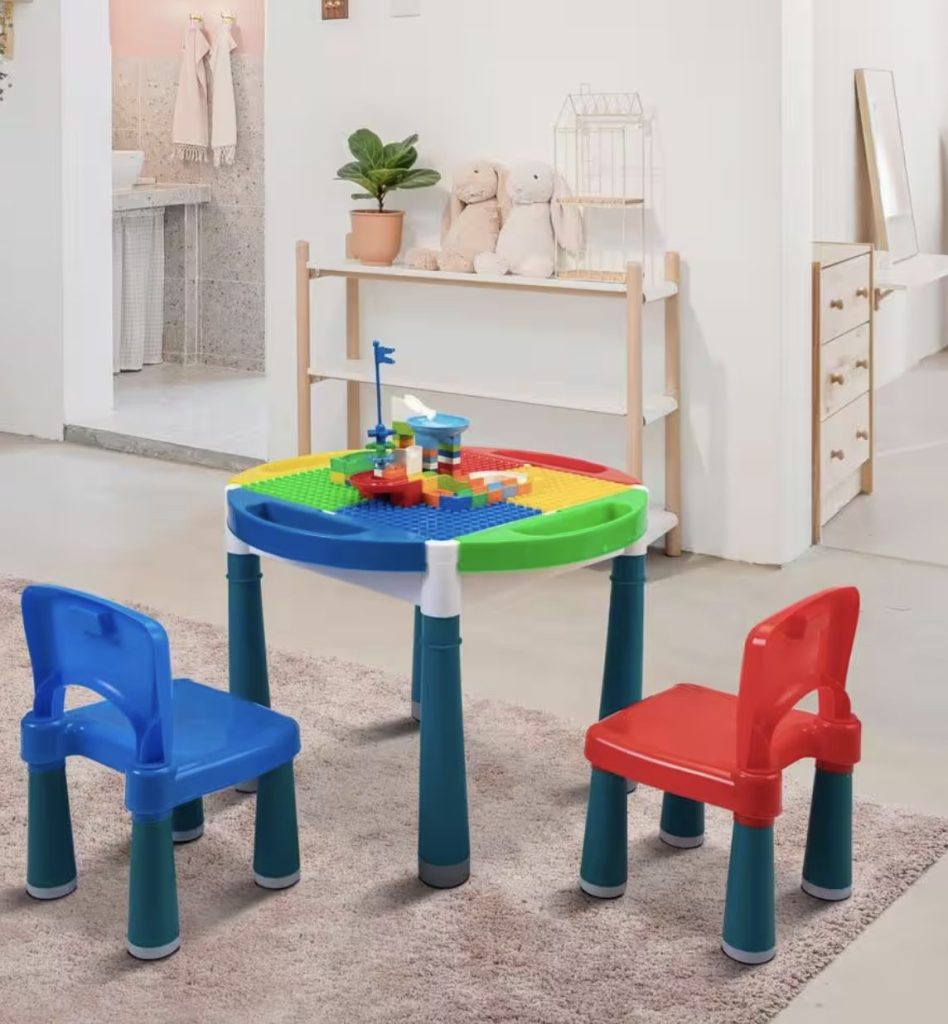 Looking for a solution to the inconvenience of stepping on legos unexpectedly? Look no further than the TOBBI Activity Table! This adaptable table offers ample storage space and a flip-over tabletop that transforms into a smooth surface, ideal for various everyday activities. What's more, this table is adjustable, allowing it to accommodate your child's growth and changing needs over time.
The Kids Block Building Table by TOBBI is one of the larger Lego tables on the market. It boasts bright colors and copious amounts of storage. This table comes with several different sizes of blocks, encouraging imaginative play amongst your kiddos.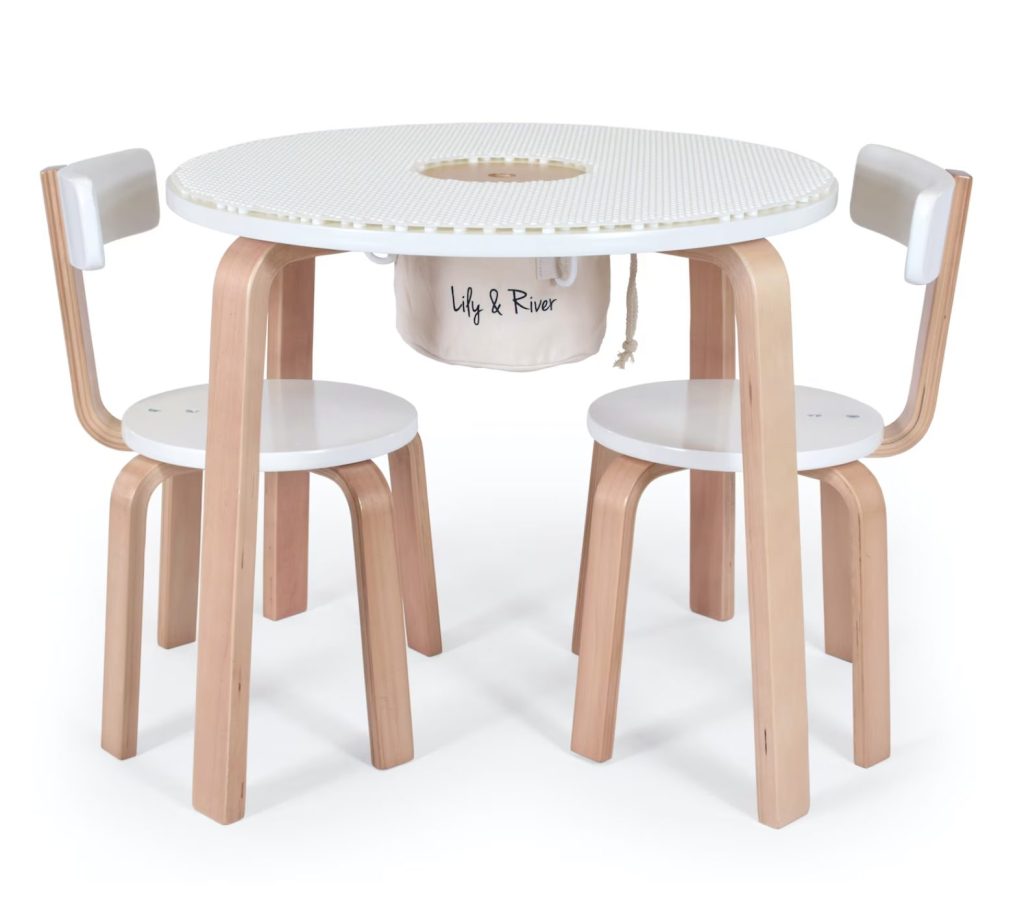 Little Creator is a multi-purpose activity and Lego table that is perfect for use outside of the playroom, too. If you're short on space or prefer to keep your child's activities close to the center of your home, this table can double as a coffee or side table! Due to its sleek, modern design, it will look great in any room. 
Final Thoughts
Lego tables can be an excellent tool in your home. They are great for Lego organization and play and give your kids a dedicated space to perform many other day-to-day activities. Having a space of their own can help teach kids about responsibility and management and hopefully make your life a little bit easier!