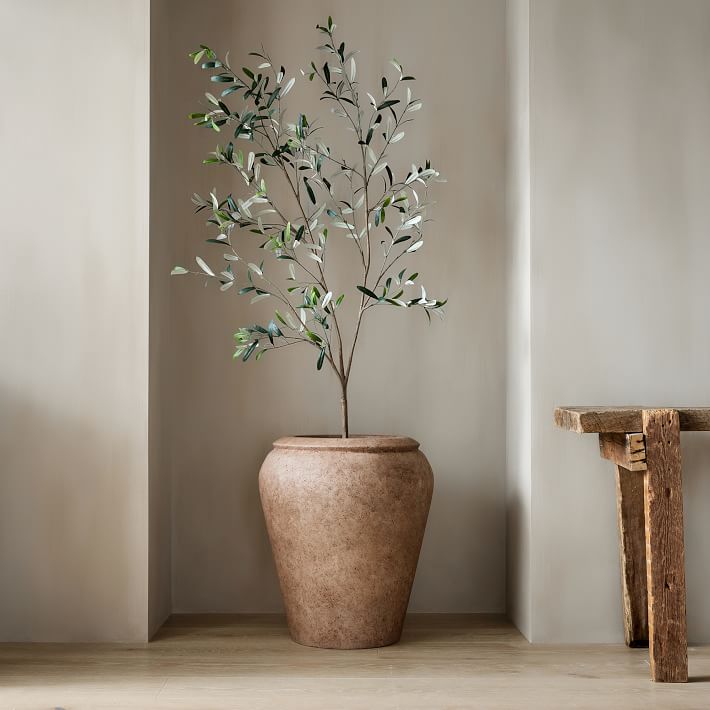 Plants: A staple decoration in any home, bringing life and a pop of color to any room that needs it. But taking care of plants can be challenging since you need to give them plenty of water, sun, and time. If you live a busy and active life or live in a dark or cold area, you may not be able to keep real plants alive.
The solution? Artificial plants! These plants add the same pop of color to a room as a live plant but don't require any upkeep except for the occasional dusting.
The olive tree is one of the more popular plants to keep right now. The leaves have a unique bluish-green color that complements many home decor styles, adding a pop of color without being garish. The foliage is feathery and delicate, which looks great in modern or contemporary homes.
If you want an olive tree without the work that goes into keeping a live plant, several companies sell beautiful faux olive trees at different price points and sizes so you can find something that works for your home! In this article, we'll be going over some of our favorite faux olive trees in pots from six different companies, so you can find the tree that works for you!
Check-out: 20 Best Extendable Dining Tables for Every Design Style | 16 Best Mid Century Modern TV Stands to buy in 2022 | 10 Faux Eucalyptus Trees That Look Real
Faux Olive Tree in Pot | Designer Picks
---
West Elm
West elm is an excellent choice if you're looking to furnish your home in a modern or contemporary style. While a little pricier, their gorgeous furniture is worth the extra money! They were the first home retailer to join Fair Trade USA and invest a lot of their profit into artisan communities around the country.
West Elm faux olive trees are beautiful and high-quality, able to add a Mediterranean flair to your home. These are some of our favorites!
Faux Potted Olive Tree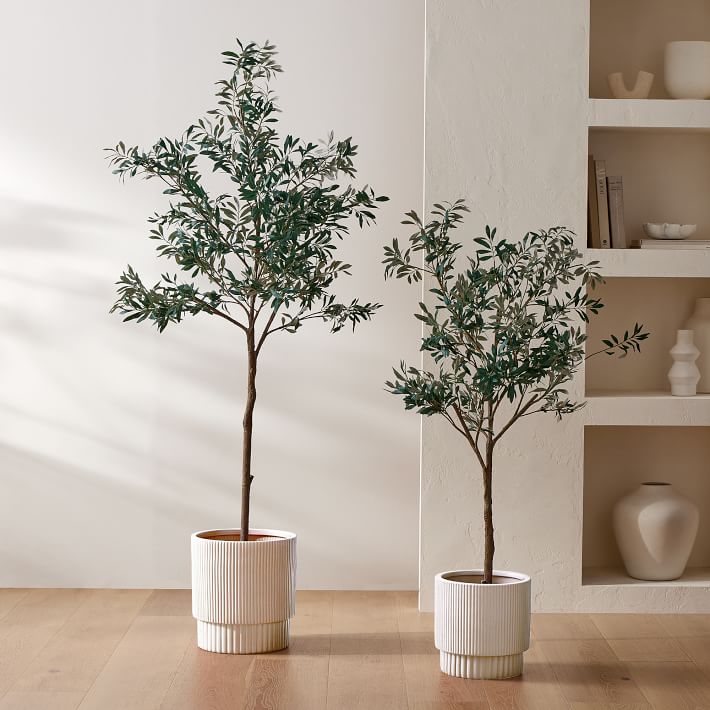 Depending on your choice, this gorgeous faux tree is five or seven feet tall, with delicate foliage and a thin trunk. The leaves are full yet still somewhat sparse, allowing plenty of light to fall through the leaves, creating a beautiful dappling light effect at times.
If your space is smaller, or if you just don't want a large tree, the five-foot tree will give you that same pop of brightness as the larger option.
This tree comes in a standard white planter, a small one for the five-foot option and a medium-sized one for the seven-foot option. If you like the fluted pot in the picture, a bundle for the 7' tree is available that includes the gorgeous decorative pot!
Faux Potted Green Olive Tree
This faux tree is 6 feet tall and strikingly realistic! The delicate foliage allows plenty of light to get through and brightens up any room with its gorgeous colors. This olive tree is crafted to look as similar to a real olive tree as possible, giving you the look of the plant without the time and care commitment of a real tree.
If you live somewhere where there isn't much light, it's cold often, or if you simply don't have the time to dedicate to a natural plant, this is a great decorative choice. Your guests would never know this plant was artificial unless you told them! The planters are sold separately, so you can choose how you want this gorgeous tree displayed.
Bushy Faux Potted Olive Tree
While this faux tree is quite expensive, it lives up to the cost! The foliage is thick and vibrant, almost like an olive bush. It's five feet tall and made of natural wood and cement, so accidental bumps or pets running into it won't damage this tree. The beautiful greyish-blue pot is included with your purchase, which will look fantastic in any contemporary room.
This tree is perfect for low-light spaces, with its vibrant green foliage and not needing light or water.
Sparse Faux Olive Tree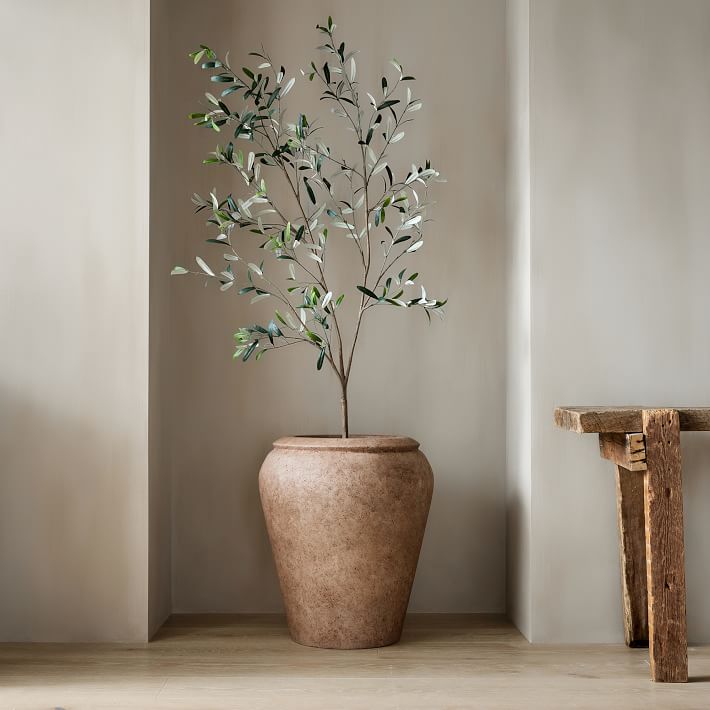 This faux olive tree is perfect for bright, modern spaces, allowing plenty of light to pass through its branches. But don't be fooled; just because the foliage is relatively sparse doesn't mean it's not a beautiful and worthy purchase. The leaves are bright and beautiful, and the trunk and branches are made to look as natural as possible.
If you didn't know this tree was artificial, you'd never guess until someone told you. It looks lifelike and vibrant, giving you all the perks of a real tree with none of the downsides. PS: This is. my favorite faux olive tree in pot! Definitely snag this one before it sells out!
Target
Target is a popular choice for affordable home decor that doesn't skimp on quality. Their selection of faux plants is vast and gorgeous, with plenty of well-crafted artisan pieces to brighten up your home without draining your pockets.
Their faux olive trees are cheaper than many other companies, and if you're looking for affordable and pretty decoration, these options may be right for you!
75" Artificial Sparse Olive Tree in Pot
This delicate and sparse artificial tree is perfect as a subtle statement piece in a large room. The leaves are a beautiful deep green and gray, giving it a realistic look. This tree also has artificial olives on it, not just the leaves, giving it some natural vibes other artificial trees may not have.
The lovely textured gray pot is included with your purchase. Its neutral color and design allow it to match any room. The pot itself is a statement piece, even without the tree!
37" Artificial Olive Bush Tree in Pot
While this tree is smaller than many others on this list, it's no less beautiful and vibrant. Standing approximately three feet tall, this faux olive tree is a great piece to fill an awkward corner or any other place you'd usually have a smaller potted plant in your home. The construction of this piece makes it look more like a bush, so if you want something other than the usual tall and skinny plants, this tree is a great option.
This plant also comes with the pictured pot, making displaying it easy.
Faux Olive tree in Pot
This artificial tree is an affordable and beautiful choice. While not the most realistic, this olive tree is still lovely and bright. The faux olives nestled between the leaves create a visually appealing contrast that's sure to attract attention!
This tree comes with the elegant pot in the photo, sure to add an extra bit of flair to the room you put it in.
Olive Potted Arrangement
This beautiful, dainty potted faux olive bush is a perfect tabletop decoration. It's a total of two feet tall, one of the smallest on this list, and perfect for placement on a decorative table. The leaves are a deep green, and the branches look just realistic enough that you'd never notice it was artificial unless you were looking for it.
The included pot is a lovely sand-colored ceramic that compliments the olive bush and adds a pop of extra color that draws the eye to it in any room!
Crate & Barrel
Crate and Barrel is another high-end contemporary brand with beautiful, unique furniture and decor options. Their options can be expensive, but the cost is always worth it. Any decor piece you get from them is sure to be gorgeous!
Faux Olive Tree in Pot 7'
This seven-foot-tall tree will catch your eye and add intrigue to any room you place it in. It's tall and skinny while still bushy and full of vibrant green foliage. The leaves are a beautiful green-gray, adding a pop of life without looking garish in a neutral-toned room.
This tree comes in a basic black plastic pot, allowing you to purchase a separate planter to match your home!
Faux Olive Tree in Pot 5'
This mid-sized tree has delicate, gentle branches, acting as an elegant statement piece in any modernly styled room. The leaves have the classic dark green hue of an olive tree and are spaced out enough to let plenty of light through and not obstruct your vision of other decorations you may have.
This faux tree looks realistic with knots in the trunk and intricate details throughout its design, and the off-white ceramic planter included with the tree adds visual flair to the room!
Faux Potted Olive Tree in Pot, 22"
This small olive tree is just under two feet tall, a perfect side table decoration or large centerpiece. Its elegant branches and detailed leaves make for a convincingly realistic design, adding a beautiful touch of color and a Mediterranean vibe to a room.
It comes in a white ceramic planter that matches any environment you want to place it in and is excellent for small spaces!
Pottery Barn
Pottery Barn is a beautiful home decor and furnishing store, with pieces made to stand the test of time in design. Their furniture is modern yet timeless, and their decor pieces are trendy and classic.
Of course, their faux olive trees are no exception. Built to look incredibly realistic, these olive trees look as though they've been pulled straight from the Mediterranean to your living room.
Faux Shady Lady Olive Tree
This nine-foot-tall tree is a showstopper with intricate leaves, branch patterns, and details. The shape is entirely realistic, with almost random placement of every branch, like a real tree. The height also contributes to its realism, as many olive trees grow to be 10 feet high.
The trunk is detailed and looks just like natural wood, adding to the sense of reality this tree gives off. The simple grey planter that comes with this tree will look great in rooms with a natural style and modern and contemporary spaces!
Faux Potted Olive Tree
This six-foot tree is sure to fool you into thinking it's real at first, thanks to its natural-looking wood, natural olives, and detailed leaves. The foliage is spread out but full, not blocking your line of sight while still drawing attention to itself. The vibrant colors of the leaves and the wood add a lot of visual interest to a room!
The tree comes with a small plastic pot, but you'll want to look for a planter that compliments your space to put this tree in for decorative purposes!
Faux Olive Tree in Vase
These small tabletop olive plants are perfect for classing up an empty corner on your kitchen counters or as centerpieces on a table. Only one and a half feet tall, these are perfect for adding a touch of color to small spaces. The contrast created by the small, red olives and the vivid green leaves is beautiful and adds to the sense of life they give to a room.
You might be thinking that the price is pretty high for one small plant, but this is a set of two! The simple white planters are included with your purchase, allowing the trees to match any room you place them in.
Nearly Natural
If you're looking for the highest quality faux plants on the market, Nearly Natural specializes in making realistic and gorgeous ones. They have a wide variety of options, from silk flowers to artificial trees, and each can fool you at first glance.
Their faux olive trees are no different, looking full, natural, and gorgeous.
5' Olive Tree in White Oval Planter
This faux olive tree has an incredibly lifelike trunk, splitting into several branches, with leaves positioned to look alive. The beautiful vibrant green color of the leaves adds an excellent feel of liveliness to a room. This tree also has faux olives on the branches, a subtle detail that adds an extra sense of realism to the piece.
This tree comes with a beautiful white oval planter and river stones. The planter blends in well to any environment, and the river stones cover any dirt to give the planter a more sleek and complete look.
50' Olive Artificial Tree in Sand Colored Planter
This olive tree is very decorative and delicate. While slightly less realistic than the other tree from Nearly Natural, it makes up for that with pure decorative appeal. The gentle curvature of the branches, the vibrantly colored leaves, and the incredibly realistic faux olives create a lot of visual interest for the viewer.
The beautiful sand-colored planter is included with the tree and multicolored river rocks, creating a Mediterranean feel that compliments any room.
McGee & Co.
If you're looking to add a bright, modern, and clean aesthetic to your home, McGee & Co is the place to look. Started by a husband and wife team, the company has grown into a large, popular design company with tons of beautiful furniture and decor pieces.
Although they only have one faux olive tree on this list, you shouldn't think it's because there aren't any other great pieces on their website!
Faux Potted Tuscan Olive Tree
Last but certainly not least is this beautiful faux tree. Standing at four feet tall, it creates an interesting silhouette and adds a lot of visual interest to a room. The unique shape of this tree is sure to draw attention and is a subtle statement piece for a modern or contemporary space.
The tree comes with this adorable blue and green shaded pot but can be placed in a basket or more modern planter if you want a slightly different vibe!
Faux Olive Trees
There are a lot of gorgeous faux plants out there, but the olive tree is a classic and popular choice. The unique hue of the leaves makes them stand out more than other plants and will draw plenty of attention to themselves.
So what's the best one? That's up to you! There's a wide variety of styles, shapes, and designs for faux olive trees, and each household may suit certain ones better than others, so take a pick from our list and enjoy the life a plant can bring to your home without the extra work!