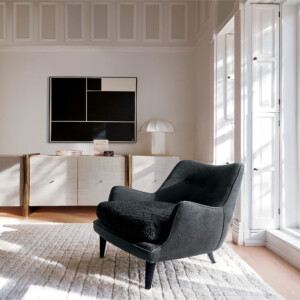 Searching for the perfect mid century modern TV stand is no easy task! You need to consider everything from size, storage capacity, weight limits, and price tags – not to mention design. That's why I wrote this handy list of 16 expert finds when it comes to media consoles that will compliment your decor style and organization needs. Ready to be inspired by a wide array of media stands? Keep reading!
You may also like // 10 Best Leather Ottoman Coffee Tables | 10 Acrylic Coffee Tables 2022 | 14 Modular Sectionals that are Designer Approved in 2022
What Is Mid-Century Modern?
Mid-century modern is a design style that became popular in the middle of the 20th century. It's often characterized by simple, clean lines and organic curves. Most of the time, mid-century pieces have a minimalistic style and make use of natural materials like wood and leather. It's a popular style for furniture and home decor, and it can be used to create a warm, inviting space.
There are many ways to incorporate this style into your home, but one of the most popular is through furniture. Mid-century modern furniture often features bold colors and geometric shapes. If you're looking for a statement piece for your living room or bedroom while also having a functional piece of furniture, a mid-century modern TV stand is a great option.
Where to buy a mid-century modern TV stand
Coyne Credenza
Crafted with a walnut frame and olive wood veneer, the Coyne Credenza from CB2 has rich grains, texture, and two-toned wood that make it a stunning piece to show off. Not only is it beautiful, but it's also functional with two interior shelves and cutouts in the back for cords. The Coyne Credenza sits on a plinth base, giving it a modern edge while the two-toned woods offer a mid-century touch. There's so much to love about this one, but it's especially brag-worthy because it's so versatile and can be used as a simple TV stand or full-out media console.
Dorset Linen Credenza
If you're looking for a TV stand that is a perfect mix of glam and mid-century vibes, The Dorset Linen Credenza was made just for you. Unexpected lacquered linen covers the frame and four doors for a luxe look that also hides away the perfect storage spot for electronics and other items that you don't want in plain sight. The two rounded chunky brass-finished legs complement the brass pulls for an understated mid-century modern feel with glam touches. You wouldn't think of the Dorset Linen Credenza as a TV stand, but it certainly would make for the prettiest entertainment center ever!
Suspend Media Console
For spaces that need a sleek focal point, the Suspend Media Console is a perfect choice. Mixed materials offer dimension and lots of texture, like the Carrara-style marble top and engineered wood with a warm walnut veneer. The iron base with black powder coat finish elevates the console and gives off modern vibes while the chevron pattern of wood grains covers the four doors for an overall mid-century look. You can store away your items on the two adjustable interior shelves and keep cords neat with the two cutouts. The Suspend Media Console is a beautiful way to display your TV and hide everyday items.
Reflect Rattan Credenza
If you have a space that could use lots of texture and light airy furniture, the Reflect Rattan Credenza is perfect for you. While the abstract patterns tend more to the mid-century side of design, the solid mahogany and blonde rattan-laid doors definitely compliment beachy or boho-inspired areas. It's gently elevated by a base smaller than the entire credenza frame, giving it even more dimension and detail. The Reflect Rattan Credenza can store unsightly electronics and cords on the adjustable interior shelves and cutouts while holding a flat-screen TV on top.
West Elm
Mid-Century Media Console, 48″
Both the space-saving design and budget-friendly price tag make this a no-brainer choice if you're looking for a stylish mid-century modern TV stand that can fit within your budget and small space. Its narrow frame, smaller base, and tapered legs are space-friendly while the adjustable shelves and four cutouts offer a good amount of storage. You can easily warm up your living area and have somewhere to place your TV on this media console from West Elm.
Mid-Century Media Console (96″)
Need something that can serve as more than just a media console? Look no further than this 96" mid-century TV stand from West Elm! Featuring the same beautiful acorn color and tapered legs as the previous 48" option, this one is just as beautiful but with tons more storage capacity. Store your spare blankets, board games, books, and electronics all in the six drawers and two large storage compartments. Suffice it to say that this mid-century media console from West Elm is the entire package of function and style!
All Modern
Black/Black Results TV Stand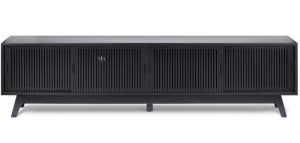 If you're looking for a completely versatile media console with plenty of storage space, you'll love this black mid-century modern TV stand from All Modern. Gently angled legs and a skinny base give it a mid-century look while the all-black acacia wood body gives it a modern edge. Store away your electronics or board games in the two drawers and six shelves that are behind four exterior sliding doors. Prefer a more natural look? You can opt for the brown color option, which shows off lots of wood grains and looks just as gorgeous as the black one. Either option blends in seamlessly no matter your decor style and will display a flat-screen TV perfectly.
Urban Outfitters
Ivy Media Console
The Ivy Media Console from Urban Outfitters is the perfect combination of mid-century and modern bohemian, so if you can't seem to make up your mind on which of these styles suit you best, this was created for you! Choose the light brown color to lighten up your space or black for a contrasting look that will make your room feel warm and cozy. Both options feature an angular dual-bar base and three hinge-open doors with a woven face that adds some needed texture. You can show off your favorite decor on the three open shelves while your unsightly items hide away in the inside storage. All in all, the Ivy Media Console is a versatile and show-off-worthy mid-century TV stand and comes at a reasonable price.
Pottery Barn
Hughes 70″ Media Console
Understated style best described the Hughes Media Console, which features a distinctive cradle base with gently arched legs, an overall streamlined design with a smoked-honey finish, and two delicately arch-shaped brass finish cabinet pulls. Store your cords and electronics in the two storage compartments with adjustable shelves while your TV sits on top. At first sight, there's not much to the Hughes Media Console from Pottery Barn, but the mid-century-inspired wood grains and intricate details make this a versatile piece for any entertaining space.
Target
Margo TV Stand
A mid-century TV stand with four different color options and priced under $300? Yes, please! With the Margo TV stand, you can choose from a warm walnut that will fit any home decor style or an antique white for classic mid-century vibes. Want a pop of color instead? Then you'll love the antique blue and blush pink options! No matter which color you choose, you'll be pleased with the beautifully tapered legs with metal caps in either a gold finish or silver depending on the color of the console. The Margo TV stand can hold a flat-screen TV on the tallest tabletop while the raised shelf offers a place to display decor and the interior shelves hide electronics or other items.
Anthropologie
Deluxe Tamboured Media Cabinet
Luxury design and mid-century inspiration come together beautifully in the Deluxe Tamboured Media Cabinet from Anthropologie. Its white marble top can hold a lightweight TV while the durable inside shelves can store items behind the two slatted tambour doors. Made with a gorgeous rosewood veneer throughout a curved silhouette and complemented with brass-capped marble hardware and eight brass-accented feet, this is a mid-century TV stand that clearly deserves to be shown off!
Odetta Media Console
The Odetta Media Console is more than just a TV stand — it's a high-end statement piece that will elevate any area in your home. Made with a grasscloth-inspired veneer, brass finished hardware and legs, this mid-century modern TV stand definitely catches the eye. You can choose between black, indigo, or cream whether you want to lighten up your space or make it warm and cozy. No matter which color you pick, you'll get plenty of storage space with both the open shelving in the center and the interior shelves behind the four sliding tambour doors which are accented with elliptical brass and lucite knobs.
World Market
Wood and Rattan Cane Mid Century Pelmam Media Stand
Display your TV and store away your electronic equipment in the most beautiful way with this media stand from World Market! Made with wood in an extravagant dark tobacco finish and see-through rattan-cane fronts, this media console is perfectly inspired by all the mid-century vibes. Additionally, it has bold tapered legs, door pulls, and a narrow profile, all of which add just the right amount of details. You can organize all of your electronic accessories and entertainment items in the five drawers and three storage compartments while using the top to hold your TV.
Arhaus
Finnley Sideboard
The Finnley Sideboard is a chic take on mid-century modern design and would look stunning in any entertaining space. Crafted with Finnish pine and oak veneers, the cabinets are as gorgeous as they are durable. Just as beautiful as the white marble top with light gray veining and reeded oak cabinet faces, which all add to the overall high-end feel. Finishing off the details is the zinc-alloy hardware in a light brass finish and generous storage space inside the cabinets.
Factory Media Console
Show off your most meaningful pictures or decor behind the french-inspired doors with tempered glass panes, while displaying your TV on top of the handcrafted Factory Media Console from Arhaus. Details like thick solid iron cabinet handles and mahogany finishes add rustic and antique touches for an overall antique design. Whether you choose the bronze finish for obvious mid-century aesthetics or the ursine black for a modern take on mid-century design, you'll have the perfect place to binge-watch your favorite shows.
Ballard Designs
Gloria Media Console
Add some feminine charm to any entertaining space with the Gloria Media Console from Ballard Designs, which is handcrafted with hardwood in a bleached oak finish and four perfectly detailed legs. Delicate curves at the top sides and four carved panel doors with push releases add to the overall graceful silhouette while the three interior sections offer ample storage space. Though this isn't as strongly inspired by mid-century modern design, it is versatile enough for any home decor style and has some details that can make this the mid-century TV stand you've been dreaming of.
Rounding It Up: Where to Buy a Mid-Century Modern TV Stand
Finding the right mid-century TV stand for your style and space can be tough, but hopefully these 16 expert finds will help you find the one that's just perfect for you! Whether you want a black mid-century modern TV stand for a bold statement piece or a media console with some glam touches, there's something on this list that you're sure to fall in love with. Which one are you feeling most inspired by?