the best modular sectionals all in one article!
With limitless sofa, couch, and loveseat options available, it can be hard to narrow down the best fit for your personal lounging preferences.
Two of the most popular sofa types are modular sofas, sectional sofas, or a combination of the two.
PS: Don't forget to check-out: the best velvet sectionals!
What is a modular sofa?
Modular sofas are designed to fit into your space and lifestyle: They're composed of two or more pieces that can be moved around into different shapes, depending on what you prefer. You can also space them out in multiple groups, if smaller separated seating areas work better in your living room.
Modular sofas are typically meant to be laid out in an "L" shape and conveniently fit into a corner of a room. However, since most modular sofas come in 4 or more sections, they can be rearranged to best fit your living space.
What is the difference between a modular sofa and a sectional?
Sectional sofas are usually larger pieces of furniture meant to fill a bigger room, and they typically come "as-is-" meaning there aren't usually as many options for rearranging or moving pieces around, as a modular sofa would. However, they still typically come in two pieces, which is why many people confuse modular sofas and sectionals.
Modular sofas may come in more pieces, to increase your options for rearranging and optimizing the space. It's common for modular sofas to contain multiple sections, while sectionals are usually separated into just two larger pieces.
Modular sofas are great for smaller spaces, because you can break up the pieces to suit the space. Many modular sofas or modular sectionals come with ottomans, chaise lounges, and even separate chairs to help customize your living space to perfection.
Some pieces are considered "modular sectionals," because they have multiple pieces but are still big enough to suit a large living space. Whether you select a modular sofa, a sectional, or a combination, these are a great choice if you want to change up the look of your living space or accommodate many people in one seating area. Sectionals are great for large families or groups, and modular sofas are perfect for small living spaces or apartments.
---
BEST MODULAR SECTIONALS
1. The Beckham Modular 3-Seat Right Chaise Sectional
This couch could be considered a "modular sectional" because of its larger size – but it still offers a variety of options to customize the pieces to your living space. This sofa comes in a surprising variety of colors and fabrics – making customization almost effortless.
2.Burrow Arch Nomad Sofa Sectional:
This sofa is super-comfy! A chaise section can be added on the end for maximum relaxation (you could even get two there). There are no limits to the adaptability of this piece – you can even get reversible cushions for a different color on different days. There's a built-in USB port console in this sofa for those moments you need to charge your phone but don't want to move.
3. Burrow Range 6-Piece Open U Sectional Lounger: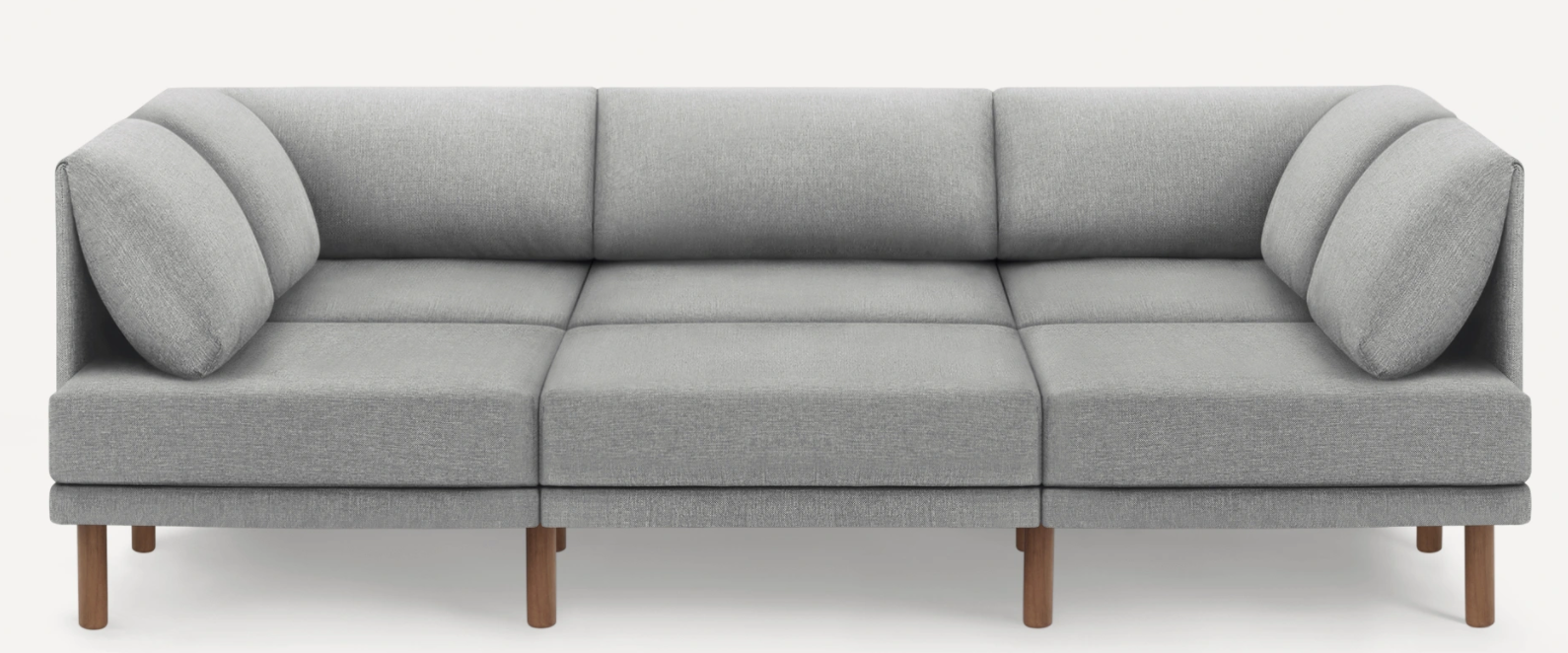 With six pieces, this modular couch might be one of the most versatile pieces you'll find. You can separate the pieces into six different sitting areas, or you can keep them all together for one larger center sofa. This couch is certified to be free of undesirable ingredients like heavy metals, formaldehyde, and flame retardants.
4. Gray Tyson 6-Piece Modular Pit Sectional Sofa:
This six-piece modular sofa can be arranged in a variety of ways- even in a bed-like lounge, if you want. The unique pit sofa design is perfect for movie nights, lazy Sundays, or stretching all the way out. This set includes 3 armless chairs, 2 corner "end" chairs, cushions, and an ottoman. The arrangement possibilities are truly endless with this modular couch system.
Pit-style couches are excellent choices for families and large groups, and this extremely comfortable selection can be rearranged in countless ways. This couch is reported to be one of the most comfortable on the market, with feather-seat cushions and plush upholstery. It's also reported to be relatively easy to move and assemble, which is a bonus.
6. Love Sac:
Have you ever wanted to build your own dream couch before you order? Look no further. With Love Sac, you can customize everything about your couch before you buy it. Choose your perfect size, number of seats, unique customizations, color and fabric, and even matching chairs. This pick can be customized as a great modular sofa for smaller spaces.
7. Amira Gray Fabric Modular Sectional: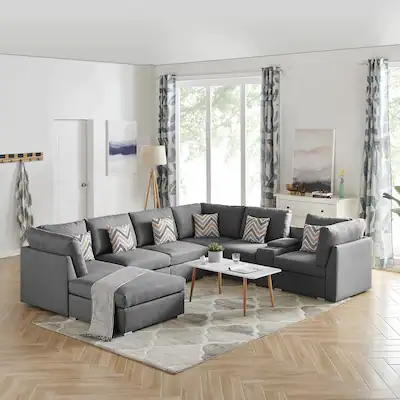 This sofa is on the larger side – it comes with 8 modular pieces to arrange however you want. An ottoman is even included for some additional "separate" seating. The adorable accent pillows complement the comfortable linen fabric, and a convenient console table offers a moderate amount of storage, USB and charging outlets, and more.
8. Wayfair Dawnelle 120' Wide Velvet Modular Sectional:
The velvet fabric is a super-luxurious touch to complement the elegant design of this modular sectional. This modern pick comes in two separate pieces, one of them being a chaise lounge. The cushions are comfortable but firm, and stand-alone cushions can be customized either for more seats on the sofa or ample leg room for stretching out.
9. Gracelyn 124" 100% Polyester Reversible Modular Seating Component Sectional: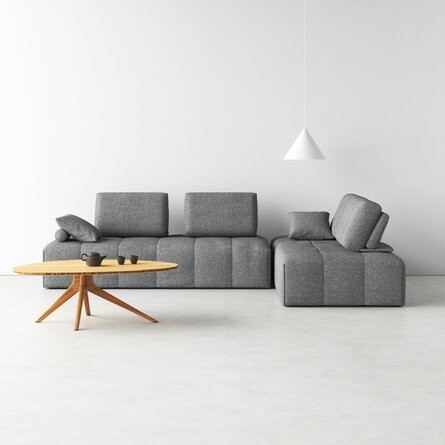 This couch has a really cool mod look, and it comes in two pieces – one of them being a trendy chaise lounge. The pieces can be put together for a larger seating area, or separated for company. The cushions are medium-firm, and the couch seats 6 comfortably.
10. Beta Quartz White Left Chaise Sectional:

This gorgeous white couch can be set up in a few different ways, depending on where you'd like to position the chaise sectional. You can customize color, number of seats you'd like, and where to place the chaise for a couch that's perfect for your unique living space. This selection is a great modular sofa for small spaces.
11. Pottery Barn Big Sur Square Arm Upholstered Modular L-Sectional:
This large sectional was meant to wrap around a spacious room. There are dozens of different color and fabric customizations, and you can even create an open space between seats for a more roomy feel while lounging.
12. Pottery Barn Bryce Super Sectional Set: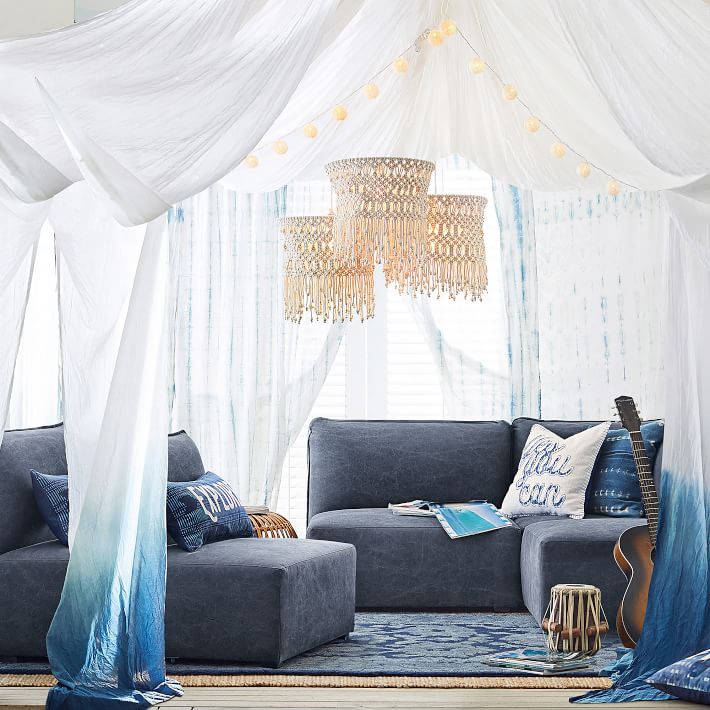 This sleek design with smooth, square cushions has a very mod vibe, and would fit in a smaller living room very well. The sturdy frame is made from plywood, and the ingredients are all sustainable and GREENGUARD certified. Customize your colors and fabrics with options like textured weaves, velvet, and canvas.
13. West Elm Harmony Modular Sectional: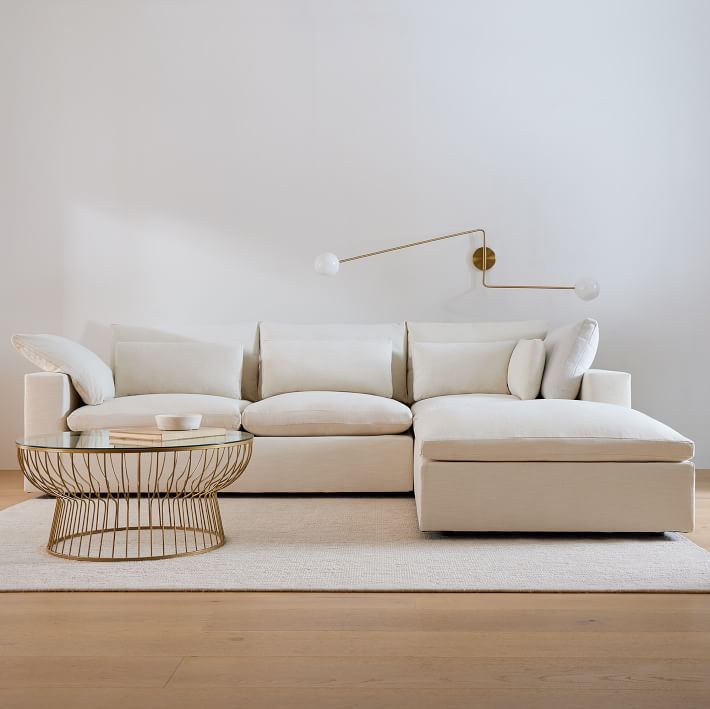 This is possibly one of the most customizable sectionals out there: You can select every detail of your perfect sofa on the website! The cushions on this couch are reported to be especially comfortable, and a removable ottoman-addition allows you to stretch your legs out when you feel like it.
---
A great couch can really pull a room together. If you're looking for the perfect modular sectional, there are plenty of options to find the right couch for you and your space. The options above can be customized to your specific needs and lifestyle, no matter what you're working with.
Be sure to note that most furniture has a longer shipping time right now, so make sure to order well in advance if you'd like the piece to host a game night, movie night, or family reunion. Happy hunting!