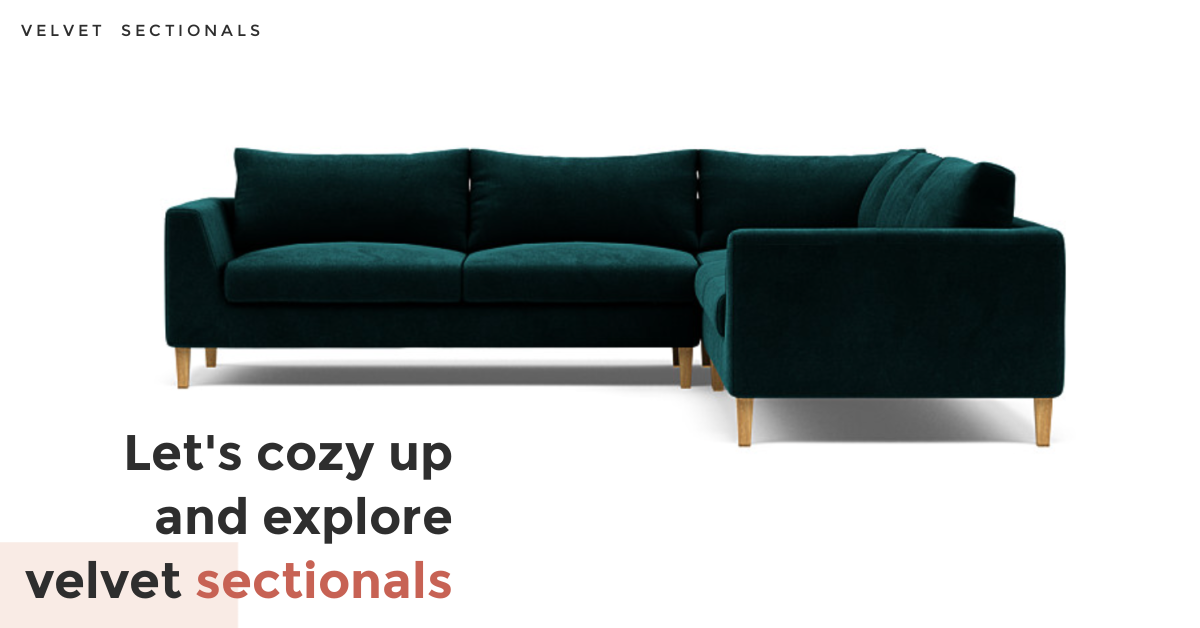 velvet sectional via interior define
Modern velvet sectional couches are a far cry from the old stuff, and you'd be surprised at how beautiful a velvet sectional sofa would look in your home or office space. Plus, velvet is built to last, so you can expect to use them for many years to come! Below, I'm sharing 10 of the best velvet sectionals out there! At every price point, all the colors and so much more. Hope you find the one to take home with you!
PS: Breaking down my favorite green velvet couches in this post!
11 Places to Buy a Velvet Sofa
---
BRAND: INTERIOR DEFINE
This sofa is an architectural masterpiece with its trapezoidal arm and carefully crafted angles. The sleek and elegant design is a perfect addition to your dining area. Plus, it would also work wonders for your office space because it has a professional feel to it. What's more, you have a range of colors to choose from, and you can even order free swatches before actually ordering the couch! So, if you can't decide between the green velvet sectional or the beautiful blue velvet sectional, you can use the swatches to determine what works better with your interior's theme. Check out all the colors here.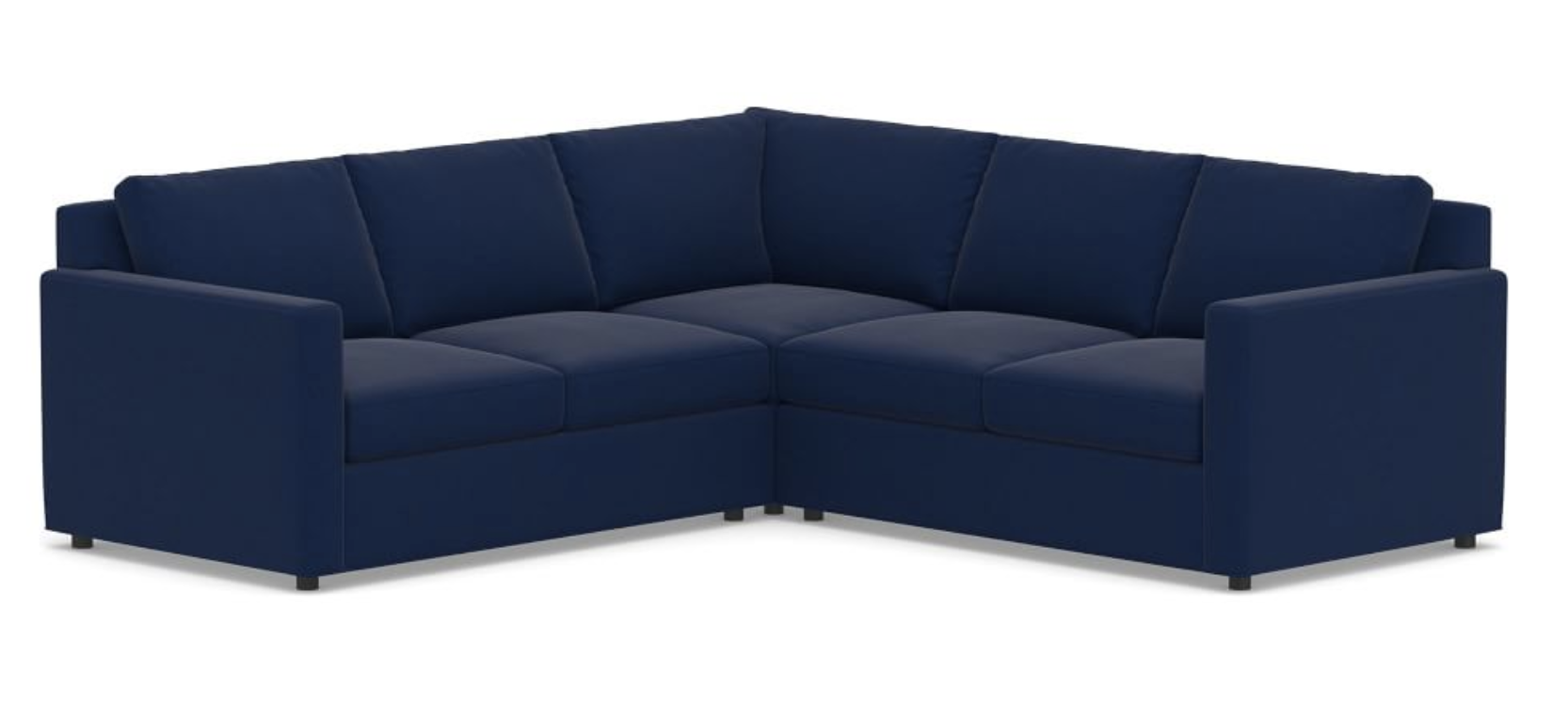 blue velvet sectional via Pottery Barn
This L-shaped velvet couch from Pottery Barn is perfect for small spaces. Not to mention, the blue velvet sectional comes in a range of blue to grey shades that would complement almost any type of space. The sofa comes with loose, polyester-wrapped cushions that make your couch that extra bit special! So, if you need a blue velvet sectional sofa to brighten a small space, this is the couch for you! Get it here.

Quality or convenience- who said you have to choose one?
With the Burrow's Nomad Velvet sofa, you can have both quality and convenience in one! Their velvet sectional couch is made from performance velvet which means it is easy to clean. Its frame is also precision-milled Baltic Birch, so you won't have to worry about warping. Also, the steel and galvanized latches add structural strength to the frame. As for the legs, you can choose between steel or wood. But that's not even the best part because this velvet couch comes with a built-in USB charger and a 72" cord- talk about a modern sectional! You can find this ultra-modern Nomad couch here. It's also über easy to assemble. Yasss!
Albany Park's corner sectional is one of the best green velvet sectionals out there because it is made from plush upholstery, premium foam, and absolutely no harsh chemicals. Also, you can have the couch delivered really fast without any additional shipping charges- and pay in installments without any added interest! And guess what? The company provides a lifetime warranty- because yes, it's that good! You know you want it, so wait no more and get it right here!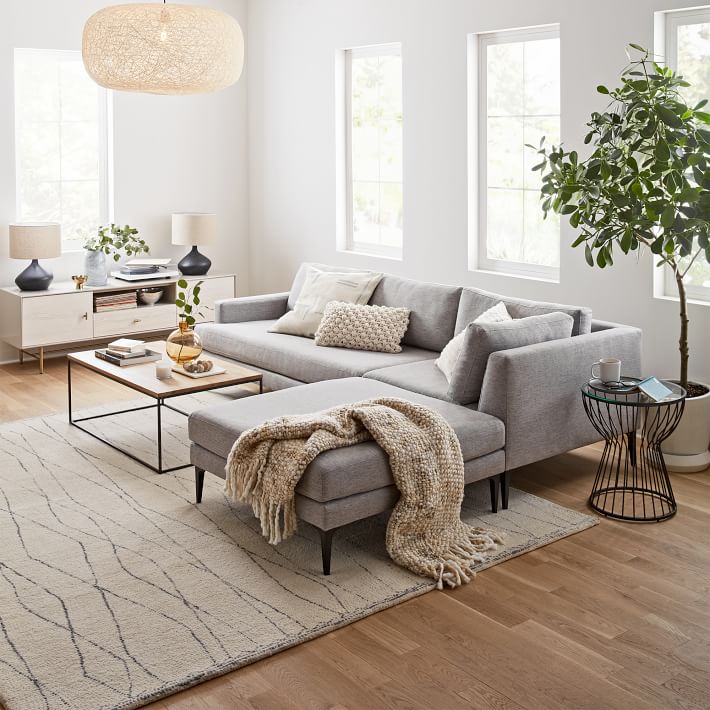 image via west elm (velvet option available in this model)
A best seller on the site! If you're one for handmade items, you're going to absolutely love this couch since it is entirely hand-crafted and hand-assembled to perfection. We would rate it a solid 4 out of 5 on firmness, so it's great for relaxing after a tough day at work. The high-gauge sinuous springs also provide cushion support. Additionally, you can customize your sofa's sectional width and portion depth here, so what are you waiting for- like seriously!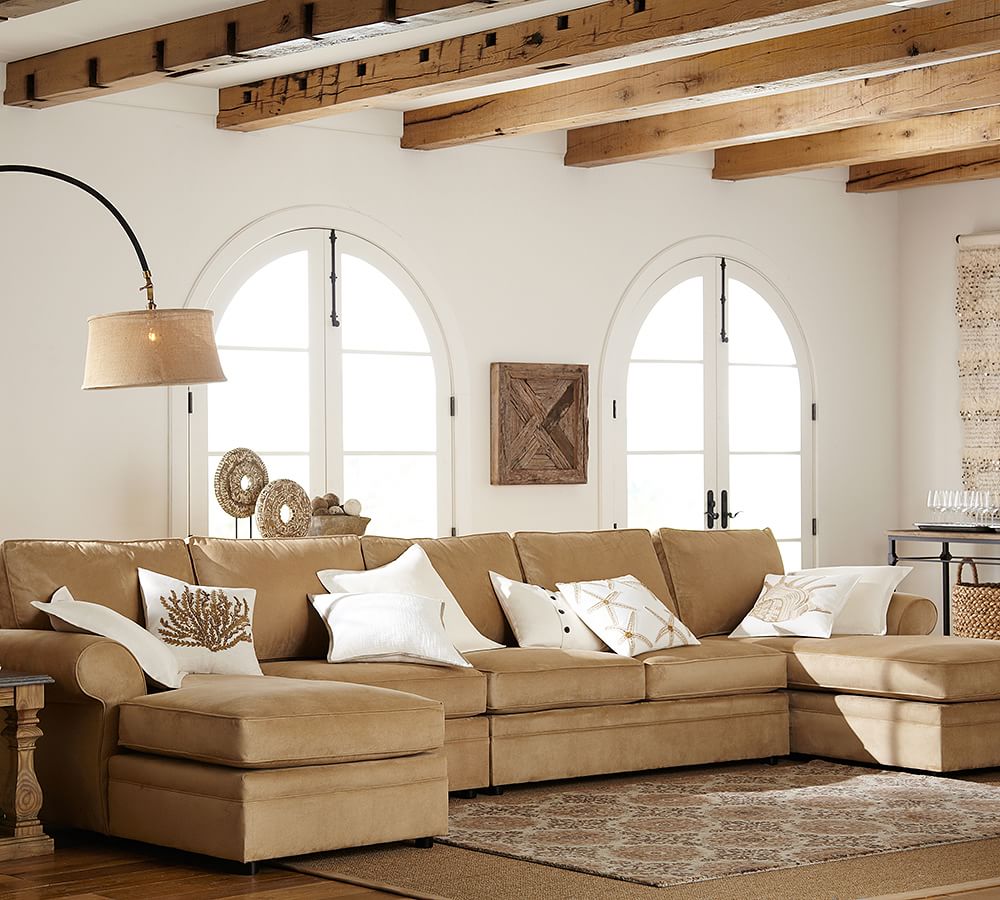 image via pottery barn // other velvet options available
If black is your color, you should definitely check out the Pearce Arm sofa. (They have tons of color options, too) Its adjustable levelers will adjust to provide stability even on uneven floors, and the steel connectors will keep it together- nice and secure. This classic sectional is luxurious and high-end, so you'll be anything but disappointed! Head on over here to order this velvet couch from Pottery Barn. It looks beyond comfortable and at the top of my wish-list for cozy movie nights with the fam!
image via wayfair // other colors available
This pink velvet sectional is truly one-of-a-kind. It was literally made to stand out- in the best way, of course. So, no matter the theme of your interior, it will surely lend a luxe vibe to your space. This couch features a soft velvet microsuede cover and is designed to seat up to three people. So, get cozy with Wayfair's Chennai Reversible Velvet Sofa– because why settle for less?

Another one of Wayfair's reversible velvet sofas, this couch is modern yet elegant. Its wooden legs are tapered towards the bottom, which further adds to the sophistication element. Plus, it comes with a chaise and toss pillows- and honestly, what more could you ask for? Get it here and try it for yourself.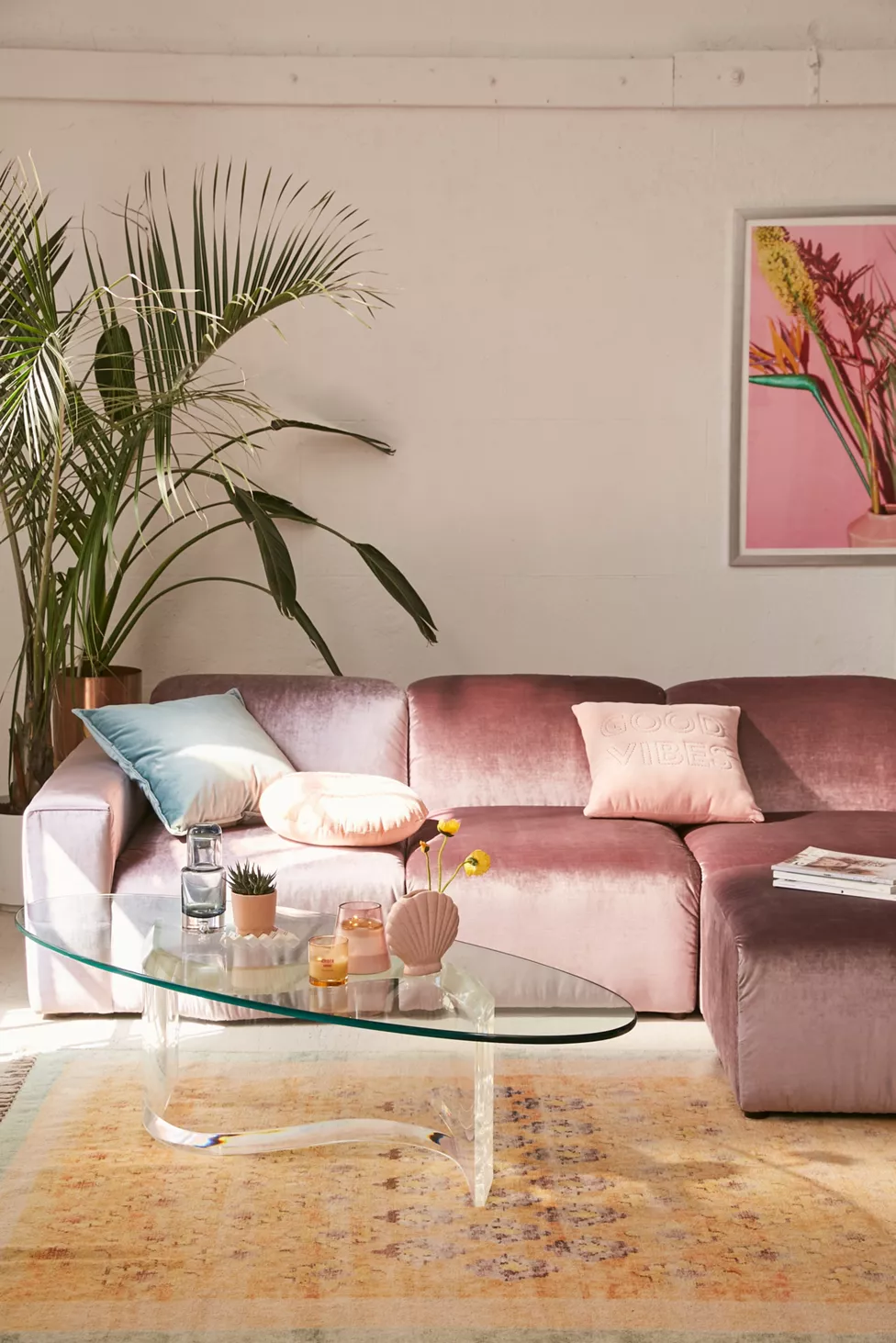 The exquisite modular velvet sectional sofa is a sight to behold, so if you're looking to freshen up your space, trust us when we say that this is just the thing for you! The regale collection includes an armchair, armless chair, and a silk ottoman, so you can order your favorite piece here– or just get the whole bunch because why not? It is so versatile, and we can guarantee that it will brighten up just about any space.
The Celia is definitely among our top velvet sectional couch picks with its solid, sturdy wooden frame and a plush seat. It comes with reversible, removable cushions and a firm seat so you can enjoy your movie night with friends without having to worry about finding the remote. You can also choose between left-hand or right-hand facing sofas. And since it supports commercial use, feel free to order one for your office space as well, here.
---
How to Clean a Velvet Couch?
Assuming you've got a reasonable quality velvet couch, you can easily get away with simply vacuuming your velvet sectional sofa. However, spills are a big deal, so make sure to act quickly to save your sofa. Moreover, you can also wash your velvet sectional couch with soap and water and dry it with a hairdryer. It's pretty durable, so it will not be damaged by brushing. In case of spills, use a damp cloth to wipe off the velvet. Velvet couches are indeed a luxury, so if you're thinking of investing in a velvet sectional to decorate or merely change up your space, you should take a look at our recommendations above, which are not only modern and aesthetic but also very easy to maintain. Arch Digest has a great article on cleaning, too!
What's the Takeaway?
Velvet sectional sofas are a great addition to your interior space, but before you splurge on a velvet couch, you should know that some types of velvets tend to get really hot. So, you need a velvet sectional couch that works for all seasons and themes and just blends into your space. Scrolling through the millions of options on the internet can be tiring, though, but you don't have to worry about that because you can simply refer to our collection of some of the best velvet sectional sofas in the market! While velvet couches are known to be durable, you must put in the effort to maintain your velvet sectional sofa's allure over the years. We absolutely love these vintage vibes though! How about you?