// shop leather ottoman coffee table
Leather ottoman coffee tables are one of the most beautiful ways to spruce up your living room or bedroom, and they're super practical, too!
There are so many styles, shapes, and sizes to choose from – and all at different price points. From tufted leather ottomans with a traditional flair to minimalist leather ottoman coffee tables with metal legs, there's truly an option for everyone.
We know it can be overwhelming to find one that will fit in perfectly with your home, so here's our roundup of the best leather ottoman coffee tables that you definitely need to check out!
Still unsure of coffee tables? We're rounding up the best acrylic coffee tables and ottoman coffee tables!
Leather Ottoman Coffee Tables Worth Buying
This round leather ottoman coffee table is a seriously gorgeous addition to any room, no matter the style.
It's made from authentic aniline-dyed buffalo leather and has gorgeous hand-stitched quadrants that really stand out. Since it measures 36 x 14 inches, there's plenty of room to set your things or lounge on.
If you've ever wanted a "grown-up" pouf that never goes out of style, this is the one for you!
If you like the aged look of the round ottoman above but prefer a square shape instead, this is perfect for you.
It has the same aniline-dyed buffalo leather and quadrants, with the same measurements (36 inches square and 14 inches high).
This square leather ottoman is as comfortable as it is beautiful and will fit in any room of your house.
We love this rectangle leather ottoman coffee table and its customizable options!
It has a contemporary or traditional touch depending on the leg style and color of leather you choose. You can also choose from several different sizes and two cushion fill options.
No matter how you customize it, this rectangle leather ottoman will look great in your living room and will instantly add character and charm to your space.
For a more relaxed feel, this square leather ottoman is the way to go.
It's made of luxe leather in a wide range of colors that will go perfectly in any room of your house. The Snow leather option would look especially beautiful in coastal-inspired spaces!
At 38 inches square and 18 inches high, it offers enough space for lounging or holding your things. And since it's made with Contract Grade and a kiln-dried wood frame, it's durable and will last for generations.
This one is perfect for a touch of boho and fresh style – not to mention incredibly cozy!
It's made with distressed brown faux leather and supportive dense polystyrene bead filling to help it hold its shape.
This is also a good size for extra seating (or holding a lot of stuff!) at 30 inches square and 14 inches high. And even better is its lower price point, making it ideal for those looking to add some flair to their space without breaking the bank!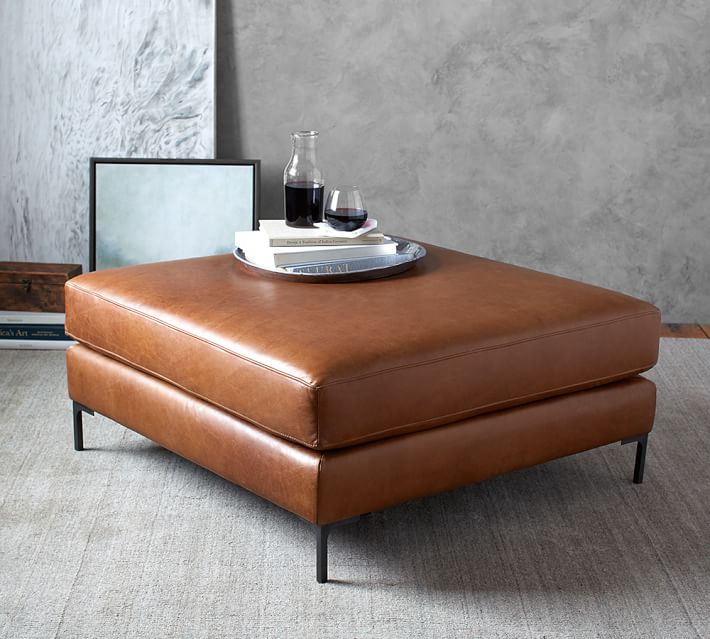 The Jake Leather Sectional Ottoman is a perfect combination of contemporary and approachable. It's versatile and timeless enough to go with any home decor style while being incredibly comfortable.
You can choose from over 30 colors and brushed nickel or bronze legs, so there's definitely the perfect look waiting for you!
It's 39.5 inches square and 18 high, but still looks incredibly sleek and slim thanks to its chic silhouette and streamlined legs.
If you're looking for a tufted leather ottoman coffee table with a sophisticated industrial touch, the Meave Square Ottoman is a flawless choice! We absolutely love the clean lines on this one and the way the metal legs meet on the bottom.
You can choose between genuine top-grain leather or vegan leather in a wide range of colors – which all look gorgeous against the stainless steel finished legs!
This is a great size at 48 inches square and 16 inches high, and perfect for using as a seat, coffee table, or footrest. No matter what you're using it for, it's truly a gorgeous accent piece for your space.
This is another beautiful tufted leather ottoman coffee table, but much more detailed with deeper tufting and 19th century inspired legs.
Not only is this a gorgeous piece of furniture that you'll want to show off, it actually has storage space inside! You can also choose from a wide variety of leather choices, so you'll definitely be able to find the style that will fit into your room perfectly.
With an overall size of 36 inches square and 22 inches high, it makes a perfect additional seat in your living room or as an end-of-bed bench in your bedroom! And with the large storage space (34 inches square and 9.5 inches high) there's enough room for your throw pillows or an extra blanket.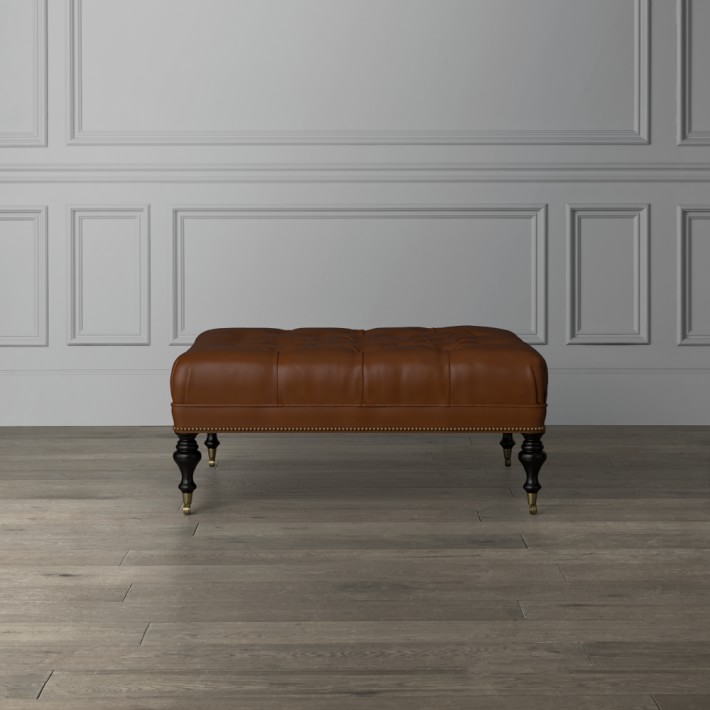 This is truly a luxurious tufted leather ottoman coffee table with strong traditional touches. It has gorgeous button tufting, beautifully turned legs on castors, and eye-catching trim.
You can choose from over 15 premium leather options in a wide range of colors and self-welting or nailhead trim – so you can customize it just right.
There's plenty of room on this one for whatever you need to use it for. At 42 inches square and 19 inches high, you can use it for sitting, putting your feet up, or holding your largest coffee tray.
For the perfect combination between the round leather ottoman coffee table and the tufted leather ottoman coffee table choices, this is definitely the one!
This is a versatile style that will look great in any home and even has gorgeous details like nailhead trim and semi-tapered legs. Even better is it's the most affordable ottoman coffee table on our list!
The size is perfect for most spaces at 30 inches round and 17.5 inches tall. Reviews also brag about it being incredibly durable and even able to withstand toddlers! Does it even get better than that?!
---
Summing It All Up
If you want to add a timeless accent piece to your room while having additional seating or storage space, a leather ottoman coffee table is the perfect way to do so.
There are endless options no matter what style, size, or price point you're looking for. We think the ones on this list are a great way to start (or end) your search!
So, we want to know…which one is your favorite and would look drop-dead-gorgeous in your home? Let us know in the comments!