If you're a sucker for the relaxed, textured, and natural vibes in the bohemian or boho aesthetic—you've come to the right place! Often a bed frame is the centerpiece of a bedroom, so finding the right one that perfectly compliments your style is imperative.
Without further ado, here are the most dreamy and eye catching bohemian bed frames for your space.
You may also like: 23 Canopy Beds to Elevate Your Bedroom| 23 Best Velvet Bed Frames To Transform Your Space| The Best Mid Century Modern Bed Frames For Your Bedroom
---
Bohemian Bed Frame
---
1. Canoga Rattan Bed
We have talked about this bedframe before but only because it is truly a showstopper. The Canoga Rattan Bed is crafted from delicately woven rattan with plenty of fun shapes and soft intriguing curves. The natural tones are ideal for a bohemian aesthetic. Choose between either a twin or a queen size.
2. Ria Rattan Bed
For lovers of stunning shapes, natural tones, and gorgeous texture, the Ria Rattan Bed is sure to take your breath away. This 70's inspired bed sits low to the ground for an ultra-relaxed and comfy vibe. This bed is made from mahogany wood and rattan, and struts a slatted base for your mattress—so no bed frame is required.
3. Vivian Bed Frame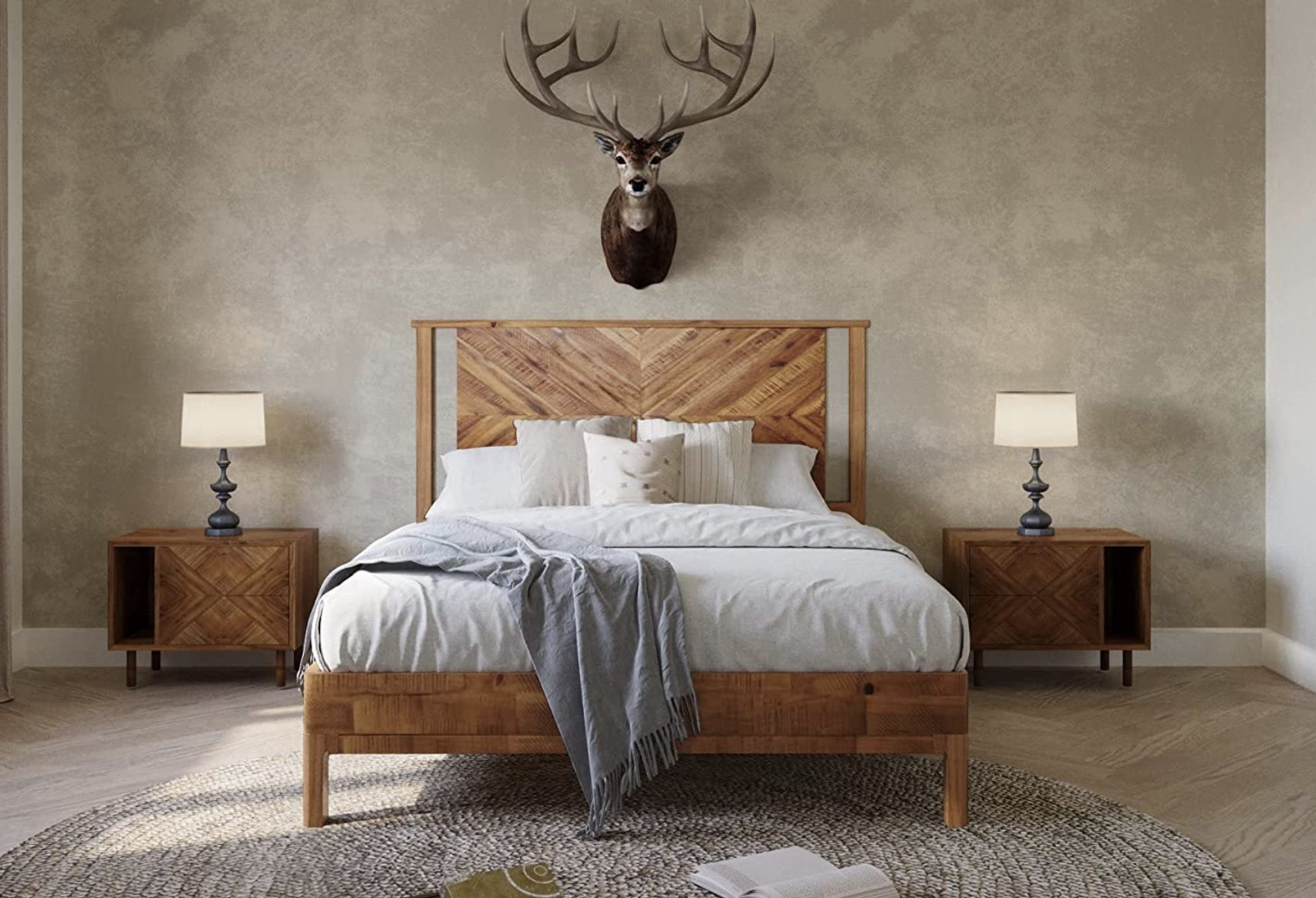 The Vivian Bed Frame is ideal for those who love a natural and calming aesthetic. This bed frame is versatile enough to be styled into a bohemian, scandinavian, or even rustic aesthetic. The Vivian bed comes in either a natural or a dark wood and comes in either a queen or king size.
4. Carved Thalia Bed
For lovers of texture and unique design, the Carved Talia Bed is sure to stop you in your tracks. This bed is expertly hand carved with intricate detailing to ensure it is a showstopper. This bed is made from tropical hardwood and washed gently with a white coating. This bed comes in both a queen or a king size.
5. Handcarved Menagerie Bed
For those who just can't help but to make a statement, the Menagerie Bed pulls out all of the stops and boasts intricate details and top of the line craftsmanship. This piece features hand carved and romantic detailings, with plenty of texture and charm. This bed comes in both a queen or a king size.
6. Low Lombok Bohemian Bed Frame
The Low Lombok Bed is truly an ideal choice for lovers of travel and culture. This piece is hand carved and inspired by filigree prominent in many different European and Indian aesthetics. This bed is a work of art and built to last a lifetime.
7. Heatherfield Bed
The Heatherfield Bed is an ideal choice for those wishing to bring soft textural elements with a touch of romance and elegance into their home. This bed struts an extra wide and tall woven rattan headboard, which is perfectly balanced between the soft velvet base and brass capped feet. This bed can be dressed down for a relaxed bohemian vibe, or dressed up for an elegant and chic aesthetic.
8. Isla Bohemian Bed Frame
If you're a lover of handcrafted, showstopping architectural design, the Isla Bed is an ideal choice for you. This bed features a concentric carved ashwood headboard with stunning rounded designs. The platform features a slatted system–so no boxspring is required. The tapered legs flare out at a unique angle to bring even more intrigue to your space.
9. Kira Bed
The Kira Bed is crafted from 100 percent sustainably sourced wood that is stunningly displayed in the extra tall headboard and footboard. This frame comes in both a dark wood and a warm wood and comes in a queen size.
10. Rambler Queen Rush Woven Bed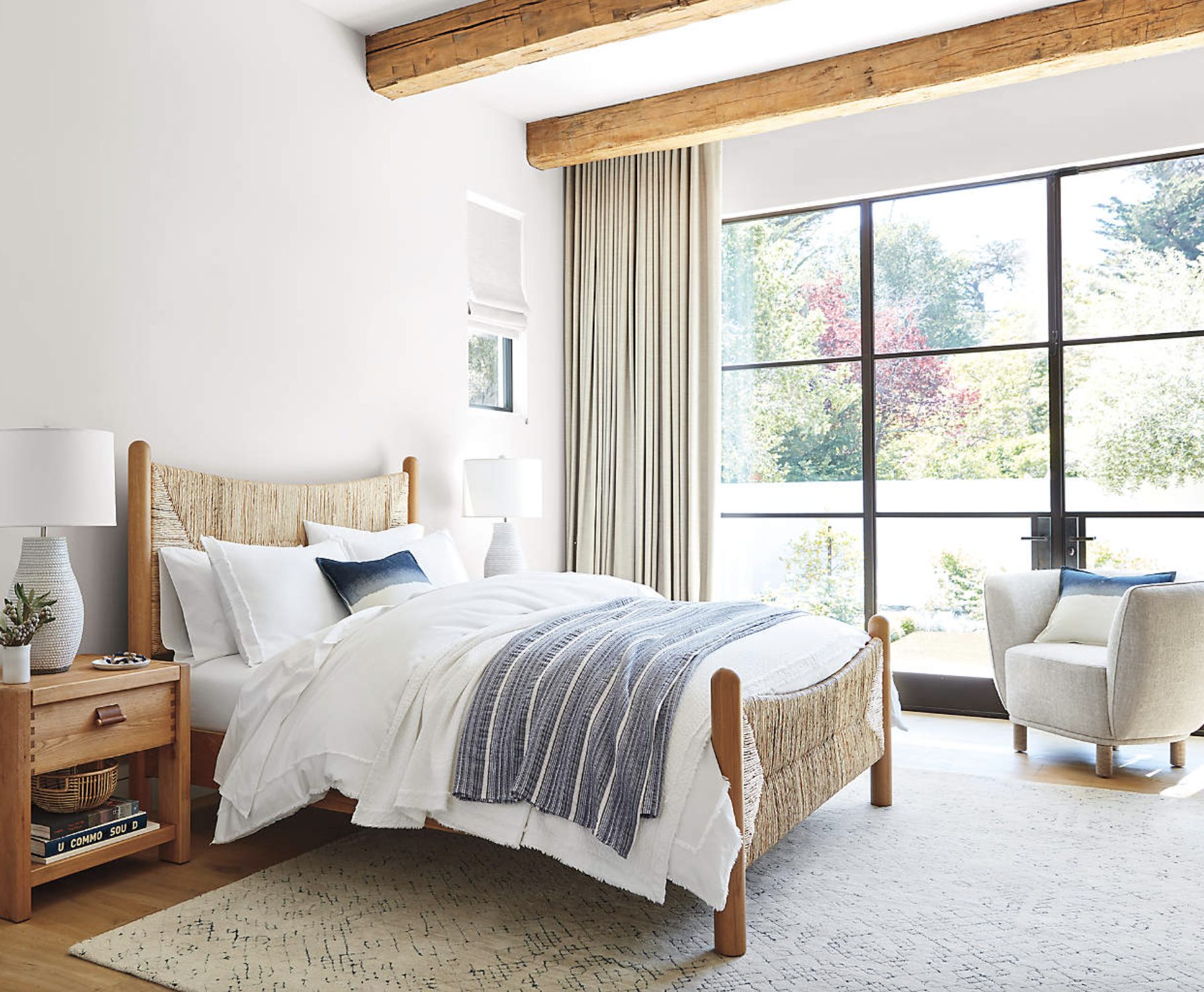 For those hoping to bring texture and warmth into their space, the Rambler Queen Rush Woven Bed does just that. This piece is inspired by shaker rush woven chairs and is handwoven from abaca seagrass. This bed has plenty of soft curvature and charm.
11. Marte Platform Bed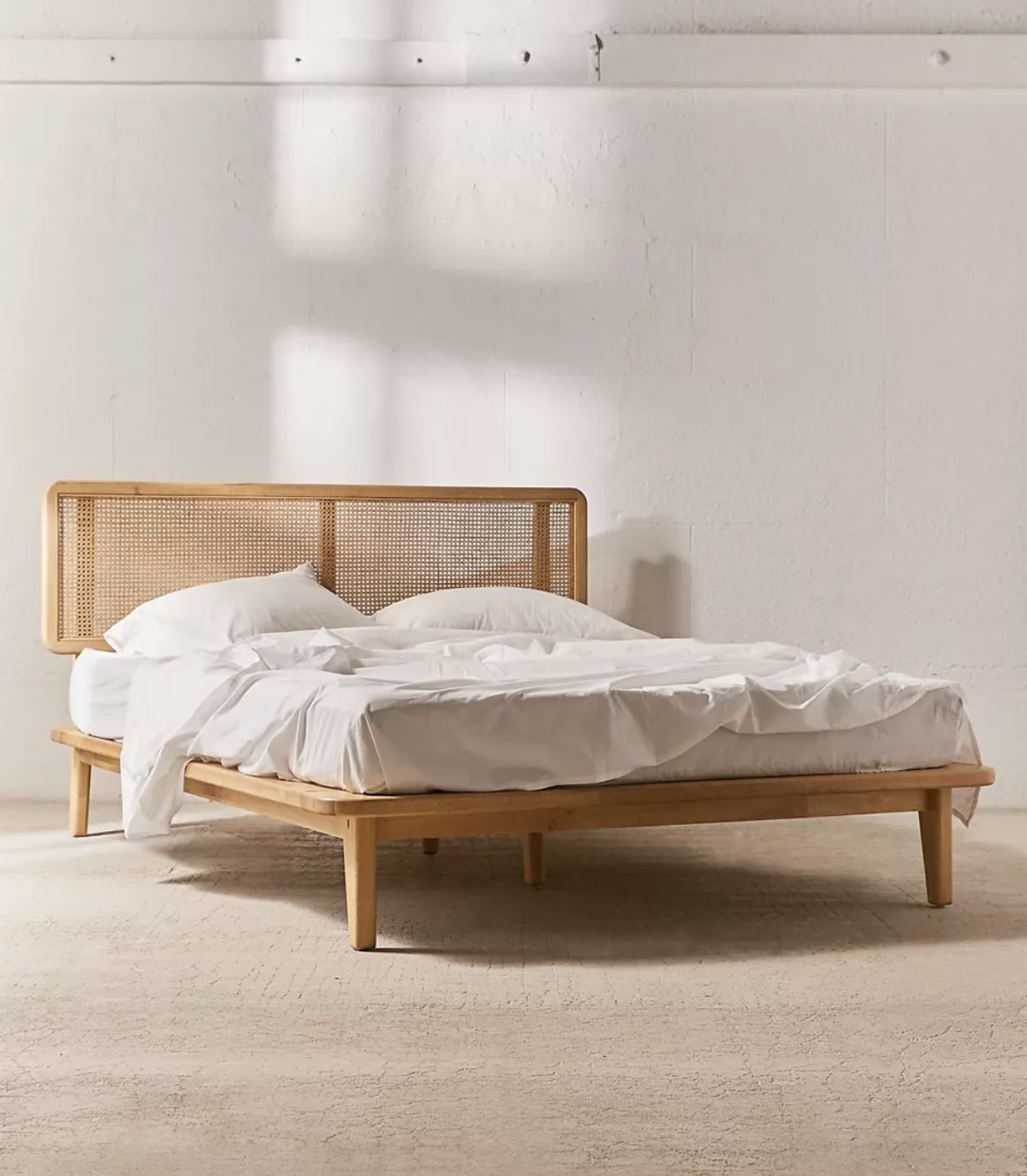 For those who want to bring the comfort and relaxed vibes of a tropical vacation home—you'll adore the Marte Platform Bed. The headboard is crafted from woven rattan with retro inspired shapes. The platform is a solid rubberwood platform that gives the bed a relaxed vibe.

12. Bohemian Bed Frame
For a minimal yet elegant statement, this Bohemian Platform Bed integrates gorgeous curved legs and a deep wood grain. This platform style bed doesn't have a headboard or a footboard which helps the space to feel light and airy. This bed comes in a twin, full, queen, and king size.
13. Handcarved Albaron Bohemian Bed Frame
For those wishing to infuse some of the most stunning cultural design and architecture—the Moroccan styled Albaron Bed is an ideal choice. This bed features intricate and unique hand carved details that are heavily influenced by Moroccan style. Each piece is one of a kind and built to last.
14. Mathilde Nightstand Bed
For those who love to make a dramatic statement and elevate traditional styles—the Mathilde Nightstand Bed does just that. The dramatic hand carved headboard sweeps outward into two integrated nightstands. This piece showcases plenty of natural curves and stunning wood grain.
15. Textured Trellis Bed
Inspired by garden trellises, the Textured Trellis Bed showcases gorgeous hand carved design on solid ashwood. This bed includes a tall structured headboard, and sits upon a slatted base—so no box spring is required. This design comes in both a queen and a king size.
16. Heatherfield Rattan Bohemian Bed Frame
This Heatherfield Rattan Bed is designed to cradle you to bed with its softly curved rattan headboard. This bed also sits on a solid platform so no box spring is required. This bed is also crafted with solid engineered hardwood that is built to last, yet still maintains a light and airy appeal.
17. Heatherfield Leather Bed
Just like the previous bed—the Heatherfield Leather Bed also features a stunning curved headboard that is designed to cradle you as you sleep. This bed sits upon a platform enveloped in a gorgeous Winchester leather, however the color and material type can be changed to suit your design preferences.
18. Walker Edison Bed
For those who love a relaxed bohemian vibe, the Walker Edison Bed is an ideal choice. This platform style bed intentionally sits low to the ground to create an inviting and calming feeling. Crafted from solid pinewood, this bed is built to last a lifetime.
19. HIFIT LED Bed
This gorgeous clamshell shaped bed features a gorgeous and unique LED light strip to make your space come alive at night. The HIFIT LED Bed is a platform style bed that doesn't require a boxspring. This bed comes in both a full and a queen, and can also be ordered in beige or a deep gray.
20. Durden Bed
The Durden Bed is a stunning and sophisticated platform design that showcases an intricate and textured woven headboard, and deep wood grains. This platform style bed is designed to work with no box spring, and floats effortlessly above the ground on tapered thin legs.
21. Dolores Platform Bed
This gorgeous rattan and woven bed frame is ideal for those who want to bring texture and clean lines into their space. The Dolores Platform Bed is crafted from mango wood and natural cane for a down to earth vibe. Choose between a natural, brown, or black finish.
Final Thoughts on bohemian bed frame
Bedrooms are meant to be a relaxing haven to unwind and recharge. A bohemian aesthetic is ideal for creating a sanctuary to do just that. Hopefully you have found the perfect bohemian style bed frame to tie your bedroom together.