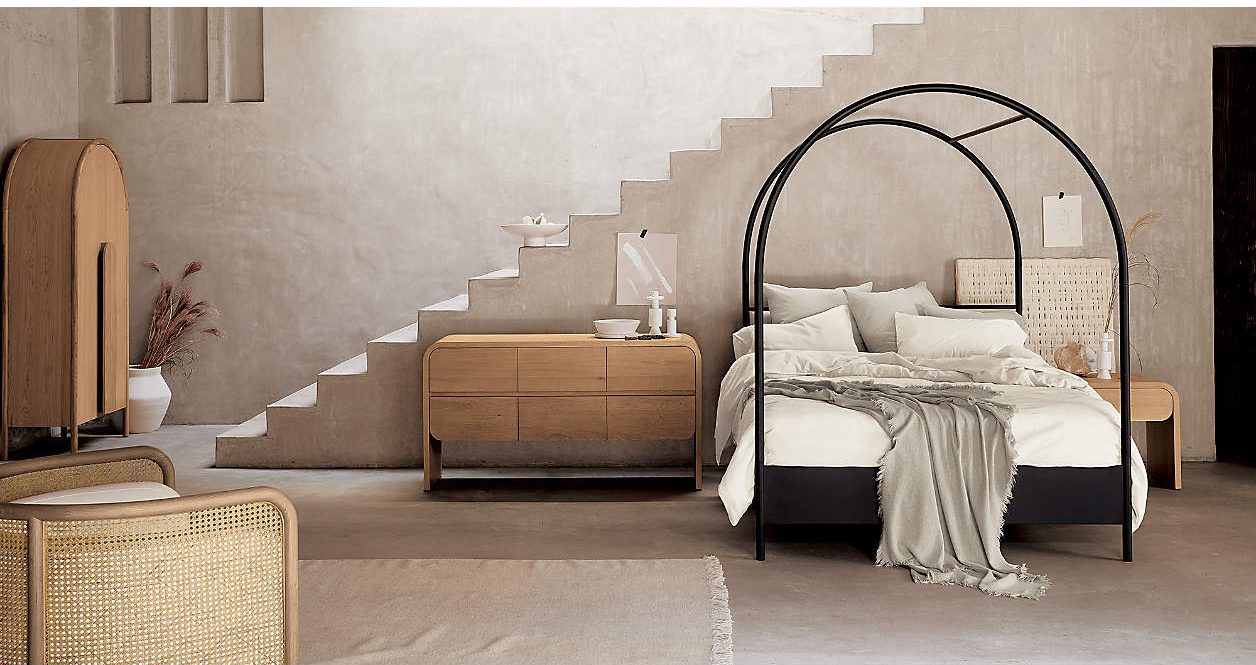 When you come home after a long day, the last thing you want is to walk into your room and be greeted by boring furniture. Any old bed frame will hold your mattress, but if it's nothing special, it'll add nothing to your space and leave you wanting more decoration. If you want to add an extra flair to your bedroom, consider replacing your bedframe with something fun and unique!
Canopy beds are beautiful and add visual interest to your room. The best part about them is that you can customize them by placing a variety of canopies over the top in any pattern or color you want. This will let you spice up your room with an extra splash of color or simply match the rest of your decor for a cohesive look.
You may also like: The Best Loft Beds with Desk for 2022| 17 Best Rattan Headboards that are Timeless
---
Canopy Bed
---
Alazyhome Metal Canopy Bed Frame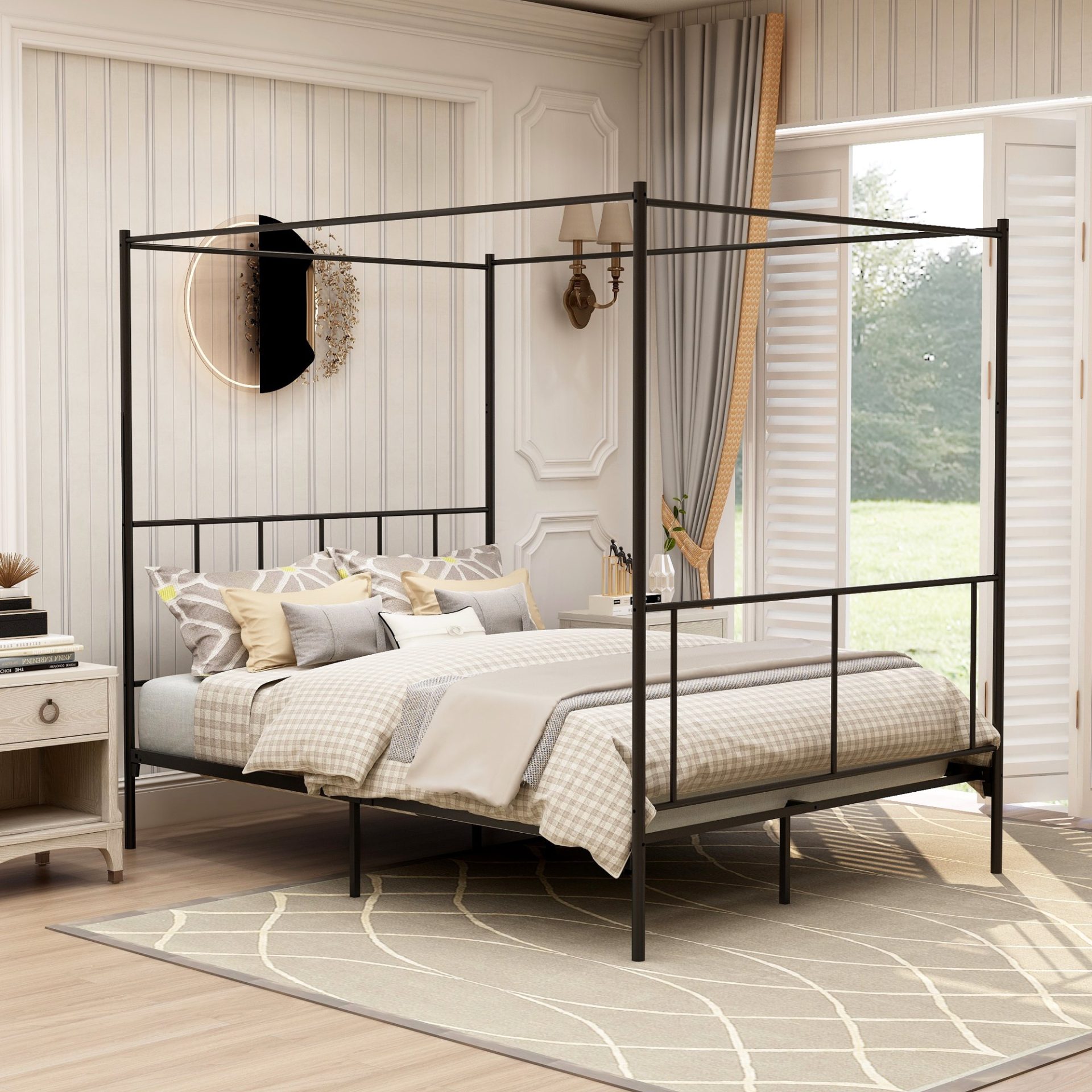 This simple yet beautiful bedframe is a fantastic addition to any bedroom. It's an excellent base for any bedding and canopy since its neutral color matches any style and color scheme you may already have in place. You can also leave it bare if you want a rustic and open look!
Novogratz Marion Metal Canopy Bed Frame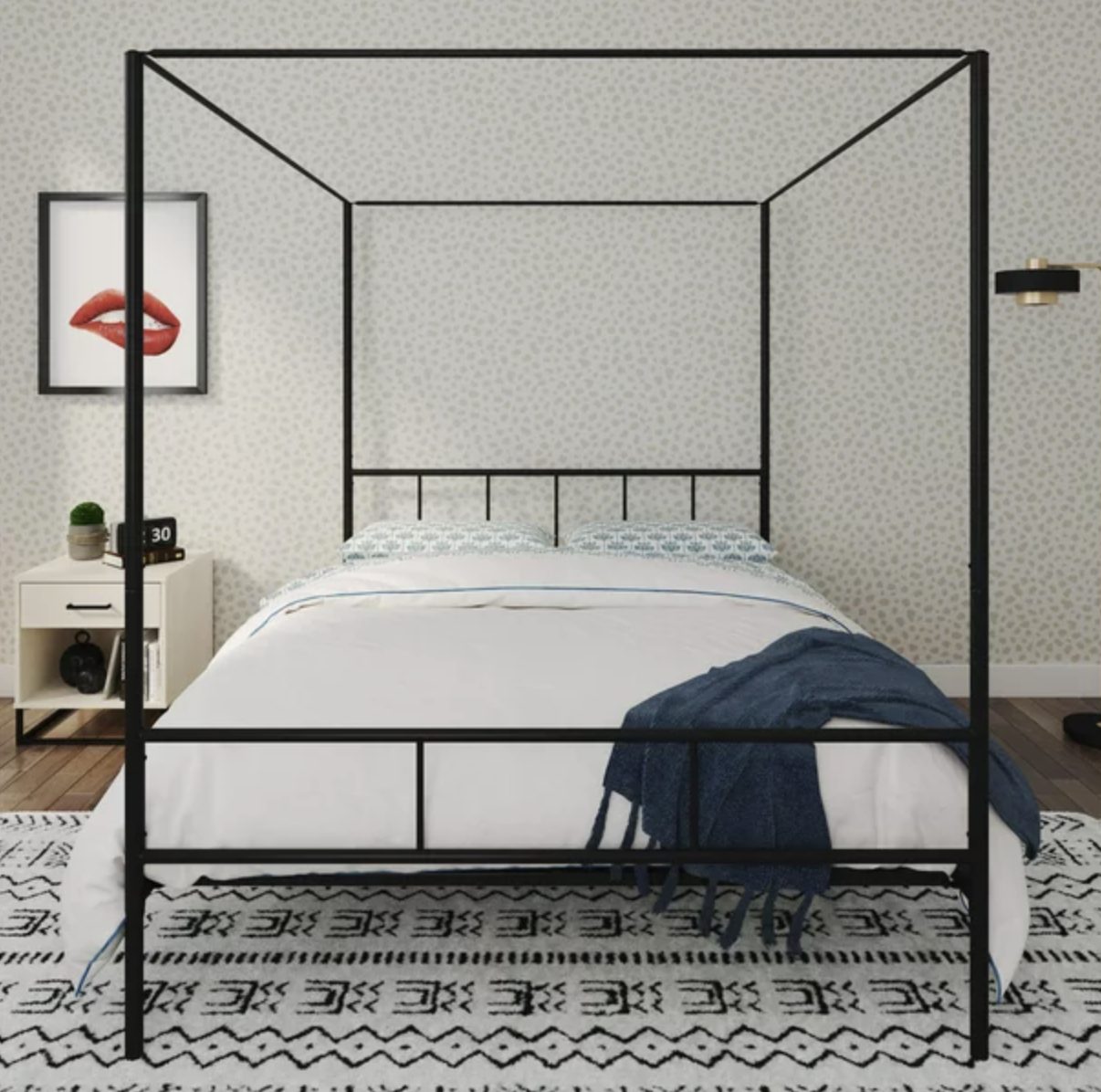 While this bedframe is quite similar to the one before, the height of the headboard and footboard are the main difference. The shorter size gives it a more streamlined shape, creating a light and airy vibe.
ANYSUN Metal 4 Poster Canopy Bed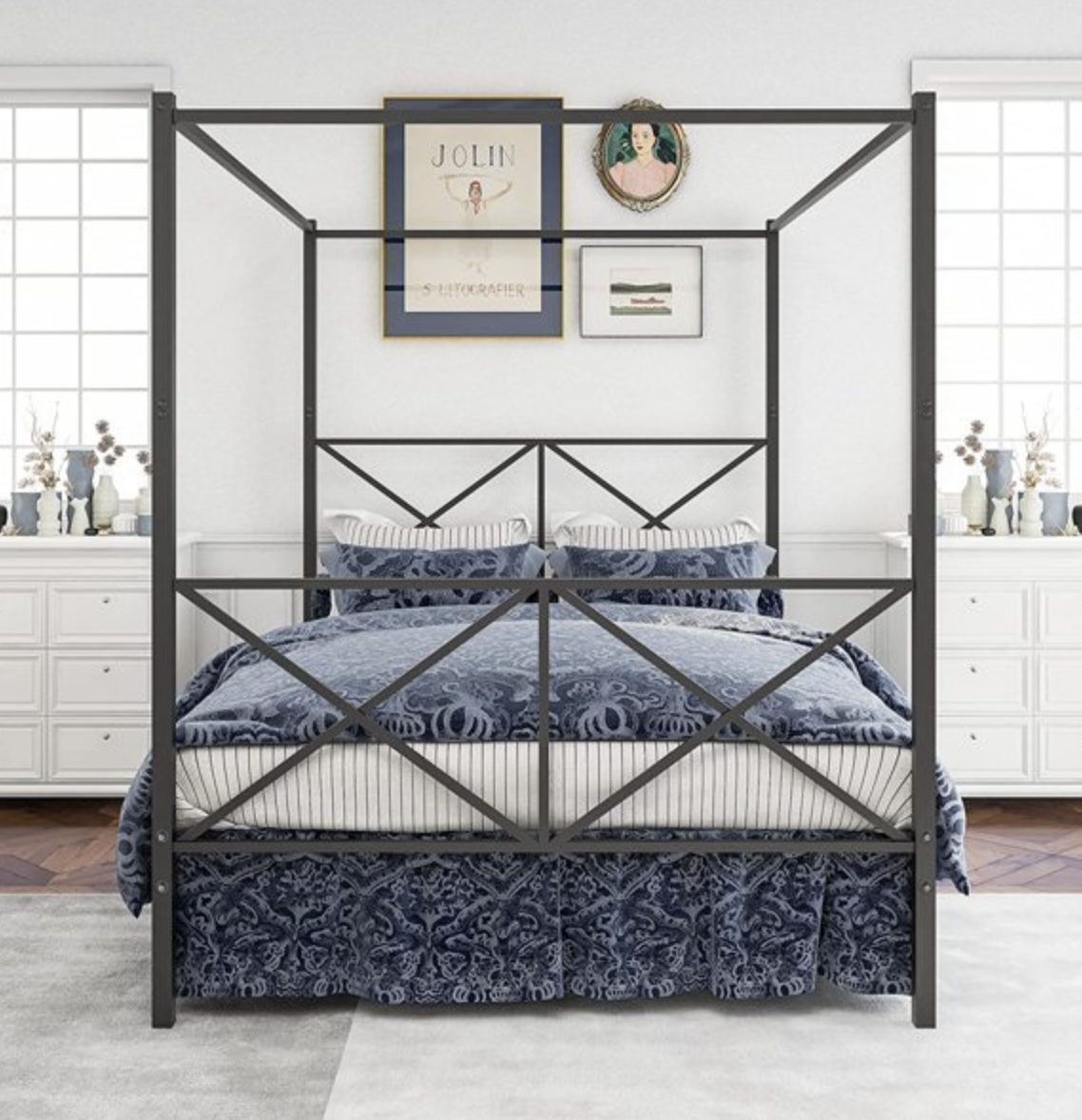 This bed frame boasts a beautiful modern farmhouse thanks to its distinctive crisscross patterns at the head and foot. The steel frame is sturdy and won't shake like other metal bedframes. A sheer drape would compliment the relaxed look of this bedframe, keeping the room flowy and airy. A solid color would also look great, but you'll probably want to keep it open most of the time!
Easyfashion Metal Canopy Frame Four Poster Bed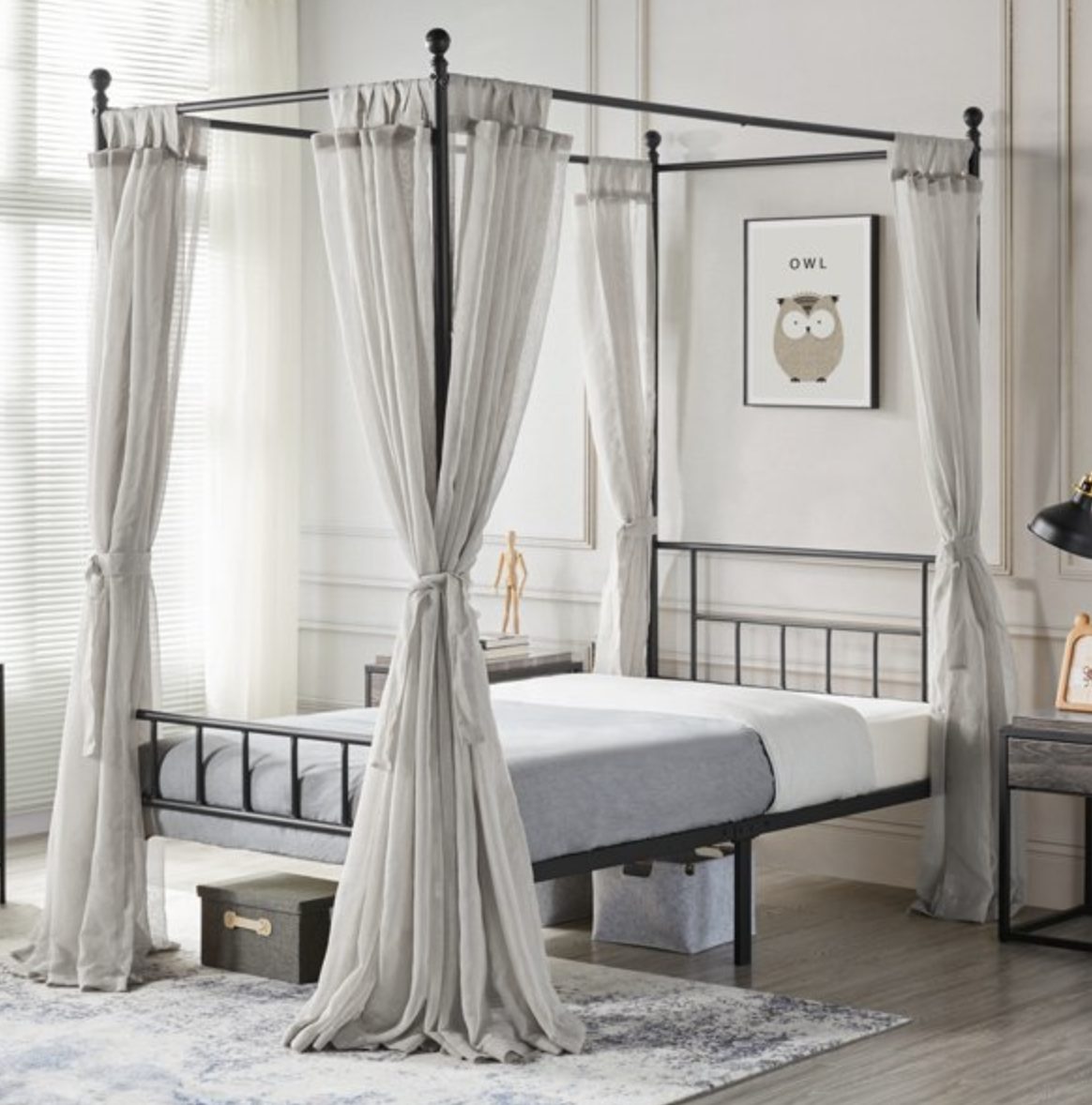 If you want a classic-looking bed frame, this one is for you. While simple, the clean lines still draw the eye and create an air of elegance and style. Its ball finials add some beautiful detail, and you can add curtains to the sides, showing off your style while leaving the top open for extra airflow— perfect for hot summer nights!
Antonia Metal Canopy Bed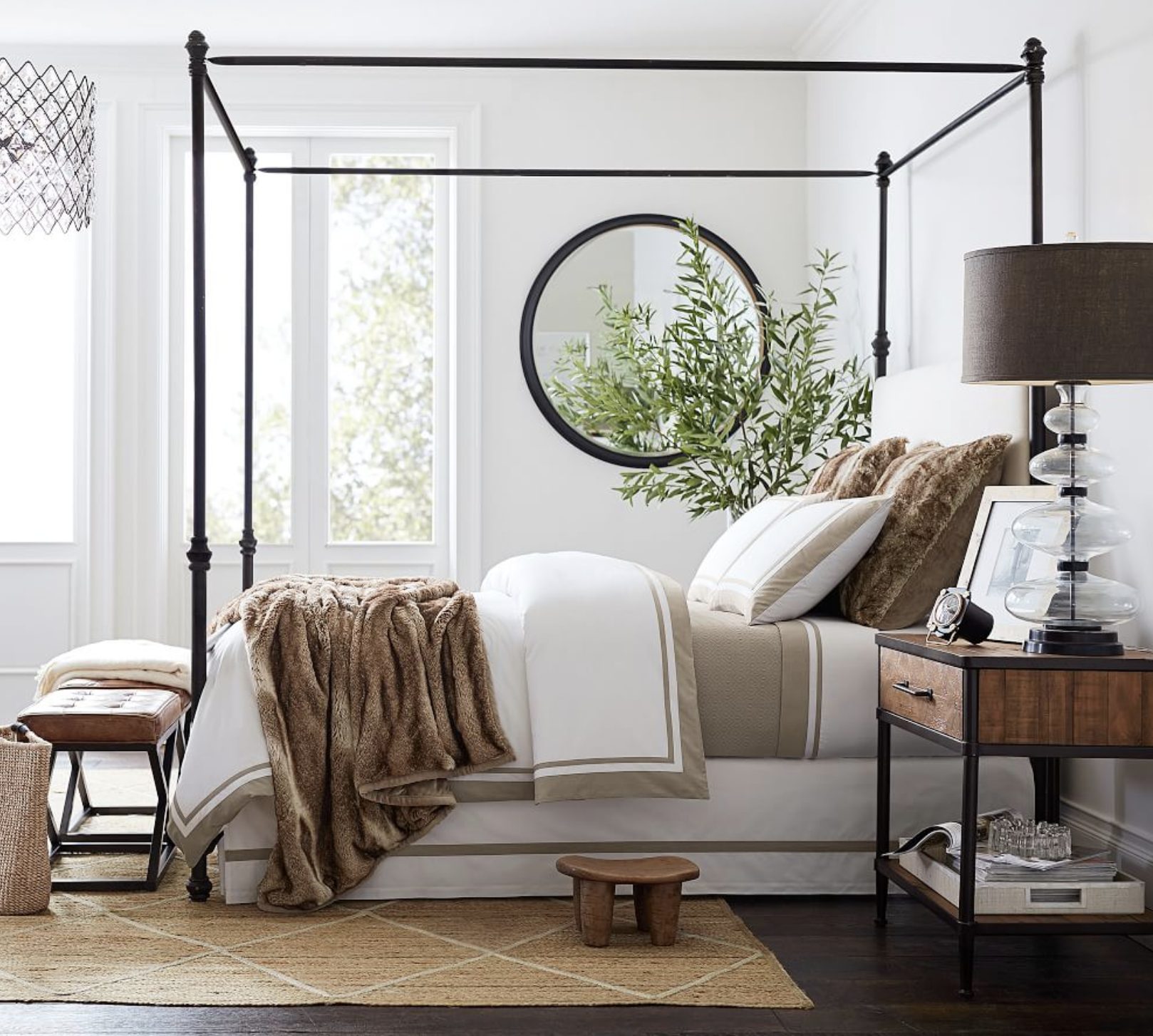 This bed frame keeps the timeless beauty of an old-style four-post bed while pulling off a fresh contemporary look. The tall basketweave headboard compliments the dark steel build of the rest of the frame. The ball finials are a classic touch, adding a little extra flair to your bedroom! This bedframe is available for both Queen and King sized mattresses.
Farmhouse Bed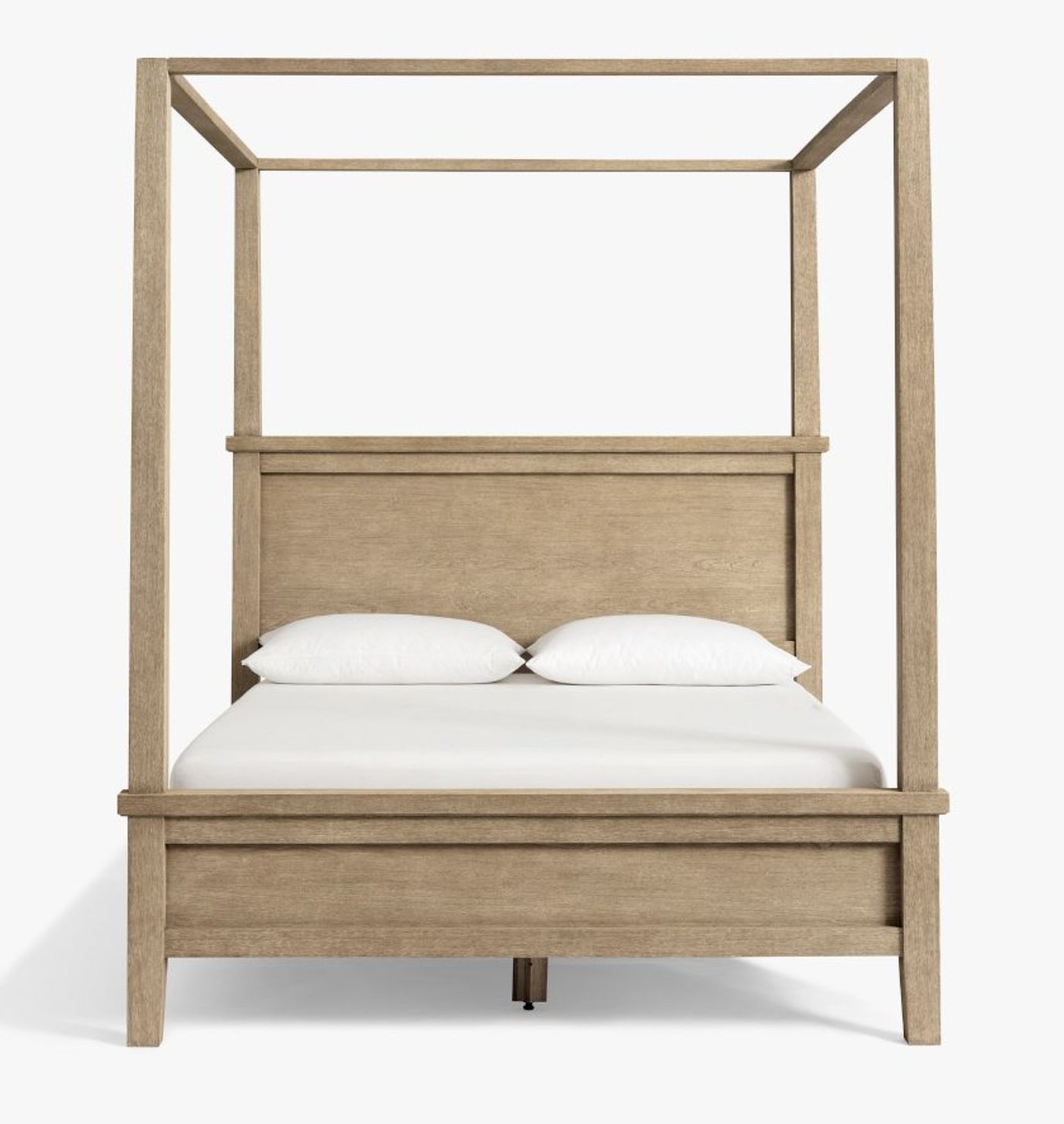 If you want something with a natural and classy look, this rustic wooden bed frame will fit your desires with ease. The kiln-dried Meranti wood has a light and ashy color that will match most color schemes since it's a neutral, warm-leaning tone. It's beautifully detailed and a perfect canvas to decorate with whatever drapes you want to use to tie together your room.
Cayman Wood & Metal Bed
This contemporary take on a canopy bed is modern and bright, with warm, pale mango wood details creating a lovely contrast with the black metal frame. This bed is perfect if you want something with the towering posts and structure of a canopy bed but want to keep a minimalist appearance by leaving the curtains off. The whole bedframe is pleasing to the eye, and you can't go wrong whether you leave it bare or use thin, sheer curtains for a bit more of a traditional look.
Brock Cane Poster Bed
While this bed frame is not a conventional canopy bed due to its lack of space for curtains, the towering height of the bedposts almost gives it the appearance of one. This is a unique piece of furniture with its sleek silhouette and practically otherworldly look. This is the bed for you if you're looking for a standout piece or something that looks straight out of a fantasy novel. This frame is available in both King and Queen sizes.
Malone Canopy
If you want an elegant and sleek appearance, you may want to give this bed frame a look. The metallic accents are eye-catching and are complimented by the dark wood and faux leather accents on the sides and headboard. This is a perfect fit for any modern home, standing out fabulously while still matching the room! You can leave it bare or add curtains and be sure it will look beautiful no matter what direction you choose to go with your decor.
Palmer Canopy Bed
This bed frame has an industrial vibe and would not look out of place in a high-rise apartment. It's a beautifully modern look, with the iron frames striKingly contrasting with the oak panels it outlines. You don't need to hide the frame with curtains, but any warm color would look fantastic paired with the wood accents.
Hargrove Bed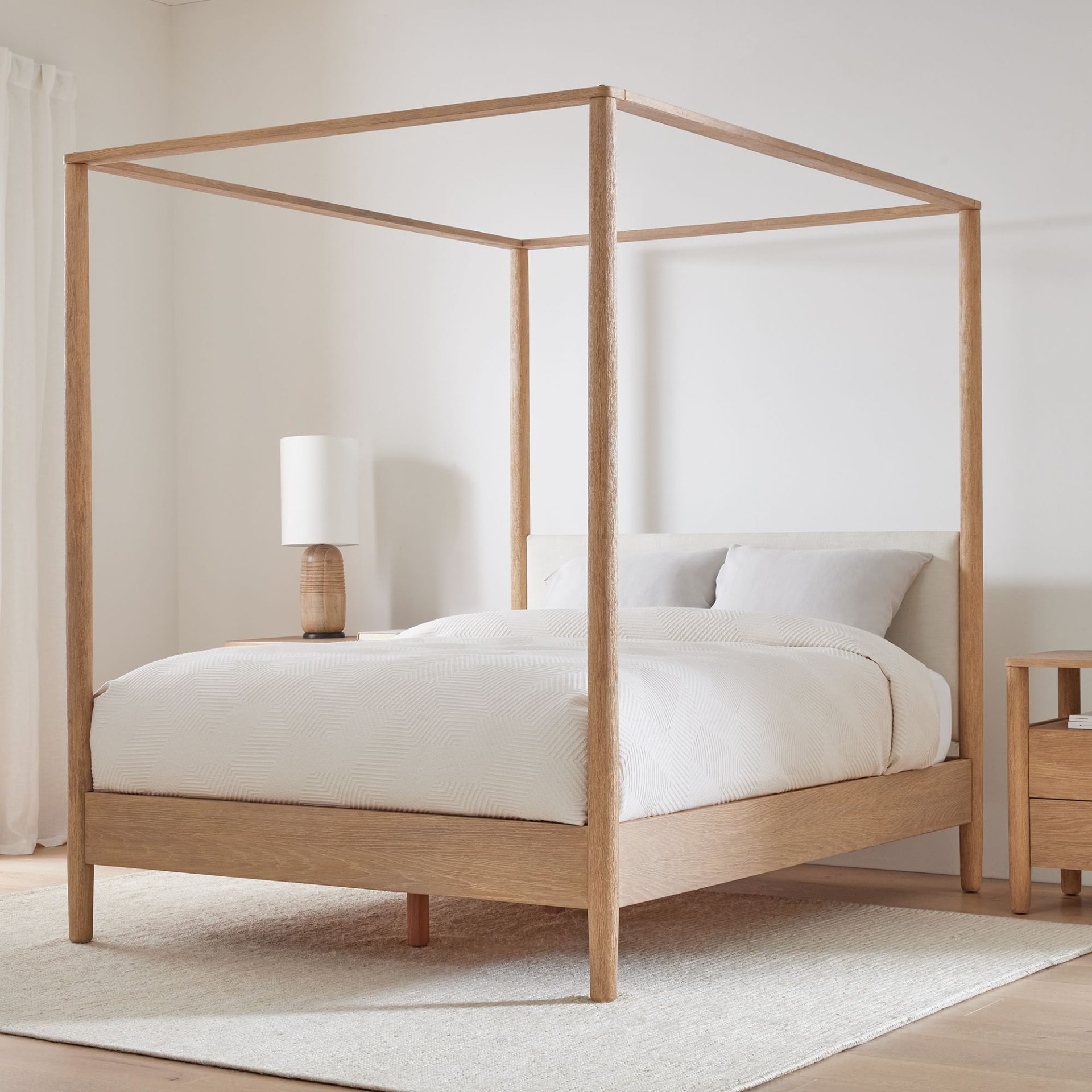 This simplistic and clean-looking bed is an excellent choice if you want something that doesn't stand out too much but matches seamlessly with any room. This is a classy base for any type of drapery, as you won't be covering any fancy details with the curtains, and every color you could want to use will compliment the light wood tone with ease. If you're going for a minimalist look, leaving this bed frame open will also match your aesthetic! It comes in King and Queen sizes, so you can use this simple bed frame no matter how much space you need it to fill.
Leather Cove Bed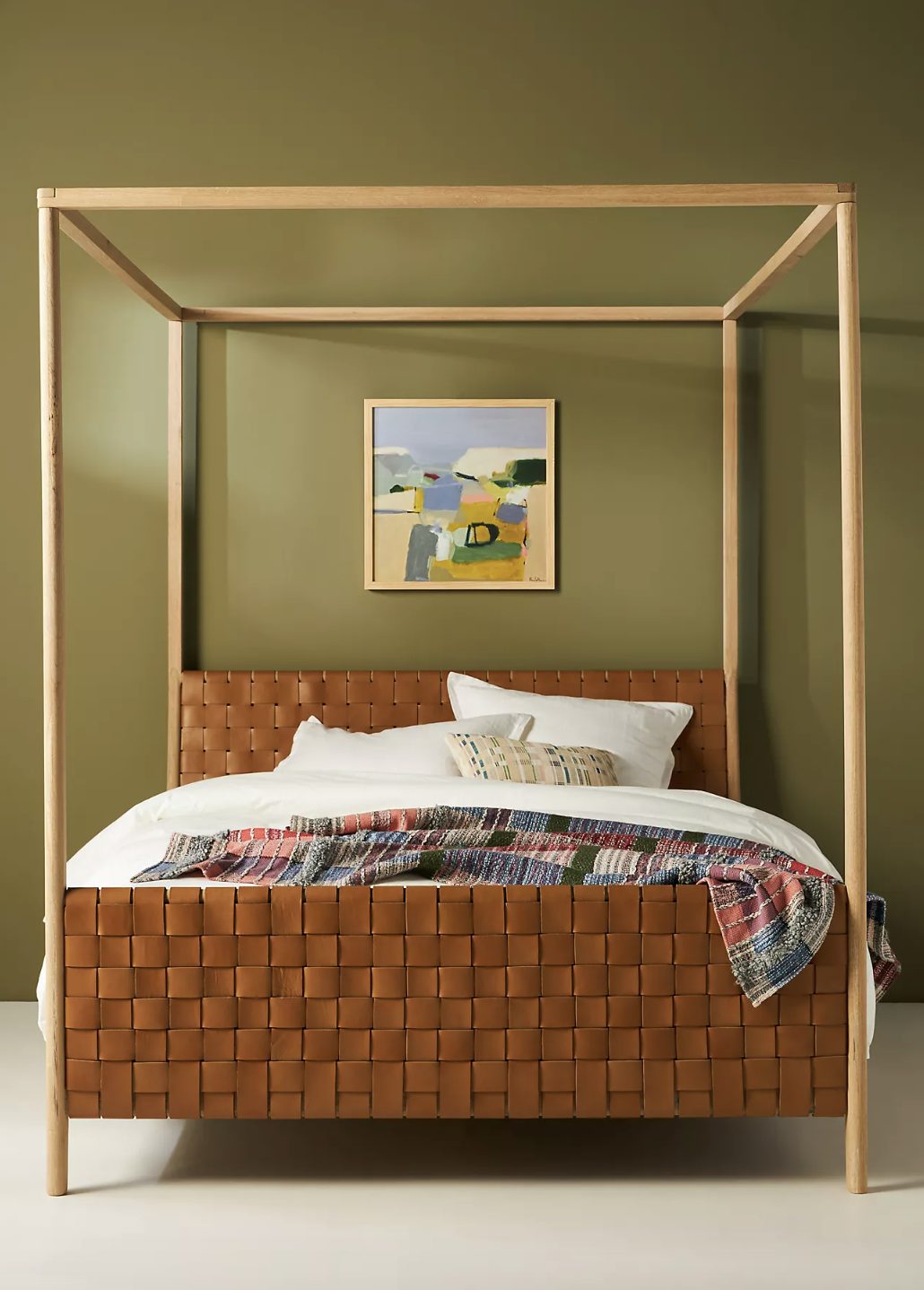 This bed frame is unique in its contemporary take on canopy beds, with the woven leather boards adding an artistic vibe to the whole structure. The warm brown of the leather compliments the light tones of the oak wood frame, and everything is coated in a clear lacquer for protection. You can keep the slim appearance of the bedframe by not using a box spring since it has wooden slats for support.
Shoppe Amber Interiors Penny Bed
If you want something with a cottage-like appearance, this natural oak bed frame is an attractive choice. It brings the outdoors in with its shapely posts and the varying colors in the wood. looking at this bed, it's easy to imagine a cool breeze passing through on a warm day while you lounge. This is a fantastic standout piece and will do beautifully in a space with many windows.
Keane Natural Wood Bed
This simplistic and natural bed frame is a modern and minimalist take on the classic canopy bed. The slight details on the foot of the bed catch the eye without being distracting, and the light ashen color will match everything perfectly, no matter what color scheme you want to use in your decorations. It comes in both King and Queen sizes.
Canyon Arched Bed
If you like the idea of a canopy bed but want something a bit different, this arched canopy bed is a unique shape for a bed frame that's certain to add something new to your room. It's an ultra-modern, almost barrel-shaped frame that will look stunning with thin, translucent sheets laid over the metal supports.
Melrose Bed
This is another bed that's not quite a canopy bed, but the tall four-poster frame makes up for the lack of places for curtains. The grey ash wood is a gorgeous compliment to any other color and will match any other decor and any bedding without issue. It has a beautiful headboard and footboard, both upholstered in a chunky ivory fabric that's soft and comfortable to recline on if you're just lounging in bed!
YITAHOME Storage Bed
This elegant metal frame is a fantastic choice for small bedrooms due to the 12-inch tall storage space underneath; perfect for storing organizers for your clothes or shoes and suitcases that don't fit in your closet. If you leave drapes to the side, the bare frame adds a coherent and minimalist look to your room. Adding curtains will give this bed an extra pop of color and can draw the eye towards the mattress more than if it's bare. Either way, this is a beautiful and sturdy bed frame that you can't go wrong with!
Lenox Bed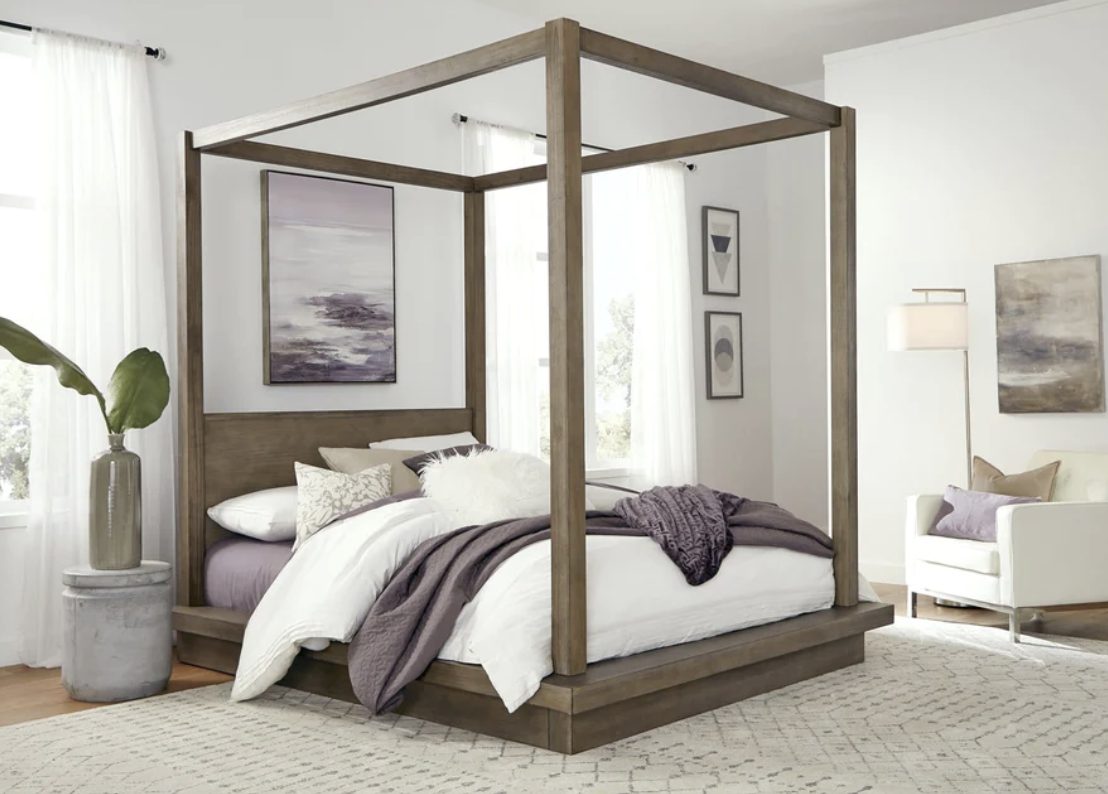 Want something different than anything else you've seen? This is a platform bed, low to the ground and seamless with its solid base and slight lip. The dark pine veneer is classy and will easily match any surroundings. Platform beds add a zen feeling to any room, so you're sure to feel relaxed and comfortable when you walk into your bedroom.
Shorecliff Canopy Bed
If you're hoping for a beachy style in your bedroom, this wooden bed frame looks like it belongs at a seaside hotel and will add a sense of vacation to your home. Every color it comes in is tropical and cozy, so you'll feel as though you'll see the ocean when you look out of your windows. This bed comes in King, Queen, and California King sizes so you can stretch out and relax in style no matter how much space you need.
Cane Four Poster Bed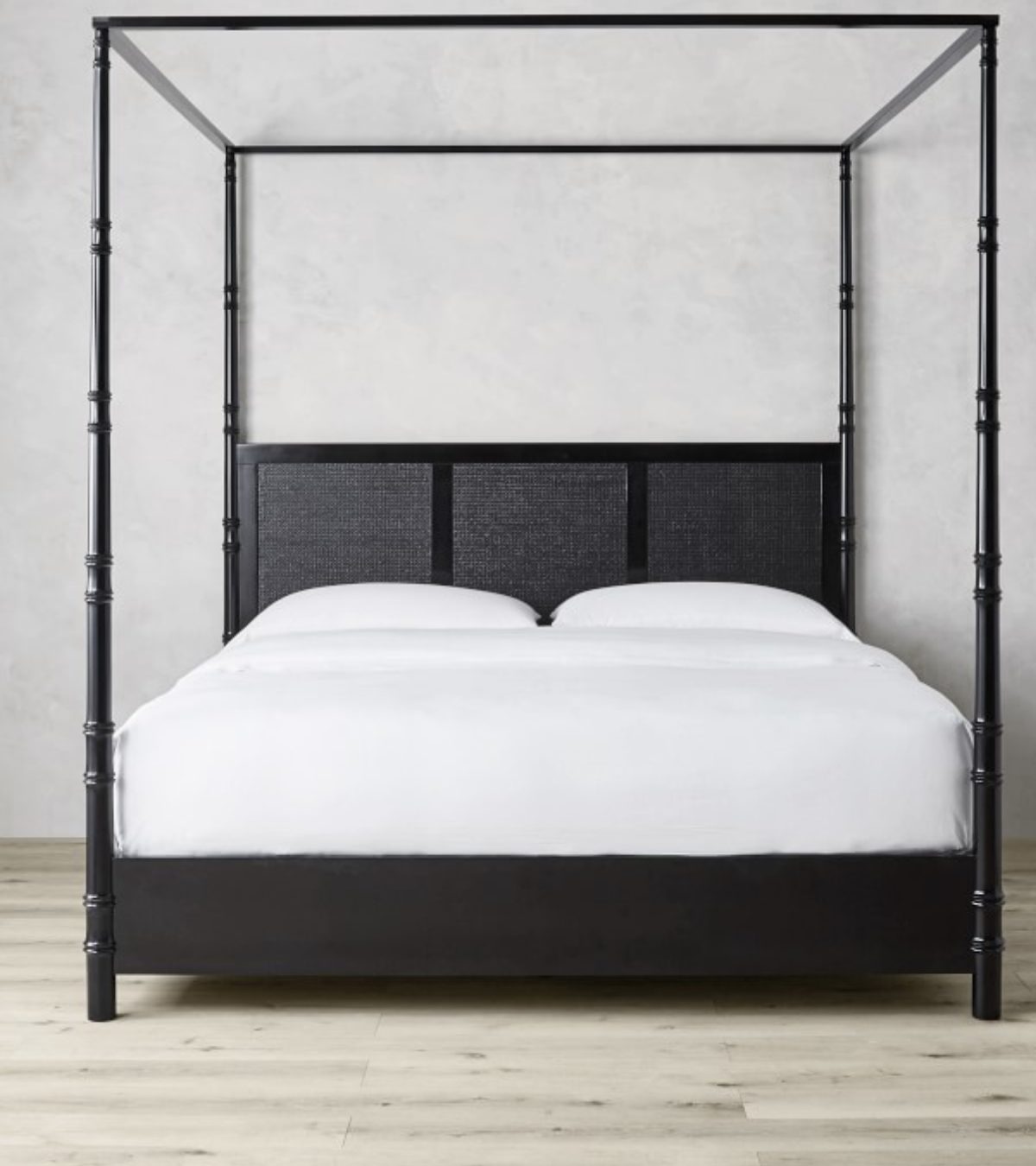 This is a classic-looking canopy bed with detailed mahogany posts and a woven cane headboard. The black color is striking and, being one of the true neutral colors, will match anything it may be near. Since this bed is so timeless and looks like it could fit in any era, any solid-colored drapery or curtains would compliment the style, making it look almost regal.
Caracole Pinstripe Rustic Dark Bed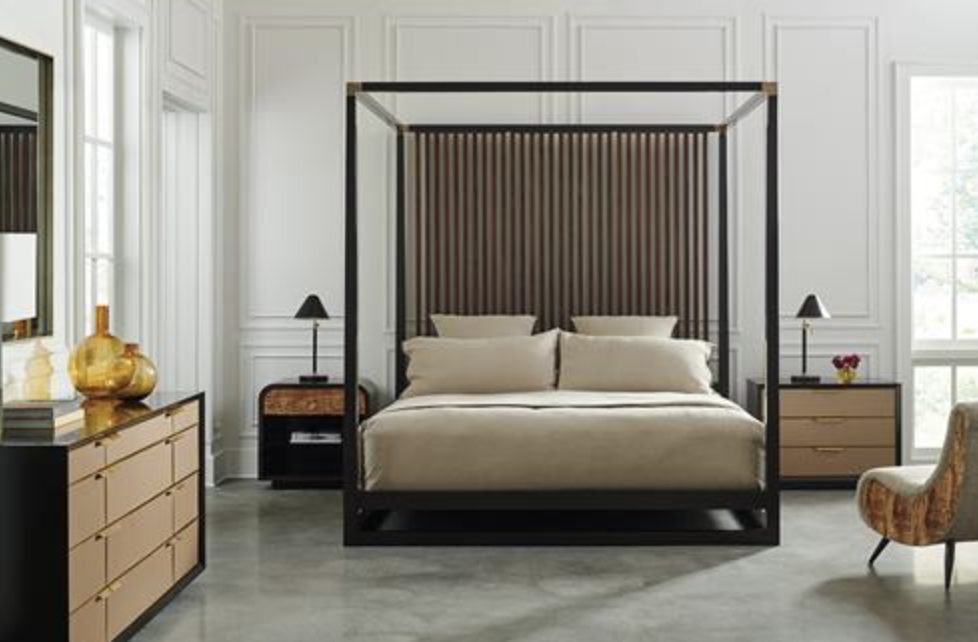 This interesting birch bedframe is almost reminiscent of the pinstripe suits that were popular in the '20s, giving it a chic and classy look. The dark chocolate finish gives the birch wood a clean, cohesive look that's not exactly black but also not quite gray. The high, slatted headboard adds a lot of visual interest, so you'll be able to feel classy and relaxed when you're ready to settle down for a while.
Nordland Upholstered Bed
This bed frame is almost antique-looking and wouldn't be out of place in a grandmother's home. The beautifully upholstered headboard is polyester, so it will be perfectly comfortable for sitting back. Looking at this bedframe almost makes you picture crashing into a pile of decorative pillows and plush blankets, warm and inviting you to take a day off and relax.