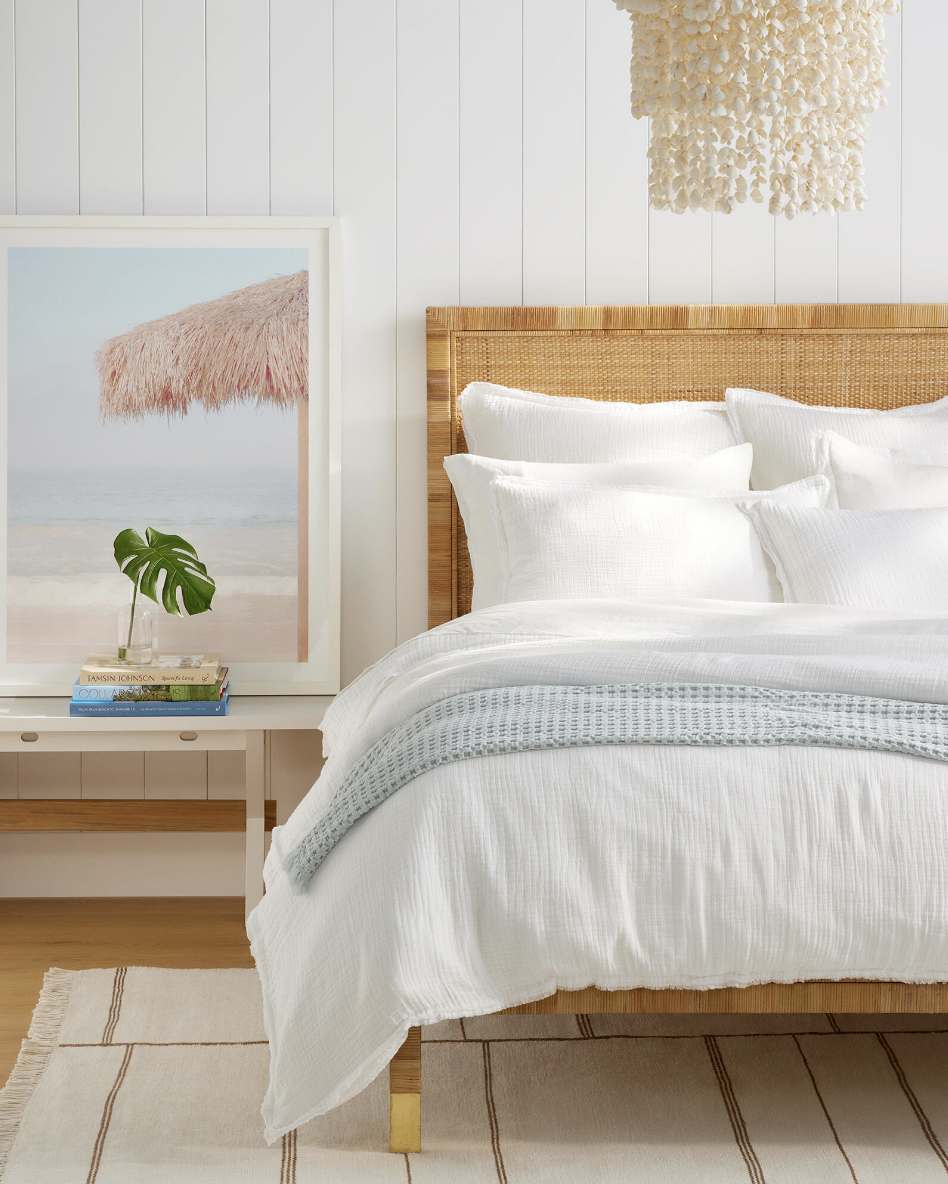 Headboards are fantastic ways to draw the eye into the center of the room. They bring structure and visual grounding to a space. The right headboard also serves as an additional way to incorporate art and charm into a bedroom. Rattan is ideal for adding texture, intrigue and soft bohemian tones to a room.
You may also like: Best Floating Nightstands for Every Design Style | The Best Loft Beds with Desk for 2022
Rattan Headboard
---
1. Balboa Bed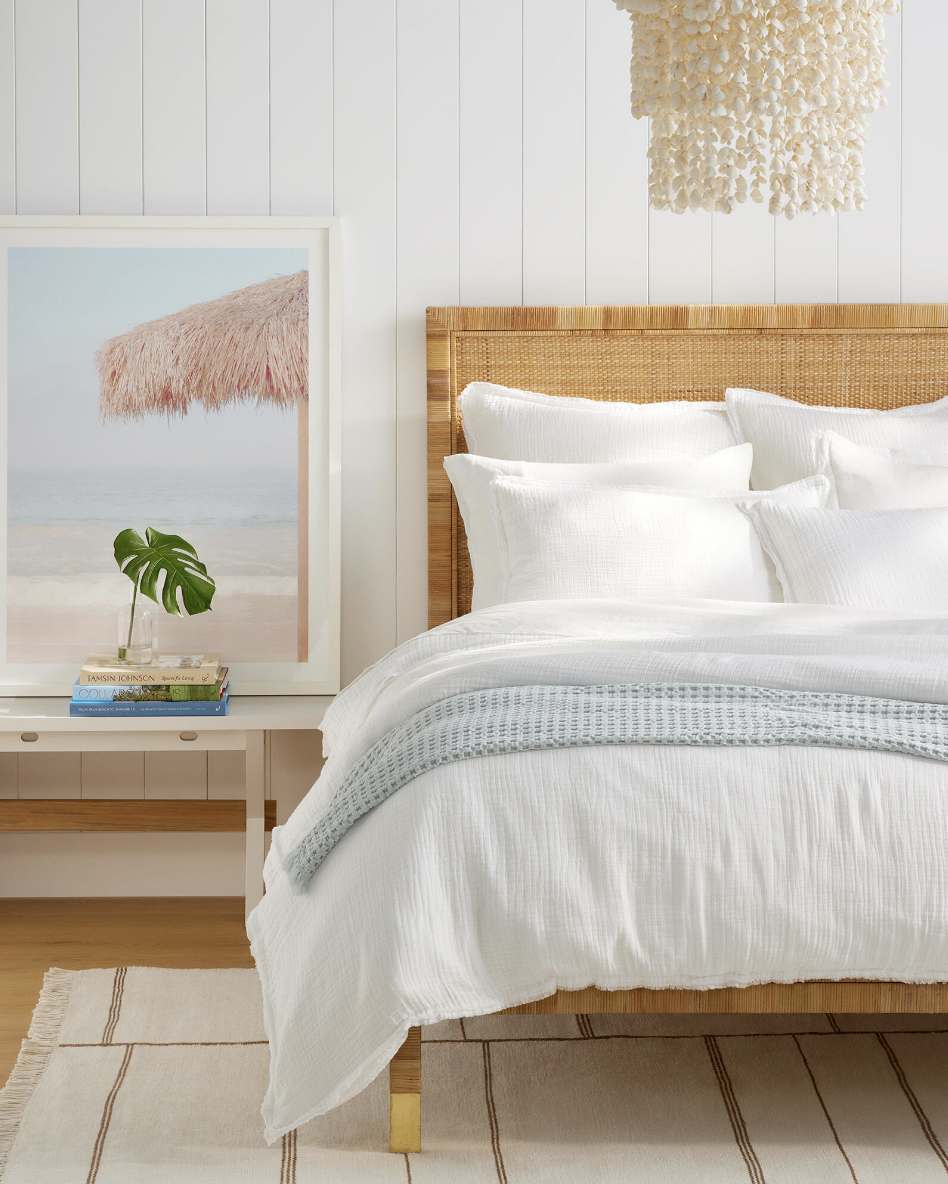 The Balboa Bed is a ratton headboard made from solid mahogony and finished by weavin rattan together to create this stunning piece. Each leg of this bedframe is capped in brass for a stunnign modern flare, this detailing adds extra protection to prevent the weaving from unwinding. This frame comes in a twin, queen and king size.
2. Harbour Cane Bed
The Harbour Cane Bed was inspired by a Louis XIV bed but freshened up with tropical vibes. This bed was meticulously woven by artisans by hand with sustainable materials. Choose between natural, ebony and white to perfectly tie this piece into your space.
3. Cane Headboard
This stunning Cane Headboard is a standalone piece that can be paired with any bed frame of your choice. This delicate and textured piece will add interest and charm to any room, and the rafia is handwoven for precision. This piece is designed for teenagers and comes in one size to perfectly fit a twin bed.
4. Vilmar Headboard
This Vilmar Headboard is crafted with a stunning and intricate design. Made from natural wood, every single piece will be one of a kind and show different variations in the wood. This stunning natural design comes in two sizes —full, and queen.
5. Sausalito Headboard
This Sausalito Headboard is crafted with solid Meranti wood which is a tropical derived wood known for its beautiful long grain. This standalone piece is designed to work with any standard frame, but it is recommended it be used with a PB metal frame.
6. Akshay Headboard
The Akshay Headboard is a unique circular design built from wicker and rattan. This piece was built to evoke the same feelings of sand and warm sunshine. Bring texture and delicate charm to any space with this stunning headboard. This piece is compatible with both a full sized bed and a queen sized bed.
7. Caspian Natural Headboard
This Caspian Natural Headboard is a hand woven design crafted with natural water hyacinth material. This piece comes in one solid form and requires minimal setup in your space. This stunning design is sure to bring much needed texture and brightness to a bedroom. This headboard comes in sizes compatible with any twin, queen or king sized bed.
8. Duron Headboard
This Duron Headboard embodies both vintage and chic vibes. Finished with high quality walnut, this headboard is built to last and brings a softness and uniqueness to any space with its intricate texture. The embedded rattan brings a mid century modern flair to this timeless and beautiful piece.
9. Dolores Cane Platform Bed
This Dolores Cane Platform Bed is handcrafted from mango wood and natural cane. This bed is adjustable and complete with an adjustable mattress base and individually moving levers on the legs for uneven surfaces. Choose between natural wood or black washed wood to match your space.
10. Quinn Headboard
The Quinn Headboard is built with mixed materials for added interest, and is contact grade and built to last. This piece is also built from sustainably sourced materials in a way that is eco-conscious. Choose between a queen size or a king size to suit your bedding setup.
11. Queen Anza Woven Rattan Headboard
The Queen Anza Woven Rattan Headboard strikes a stunning balance between clean lines, soft curves, texture and intricacy. This headboard is ideal for those wishing to bring a natural flair and subtle but beautiful intrigue to their space. This piece is made from natural wood and is available in a queen size.
12. Mya Natural Rattan Sleigh Daybed
The Mya Natural Rattan Sleigh Daybed features a soft curved headboard and footboard to delicately cradle your twin sized mattress. This piece is designed to bring symmetry and clean lines to a space, while adding texture and natural tones. This can be used as a daybed, children bed or would be ideal in a reading nook.
13. Sunflower Rattan Headboard
This Sunflower Rattan Headboard is a unique and bold statement piece. The sunflower design is crafted from natural wood and brings a softness and interest to any space. This is ideal for those hoping to achieve a boho, dreamy or beachy aesthetic in their space.
14. Creative Co-Op Handmade Rattan Slatted Headboard
The Creative Co-Op Handmade Rattan Slatted Headboard is woven with rattan and features clean lines and subtle curvature. This piece is ideal for those with a clean, boho style. This headboard is built for a queen sized bed and can be mounted directly to a wall.
15. Java Rattan Headboard
The Java Rattan Headboard is constructed with 100% manau rattan to keep it lightweight. This bold and bohemian piece is ethically crafted by master artisans from Indonesia. Choose between a queen or king size for your space.
16. Jolene Rattan Headboard
The Jolene Rattan Headboard's design was inspired by a rising sun. With its strong curves and rattan inlay, this headboard is both stylish and bold. The warm hues of the rattan against the dark wood beautifully ground and brighten a space.
17. Cane Headboard
The Cane Headboard is crafted from high quality, durable rattan. This stunning rectangular headboard features soft and subtle curves and brings a gentle bohemian vibe to any space. This headboard pairs with a twin bed, and would be ideal for a child's room or a dorm room.
More Thoughts on Rattan Headboards
Headboards are stunning and practical ways to not just add more visual interest to a space, but they also serve as protection for your walls. Headboards can help provide extra structural support as well.
A headboard can even help you rest easier throughout the night, as it prevents your bed from rocking side to side as you toss and turn.