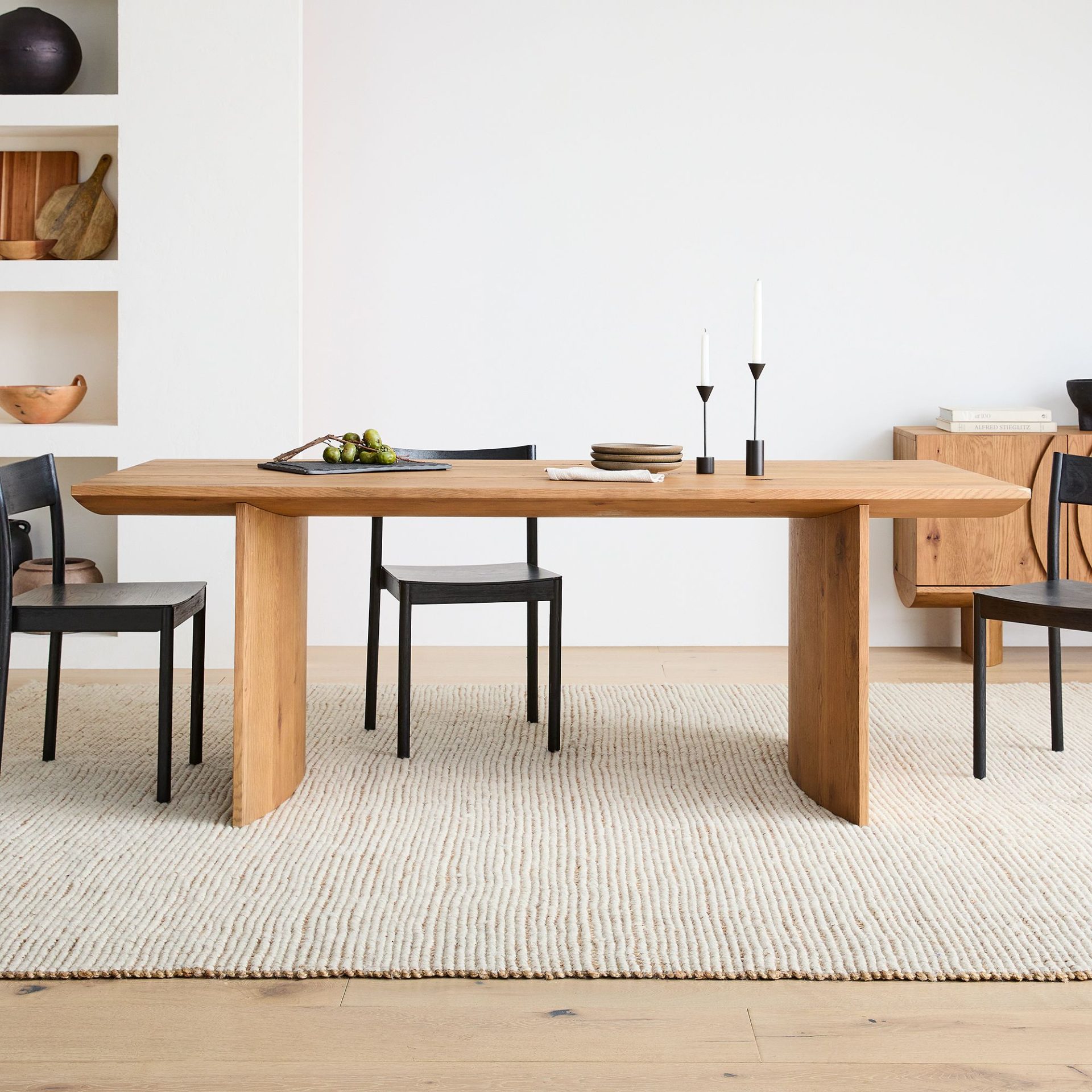 Are you in the market for the perfect Mid century modern dining table to tie your formal or living room together? Here we have found the most stunning tables for a mid century modern aesthetic that will impress all of your dinner guests.
Whether you're in the market for a show-stopping and unique design to get your dinner guests talking, or an understated simplistic design that will round out your space— we have found some of the most timeless pieces on the market.
Find a stunning mid-century modern table that you rely on for generations to keep your space fresh and looking new.
You may also like: 17 of the Best Mid Century Modern Round Dining Tables | 20 Best Extendable Dining Tables for Every Design Style | 10 Best Small Round Dining Tables we Love
Here are some of our top picks:

---
Mid Century Modern Dining Tables
1. Mid Century Modern Extendable Dining Table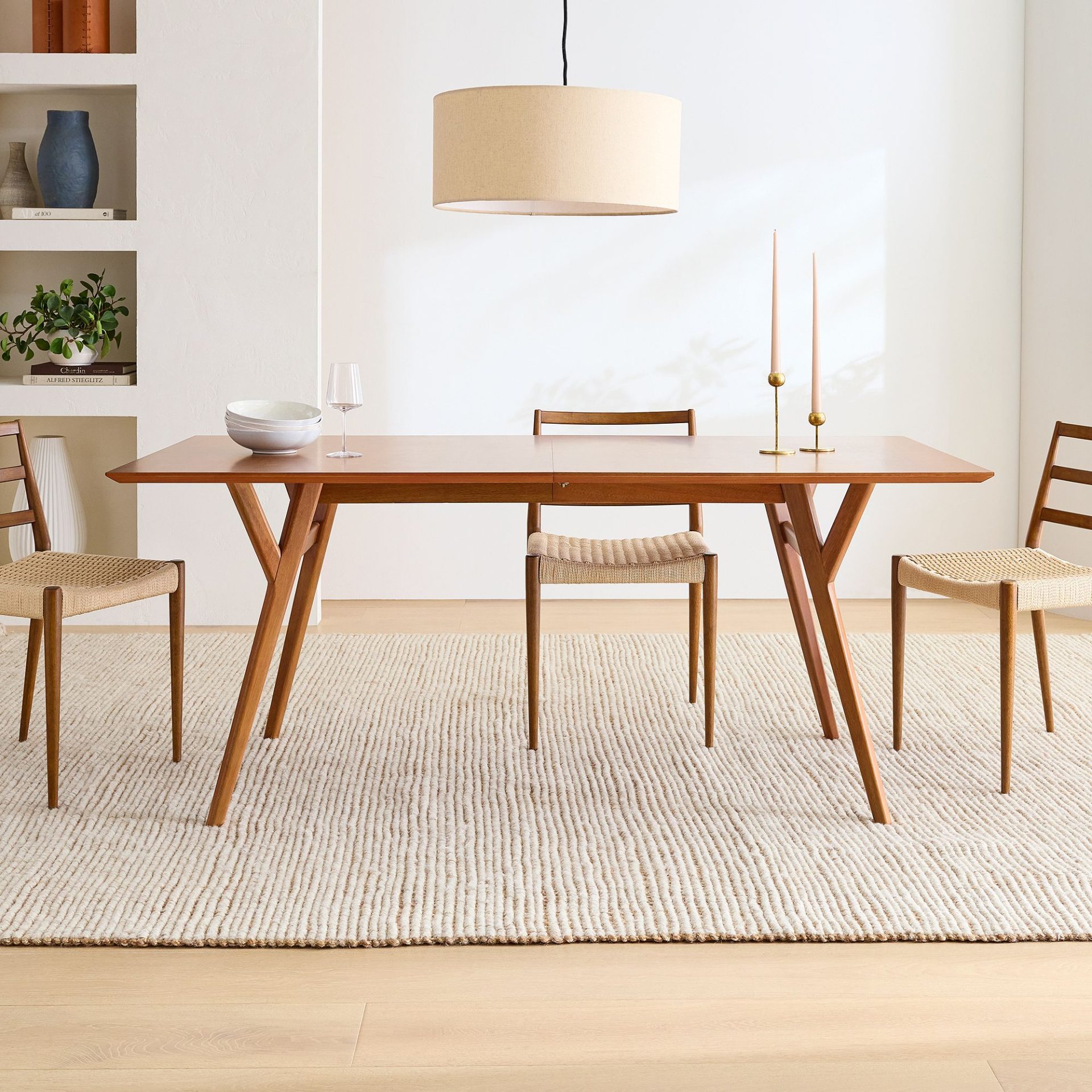 This extendable mid-century modern dining table is made from sustainably sourced wood in a Fair Trade Certified™ facility. It expats from 60"- 80" and is ideal for entertaining up to eight guests comfortably. The clean lines and minimalist design will help keep your space feeling light and open.
2. Evanston Dining Table
The Evanston Dining Table is available in both a walnut and a whitewash finish and is ideal for seating up to four guests. This simple design helps highlight the natural wood grains present in both the solid walnut wood, and walnut veneer. Spanning 71" long, this table is ideal for seating up to six guests comfortably.
3. Portola Extending Dining Table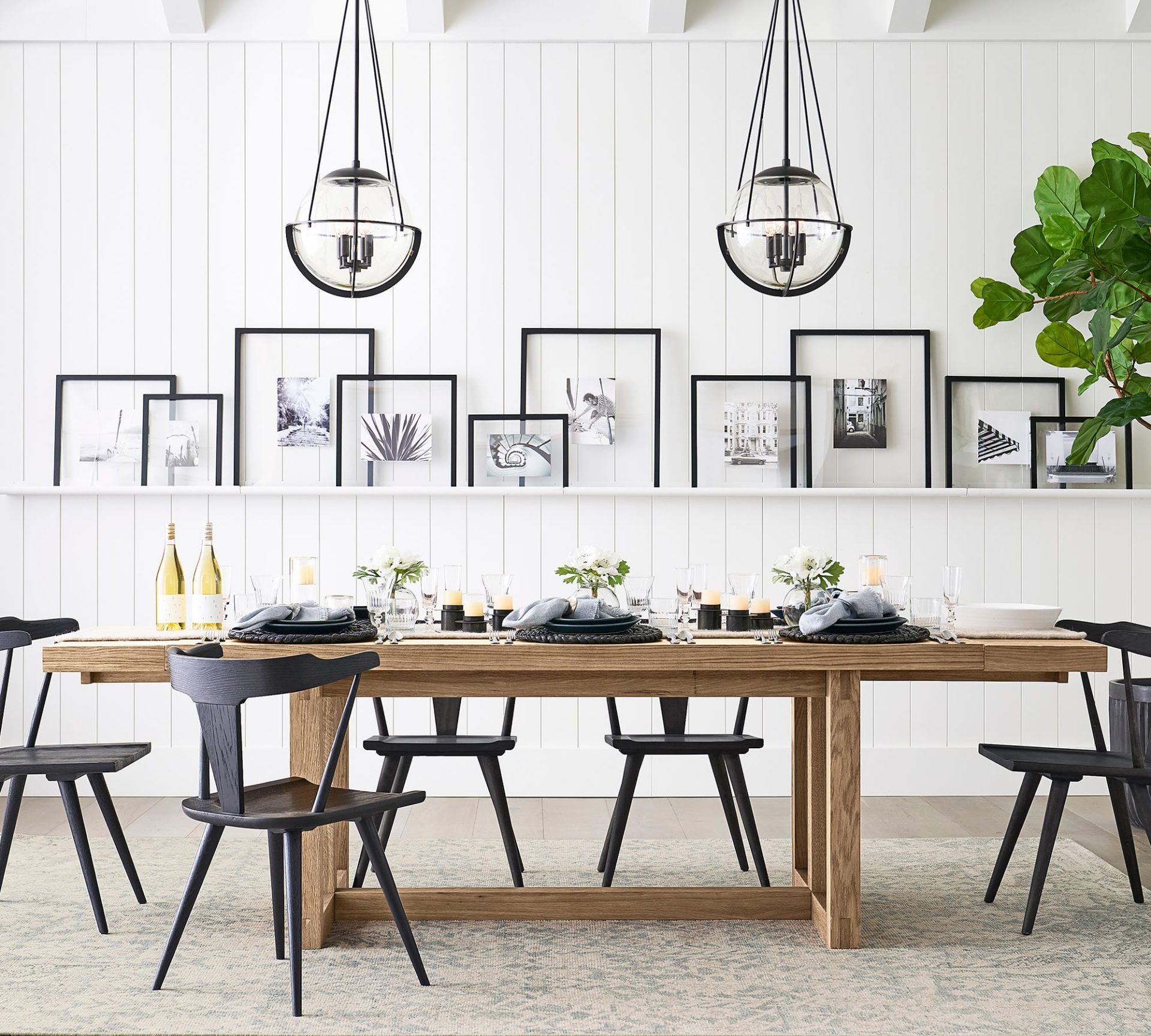 This stunning table was crafted with oak veneers, solid oak wood, and MDF in a Seadrift finish. The Portola extended dining table features two breadboard leaves which extend the table from 80" to 104". This table is ideal for those who like to entertain large groups of people as it can comfortably seat up to ten people while extended.
4. Aurora Rectangle Dining Table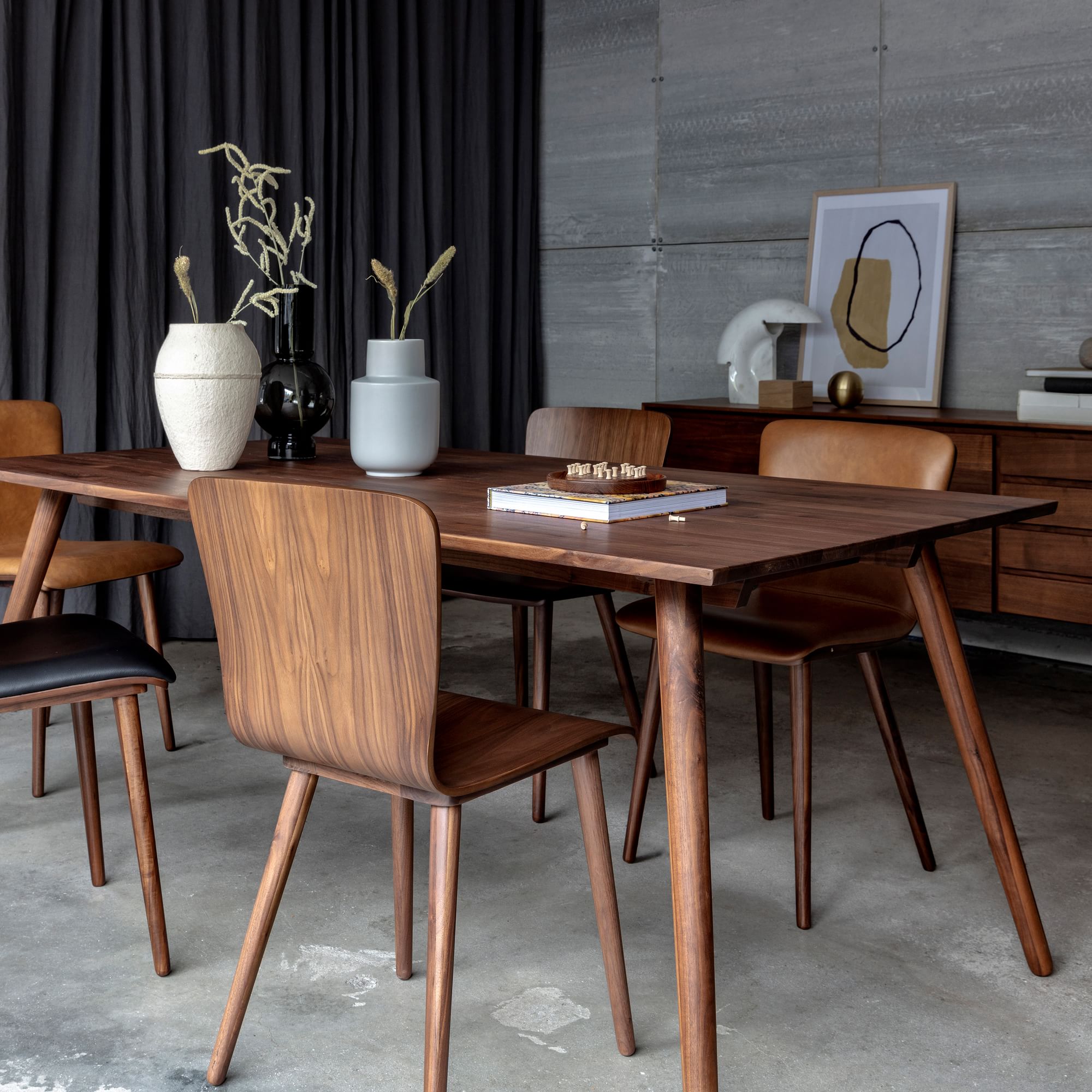 The Aurora dining table comes in two different options— Walnut or oak. Regardless of which style you choose, the table is made from solid wood. The splayed legs in this design were purposely designed to ensure maximal leg room for your guests to sit comfortably.
The 70" design featured here can seat up to six people, and the 87" can seat up to eight.
5. Jacob Dining Table with Vertex Base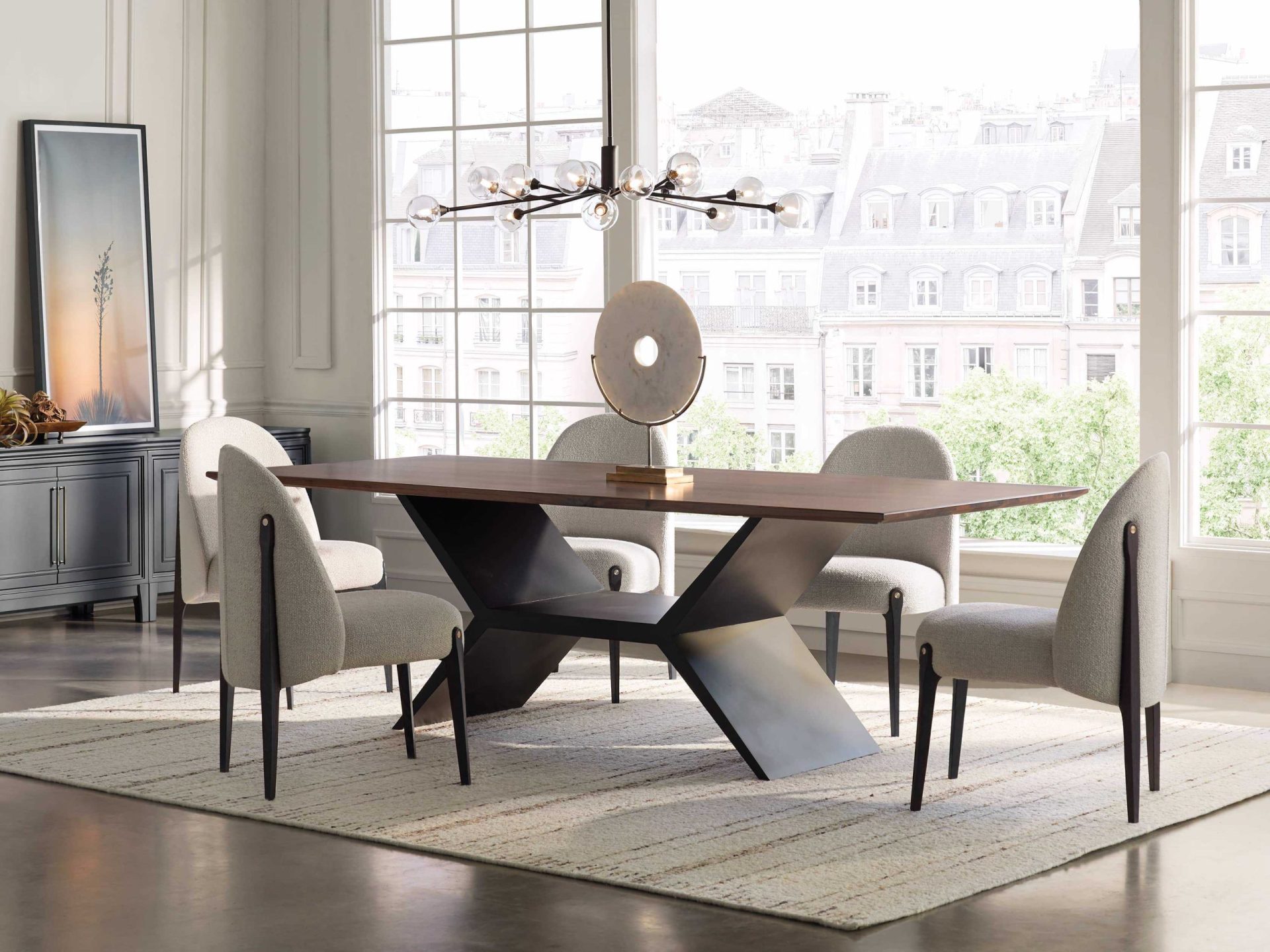 The Jacob dining table is a unique geometrical design that is built to last. The table tops come in two separate options— Oak or walnut. The table bases are made from iron and finished with a flat black coating.
This table comes in several different sizes that can entertain anywhere from eight to ten guests.
6. Mid-Century Round Expandable Dining Table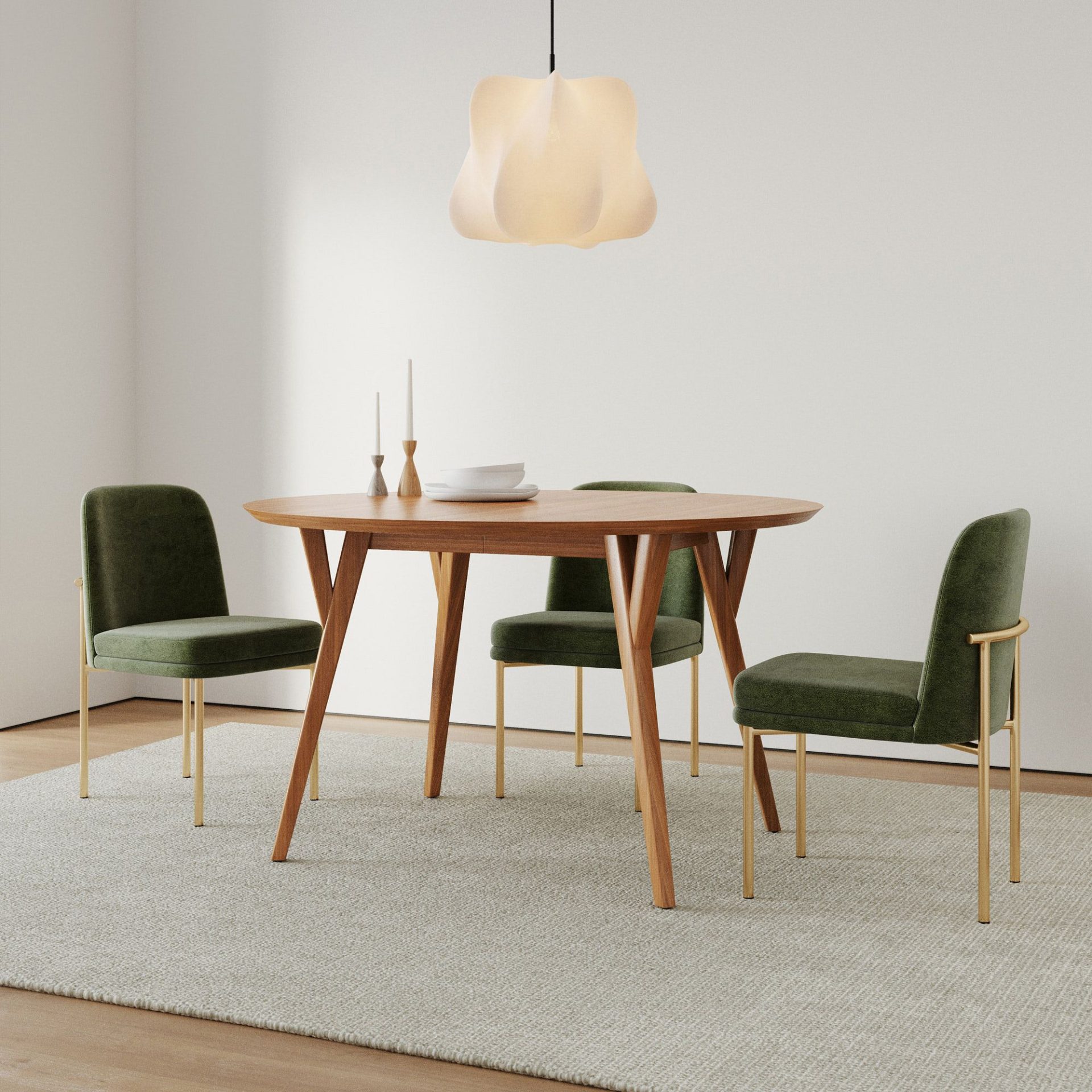 This mid-century round dining table expands via drop-in leaf. This table comes in two different sizes— the 42"-60", and the 60"-80". All of these table options are made from solid eucalyptus wood and coated in either a walnut or ash wood veneer. All of the wood is made with FSC®-certified wood from responsibly managed forests.
7. Capet Mid-Century Walnut Dining Table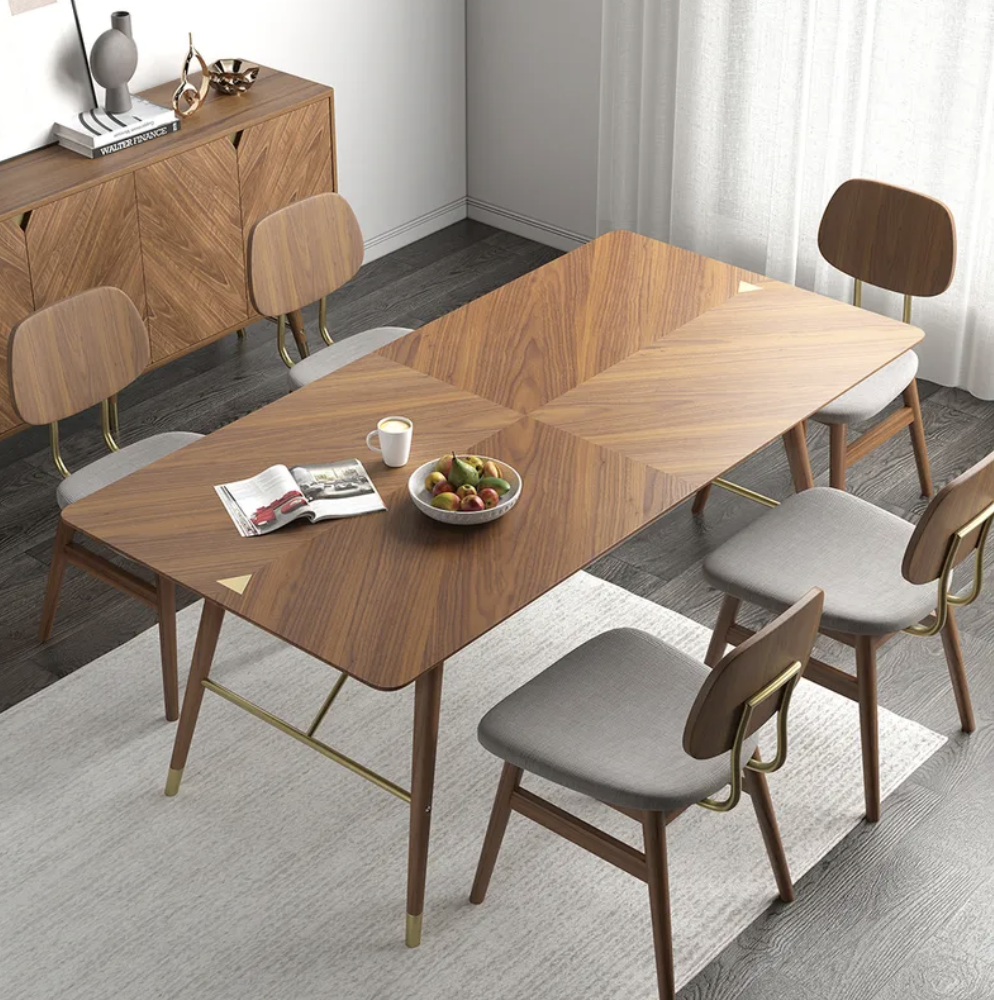 This stunning design highlights the walnut woods natural texture in a chevron design. The stainless steel geometric designs add to the style and a chic flair. The Capet mid-century walnut dining table can comfortably seat up to six guests.
8. Emmond Mid-Century Modern Round Dining Table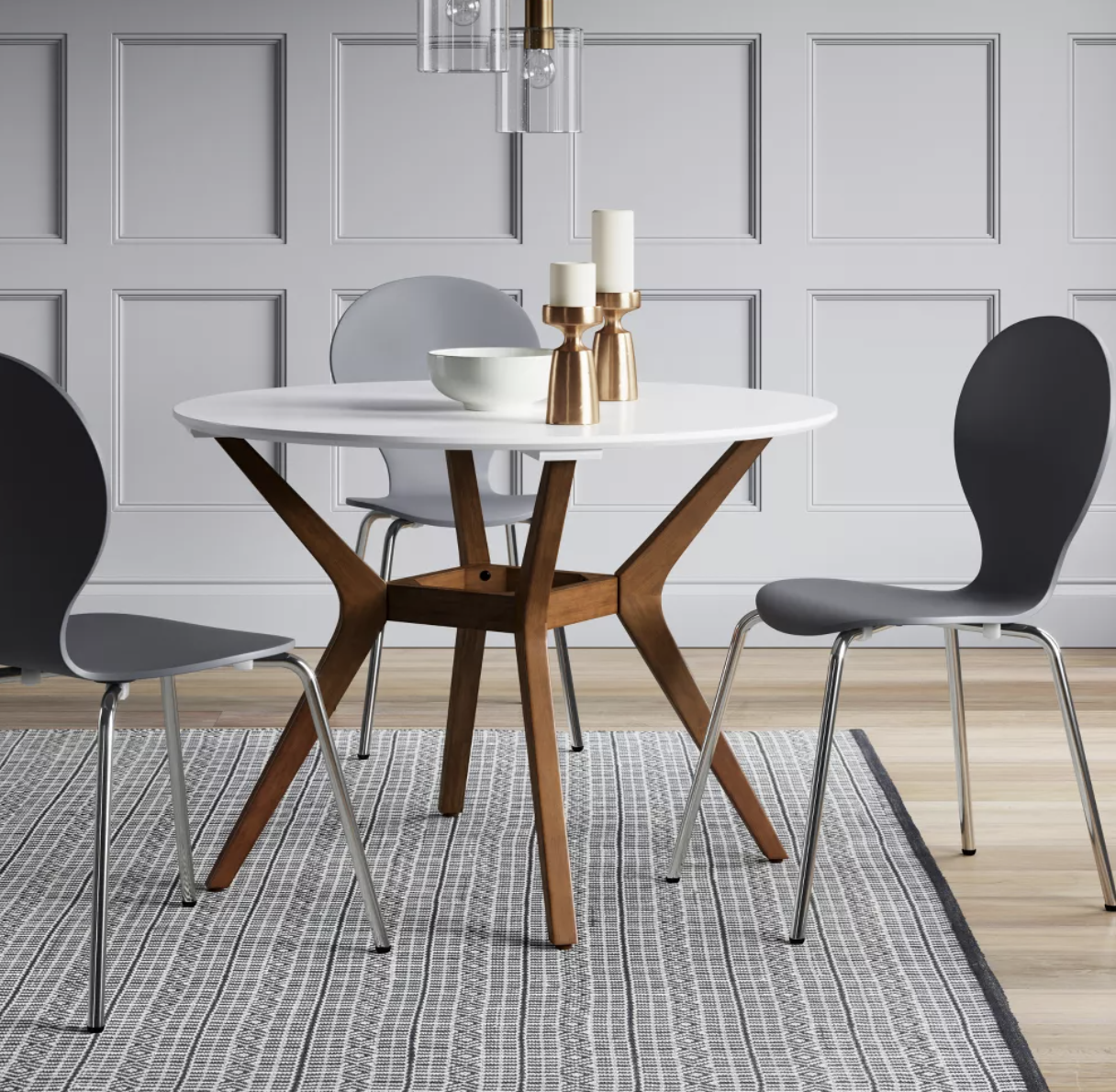 The Emmond mid-century modern round dining table is constructed with a solid wooden frame, and a stunning white table top for contrast. The stylish angular design provides extra support and adds a modern flair to any room. This table is ideal for small spaces and can seat up to four people.
9. Saracina Home Mid-Century Rectangle Dining Table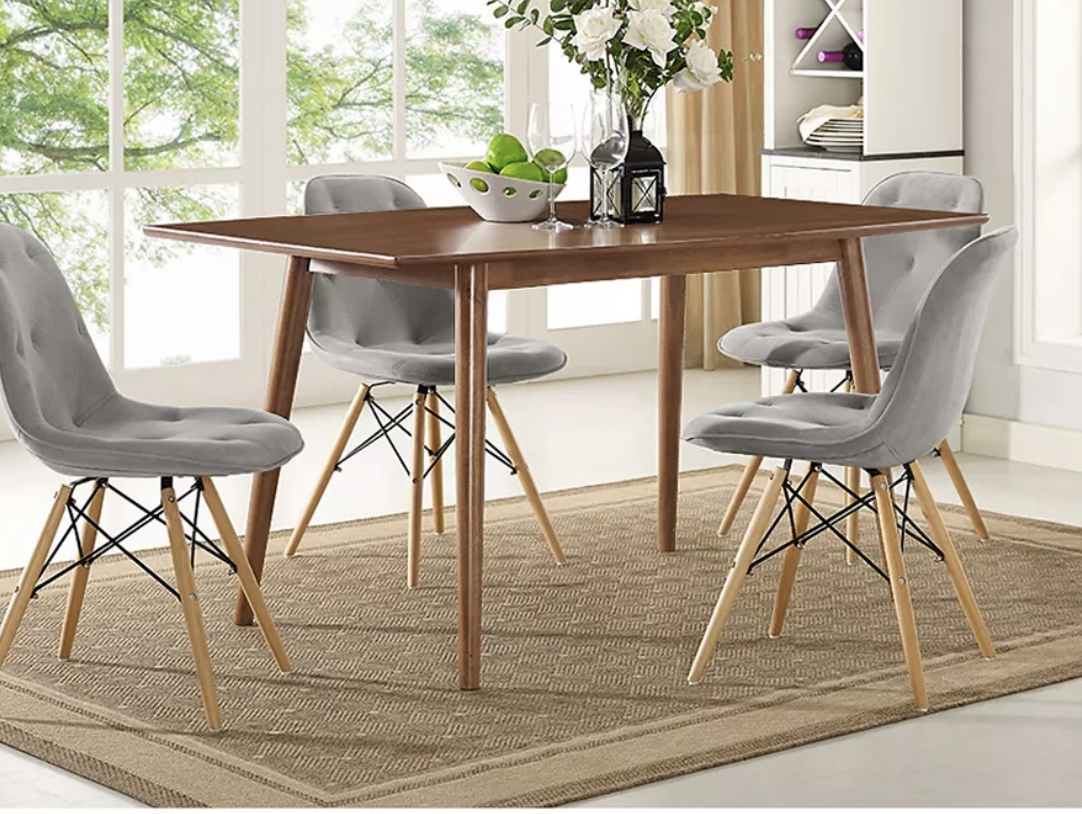 This Saracina home dining table comes in two different finishes— acorn and walnut. This table is constructed from high-grade MDF, and a wood veneer. The tapered legs in this design add a retro flair to this mid-century modern design. The table is 60" wide and perfect for entertaining groups of up to 6 people.
10. Edna Wood Dining Table Walnut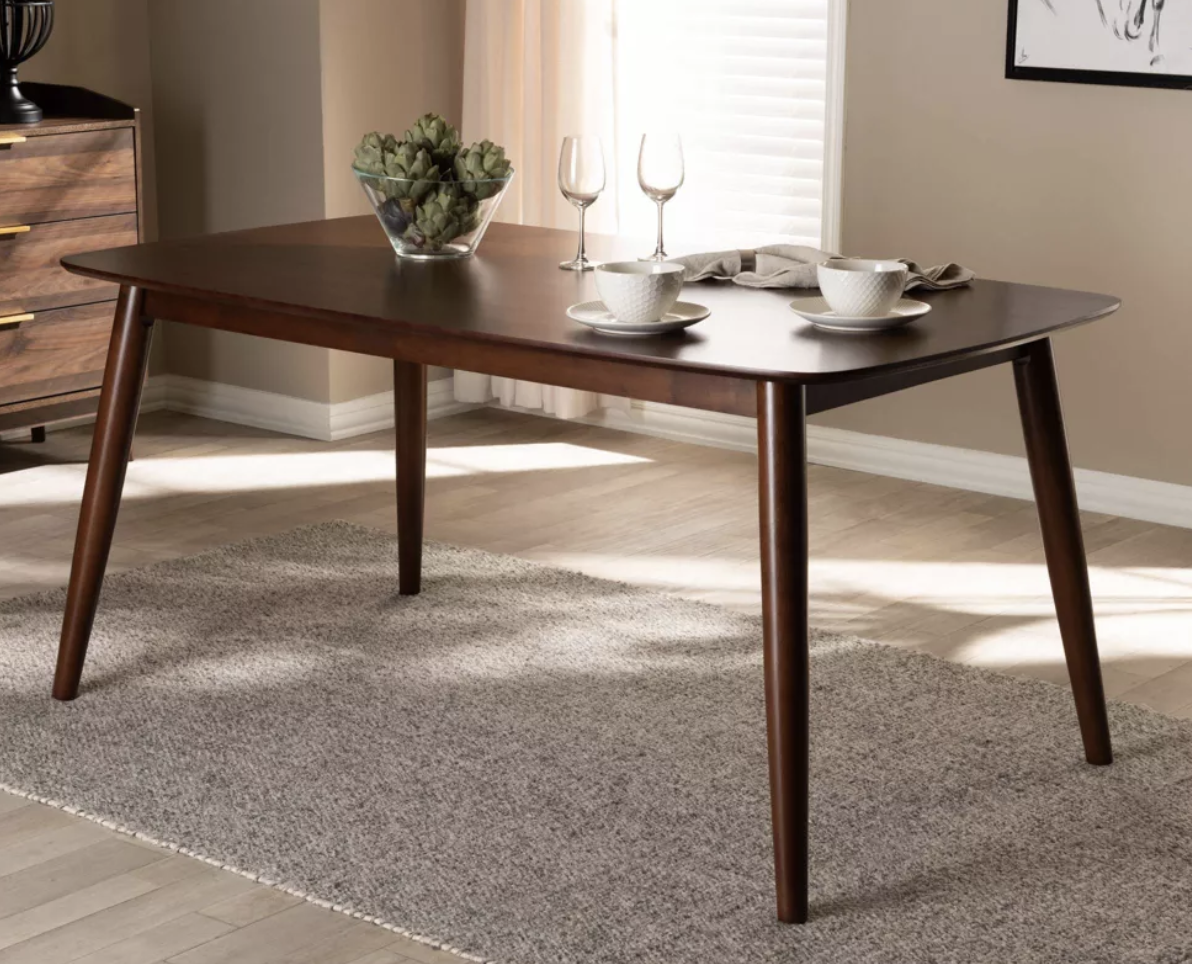 This Edna wood dining table from Baxton Studio is constructed from solid rubberwood and overlaid with a stunning walnut veneer. This table spans 63" long which makes it ideal for seating up to six guests comfortably. The rounded edges with the angular legs give this table a modern flair that would work well in a mid-century modern space
11. Tate Walnut Extendable Mid-century Dining Table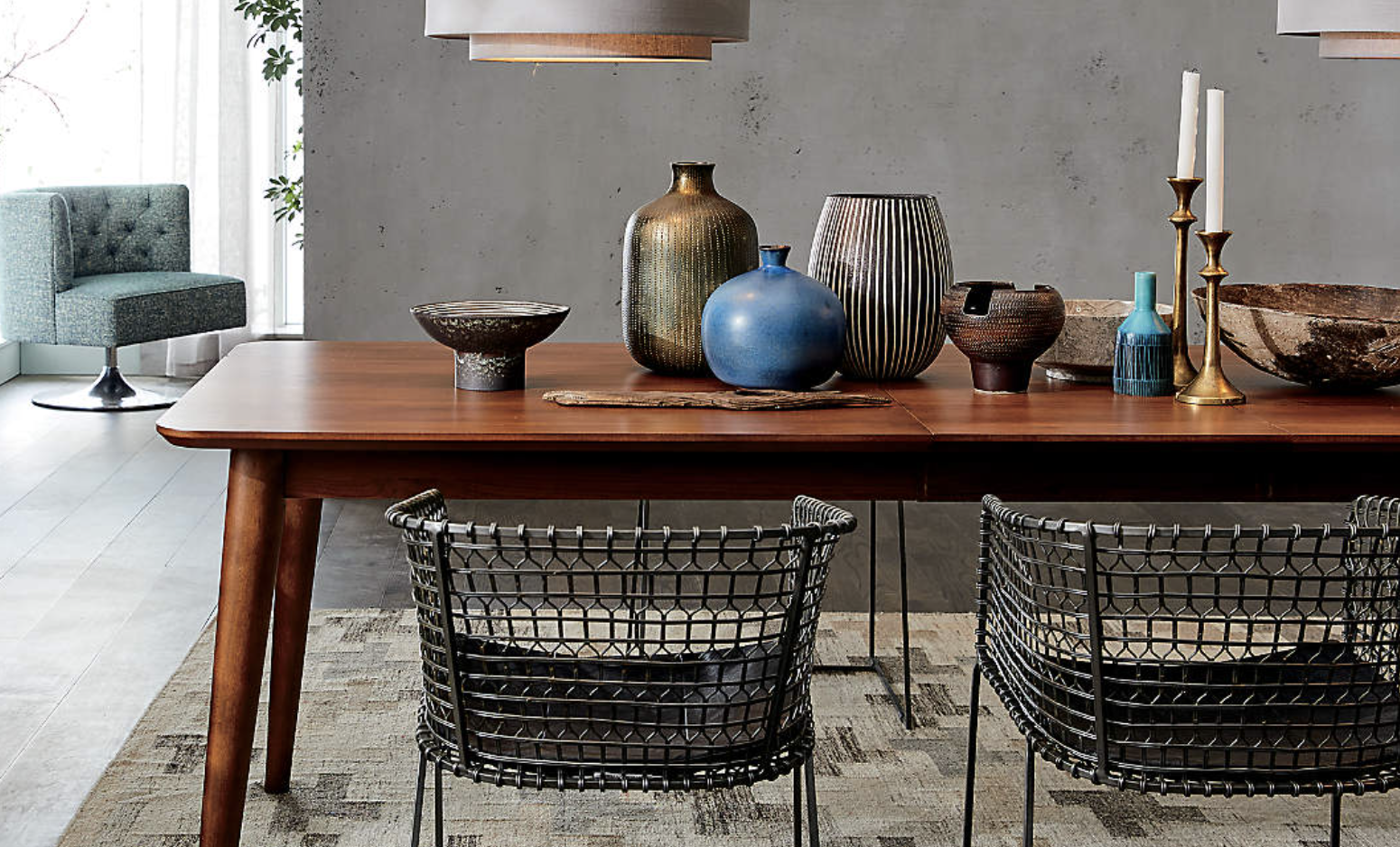 The Tate walnut extendable table was designed with the 1960's in mind. This design intentionally highlights its clean lines and modern design. This table spans 78" regularly and 114" extended. This means the table can seat 8-10 guests comfortably.
12. Harper Brass Dining Table With Glass Top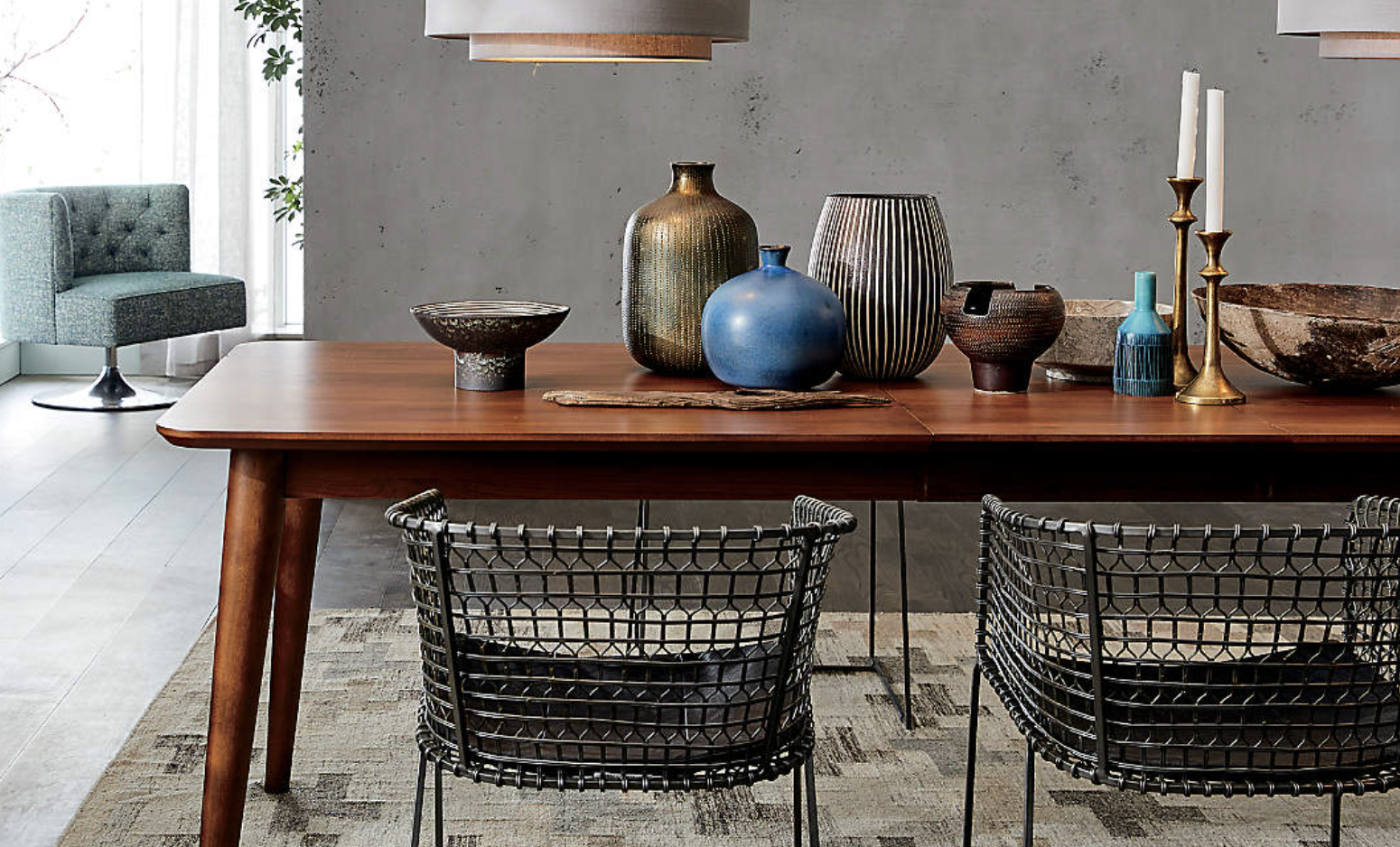 This Harper dining table was designed by Mermelada Estudio and sits upon brass finished steel legs. The featured design is a glass top, however there are other options available such as— white marble, concrete, black marble and walnut. This table is ideal for seating up to 6 guests.
13. Walker Edison Mid Century Modern Wood Dining Room Table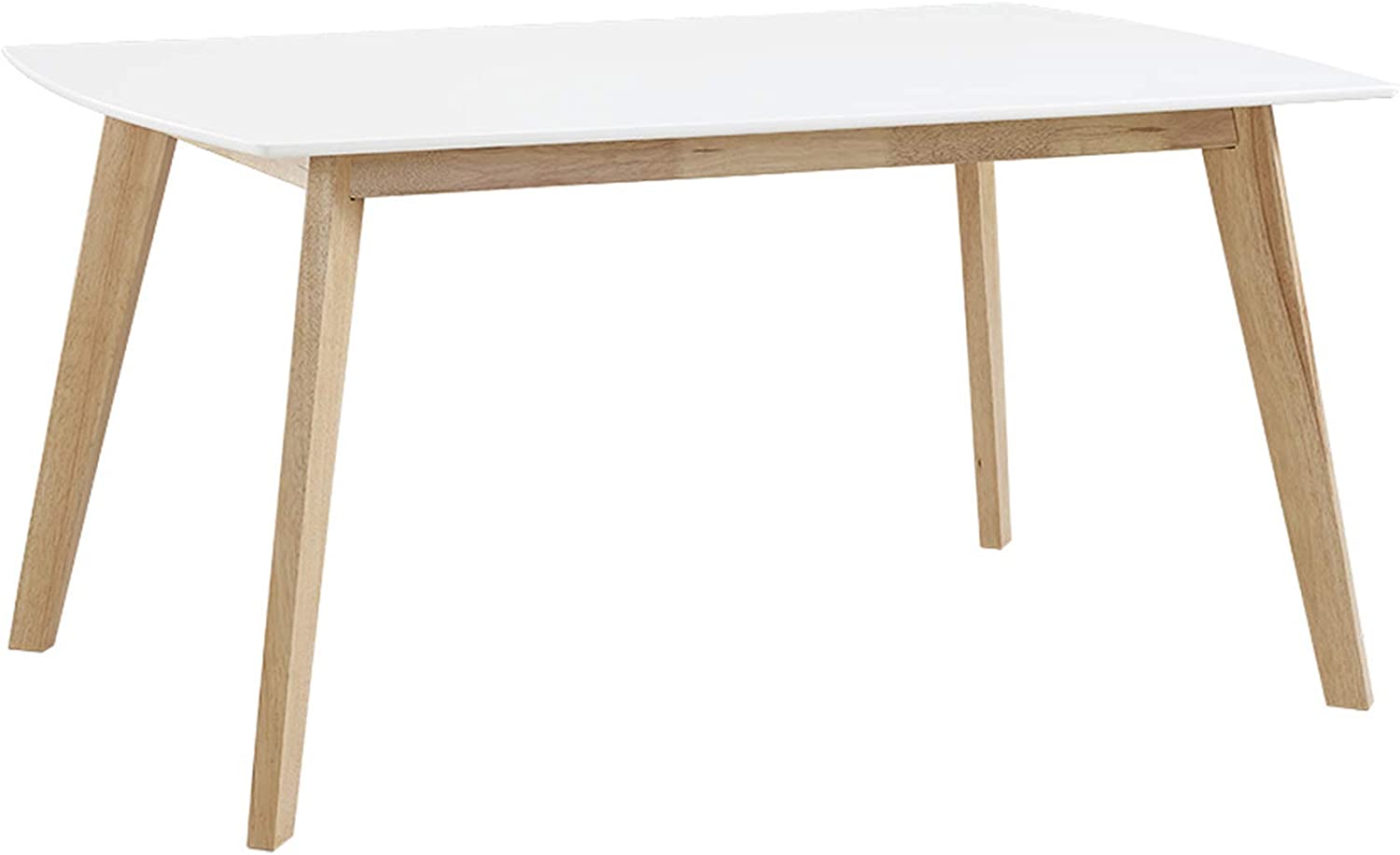 This Walker Edison table features natural tones and a white table top. Constructed from solid, high-grade MDF, this table was built to last. This table does have matching chairs and benches that can be purchased separately. The Walker Edison table can seat 6 guests.
14. Tudor Rectangle Maple Dining Table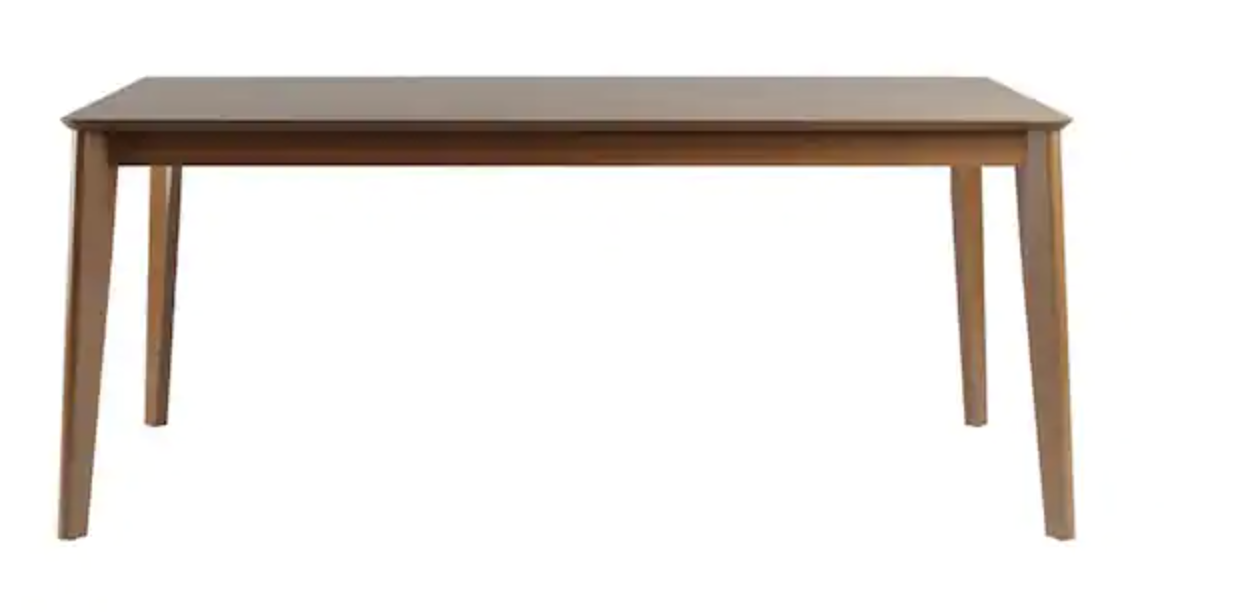 The Tudor dining table is a classic design that is timeless and stylish. It is crafted from solid wood and adds warmth to any space. Measuring just shy of 71", this table can seat up to six guests with room to spare. The minimalist design allows this table to be styled endless ways depending on the season or style of your home.
15. Campbell Plinth Dining Table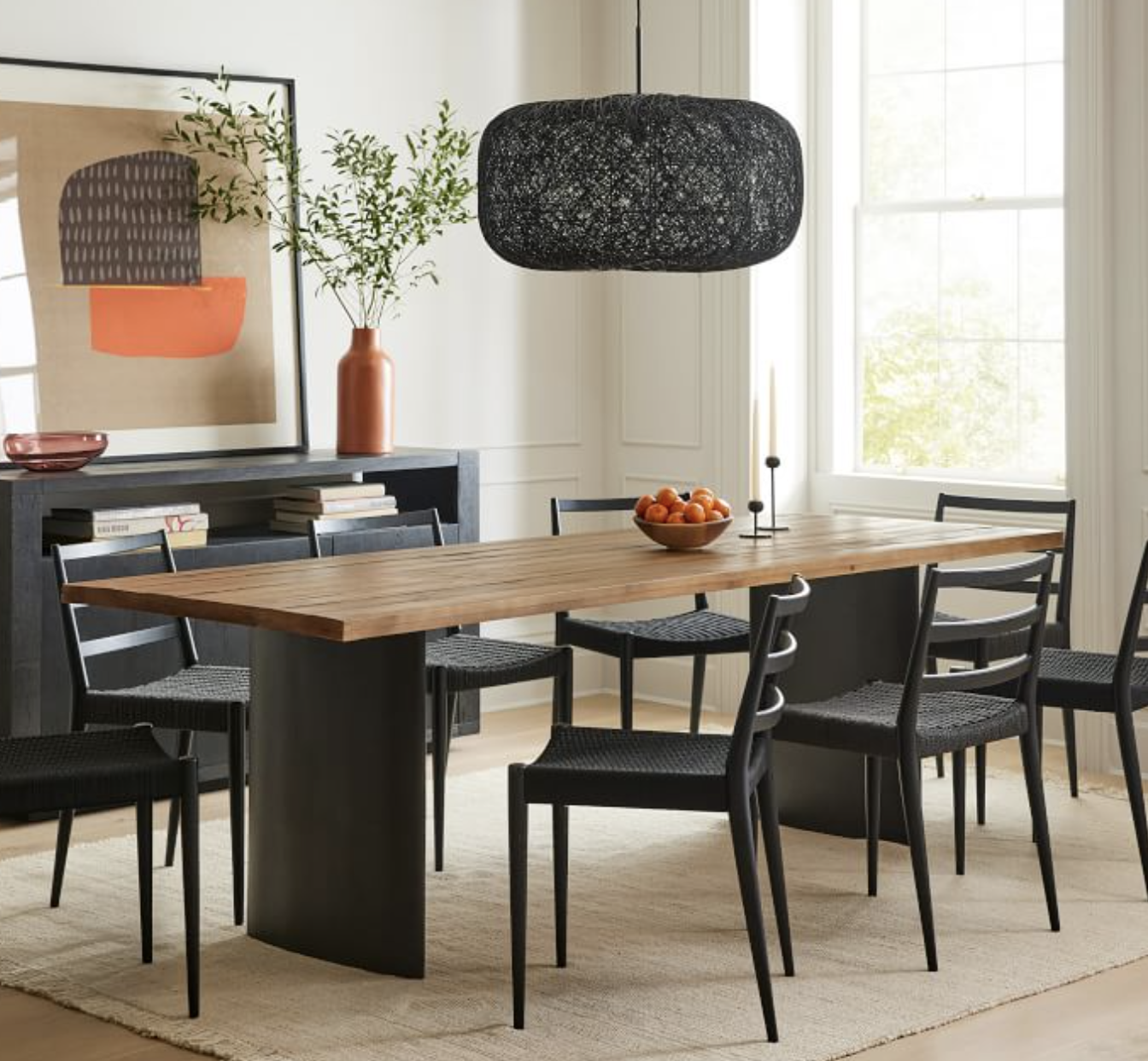 The Campbell Plinth dining table was named after its plinth style legs. Plinth styles are inspired from modern architecture and add a refreshing modern twist to any space. The sturdy metal base is constructed from contract grade metal and built to last. The table tops come in several different options such as: cool walnut, black, and natural. Choose from either the 74" or 94" options.
16. Lodge Legs Dining Table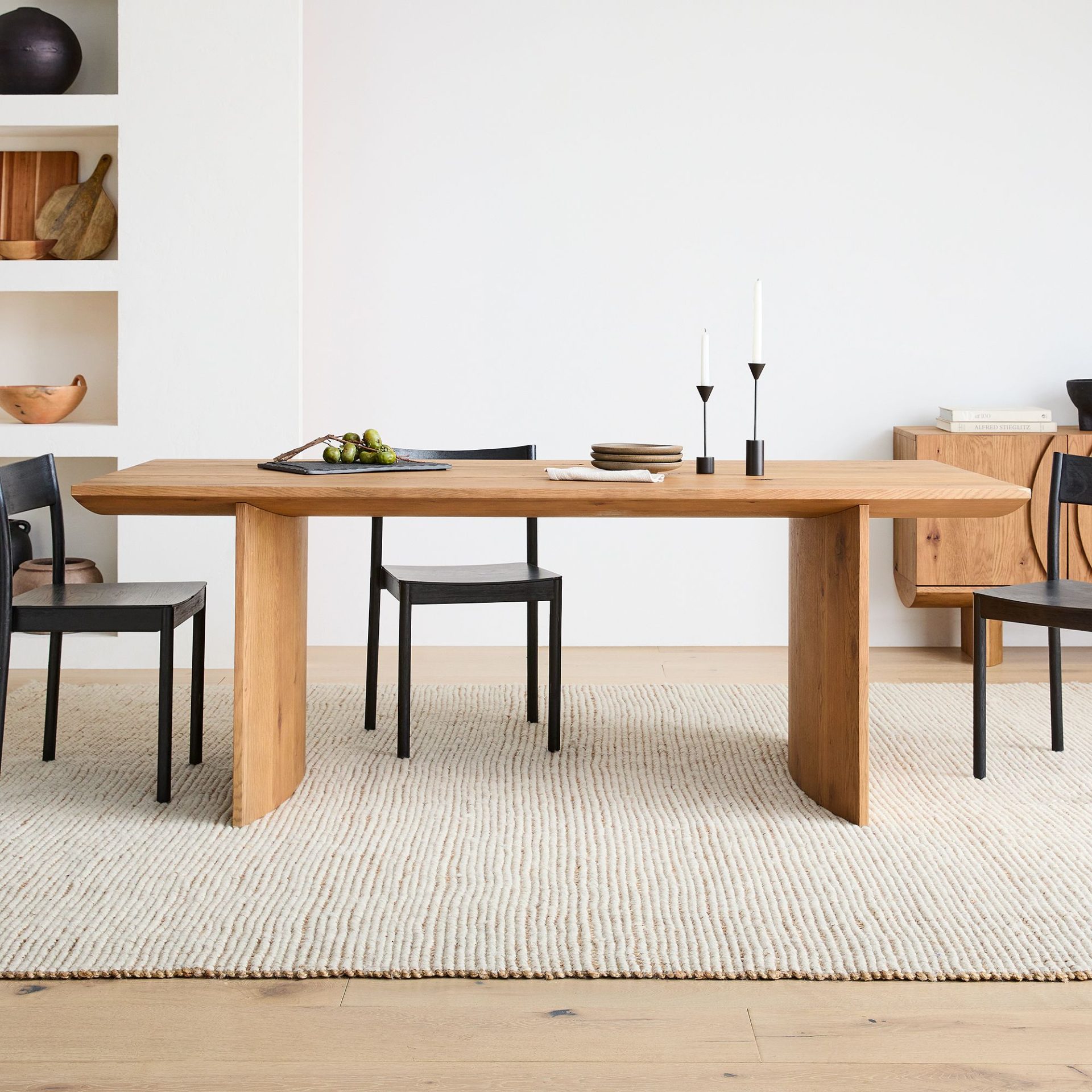 The Lodge Legs dining table features a natural and simple silhouette to brighten up any space while still adding visual appeal with the unique shape. Constructed from kiln-dried rich oak, this table is built to last and entertain for generations. Choose between either the 84" or 94".
17. Astrid Dining Table
The Astrid Dining table features a showstopping design with round cutout details in the base and a slatted table top. This table is crafted from solid MDF rubberwood and spans 68" long— ideal for seating six guests with room to spare. The simple design with modern details will liven up any space.
Find the Perfect Table For Your Space
Between the clean lines and interesting architecture, mid-century modern design is here to stay. These classic designs are crafted to stand the test of time and keep your home feeling stylish for generations.