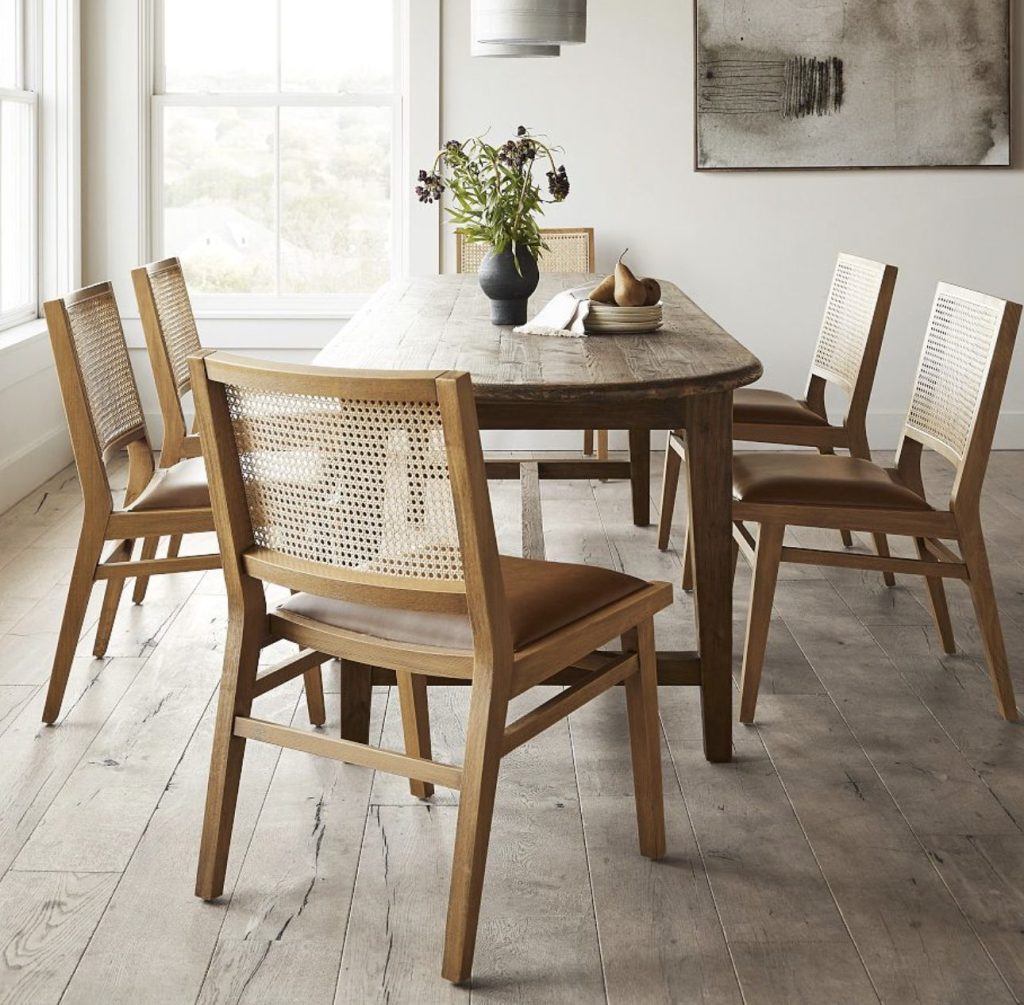 Discover the allure of farmhouse dining tables, where traditional craftsmanship meets modern functionality. With their warm, inviting aesthetic and sturdy construction, they truly serve as the centerpiece of any dining space, exuding a sense of rustic sophistication. Whether you're hosting a family dinner or entertaining friends, these tables provide the perfect backdrop for creating cherished memories. Let us delve into the world of farmhouse dining tables, where classic design and contemporary sensibilities merge harmoniously.
The generous surface area provides ample room for family gatherings and entertaining guests, while the trestle base ensures stability and durability. With its timeless design and versatile appeal, this dining table becomes the focal point of your home, creating a welcoming atmosphere for cherished meals and memorable moments. Shop more farmhouse dining tables here.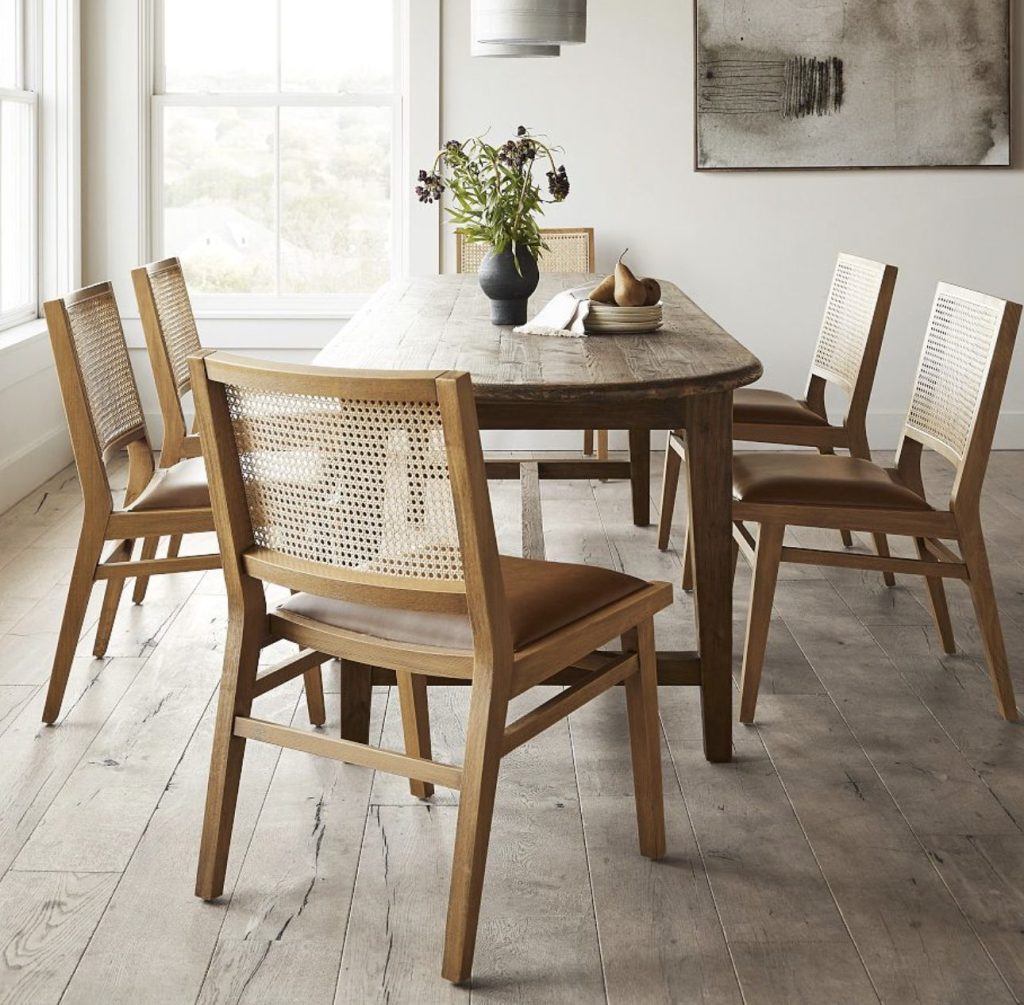 his stunning table combines contemporary design with rustic accents, creating a harmonious blend of styles. Its sleek and streamlined silhouette is complemented by a warm wood finish, adding a touch of natural beauty to your dining space.
The table's compact size makes it perfect for smaller areas, while still providing ample space for dining and entertaining. Whether you're enjoying a casual family meal or hosting a dinner party with friends, this Modern Farmhouse Dining Table is sure to impress with its sophisticated yet welcoming aesthetic.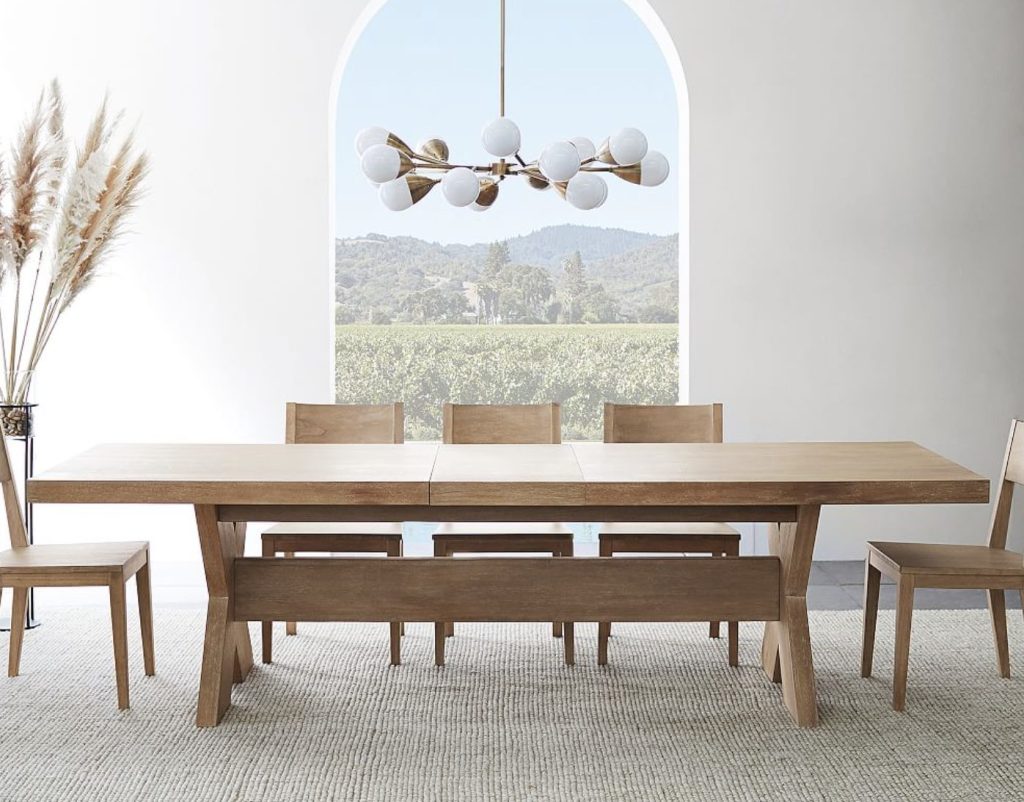 Crafted with a solid hardwood frame, this table ensures durability and stability for years to come. With its ample surface area and versatile design, the Modern Farmhouse Extending Dining Table in Fog is the perfect centerpiece for creating memorable dining experiences with family and friends.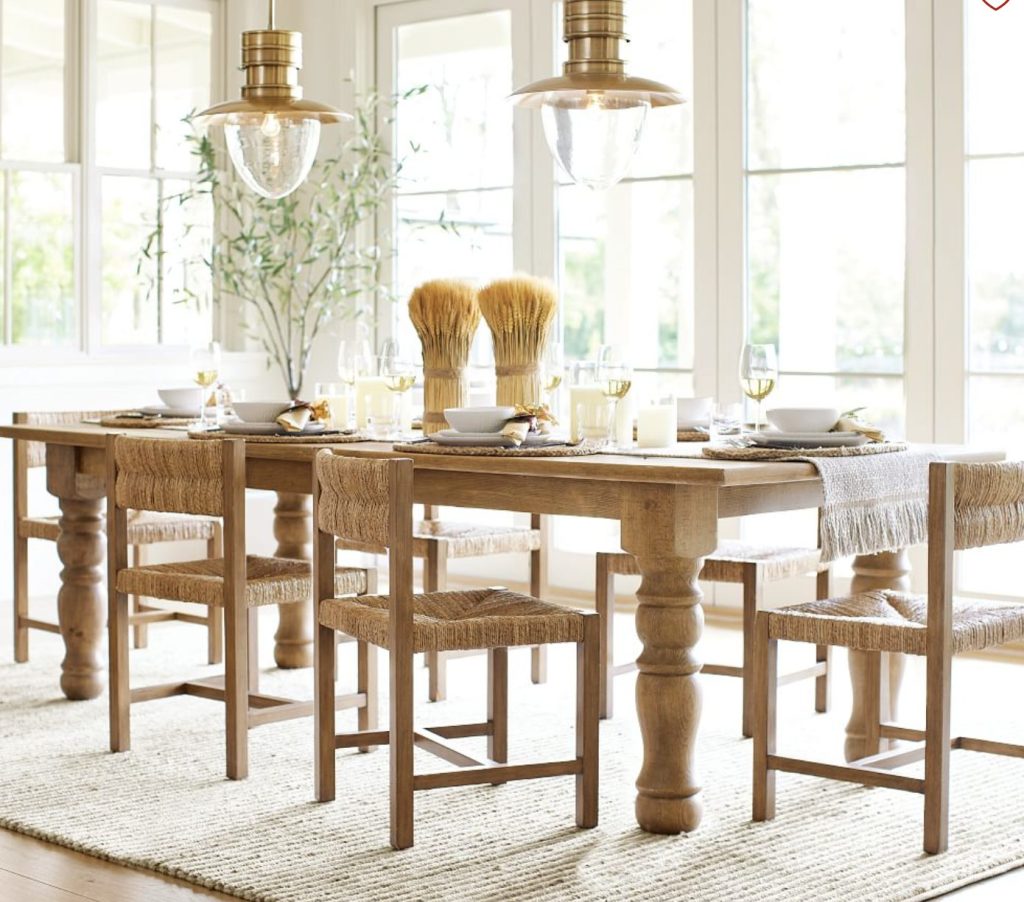 The Heritage Turned Leg Dining Table is a classic farmhouse-inspired piece with timeless appeal. Featuring beautifully turned legs and a rich finish, this table adds rustic charm to any dining space. Crafted with quality and attention to detail, it offers both style and durability, making it a perfect choice for gathering with loved ones.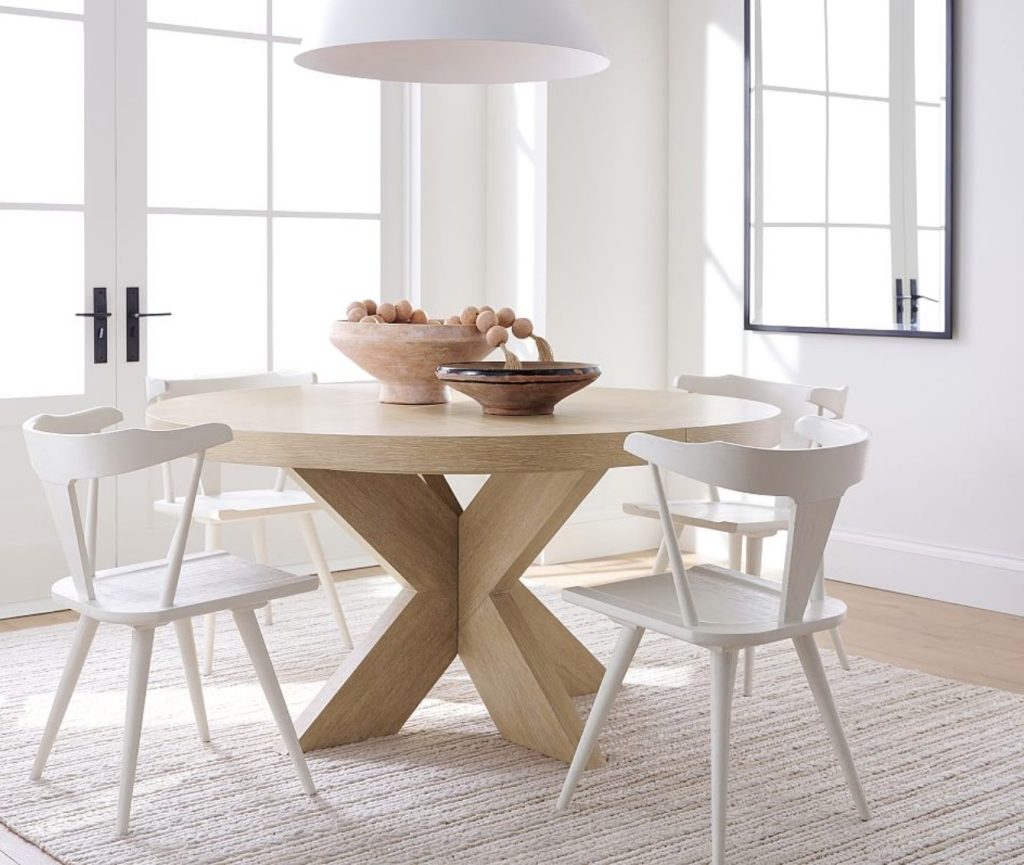 The round shape and pedestal base add a touch of elegance, making it a focal point in any dining room. Experience the best of modern farmhouse charm with this versatile dining table. One of my favorites for sure!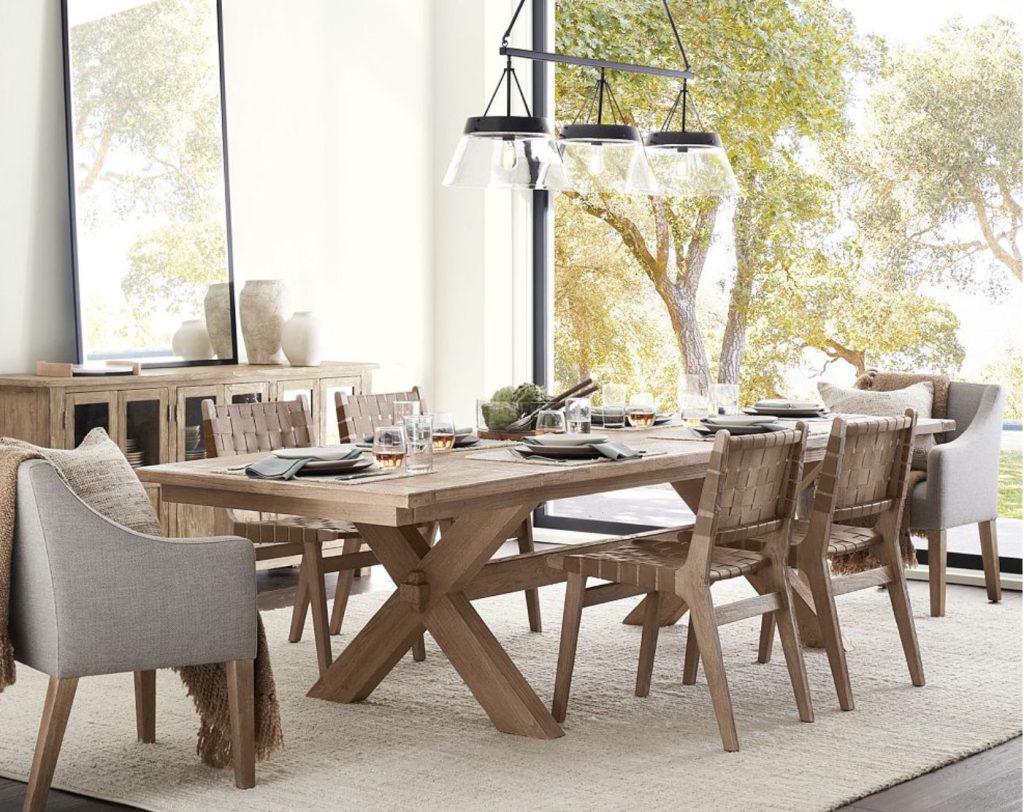 The Toscana Extending Dining Table is farmhouse elegance at its finest. With its beautiful weathered finish and extending feature, it seamlessly blends timeless charm with practicality. Crafted with attention to detail, this table is perfect for hosting intimate dinners or large gatherings.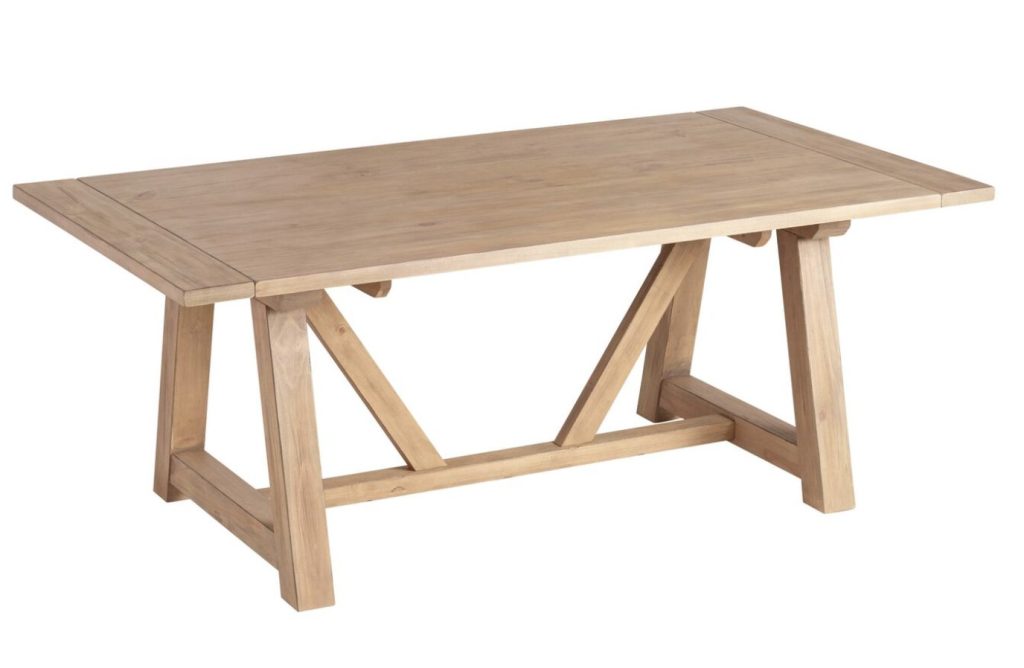 The Leona Wood Farmhouse Extension Dining Table is a stunning centerpiece that combines rustic farmhouse charm with versatile functionality. With its beautiful wood finish and extension feature, this table effortlessly adapts to accommodate both small and large gatherings.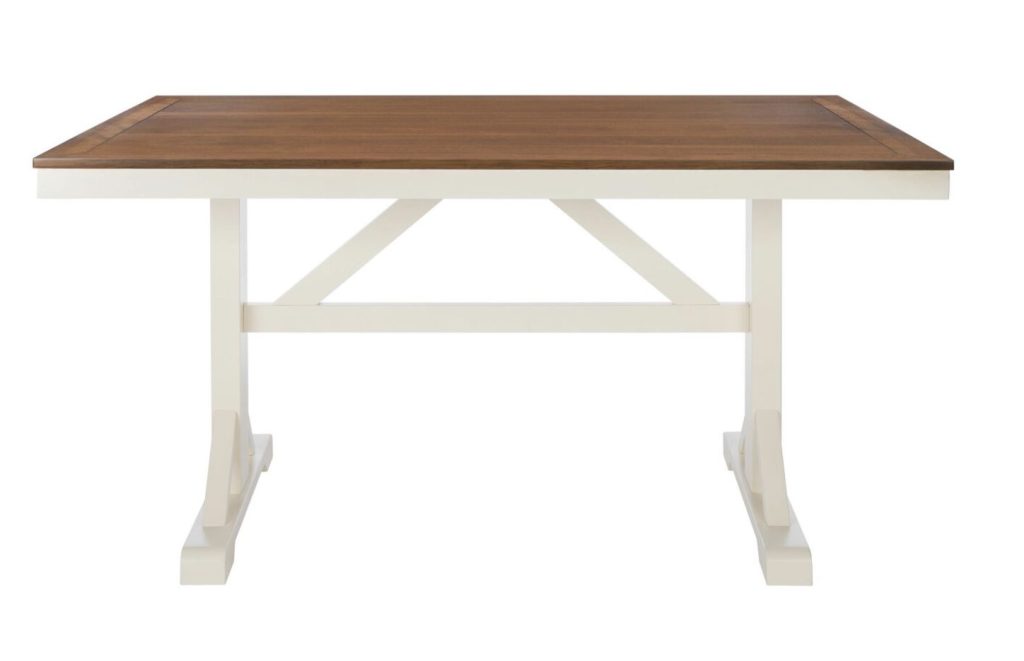 The contrasting white and natural wood finish adds a touch of elegance and versatility to any dining space. Crafted with quality materials, this table offers durability and functionality, making it ideal for both everyday meals and special occasions. It's also a fabulous price!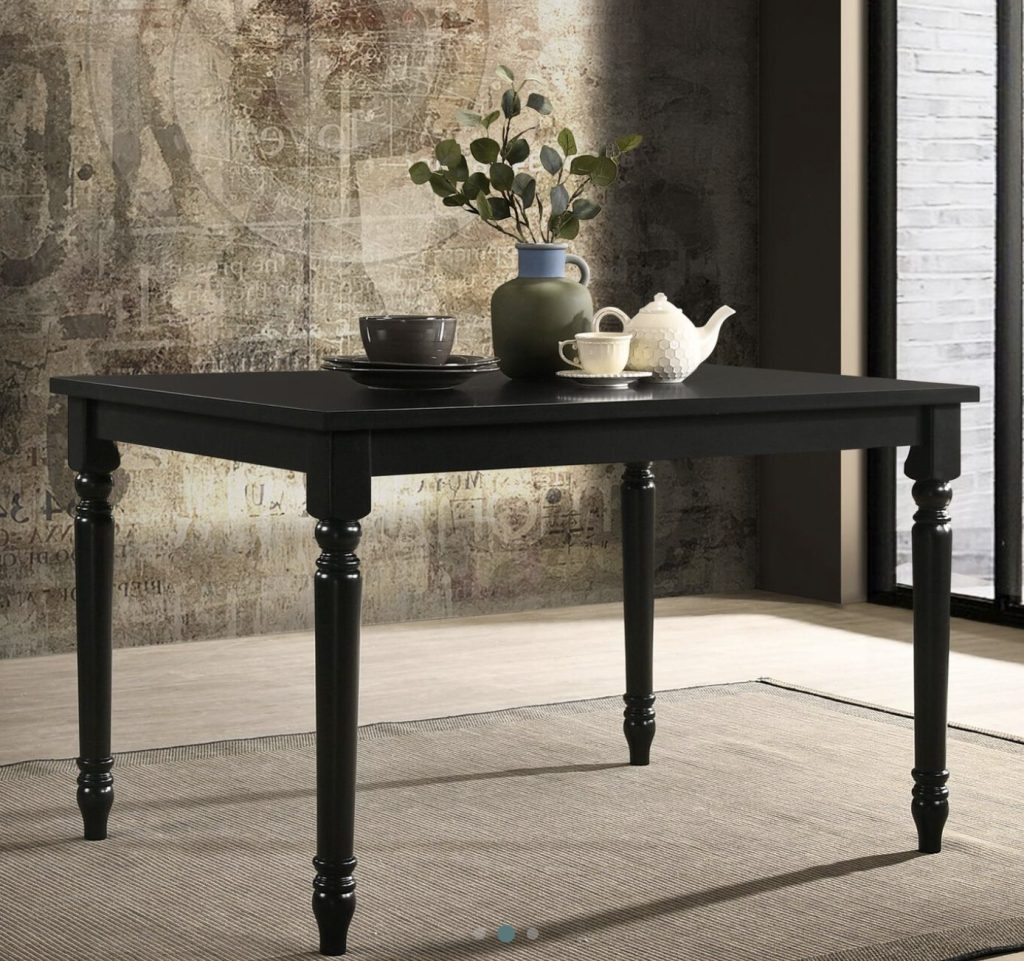 In addition to its aesthetic appeal, this dining table boasts sturdy construction and durability. Crafted with high-quality materials, it ensures long-lasting use and withstands the rigors of daily life. The solid wood tabletop provides a reliable surface for meals and gatherings, while the sturdy legs offer stability and support.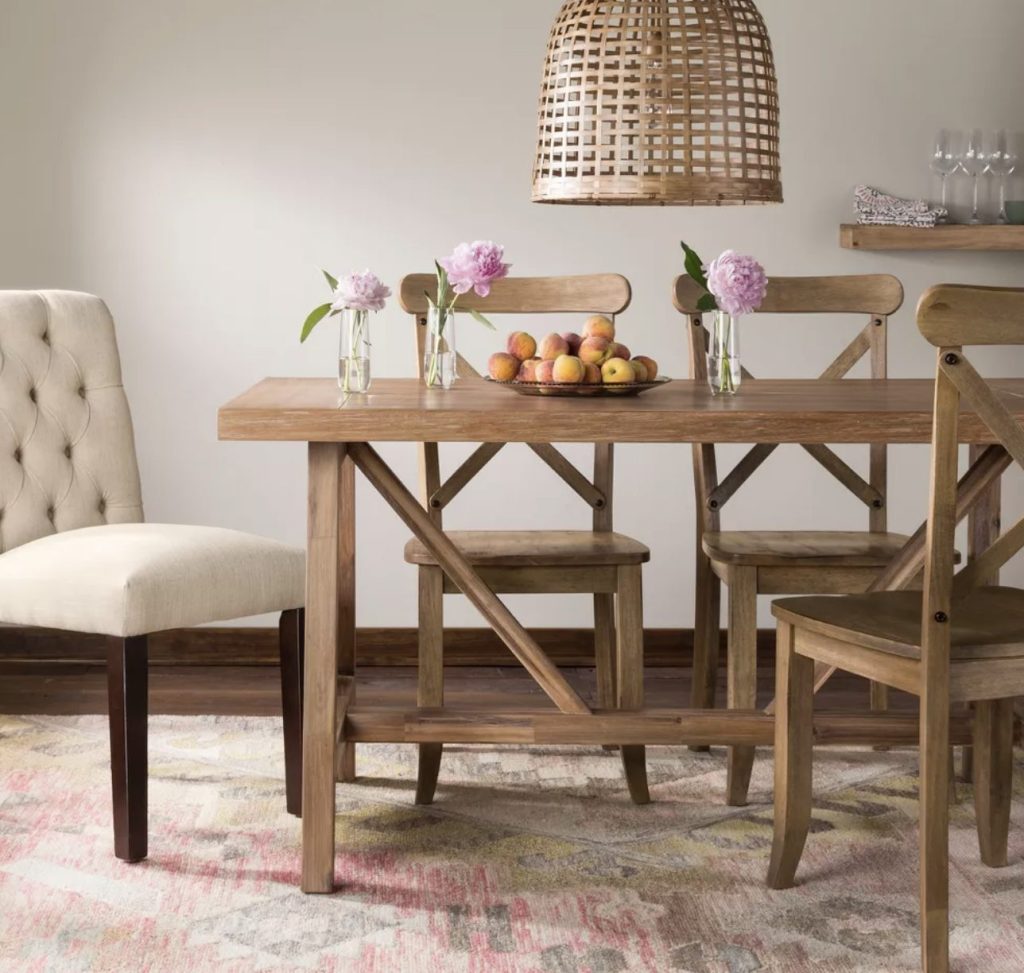 The spacious tabletop provides ample room for family meals or entertaining guests. Whether it's a casual gathering or a formal dinner, the Wheaton Farmhouse Trestle Dining Table sets the stage for memorable moments and timeless style.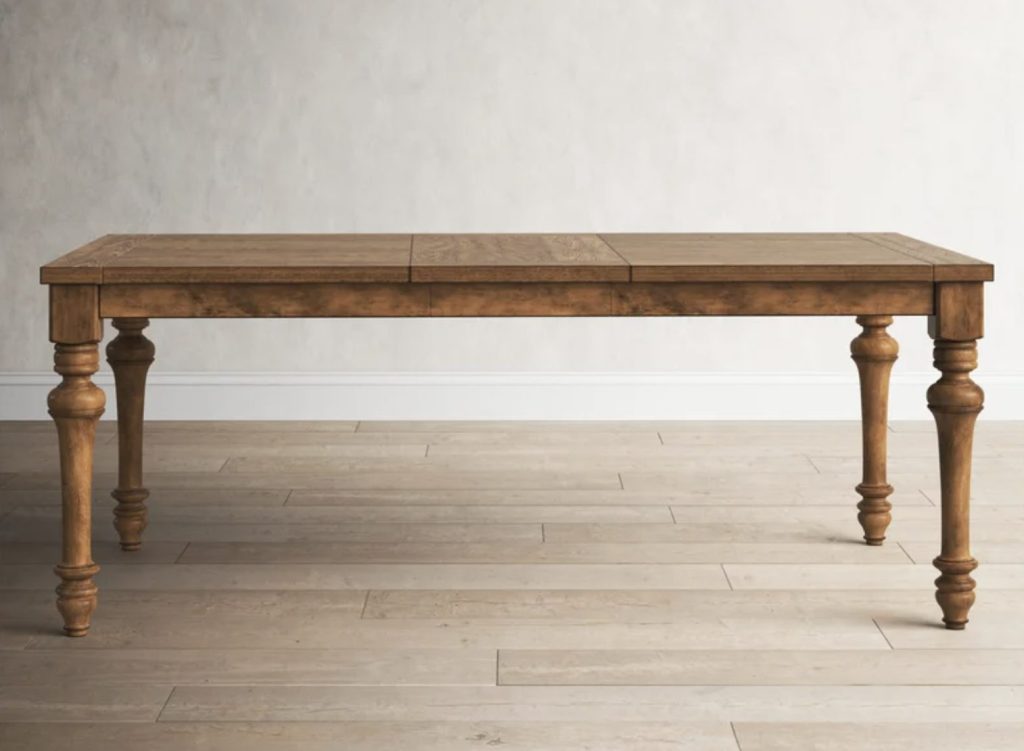 One of my favorite tables from the bunch! It has an included leaf to expand the top for eight people to sit comfortably! This is perfect for family dinners, entertaining and holiday decorating! Please note that this does not come assembled.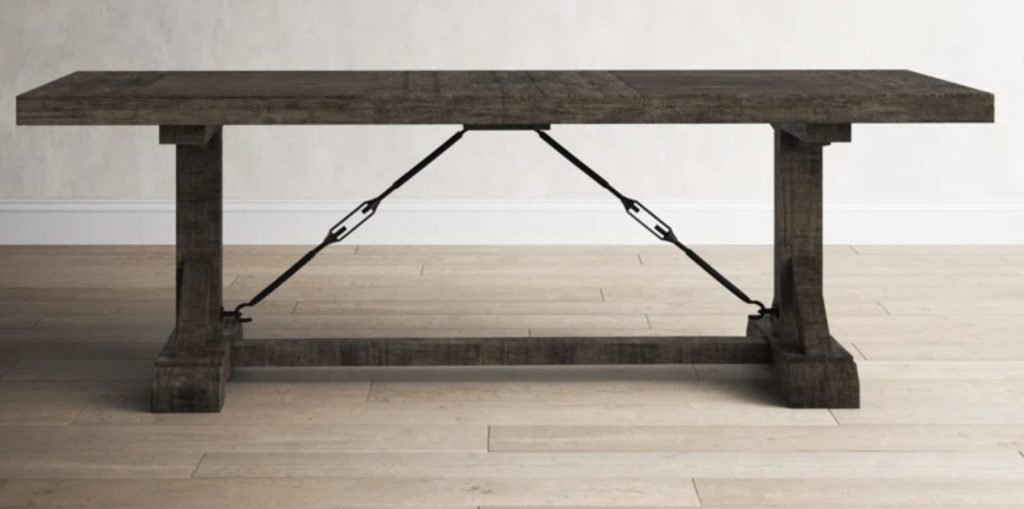 This elegant table features a classic double pedestal design, adding a touch of sophistication to any room. Crafted with quality materials, it offers both durability and style, making it the perfect centerpiece for gathering with family and friends.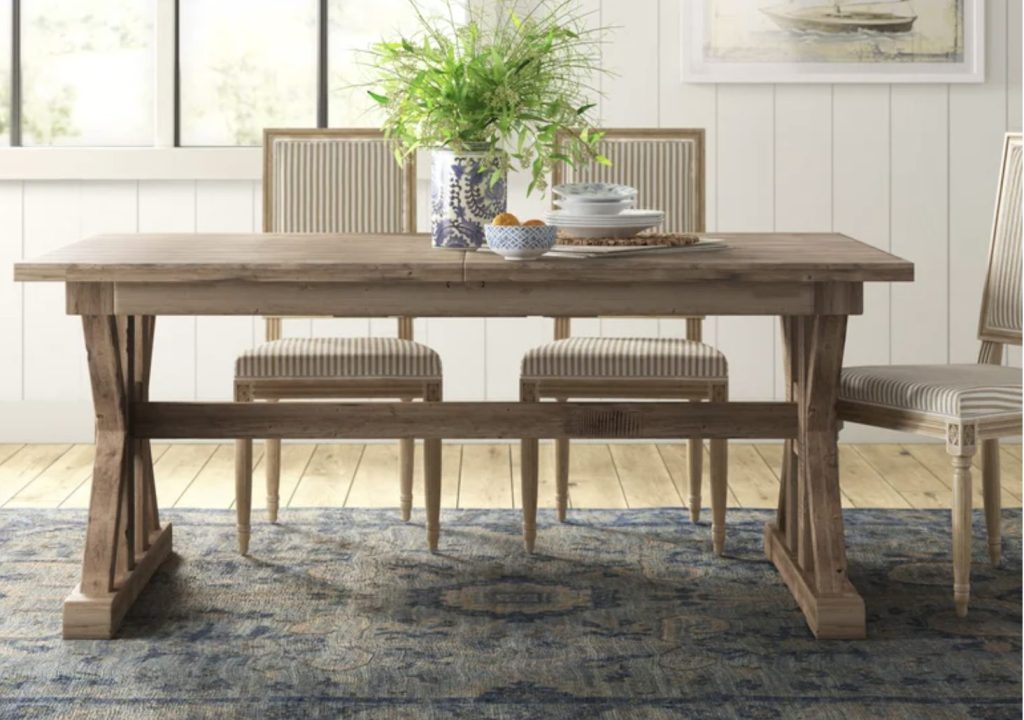 This dining table extends to comfortably seat 10 people! One of our favorite choices for entertaining/hosting family. We love that it has a timeless trestle table silhouette with the X-shaped legs for a vintage twist.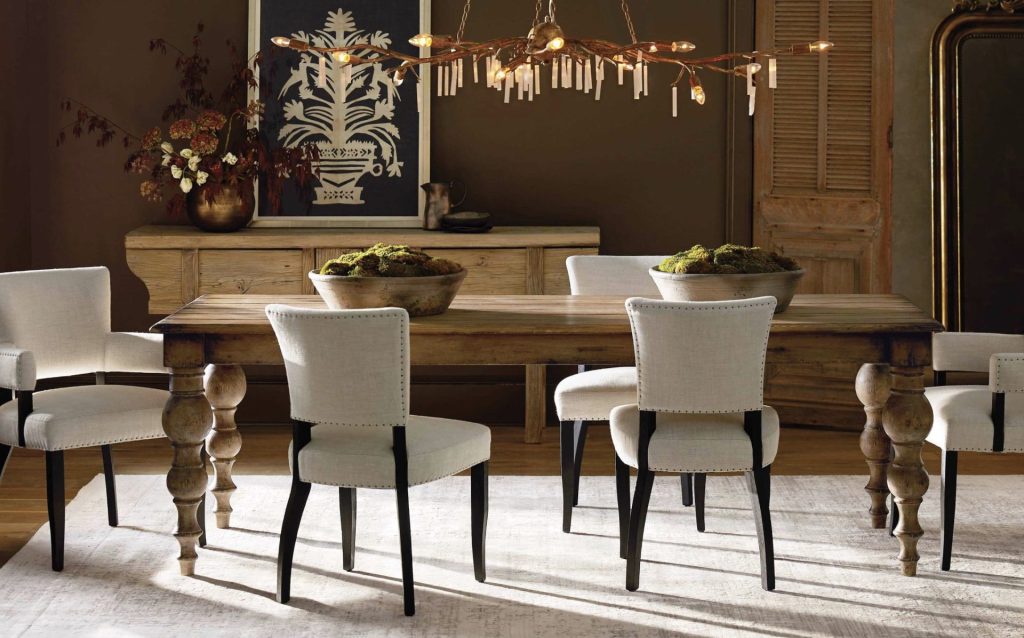 Add an exquisite touch to your dining area with this stunning dining table featuring a sleek and elegant design. Crafted with attention to detail and high-quality materials, it effortlessly combines style and functionality for memorable meals!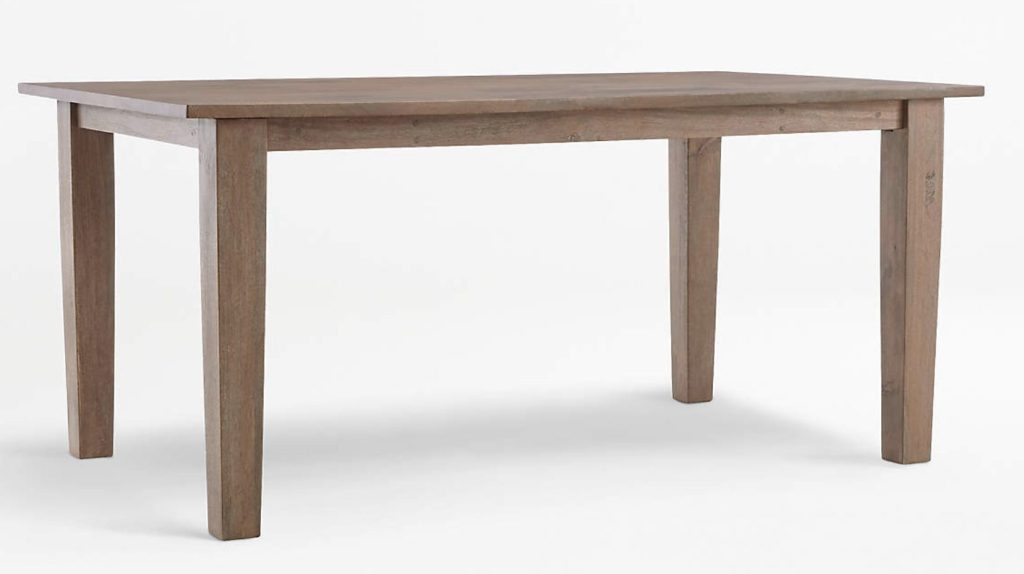 This rustic dining table is such a timeless addition consisting of mango wood and comfortably seating six people. It's handmade with naturally occurring grains and knots. One of our favorite choices for a simple table that boasts European style.