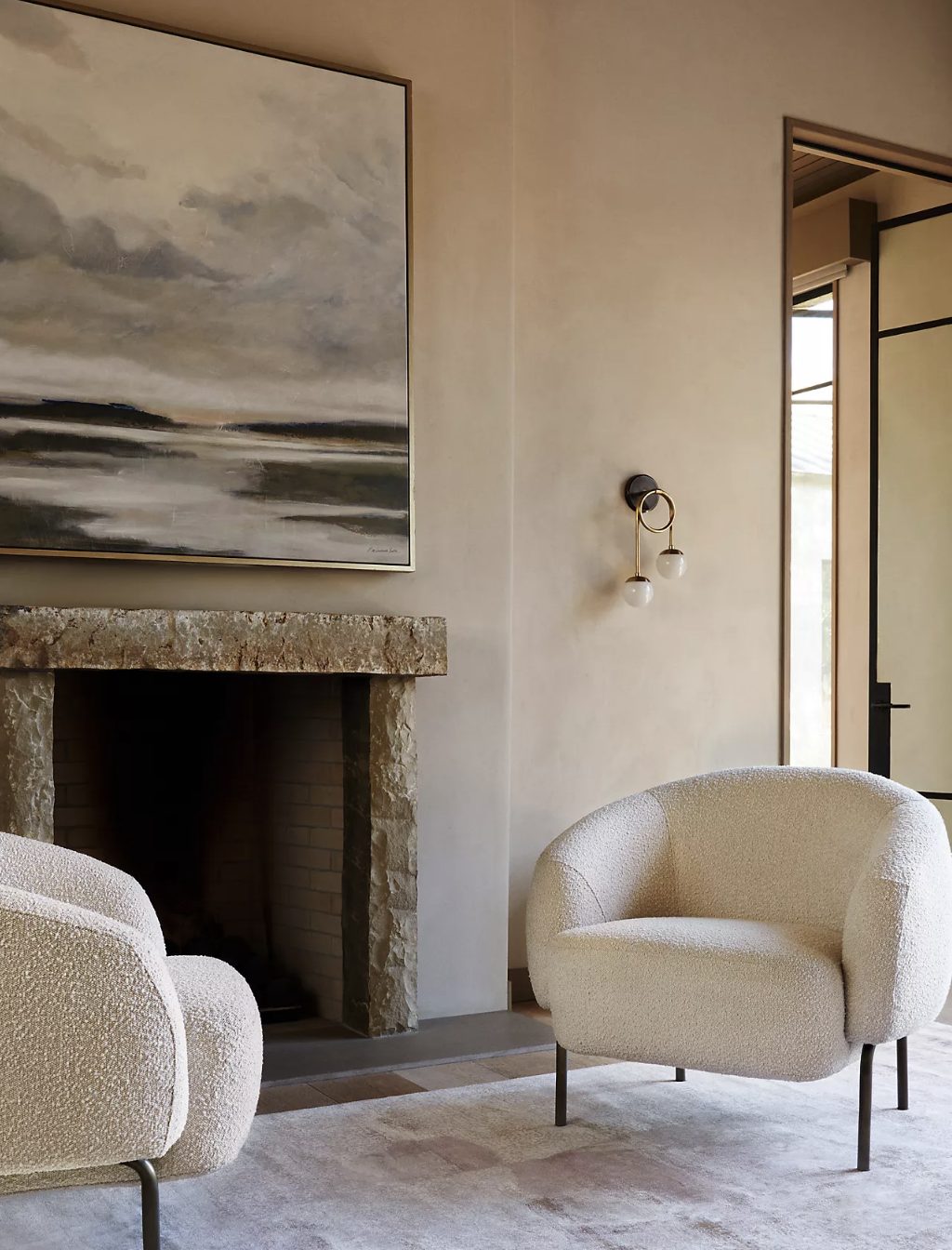 Having a place in your bedroom to hang out that isn't your bed can elevate both the aesthetics and functionality of your room. Give yourself the perfect reading nook, a place to unwind, or even just a great spot to call a friend.
Here are the most comfortable chairs to help you maximize your bedroom space:
You may also like: 29 Brown Leather Chairs for Every Design Style| 15 Best Boucle Chairs That will Transform Your Space| The Best Swivel Chair on the Market
---
Comfy Chairs for Bedroom
---
1. Flavio Rattan Accent Chair
The Flavio Rattan Accent Chair features a thick and overstuffed cushion for maximum comfort, and is upholstered using premium fabrics to help you nestle in. If you're looking for a way to add elegance and warmth to your space, this chair will do just that with its beautiful rattan and solid wood frame. I personally own this one and love it!
2. Mavis Chair
The Mavis Chair is a perfect combination of style and comfort. With its plush cushion and curved backrest, this chair provides comfort and support. It features a velvet upholstery that adds a touch of elegance and sophistication to any room. Choose between both white and gray to perfectly match it to your space.
3. Griggs Chair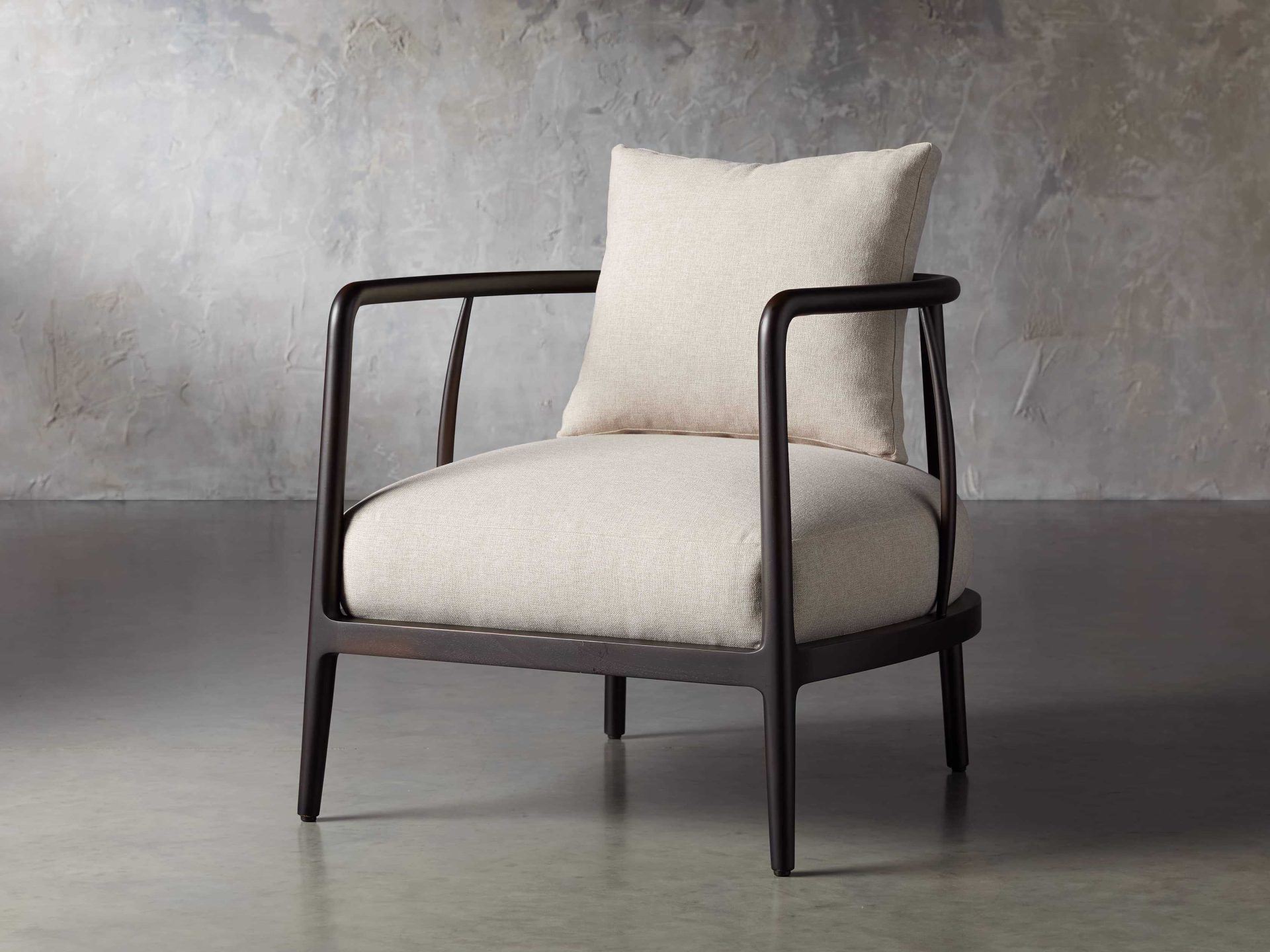 For those looking for a sophisticated aesthetic that still boasts functionality—the Griggs Chair is an ideal choice. It features overstuffed cushions that offer plenty of support and structure. The metal frame is crafted from high quality materials that are built to last. Each piece is handcrafted in Indonesia by artisans.
4. Rudy Leather Swivel Chair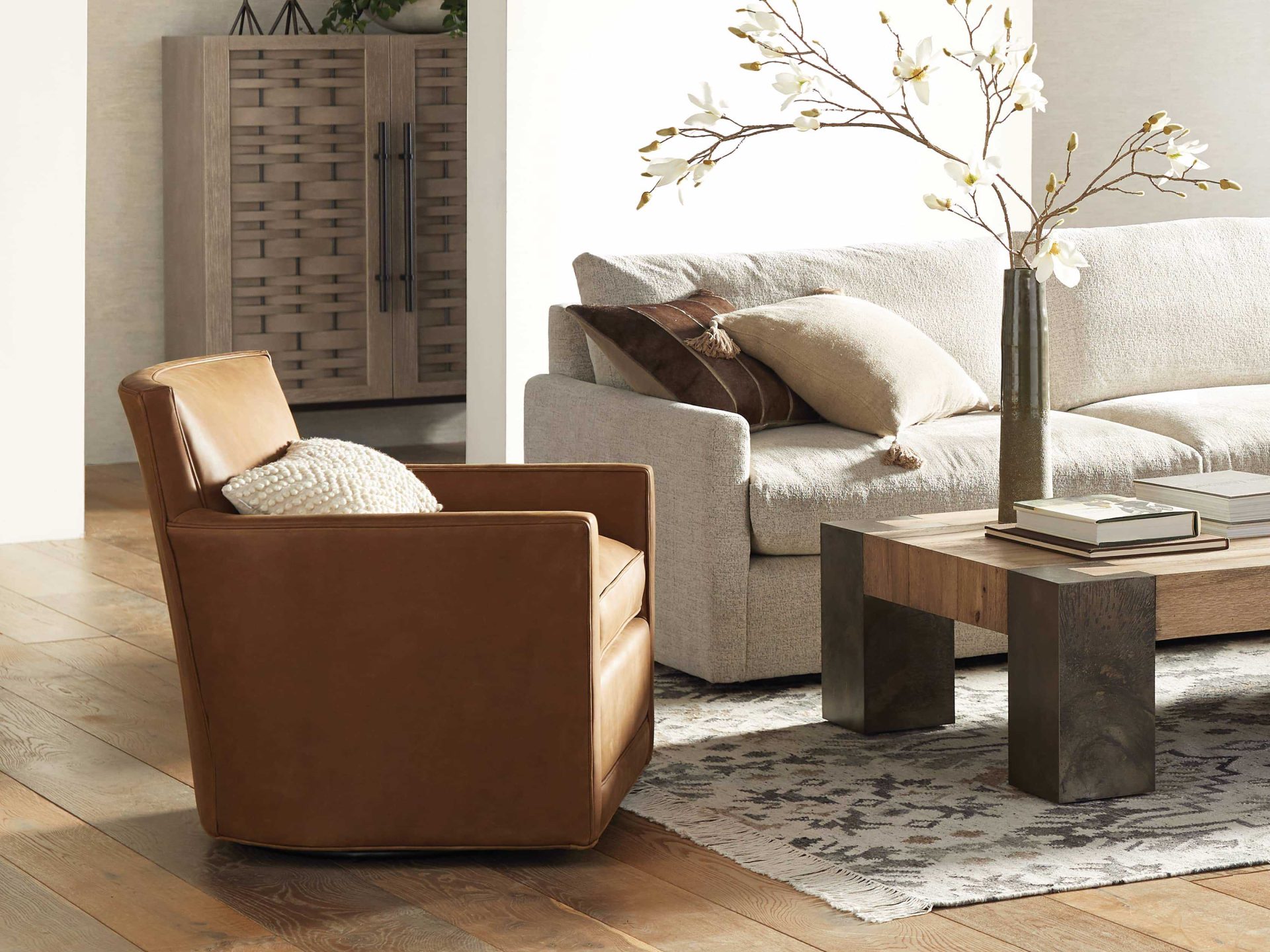 If you're someone who loves the feeling of sinking into a recliner, but wouldn't dare to put one in their home, the Rudy Leather Swivel Chair could be the perfect compromise. This ultra comfortable leather chair brings all of the comfort of a recliner in a stylish and sleek profile.
5. Sarlow Chair
For lovers of streamlined and modern architecture, the Sarlow Chair perfectly fits the bill. This chair struts a stunning boucle fabric and a solid ashwood frame. Each chair is hand sewn and hand crafted in the North Carolina foothills by local expert artisans.
6. Isobel Chair
The Isobel Chair boasts stunning geometric shapes that are sure to make a statement in your bedroom or reading nook. This chair features plenty of clean lines and high armrests for ultra comfortable lounging. Each piece is made to order and perfectly crafted for your individual needs.
7. Pearce Upholstered Chair
The Pearce Upholstered Chair is ideal for those who crave a modern and elegant aesthetic in their home. This chair brings a traditional silhouette and elevates it for a clean and elegant feel. With dozens of fabric and color options—this chair is ideal for those who want to fully customize a piece to perfectly fit their home.
8. Branson Swivel Chair
If you're looking to elevate a small space to its maximum potential—you'll love the Branson Swivel Chair. With wide open arms, overstuffed cushions and a modern silhouette, this chair will be both stylish and bring plenty of comfort into your bedroom.
9. Cerrito Swivel Chair
The Cerrito Swivel Chair is a truly versatile and ultra stylish chair. This chair features a stunning rounded design that invites you in to sit. It also is covered in Merino wool which makes it the ideal place to sit for a while and read or study. This chair also swivels to give you plenty of versatility. Choose between two stunning colors—Merino cotton and merino pearl.
10. Wesley Boucle Lounge Chair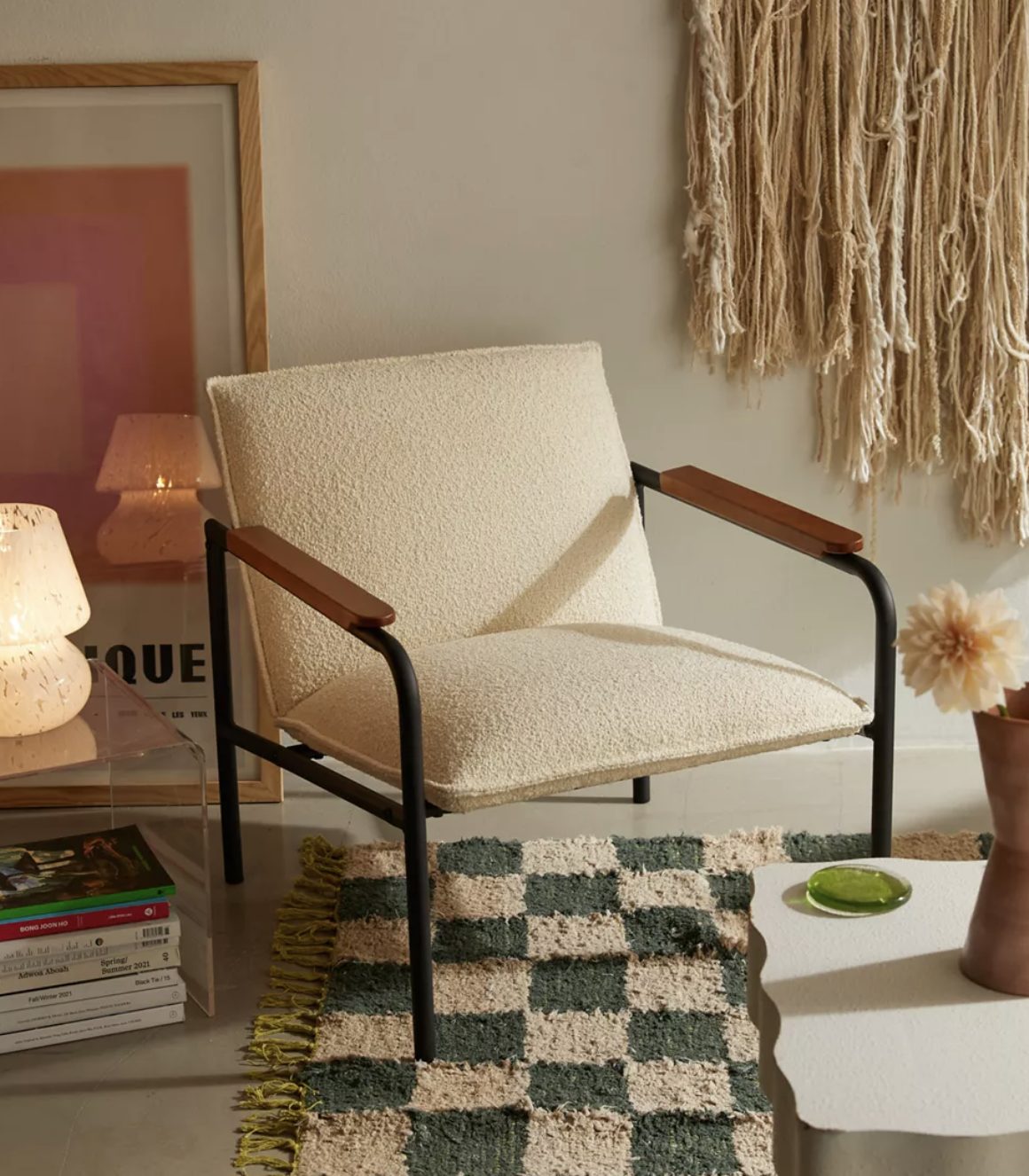 For an updated and modern version of a retro silhouette—the Wesley Boucle Lounge Chair brings a refreshing twist. The frame is solid steel and powder coated with wooden armrest accents. The cushions feature a stunning boucle fabric for even more texture and intrigue.
11. Selene Checkered Armchair
For lovers of retro silhouettes and patterns—The Selene Checkered ArmChair is sure to be a showstopper. This chair has a gorgeous checkered design and a tubular metal frame that sits externally. This chair is a stunning peach and cream design with silver accents that make it blend with many different aesthetics.
12. Sid Solid Wood Dining Chair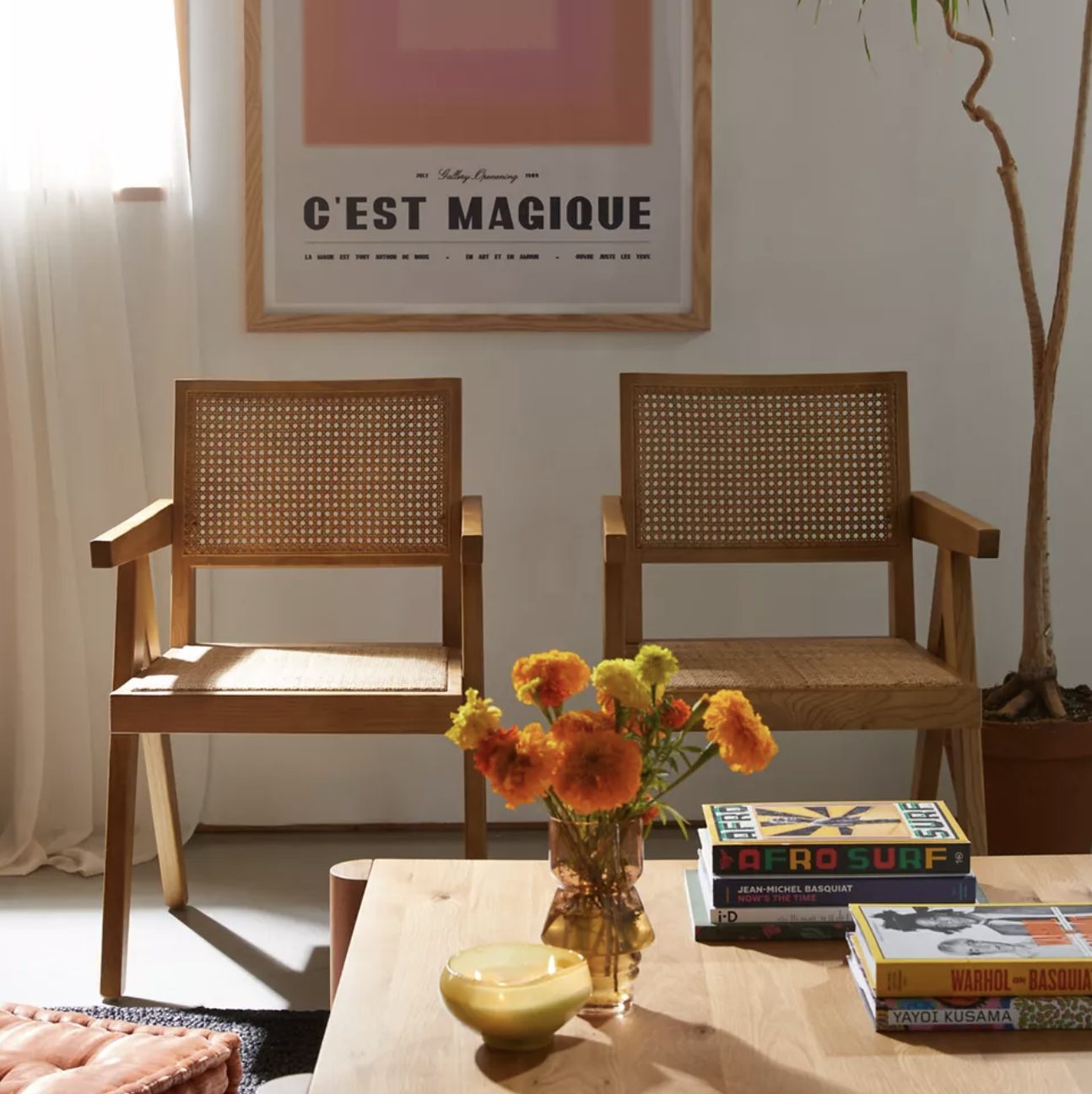 The Sid Solid Wood Dining Chair is ideal for those who crave a boho vibe in their space. This chair is crafted from solid elm wood and natural rattan. Each piece is one of a kind and features stunning and unique wood grain.
13. Bria Checkered Chair
Mid-century modern lovers will absolutely adore this Bria Checkered Chair. Between the stunning checkered design, to the overstuffed cushions and tapered legs, this chair is the ideal choice for those who crave bold style. This chair comes in four bold colors—black, burnt orange, dark green, and taupe.
14. Balboa Upholstered Swivel Armchair
For the perfect balance of comfort and modern design, you'll love the Balboa Upholstered Swivel Armchair. This chair features a stunning circular design that you can sink into and read for hours or catch up with a friend. This chair comes in three sizes and dozens of different fabric colors and materials.
15. Floria Boucle Chair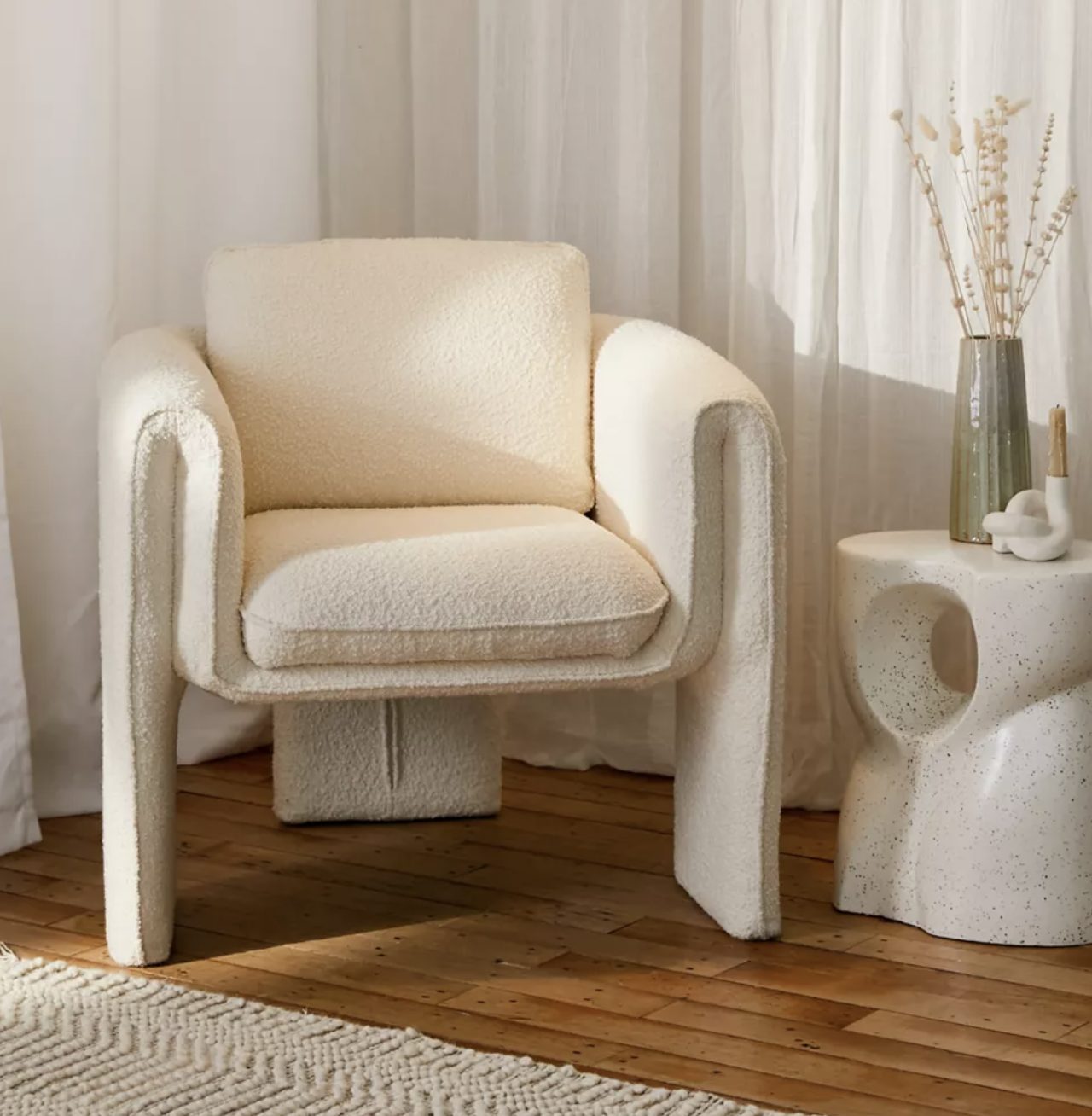 The Floria Boucle Chair is a truly show stopping and unique piece. This chair sits upon three continuous legs that extend from the base, to the arm rests, and down into legs. The fabric is made of a soft boucle for added texture and intrigue. This piece is ideal for those who love bold and architecturally intriguing design. One of my favorite picks for comfy chairs for bedroom!
16. Chunky Woven Petite Accent Chair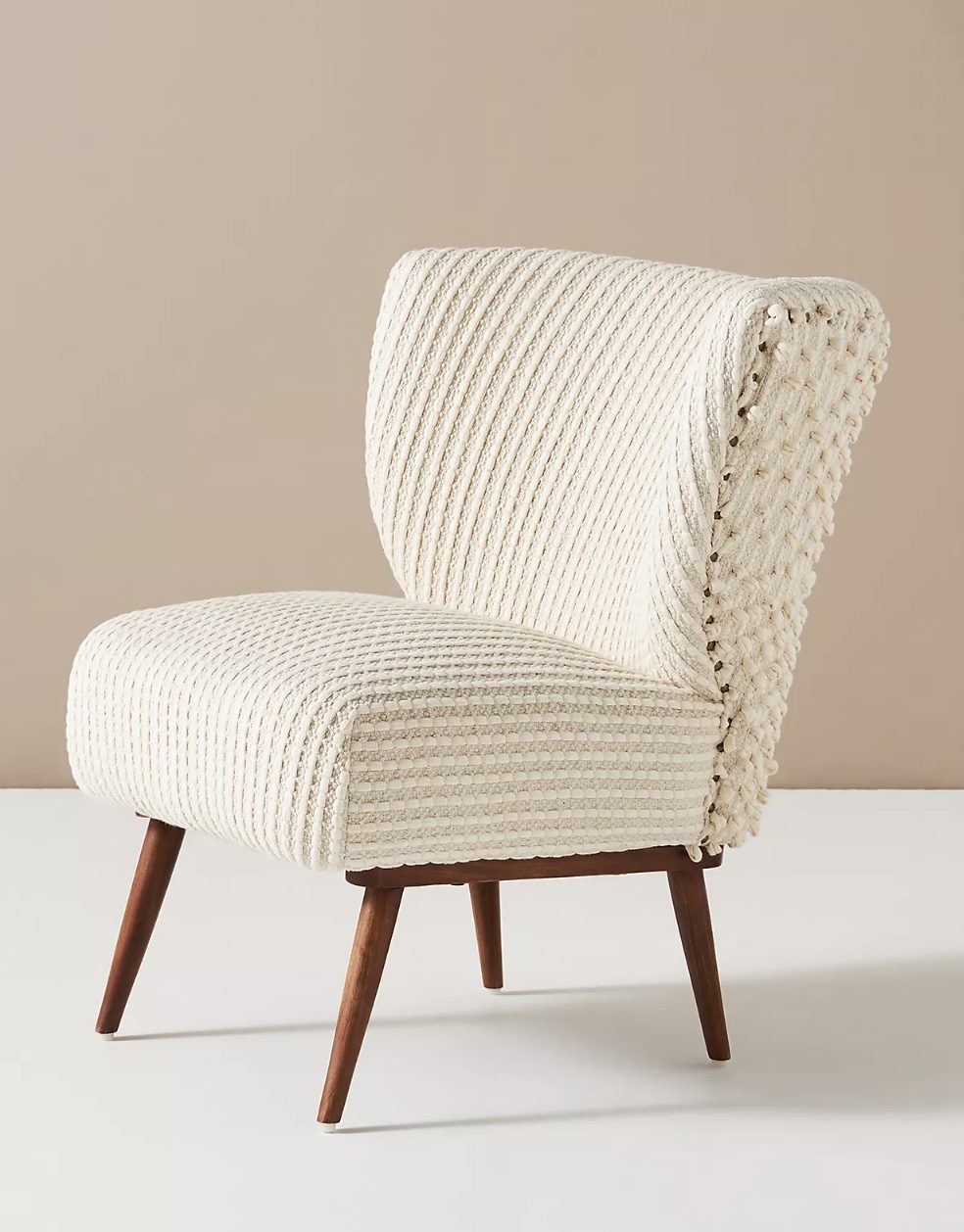 This Chunky Woven Petite Accent Chair is an ideal small space solution for those who crave bold design. The cushions are crafted from a woven rug fabric that gives it an ultra comfortable vibe and feel.This chair also has soft, slender tapered legs that bring balance and structure.
17. Pomona Swivel Chair
The Pomona Swivel Chair is ideal for those who love a minimalist aesthetic that still boasts plenty of elegance. This chair swivels to make it perfect for conversing, and boasts gorgeous wooden trimmed armrests. This design is timeless and elegant and sure to shape shift aesthetics with you.
18. Bria Boucle Chair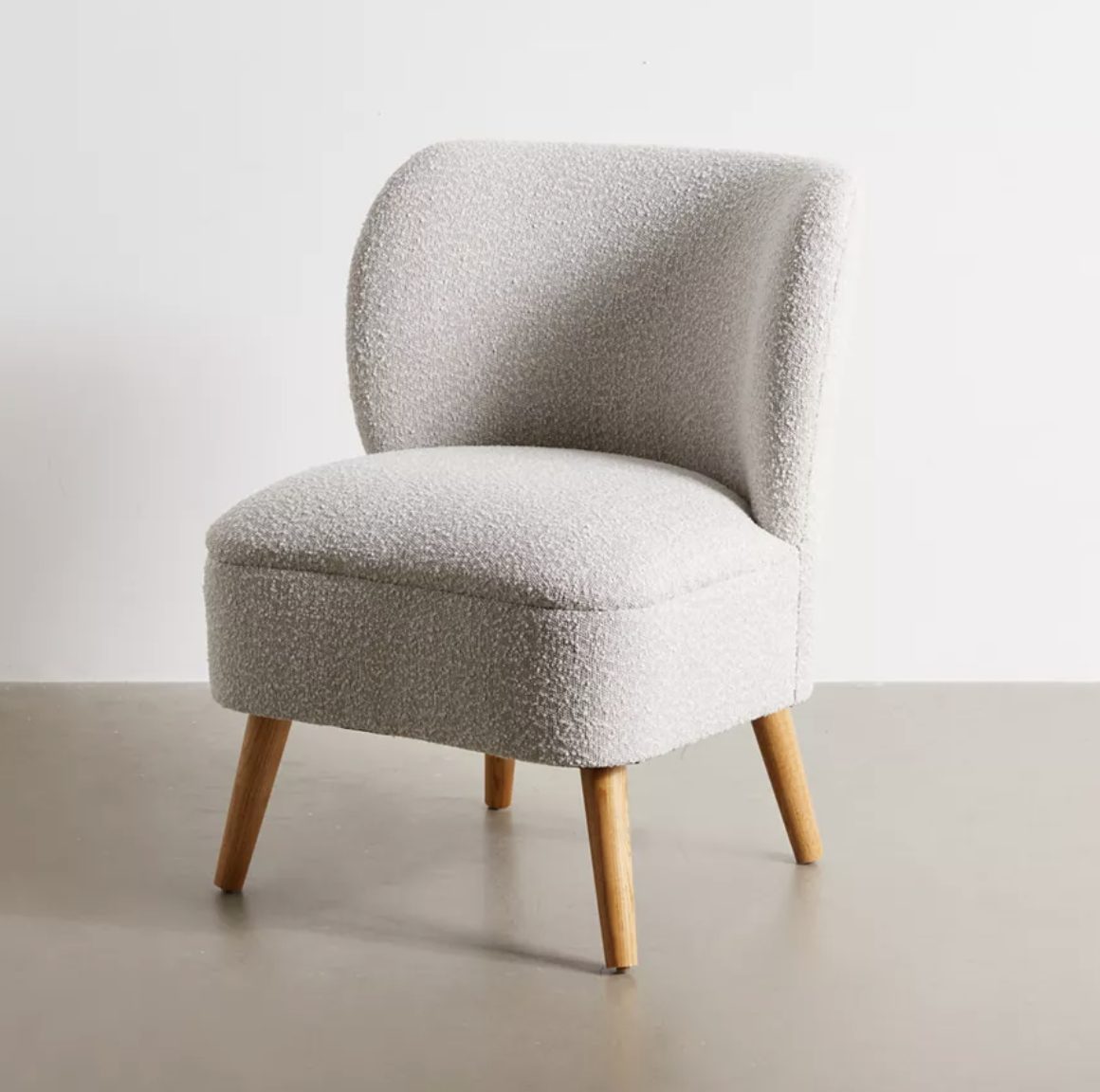 This petite, mid-century modern chair is a great piece for a small space. The Bria Boucle Chair features gorgeous subtle curves, clean lines, and tapered wooden legs. Choose between two stunning colors—red and ivory.
19. Aimee Comfy Bedroom Chair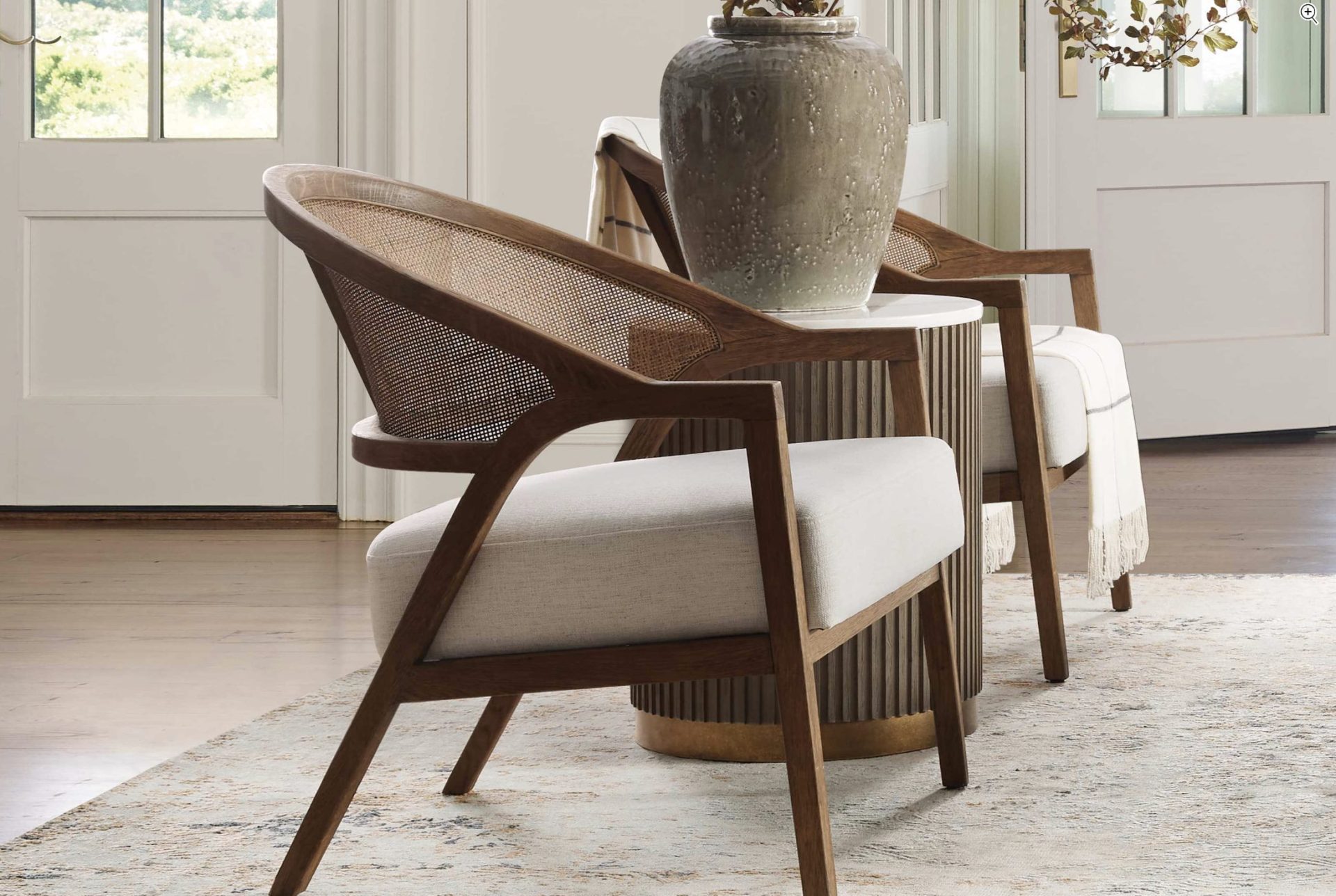 The Aimee Chair is inspired by classic French design and features a beautiful two toned rattan backing and plenty of interesting angles. This chair is a versatile design that also fits a mid-century modern aesthetic. Choose between two different frame colors—cinder and rustic black.
20. Dover Crosshatch Swivel Chair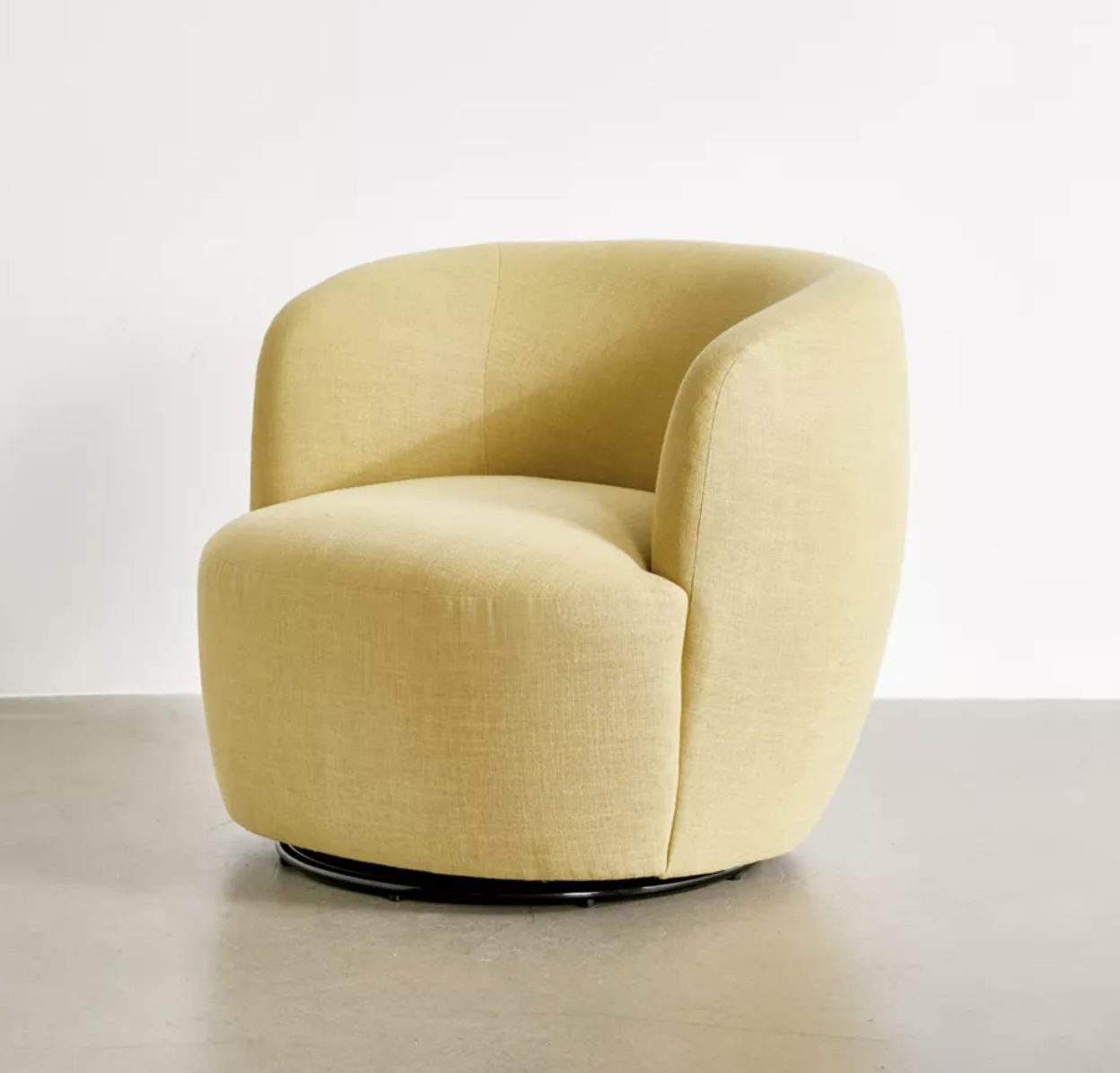 For those who love bold color and design, you'll love the Dover Crosshatch Swivel Chair. This chair struts gorgeous curves all over, and overstuffed cushions all over the frame. For added versatility, the Dover chair also features a fun swivel design.
21. Channel-Tufted Occasional Comfy Chair for Bedroom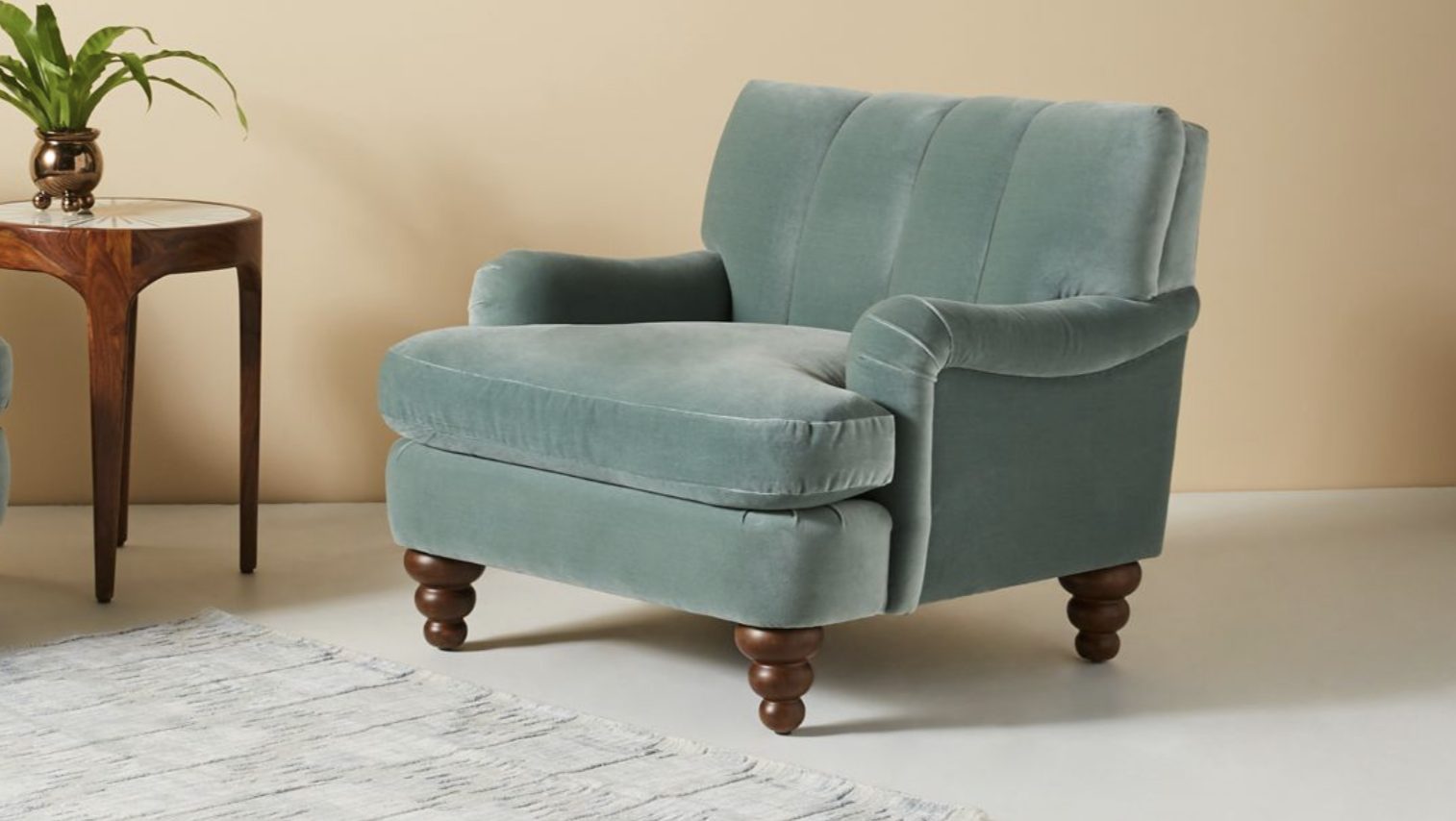 For those who value true comfort—the

Channel-Tufted Occasional Chair

is an ideal choice. Each cushion is filled with down to make it the ultimate chair to sink into and read a book for hours, or catch up with a friend. This chair sits upon gorgeous round layered legs, and comes in dozens of different styles and colors of fabric.
22. Hallstatt Navy Accent Chair
The Hallstatt Navy Accent Chair is a stunning eye-catching piece that brings a fun coastal charm to your space. With rounded corners, and perfectly stuffed cushions, this chair is designed to let you sink in. This chair also comes in five different stripe colors so you can perfectly match it to your space.
23. Florence Chaise
For those who take winding down after a long day seriously—the Florence Chaise is an ideal choice to sink into and read a book or sip on a glass of wine. This chair features an extra wide and long base to help you curl up, and gorgeous clean lines that bring a balanced and elegant vibe to your space.
24. Amoret Swivel Chair
For plenty of versatility and functionality the Amoret Swivel Chair boasts the ability to swivel a full 360 degrees. This chair boasts lots of luxurious curvature, and is coated in an extra soft velvet fabric. These chairs are made to order and can be customized in plenty of different colors.
25. Frida Comfy Chairs for Bedroom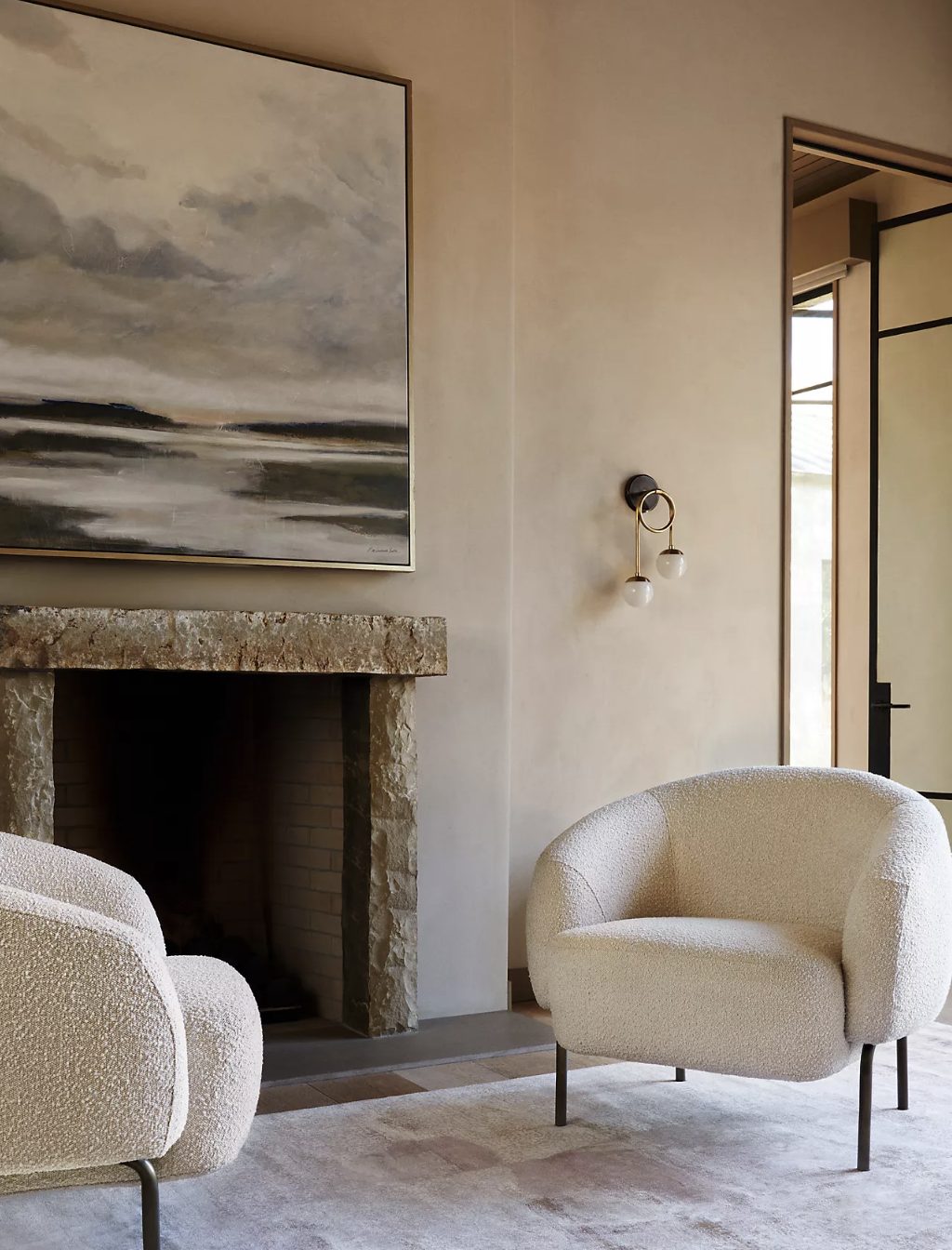 The Frida Chair is an ideal choice for those who love the sculptural look of boucle fabric. This chair sits upon stunning slender brass legs and has plenty of clean lines and bold curvature. Choose between a timeless ivory white or a deep black for added depth.
26. Nadia Accent Chair
Inspired by sophisticated Danish design—the Nadia Accent Chair boasts plenty of texture, angles, and mixed materials. The cushion features deep tufting, and the sides are finished with a birchwood caning for extra intrigue.
27. Flo Occasional Comfy Chairs for Bedroom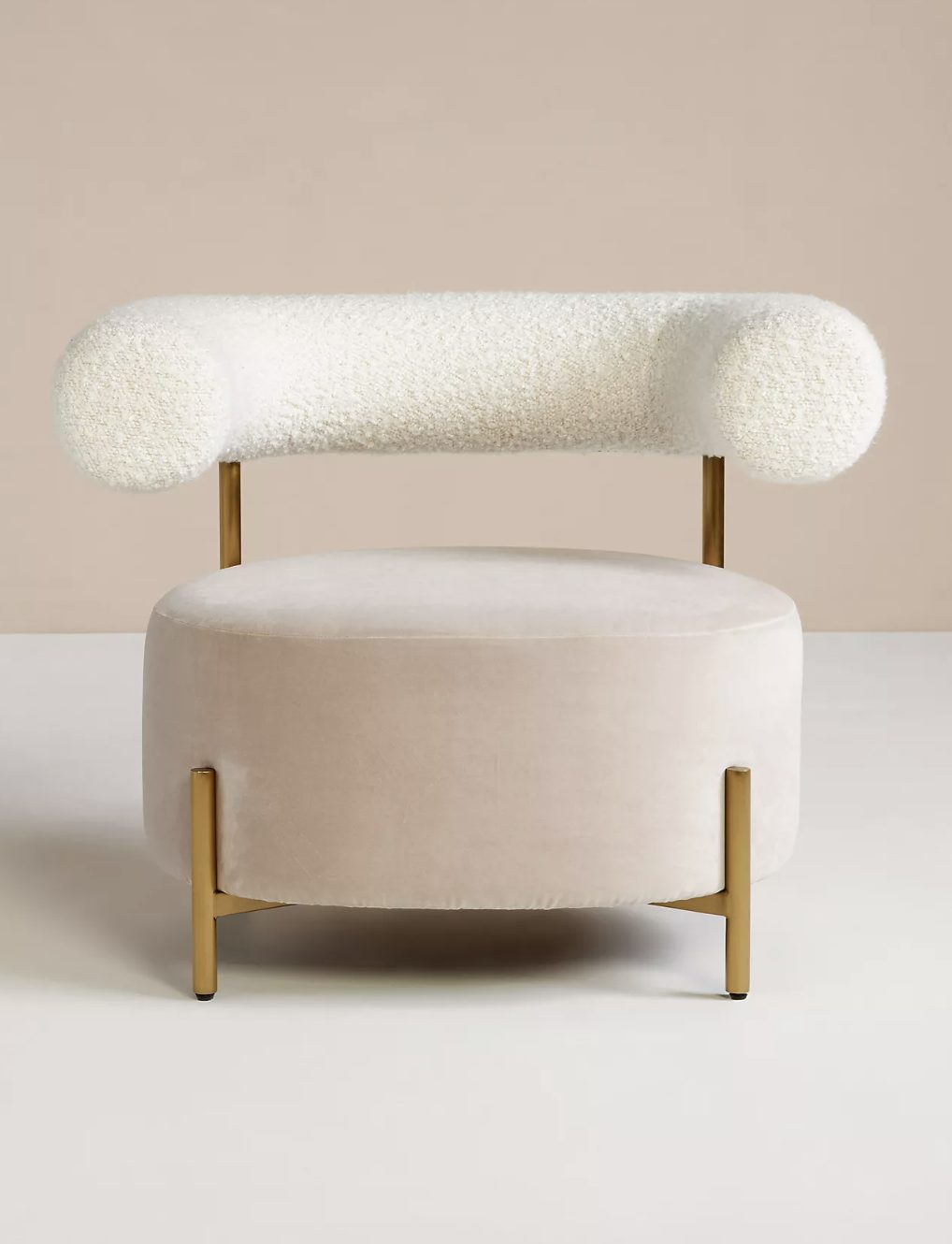 If you're in the market for a show stopping and playful piece, you will adore the Flo Occasional Chair. This chair is complete with a unique stunning brass frame that elevates the backrest and armrests above the circular bottom cushion. This chair is the embodiment of a playful and luxury aesthetic.
28. Bridgett Accent Comfy Chairs for bedroom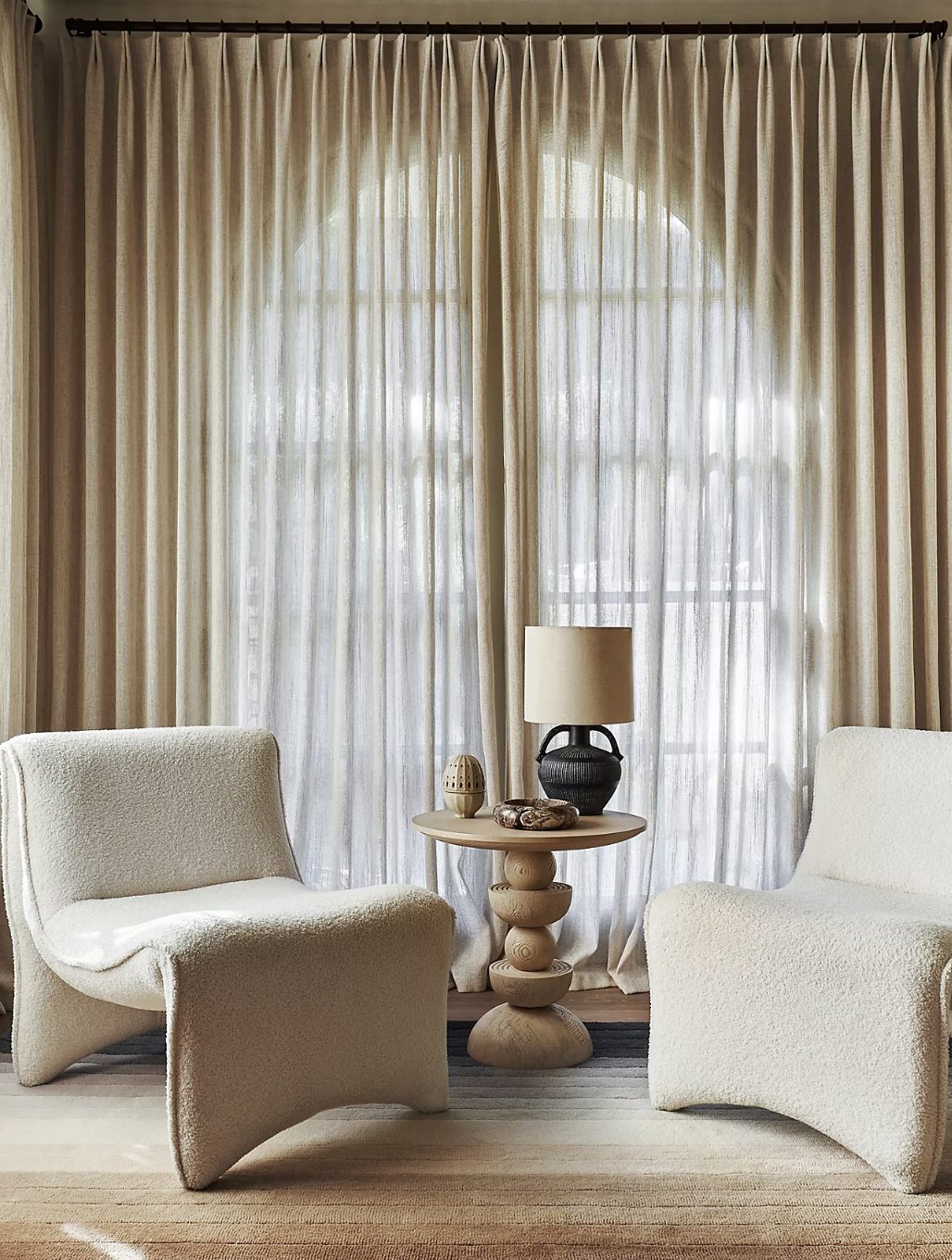 The Bridgett Accent Chair features a unique folded design that gives the illusion of being folded and molded into shape. This design dips in low to help you sink in and get comfortable. The fabric comes in a gorgeous ivory boucle that covers the entirety of the design from the backrest, seat, and even the legs. These are just gor
29. Elise Cane Arm Chair
The Elise Cane Arm Chair has plenty of clean lines and textural intrigue. The backing and arm rests feature a stunning cane that perfectly balances the white cushion and black teak wood frame. This chair is perfect for those who want to bring a sophisticated boho aesthetic to their space.
30. Giovanni Upholstered Cheap Comfy Chairs for Bedroom
If you're looking for a modern take on a classic armrest design, the Giovanni Upholstered Chairs will make a stunning addition to your space. This set of two chairs is upholstered with an extra comfortable polyester fabric that is strong and durable. They sit upon strong tapered metal legs that are built to last.
31. Daniel Comfy Armchair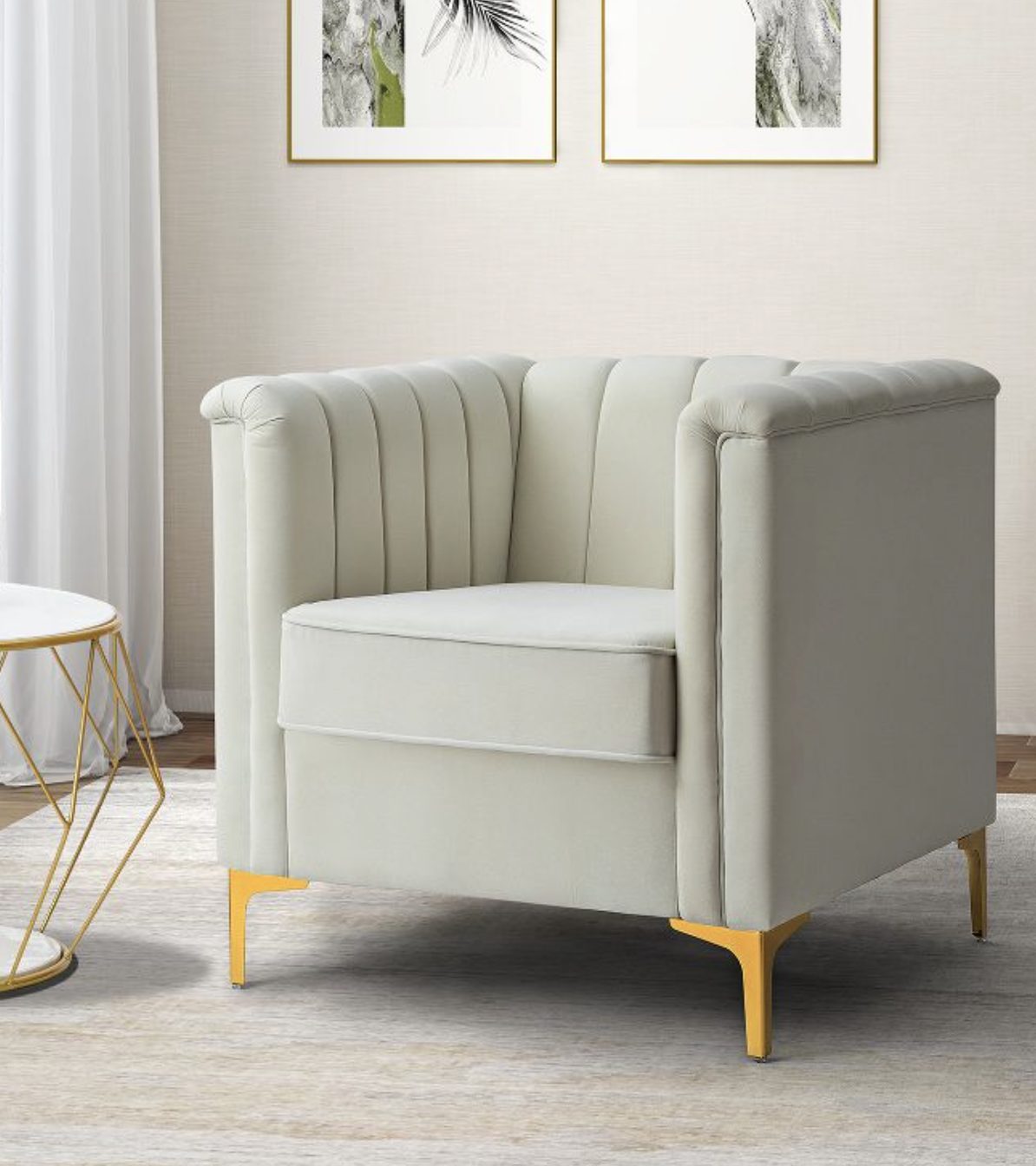 The Daniel Comfy Arm Chair boasts classic elegance with plenty of modern upgrades. The backrest and armrests feature channel tufting and integrated S-springs to ensure maximum comfort. This chair sits on four gorgeous metal legs that elevate this design to the next level.
Final Thoughts on comfy chairs for bedroom
Having a palace to sit in your bedroom other than your bed is a surefire way to maximize both the aesthetics and functionality of your space. Give yourself the reading nook or relaxation area of your dreams with one of these stunning comfy chairs.