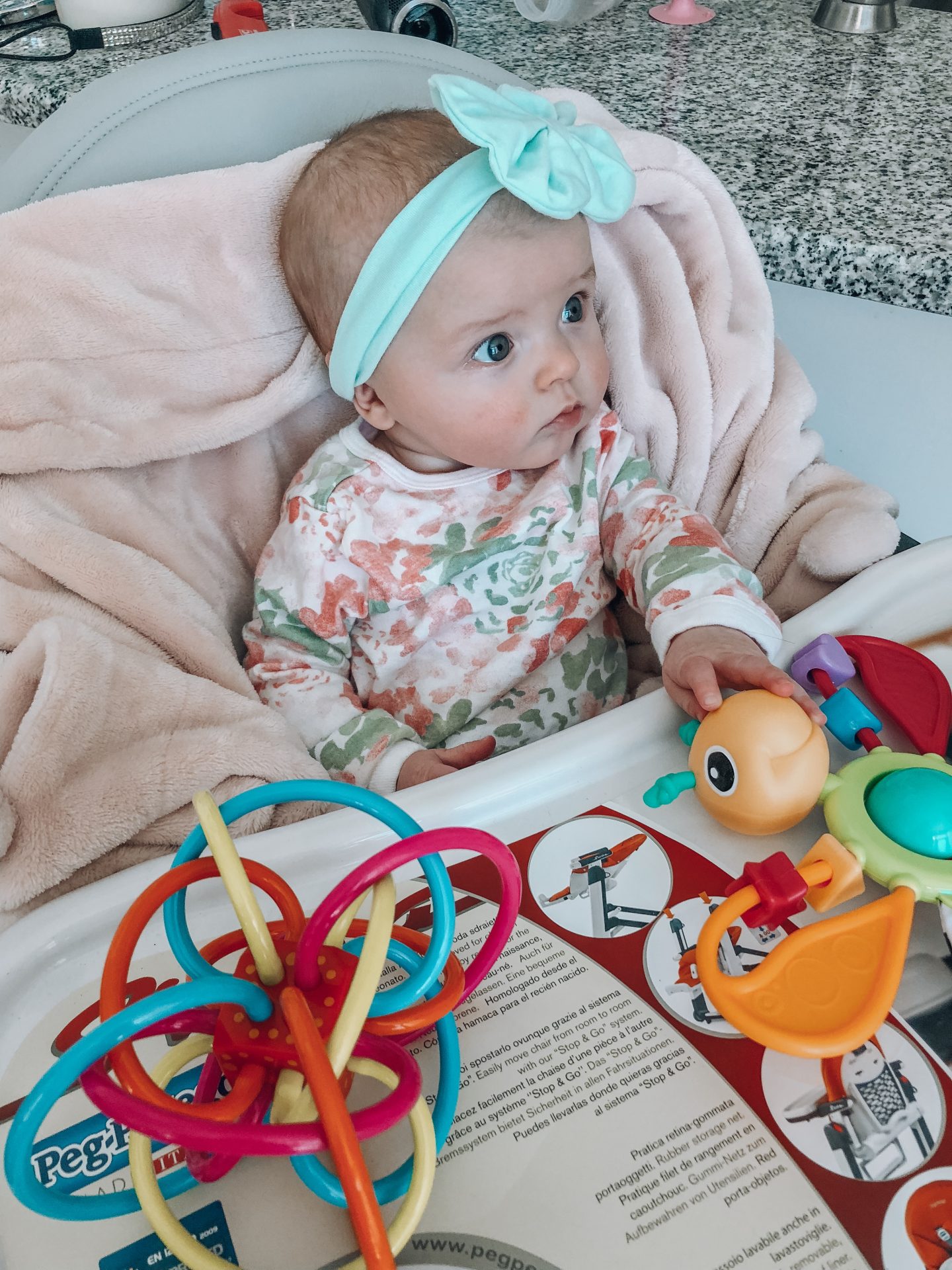 I was watching an episode of the KUWTK (Keeping Up With the Kardashians) recently, when I noticed that Kim Kardashian West has the same exact high chair as Harlow. Same color, same design — same exact one. The best part? There's nothing that fancy about it. It's the Peg Perego Siesta High Chair in the color: ICE. I immediately liked the modern design, and the fact that it doesn't sacrifice baby's comfort. (Have you guys seen those fancy shmancy ones on the market? They look so uncomfortable for eating!) It also has 5 star reviews, and I'm always going off what other mama's like! Here are some of my favorite features of the Peg Perego Siesta.
ICYMI:
Kim Kardashian West has the same exact high chair as Harlow!
After discovering the high-chair, I was pleasantly surprised to see that we have a lot of the same baby gear. I'll admit it — I'm a Kardashian fan! I'm in awe of their empire, and what they've built. Oh, and the fact that they've managed to stay extremely relevant for 10+ years, pretty remarkable. I do admire their style, interior design & baby essentials. Especially because Kim and Kourtney Kardashian are on their third! Lastly, I have 3 sisters of my own and this is exactly what it's like. Drama, tears and lots of love: on repeat. It's a sister thing. Scroll below to find other Kardashian baby favorites! PS: Harlow has a lot of the same things — I wrote about them here and here. They're definitely goodies, and things we used on a daily basis.

PEG PEREGO SIESTA HIGH CHAIR FEATURES:
Can be used from birth. (5 reclining positions) Some people may find this feature useless, but I loved putting her in it reclined so she could watch me around the kitchen (to clean the endless bottles). It was also nice to have her near us while we ate dinner since she always had to be watching us!

The removable tray and multiple height positions (nine positions) allows the child to sit right at the table (which will be awesome in a year or so! Harlow's 11 months right now).

The fabric is easy to clean, and no hidden spots where food can get stuck.

It folds down so you can store it (we just took it with us on our road trip to Michigan, and it worked perfectly!)
---
KIM KARDASHIAN'S BABY FAVORITES
Interested to see a post on Kourtney Kardashian baby gear? Let me know below!