---
Probably my most asked question to date, 'was the SNOO worth it?' Let's just say, I'm definitely adding this to my baby registry must haves for every parent-to-be! The SNOO sleeper by Happiest Baby is the Tesla of baby gear. Not to mention, it looks beyond chic on my bedside! Details below!
---

---
As soon as I found out I was expecting baby number two, I immediately thought of the SNOO! We didn't use this with Harlow, and after so many success stories from other parents — I just had to try it for myself! So you're probably asking, what exactly is the SNOO? My full SNOO review below!
What is the SNOO?
SNOO is the award winning, responsive bassinet created by Dr. Harvey Karp (He wrote Happiest Baby on the Block). When the bassinet detects any crying, it automatically responds with increasing sounds and motion, generally calming in under one minute which means — more sleep for you!!! You can tailor these sounds/motions in the app depending on your baby. Oaks preferred a slower motion (you can set limits in the app).
The SNOO sack (swaddle) comes with the bassinet, and has wings to attach to the sides. Once these 'wings' are attached correctly, the SNOO will power on. These wings prevent the baby from rolling over. Most experts believe that babies should be placed on their back to reduce SIDS and SUID. The gentle motion and white noise will continue all night until baby gets upset. There are several levels of intensity after the SNOO detects crying (it will keep moving up in speed/noise until the baby is calm). Like I mentioned above, I set the limits to a lower intensity because that's what my baby preferred most! Basically, the SNOO will try and rock your baby to sleep so you don't even have to get out of bed! *Of course, there are exceptions!
We still gave our baby plenty of snuggles/cuddles throughout the night. I also woke every 3 hours to feed per my doctor instruction! I am not saying the SNOO is a replacement of rocking/cuddling — it simply gives you an extra 1-2 hours of much needed sleep! I found out about the SNOO through friends/family who recommended it.
So, is the SNOO worth it?
The SNOO has been a game-changer for us (not life-changing) but we definitely noticed an extra 1-2 hours of sleep per night. It also naturally sleep-trains, and there is a weaning feature before the big transition to the crib! Please do not purchase this with the intent of having a 'cure all' sleeping baby! For us, this wasn't the case. I do find it important to disclose this. Part of me thought Oaks would sleep through the night no problem (based on all of the reviews so many people told me) but every baby is so entirely different from the next. Oaklee has suffered with reflux, and this has certainly impacted his sleep at night. It took about 4-6 weeks to figure this out! Once we ordered the leg lifters and got him on proper medicine — it definitely seemed to help!  I will be keeping the SNOO incase we have a third, so that's how much I loved it!
You have the option to buy or rent the SNOO! While it's definitely an investment, I never put $$ on sleep as a new mama of 2! It adds up to about $5 each day (which is cheaper than a Starbucks coffee!)
---
SNOO REVIEW FAQ
---
When did you start using the SNOO?
We started using the Snoo the night we brought Oaks home from the hospital! I transitioned Oaklee out of the SNOO around 4 months old because he was going through the infamous 'four month sleep regression' and was up most of the night anyway!
How long can you use the SNOO?
You can use the SNOO up until 6 months (or up to 38 pounds) // there are also different swaddle options listed here. Oaks liked having his arms out after 3 months old.
Is the SNOO safe?
Yes, 1000%. The FDA is currently fast tracking its review of the SNOO and is considering giving it approval as the world's first SIDS/SUID prevention product. It's also the only product that is marketed for sleep that hasn't had a single case of SIDS.
Did you use SNOO for naps?
We did. They recommended this option, and it worked fairly well. He was always a short napper though!
*MOST ASKED QUESTION* 'I've heard that people have trouble transitioning into a crib — is this true?
The SNOO has a weaning feature that is recommended to use 4-6 weeks before the big transition. We transitioned a bit earlier at four months but he did not have an issue transitioning into the crib. I do realize that each and every baby is so different from the next but he seemed to like having more room. He would wake up frequently for his pacifier, but now that he's old enough to grab himself he's been sleeping 12 hours straight each night (he's 7 months now). We also still use a sound machine, and plan to for awhile. Harlow is three and still uses hers.
My baby has bad reflux, do you still recommend?
Oaklee is actually on medicine for reflux, he has it pretty severe. We got the raised leg lifters to help keep him on an angle so he's more comfortable.
Where can I rent or buy the SNOO?
You can rent/buy the SNOO at happiestbaby.com. You can also find the SNOO on Pottery Barn Kids (If you want to add to your baby registry) Maybe you're grandma's favorite — hehe!
---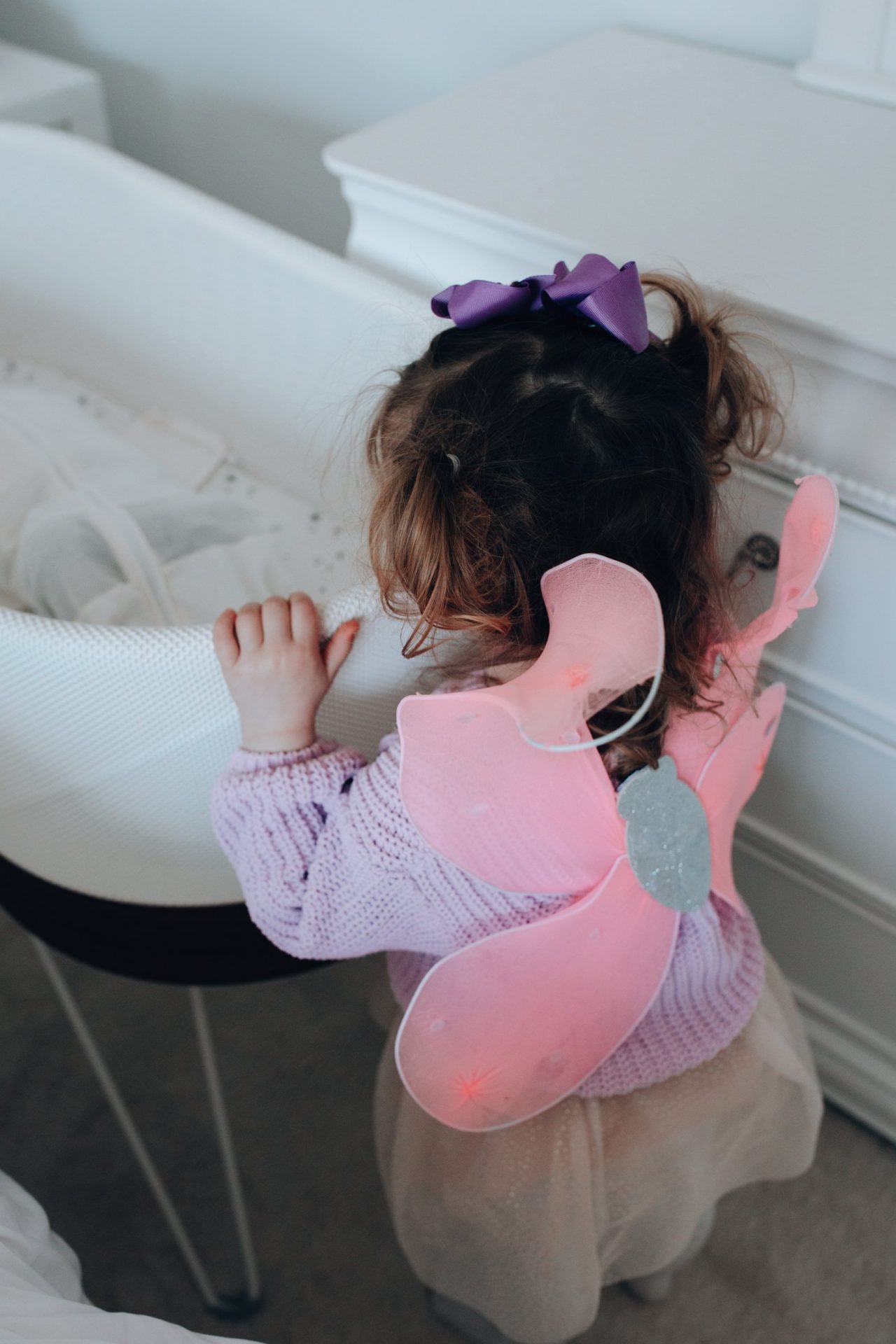 *this post is in partnership with Happiest Baby. All opinions are entirely my own, and I only endorse products I genuinely love and use!