Now that my sweet Harlow is 9 weeks old, I thought I'd share a post on the  newborn essentials that I'm actually using. The newborn phase is tough, so anything that makes life a little easier is a win in my book! Baby registries can be incredibly overwhelming (especially for first time mama's like myself) Luckily, the staff at Buy Buy Baby is incredibly helpful. If you haven't already, be sure to check-out my baby registry picks. You can see what I registered for vs what I'm actually using in this newborn essentials post. We use all of these newborn essentials on a daily basis. 
I'm sure I'm forgetting something, so I'll make sure to update if anything else comes up — so check back! Obviously, every baby is entirely different so what works for my babe may not work for yours, but always worth a shot! Feel free to reach out with any questions, as always happy to help! PS: I didn't include a swing because Harlow hates it! If anyone has one they love, please let me know!?
Tell me below: What are your newborn essentials? baby must haves!  Always looking for newborn stuff to make things easier!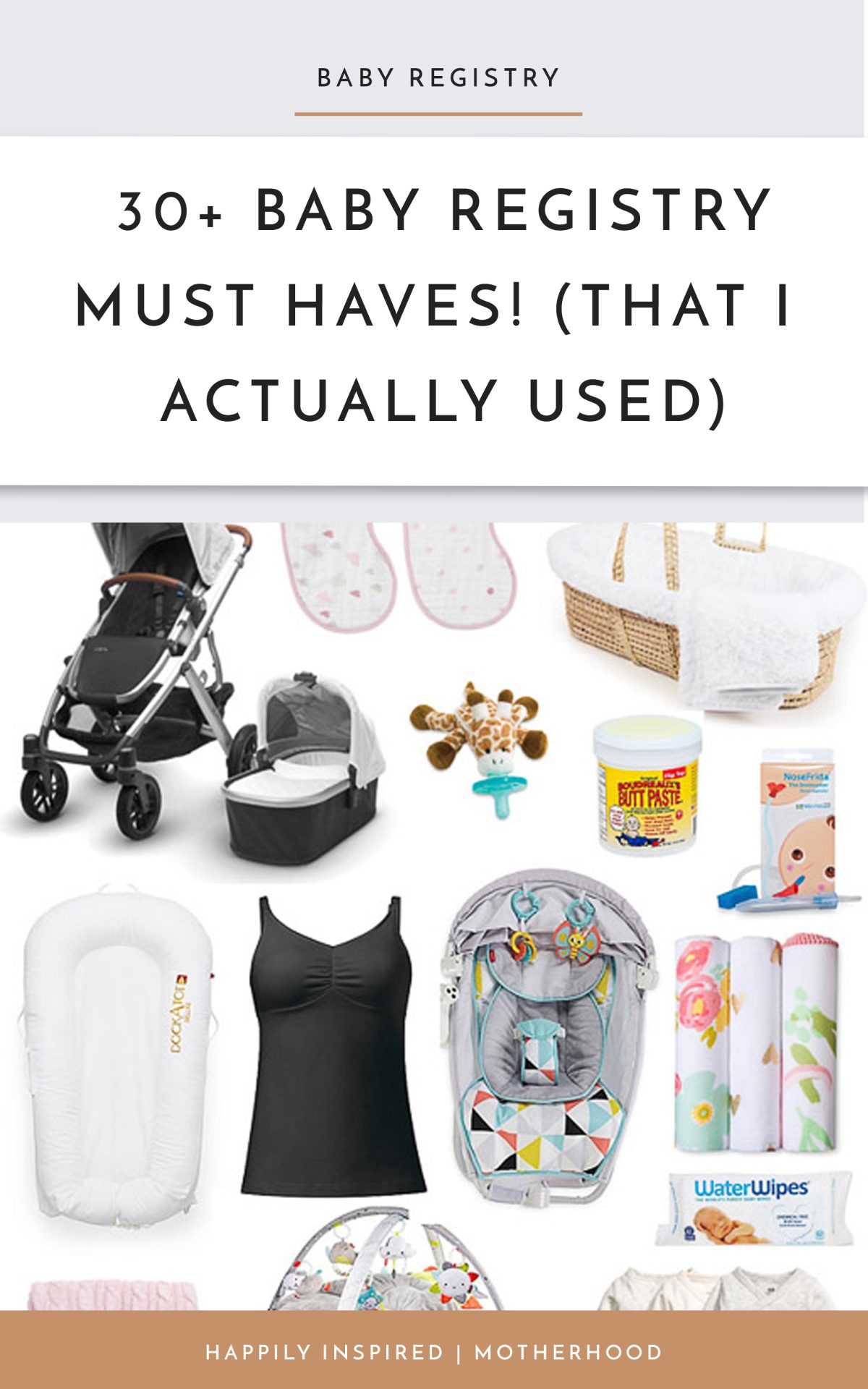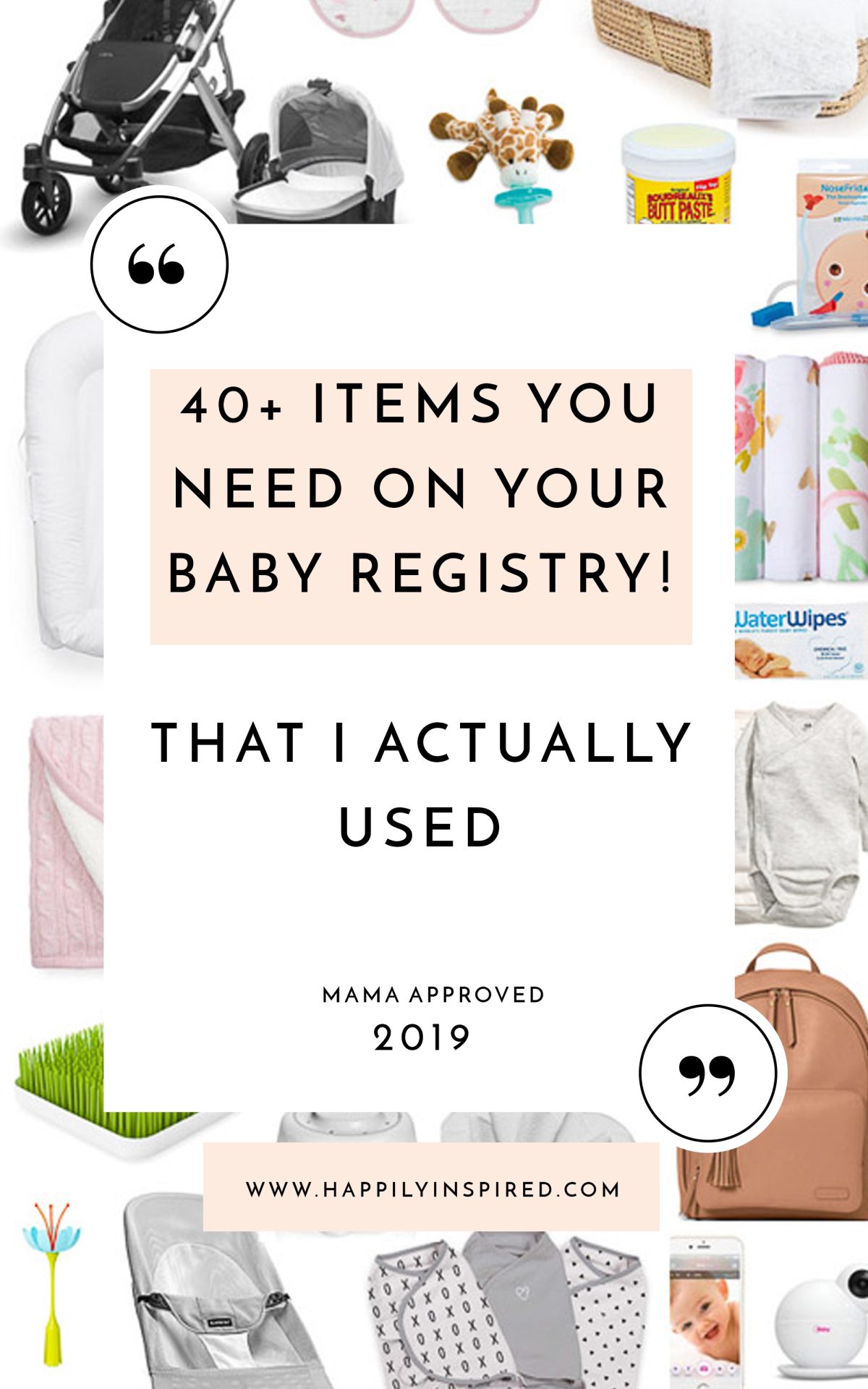 Now, let's get into Harlow's newborn stuff!
---
NEWBORN ESSENTIALS I ACTUALLY USED
Baby Bjorn Bouncer (*Favorite newborn essentials pick): This has literally saved my life. Unfortunately, Harlow doesn't like being held (sad face) so this has been our go-to. She absolutely loves it! We also got the attachment, and she's just starting to notice it. We rock her in it when we're eating/working. It folds down flat, so it's easy to transport. I'm not kidding — I bring this everywhere, including Mimi's house! My favorite newborn essential of them all!
UPPAbaby Mesa Carseat: I'm a huge fan of the UPPAbaby line. It's not only stylish, but practical. The carseat is a favorite amongst moms, and has a 1-button stroller release for extra convenience. It also snaps into the stroller (which I talk about below).
UPPAbaby Vista: I'm obsessed with this stroller. The Mesa car-seat clicks right in to make it the ultimate all-in-one system. The vista comes with a bassinet (it's SO cute) and infant-seat so your tot can grow with it. It also has another adapter for a second infant seat, which makes it a double stroller down the line. Practical, stylish and beyond easy to maneuver! Another favorite pick!
Wicker Bassinet: This is what Harlow sleeps in every night. I love that it's portable (can take around house easily) and adorable. She's been sleeping through the night (yay!) so I'll attribute some of that to this gem! Another newborn essential I couldn't live without!
Wicker Bassinet Stand: This is the stand I use for next to my bed. Another cute, yet practical pick!
Comotomo Bottles: These bottles closely mimic natural breastfeeding. Since I don't produce enough milk, I have to supplement with formula and these have definitely been my favorite bottles to date. *Newborn essentials favorite baby registry item! 
Bravado Nursing Tank: I wear this every single day. The material is beyond comfortable, and the snap system is easy/efficient. I actually wrote a review of them here, so make sure to check it out.
Pink Blush Pajama Set: I am obsessed with these pajamas. They're stylish, cozy and make nursing a breeze. I wore them post delivery, and continue to wear them at night.
DockaTot: The perfect docking station for your babe! It's a comfy spot for diaper changes, tummy time, lounging, and playing. 
4moms Breeze: This pack n play has been used SO much! She's 2, and it still comes with us on road trips. It literally folds with one finger, and is very compact. You can add the newborn insert in it, too! Worth every penny!
SNOO Smart Bassinet: Will be sharing an update on this soon!
SwaddleMe Swaddle: *favorite newborn essentials pick: I'm obsessed with the SwaddleMe brand. Swaddling helps prevent baby's startle reflux from waking them up. We use these every night, and she absolutely loves being all snuggly/cozy. I also have a fleece one for when the temps start dropping more.
Owlet Monitor: While this isn't necessarily an essential, I really thought this was worth the money. I have mild anxiety and this just made me sleep a little easier at night! A couple of mom friends recommended to me, and I am so glad they did! Technology is the best! Basically, the baby wears a sock that tracks breathing/oxygen levels — you will be alarmed if something is off. There are people that have said this monitor saved their baby's life!
Nanit Monitor: This smart monitor is literally INSANE! It tracks wake times, sleep times, and so much more. I'm actually writing a detailed blog post on it because it's that good. Stay tuned!
Aden + Anais Burp Cloth: These are the softest burp cloths that I've found to date! We drape them over our shoulder to reduce a spit-up mess. They also serve as a bib, so it's a win-win! I am a fan of the length & the company is a personal favorite.
Skiphop Diaper Bag(*Favorite newborn essentials pick): My favorite diaper bag that drapes easily over the stroller with convenient hooks. It features 9 pockets, a cushioned changing pad, and a dual zip opening for a tablet. I just love the tassel detail, too! I'm not a regular mom, Im a cool mom! Ha. Just love this bag. Fit all of your newborn stuff in this delight! 
Cable Knit Blanket: A cozy, stylish blanket that's perfect for baby & mama snuggles. We line this down in the bassinet for extra cushion.
Fisher Price 4-in-1 Bathtub: From newborn to infant to toddler — this tub adapts to baby's needs. I love products that grow with your tot! Harlow absolutely loves bath time, and we are a huge fan of this system. (The price tag helps, too!) 
Little Me Panamas and Hat: I am a huge fan of the Little Me brand. The material is high-quality and super comfortable. It's really important to keep hats on your newborn to help regular their temp. (especially with winter coming)
Skip Hop Silver Lining Cloud Activity Gym: We are obsessed with this cute mat for tummy-time. It features 5 hanging toys that play music, light up and stimulate the little. It's also super plush, and cozy. Anything to make my gal happy!
Medela Breast Pump: Make sure to get your breast pump through insurance which should be covered. I picked out the Medela system, and it works well! I don't need to utilize it often because I'm home with Harlow, but I haven't had any problems.
Hands Free Pumping Bra: Every breastfeeding mama needs the hands-free bra. You can still do other tasks (like use your computer) while your machine does the work for you. This is definitely my favorite, and the reviews prove it.
WubbaNub Pacifier: Harlow doesn't love pacifiers (we've tried them all) but this giraffe is her favorite. The design keeps the pacifier close by and prevents it from getting lost, dropped or misplaced. This is a must for every mama! They have all types of animals which is super cute.
Cutie PAT Round Stage 1 Pacifier Set: I'm obsessed with these pacifiers! They not only look adorable, but they're functional/practical.
Wrapover Shirts: H&M baby is one of my favorites. Their material is really soft, and the clothing doesn't shrink post-wash. I'm obsessed with the wrap-over shirts so you don't have to pull things over their head. I recommend getting them in every size so you have them on hand.
Grass Drying Rack: I wash a lot of bottles on a daily basis, and this drying rack is an essential. Don't forget the cute flowers to hold the nipples!
Noise Machine: We have this on 24/7 — It's literally a game changer! Like I mentioned above, we have a very noisy dog, so this machine helps drown out the noise and keeps her asleep.
Lanolin: I had a really traumatic start to breastfeeding where it was extremely painful. My hospital sent me home with lanolin and it really helped. You can find it just about anywhere though!
Baby Einstein Toy: This was definitely Harlow's favorite toy during tummy time! Love the calming music and vibrant colors. A must for every parent!
Aquaphor: Aquaphor is my lifeline. I put it on for diaper rashes, dry skin – you name it. The tub lasts a long time and I honestly use it every single day.
Changing Pad: We got a regular dresser, and put this changing pad on top. I love that you don't need a cover and it easily wipes clean. This is another one moms raved about to me! 
Waterproof Changing Pad Liners: These are a must to prevent leaks. Harlow has had some impressive blowouts and these have definitely helped save our cute changing cover! Just lay it on top of your cover, and you're set!
Britax Mirror: I love the simplicity of this car mirror. It works perfectly, and I love that I'm able to check on my little bear throughout the car ride.
Muslin Blankets: I'm obsessed with these muslin blankets. They're SO soft (do you catch a theme with Harlow's favorites?) and double as a swaddle. I also like draping them over the car seat when we're out and about — I just love the design, too!
Peg Perego Siesta High Chair: I got this highchair based on the stellar reviews, and it definitely does not disappoint. You can literally start using the chair when they're a newborn because it tilts backward. I had a few people say, 'what's the point of that?' and recently, we've started to put her in it at the table with us (she likes to see us at all times) and when I'm cleaning the kitchen. It's not an eye-sore either, super modern and cute. (I got the silver color)
Butt Paste: I had a friend recommend butt paste, and I'm literally obsessed with it! Harlow's never had a diaper rash! Each time she poops, I make sure to rub a little on — just prevents/treat rashes and it comes on/off super easily. Definitely a mama favorite!
Nose Frida: I'm sure you've heard of this bad boy — the nose frida. Yes, super intimidating! I remember thinking that I would never use it in fear of gagging. When your babe is stuffed, and those boogies are far out of reach, this gets them out with ease. Harlow actually enjoys it which is equally hilarious.
Baby Frida Newborn Kit: The inventors of Nose Frida (right above) came out with this handy newborn kit! They know what they're doing, and I own just about everything included. I can't say enough good things about this company!
The Windi: Your baby is gonna have gas, promise. This will be your best friend (but it's not pretty!) #momlife
Electric Nail Trimmer: I am terrified of cutting Harlow's nails, so this definitely made me ease up a bit! It got great reviews and I love it!
Bottle Steam Bags: These things were a game changer and we used them daily. Just made cleaning easier for this sleep-deprived mama!
Solly Baby Wrap: Harlow wasn't the biggest fan of being worn (she lived in the baby bjorn bouncer found above) but so many people have said this Solly wrap is a game changer! I am definitely going to use this for the next babe. I will need to have a carrier with another kid running around!
Teether: Everyone loves Sophie the giraffe. She's like a warm hug for the babe.
Cuddle & Kind Doll: Love these adorable stuffed animals that give back to kids. They donate for each purchase!
My Brest Friend Pillow: I actually hated the boppy, so exchanged it for this one. It came recommended from the lactation consultants I worked with. Breastfeeding is really tough to get the hang of, and the baby is awkwardly laying. Since they're so flimsy, this is a great way to keep them level/comfortable. I don't have to use as much anymore, but it was a game-changer in the beginning. Must get! 
Pampers Swaddlers: There are many brands of diapers out there, but we absolutely love the pampers swaddlers. They're the diapers the hospital gave us, and are super soft/comfortable. They're definitely more money, but worth the splurge.
Water Wipes: *Newborn essentials top pick — My friend recommended water wipes (had never heard of them before) but they're amaze! Like I mentioned above, Harlow hasn't had a diaper rash to date — and I'm sure these have something to do with that. Newborns have such sensitive skin, so we wanted to make sure to get something hypoallergenic. Love these!
Dreft Detergent: Before the babe arrives, make sure to wash all of their clothes using dreft. It's the #1 choice of pediatricians, and contains no phosphates.
The American Academy of Pediatrics (AAP) recommends keeping soft objects and loose bedding out of the sleeping area for at least the first 12 months. This recommendation is based on data around infant sleep deaths and guidelines for reducing the risk of SIDS.
---
What are your favorite newborn essentials?
---
NEWBORN ESSENTIALS | CHECKLIST
Dreft detergent
Water wipes
Pampers swaddlers (or pampers pure!) We love both.
My brest friend pillow (For breastfeeding)
Nose Frida
Butt Paste
Peg Perego Siesta high chair (can use as a newborn!)
Muslin blankets
Britax mirror for car
Uppababy Vista
Uppababy Mesa car seat
Hatch sound machien
Grass bottle holder
Changing pads
Wrapover shirts
Comotomo bottles
Cable knit blanket
Fisher Price 4-1 tub (grows with them)
Baby Bjorn bouncer (used this in replacement of the swing)
Activity gym (we love skiphop)
Dockatot
Wicker bassinet (used as crib)
Burp cloths
Swaddles
Pacifier
Make sure to check-out my updated list with 75+ baby registry must haves!
*Thanks to buybuyBABY for sponsoring. All opinions are entirely my own. Thanks for supporting brands that make Heart of Chic possible! You guys are the best! Be sure to check out more Motherhood posts before you go!