Need ideas on how to create a floral wallpaper nursery? You've come to the right place!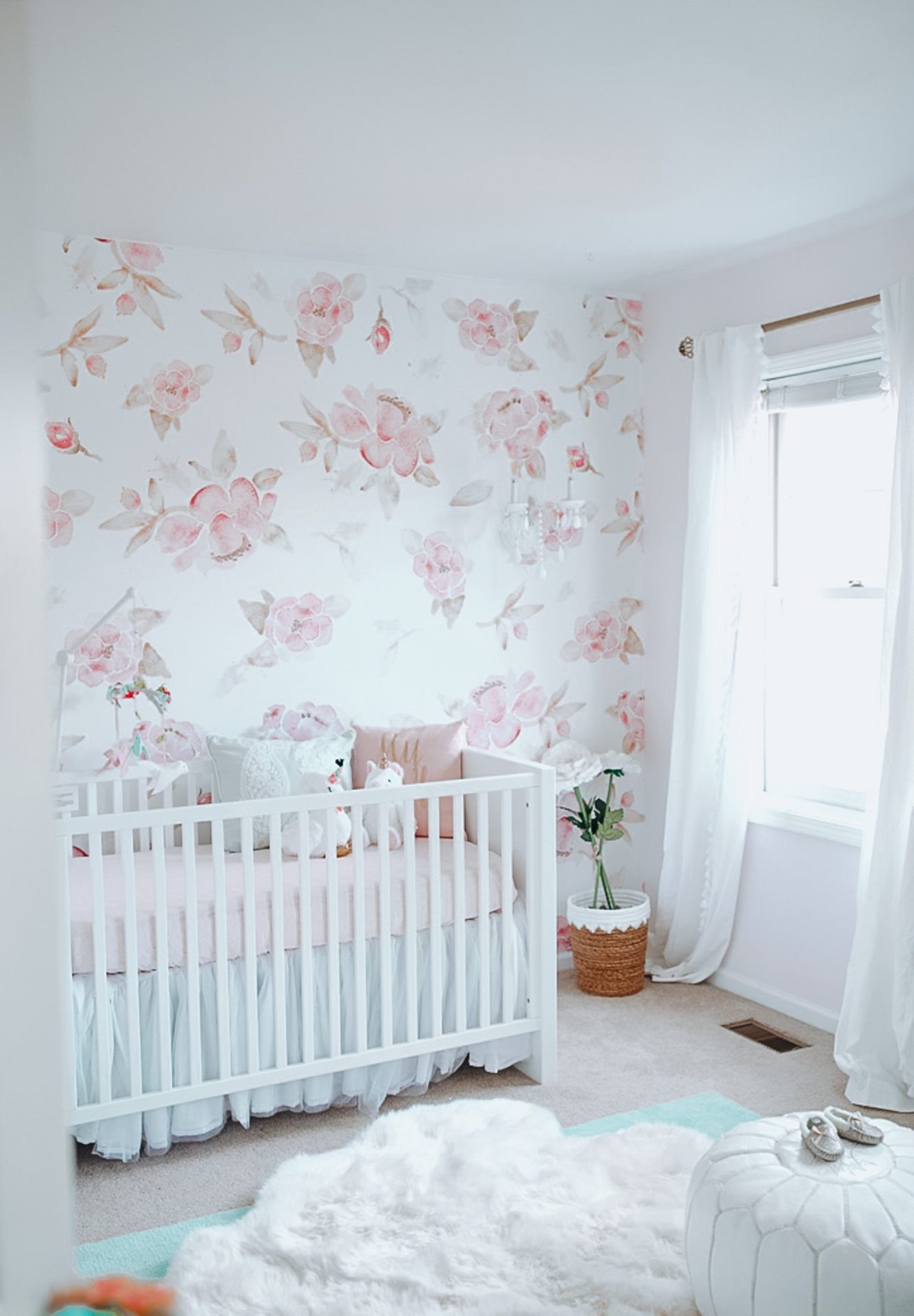 ---
FLORAL WALLPAPER NURSERY
---
I am so excited to finally unveil Harlow's floral wallpaper nursery. My favorite part of the house! In all honesty, it's been ready for a couple of months now, but I generously under-estimated how time-consuming a newborn really is. (Thanks for your patience!) I really wanted Harlow to be part of the reveal, but she wasn't as cooperative as I would have hoped. The perfect scenarios we paint in our heads, right? (oh, four-week olds!) It was truly a labor of love, and I'm really proud of it. My husband and I did everything ourselves, and we really enjoyed nesting/dreaming of our little-to-be in the process. We'll cherish that time for years to come.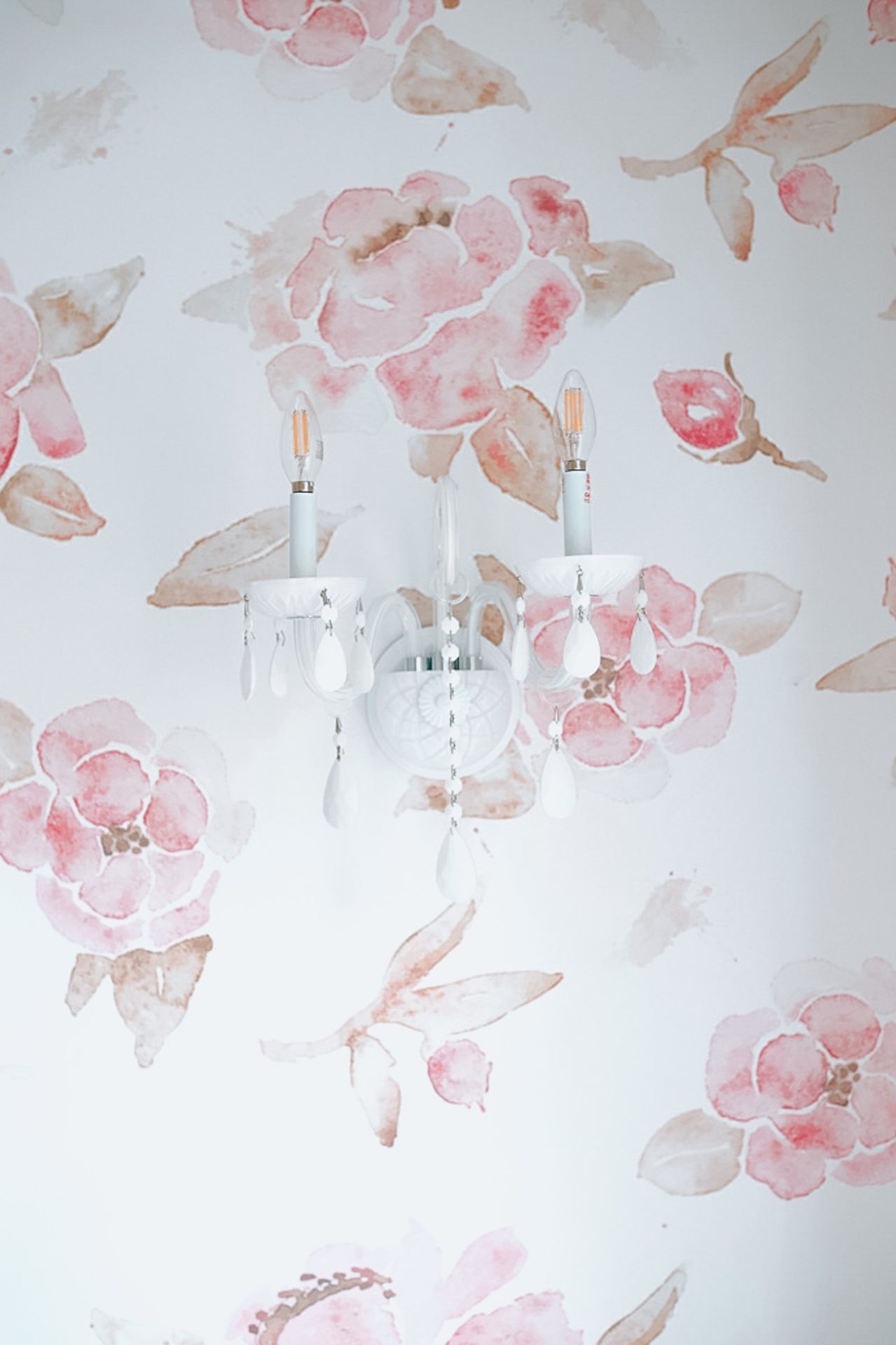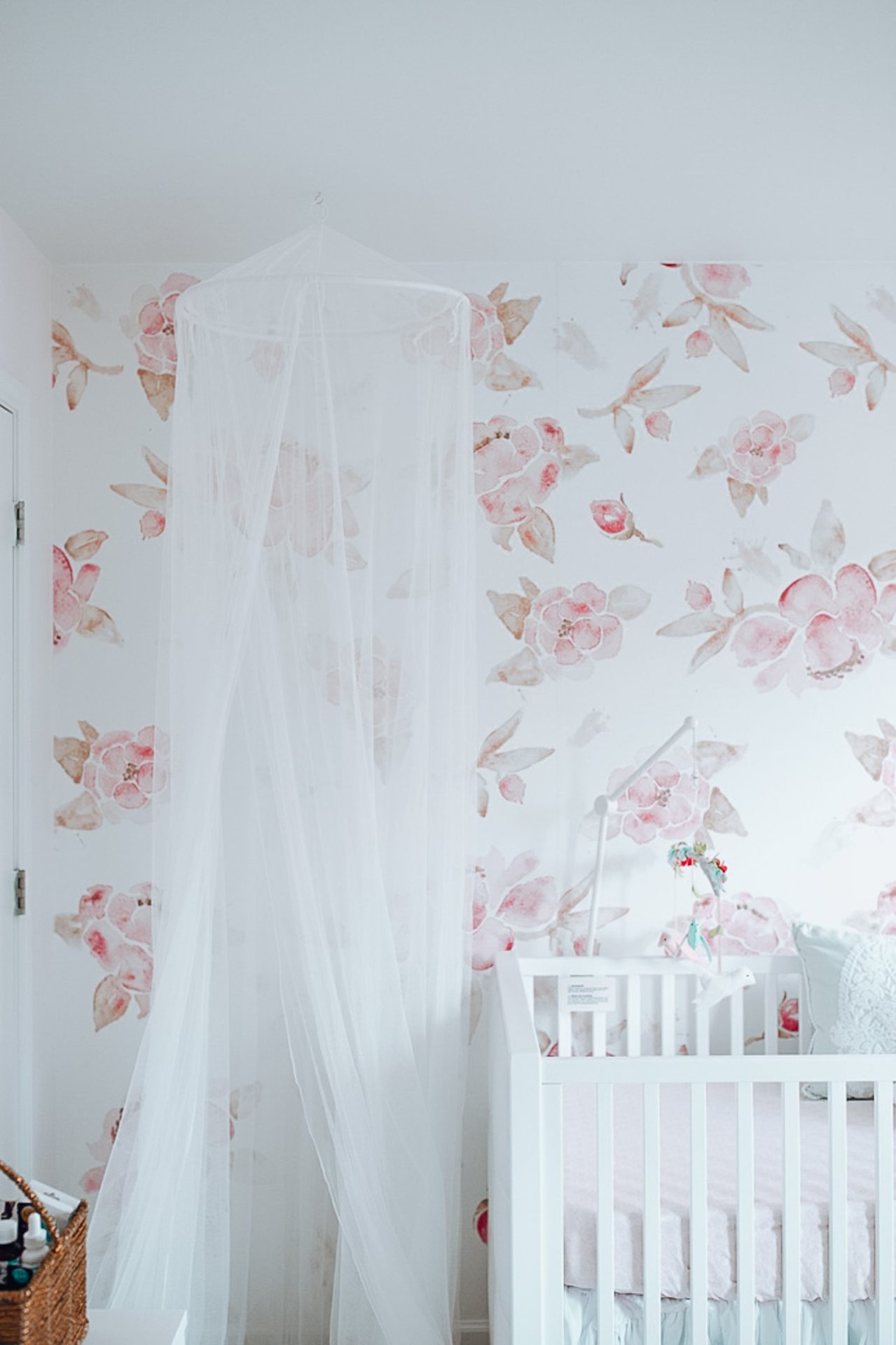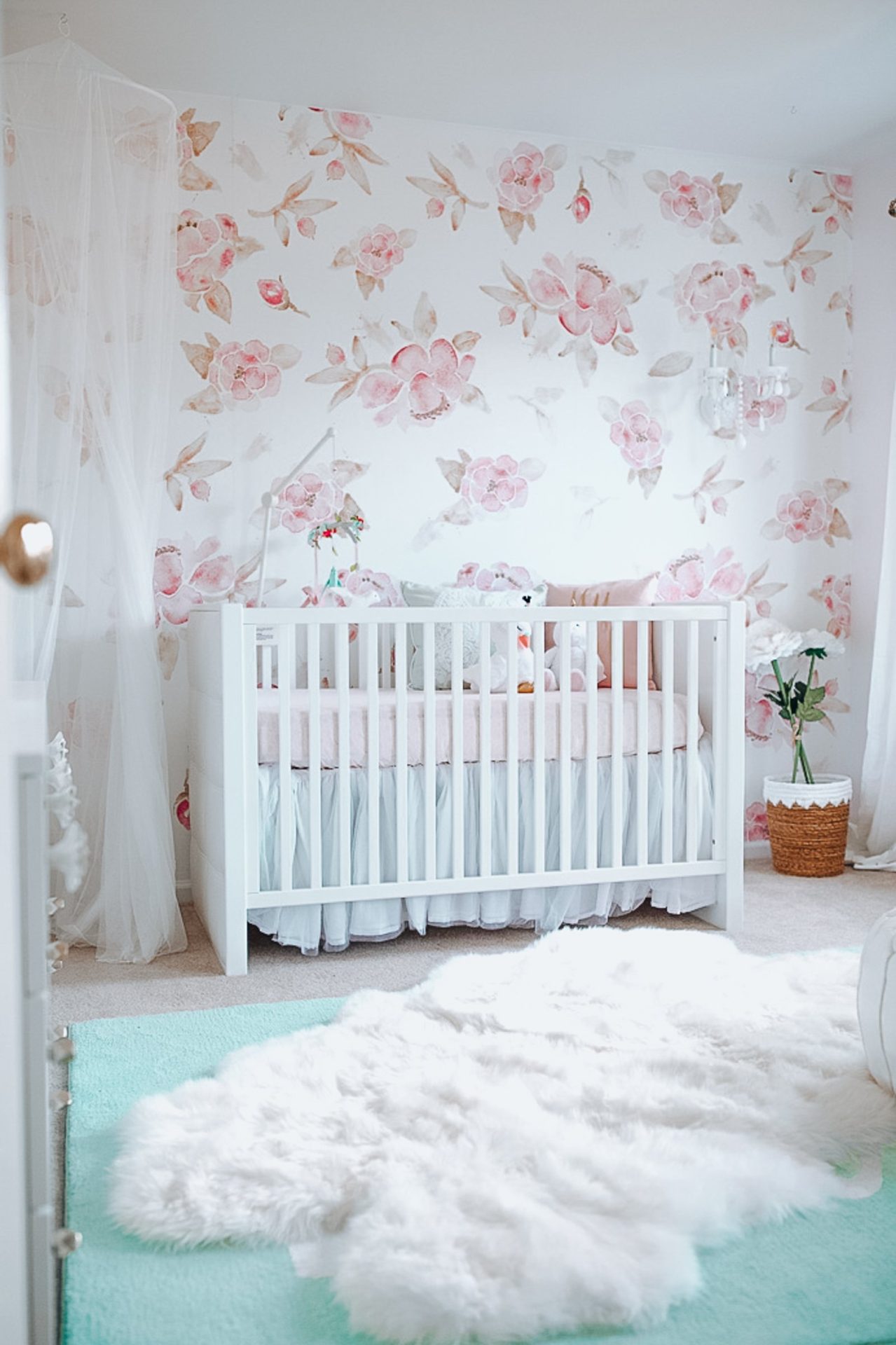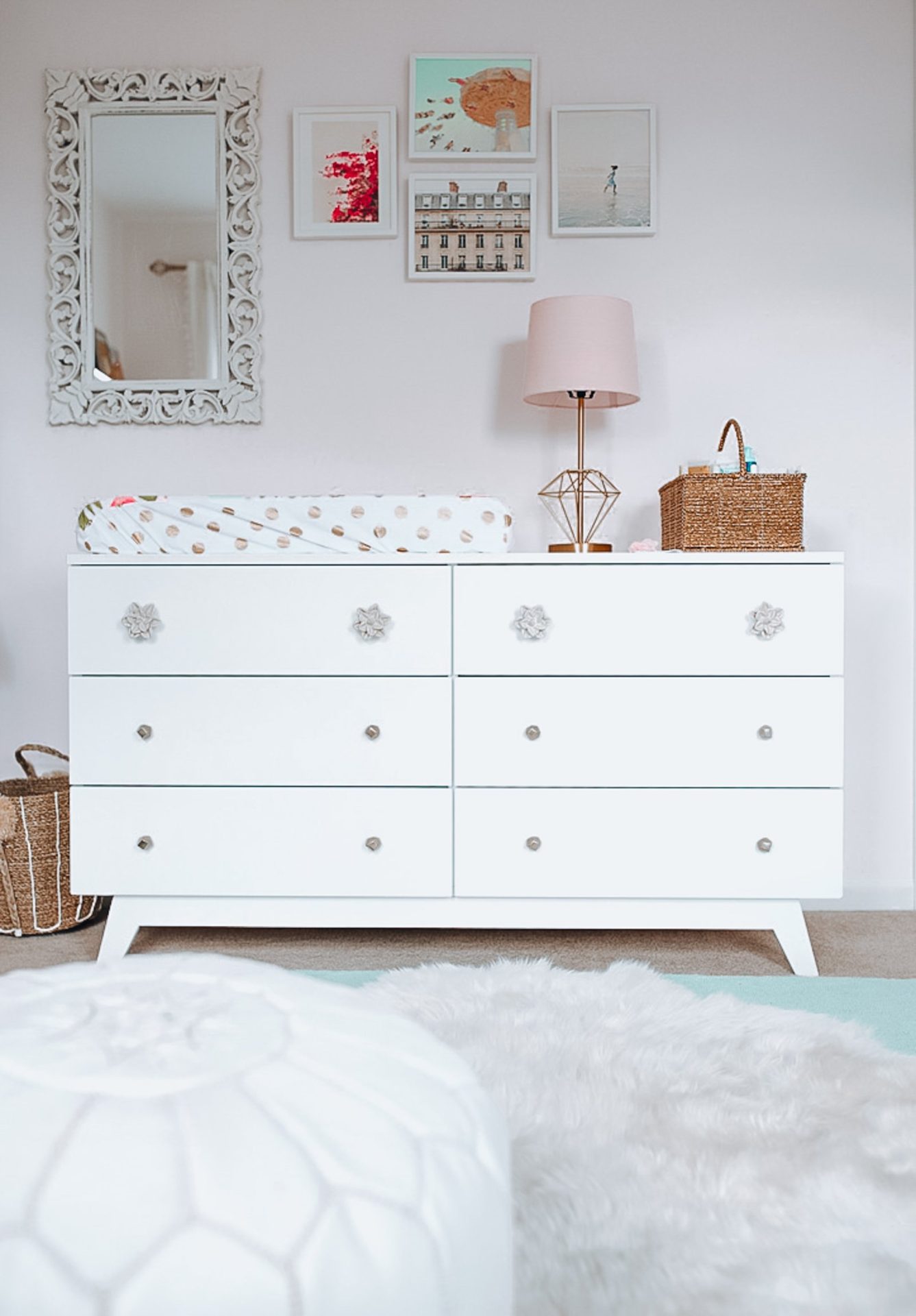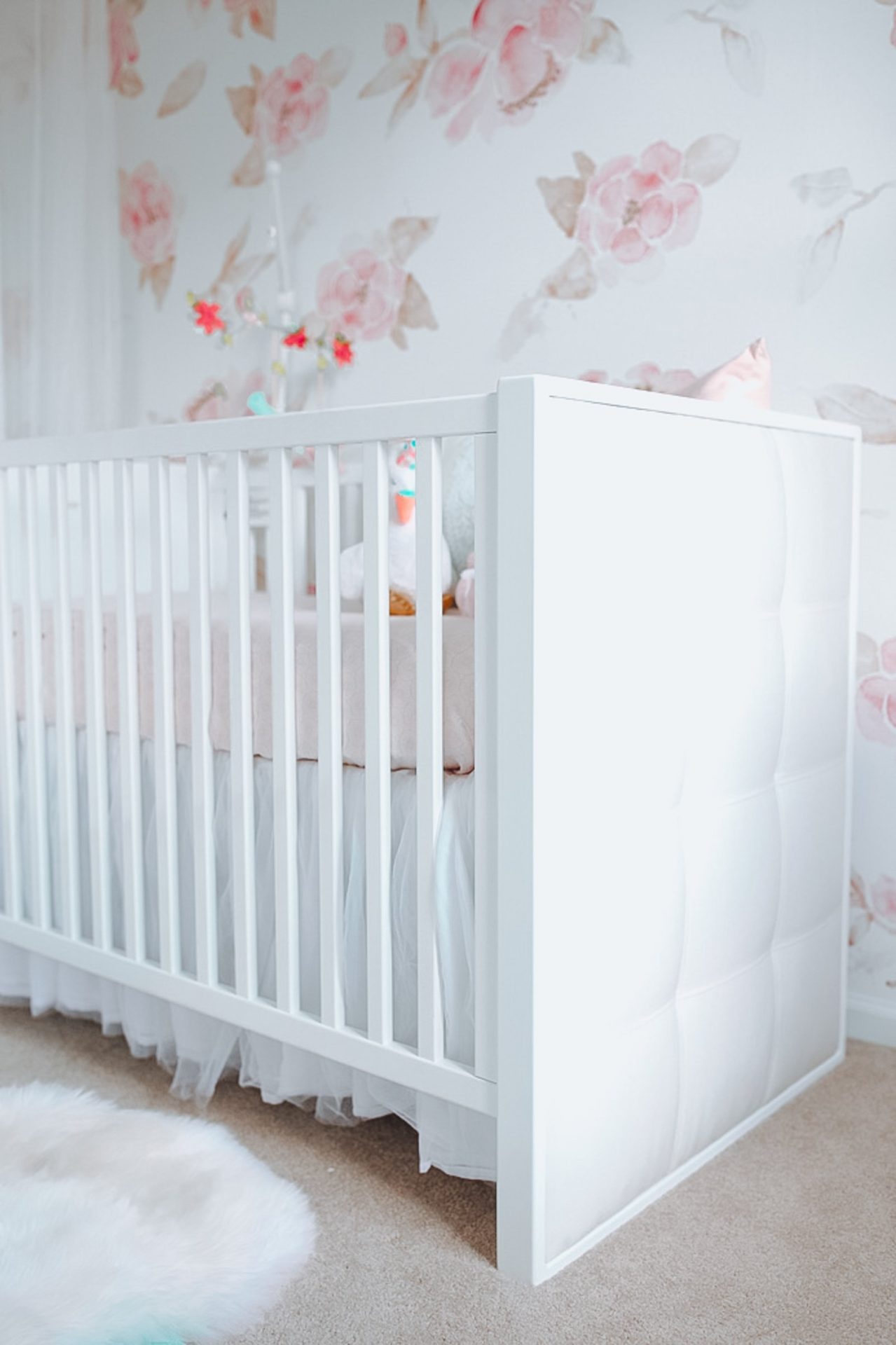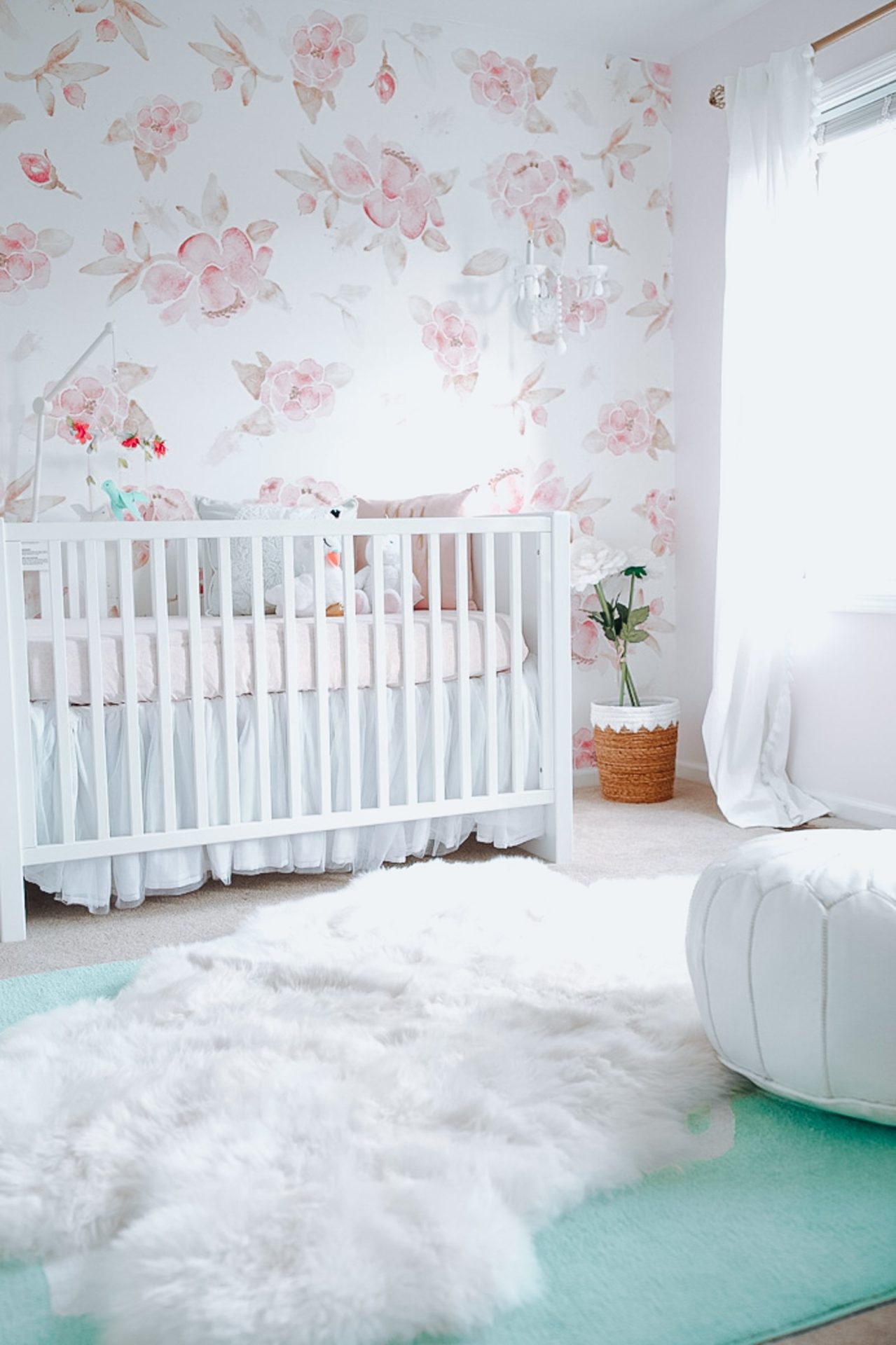 The minute I found out I was expecting a girl, I started dreaming up this floral wallpaper nursery. For those of you that know me, you shouldn't be surprised that the main focal point consists of florals.  I absolutely fell in love with this floral wallpaper nursery (custom watercolor blush wallpaper) from Poland – just had to have it. Then, piece by piece, started adding to the room. I envisioned whimsical, elegant, cozy and chic.
I've always admired floral wallpaper and couldn't wait to bring to life!
That's where our furniture comes in: Because the floral wallpaper is oversized — I needed simple, modern, elegant and bright. Room & Board is a favorite amongst the hubby and I. In fact, our Chicago condo is practically a Room & Board catalogue. (He's the one that introduced me!) Their pieces are high quality (will literally last a lifetime) and timeless. As soon as I saw their kids line; I was smitten. I am obsessed with the crib. By far my favorite piece in the room. Here's some deets on the key pieces of the room:
FLORAL WALLPAPER NURSERY FAVORITES
Room & Board Greta Crib: Fit for a princess, right?  It adds the perfect blend of softness, and warmth. It's actually handcrafted by a family-owned company in upstate New York. The end panels (my favorite touch) are wrapped in fabric and tufted for extra detail and feel. They have over 30 colors to choose from — I chose Sunbrella Canvas White Isn't it so chic? It also converts to a toddler bed, easily growing with your baby.  Holllla!
Room & Board Wren Swivel glider Chair: You know how all new mama's have the 'chair'? This is mine. I've spent countless hours nursing and rocking my little to sleep. It's not only comfortable (duh) but the materials withstands all types of wear & tear. It's also easy to clean, and resists staining. I personally love the design — chic and timeless.
Room & Board Flynn Dresser: I wanted a dresser that would grow with Harlow over the years, and this certainly fits the part. I'm obsessed with the modern detail, and functionality. Room&Board offers a plethora of colors/options tailored to your needs which is an added bonus. I opted for the white with white hardware to keep the room minimal (because of the statement wall) PS: I did change the white knobs out for gold hardware and flowers. I will add the white knobs again soon, just wanted to add some flavor!
4X6 Sheepskin Rug in Ivory: Harlow's a huge fan of this — It's like laying on a cloud (Frankie approves, too!) I love that you can use them as bedside rugs, cozy throws on the sofa or draped over a chair for softer seating. It's seriously the best investment and will ensure cozy late nights.
Room & Board Natural Latex Foam Crib Mattress: This all natural crib mattress is made from six inches of organic latex. The wool and latex are breathable for comfort, non-toxic and anti-allergenic (so important). Designed for infant and toddler use — made to last. It's so comfortable, and only the best for my number one gal.
My favorite part of the floral wallpaper nursery is the reading nook. I wanted to design a cozy space filled with colorful stories. I'm also a sucker for children's books — they're so cute. (the one time I do choose a book from the cover, ha) I can't wait to listen to her sweet voice and spend time together here.
A huge thank you to Room & Board for helping my vision come to life. It's everything I imagined and more. If you have any questions, please don't hesitate to contact me. If you loved this floral nursery, be sure to check out more home decor posts before you go. What are your thoughts? Are you a fan of this floral wallpaper nursery? Remember, you can just stick to one statement wall (like we did) to minimize workload before baby. It can definitely be a tedious project, unless you choose to hire out. 
SHOP FLORAL WALLPAPER NURSERY
Crib (℅): Room & Board
Dresser (℅): Room & Board
Swivel Chair (℅) : Room & Board
Sheepskin Rug (℅): Room & Board
Crib Mattress (℅): Room & Board
floral wallpaper: Etsy
Artwork (℅): Minted || Paris Print 1, Paris Print 2, Paris Print 3, Dreams & Waves, Bright Flowers, Sky Coaster
Changing Table Cover: Target
Moroccan Pouf: Wayfair
Bookcase: Wayfair
Pom Pom Tassel Curtains: Anthropologie
Gold Curtain Rods: Wayfair
End Table: Wayfair
4X6 Teal Rug (underneath sheepskin): Target
Wall Sconce: Wayfair
Canopy: PB Kids
Crib Mobile: Target
Crib Tulle Skirt: PB Kids
White Mirror: World Market
Changing Table Caddy: PB Kids
Mobile Arm for Mobile: PB Kids
Hey Boo Pillow: Etsy
Wicker Utility Baskets: Pottery Barn
Wicker Storage Bin: Tj Maxx
Faux Flowers: Tj Maxx
Gold Lamp (on dresser): Target
Crib Sheet: Anthropologie
Books: Anthropologie
Unicorn Plush: Target