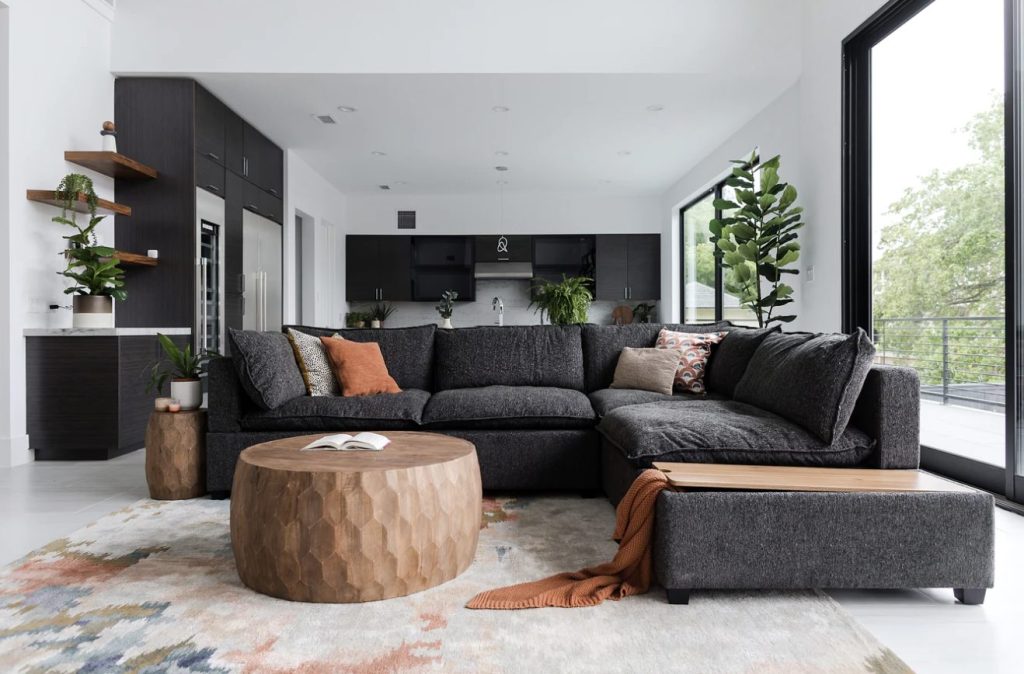 Black is a timeless color that works well with almost any design scheme. It is a versatile neutral that compliments a wide range of colors, motifs and various styles. Whether aiming for a moody and dramatic or sophisticated and neutral style living room, a black or nearly black sectional can help you achieve your goal style!
Black sectionals are a great idea in seating areas that get a lot of use! Whether you have messy kids or host frequent wine nights, black hides stain well. For those with pets, black may tend to show more pet hair but will hide the stains from inevitable muddy paw-prints from your pups on a rainy day– it's much easier to run a lint roller than an upholstery cleaner!
Check out our curated list of black sectionals below!
Black Sectional Couch
​​121″ W x 34″ H x 95″ D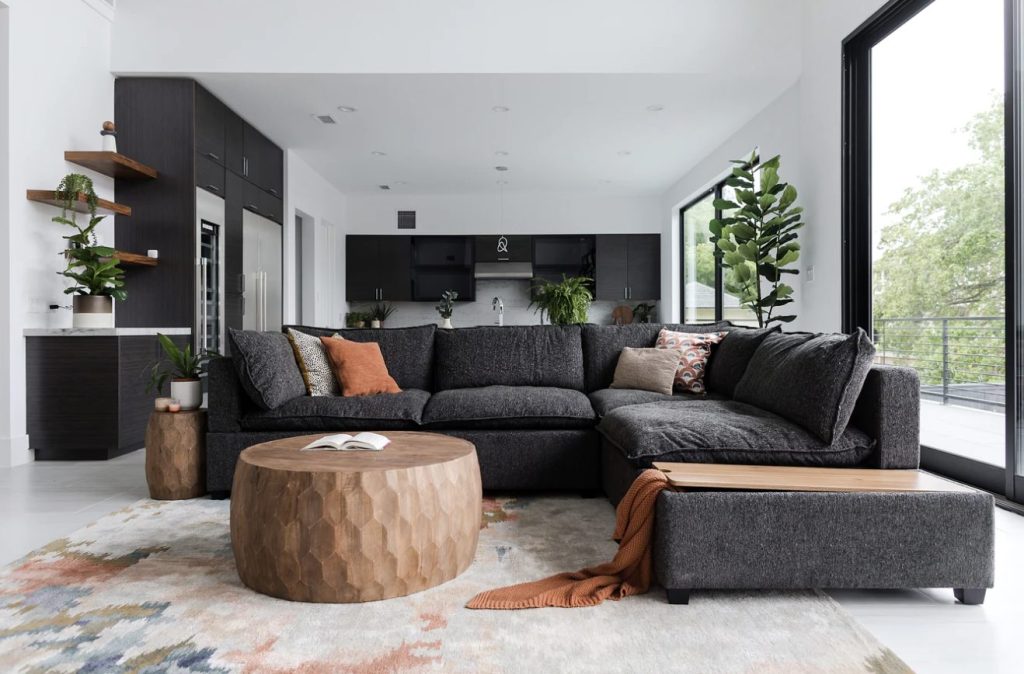 The Kova L-Shape black Sectional couch by Albany Park offers cloud-soft comfort with feather-mix seat cushions. Its modular components can be combined to create countless configurations that suit your space and lifestyle.
The Kova Sectional is also available with an ottoman instead of a console!
35" H x 30" W x 30" D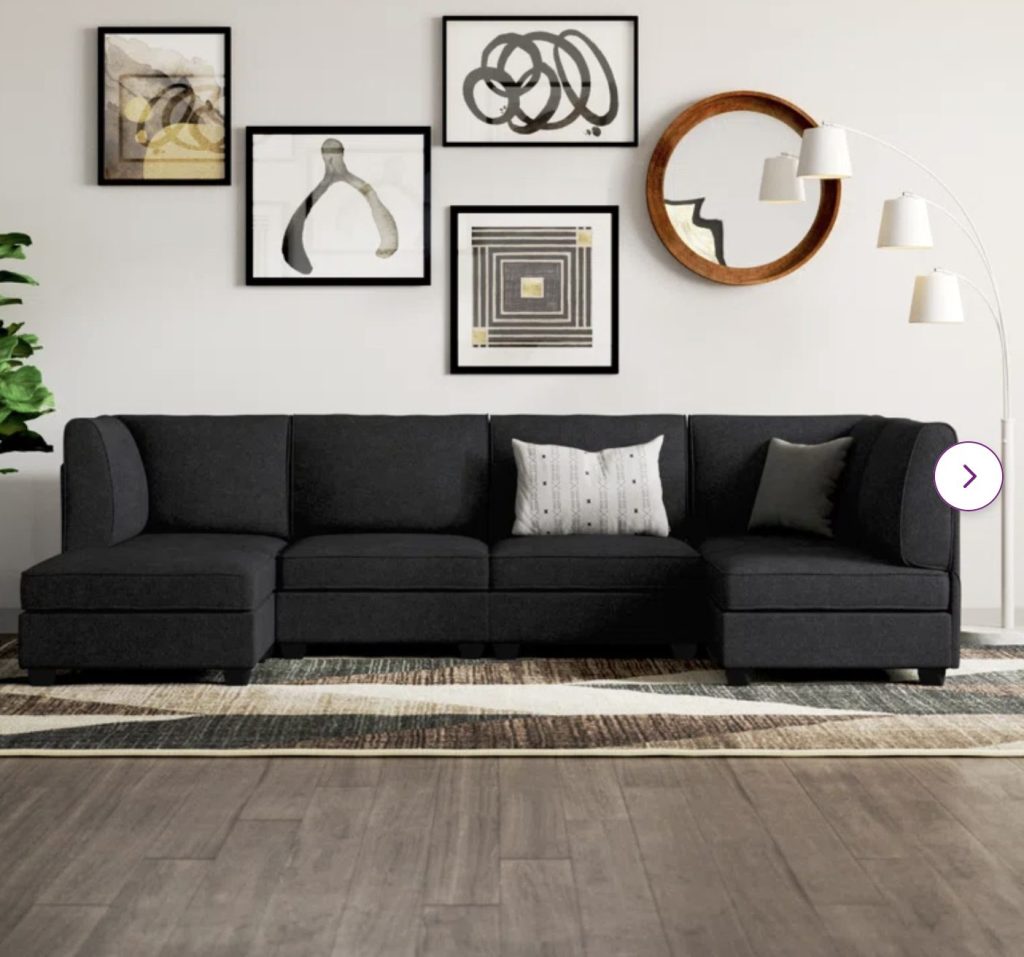 With five seats, this modular corner sectional sofa by Mercury Row is ideal for unwinding with loved ones and friends. The Roeder 6-Piece Upholstered Sectional is ready to be creatively arranged in your space into whatever shape best fits your requirements and your room, thanks to its symmetrical and reversible design. This would be the best place to wind down after a long day!
106″ W x 87″ D x 33″ H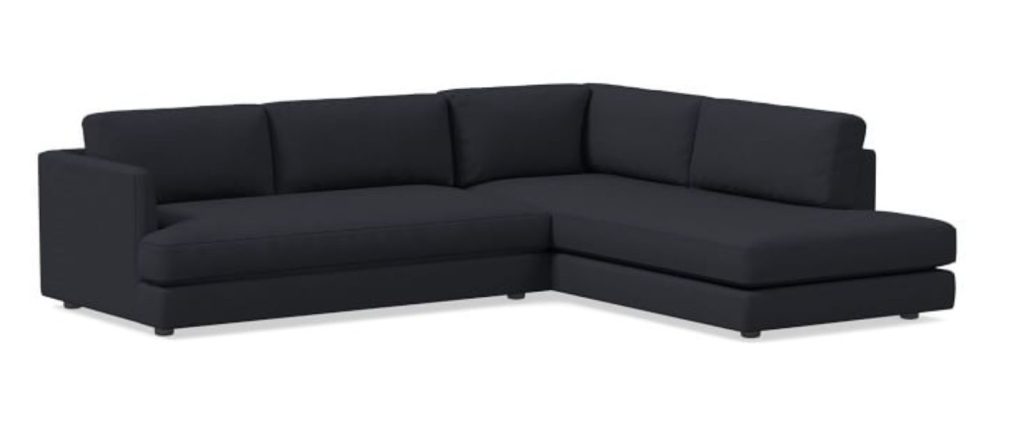 The Haven 2-Piece Bumper Chaise sectional's casual, low-slung shape is lounge-ready. It is hand built with a contract-grade frame and stunning black upholstery. This black sectional by West Elm will stun in any space! If you're looking for more traditional styles – we think this could be the one for you!
112″ W x 62″ D x 36″ H
The Harmony 2-Piece Chaise Sectional by West Elm is all about comfort. Its pillowy-soft cushions top a spacious body supported by engineered wood legs with veneer in a Dark Walnut finish. This black sectional couch boasts plump seat cushions with a plethora of color options and textures!
74″ W x 62″ D x 33″ H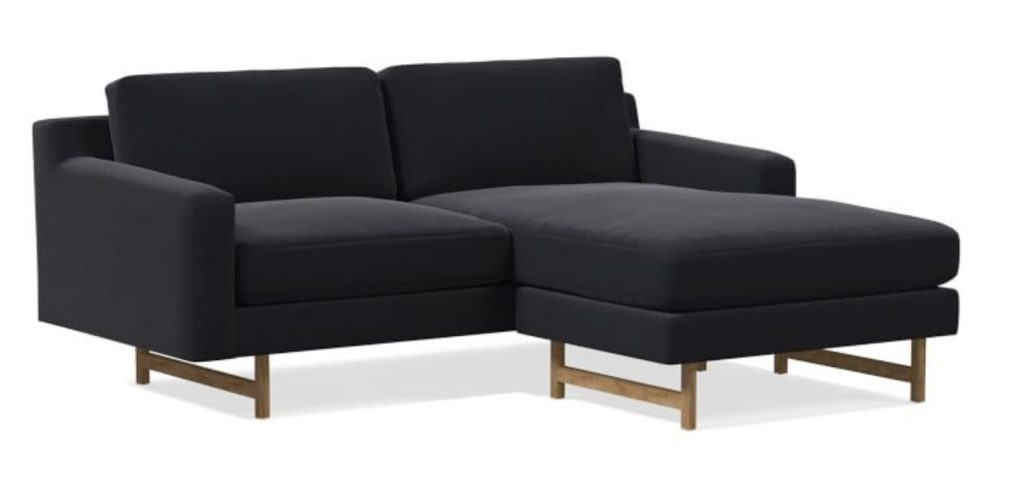 The Eddy 2-Piece Reversible Sectional by West Elm boasts modern style and comfort. It offers a firm level of support and has an easily reversible chaise– all it takes is the flip of a cushion! Eddy's solid wood trestle legs are finished in a beautiful Almond hue.
79″ W x 43″ D x 37″ H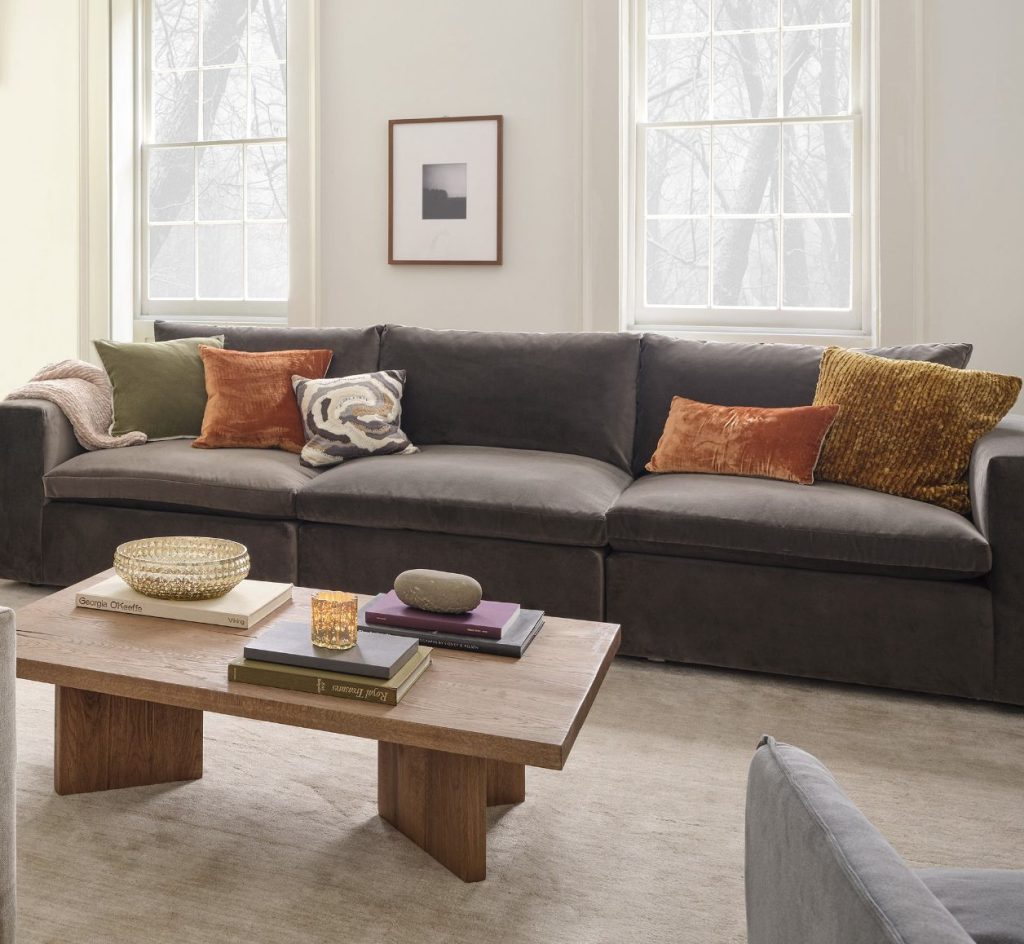 The Harmony Modular Sectional by West Elm is fully customizable, meaning you can create the perfect sectional for your space. Choose from over a dozen components/sectional pieces, then customize further by choosing your preferred fabric.
90″ W x 68″ D x 31″ H
Thin arms, a slim seat deck, and tall cast metal legs make this stand-out sectional by West Elm surprisingly easy to blend in. Andes' modern form, crisp tailoring & shapely legs are sure to win anyone over. Choose the configuration and overall depth that works best for your space: 34″ or 39″.
94″ W x 37″ d x 34″ h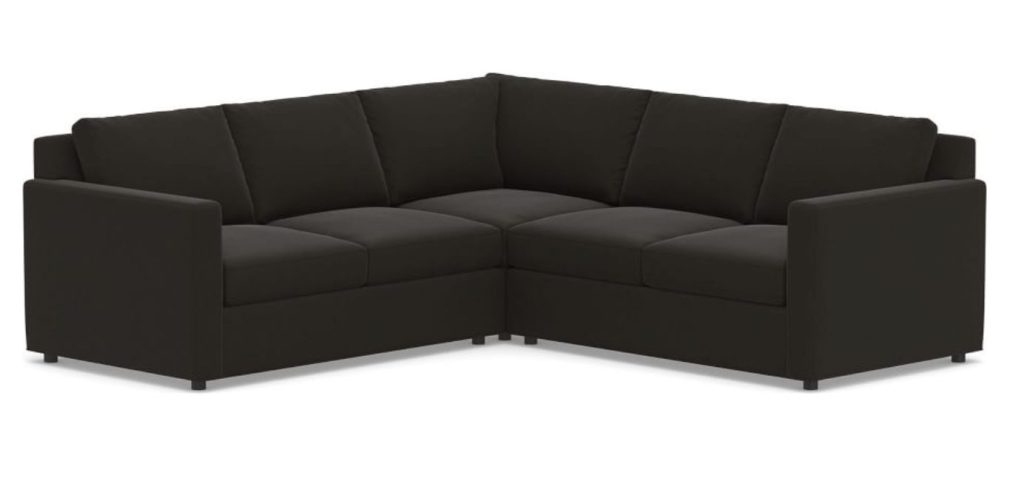 The Sanford Square Arm L-Shaped Sectional by Pottery Barn offers Lawson-style seating for any floor plan and is tailored in traditional shapes with small-space living in mind. This L-sectional's high back, slim arms, and loose cushions strike the ideal balance between stylish proportions and plush comfort.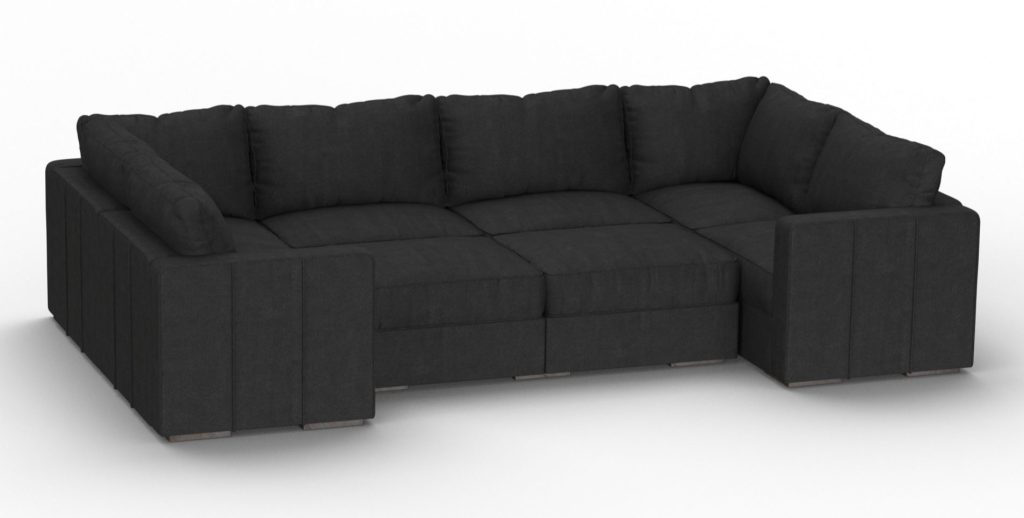 The Lovesac Modular 'Sactional' sofa is incredibly versatile. Each sofa can be arranged into countless positions to suit your need in that moment. Choose from straight or rolled armrests and dozens of upholstery options to create your perfect piece.
147″ W x 84″ D x 34″ H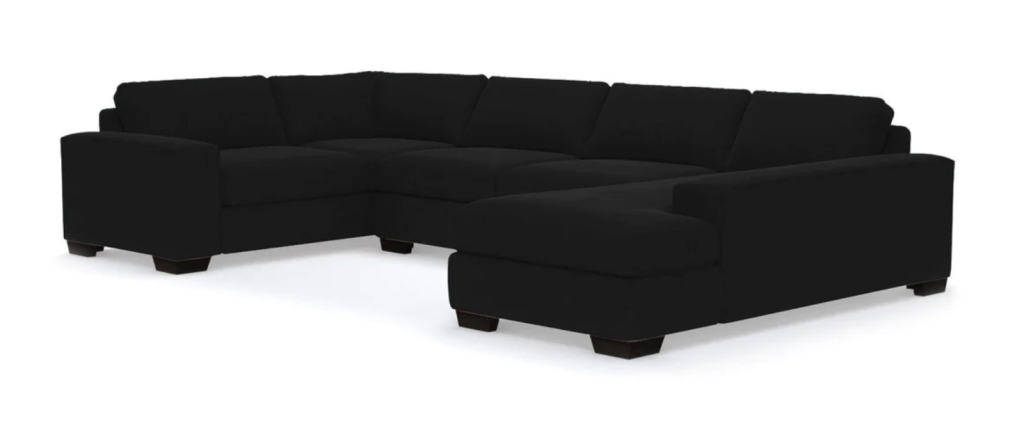 The Melrose 3 Piece Sleeper Sectional by apt2b has broad track arms, a low-rise design, and a Full-Size sleeper couch bed with a 4.5″ Deluxe Innerspring Mattress. It has a bold, contemporary appearance. This sofa makes the ideal place to watch Netflix, host your pals to watch the big game or put up your in-laws for the weekend.
30" H x 104" W x 52" D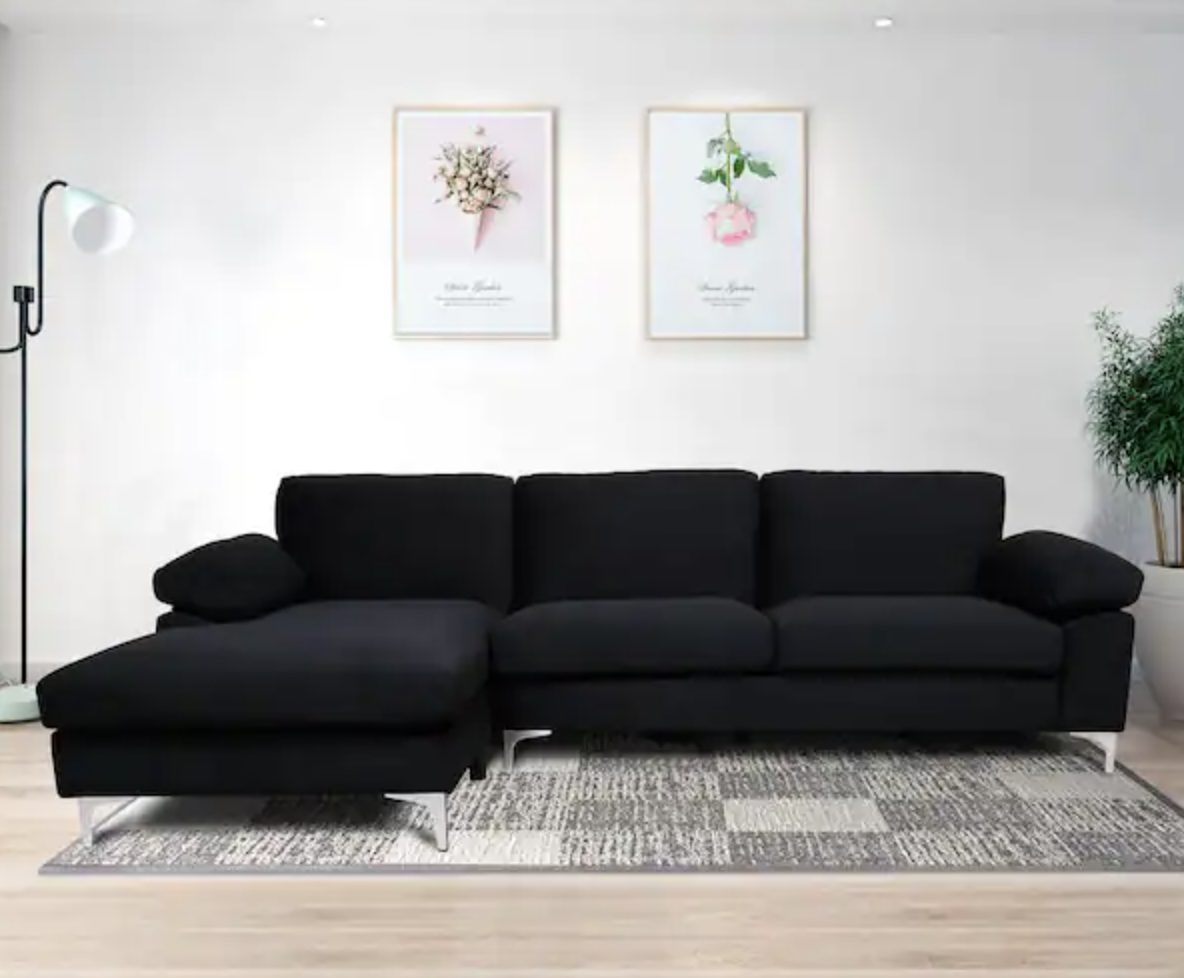 This black Seafuloy L-Shape Velvet sectional offers style and elegance in the form of seating. With a traditional L-shape and high-resilience foam, this velvet upholstered sofa is the perfect place to unwind.
131″ W x 87″ D x 26″ H

The Angalore Mink 4-Piece Reversible Sectional is sleek and modular, drawing design cues from Italian and German furnishings from the 1970s. This black sectional sofa has a luxurious appearance and unexpected durability that will last years.
This sofa by Crate and Barrel is also available as a 7-piece sectional!
174″ W x 37" D x 31" H

The Roma 3-Piece Sectional features faux mohair and an elegantly curved body. This three-piece sectional has a minimalistic yet unique design that is sure to catch anyone's eye.
125″ W x 98" D x 27" H

The Strato 4-Piece Sectional by CB2 is a vintage, '70s inspired sectional with plush channel tufting on all sides. This sofa's clean lines give it a unique appearance, while the cozy cushions invite you to sink in.
102″ W x 37″ D x 27″ H

This extra-long sectional by CB2 has plush channels running the length of it. Forte's top-grain leather is soft, while the cushions offer a firmer seat. This vintage Italian-style statement piece is sleek, thanks to its low-profile wooden base and matte black stain.
Final Thoughts
Because sectionals are already so large, black upholstery can give them an even more commanding presence. Utilize contrast, color, texture, decor, and additional furnishings and textiles to either soften the look of your black sectional or make it a clear focal point.
Adding pillows and throw blankets in white, light grey, and pastel fabrics lightens a black sofa, while metallic fabrics and warm colors make it feel more cozy and welcoming. The type of black fabric you choose can also have a big effect on the way your sofa looks! Fabrics such as velvet reflect light, while fabrics with a more matte effect will make the sofa look darker and potentially larger.