If you're looking for a comfortable centerpiece for your living room, a u shaped sectional is unique and catches the eye while providing a fantastic place for you, your family, and your friends to relax and catch up!
No matter what your style preference is, there are U-shaped couches that will match your home. These couches are versatile and comfortable, so you'll always be able to find something that works for you!
You'll also like: 14 of The Best Modern Sectionals That we Love | 14 of the Best Modular Sectionals in 2022| 10 White Curved Sofas That Will Transform Your Space
West Elm Dalton 5-Piece Sectional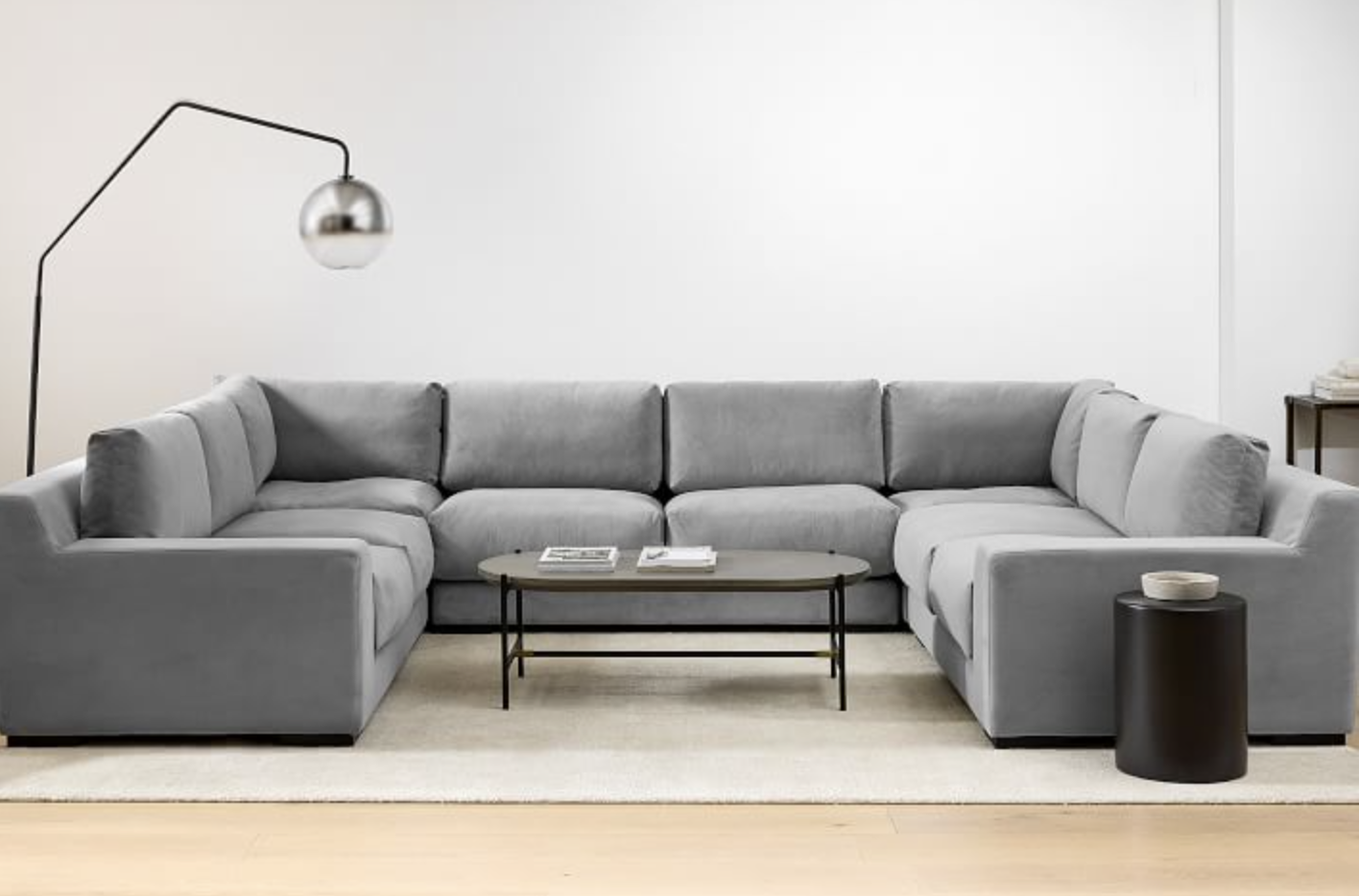 147" W x 109" D x 35.4" H
This gorgeous, classic-styled sectional is a fantastic choice for any home. The silhouette is modern yet timeless, and the shape and style have a sleek, low profile that will stand out in your living room. The cushions are filled with an irresistibly soft, cloud-like down blend that you and your guests will be comfortable stretching out on for as long as you want!
West Elm Urban Sectional
This sofa is an attractive and modern choice for your living room. This sofa is a build-your-own style, so you can pick and choose the pieces you want, how many you want, the color, the fill, and much more at your leisure! The shape is soft and modern, and the low arms are perfect for laying back and relaxing.
West Elm Harris Sectional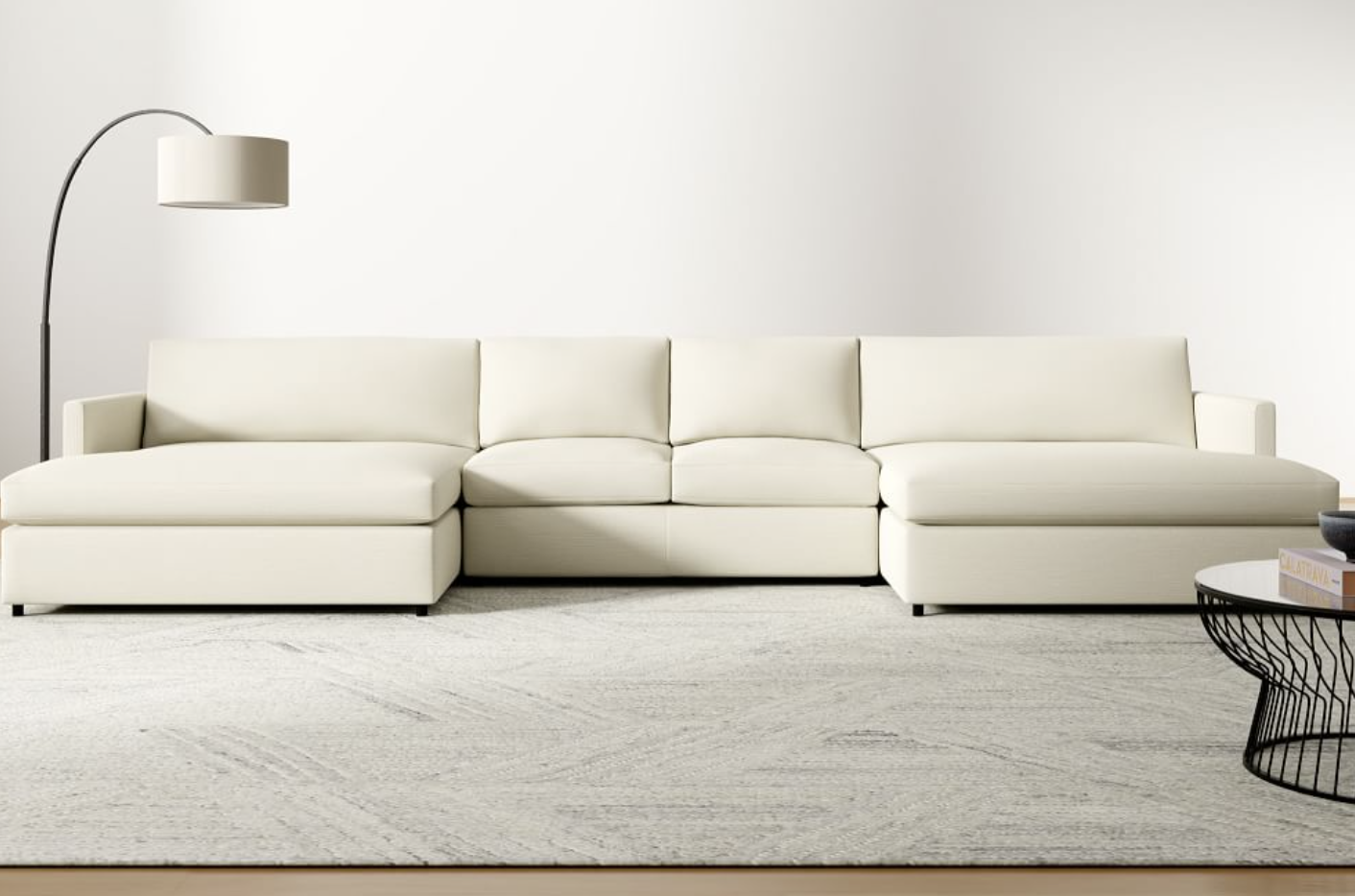 If you like the idea of a build-your-own sectional, but the Urban sectional isn't your vibe, the Harris sectional may be a better choice for you! The shape is less modern, and its appearance reflects the nostalgia of traditional family couches. The deep seat is cozy and perfect for family movie nights or naps after a long day.
Crate & Barrel Gather 5-Piece Sectional
This beautiful, modern couch is a fantastic piece for anyone who has guests over consistently. The U-shape is perfect for facilitating conversations that can last for hours while you relax. If your gathering is over, you can still enjoy crashing on this couch for a movie night or to wind down for the night!
Haven Modular U-Sectional
The Haven Modular collection is designed to evolve with your lifestyle! You can choose from a ton of configurations (the u-shaped sectional is so good!) and it has deep seats, sink-in comfort and so much elegance! It will be a showstopper in your home! Highly recommend this u-shaped sectional from Serena & Lily! Also built to last for years to come!
Bennett U Shaped Sectional
If you're looking for an elegant sectional to last, the Bennett U shaped sectional is purely divine. It's less bulky and more modern which we personally love. It's beyond comfortable and made to last. It has roomy proportions and beautiful detailing that will not go unnoticed
Crate & Barrel Pacific 3-Piece Sectional
If you're looking for something perfect for movie nights or game nights with friends, this double chaise lounge sofa is a perfect choice. It has a breezy and light style, matching any type of home while adding a pop of a natural vibe to the living space. If you need somewhere for a guest or two to crash for the night, the chaise lounges are also a great emergency bed!
Burrow Range 8-Piece U Shaped Sectional

This massive, modern couch is fantastic for group gatherings or lounging with the family. This sectional has eight pieces, two of which are ottomans, that can be put together to allow everyone sitting to stretch their legs or to give a large group cozy seating. The cushions are slim yet comfortable, so you'll always enjoy sitting on this couch!
Burrow Block Nomad 5-Seat Sectional
88″ L x 88″ W x 61″ D x 33″ H
This beautiful, classy sectional is a fantastic option for any modern home. The seats are incredibly modular and can be moved around and customized to work perfectly in any space! This sofa is perfectly comfortable and an eye-catching statement piece, sure to draw your guests in!
Home Depot 4-Piece Modern U Shaped Sectional
This vintage-looking couch is great for adding a bright pop of color and antique flair to your living room without giving up the comfort and reliability of a new couch. The low, pillowy arms lend themselves perfectly to midday naps, and the plush velvet upholstery will draw you in for relaxation. The golden legs add a pop of contrast, working beautifully to make this couch stand out from the crowd!
Home Depot 3-Piece Modern Sectional
A simple, modern touch can be the perfect addition to a colorful or stylized room, and this sofa can comfortably fill that niche. It's a soft and classy couch with an understated shape that will mesh well with any interior decor style. The chaise lounge and ottoman provide a cozy place to stretch your legs, so you and your guests are sure to love this sofa!
Anthropologie Edlyn U Shaped Sectional
This beautiful, classic-looking sofa is perfect for a home that needs a bright and classy touch. This couch is just as comfortable as it is lovely and a fantastic choice for a family home. It's also an excellent centerpiece for a formal living room and will impress your guests and draw in compliments!
Anthropologie Grace Serpentine Sectional
This luxurious, soft, and 70's-inspired sofa is a unique choice. It's bright and vibrant and will be a striking standout piece in your home. It doesn't match every style, but where it does match, it will bring a beautiful and elegant vibe to the whole space.
2Modern Sunday U Shaped Sectional
This casual, chic sofa is a lovely and low-key choice for your home. Its simple shape and square silhouette make it look right in any home, from modern styles to relaxed family homes. The beautiful and comfortable cushions make a perfect place to lay and relax when you're tired.
Arhaus Branson Sectional
This couch is a fantastic fit for smaller homes that still need a ton of seating and provides excellent comfort for your guests. The fully upholstered base gives this sofa a cohesive and extra cozy look that will make you want to stretch out and relax when you get home. The chaise lounge ends are perfect for a quick nap or watching TV. Your guests will love this sofa, and your conversations will last hours while you kick back!
Williams Sonoma Carlton Square Arm 5-Piece U Shaped Sectional
153.5″ W x 122″ D x 28.5″ H
If you're looking for a U-shaped couch in tons of colors/sizes/arrangements, this one is for you. This sofa is oversized, comfortable and customizable each and every way! Highly rated and suitable for hosting friends and family! Definitely a favorite from the list of u-shaped sectionals!
Walmart Aukfa Sectional
128.3" W x 52" D x 33.8" H
Last but not least, this beautiful sofa is a fantastic choice for any family. The seats are deep and plush, perfect for movie or game nights. The silhouette is modern and casual while still comfortable, and the low arms are perfect pillows if you need a quick nap. If you have guests over, they'll love this sofa, and you'll have plenty of cozy seating for everyone who needs it!