White curved sofas, or conversation sofas, are a fantastic addition to any living room. They're perfect for large social gatherings or family events, providing a comfortable place for people to relax and chat for hours!
This type of sofa is always practical if you need more seating in a living space. They make fantastic centerpieces and can fill any awkward corners with lush, cozy seating, making the area even more suited for your social life!
If you're looking for a new couch that will dazzle any guests, this list is full of luxurious curved sofas. As a bonus, every couch on this list is white! White is the perfect color for a sofa if you're looking for something bright that will never clash with your other furniture. We hope you find something you love!
You'll also love: 14 of The Best Modern Sectionals That we Love | 10 Pit Couches That Will Transform Your Space | 10 Stain Resistant Couches that are Comfortable
---
White Curved Sofa
Cb2 Curvo White Curved Sofa
This sofa is a fun and unique shape, designed by Goop by Gwyneth Paltrow. It's inspired by midcentury Italian designs due to the fluid lines that make up its shape, and the soft crescent shape is beautiful and perfectly suited for lounging and relaxing. The plush fabric is stain resistant and easy to clean, so you don't have to worry about ruining the bright cream color.
Arhaus Flynn Sofa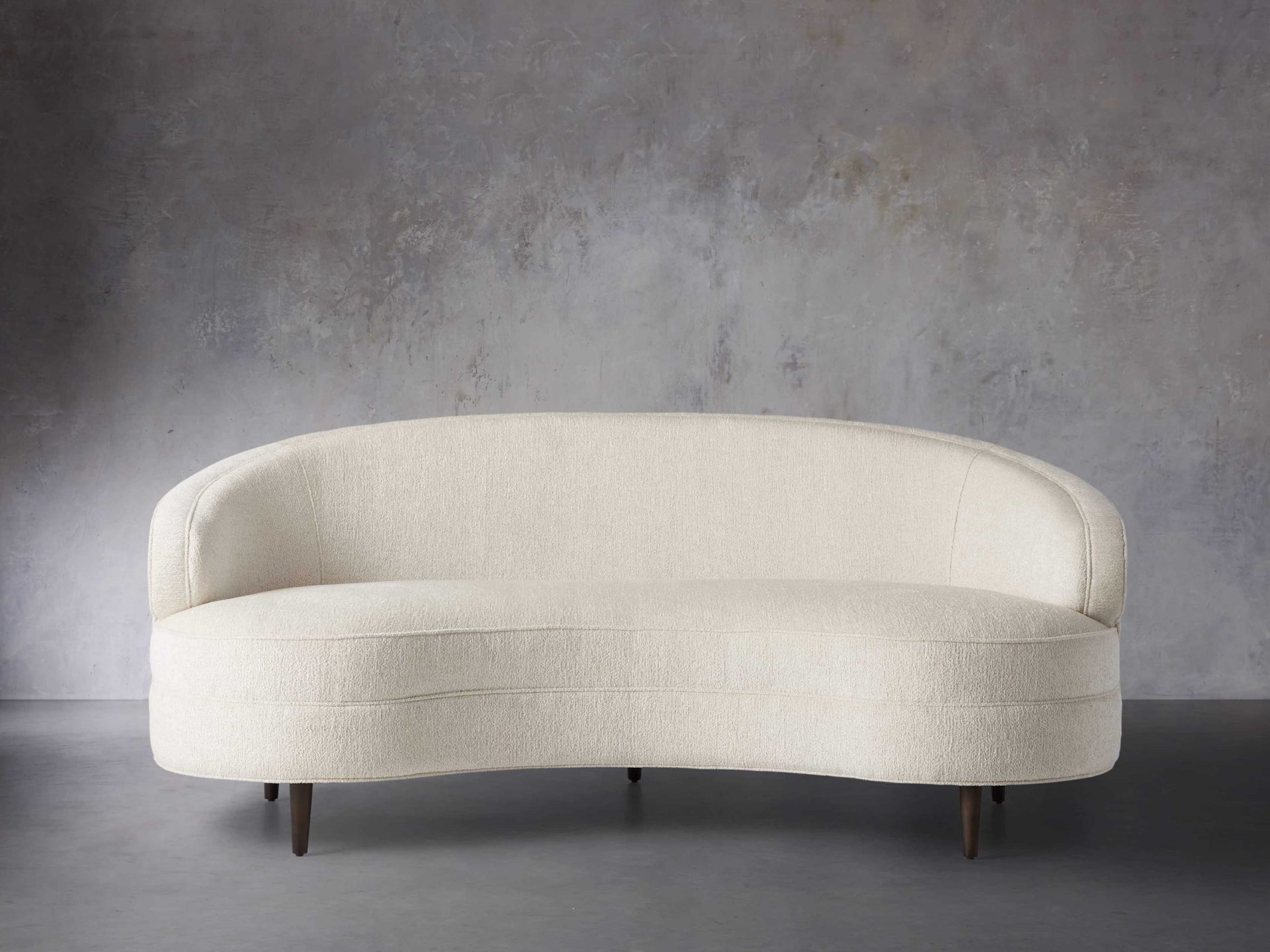 The Flynn sofa has a chic, midcentury style and plenty of elegant curves. The kidney-style silhouette catches the eye and lends itself to comfort, as it's perfect for laying back and stretching out your arms. The cream-colored fabric is stuffed with firm yet flexible padding, creating an irresistible feeling of sinking into the couch.
Homary 120" Curved Sectional
120" W x 27.6" D x 29.5" H
This gorgeous sectional is large and has a dramatic curve, perfect for relaxing and talking with friends. The couch has no arms, adding to its sleek and modern shape. The couch cushions are soft and comfortable, so you can have all the contemporary furniture style without sacrificing comfort. One of my favorite white curved sofa picks for sure!
Lulu And Georgia Jody Sectional Sofa
This gorgeous sofa has a unique shape with its curves and one-sided arm. It's the perfect lounge sofa, meant for someone to stretch out on and relax. You can get it with the arm facing either left or right to ensure that the couch exactly works for your space.
Williams Sonoma Capri White Curved Sofa
This gorgeous couch is a fantastic choice for any home, as it's a simple shape that still draws attention. The soft fabric is perfect for lounging and relaxing, a wonderful place for family nights and spending time with guests!
AllModern Deans Sofa
The smooth curves of this sofa help the design lean into an organic silhouette, so soft and plush you'll feel like you're sitting on a cloud. The large, sectioned-off back makes the sofa look bigger and doesn't take up any of the sitting space, allowing the couch to feel larger than life! This couch has a deep seat, allowing you o sink back into the sofa and relax.
Walmart Bedlington Curved Sectional
This beautiful, classy sectional is a fantastic choice for a family couch. The extended lounge chair is cozy and perfect for stretching out, creating a ton of space for people to sit. Its upholstery is a plush boucle, so you're guaranteed to relax and sink into comfort when you sit down.
Amazon Acanva Luxury White Curved Sofa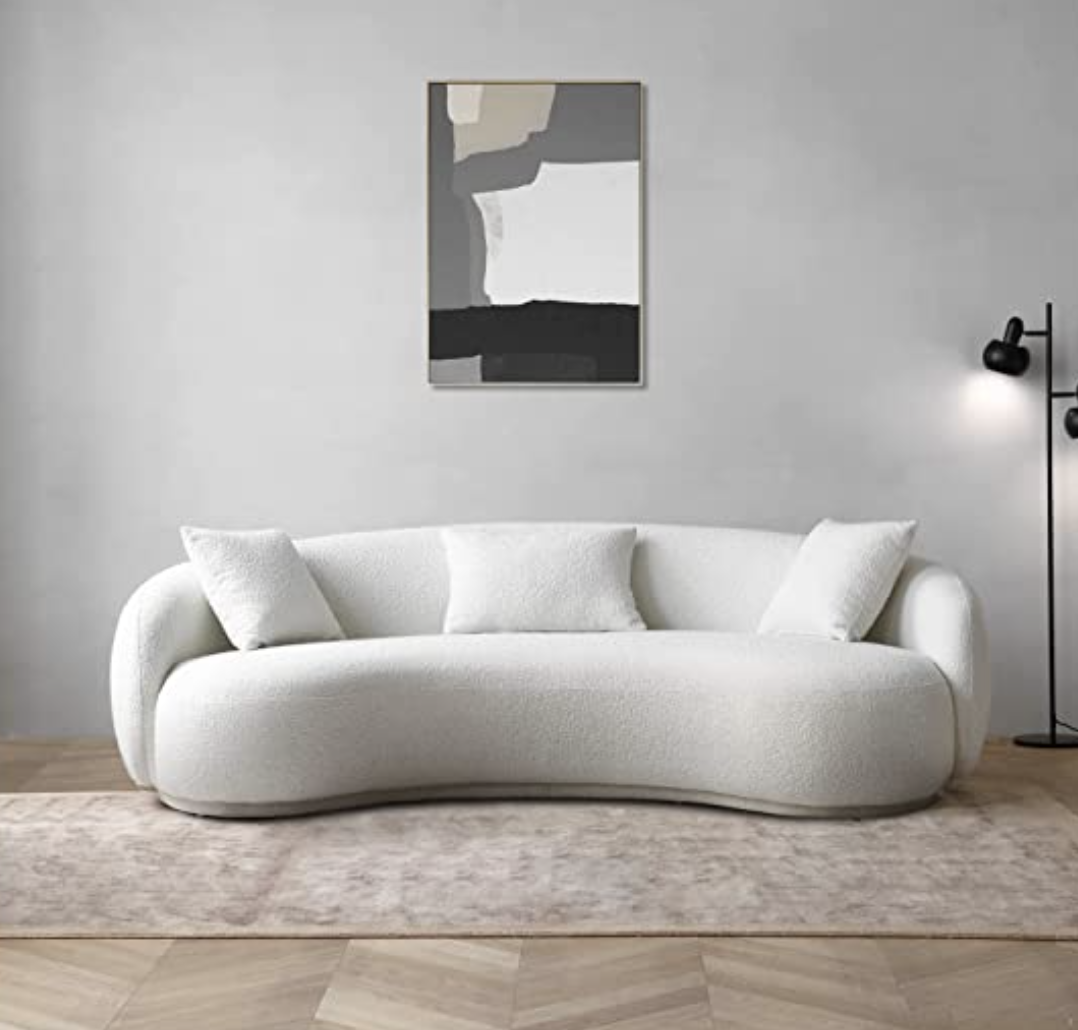 122.4" W x 43.3" D x 28.7" H
This cozy and luxurious sectional is a fantastic choice for any home. The chaise faces off to the right, providing tons of seating space or space to stretch out. The fabric resembles genuine leather, and the seats are packed with foam for maximum comfort!
Amazon PoshBin Curved Sectional
This sofa has a uniquely modern shape with its low, sloped arms and uniform silhouette. The stark white upholstery is a beautiful bright color that stands out in any setting while still matching everything else you already have, and the exposed black legs create a beautiful contrast with the rest of the couch. The semicircle shape is perfect for talking with friends or seating everyone around the TV!
Crate and Barrel Infiniti Sofa
88″ W x 40.5″ D x 34.5″ H
This gorgeous sofa is a fantastic choice for any home, its light cream color meshing perfectly with any surroundings. The sloped, curved back gives the sofa an eye-catchingly modern shape and is a fantastic accent to any room. If you like this couch but want it larger, Crate and Barrel also sells this style of sofa in a grande size and 2 or 3 piece sectionals so that you can find the perfect couch for you and your space no matter your needs!
Crate And Barrel Nouveau Curved Sectional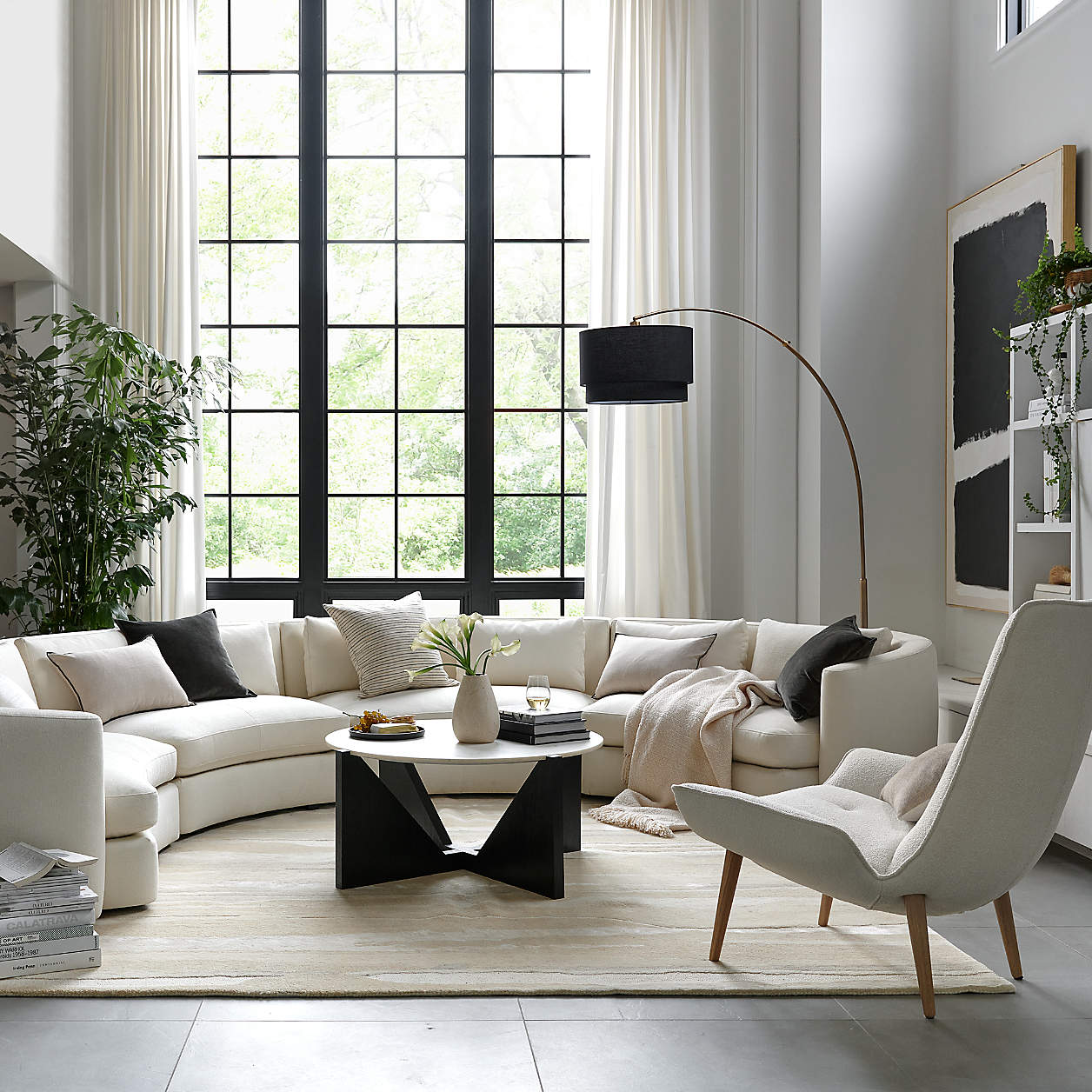 This stylish and fun couch has a uniquely shaped back that flows seamlessly into the arms, creating an inviting and comfortable place to rest. The cushions are soft yet firm, allowing for maximum comfort and relaxation. If you like this but want it larger or with a chaise, this sofa comes in a four-piece sectional with a chaise lounge so that you can have even more space for your guests!
Crate And Barrel Lotus Deep 4-Piece Sectional
118.5″ W x 67.5″ D x 34″ H
This beautiful, modern sofa has deep, plush cushions for maximum comfort and relaxation. The tall plush back cushions feel like sinking into a cloud, and the ottoman creates a perfect place to stretch out your legs no matter where you're sitting! This sofa is also available with a wedge piece to make even more space and adds a drastic curve to the shape.
Crate And Barrel Sinuous Curved 2 Piece Sectional
172.5″ W x 49.5″ D x 28.5″ H
This gorgeous sofa has a clean, continuous shape that adds plenty of mid-century flair to any room. This sectional has no arm pieces, but if that's not your style, this sofa comes in several other configurations: a single-piece curved sofa with arms, a three-piece sectional with arm pieces, and a three-piece sectional with a chaise lounge on either side! No matter what your preference is for couches, you'll be able to find something that works for you in this collection.
Crate And Barrel Hugger Curved Boucle Sofa
This cloud-like curved sofa is perfect for laying back and relaxing. The plush boucle upholstery will make you feel as though you're lying in the lap of luxury as you sit, and the cushions are soft yet keep their shape so that this couch will last a very long time. The modern silhouette is classy yet casual, adding a fun and homey vibe to any room it's placed in!