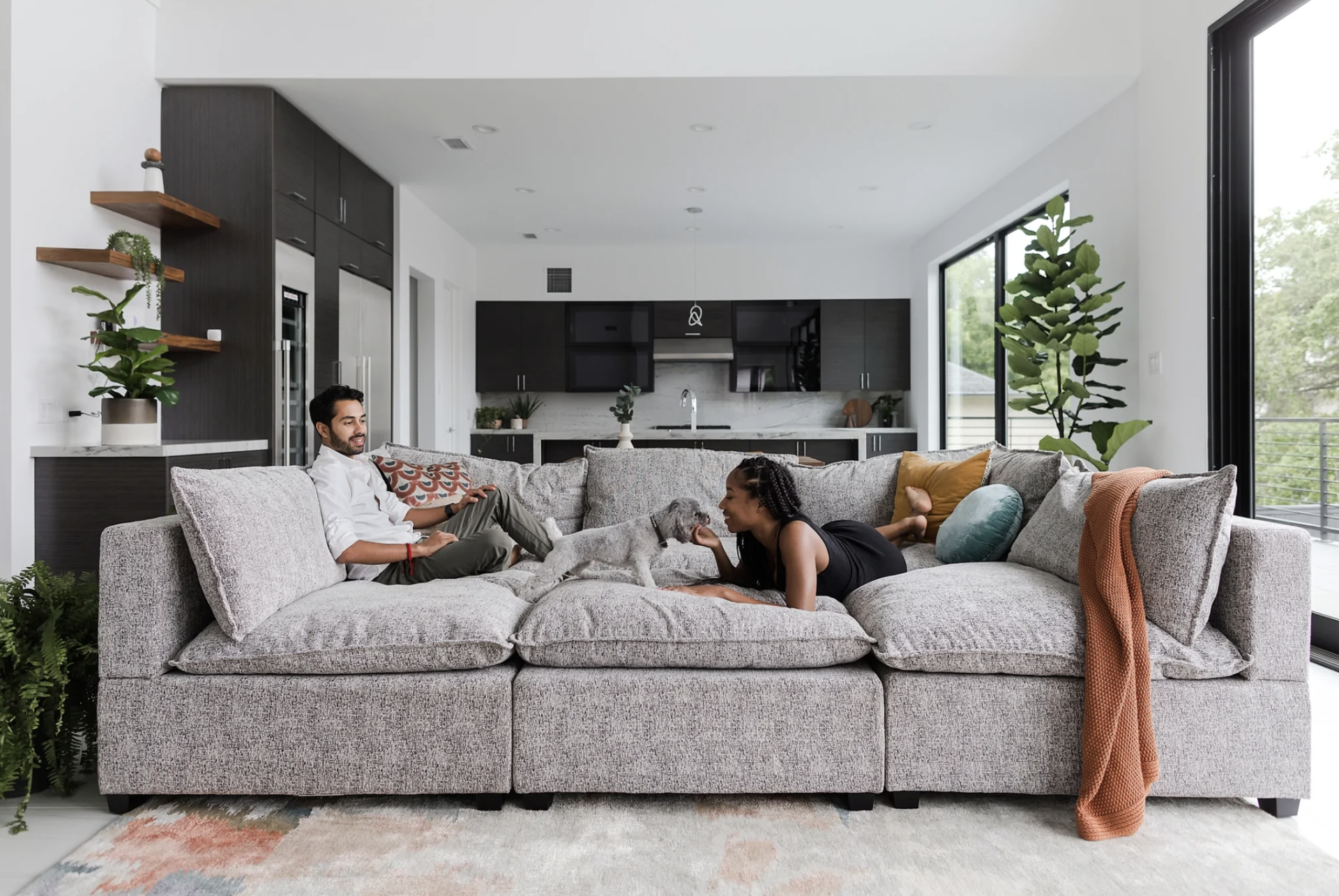 If you're the type of person who loves to have company over, there's no such thing as too much seating space. A pit couch may be the right choice if you're looking for more plush, comfortable seating that's perfect for encouraging socialization and chatter!
Pit couches are incredibly deep and oversized couches, usually in U shapes, rectangles, and squares. The shape forms a pit, so those sitting on the couch can face each other and talk without craning their necks or giving up the comfort of a classic couch. If you have someone stayingstay the night and need a place for them to crash, these huge couches can double as a spot to sleep too.
Pit sectionals are also perfect for families, providing a fantastic place for movie and game nights. No matter what size or shape you want, you'll have no problem finding what you need in a pit couch!
ALSO CHECK-OUT: 15 Best Boucle Chairs That will Transform Your Space| 10 Stain Resistant Couches that are Comfortable| 17 Sherpa Accent Chairs That are Worth It
---
PIT COUCH
---
1. Arhaus Coburn Six Piece Pit Sectional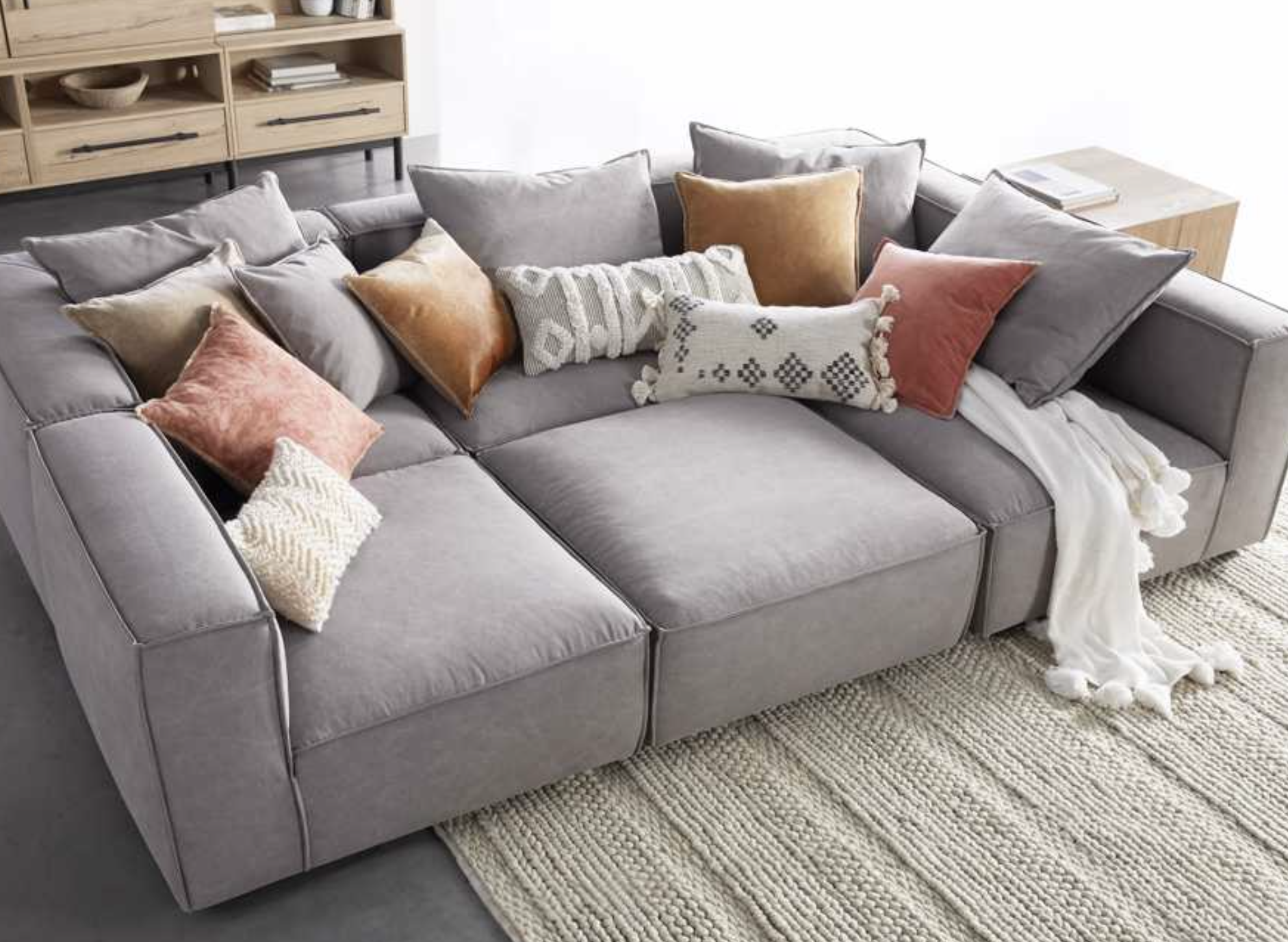 This gorgeous contemporary sofa is perfect for long conversations with friends. You can configure this six-piece sectional in the shape that works for your needs since it's six separate pieces that all fit together. The ottoman is fantastic if you want to stretch out your legs while chatting and can easily be moved aside if you want a more traditional seating arrangement.
The thick, square arms add a sense of stability to the build of this couch while also giving it a modern silhouette. The soft grey upholstery is a beautiful and neutral tone, meaning it will look good in any room and decor style. This sofa comes with several back cushions, which can be set up in any way you want, giving you the most comfort possible!
2. World Market Tyson Six Piece Pit Sectional
This sofa has a very smooth and streamlined look without giving up the comfort of a traditional sofa. The six-piece design is perfect for spaces where you may need to reconfigure the couch's layout for guests or family night. This sofa is spacious and plush, with deep seats that are perfect for movie nights or kicking back after a long day.
The fabric is easy to clean in case of spills, perfect for a family that spends the evenings in the living room, and comes in two colors: warm oatmeal and crisp gray. Either color will suit any decor style and color scheme that's already in your home.
3. Crate and Barrel Peyton Six Piece Pit Sectional
This is a classic yet modern sofa with a timeless shape and color. The slanted arms create the perfect back for relaxing, allowing you to sink into the cushions as you stretch out. If you're looking for an ideal family night or lazy day sofa, this one facilitates relaxation and comfort.
If you host guests, this sofa can also double as an extra place for them to sleep if necessary. Since this sofa is modular, the ottoman in the center can be removed to give some standard leg room while people sit and chat.
This sofa comes in many colors, so you can always match the sofa to your space. If the standard configuration doesn't work for you, Crate & Barrel offers a sectional planner tool so you can get the exact pieces you need to make your couch perfectly fit your space and needs.
4. Crate And Barrel 2-Piece Double Chaise
This large lounge sofa is perfect for family nights in front of the TV or for seating a couple of extra guests. If you're looking for a large and comfortable couch that's not quite as large as a traditional pit couch, this sofa is a fantastic option. It's made of two chaise sections, so you get all the space and comfort of a big couch without taking up as much space as traditional chaise lounge sofas.
The silhouette is modern but traditional, with low arms and plush cushions that make for a cozy place to sit and a classic look. The low and slim arm also makes the couch seem less bulky while giving you extra space to stretch out.
5. Albany Park Kova Pit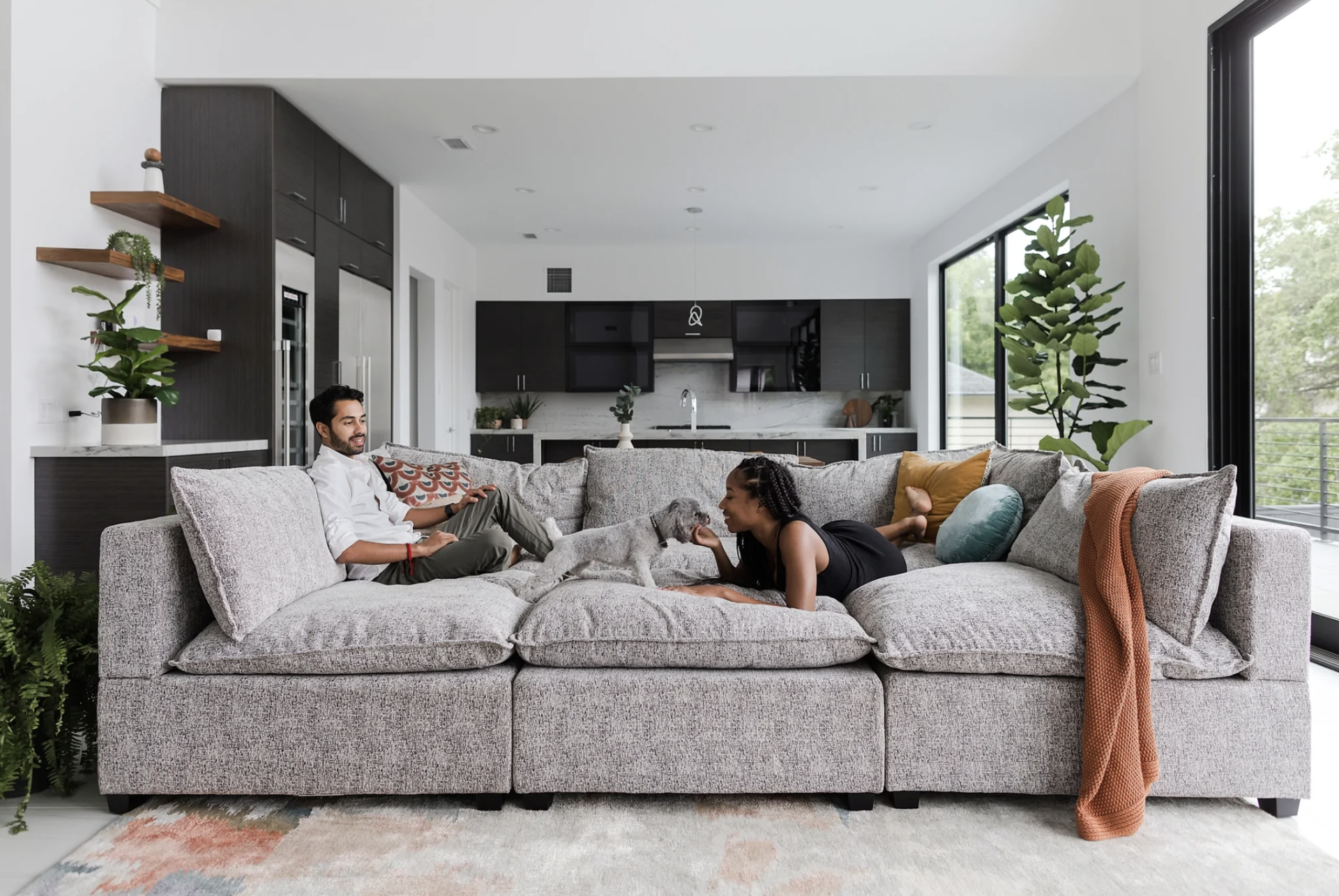 This luxuriously comfortable sofa is a fantastic family sofa. Made up of six separate pieces, this couch is configurable in any way you need for game nights, movie nights, or sleepovers. It will match any room you choose to use it in, as it comes in seven bright colors.
The six pieces are two corner pieces, three armless pieces, and an ottoman. They make up an incredibly deep and plush seat, perfect for stretching out to relax. The cushions are soft and plush, letting you sink into the fabric and rest.
6. Burrow Range Six Piece Open U Sectional
91.5″ L x 60.5″ D x 28″ H
This sofa is classy, modern, and fully configurable to meet your desires. The Range sectional comes with two corner seats, three armless seats, and an ottoman, all of which can be moved around to create the right shape for your needs. If you're having guests over, you can easily move the ottoman to create a U-shaped couch that's fantastic for facilitating conversations and socialization.
If you have someone stay the night and need an extra place for them to sleep, the large and cozy shape created when you put the ottoman in the middle is a perfect guest bed. The full, deep shape is also ideal for family movie nights since you can kick back and sink into the plush cushions with plenty of space to stretch out your legs.
7. Lovesac Sactionals Seat
Lovesac is a unique brand, allowing for an incredible amount of customization in their sofas, with several options for the pieces and colors you can choose from. From storage seats to wedge seats and even the exact type of arm you want, you can pick and choose every aspect of this sofa. You can be sure you'll get the perfect sofa since you'll have selected every single aspect of it.
These sectionals have removable covers for easy cleaning, and the pieces are all guaranteed to last forever. Lovesac also commits to allowing you to upgrade your sofa over time, as they promote each of their new pieces as backward compatible with older couches.
8. West Elm Harmony Sectional
At first glance, this sofa may not look like a pit couch. However, west elm's sofas are all fully customizable and purchasable in parts, so the section shown would just be one part of the whole sofa! You can purchase as many parts as you want to create a cozy and fully customizable pit sofa.
Available in a wide variety of colors and materials, this sectional can be tailored to your exact preferences and needs. The low, deep seats are comfortable and have an attractive, unique appearance. No matter what color of fabric you choose, the dark walnut legs will be a perfect accent.
If you want to visualize exactly how your new couch will look and buy all the pieces you need at once, West Elm offers a handy build tool, allowing you to pick and choose every part you want and see how it all looks put together before you buy.
9. Anthropologie Upholstered Pit Sectional Set
Chair: 26.75″H, 38″W, 38″D

Ottoman: 14.25″H, 30″ diameter
This uniquely patterned sectional set will catch the eye and call attention to itself, making it a perfect statement piece. This set is designed to be used indoors and outdoors, so you can class up your pool deck or put the eye-catching patterns inside. The fabric is soft and comfortable while still weather-resistant, not fading on even the brightest days. The unique design allows you to move around the pieces into any configuration you need, so it's perfect for having guests over!
---
If you choose to use this outside, you will want to purchase covers for severe inclement weather. However, if you forget once or twice, it's not a huge deal as the fill is quick to dry, resisting mold formation for a long time.