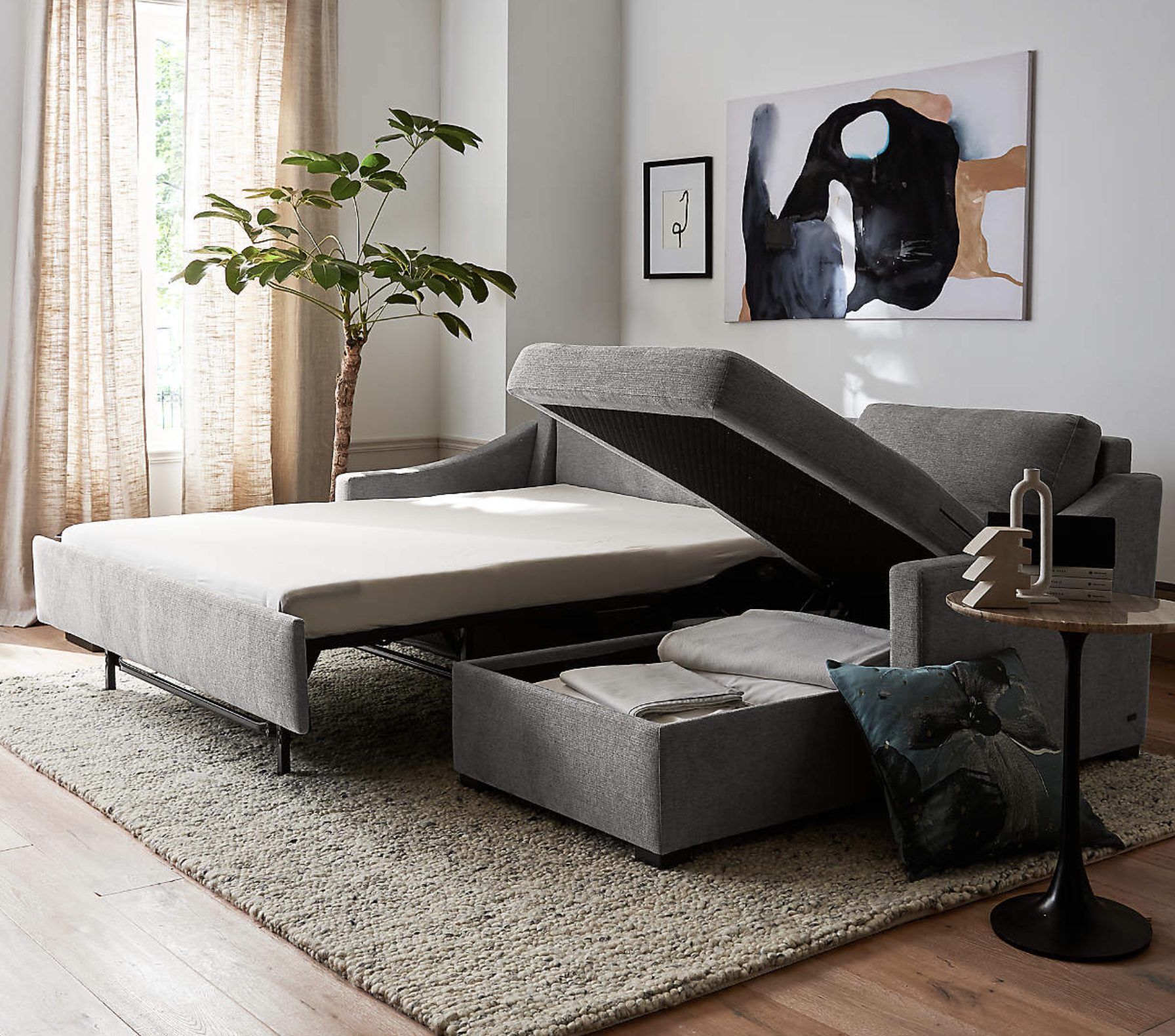 The sleeper sofa has come a long way in the last decade. Gone are the days of clunky, heavy pieces offering little comfort. Today, you can find a sleeper sofa in just about any color made from various sustainably sourced materials.
Make the most of your space by adding one of these sleeper sofas to the mix.
You may also like: 16 Unique Couches That will Elevate Your Space | 10 Stain Resistant Couches that are Comfortable | 15 Best Modern Sofas and Couches That are Stunning
---
Sectional Couch with Pull Out Bed
---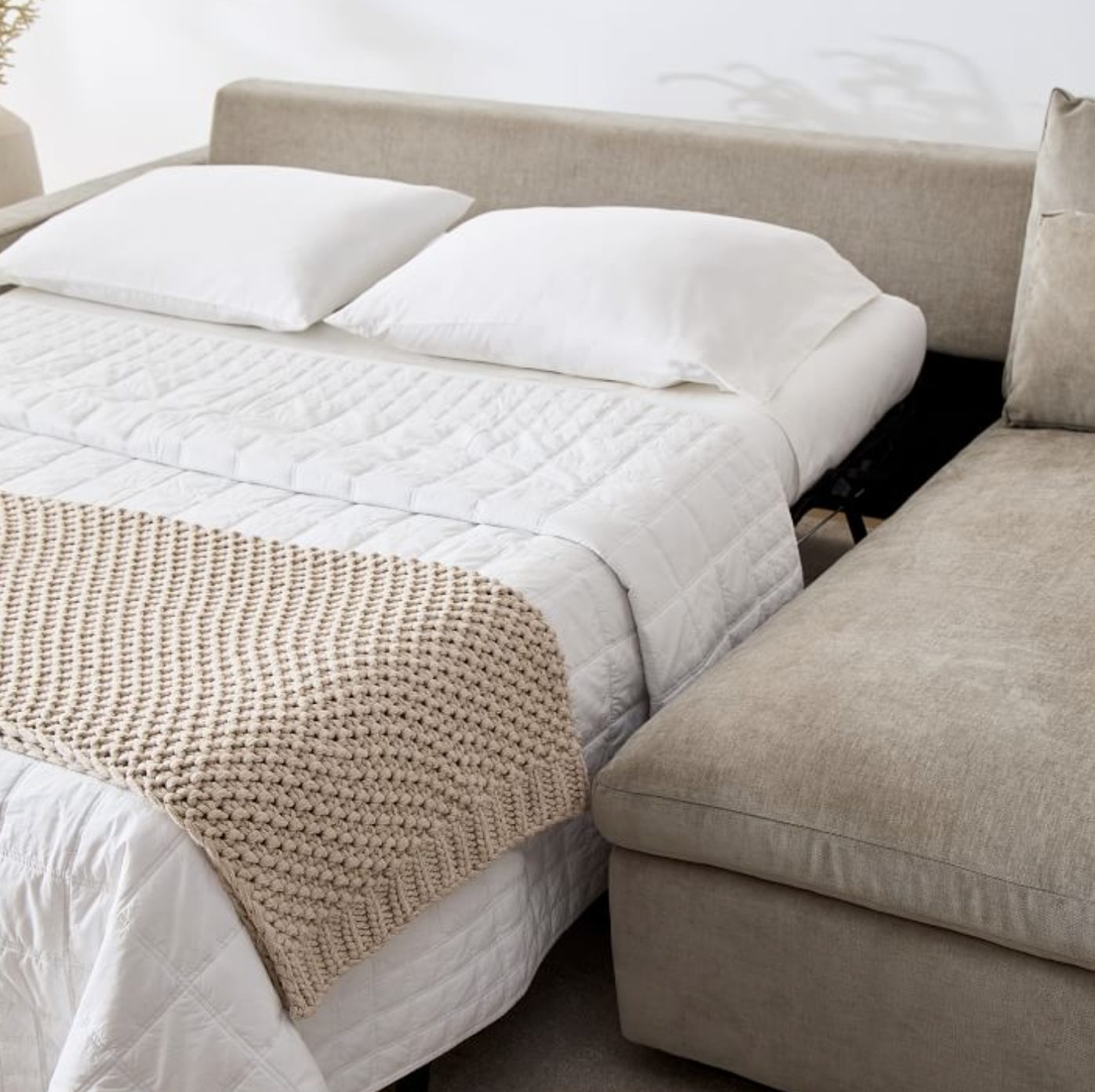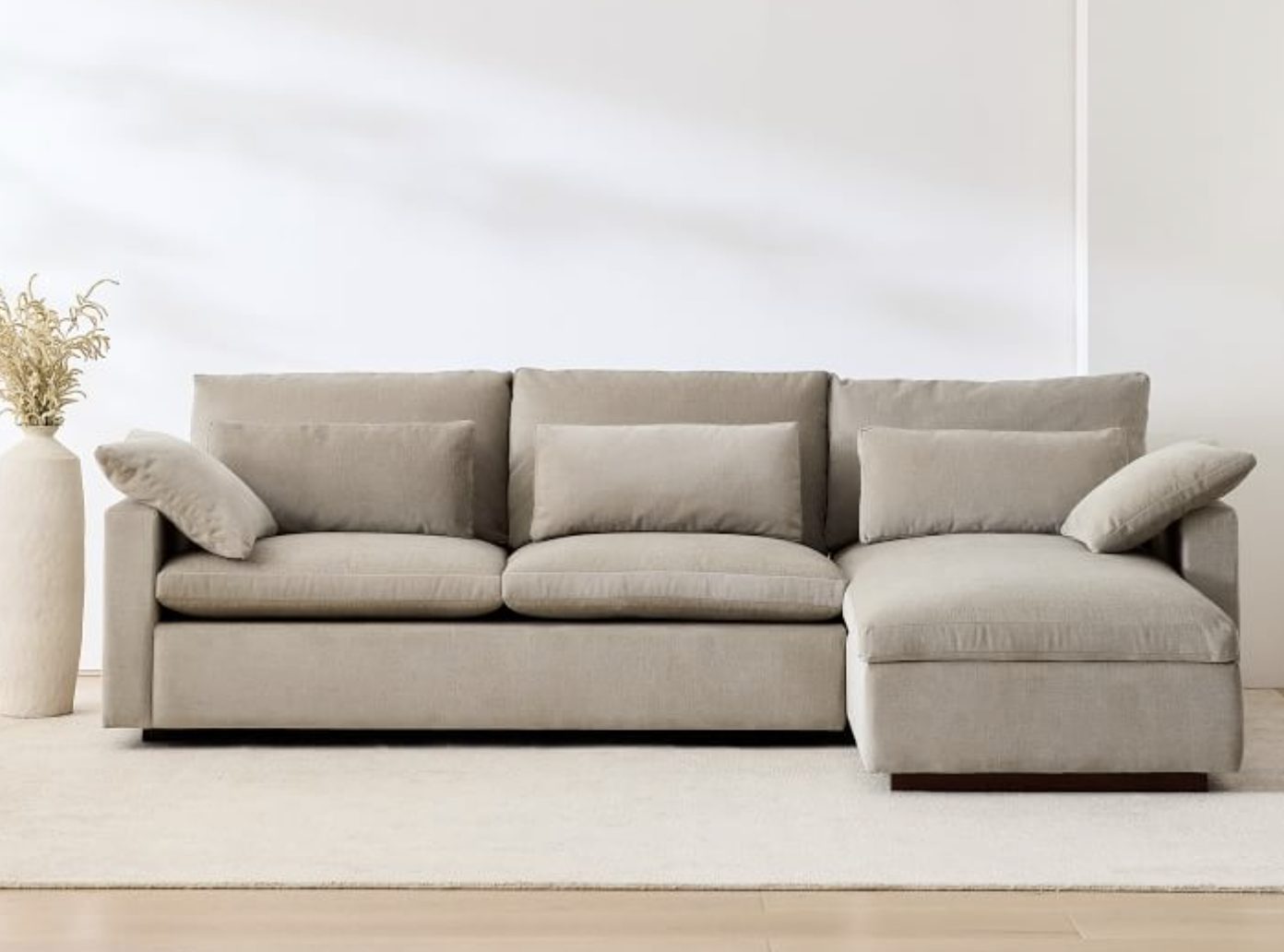 Thanks to its deep seat, thick cushions, and moveable lumbar and toss pillows, Harmony offers ultimate comfort. This sleeper sofa is perfect for any space, equipped with a queen-sized pullout bed and a lift-up storage chaise. This sectional couch with pull out bed is one of our favorite options!
This sofa is also available as a modular 2-piece sectional!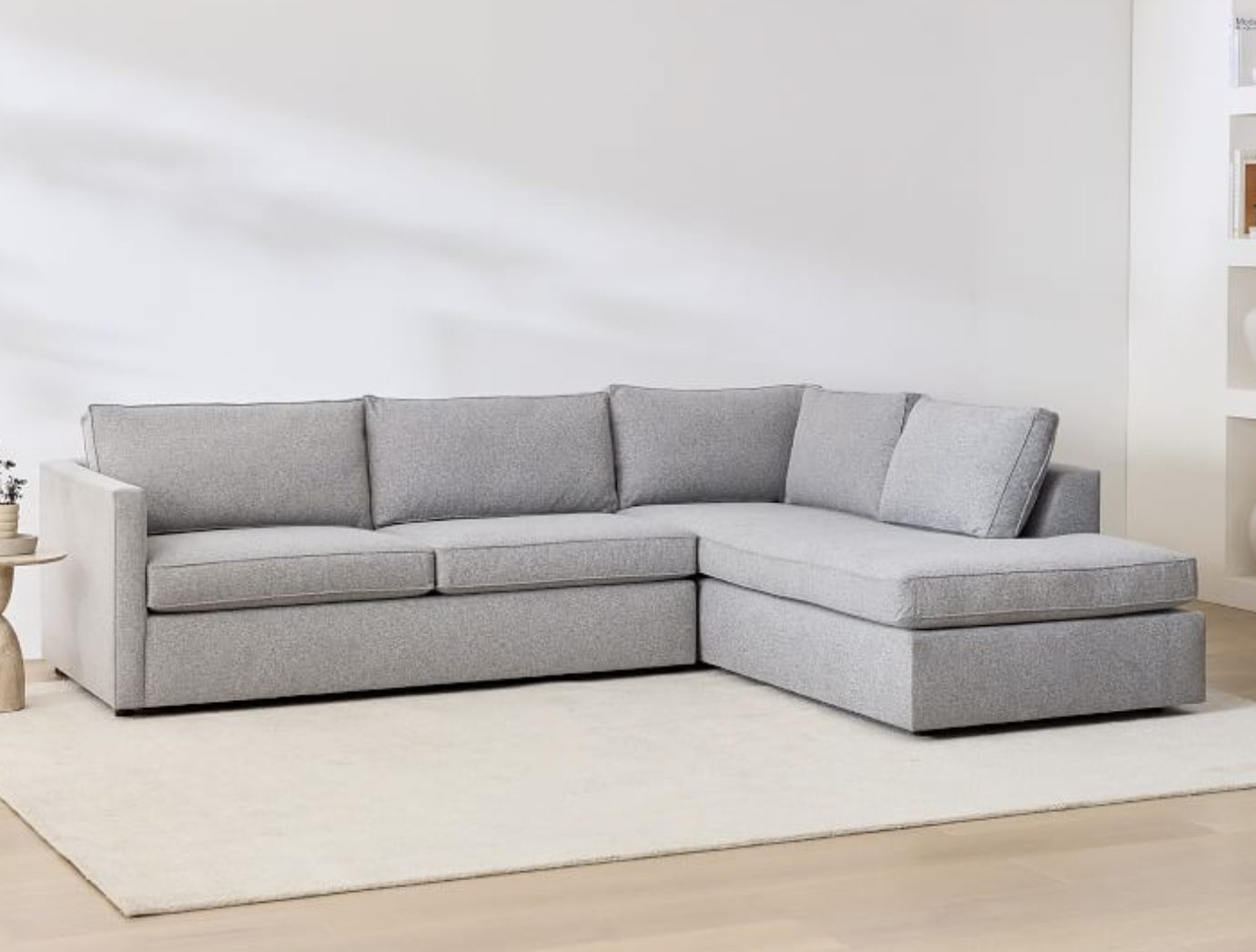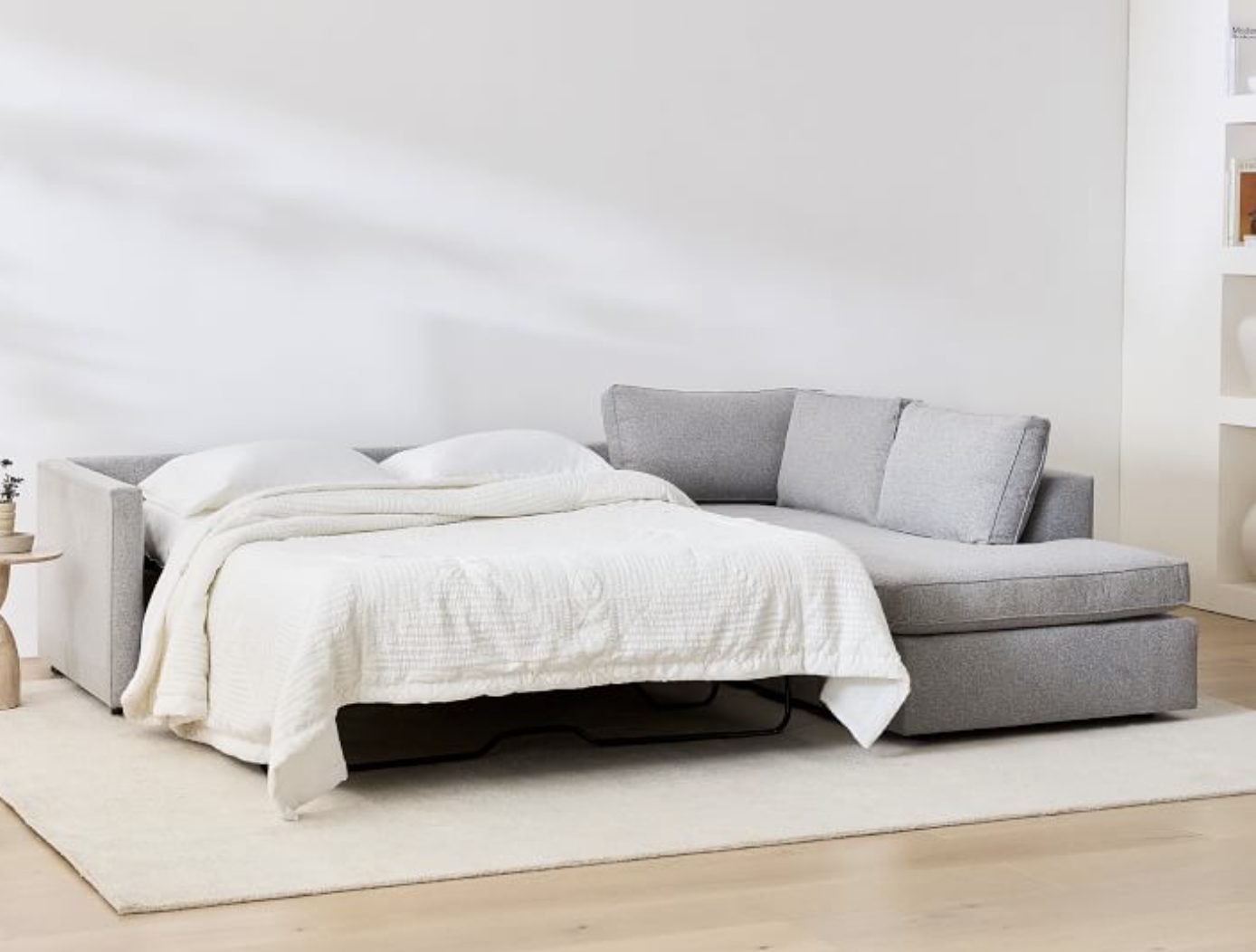 Harris's versatile style is a crowd-pleaser thanks to its simple lines and fitted accents. A Queen-sized pull-out mattress and an enormous terminal chaise are both included in this sleeping sectional. Customize the Harris by choosing your preferred fabric and color!
Harris is also available as a 2-Piece Sleeper Sectional with a Storage Chaise and a 2-Piece Pop-Up Sleeper Sectional with a storage chaise!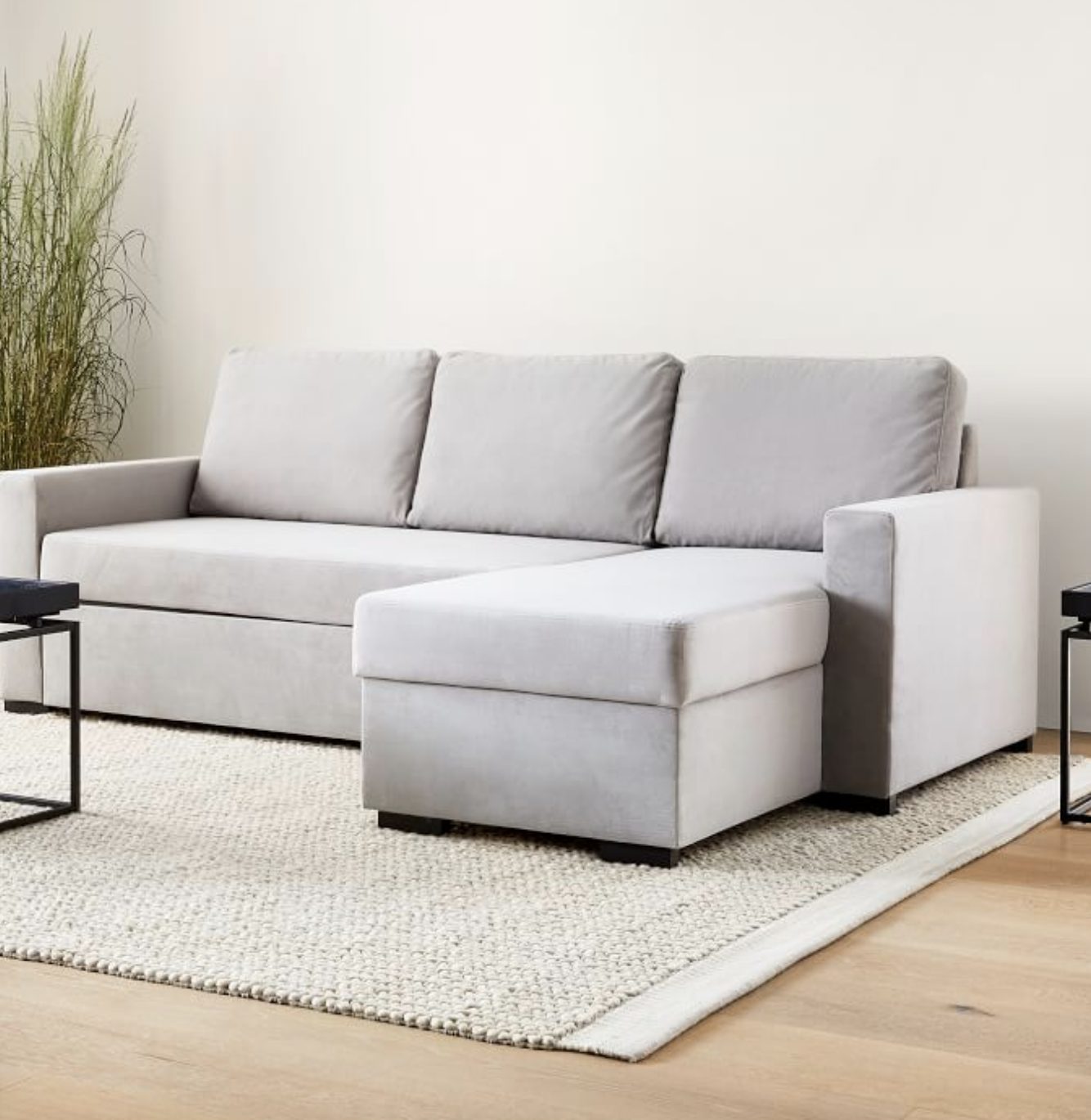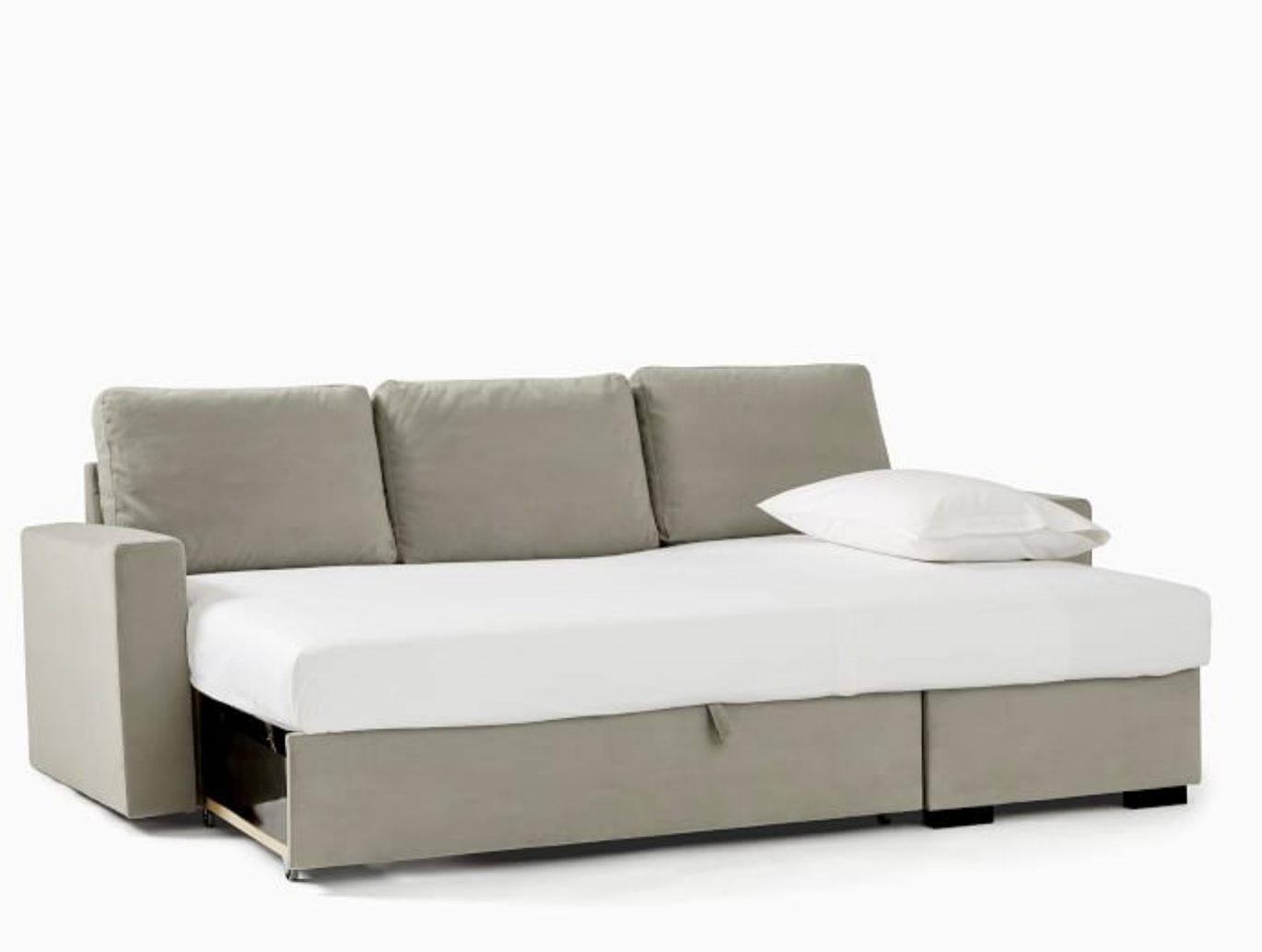 The London is proof that big things come in small packages. It boasts a clean-lined frame perfect for lounging during the day and pulls out into a comfy bed for guests at night.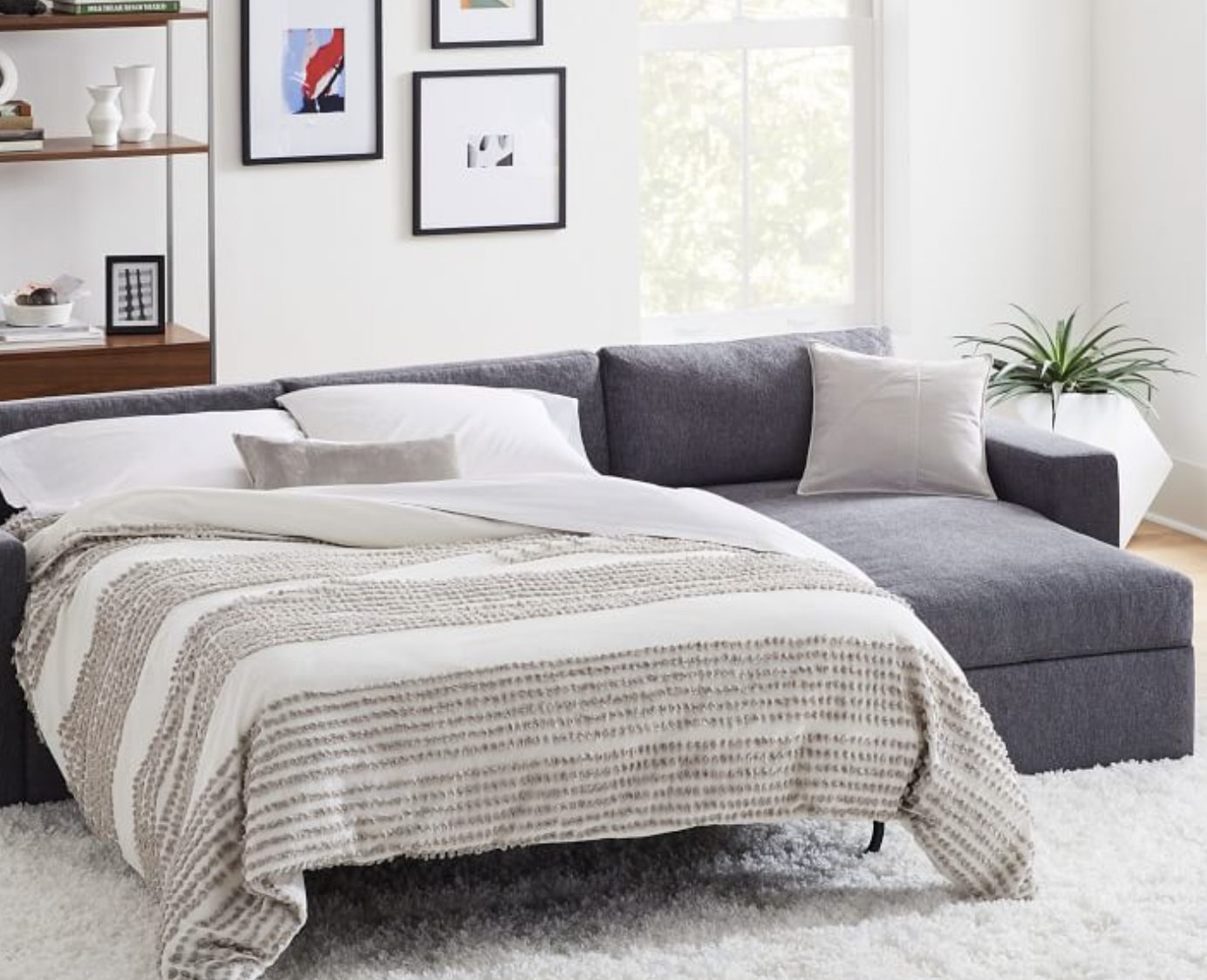 111″ W x 63″ D x 34″ H
The Urban is a timeless option for the family room that includes hidden storage and a luxurious sleeper mattress for guests. With its square shape and sink-in comfort, you will love this sectional.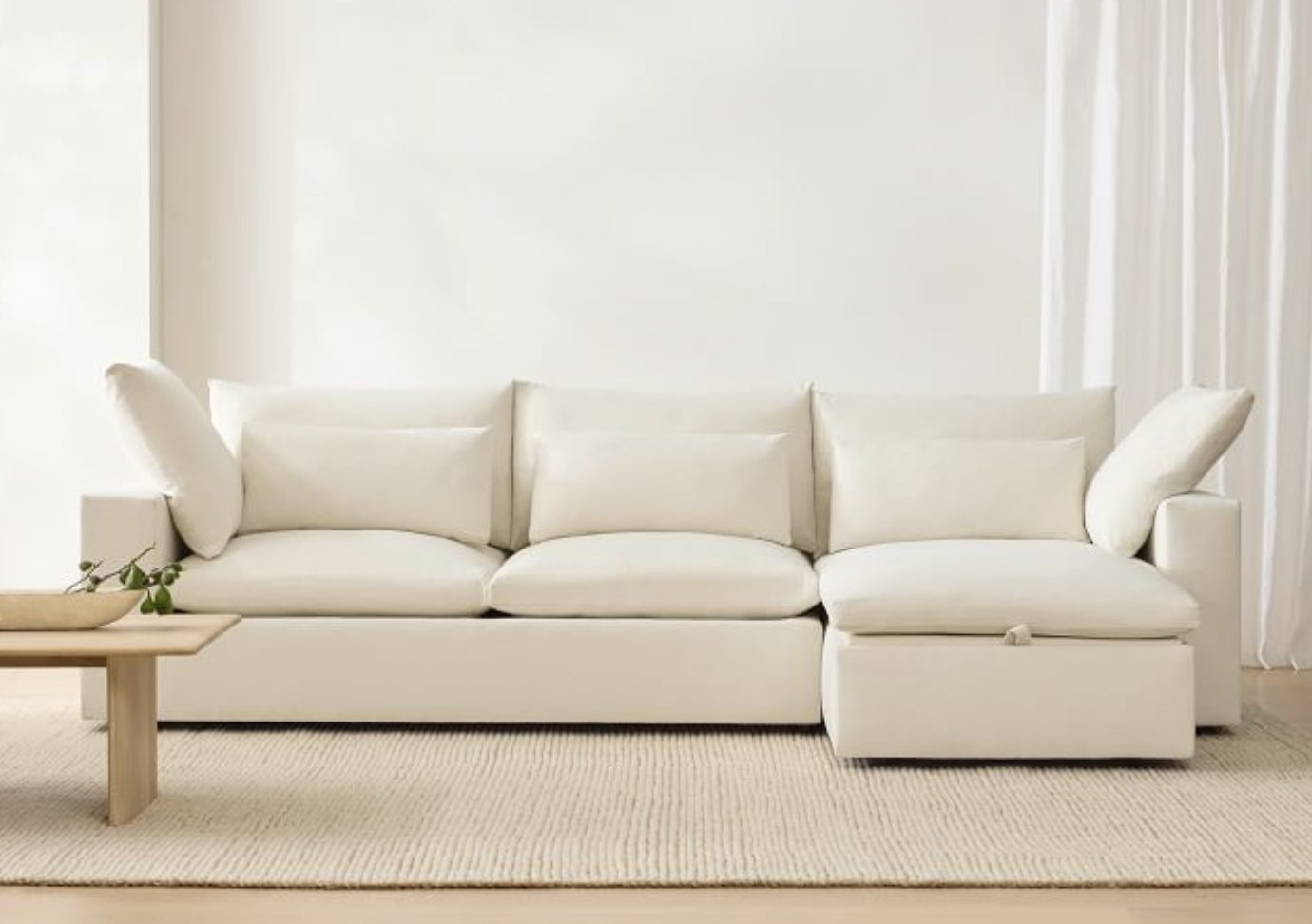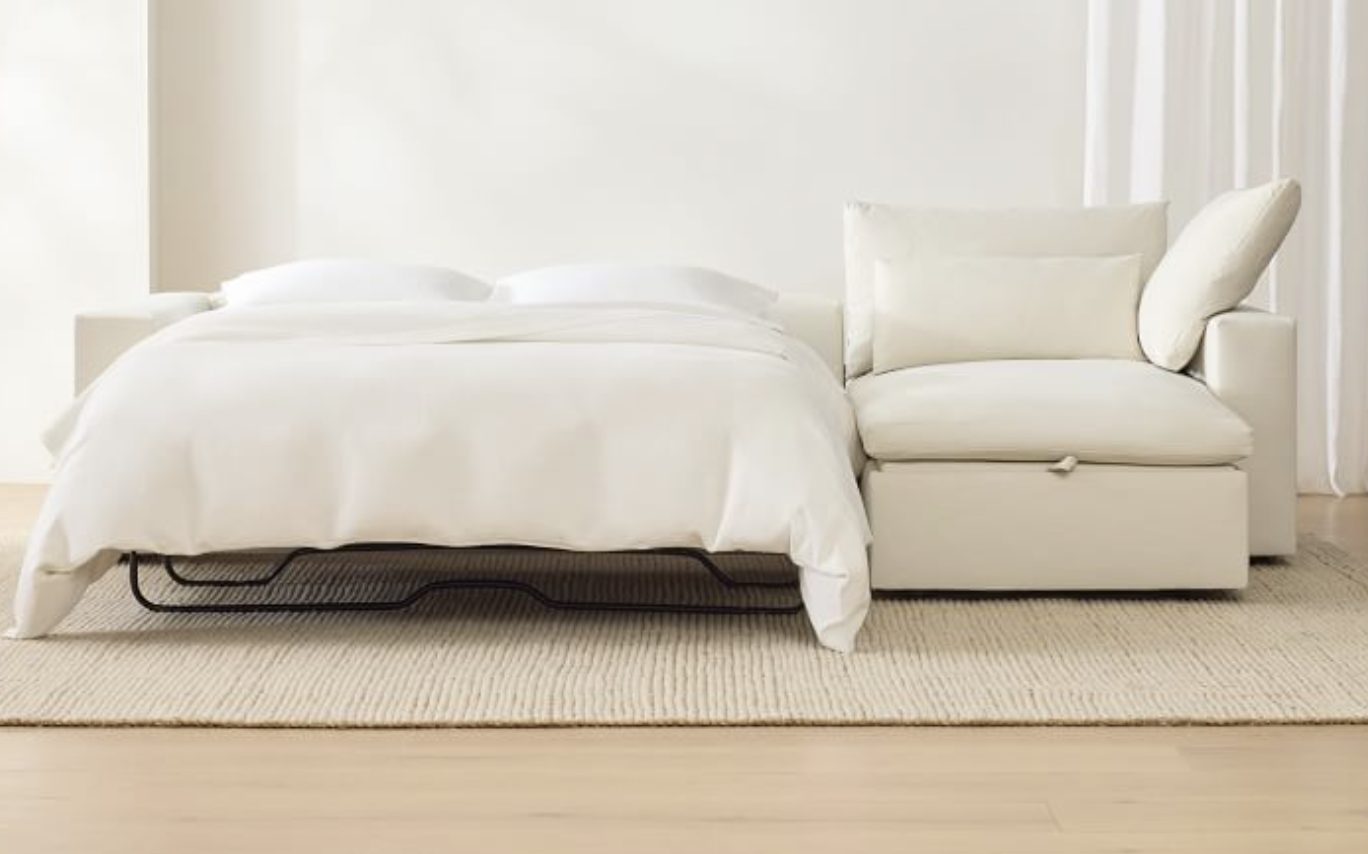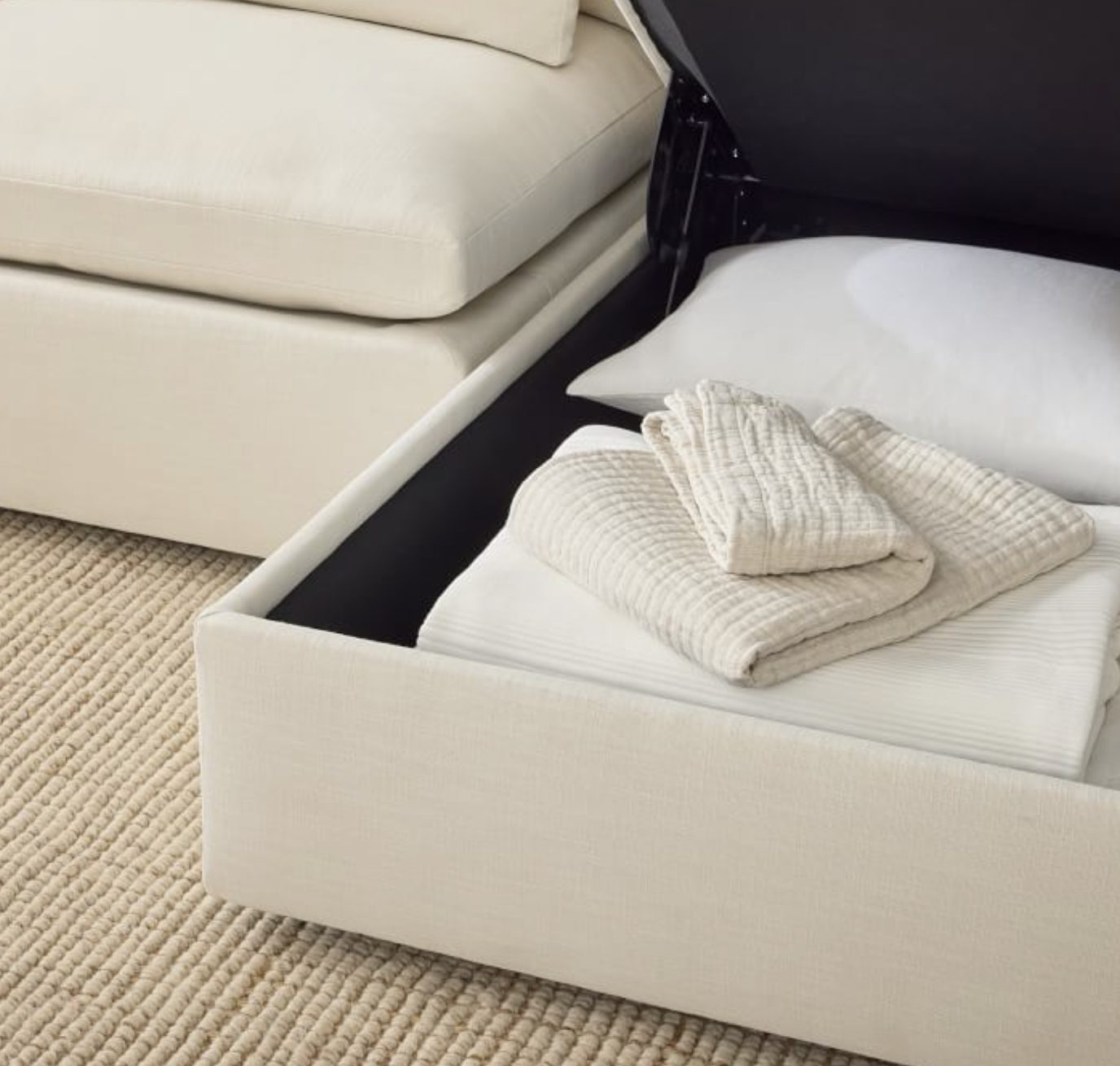 Build the sectional of your dreams! Customize the classic Harmony sectional by selecting your fabric, color, and sectional components, including sleeper sections. No matter the size of your space, design a modular Harmony sectional that's a perfect fit.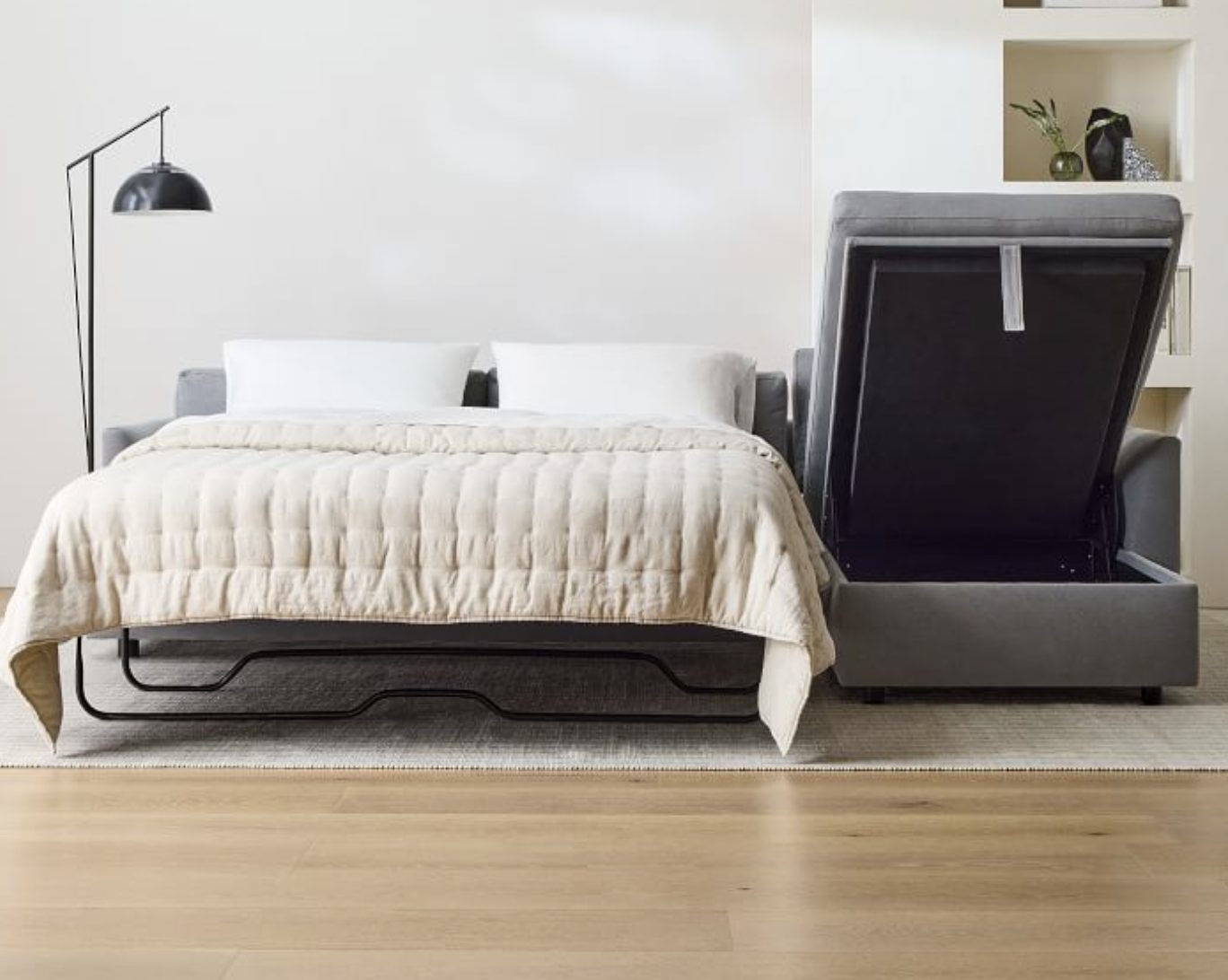 115″ W x 65″ D x 33″ H
Haven's inviting, low-slung shape looks good in any space. Perfect for lounging during the day and sleeping at night, this sectional features a pop-up storage chaise perfect for pillows and blankets.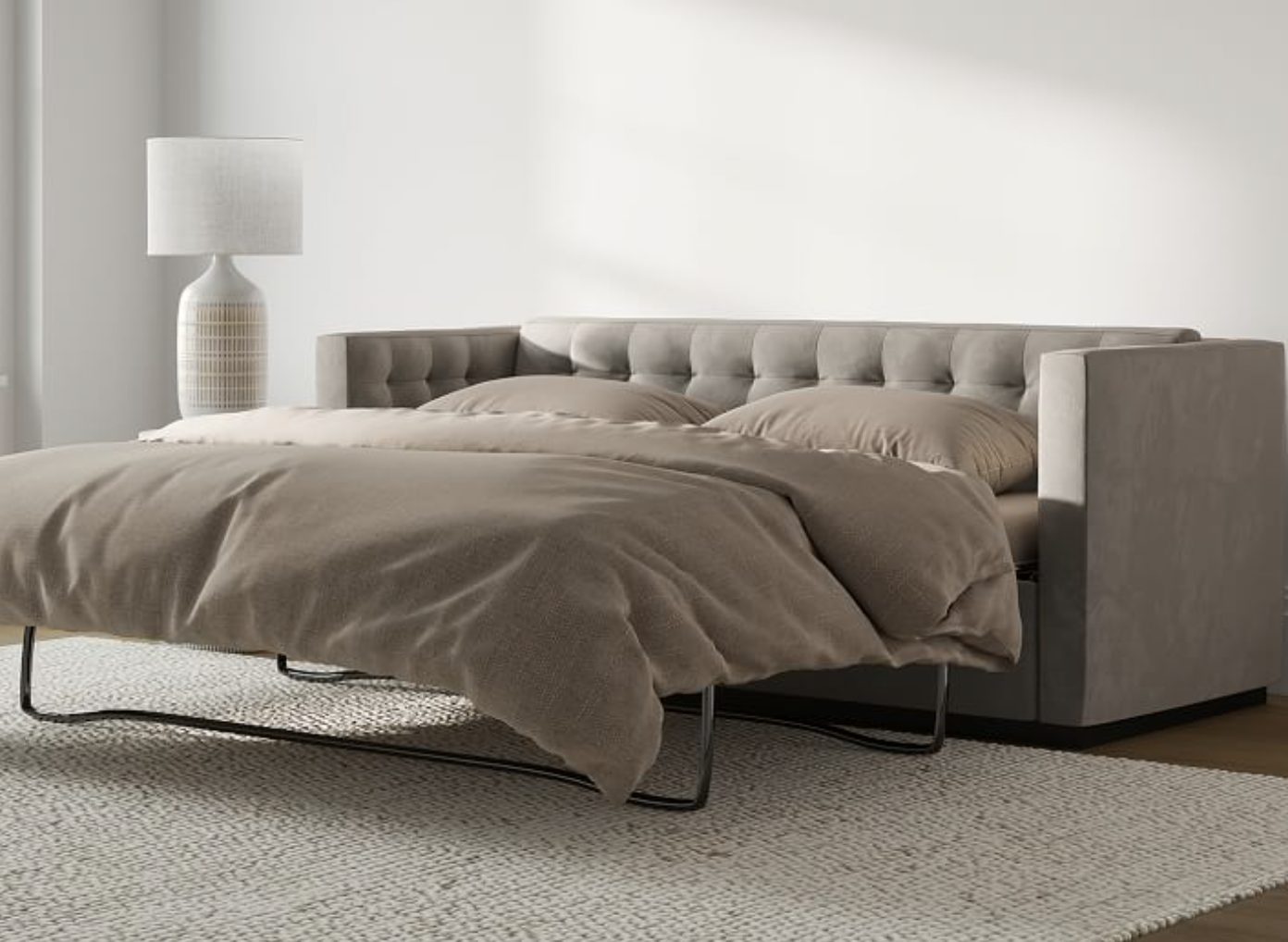 The Rochester Sleeper couch stands out visually thanks to its geometric lines, deep sitting, and a boxy silhouette. It unfolds into a spacious Queen-sized bed that's ideal for overnight visitors.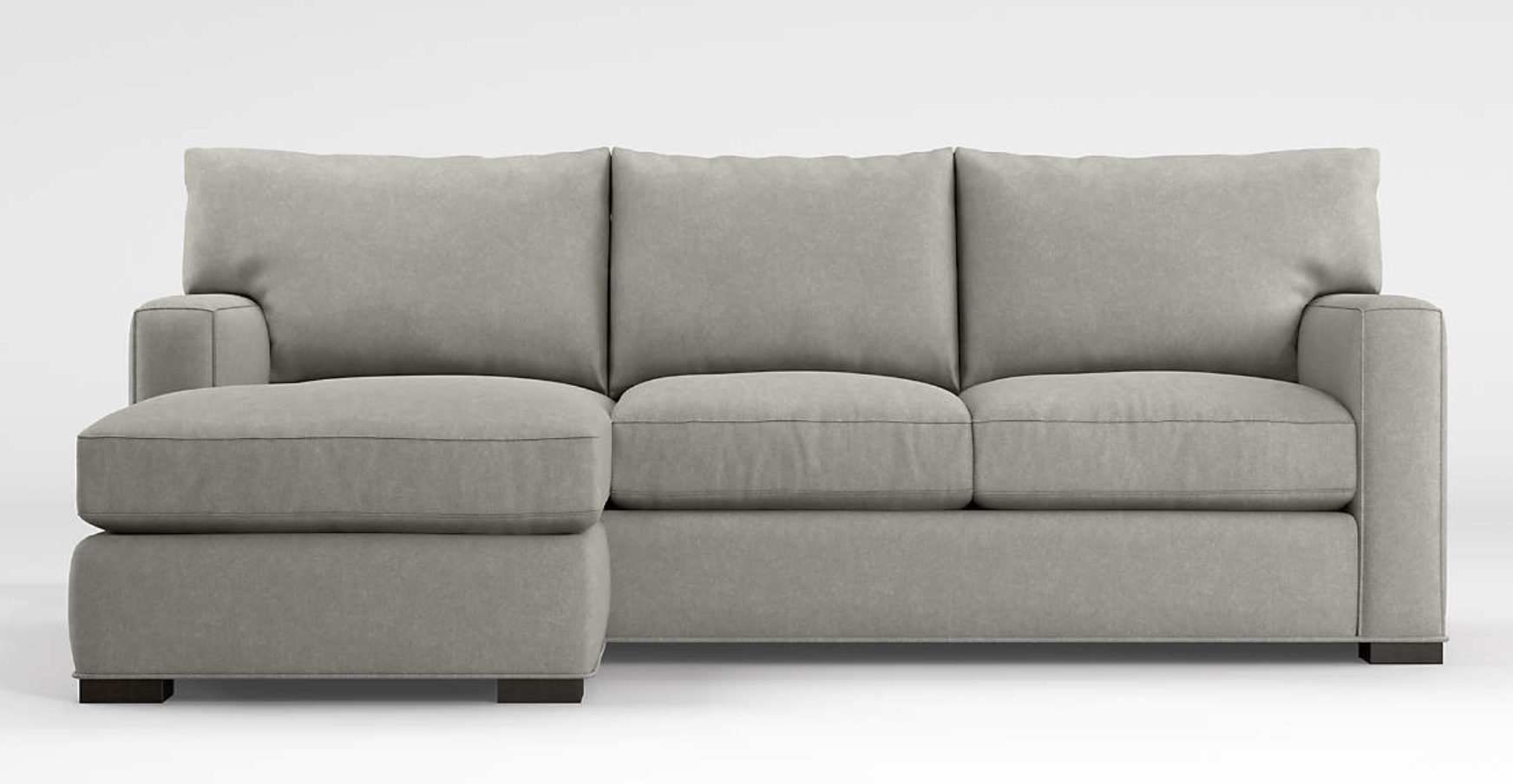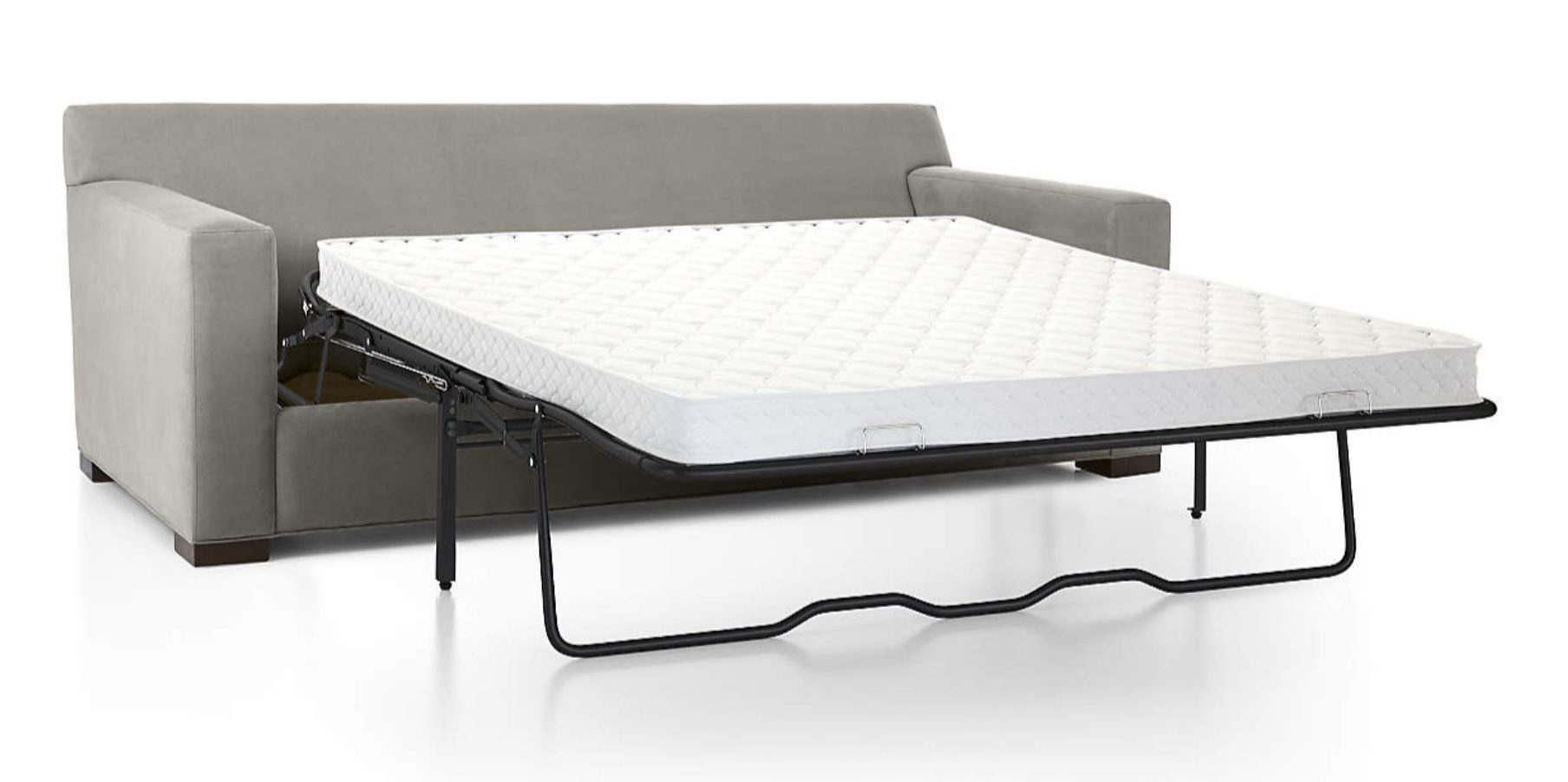 Despite its elegance, Axis was designed with life in mind. Track arms make this sofa sleek, while three cozy seats invite friends and family to sink in. This sleeper has a queen-sized pull-out bed that is perfect for your guests' overnight stays.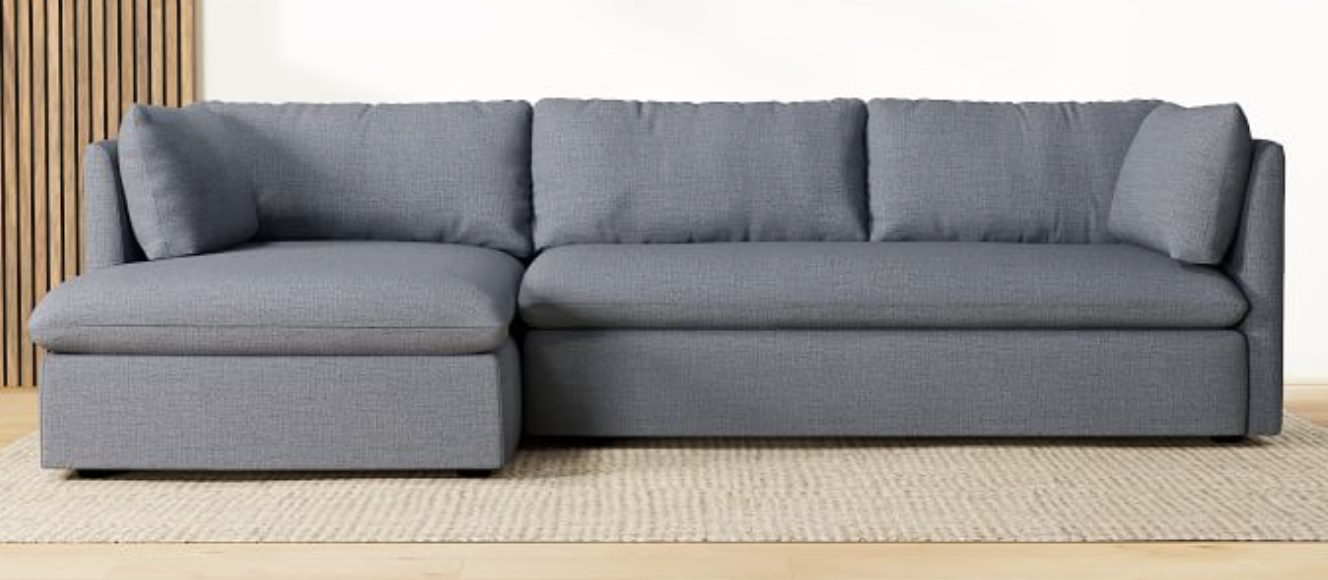 The Shelter Sleeper Sofa is ideal for relaxing and cuddling. It quickly pulls into a queen-sized sleeper bed and includes an easy lift chaise that reveals generous storage space.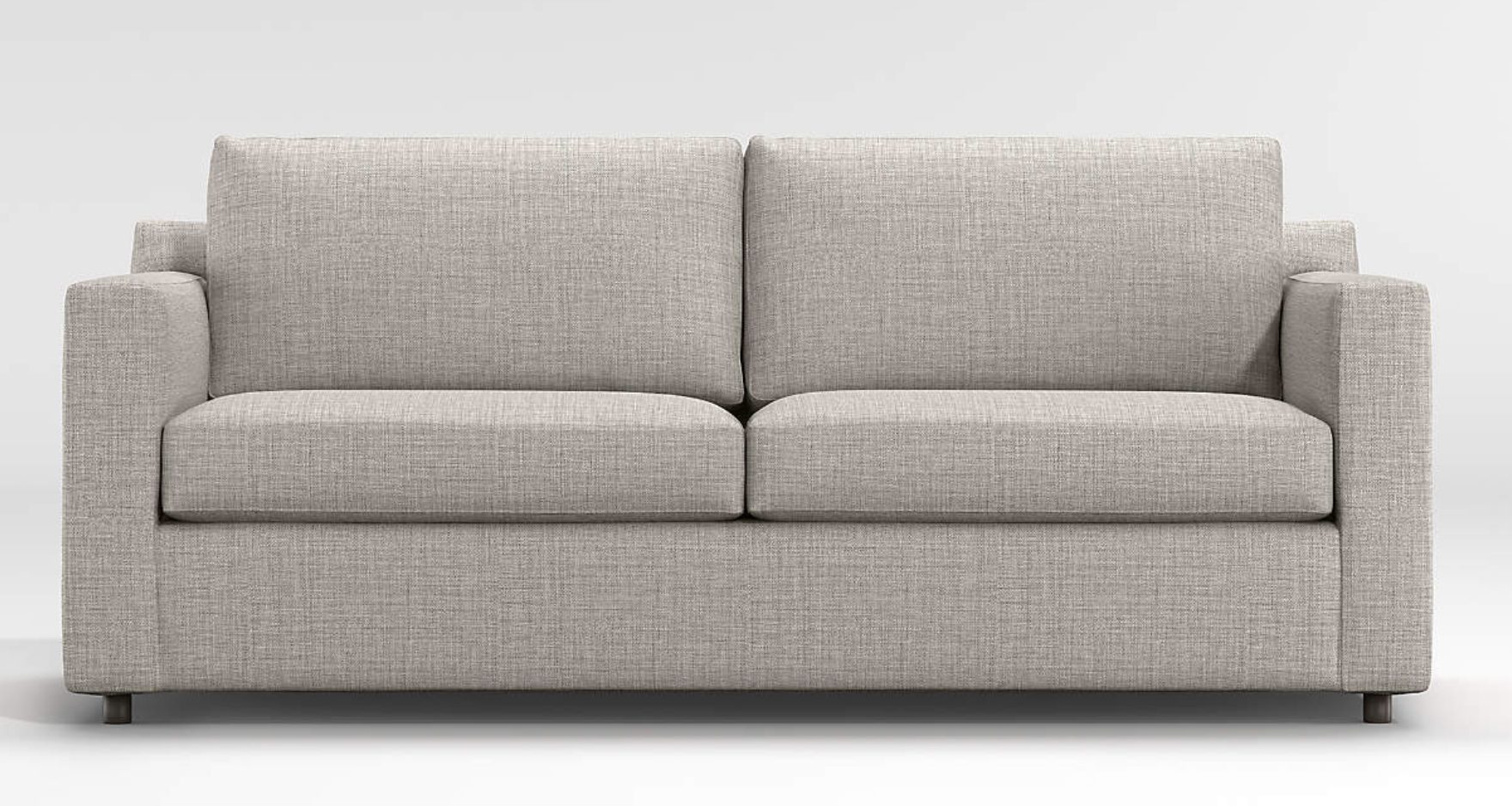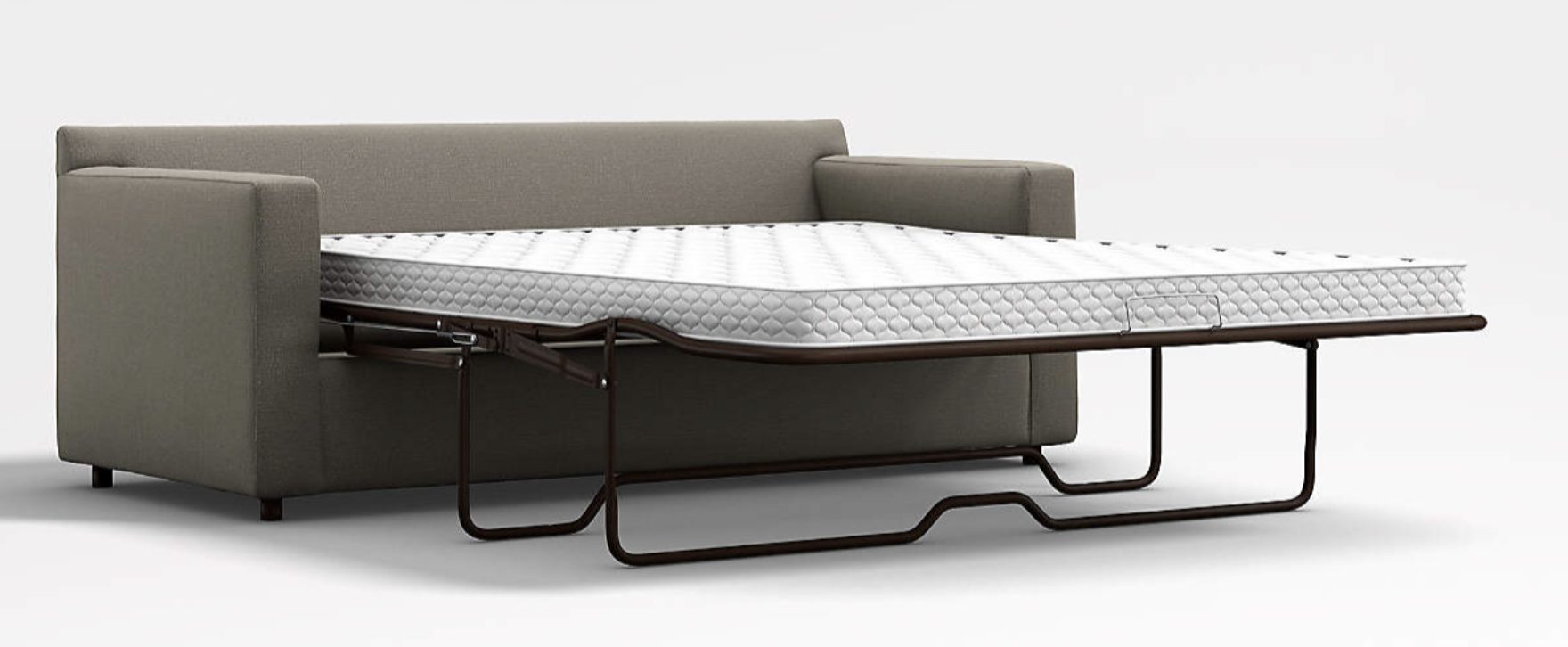 Barrett makes contemporary living easy and inexpensive, offering luxury with a smaller footprint. This adaptable sleeper couch is upright yet comfy and is made to seem casual and tidy even in family areas with a lot of activity.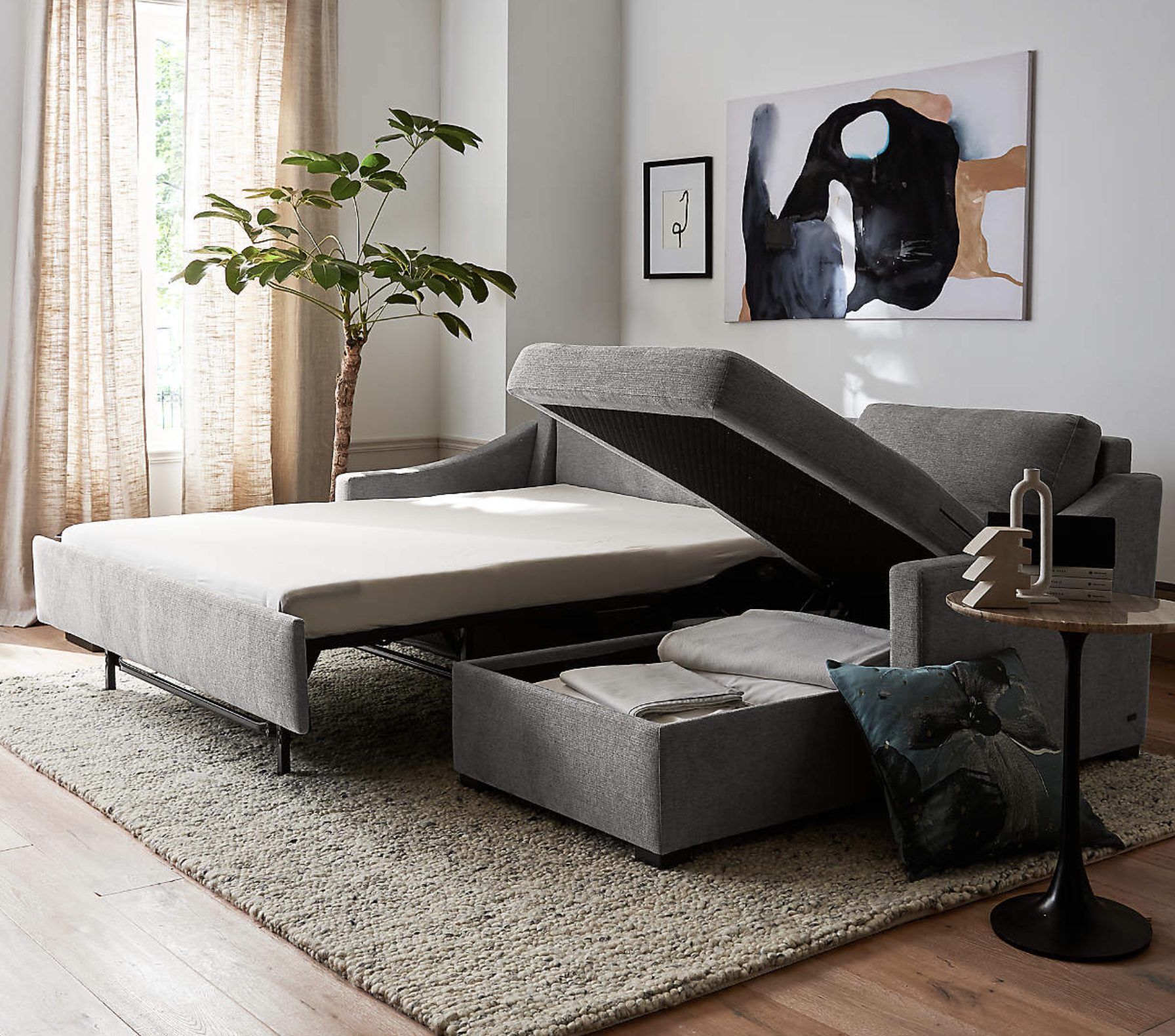 With gracefully sloping arms and plush seat and back cushions, the Fller Sleeper Section begs to be enjoyed. This right-arm sleeper loveseat reveals a super-comfy queen mattress, while the left-arm storage chaise hides storage for blankets, pillows, and sheets.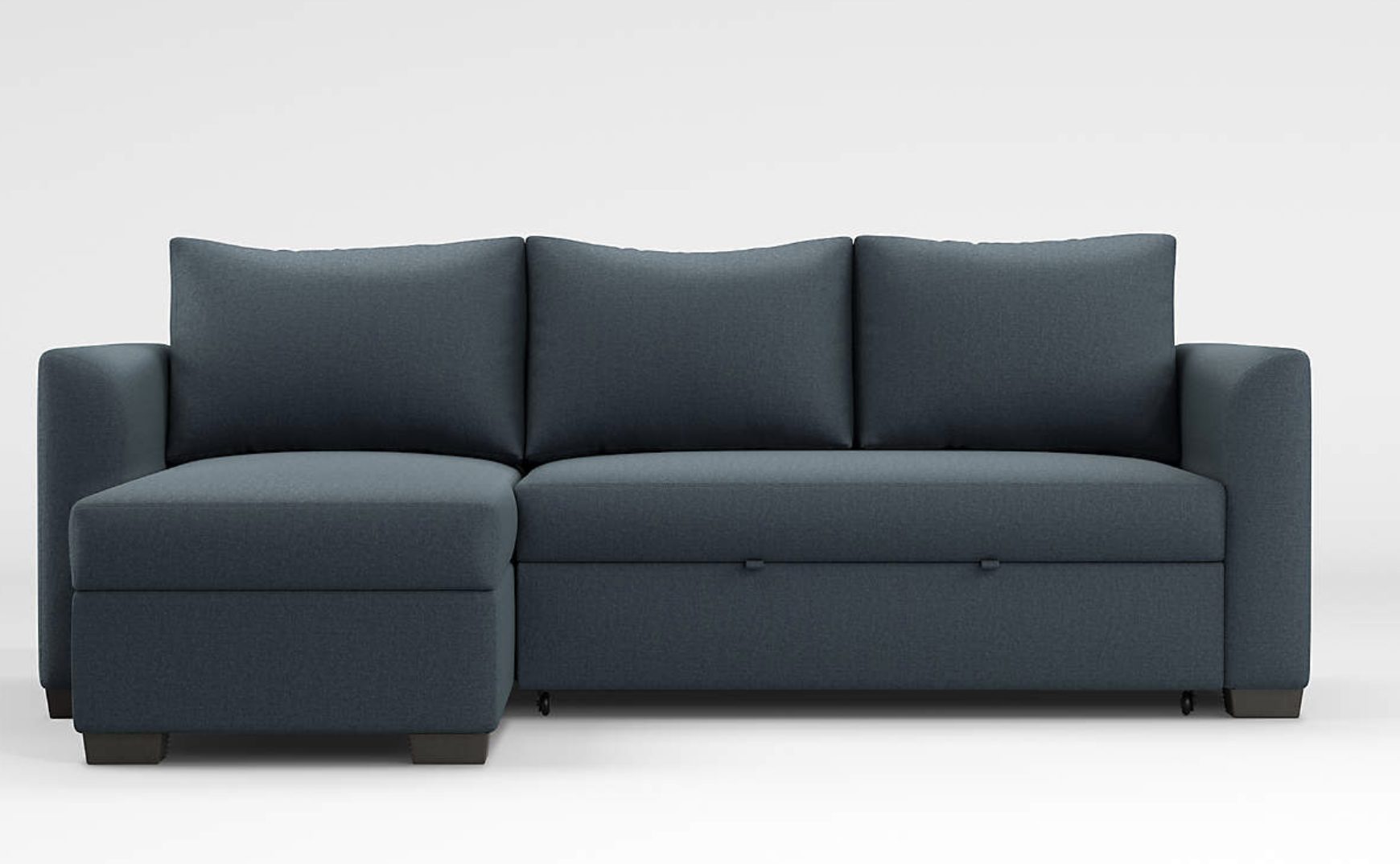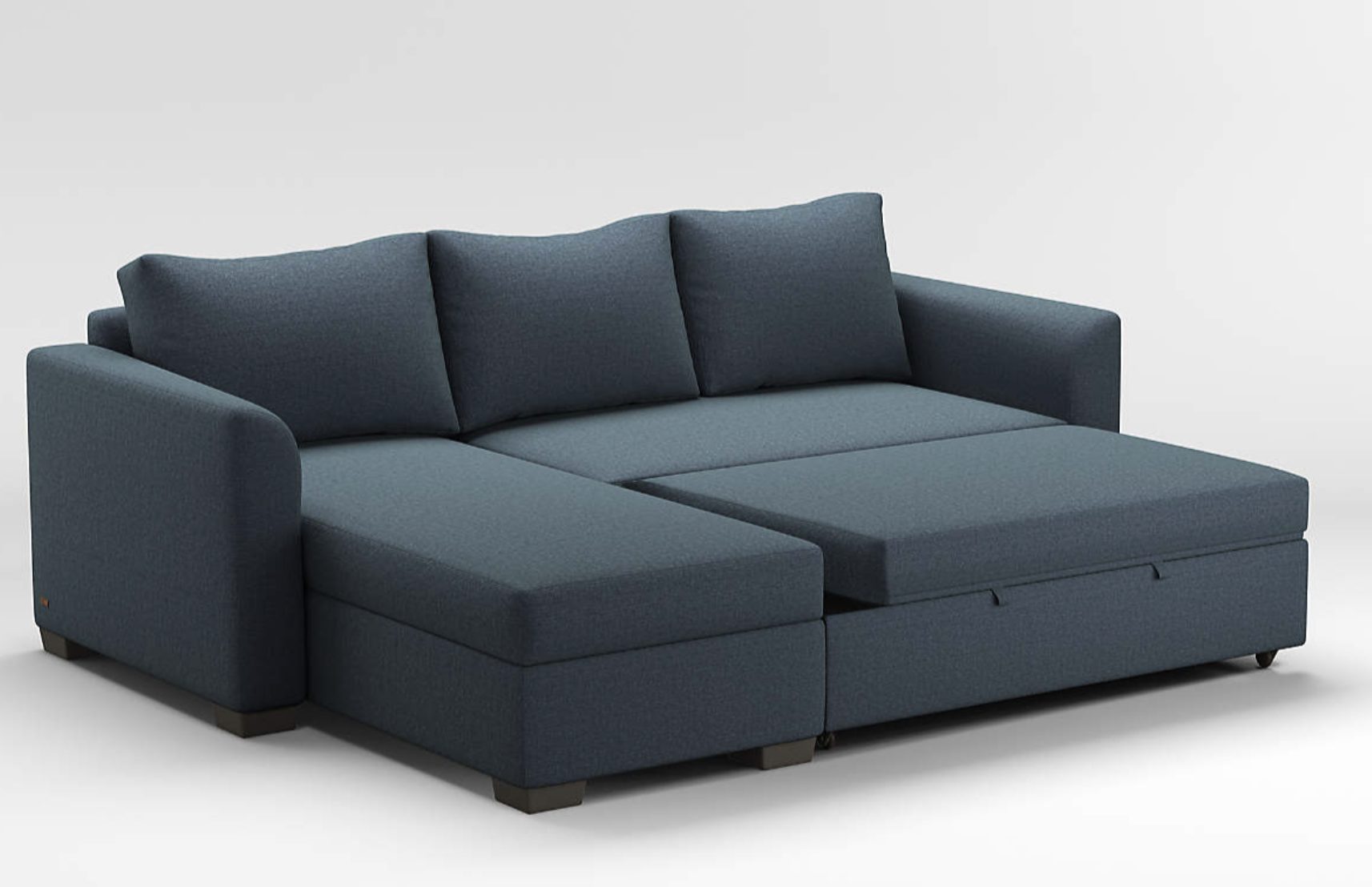 Bedford boasts simple lines and effortless elegance. This two-piece sleeper sectional complements a variety of decor with its bench seats, plush back pillows, and subtle roll arm.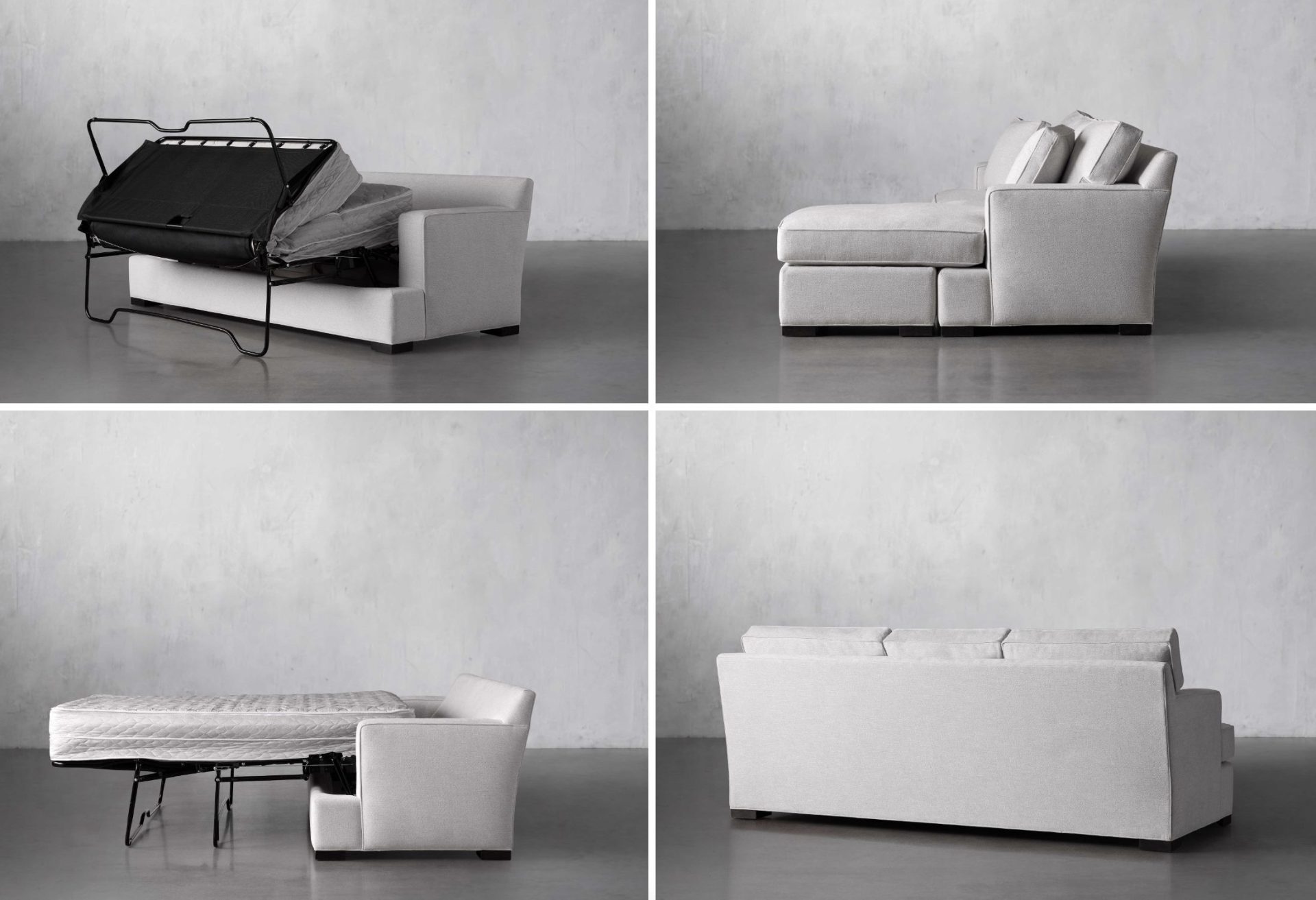 The Dune Sectional is wide-armed, clean-lined, and welcoming to all. Crafted from durable steel and covered in performance fabric, this sleeper sofa is made to last.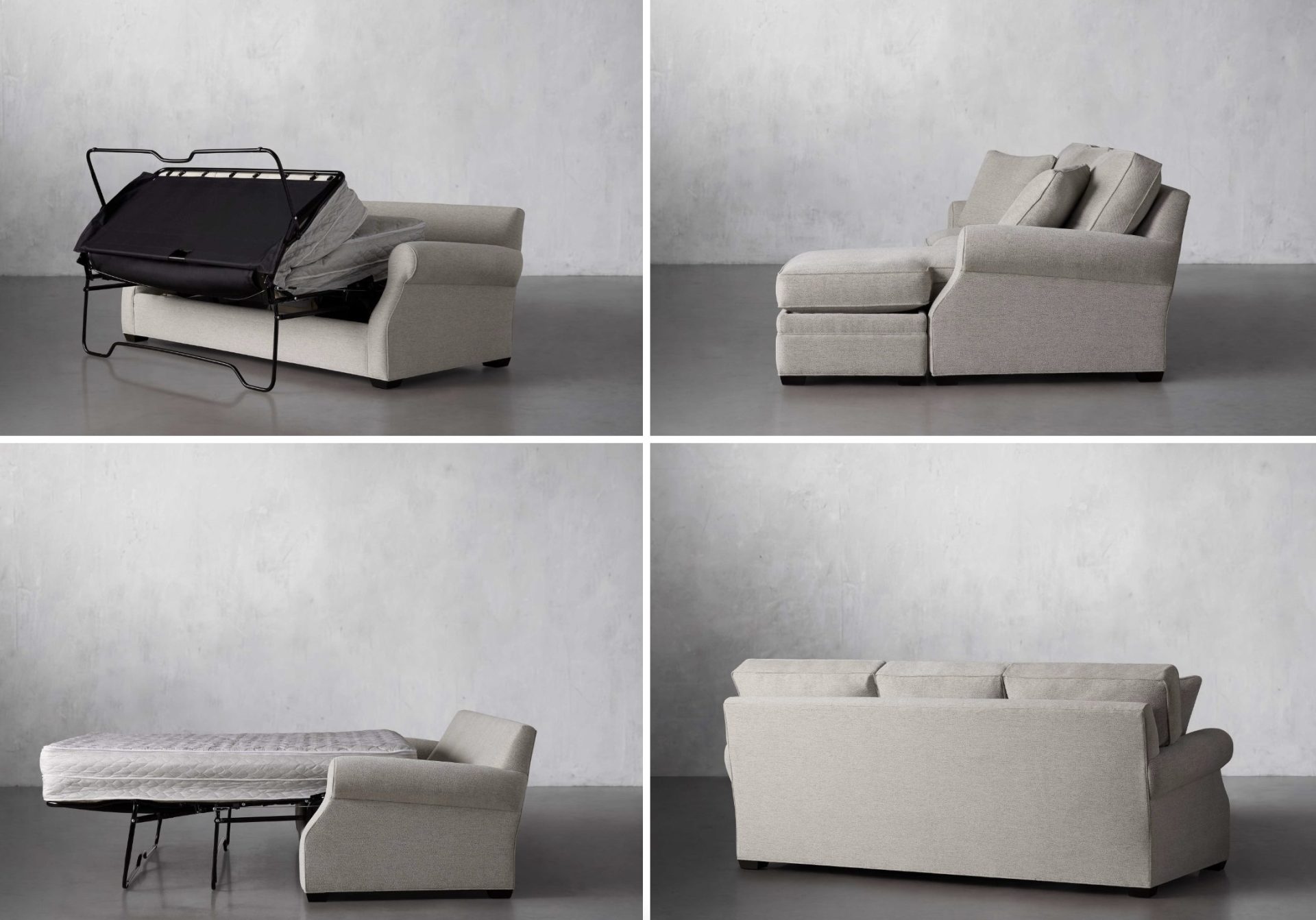 This sleeper sofa is unsurpassed in comfort and boasts a timeless, transitional design. Richly stained block feet support a deep-seated sofa with rolled arms. Landsbury's solid steel frame folds out to support a luxurious air mattress to accommodate overnight guests.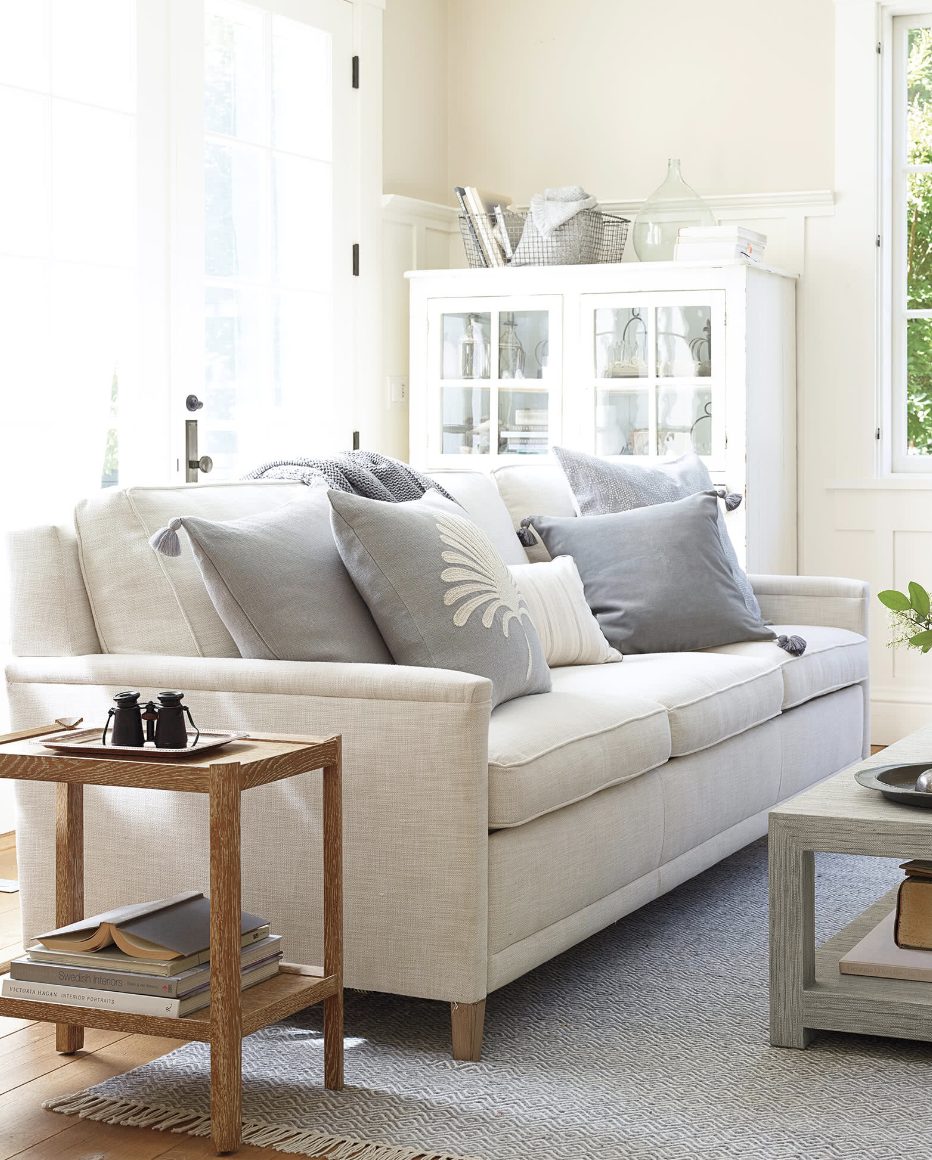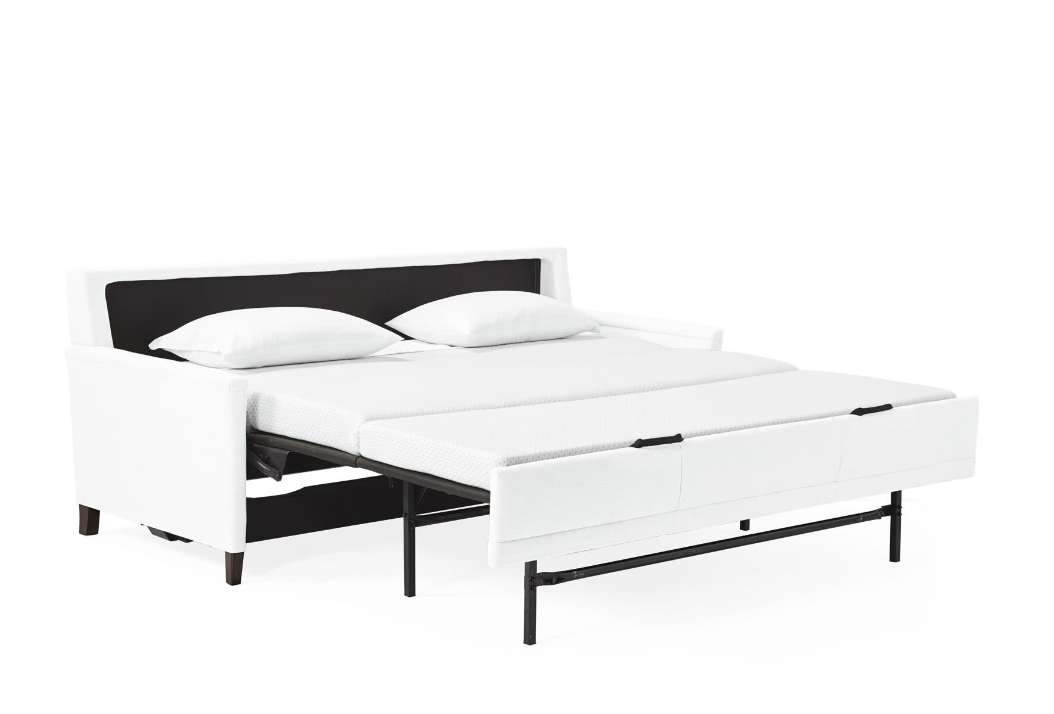 While most sleeper sofas accommodate a queen mattress, at most, the Spruce Street Sleeper offers sleep for a king. This sleek yet stylish sofa leaves plenty of room to entertain friends and family.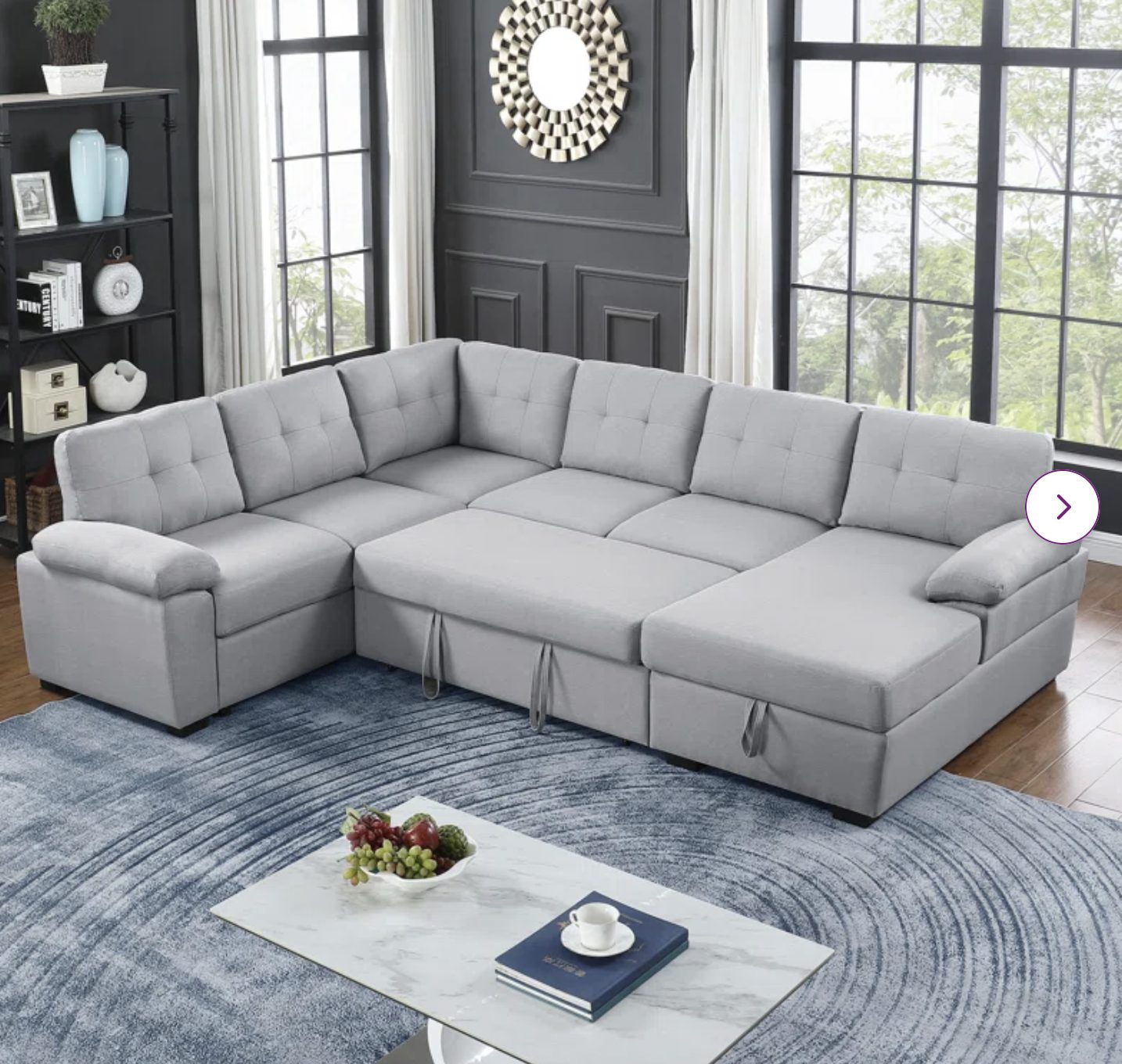 Whether used as a sofa or a bed, the Aine Sleeper Sofa offers comfort for all. This couch is as beautiful as it is practical. Under the chaise of this sofa, there is storage for books, cushions, linens, and other items. A great price point for a sectional couch with pull out bed!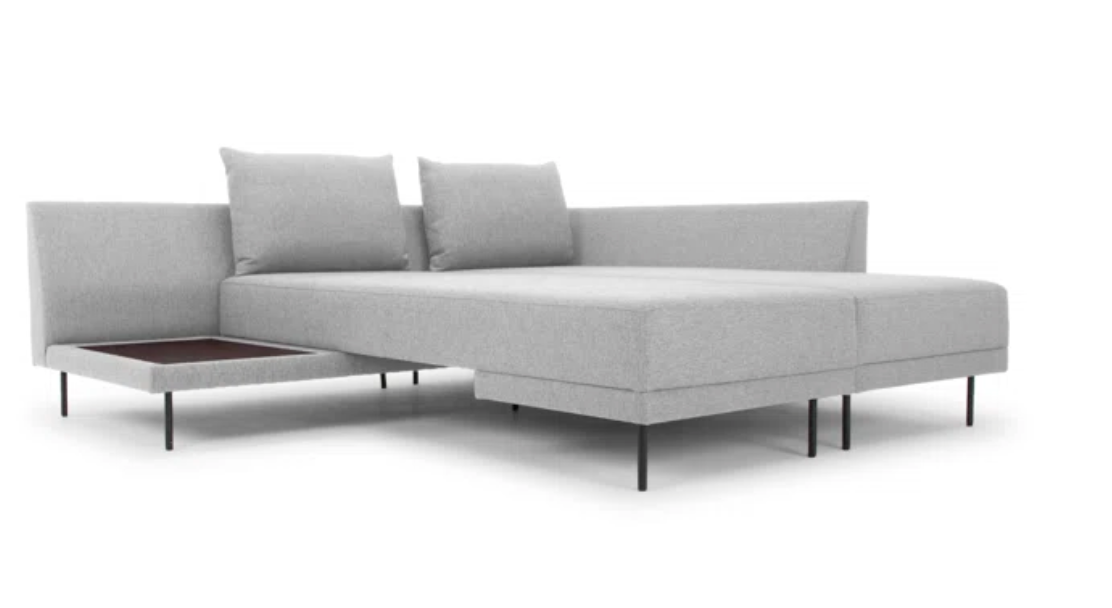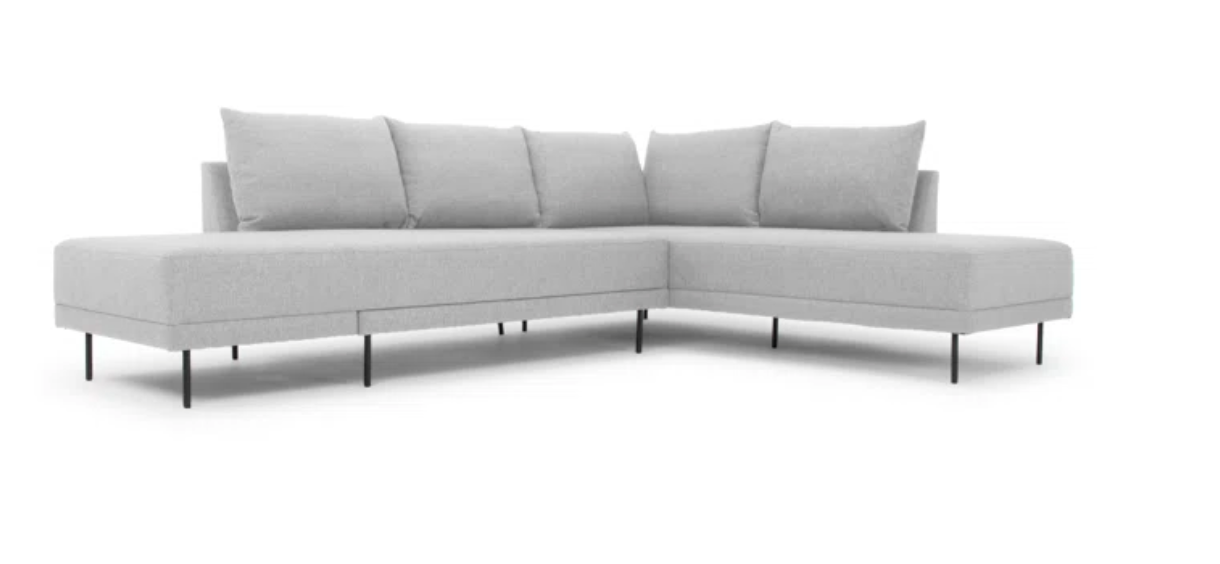 Lon fuses a wide design with a low-profile, minimalist silhouette. This cozy sofa expands into a full-sized mattress that's great for guests.


Pinched seams make for a smooth, contemporary appearance and wide arms serve as built-in end tables. The Blumen Sleeper Sectional makes any room a cozy guestroom in disguise.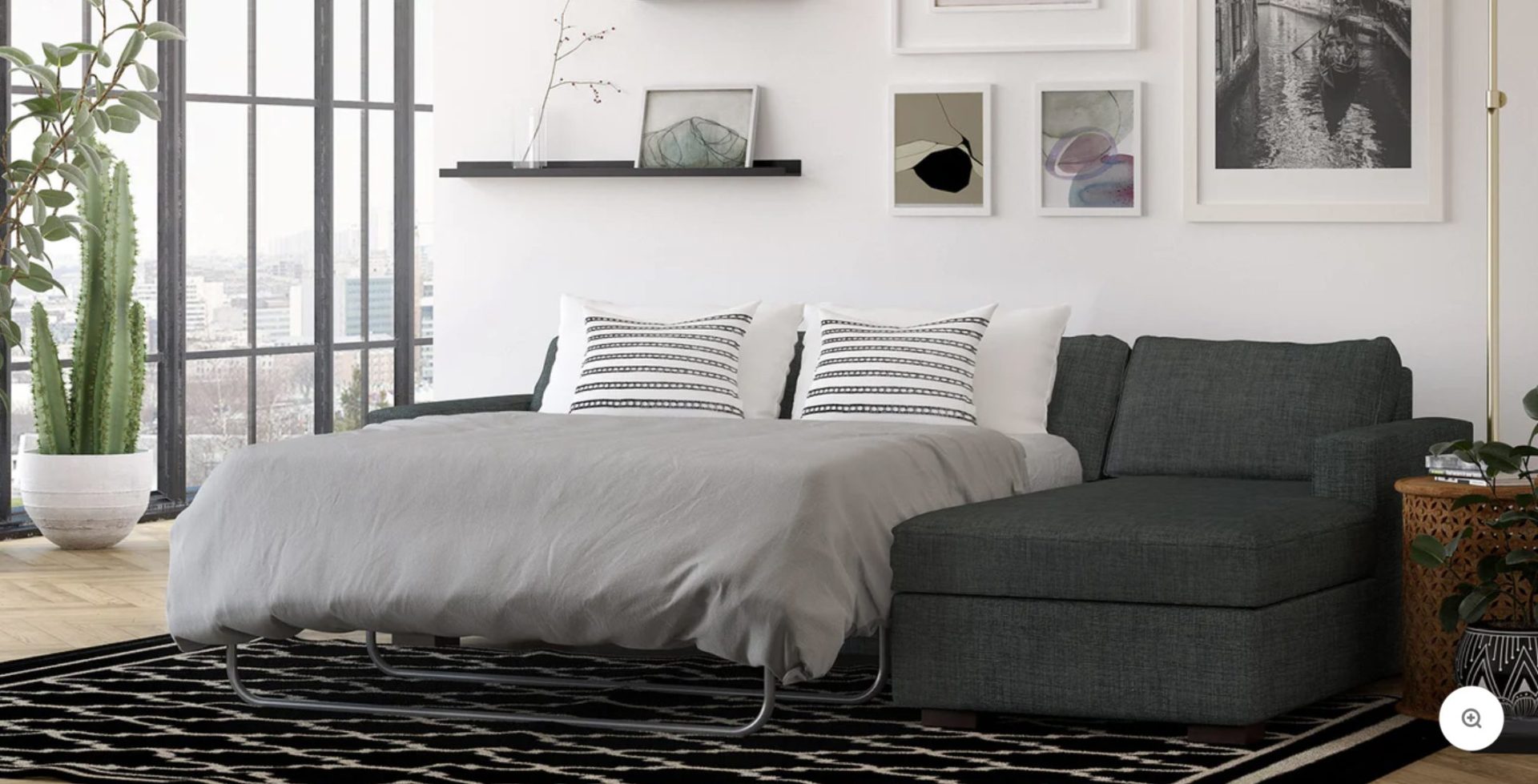 Rio boasts a timeless, contemporary design and an extra cozy fold-away mattress. The moderately deep frame provides plenty of comfortable seating with a frame guaranteed for life.
Rio is also available in a latex and wool version that's biodegradable and built to last.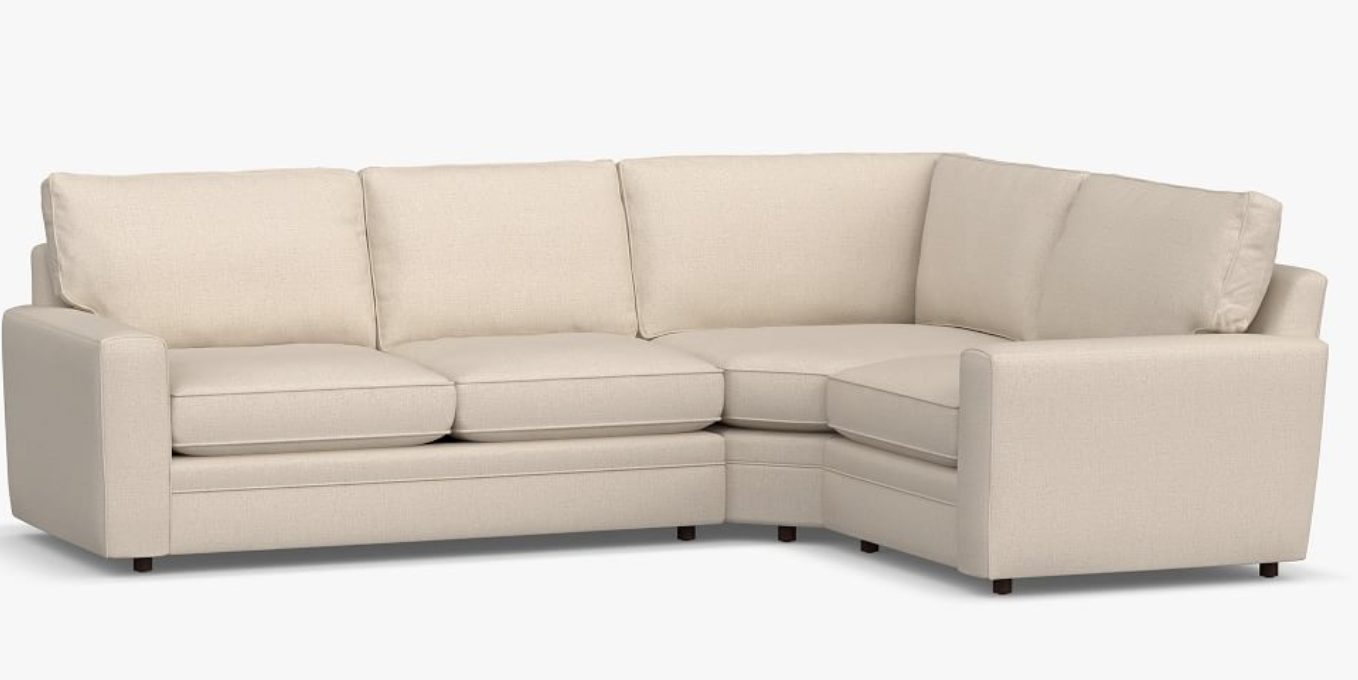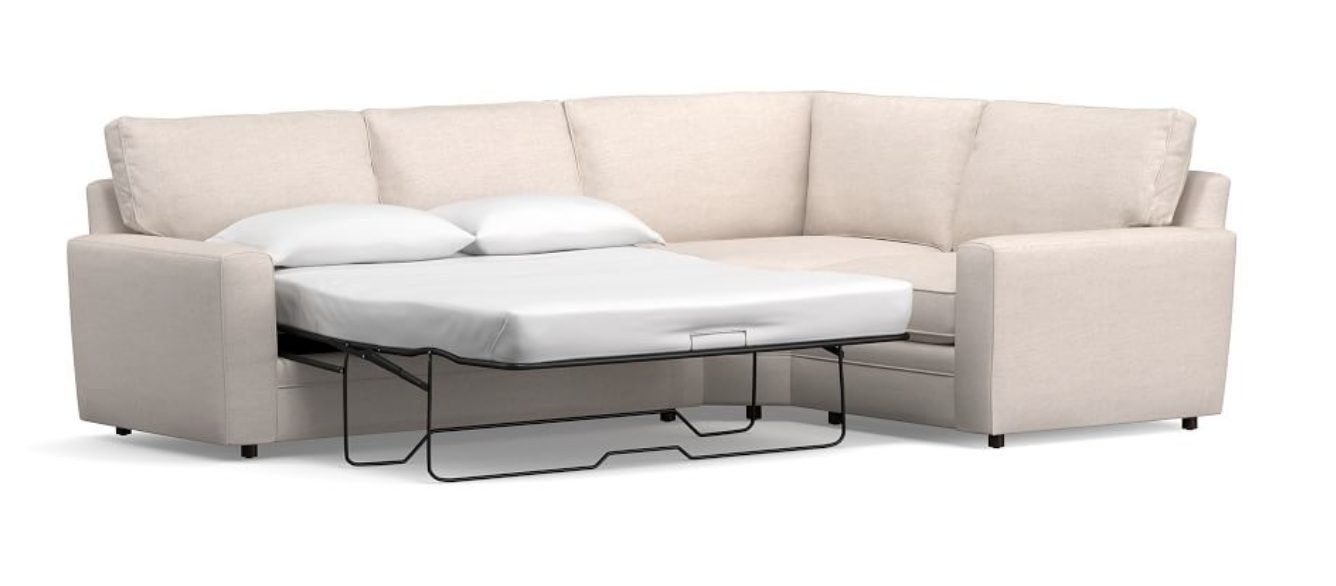 Pearce is a popular choice for reclining in the family room thanks to its generous arm, deep seat, and comfortable down-blend cushion. It converts to a comfortable bed for overnight visitors or weekend guests.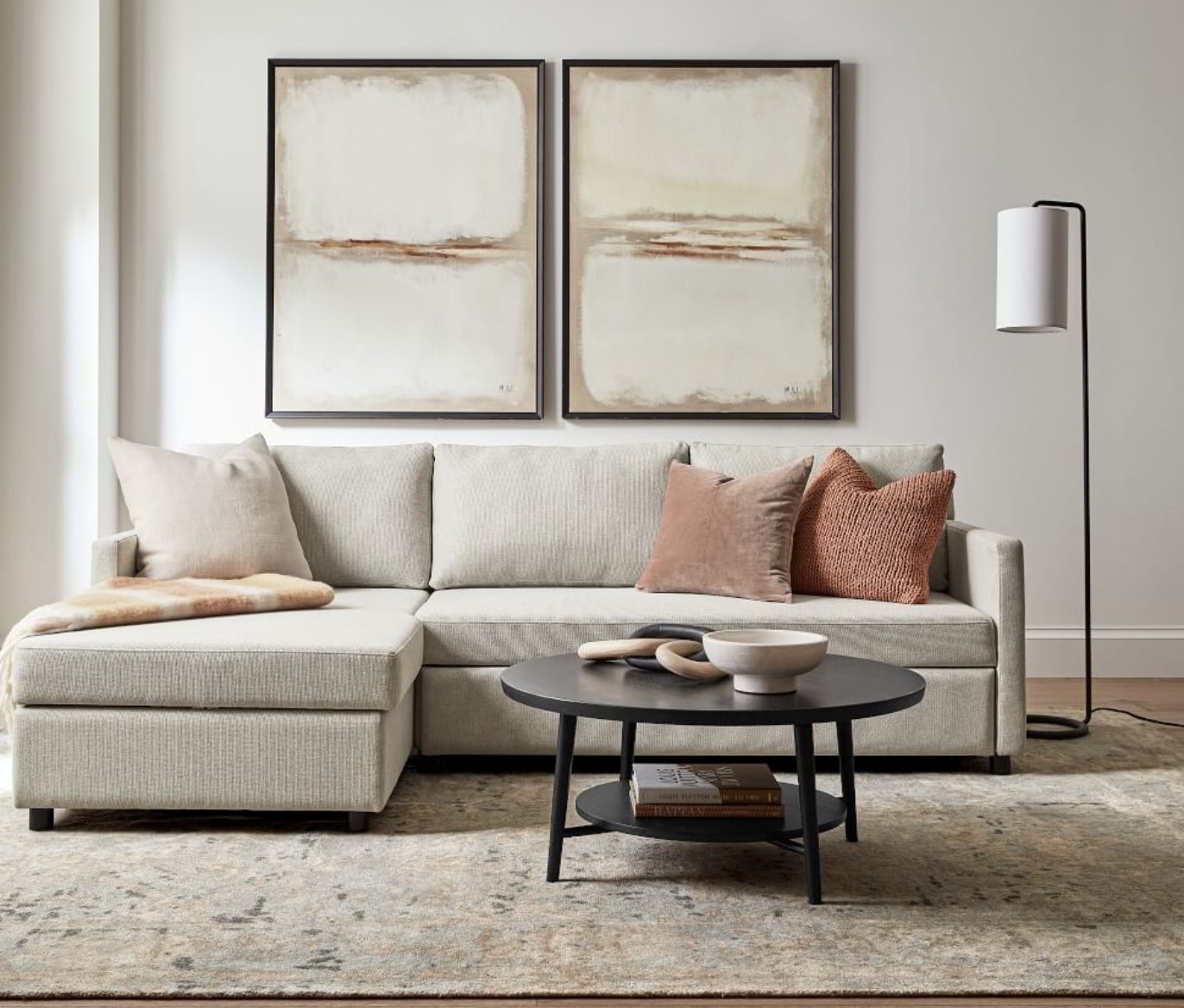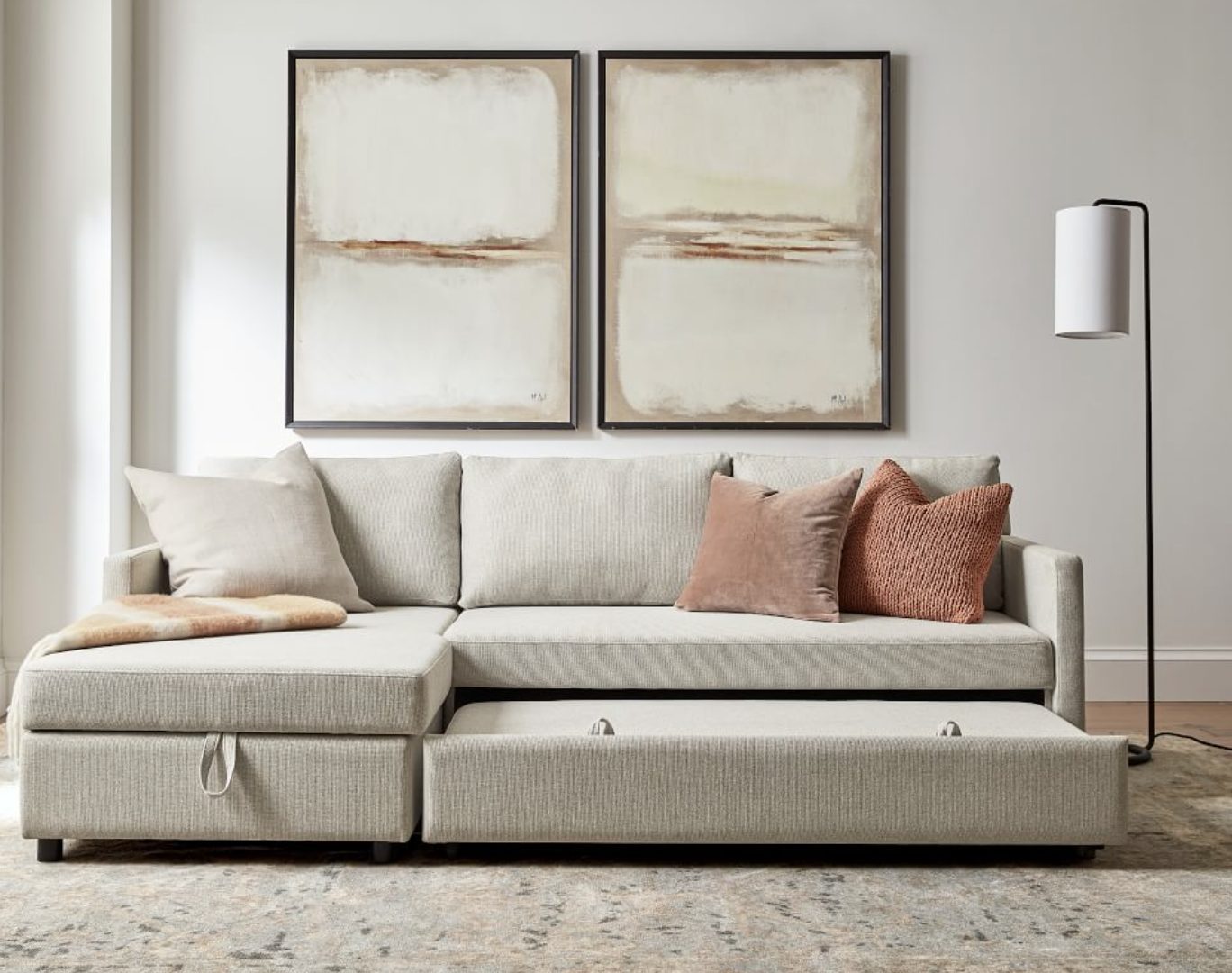 This sofa was made for compact living areas and bedrooms. Pacifica reimagines vintage design in a modern silhouette. Slender track arms and a deep profile make this couch comfortable, whether lounging or sleeping on the pull-out mattress.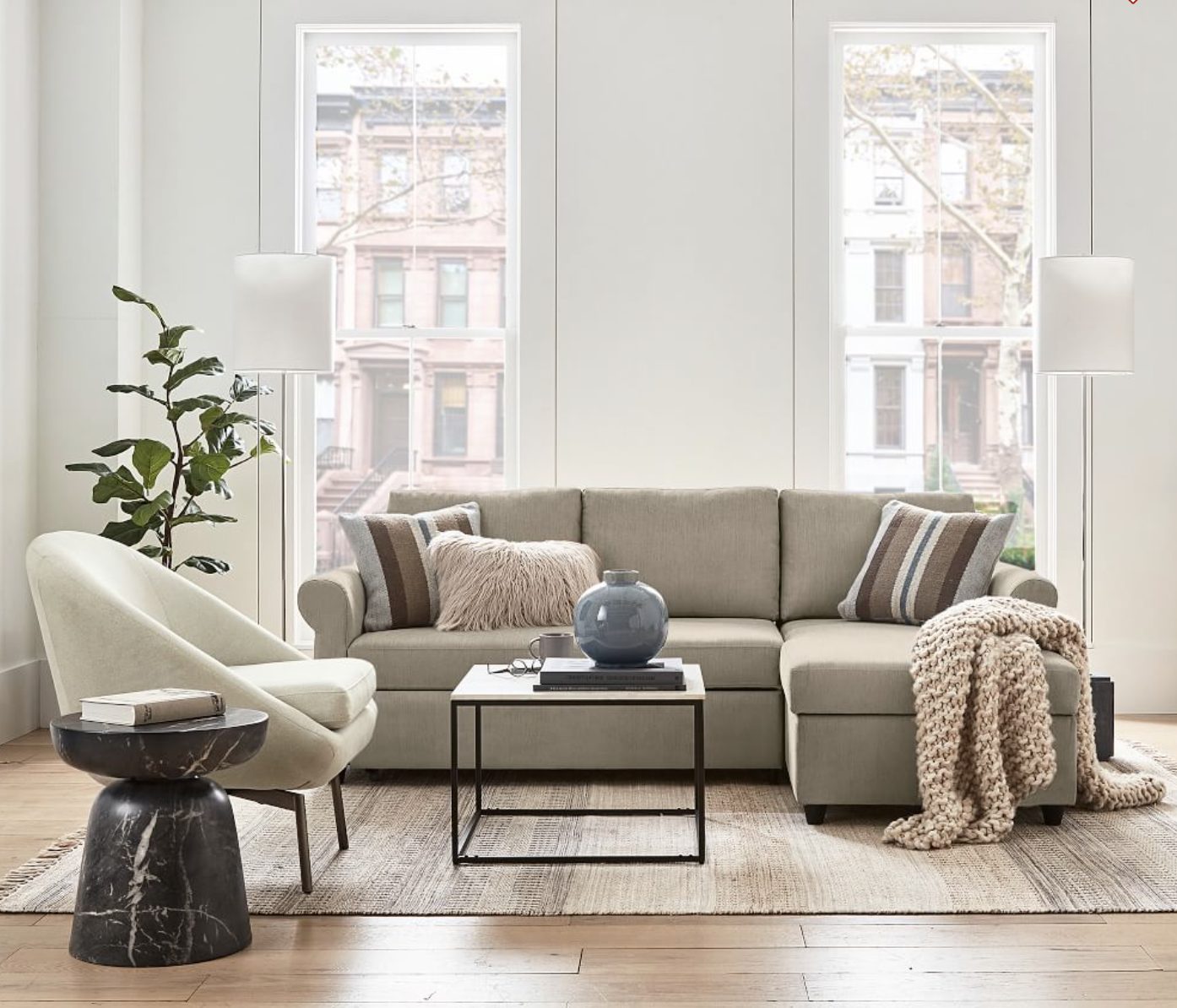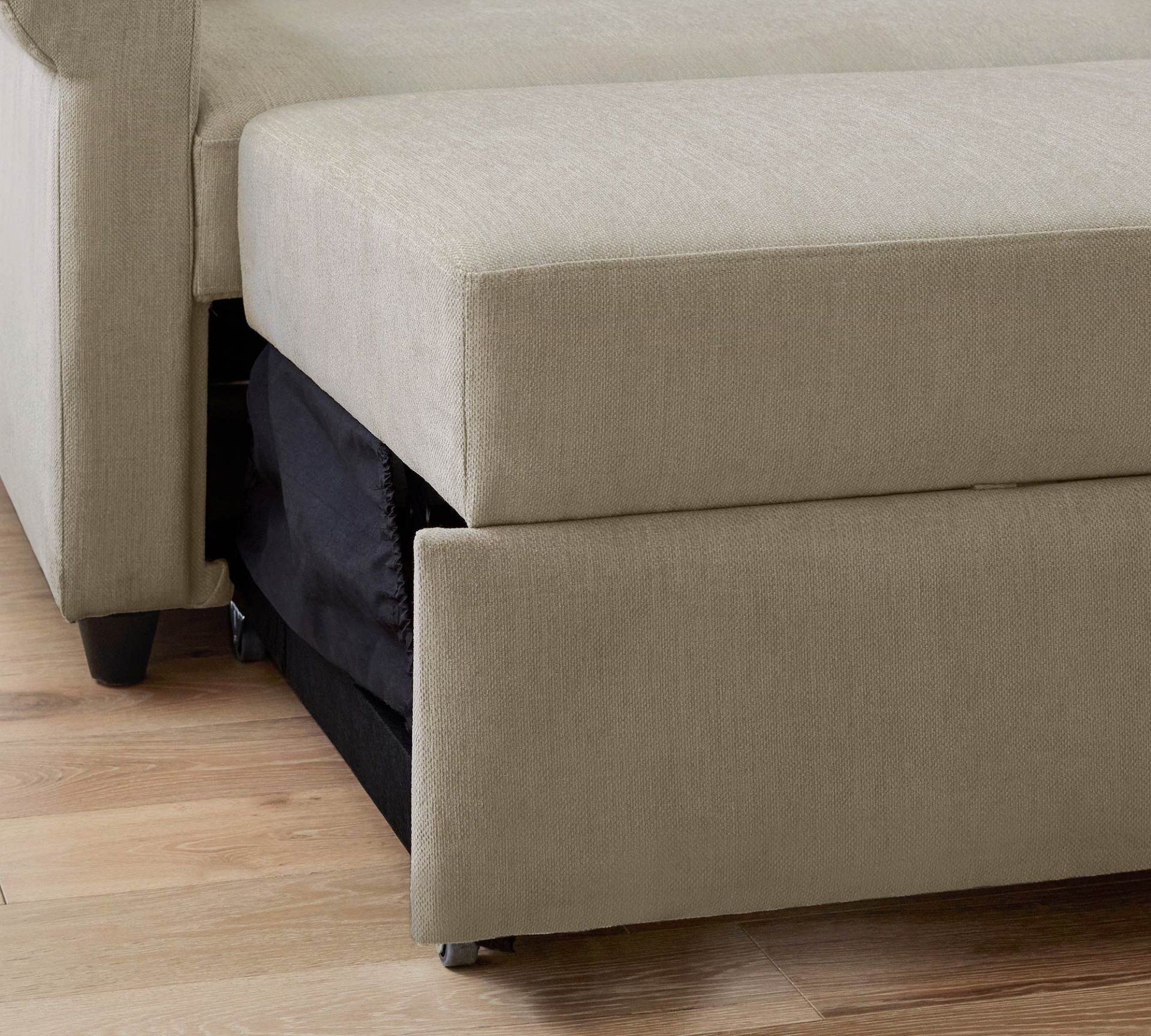 The Sanford is tailored in traditional forms with small-space living in mind. Trim arms and loose cushions top a trundle mechanism that conceals extra storage and doubles as additional seating for visitors.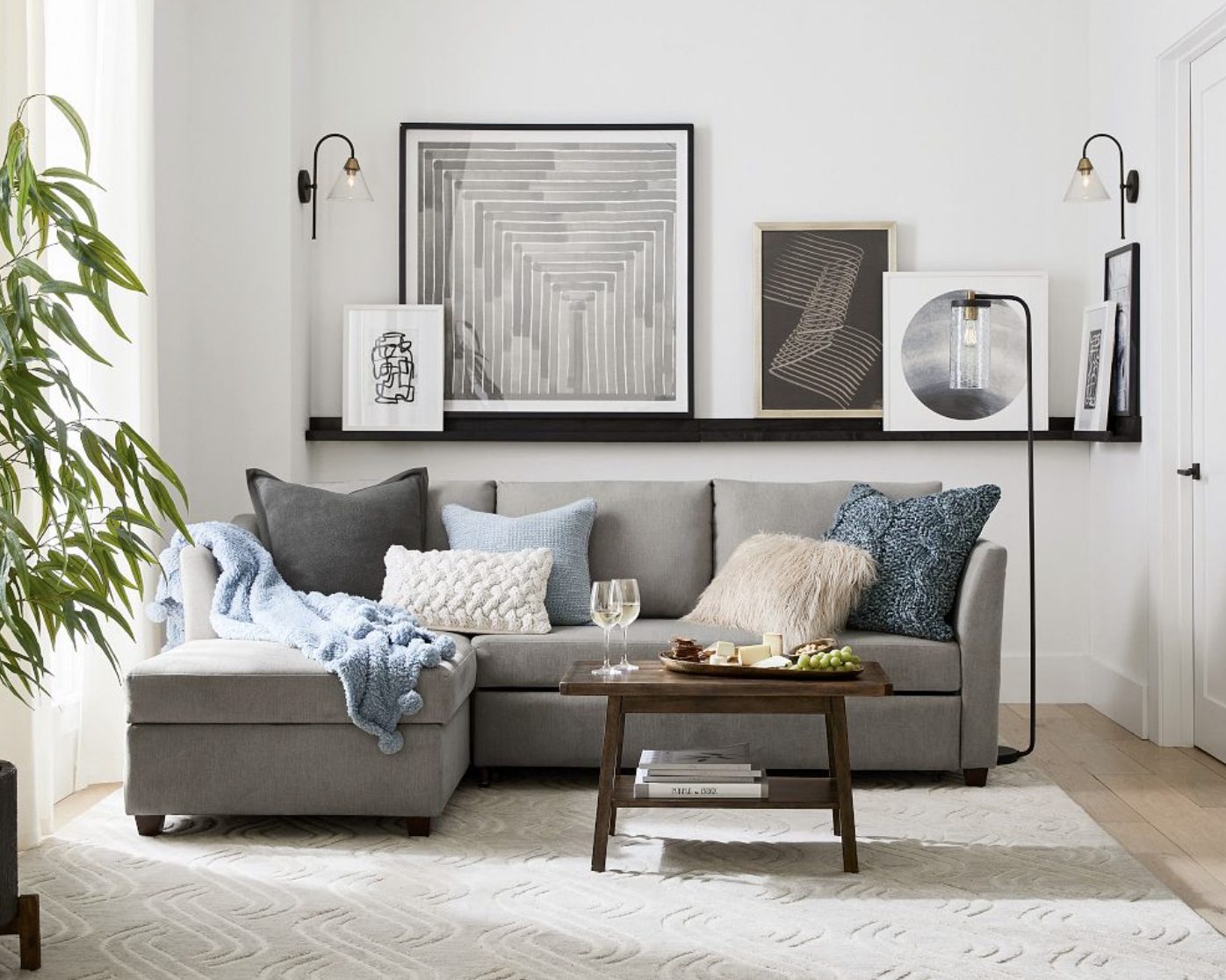 Despite Celeste's delicate appearance, its exquisite craftsmanship is made to last. With a sleek silhouette and minimalist footprint, this sleeper sofa takes up less space than a conventional piece.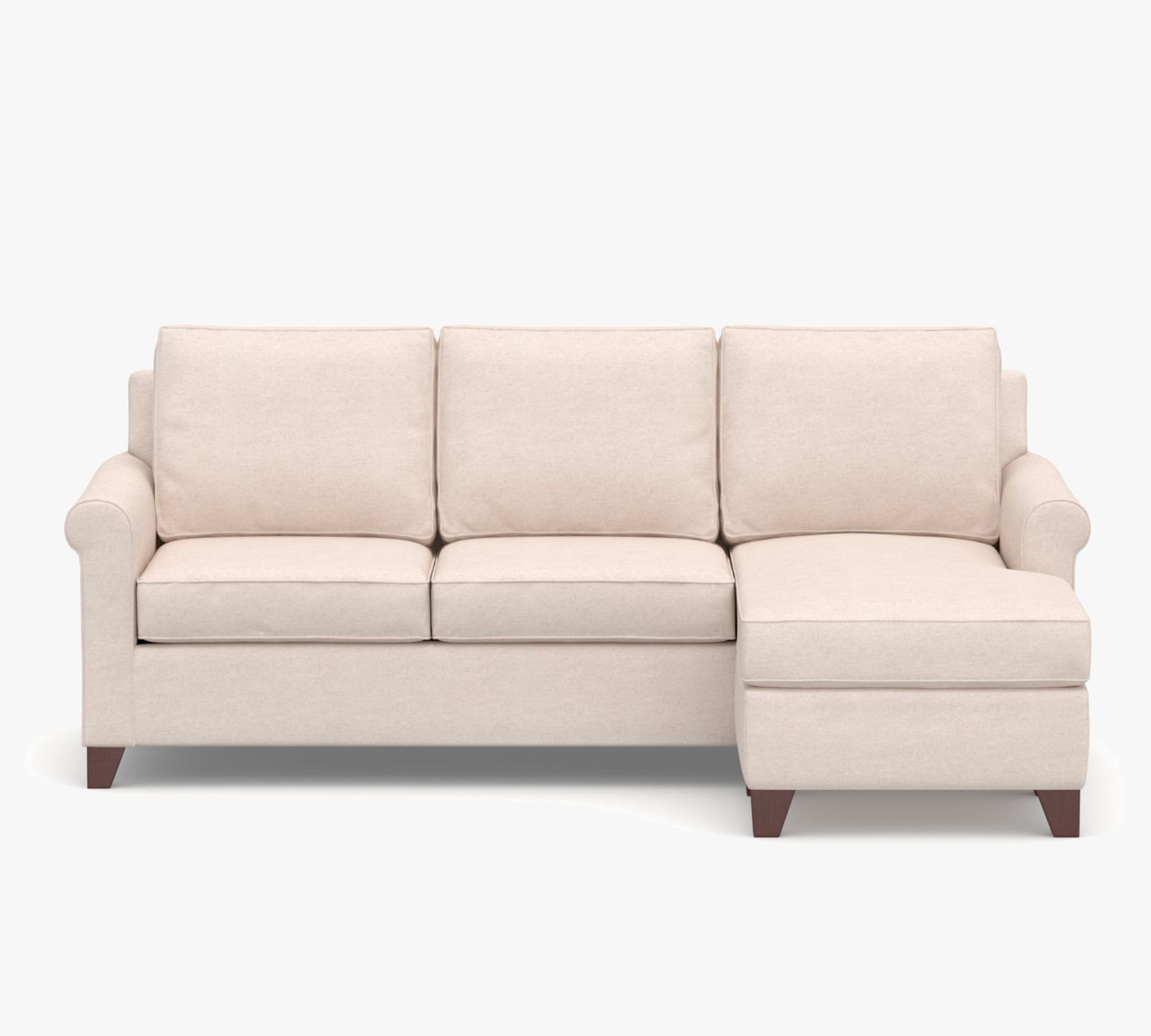 Cameron's timeless velvet cushion and thickly padded armrests are compact in design without compromising comfort. The sleeper sofa transforms into a queen-sized memory foam mattress perfect for overnight guests.
Cameron is also available with square arms!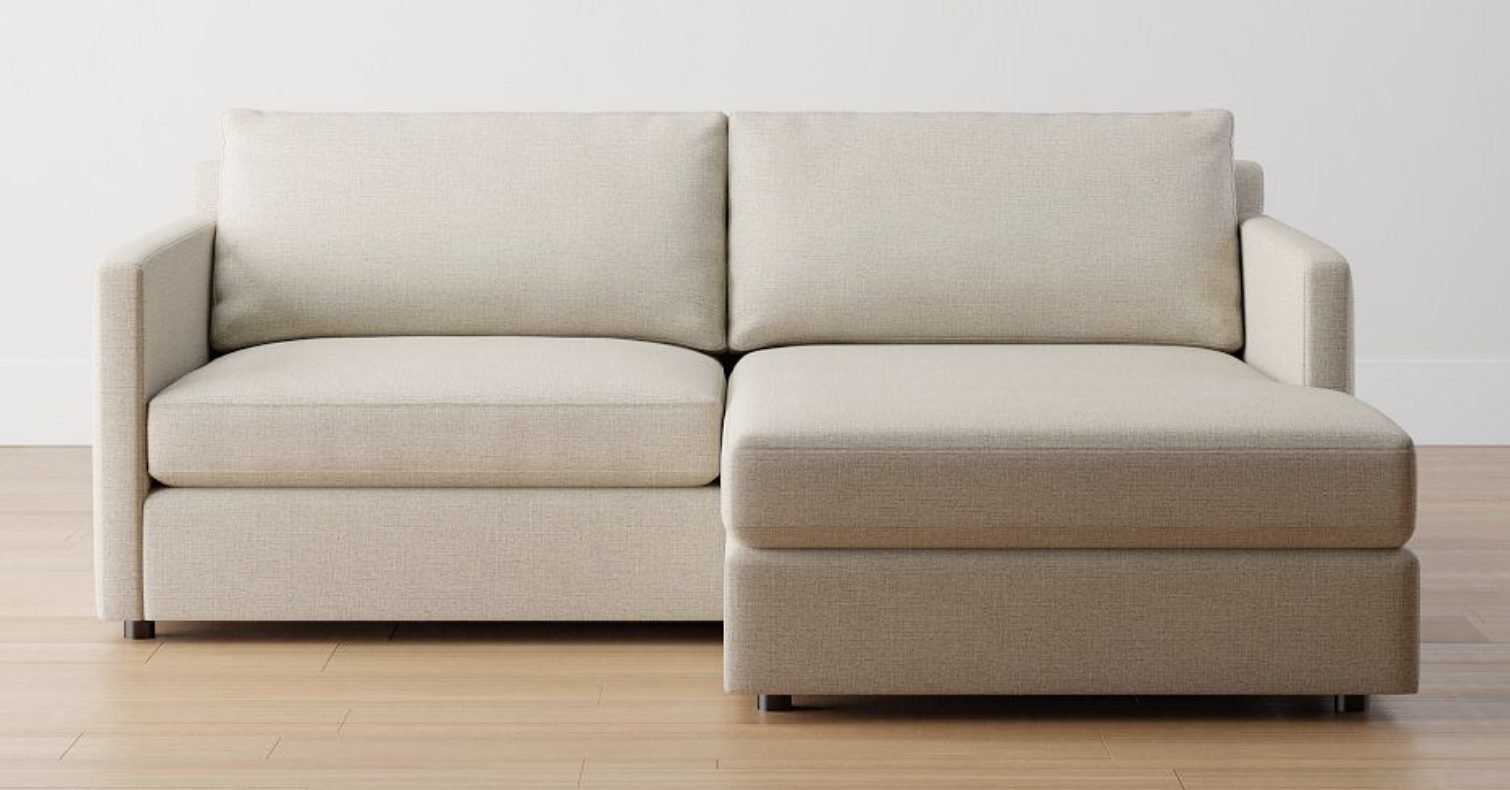 Sized for compact living, the Pacifica imagines vintage design in a modern silhouette. This sleeper sofa is equipped with sink-in cushions and beautiful slender track arms.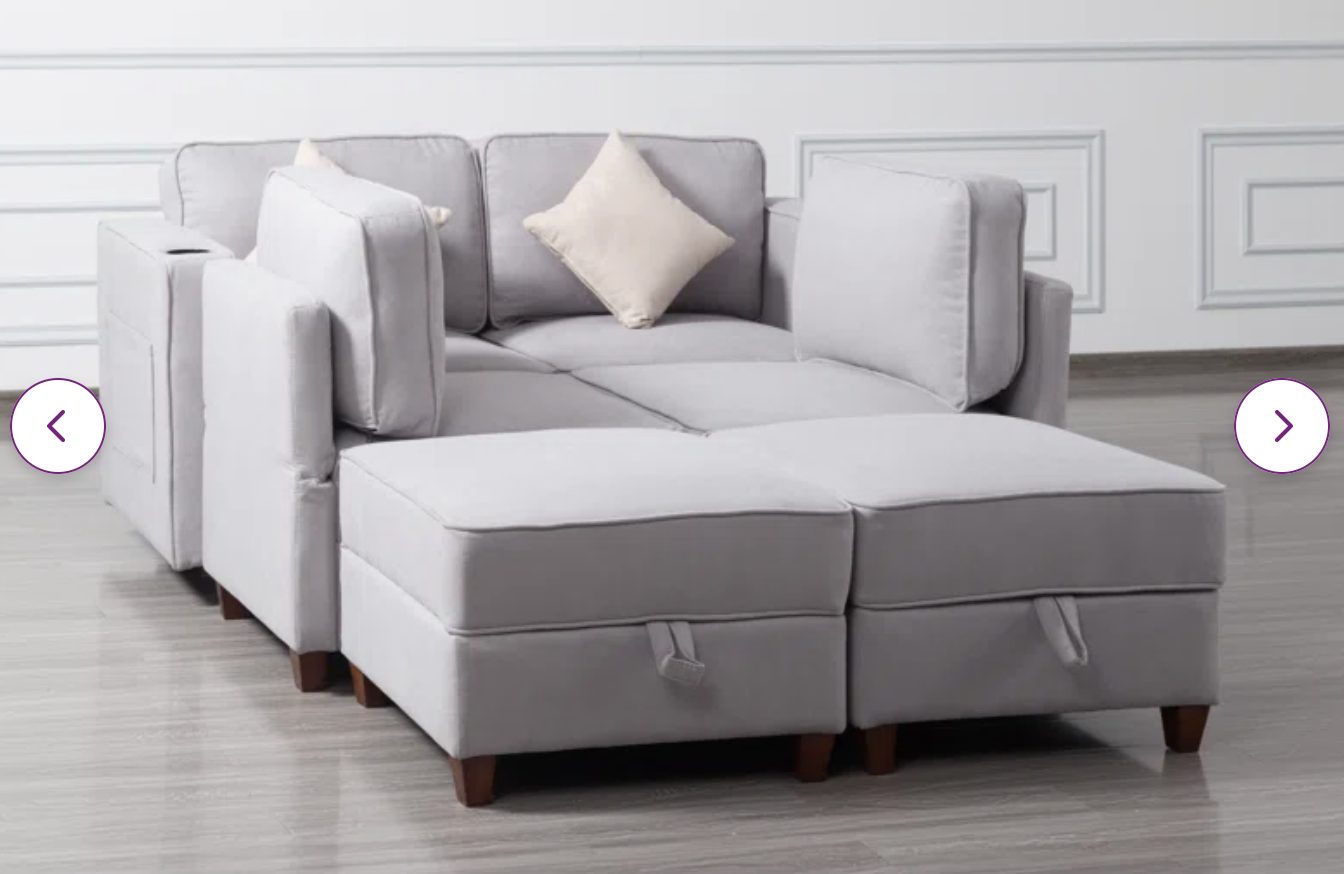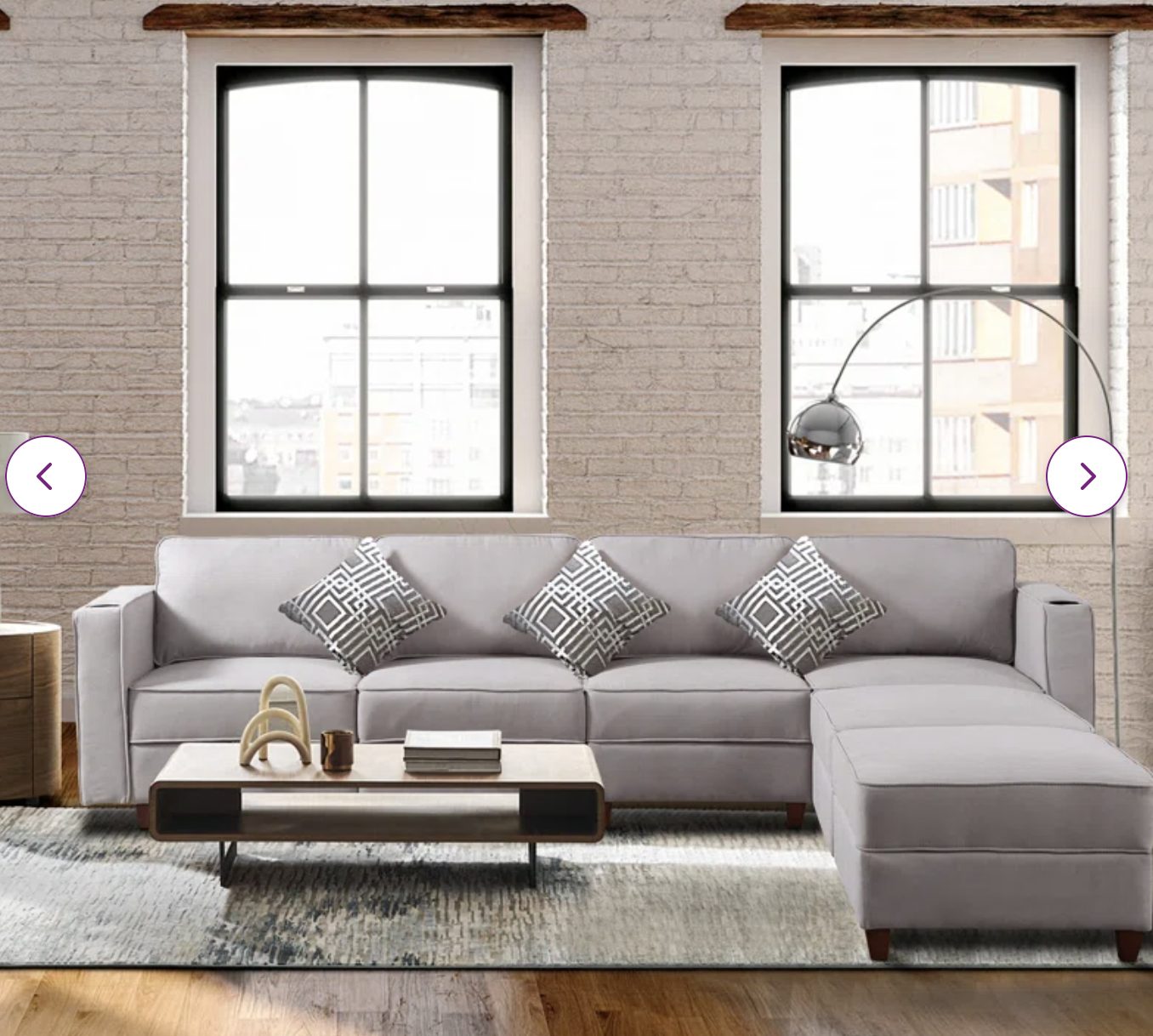 This sectional sofa is ideal for cozy evenings, leisurely days, and making memories with family and friends. The side of the couch opposite the chaise pulls out to reveal a queen-size mattress.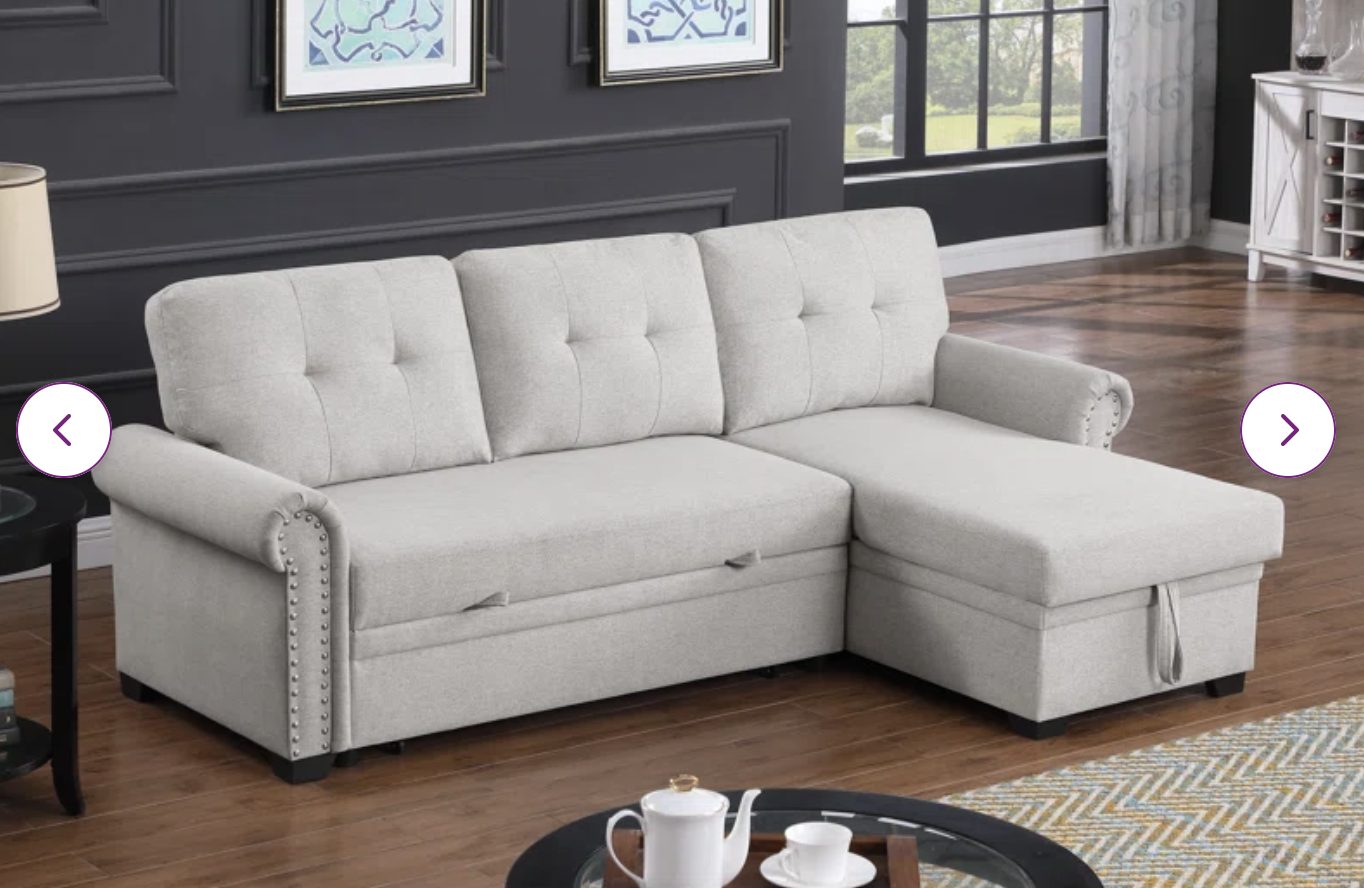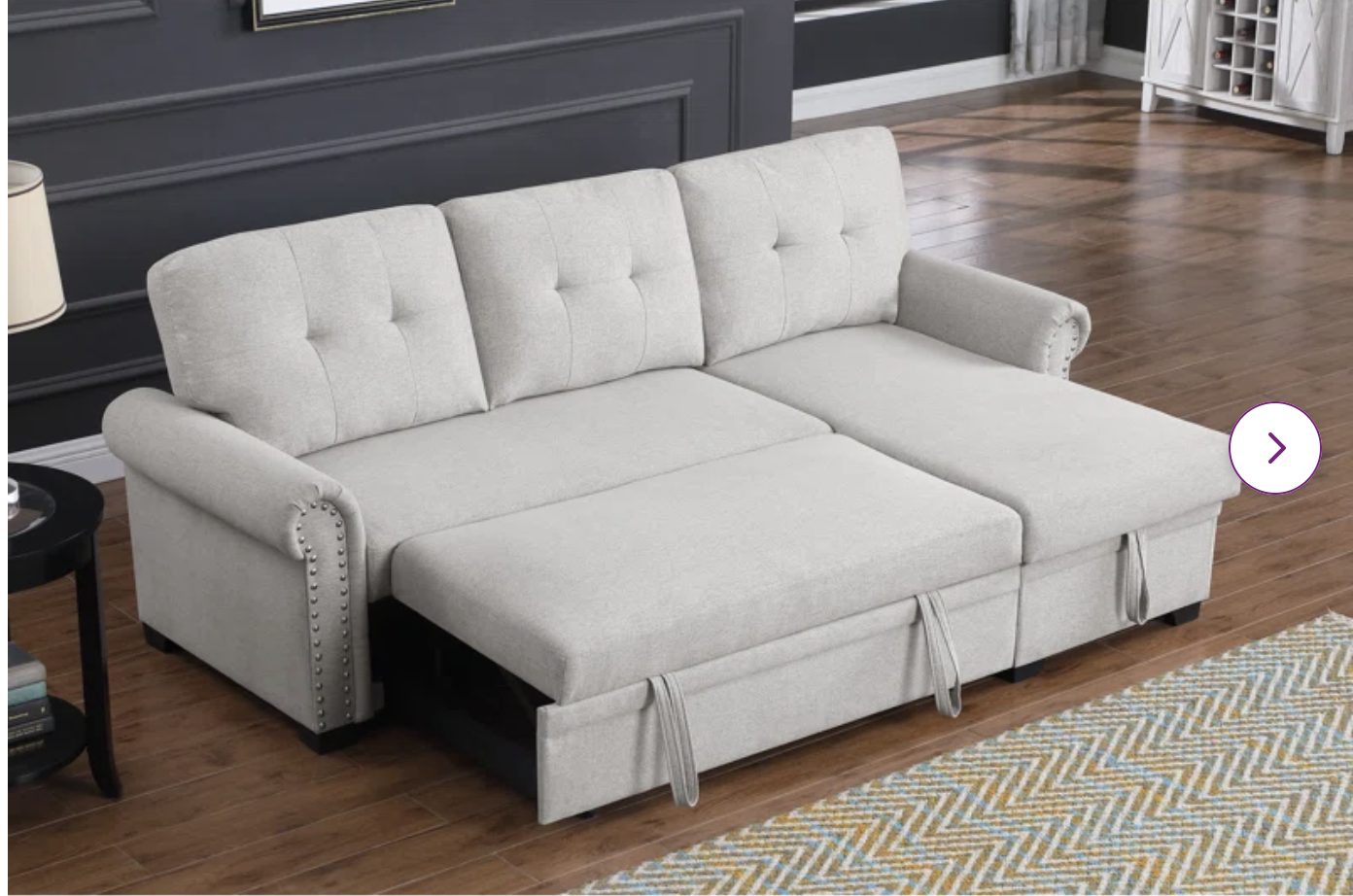 This sleeper sofa has a sleek, modern aesthetic. Designed with a smaller footprint, Jae-Leigh offers storage under the chaise and takes the place of a quest room.
Final Thoughts
Investing in the perfect sleeper couch is a great way to add additional seating and an extra bed for hosting more of your loved ones. We hope this post helps you find the perfect sectional couch with pull out bed!