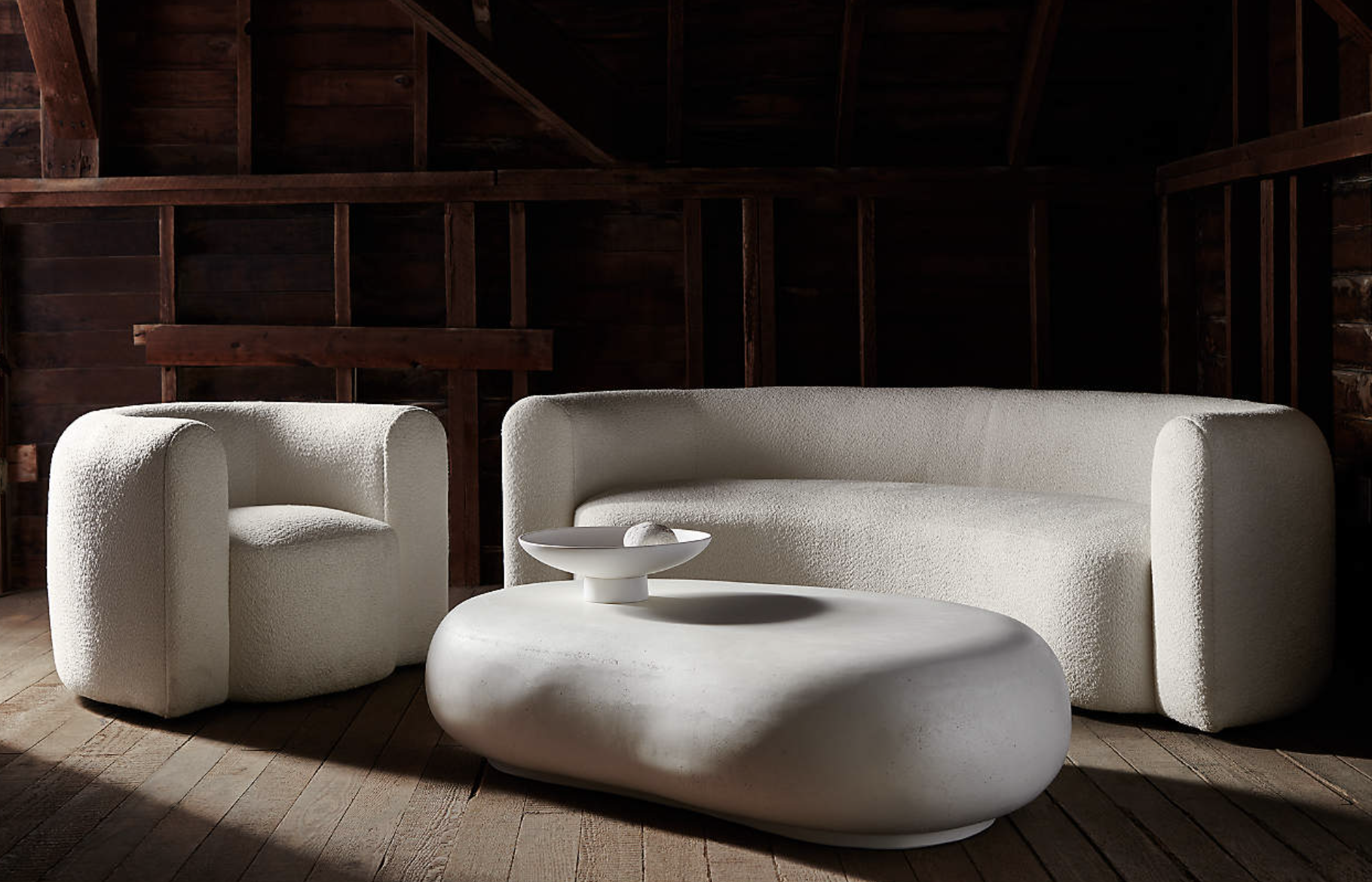 If you are looking for a stunning and unique couch to tie your space together—look no further! We have scoured the internet for the most fun and stylish couches that will be sure to make a statement.
YOU'LL ALSO LOVE: Where to Buy a Mid Century Modern Couch | The Best Chesterfield Sofas at Every Price Point | 14 of The Best Modern Sectionals That we Love
Here are 16 of the most stunning sofas for your space:
---
Unique Couches For Your Home
1. Catania Outdoor Tufted Unique Sectional
The Catania Outdoor Tufted Sectional is a "build your own" sectional. All of the pieces can be purchased individually and easily placed together in whatever way compliments your space the best. These pieces quickly connect with interlocking clips, and this couch is sturdy and tough enough to be used indoors or outside.
2. Deans Upholstered Sofa
The Deans Upholstered Sofa is a curved sofa that has a unique silhouette from every angle. This sofa can be used in a corner to save space, or centered by a wall. This sofa comes in two colors—white and dark gray.
3. Modern Line Tufted Bench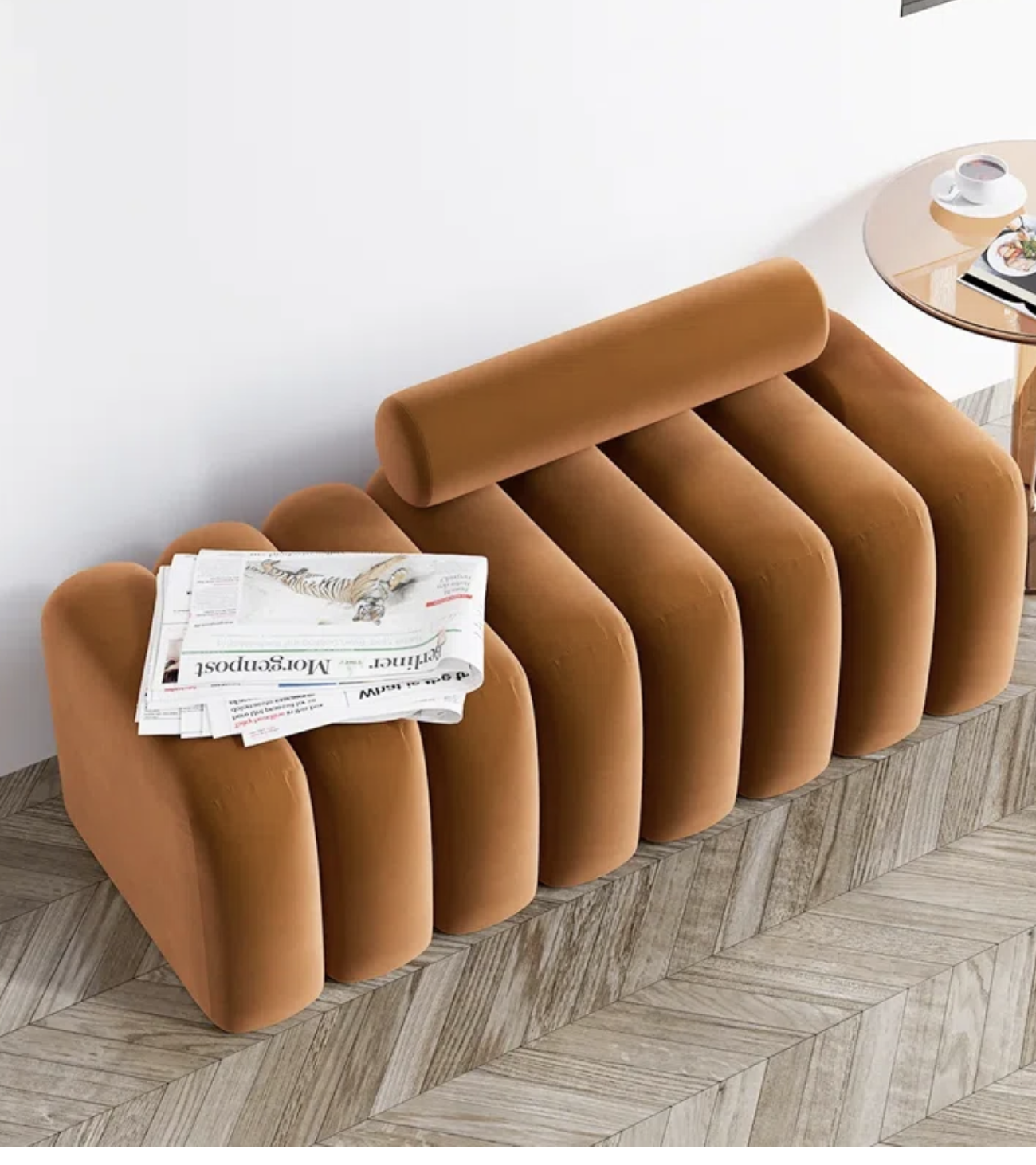 This Modern Line Tufted Couch is made from a velvet material and is a fun and stunning way to add additional seating in your space. The offset backrest gives a similar feel as a chaise lounge, and this bench can seat 3 people comfortably.
4. Modular Velvet Sofa
This Modular Velvet Sofa is another "build your own" style couch. Fit whatever pieces compliment your space together for a customized fit. This couch also comes in 8 bright and bold colors that will make a statement in any space.
5. Sesann Unique Couch
This Sesann Sofa is a stunning low design that features plenty of curves for the ultimate amount of comfort. This sofa comes in several different materials and colors so you can perfectly match it to your space. This includes velvet, vegan leather, boucle, etc. Comfortably seat up to three guests on this unique couch.
6. Modular Recycled Leather Sofa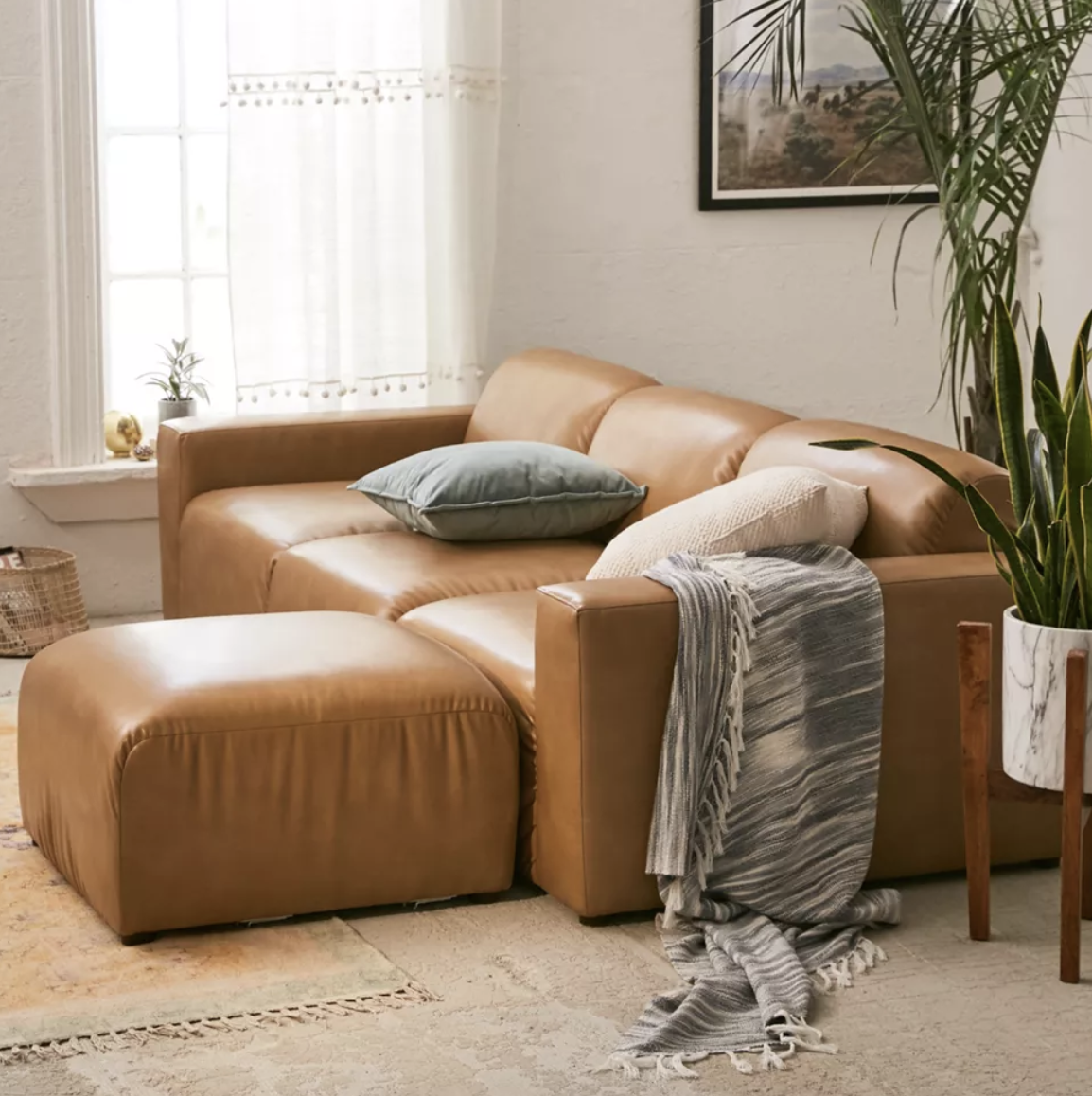 This Modular Recycled Leather Sofa is another mix and match sofa that offers ultimate customization to your space. This sofa is made of recycled leather and comes in 4 stylish colors—brown, black, cranberry, and dark gray. Each piece is made to order.
7. Hugger Curved Boucle Sofa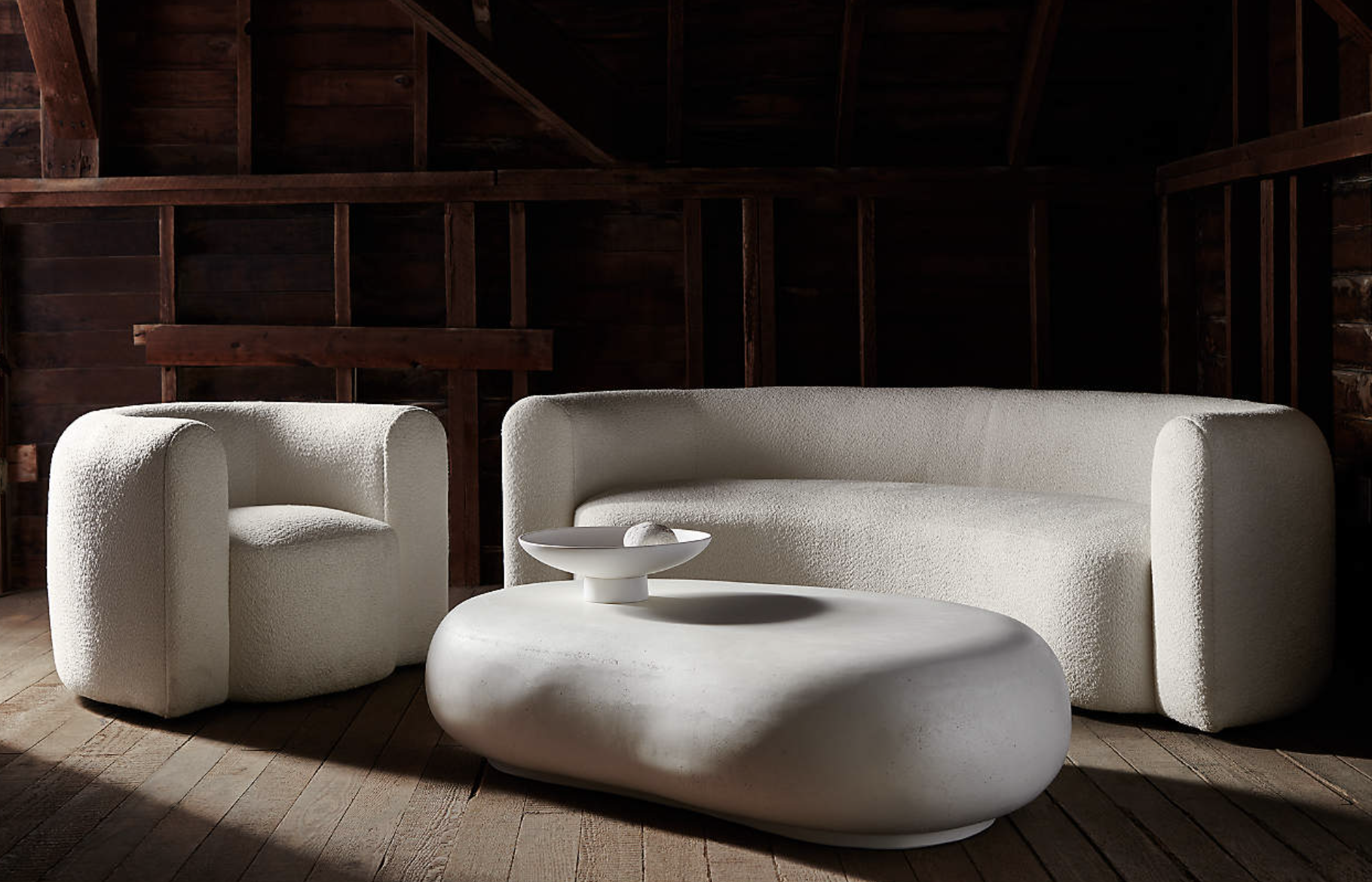 This Hugger Curved Boucle Sofa is a stunning curvy design that is sure to add a unique charm to any space. This couch is made from a high quality boucle material and balances comfort with a luxurious feel. The curved design is ideal for adding flow and encouraging conversation while you entertain. Definitely a favorite of the unique couches for sure!
8. Strato Boucle Sofa
This Strato Boucle Sofa balances soft curves and stunning geometry in a unique and fun design. This vintage 70s inspired sofa is built for the ultimate comfort in your space. This 80" sofa can comfortably seat 3-4 guests.
9. Curvo Camel Velvet Sofa
This Curvo Camel Velvet Sofa is a stunning curved design with an intricately designed backrest. This mid-century modern sofa features fluid lines and is perfect for those hoping to achieve a feeling of movement and flow in their space. This sofa is built for comfort while also adding elegance and charm to your space.
10. Alesso Sleeper Sofa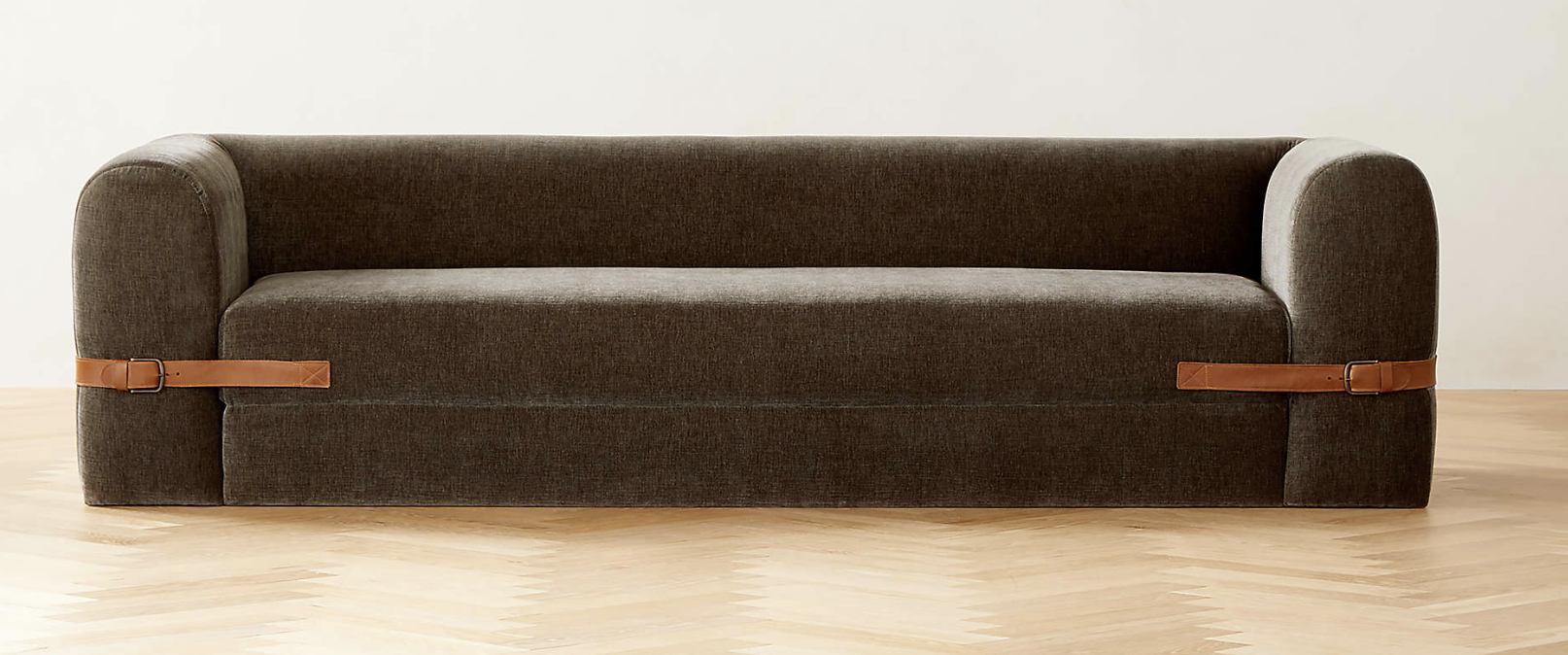 This Alesso Sleeper Sofa is ideal for those who want an extra bed for the occasional guest, while maintaining a modern charm in their space. This sleeper sofa is not bulky and easily drops out into a queen sized bed. This sofa is made from performance velvet and features two leather belts for functionality and additional interest and texture.
11. Curved Plushtone Linen Sofa
This Curved Plushtone Linen Sofa features soft corners, overstuffed cushions and sits directly on the floor instead of on legs. This sofa is crafted in Mexico and boasts being made of 50 percent fiber and 50 percent down. This sofa is sure to be the most comfortable sofa you've ever experienced.
12. Bella Mid-Century Modern Sofa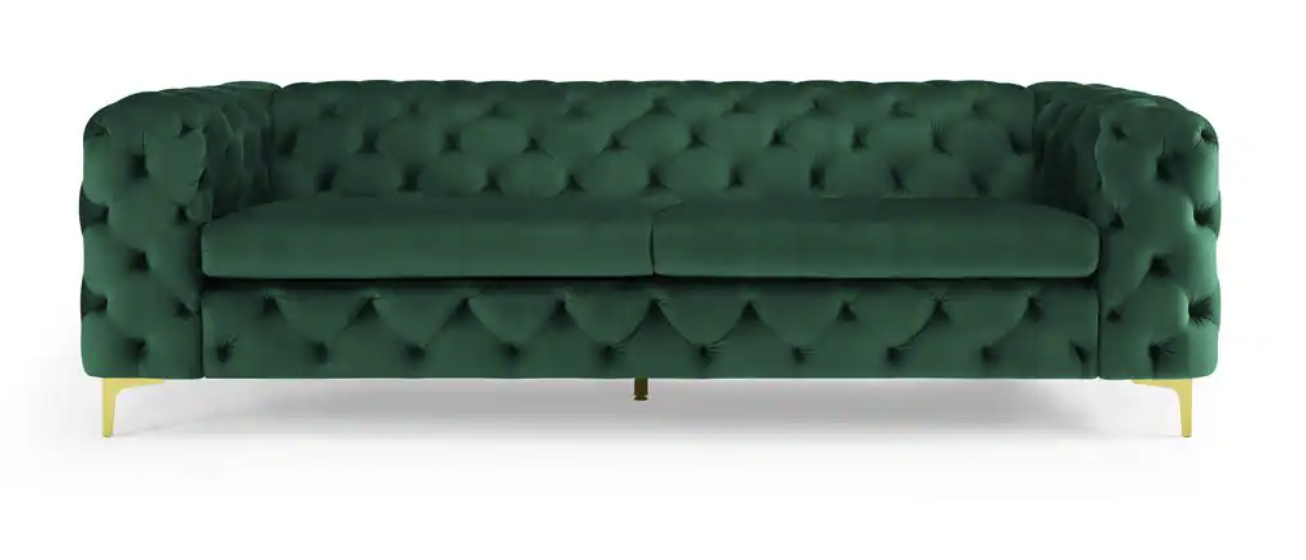 This Minimore Bella Sofa is a mid-century modern chesterfield style sofa with deep tufts and soft corners. This sofa sits upon four stylish and modern gold brushed legs, and is crafted with a high quality velvet material. This sofa is sure to make a statement and add a luxurious touch to any space.
13. Roar & Rabbit Curved Back Chair
This Roar & Rabbit Curved Back Chair is perfect for those that want to add a sense of playfulness to their space. Switch up how you style your pieces to keep your space fresh and inviting. This piece comes in seemingly endless fabric and color variations so you can perfectly match this piece to your space.
14. MGH Convertible Modular Sectional Sofa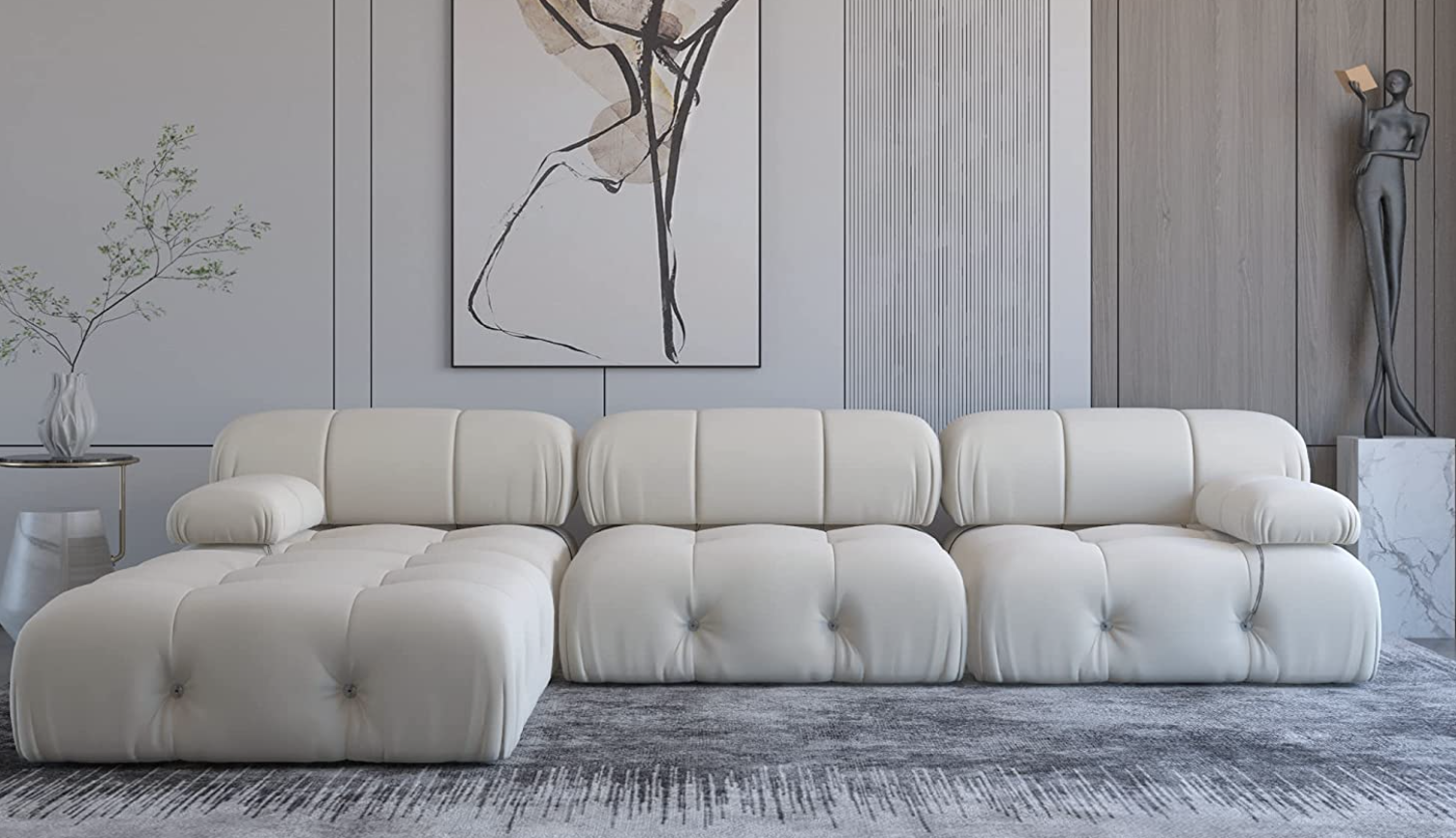 This MGH Convertible Modular Sectional Sofa is a versatile couch that can be rearranged to keep your space fresh and stylish. This sofa features soft edges and lines and and sits directly on the floor. The deep tufts add a luxurious feel to this bold sofa, and the velvet cushions make this sofa the epitome of comfort.
15. Novogratz Brittany Sleeper Sofa
The Novogratz Brittany Sleeper Sofa is a stunning 70s inspired design that is ideal for those who have the occasional overnight guest. The backrest of this sofa easily can be put down to accommodate guests on a queen sized bed. Choose between several stylish velvet colors to match this piece perfectly to your space.
16. Ever Slipcovered Sofa
The Ever Slipcovered Sofa is built to provide the ultimate comfort in your space while adding a sense of elegance and luxury. This sofa features pillow seats on the armrests for comfort and charm. This sofa comes in two different sizes and 17 different colors for ultimate customization.
Why Choose a Unique Sofa over a Timeless Sofa?
The idea of investing in a unique style sofa over a timeless style of sofa can be scary. Sofas can be pricey and most of us will want our furniture to stand the test of time. However, timeless pieces can feel dull to those who crave bold and unique style.
Trends are constantly changing, and if you are someone who enjoys setting trends instead of following them, a unique sofa will be sure to strike a conversation with all of your guests.