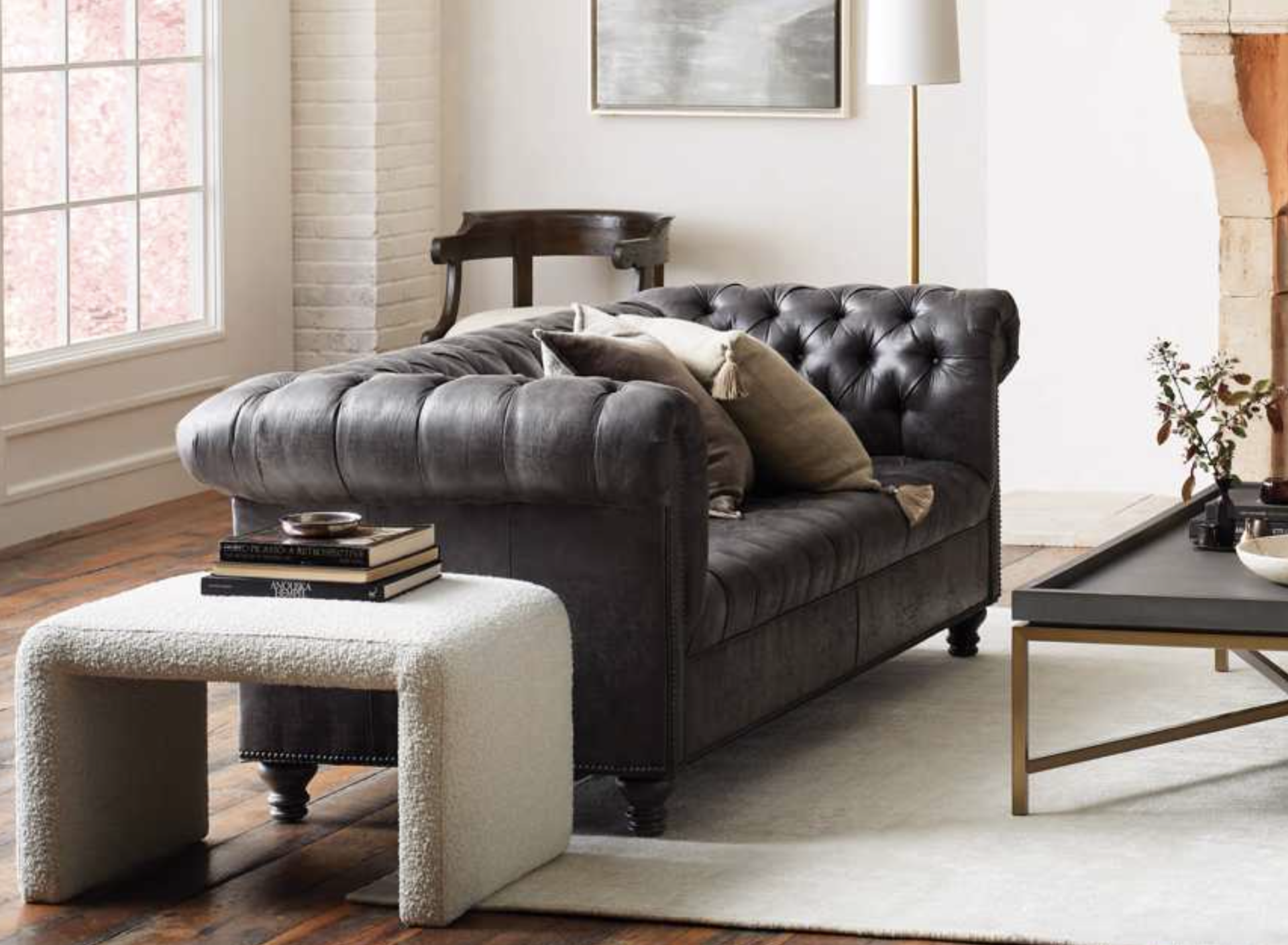 Choosing the right sofa for your space is a giant decision that can make or break your design. If you're in the market for a classic sofa to complete your space, a chesterfield style sofa may be the right choice for you.
You may also like: 10 White Curved Sofas That Will Transform Your Space | 14 of The Best Modern Sectionals That we Love | 10 Stain Resistant Couches that are Comfortable
What Makes a Sofa a Chesterfield Sofa?
Chesterfield sofas are recognized by their rounded arms, tufted cushions, and the continuous flow between the arm rests and the back rests. These sofas are traditionally found in deep leather, though can be crafted from any textile.
---
Best Chesterfield Sofa
Here are 15 of our favorite Chesterfield sofas for your space:
1. Paxton Tufted Loveseat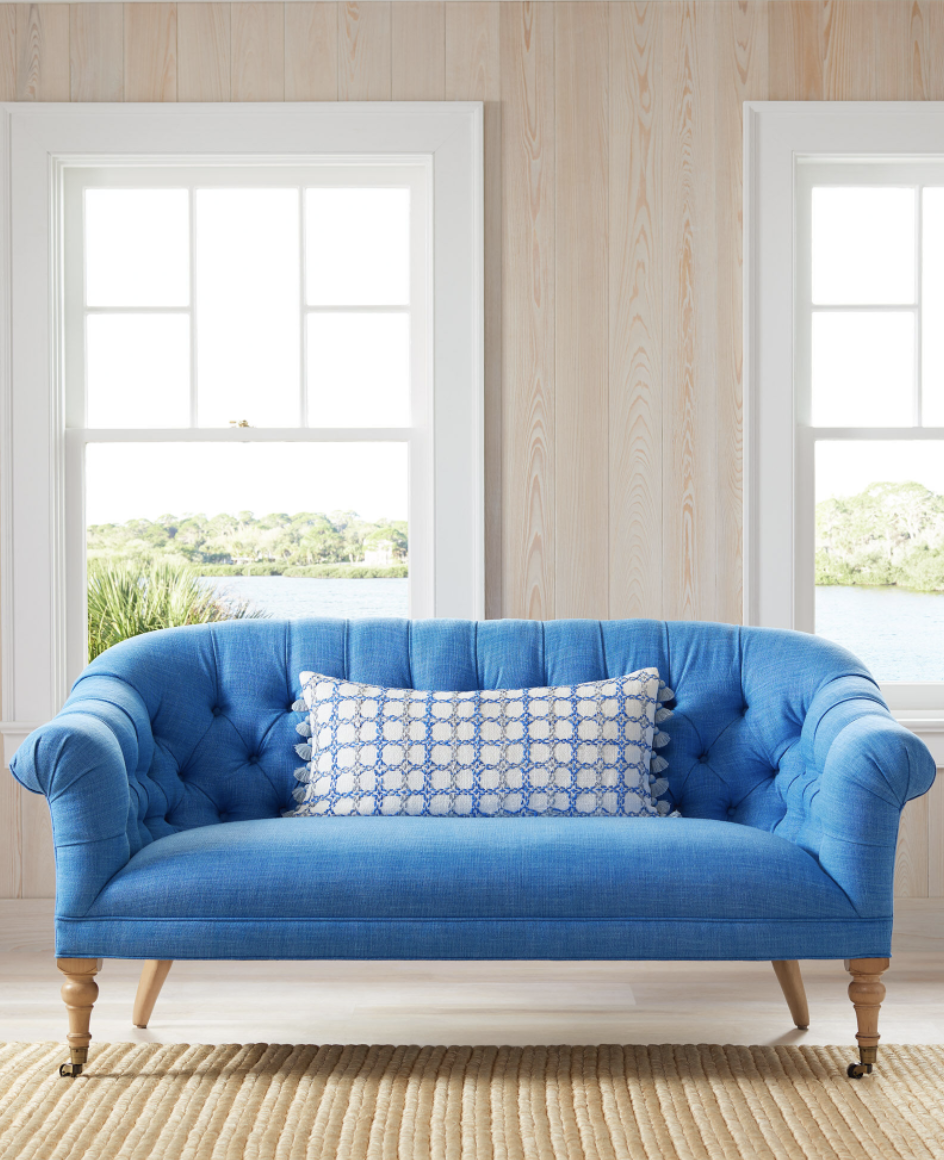 The Paxton tufted loveseat embodies the classic chesterfield design with its deep tufted cushions, ornate legs, and high armrests. This sofa can be customized with several different colors, finishes, fabrics and patterns. This sofa sits on four castors for easy mobility around your space.
2. Chatham Sofa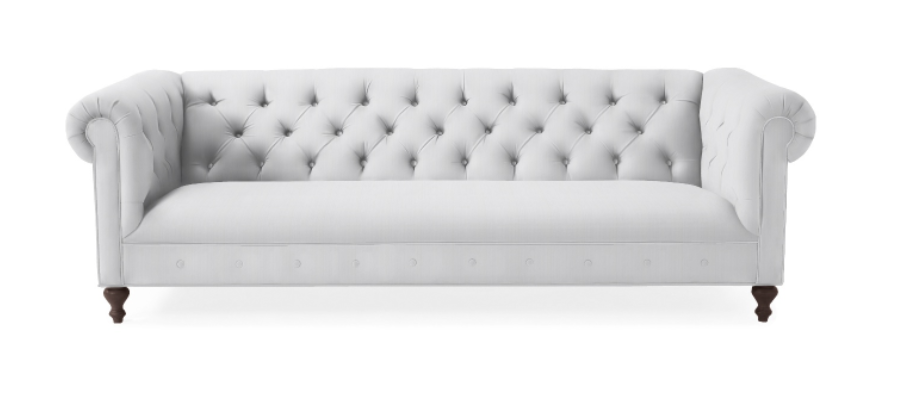 The Chathan Sofa is a luxurious couch that balances grace with a modern flair. Made from high performance dyed acrylic, this sofa is designed to resist all wear and tear that life throws at it. This sofa comes in two different fabrics— luxe leather, and velvet.
3. Chesterfield Roll Arm Grand Sofa
This Chesterfield roll arm upholstered grand sofa is a traditional button tufted design that is balanced with a modern comfort. The plush rolled arms are inviting and provide plenty of comfort. This couch is constructed with mortise -and-tenon joinery for ultimate stability and structural integrity. Choose between four different sizes and depths.
4. Leather Chesterfield Sofa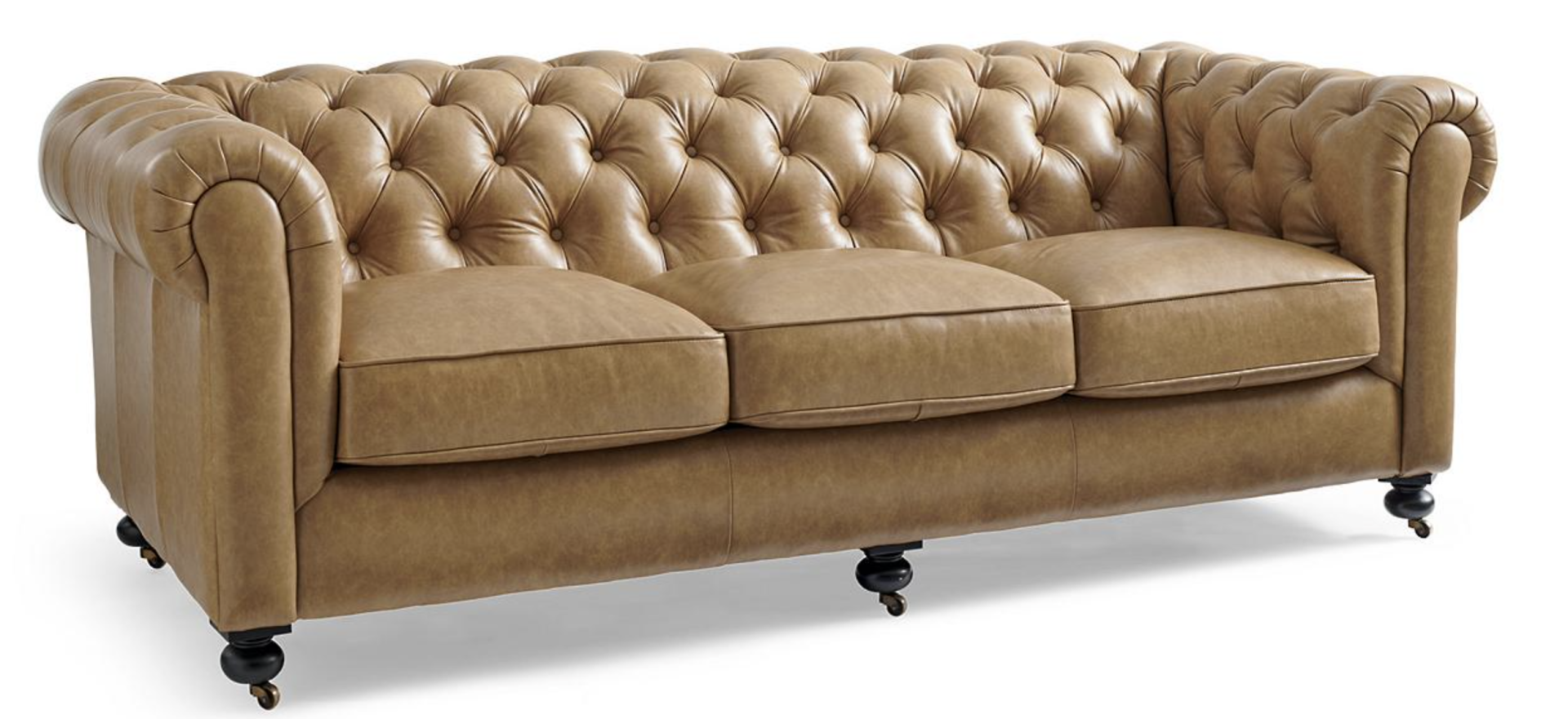 The London sofa takes a more traditional approach to the classic chesterfield design with its rich leather, deep tufted cushions and high armrests. The cushions are overstuffed for added comfort and the legs are fitted with castors to provide mobility through your space.
5. Dylan Sofa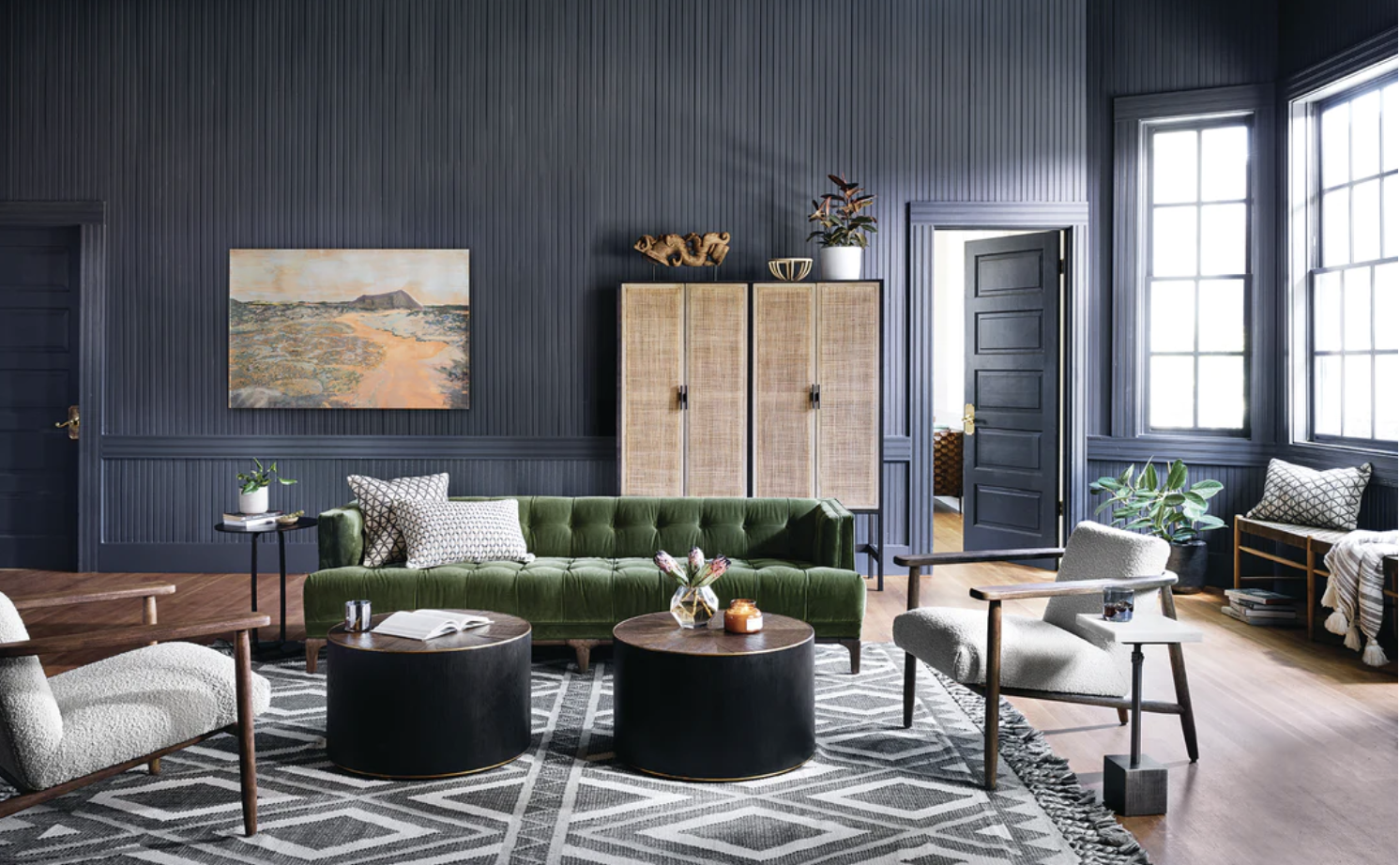 The Dylan sofa balances mid-century modern design with a classic chesterfield style. This low-sitting sofa features plenty of clean lines and interesting textures with the tufted olive green velvet details. This sofa is 89.75" long which is ideal for 3-4 guests.
6. Rollins Natural Washed Tufted Sofa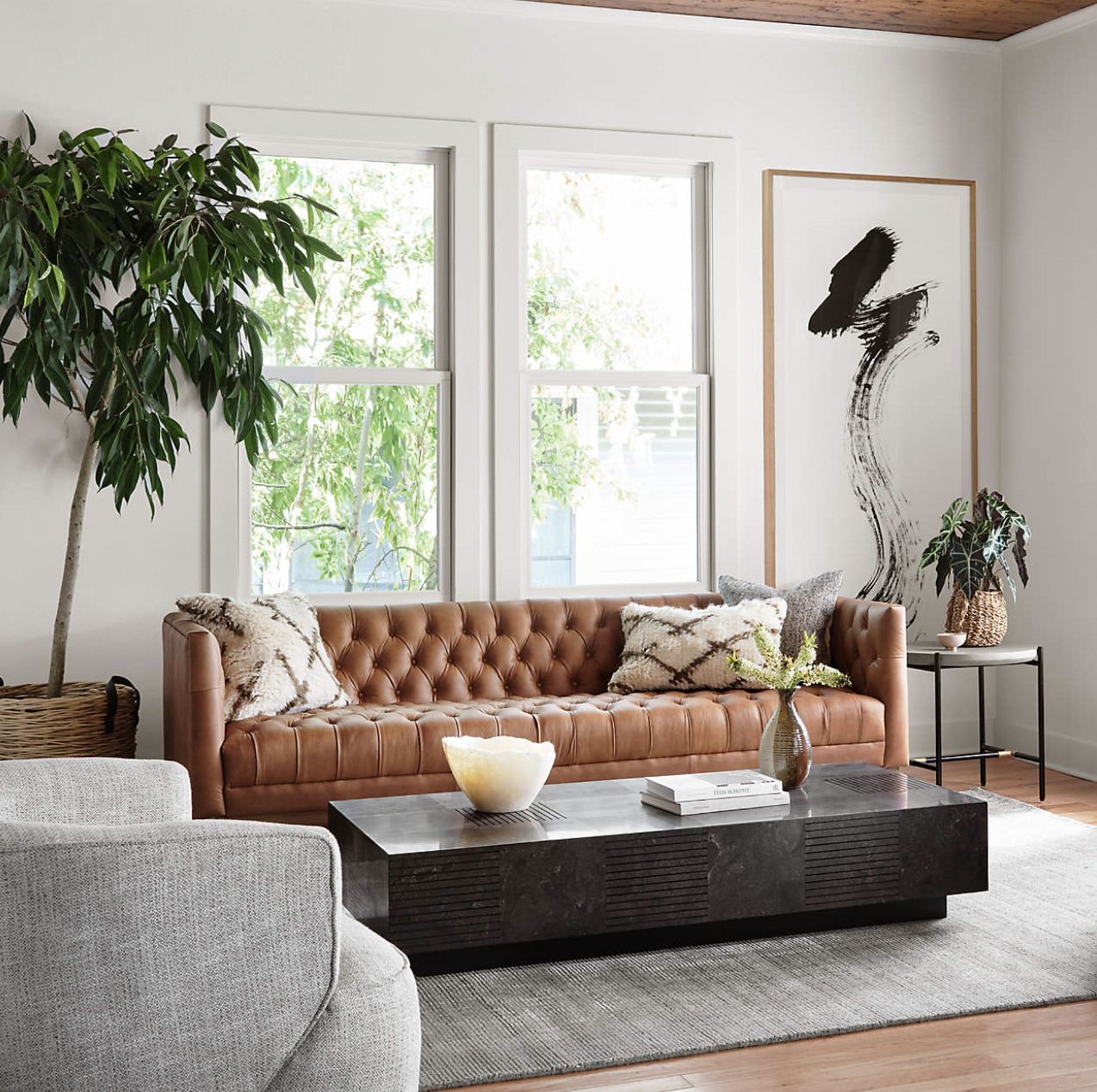 The sophisticated Rollins sofa is crafted from a luxurious top-grain leather and available in three beautiful colors. The tall angular arm-rests allude to a classic chesterfield design while adding a modern flair. Complete with tapered legs and a distressed finish to the leather— this couch is ideal for sophisticated and elegant spaces.
7. Sommerville Velvet Chesterfield Sofa

The Sommerville sofa is a classic chesterfield design with many of the traditional elements. This sofa is a statement piece that comes in four bold colors— blackberry, emerald, navy and slate. This streamlined statement piece is crafted from solid pinewood and a microfiber polyester blend fabric. This sofas low design and overstuffed cushions are built for ultimate comfort while remaining bold and stylish.
8. Blakely Sofa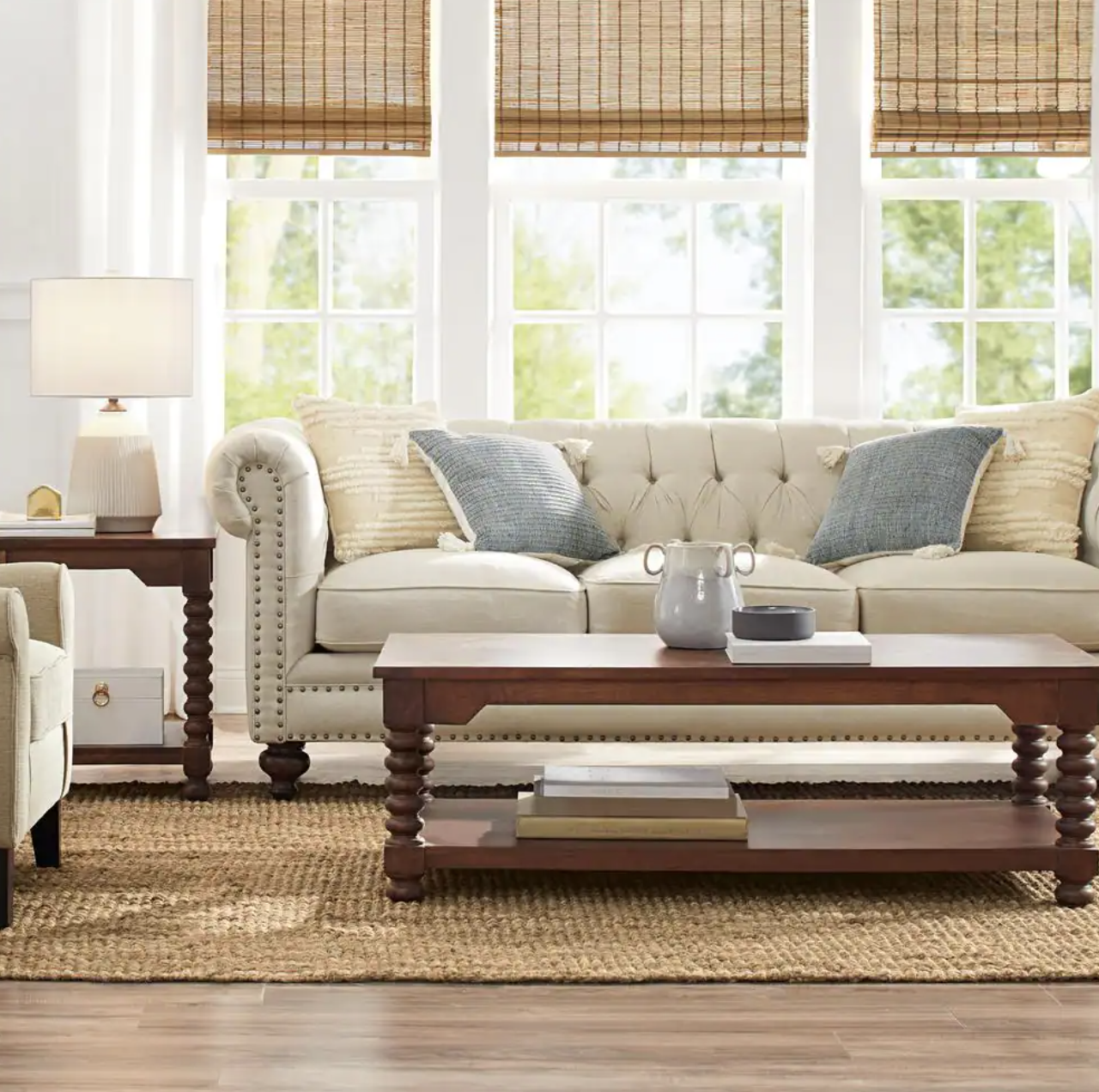 The Blakely sofa is an elegant and luxurious classic chesterfield design with deep tufted cushions, classic rolled arms and a nickel nailhead finishings. The solid wood legs are made of a finished black walnut. This couch spans 95 inches long and features three overstuffed bottom cushions for maximal comfort.
9. Somerville Chesterfield Sofa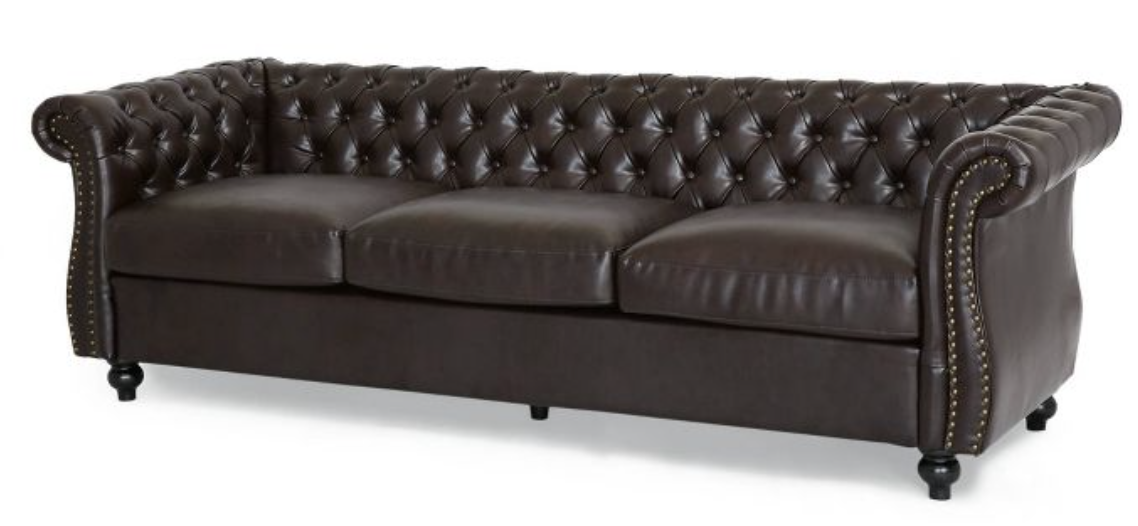 The Somerville Chesterfield sofa is an ideal option for those wishing to achieve a classic and traditional style to their space. This sofa has classic chesterfield design elements such as a low back rest, rolled arms, deep button tufting and nickel finishings. This sofa comes in six stylish faux leather designs to customize perfectly to your space.
10. Lyre Sofa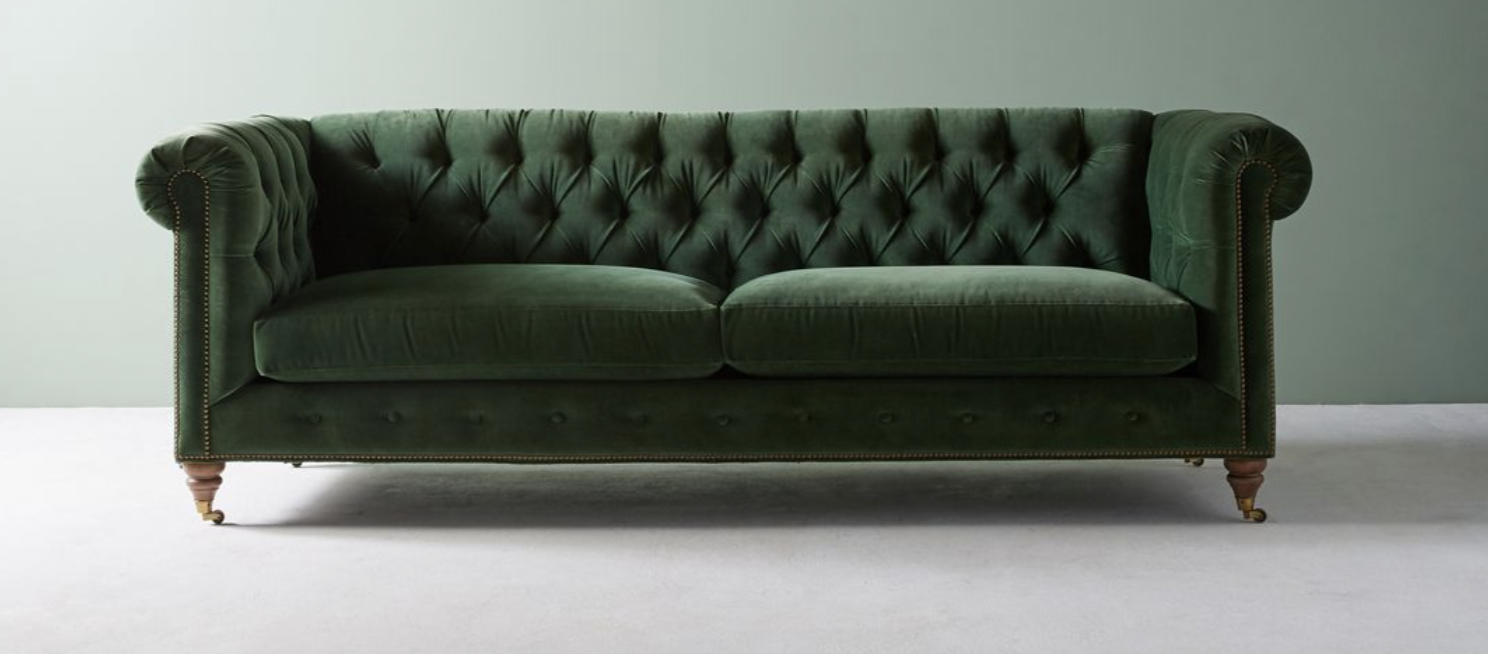 The Chesterfield style Lyre sofa is an 18th century inspired oversized design that comes in three bold rich colors— petunia, bora bora, and emerald. This couch is a soft velvet fabric with overstuffed cushions for ultimate comfort. The castors allow for easily mobility throughout your space.
11. Milly Velvet Sofa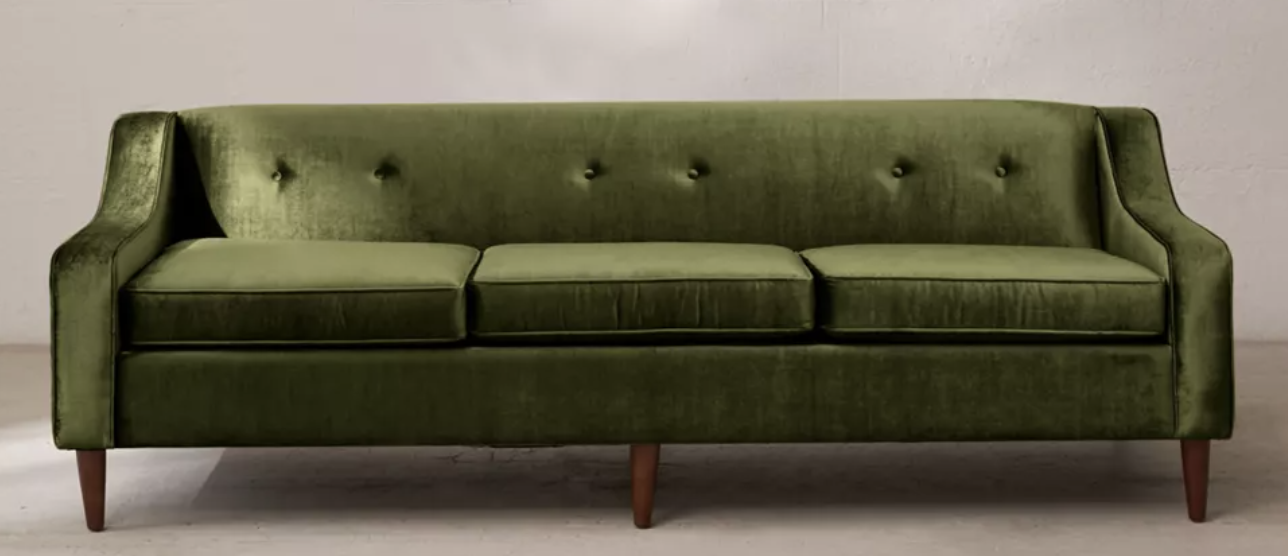 The vintage-victorian styled Milly velvet sofa features stunning curved yet clean lines and a classic three-seat design. This sofa also features a low profile and tufted button finishes. Choose between eight different bold colors to match your space.
12. Savile Leather Tufted Sofa
The Savile leather tufted sofa features clean modern lines with a classic flair with a low back and deep button tufts. The spacious square frame sits upon chrome finished metal legs. This leather couch comes in two different sizes— 68 inches and 92.5 inches.
13. Fellows Leather Sofa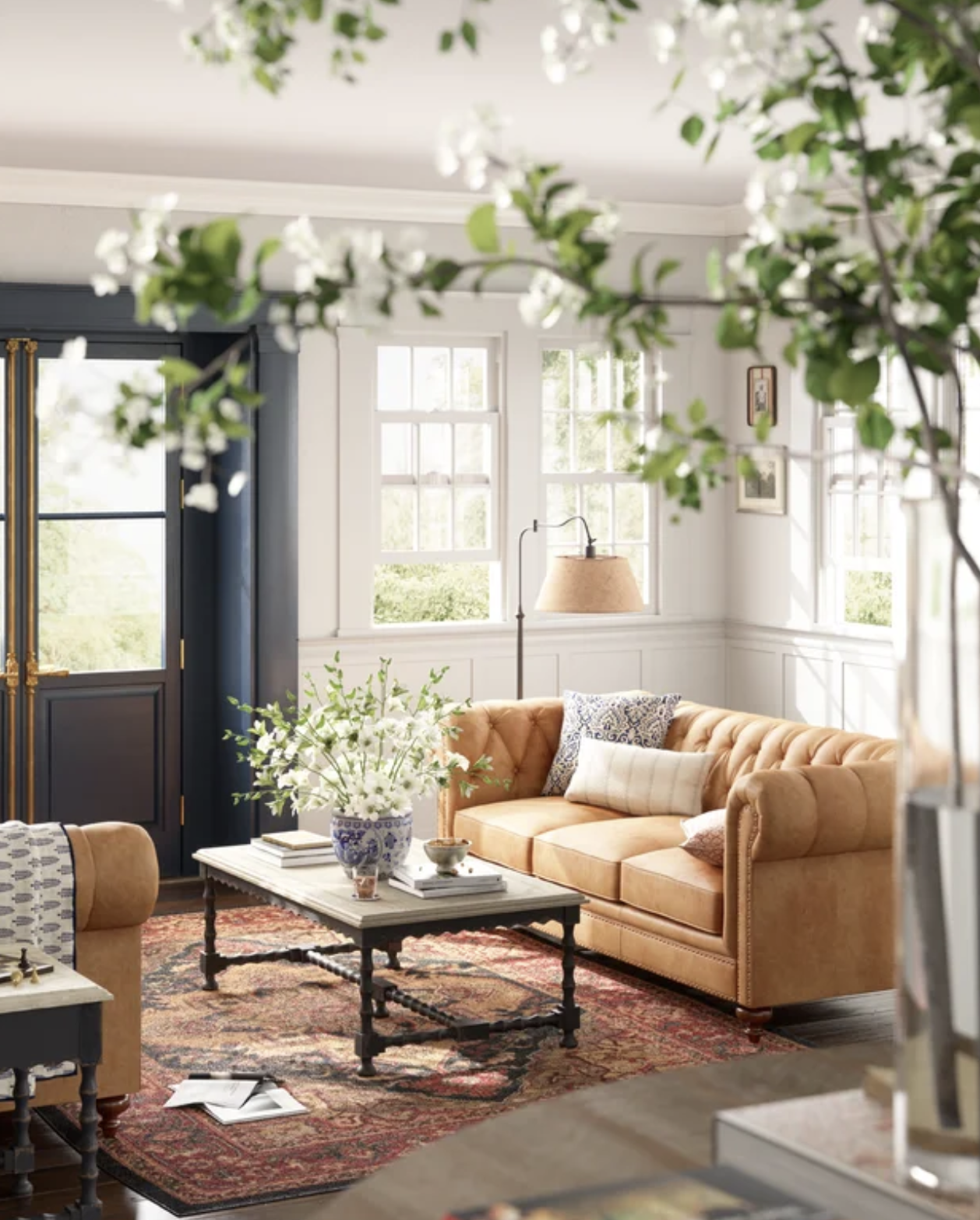 The Fellows leather sofa is constructed from solid engineered wood and genuine leather. The legs are made from black walnut and the cushions are overstuffed with down and sinuous springs to prevent sagging. This couch is a spacious 95 inches long and comes in a bright and rich tan.
14. Ophelie Sofa
The Ophelie sofa is 87" inches long and carries out many of the classic chesterfield elements such as deep tufting, rolled arms, and a low back. Choose between a rich navy blue or smoke gray color to compliment your space. The cushions are stuffed with a thick foam and complete with sinuous spring to ensure it does not sag with time.
15. Berwick Sofa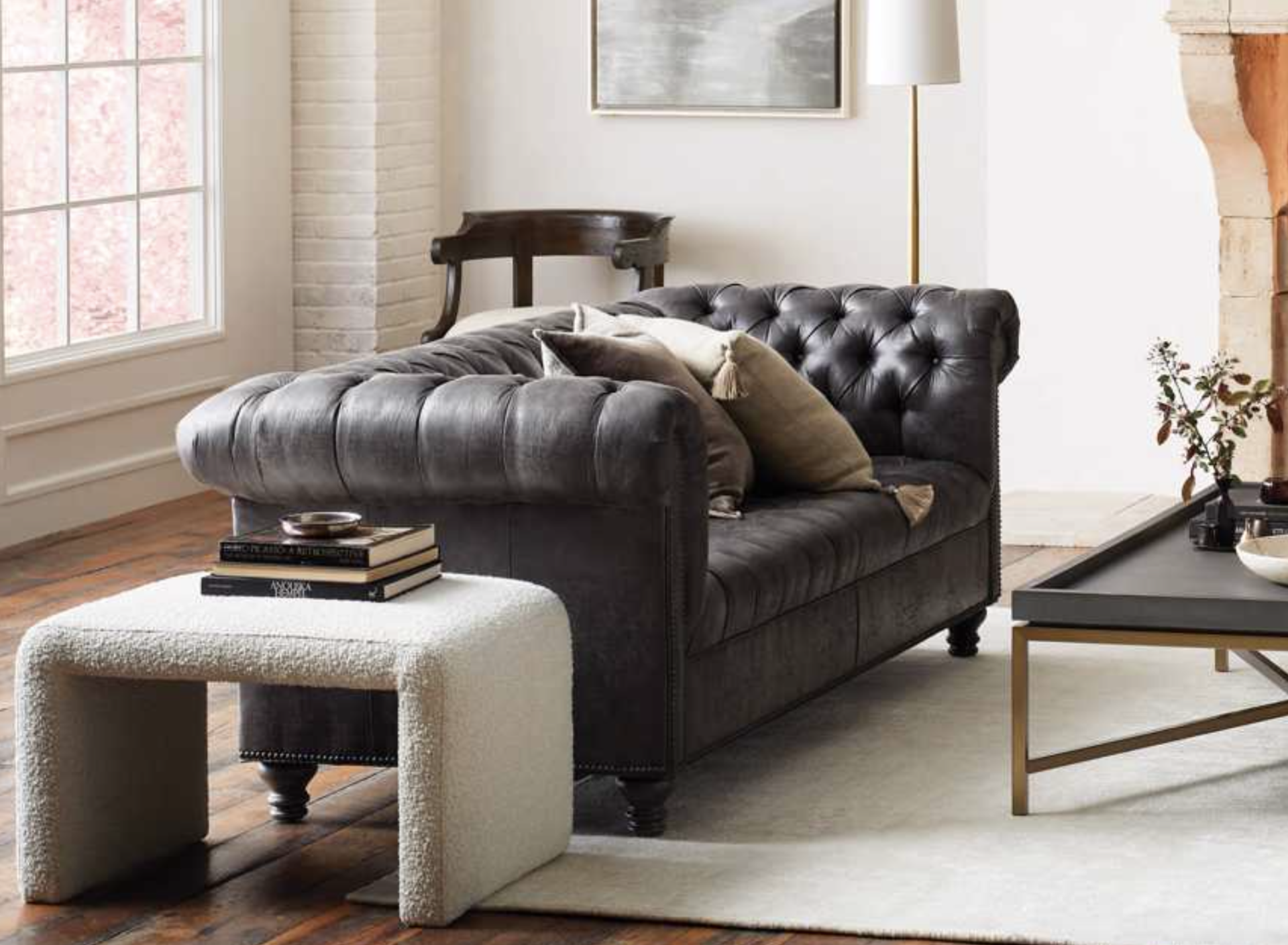 The regal and commanding Berwick sofa features expertly crafted details. This sofa was crafted with sustainably sourced hardwood, and the craftsman-built frame offers structure and support while remaining flexible for comfort. Choose from seven different stylish rich leather colors to match your space.
---
Choosing the Right Chesterfield Sofa For Your Space
A Chesterfield style couch is ideal for those hoping to impress their guests with a classic, commanding design. There are many different elements of a classic chesterfield that can be updated for a more modern approach, or keep it traditional for a timeless addition to your home.
Regardless, it's important you choose the correct size and color of sofa to keep your space elegant and balanced. A chesterfield design is one that has stood the test of time and remains a popular choice for an upscale, timeless home.