The L-shaped sectional is the most popular sectional sofa on the market.  Whether you're lounging with a book or packing in friends for a party, an L-shaped sectional is a great addition for any space (even a small space). Learn more about these super versatile couches and look at some of our favorites!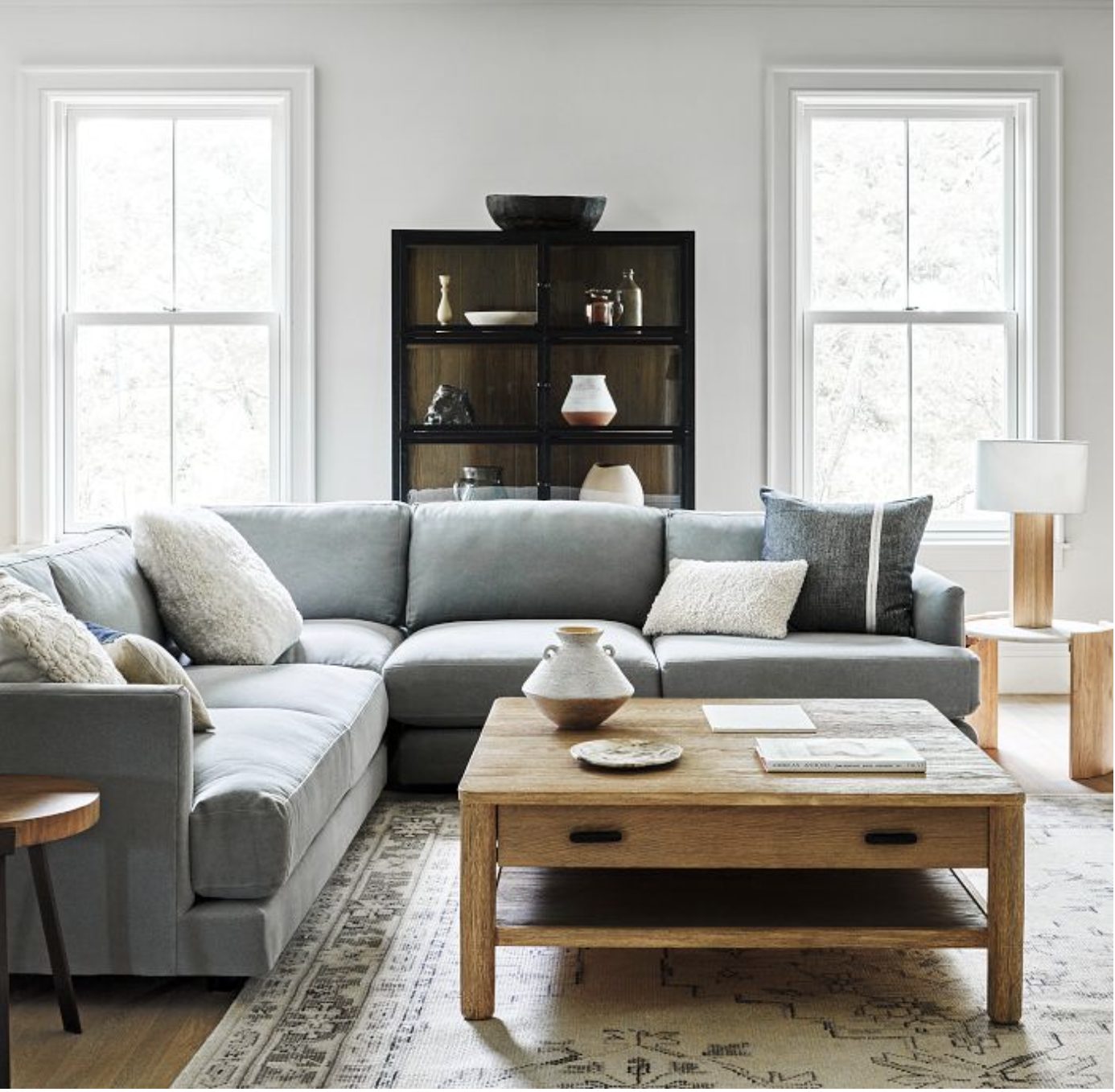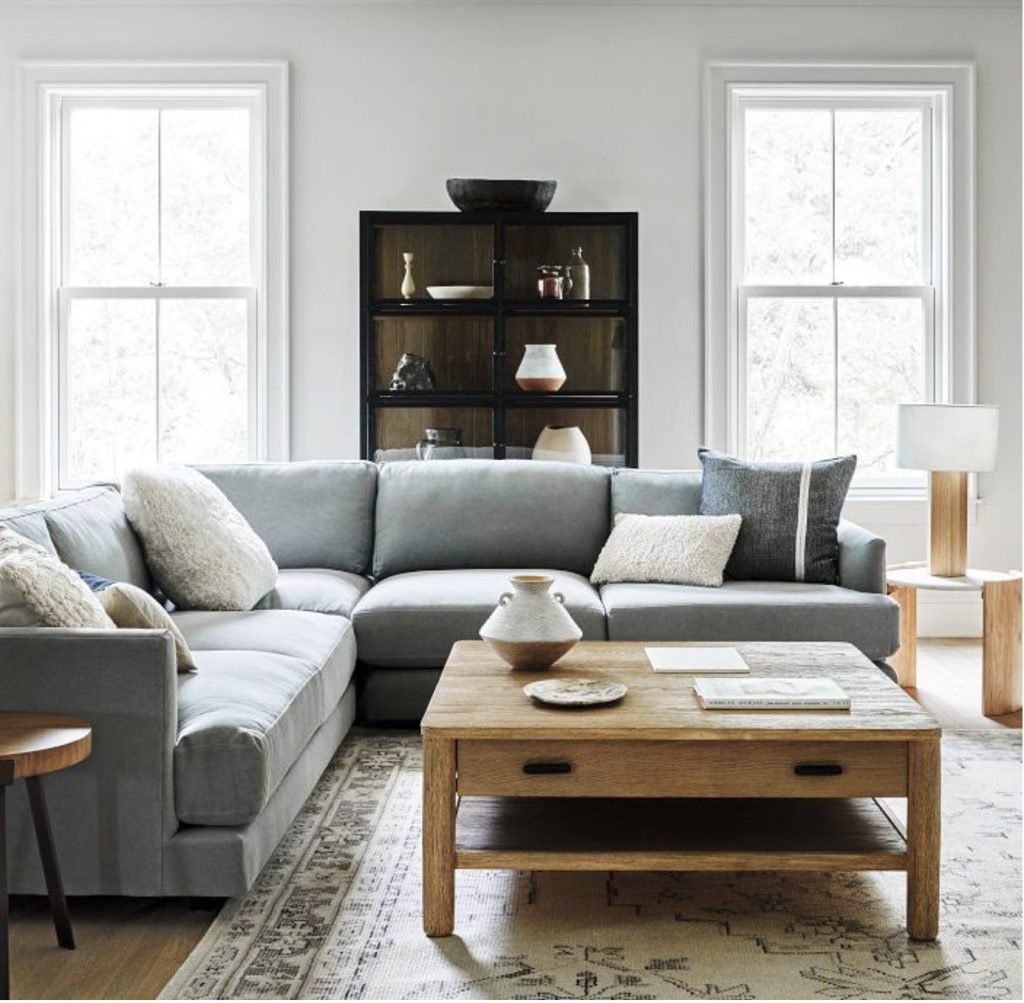 What is an L-shaped sectional called?

L-shaped sectionals are made up of individual sofa sections that are configured in the shape of an L. They can also be called corner sectional sofas or corner sofas. Sofa chaises fall under the L-shaped category, too!
Is purchasing the L-shaped couch worth it? 

YES! L-shaped sofas are a good choice for living rooms of all shapes and sizes because they provide plenty of space for everyone to spread out. While placing a large couch in a small living room may seem counterintuitive, they provide more seating within limited space. Selecting a larger L-shaped couch can help the room feel cozier if you have a large living room.
L-Shaped Couch
88″ L x 63″ W x 33″ H
The Nomad Corner sectional was designed for small faces. This modular piece is comfortable, adaptable, and convenient. An amazing option if you're looking for a corner sofa.
106″ w x 40″ d x 34″ h
The Pacifica's deep profile maximizes seating room in the small footprint, and thin track arms add to the piece's sleek aesthetic. Enjoy sink-in cushions for ultimate comfort.
113″ D x 113″ D x 33″ H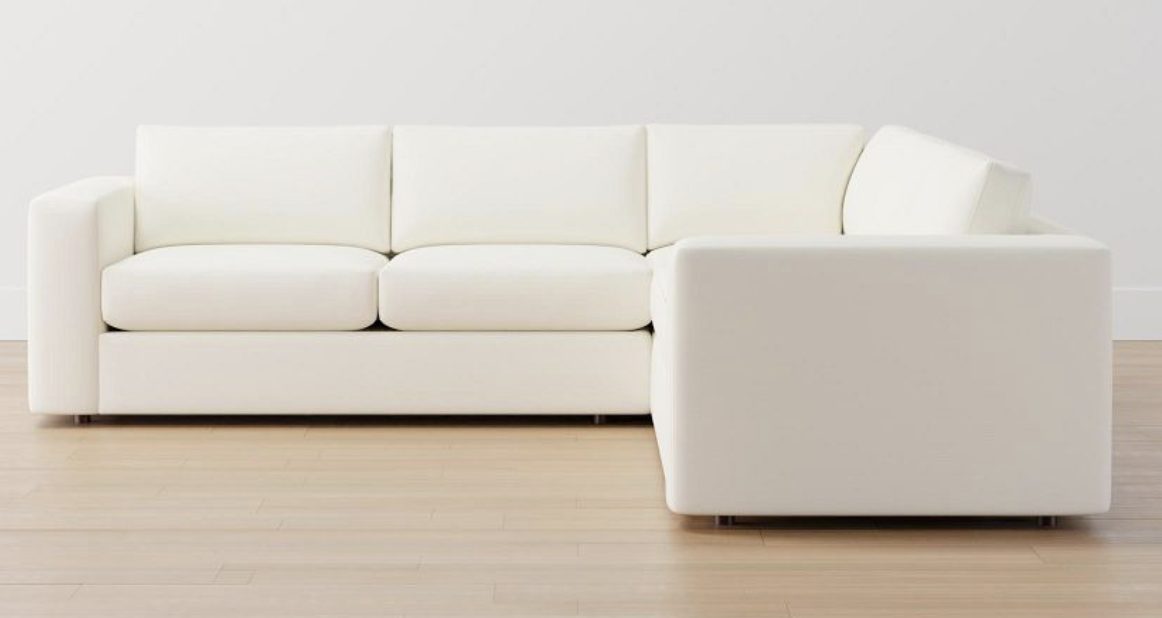 The Carmel Collection epitomizes understated elegance. For extra luxurious lounging that demonstrates the maxim "less is more," wide, structured square arms contrast with down-blend pillows.
108″ W x 38″ D x 36″ H
The Newport L-shaped sectional has a modern appearance based on a classic style. This sofa's streamlined appearance is a fresh take on traditional design.
115″ W x 42″ D x 37″ H
Big Sur Collection is designed for lounging; it is casual, ageless, and almost infinitely customizable. The modular pieces' generous dimensions and flexible configuration options raise the bar for comfort.
110″ W x 40″ D x 38″ H
The Pearce L-shape sectional has a generous arm, deep seat, and comfy down-blend cushion. Its transitional style fits in any room.
110″ W x 39″ D x 34″ H
Excellent comfort combines with clean lines for a stylish yet casual look. Jake's lower profile and modular shape make it perfect for any space.
120″ W x 43″ D x 34″ H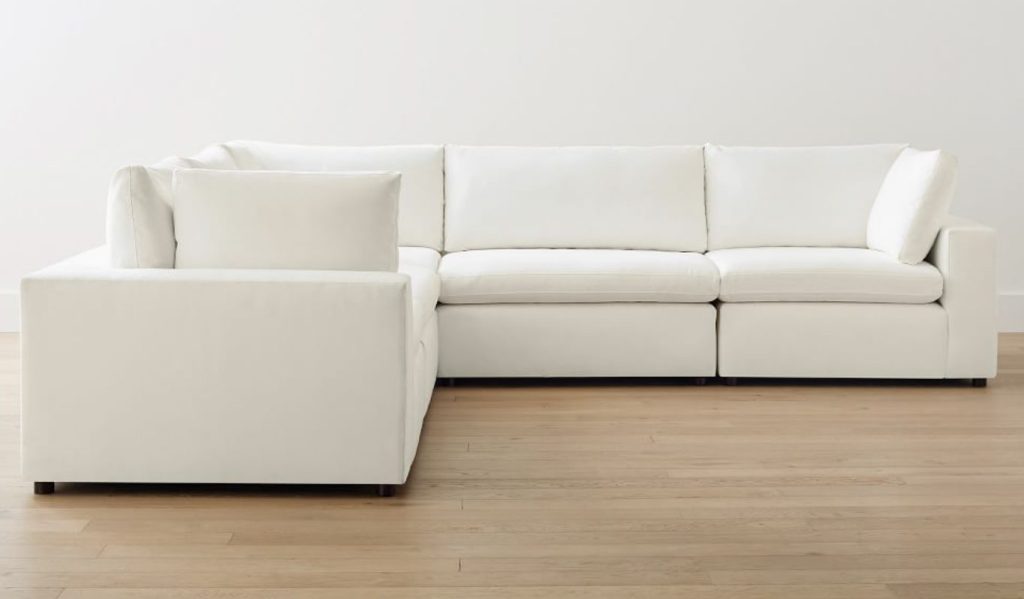 The Dream Collection L-Shaped Sectional couch is clean-lined, versatile, and extremely comfortable. Fully customize your piece for the perfect comfy retreat. With a variety of sizes and ample seating — we love this l-shaped sofa for a large room!
102″ D x 37″ D x 28″ H
The Henley is a modern take on the traditional Chesterfield. A shelter-style back compliments square, tapered arms. The Henley boasts comfort and durability.
98″ W x 36″ D x 35″ H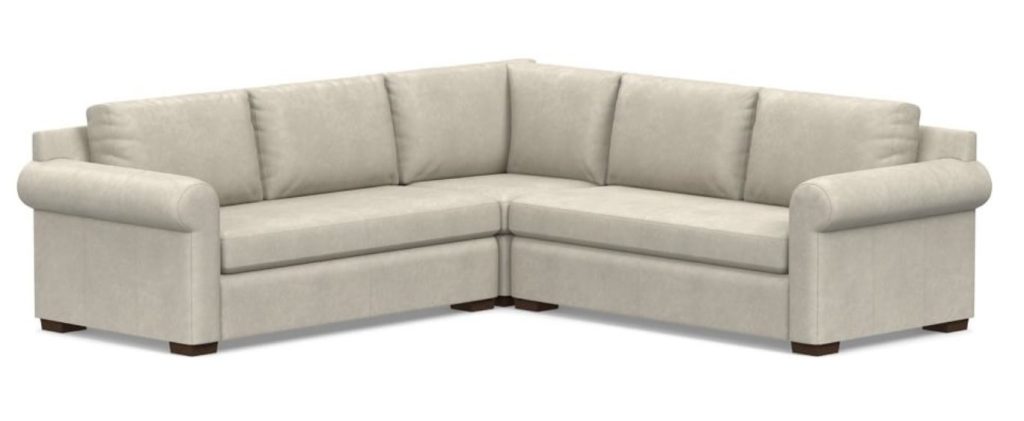 The Shasta Collection combines comfort with classic design. This versatile design is perfect for spaces of any size. Create custom configurations to meet your needs. It will elevate the entire room!
117″ W x 39″ D x 34″ H
This Dream Collection L-Shaped Sectional is sleek, adaptable, and incredibly comfortable. Customize this sofa to create your ideal in-home retreat.
123″ W x 41″ D x 33″ H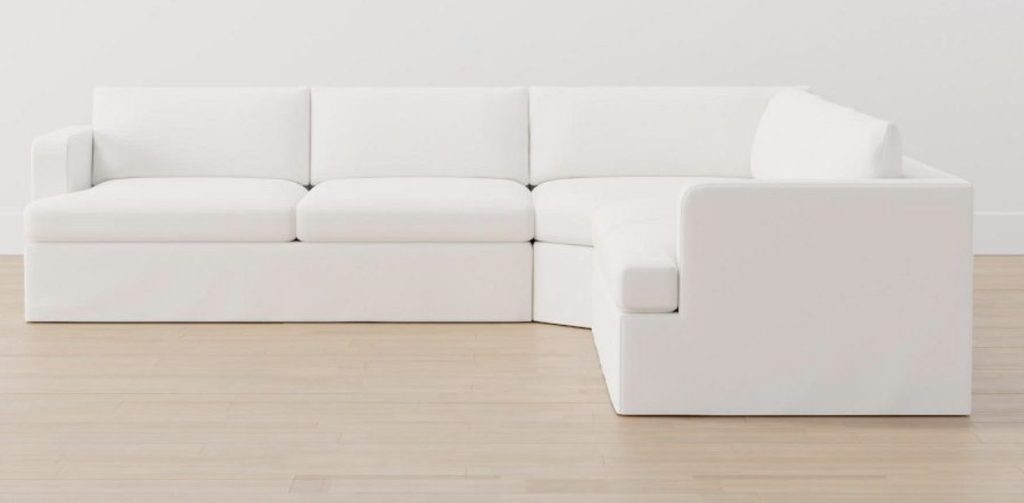 Minimalist style, maximum comfort. This L-shaped sectional is more complex than it first appears. Its waterfall seat cushions are designed for curl-up comfort.
143″ W x 40″ D x 32″ H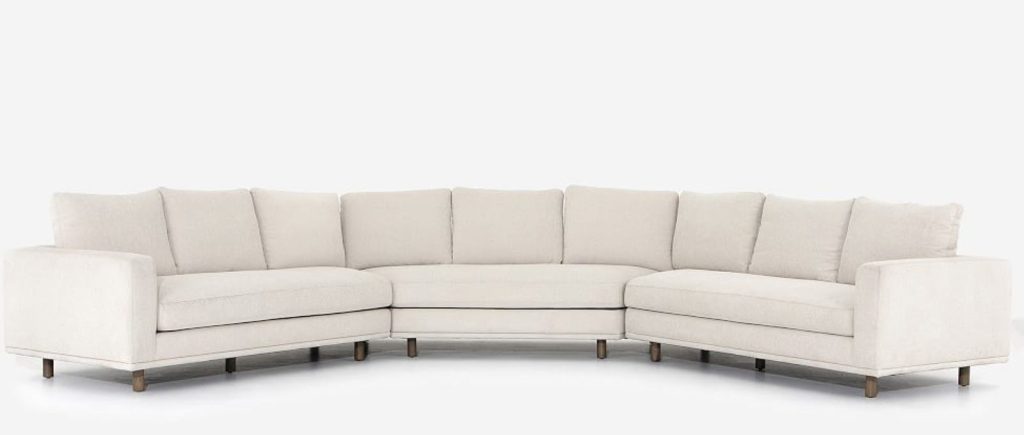 The Anderson L-Shaped sectional just begs to be enjoyed. Perfect for large space, this sofa sits atop rose Morada wood fixed legs in a weathered umber oil-based finish.
113″ W x 113″ D x 33″ H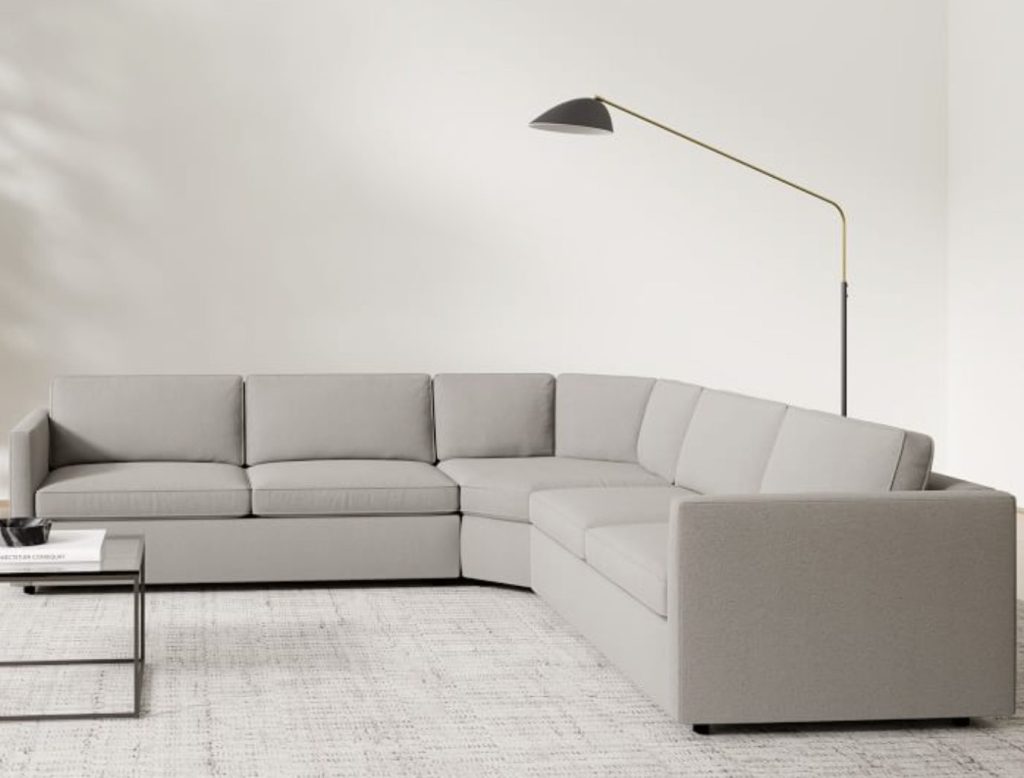 Always in style, Harris's classic design easily blends into any existing look. A generous wedge seat offers even more lounge room, and the cushions are Goldilocks approved: neither too soft nor too firm—they're just right.
This sofa is also available without the wedge seat!
106″ W x 106″ D x 33″ H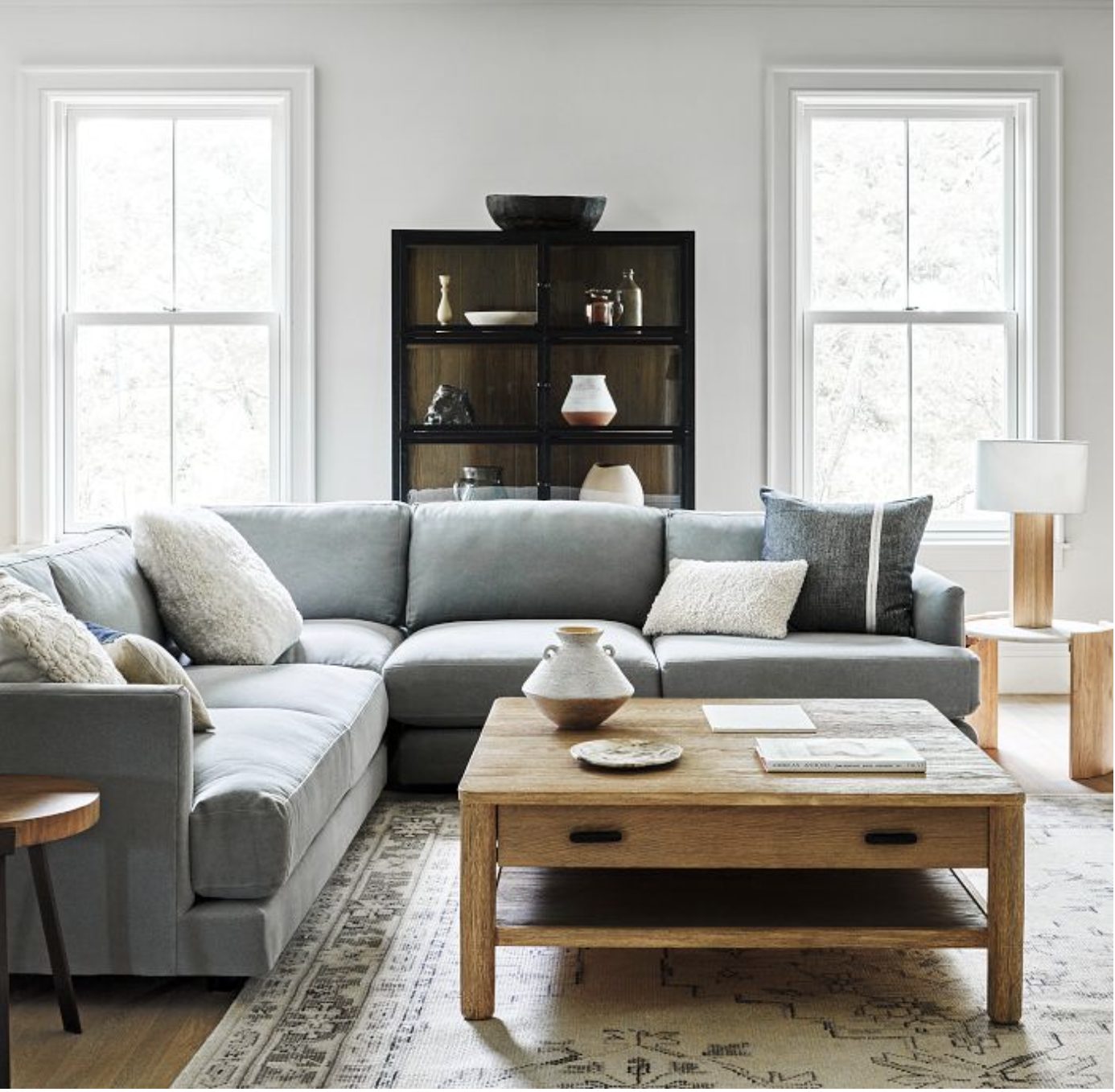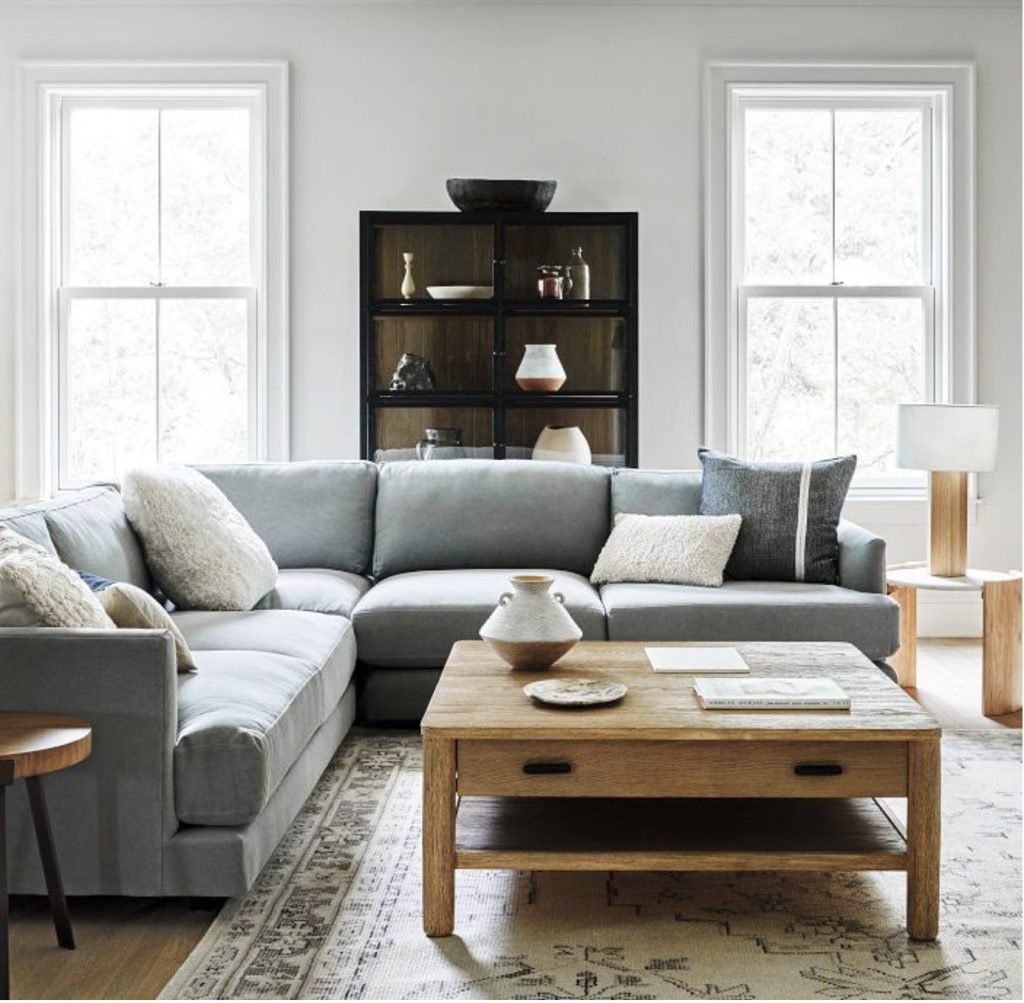 The Haven Sectional is one you'll want to spend a lot of time in. The entire family will love its incredible sink-right-in quality, which is a result of its deep, comfortable cushion and low, padded arms.
106″ W x 106″ D x 31″ H
The Urban is a timeless option for the family room thanks to its straightforward shape and sink-right-in comfort. It is designed with deep seats and is hand-upholstered and assembled in the USA.
90″ W x 90″ D x 31″ H
The Andes Sectional has a commanding presence with its extra-deep cushion and sharp tailoring, but the thin frame and cast metal legs make it feel airy and light. You can choose from a variety of widths, depths, and leg finishes creating your perfect piece.
19. Hampton Modular 6-Piece Sectional
125″ W x 125″ D x 31″ H
The Hampton 6-Piece Sectional has a relaxed shape and luxurious down-blend cushions that make it feel like a cloud. It is covered in lovely white linen, and this sofa's modular sections allow you to organize and rearrange it to fit your space. These are a customer favorite for best sectional sofas!
The Hampton is also available as a 5-Piece Sectional.
120″ W x 120″ D x 37″ H
Thanks to its deep seat, plush cushions, and moveable lumbar and throw pillows, Harmony is our most comfortable sofa yet. This flexible design lets you build the sectional of your dreams today while allowing for future flexibility.
109″ W x 109″ D x 35" H
The Dalton L-Shaped sectional has a low profile for understated elegance. It strikes a balance between heritage and modernity. Sink-in-cushions surround you with comfort.
121″ W x 34″ H x 79″ D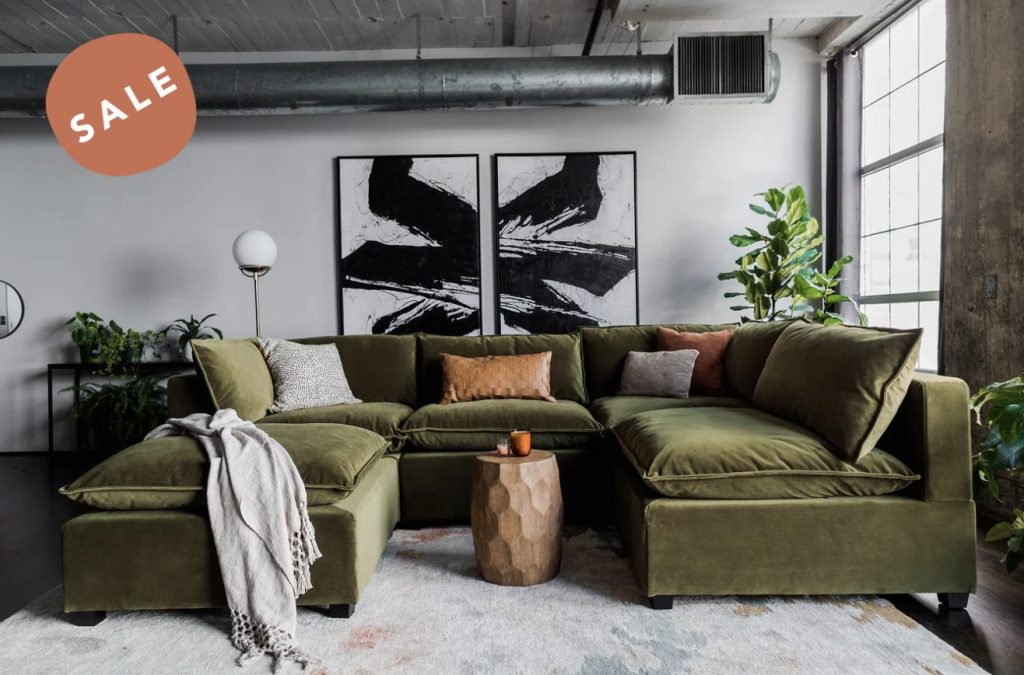 Feather mix-seat cushions offer Kova's cloud-soft comfort. Its modular components can be combined to create countless configurations that suit your space and lifestyle.
34" H x 88" W x 60" D
This sectional's low deck elevates into flared track arms that match the angles of its splayed wooden legs in a style reminiscent of the mid-century. It is perfect for everyday use because of its sturdy oak frame and resilient upholstery. This is an amazing option for a small sectional sofa if you have a small apartment or any tight spaces.
108″ W x 104″ D x 30" H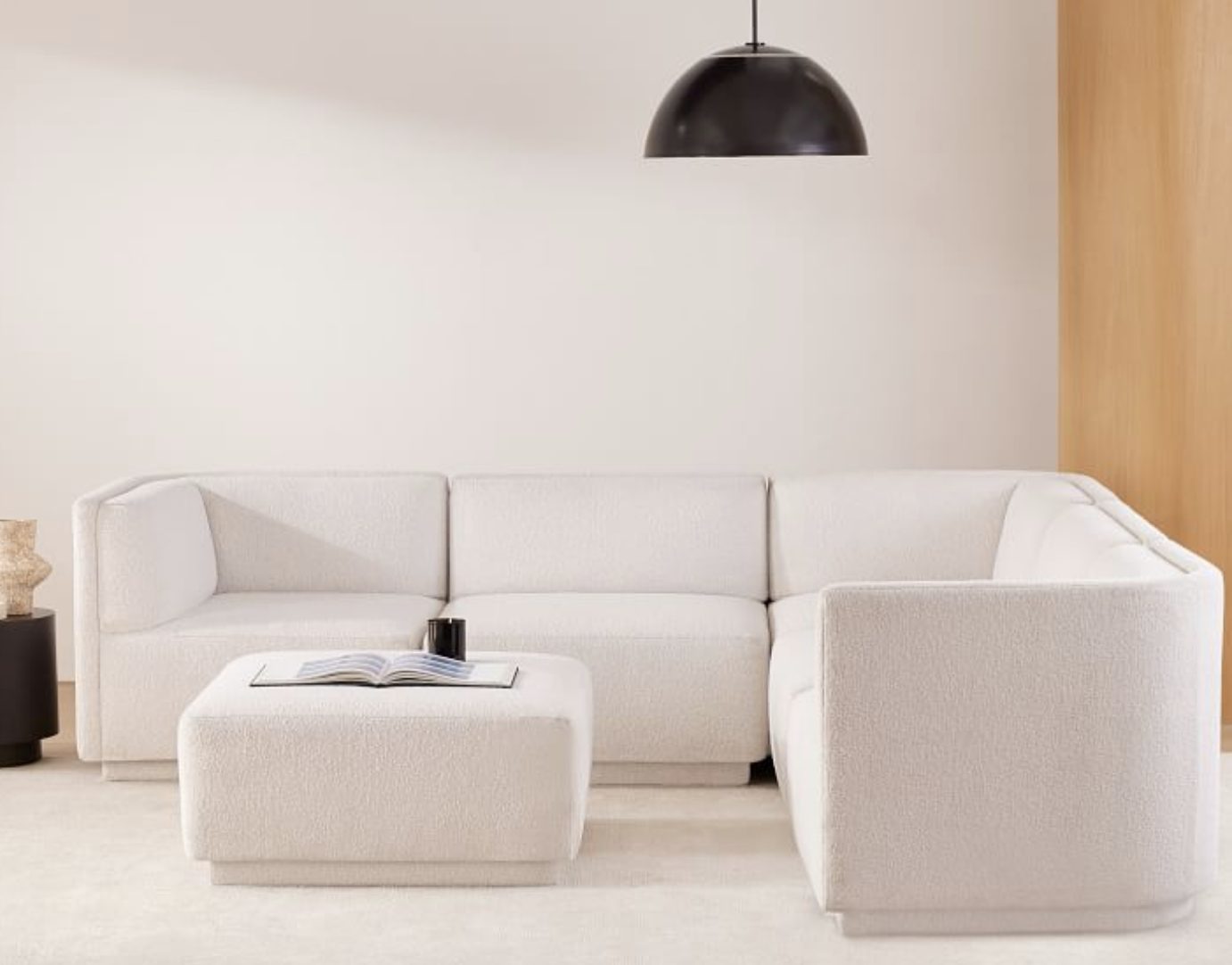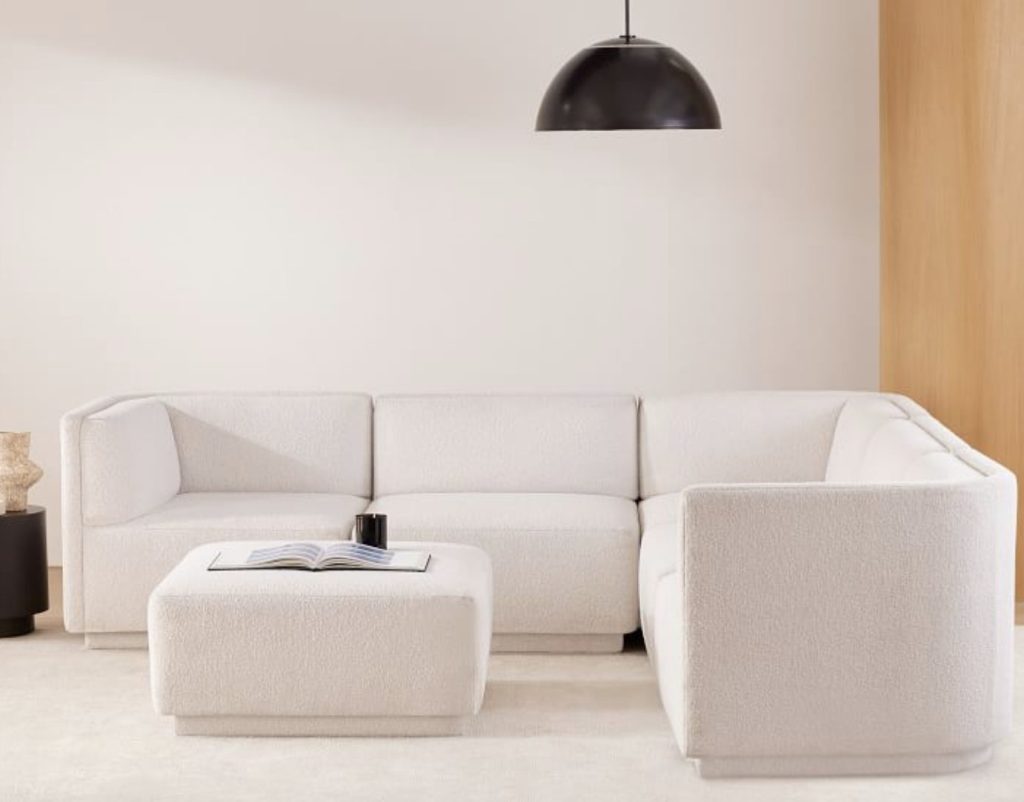 Created in collaboration with Sézane, this sofa is a stunner. Choose from a wide variety of fabrics, including a super cozy boucle. Rearrange the sections to create the perfect piece for your space.
116″ W x 116″ D x 34″ H
The Melbourne was made with comfort and flexibility in mind. Its slim base stylishly frames thick, sink-right-in comfort. Choose from dozens of fabric options to make your perfect piece.
114″ W x 114″ D x 32″ H
Marin Sectional's thick, comfortable cushions, which were inspired by laid-back coastal vibes, make it the softest seat in the home. Its oversized frame is designed for real lounging, whether you curl up or spread out.
117″ W x 117″ D x 30″ H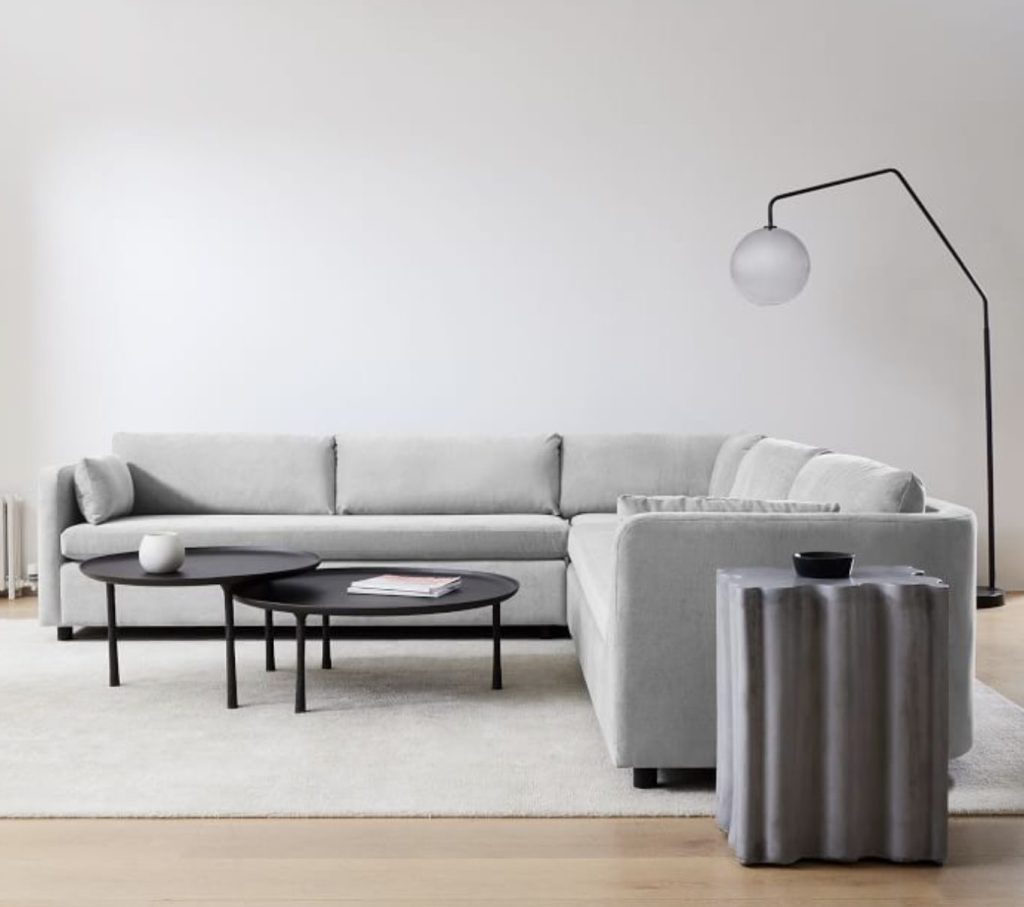 The Becall Curved L-Shaped sectional features a rounded back that distinguishes its modern silhouette. Its deep, ultra-soft cushions are supported by a backrest the same height as the sofa's sleek arms.
126″ W x 70″ D x 23″ H
Our Oceanside sectional's airy comfort and contemporary attitude result from its clean lines and trendy, how-low-can-you-go seat. The wrap-around flow from arm to back gives the low-profile, two-piece sectional a neat, finished look from any angle. This is a large l shaped couch that would look amazing in any large space!
121″ W x 79″ D x 39″ H
The Bennett is the perfect example of approachable elegance. This sofa elevated lounging to the next level with roomier proportions and stunning detail. The frame's slim arms make it less bulky for a more contemporary approach.
103" W x 67" D x 34" H
Miramar is beachy, easygoing, and provides ample room for lounging. Every detail of this sectional was designed for perfection–from the deep, plush seat to the elegant wooden legs.
92″ L x 62″ W x 31″ H
The Maia Sectional boasts a low-profile three-piece design with a plush seat and matching lumbar pillows. This sofa can be ordered either left or right-facing.
87" L x 35″ W x 25″ H
The Chamberlin Sectional Sofa is the ideal focal point for any living area, sporting a simple, retro-inspired silhouette that is modernized with structural metal feet. This is a decent option for a home office or smaller living room.
The Chamberlin is also available in velvet upholstery! 
113″ W x 63″ D x 34″ H
The Clayton sectional sofa's wide arms and deep seats blend the best form and function. This sectional sofa, which has a low back and a chaise, looks excellent in modern and transitional settings.
96″ W x 60″ D x 33″ H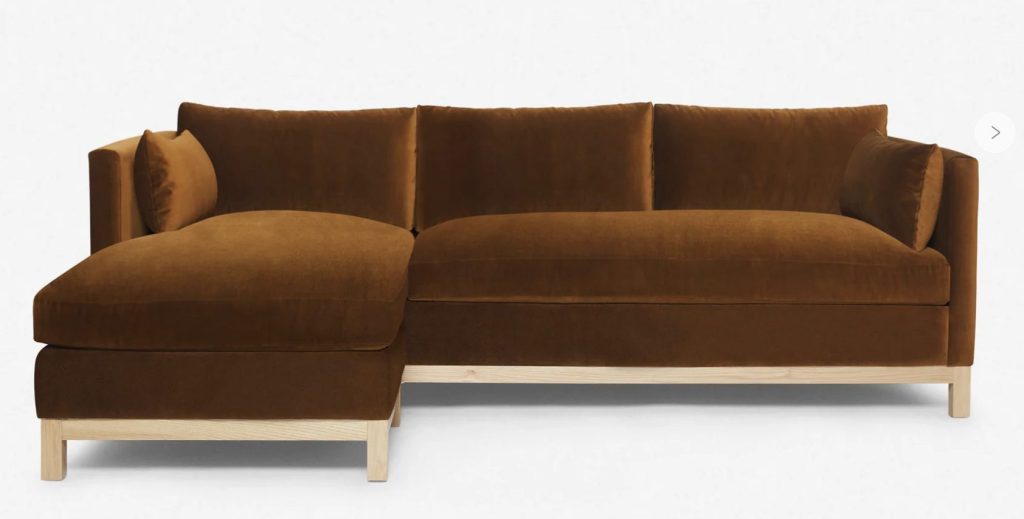 The Hollingworth sectional is an ideal mix-and-match statement seating component. This sectional sofa has a wooden frame and is available in various fabrics and colors.
115″ W x 115″ D x 32″ H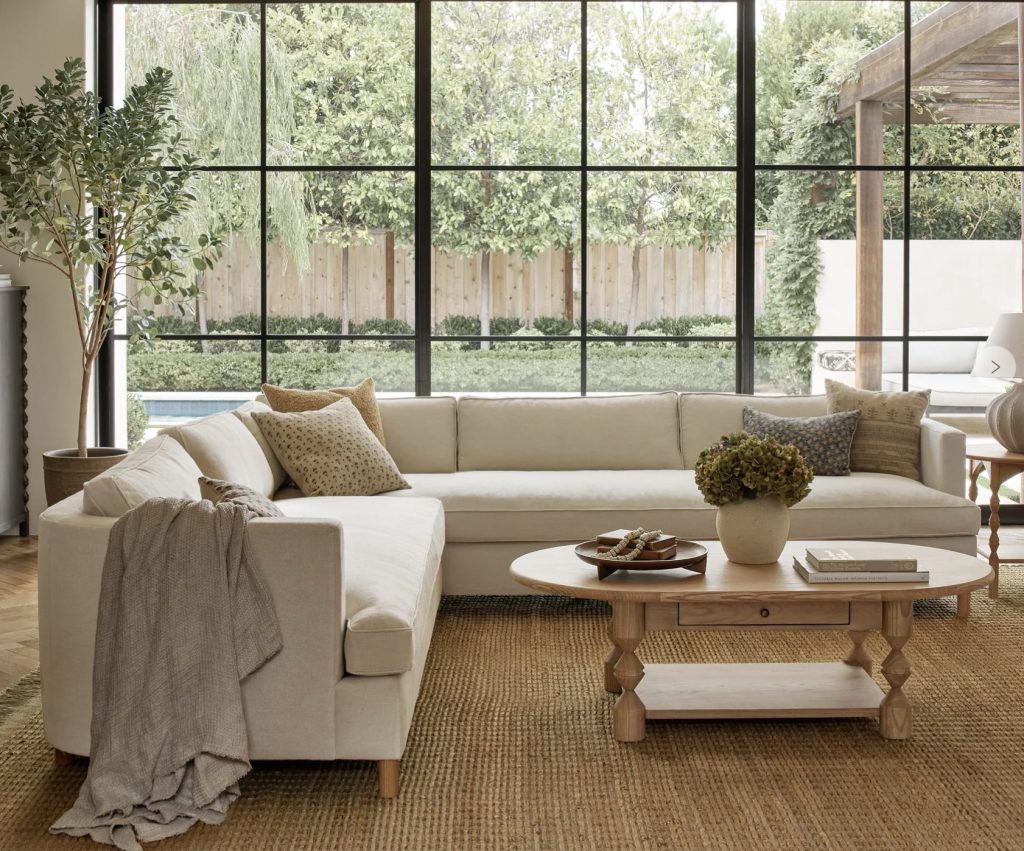 The Belmont Corner Sectional has a curved back and plush, oversized cushions to give your living room seating a polished yet approachable appearance. This roomy corner sectional comes in a variety of materials and hues.
96″ W x 60″ D x 32″ H
This is a classic sectional sofa that offers a transitional look to any living room seating. The Belmont classic is available in various fabrics and colors, making it the perfect mix-and-match piece.
112″ W x 112″ D x 32″ H
This sectional sofa's armless construction gives it a sleek, contemporary feel and an open, welcoming appearance. The Decima's velvet, loose-back cushions are perfect for cozying up.
93″ W x 85″ D x 32″ H
The Callahan Sectional is an oversized, comfy couch with a casual, modern appearance. It sits atop short wooden legs and is topped with luxurious down-filled cushions.
120″ W x 67″ D x 30″ H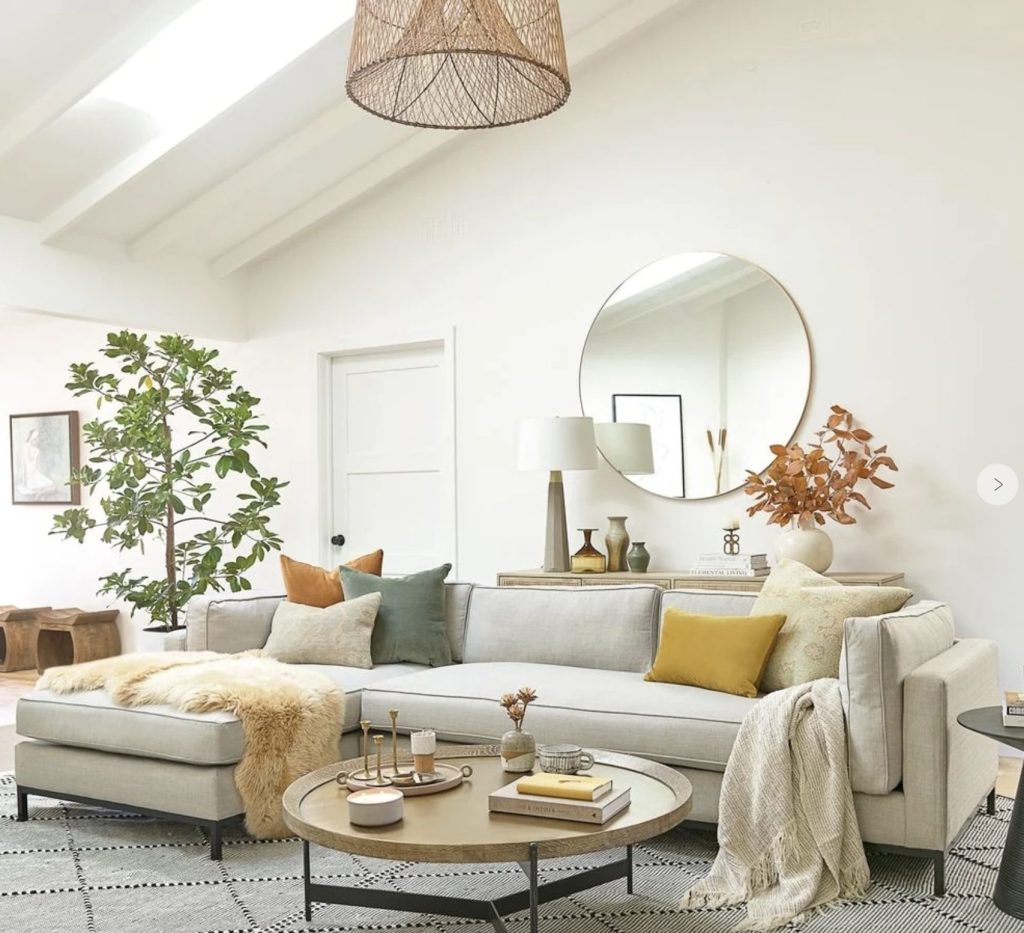 The Fritzie Sectional is as versatile as it is stylish. Black metal legs keep the look sleek and clean, while deep seat cushions offer plenty of space for cozying up.
101″ W x 101″ D x 36″ H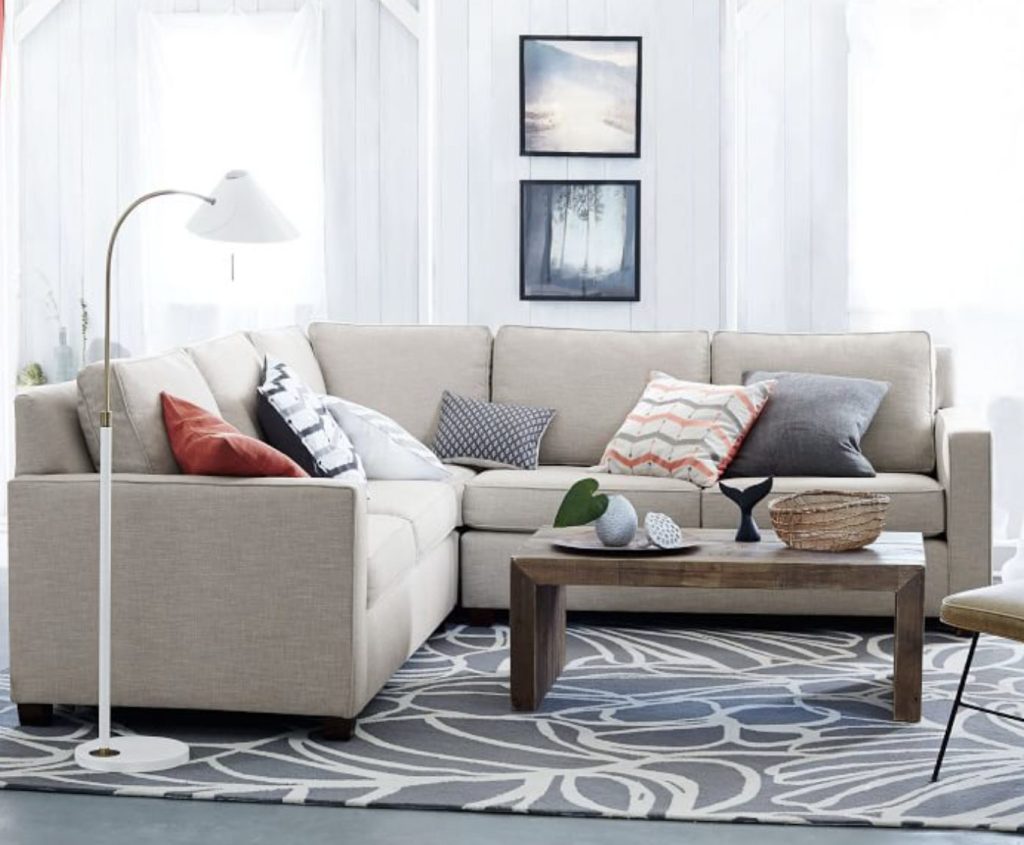 The Henry L-Shaped sectional boasts a classic shape and simple lines that suit any room. Its plush, wrapped cushions are flippable for extended use.
Allandale Modular Sectional Sofa Set
35" H x 102" W x 34" D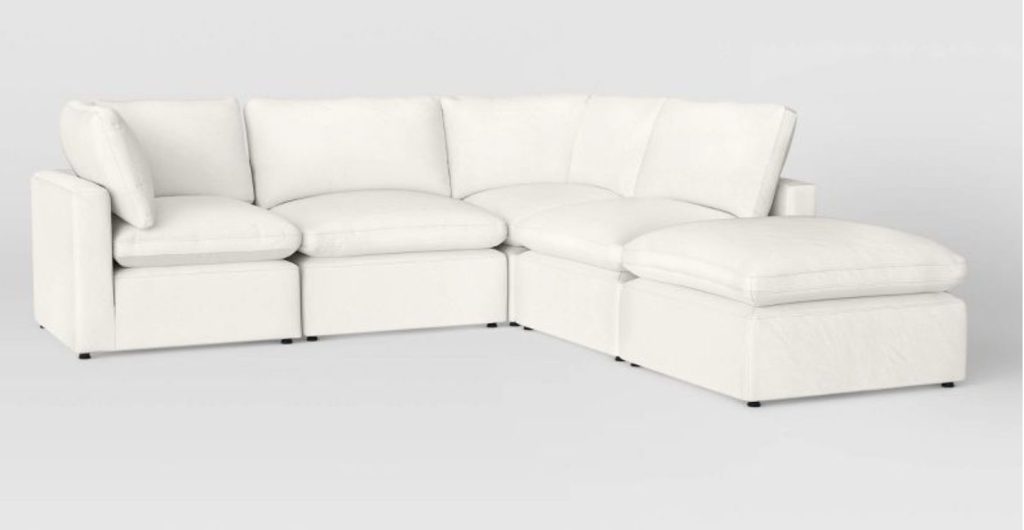 With the Allandale Modular Sectional Sofa is a modular, armless sectional comprising five separate pieces. Easily change the look of your living room on a whim! Allandale's design will work with any style of decorating.
108″ W x 108″ D x 28″ H
The Macy Sectional was designed with streamlined details and various upholstery options. This sofa is fully customizable and looks great in traditional and contemporary settings.
120″  W x 120″ D x 33″ H
The Vernon Modular sectional is known for comfort, quality, and customization. Its elegant design and subtle curved arm detail add sophisticated style to any room.
110″ W x 84″ D x 31″ H
The Buckley Sectional is completely customizable, allowing you to create the perfect sectional for your space. Its down-wrapped cushions make for luxuriously soft seating Choose from Crypton, velvet, linen, or leather.
28" H x 123" W x 123" D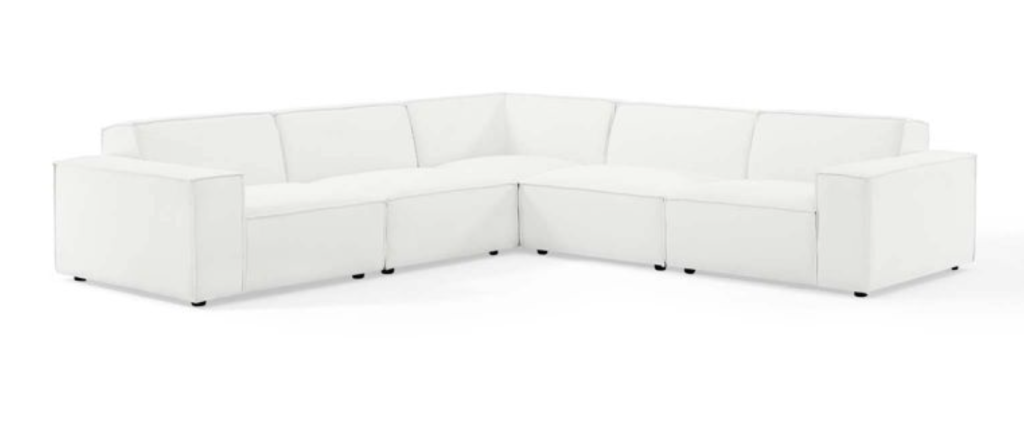 The Restore Upholstered Fabric 5-Piece Sectional Sofa lets you design your ideal living room and leisure space. Its clean lines, French piping accents, and polyester fabric seating embody modern minimalism.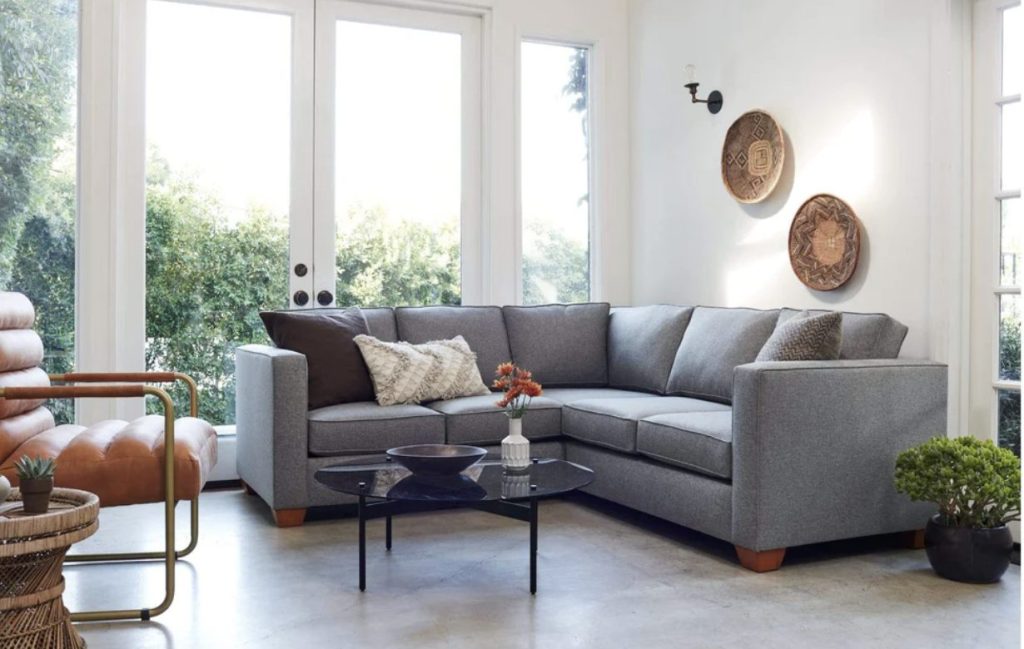 This two-piece L-Sectional sofa is named after Southern California's Catalina Island, renowned for its laid-back atmosphere and low-key attitude. High-track arms and wooden block feet give its straightforward design a contemporary vibe.
Final Thoughts
We hope that you've found an L-shaped sectional that you love! A tip for ordering your dream sofa– most typical L-shaped sectional configurations consist of a long side with a chaise and an armless loveseat or sofa, coupled with a wedge (to make a 90-degree turn) and a shorter one-armed loveseat or sofa on the other side. It's important to consider whether you need a left or right-facing sectional when ordering your sofa.