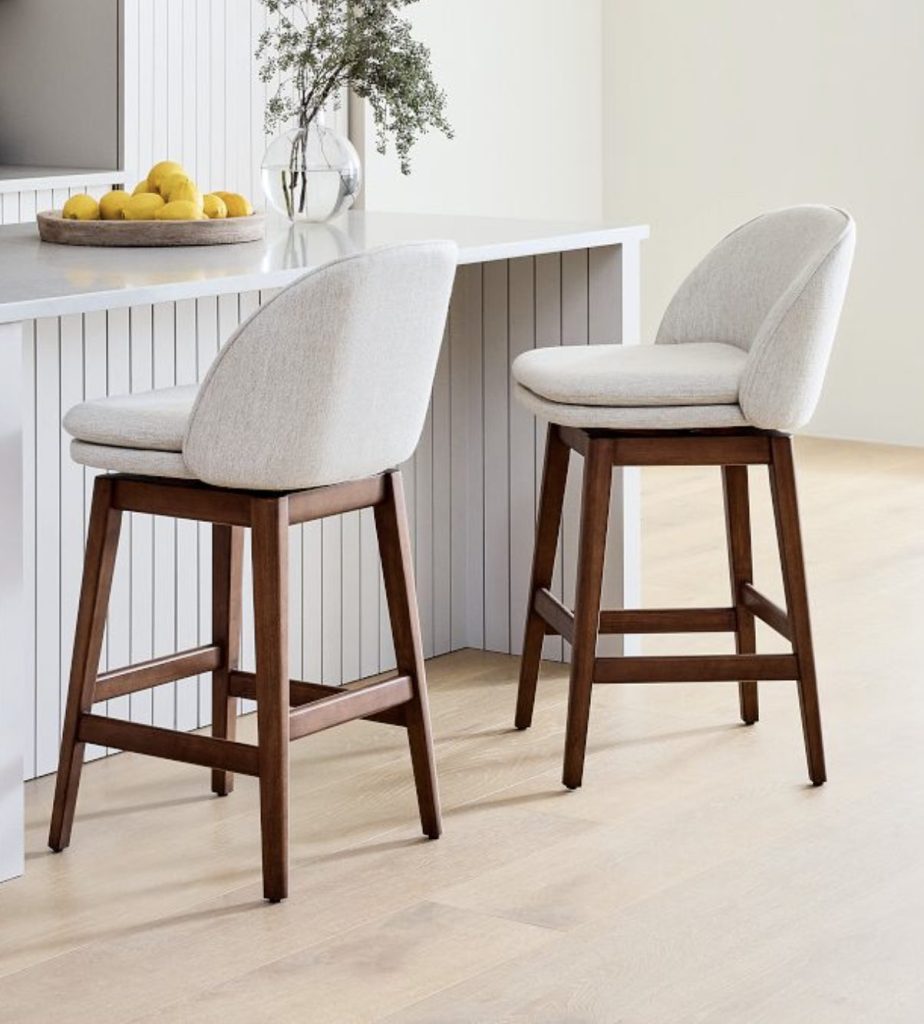 If you're looking to spruce up the bar area in your dining space then it may be time to upgrade your barstools. 
Finding the right ones that will work to enhance your space instead of overwhelm it can be a bit tricky. You never want to obstruct your sightline into your kitchen with bulky chairs, or worse—obstruct the flow of traffic in a tight space with legs that extend too far.
Here we have gathered our favorite white barstools currently on the market to help you create the most stunning open, bright, and welcoming dining space possible.
Let's dive in.
1. Wayne White Swivel Bar Stools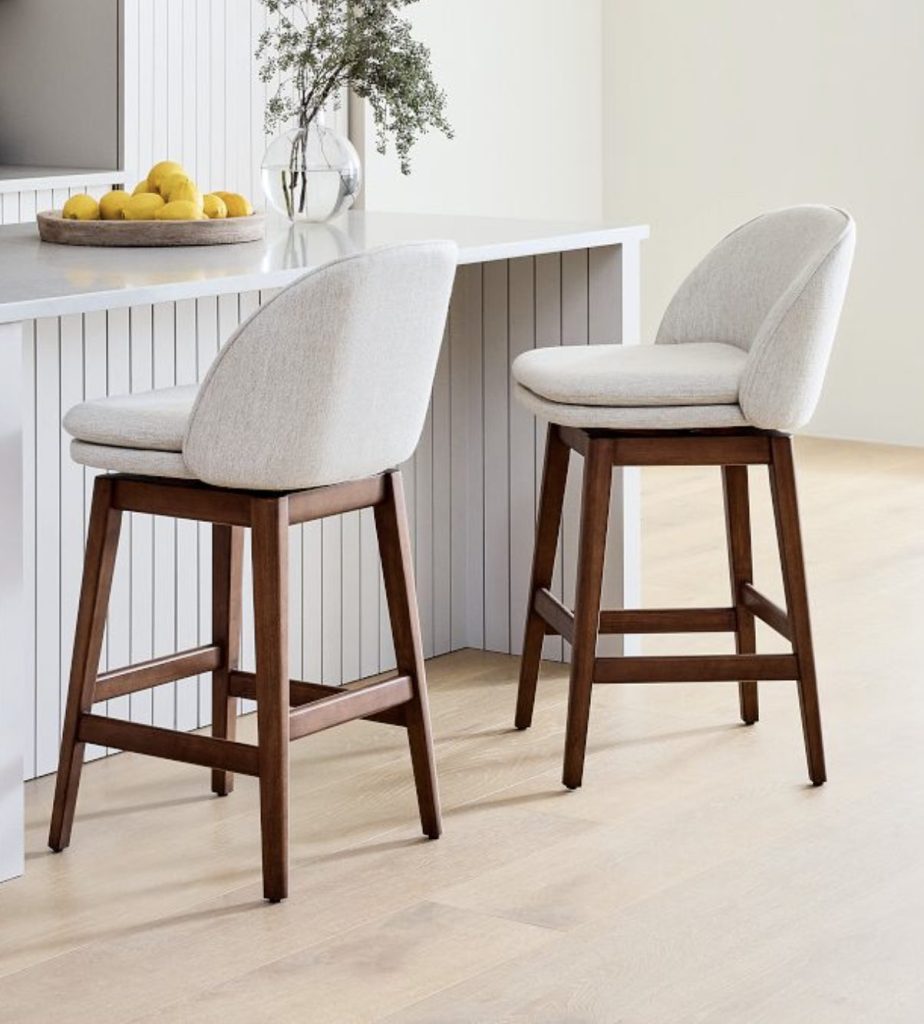 The Wayne Swivel Armless Bar & Counter Stools are an elegant and timeless design that will keep your dining space feeling fresh. The Wayne stools have plenty of clean lines and soft curves that help bring a refreshing and mid-century modern vibe to your space. Each chair is contract grade solid wood and steel—so you know they're built to last. 
2. White Bar Stools with Backs
If your aesthetic is a tailored and refined rustic look—you'll love the Layton Upholstered Bar & Counter Stools. These gorgeous stools come in both bar and counter height and are crafted from contract grade solid oak wood. Unlike traditional all wood barstool designs, these stools are topped with a plush cushion and backrest to keep you comfortable for longer. 
3. Maison Swivel Stools
The Maison Swivel Stools feature a streamlined silhouette that will keep your space feeling bright and open, and won't disrupt the flow of traffic. They are crafted from welded steel and finished with an ultra comfortable upholstered backing and seat. They're contract grade and come in both bar and counter height. 
4. Payson Upholstered Bar & Counter Stools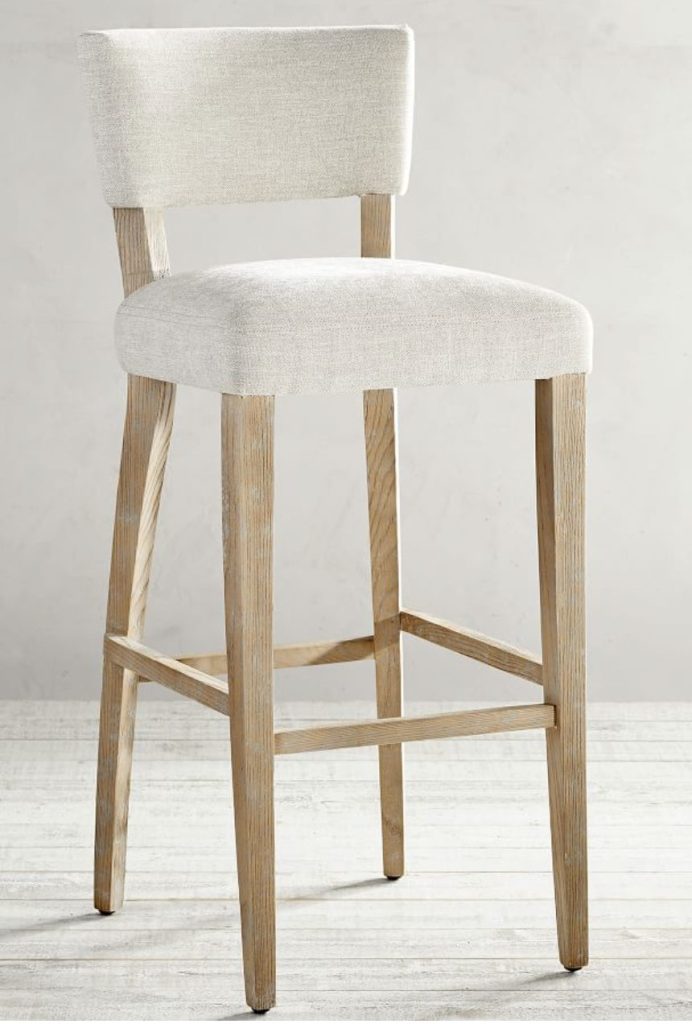 For those who crave the timeless and elegant style of mid-century modern furniture—the Payson Upholstered Bar & Counter Stools are sure to make you swoon. They're made from solid oak wood with a stunning open grain that adds depth and texture. Choose between both bar height and counter height for your space.
5. Maison Upholstered Bar & Counter Stools
The Maison Upholstered bar & counter stools feature a slender and understated profile that is sure to bring a sleek and sophisticated vibe to any space. The Cushions are stuffed to create a comfortable seating experience you can comfortably enjoy for hours. These chairs can also come in an array of different colors and fabrics to help your space feel truly customized. 
6. Layton Upholstered Bar & Counter Stools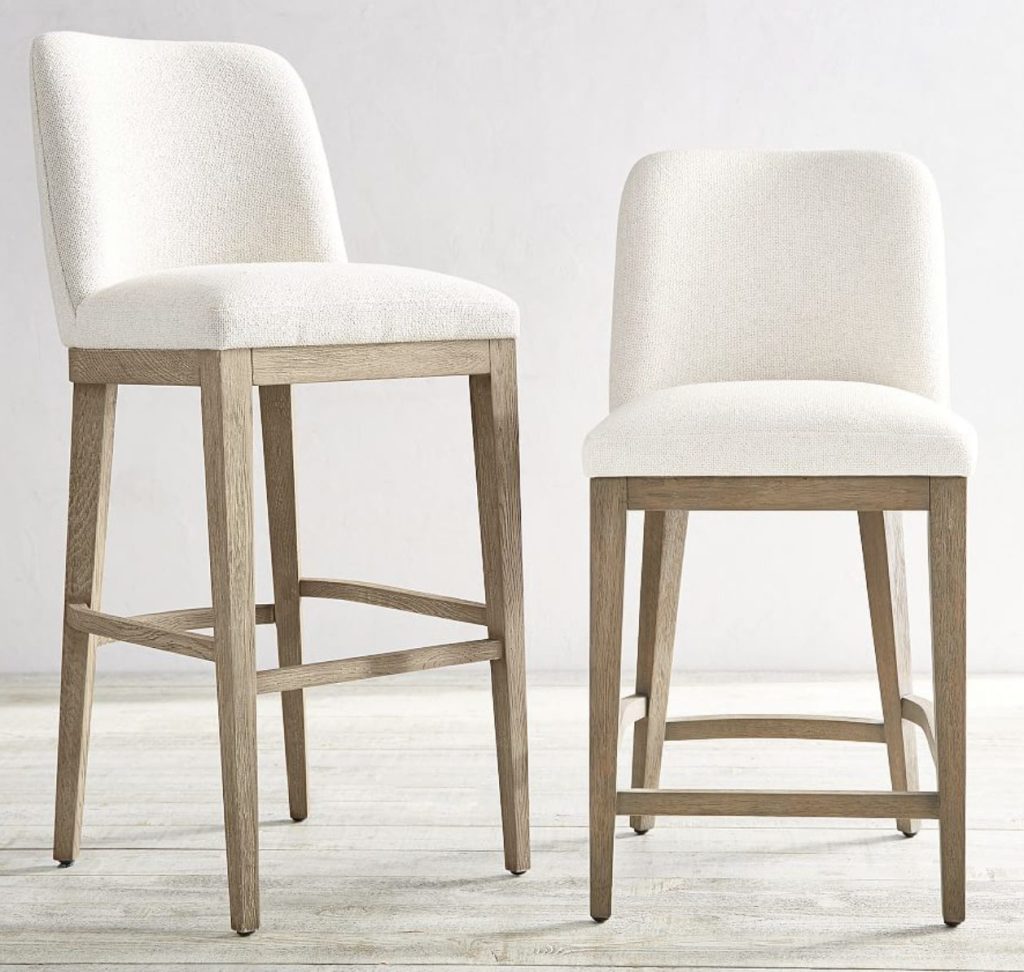 The Layton Upholstered Bar & Counter Stools are expertly crafted with contract grade oak that features a stunning open grain. The backrest and cushion are stuffed for maximum comfort and finished with a rich boucle fabric that gives them texture and an upscale appearance. The Layton chairs are contact grade and built to last a lifetime. 
7. Maddux Upholstered Bar & Counter Stool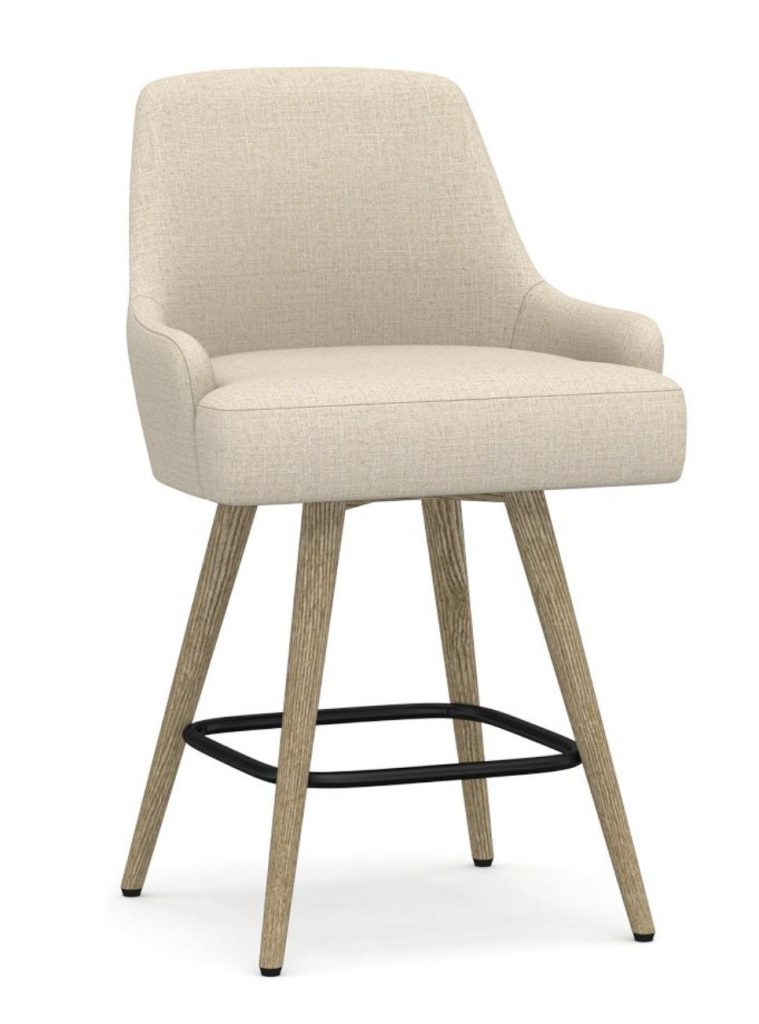 Some barstools are difficult to sit at for long periods of time because of their lack of support and cushioning. That isn't the case with the Maddux Upholstered Bar & Counter Stool though. These stools have been designed to keep you comfortable for longer with their curved backs, armrest, and extra plush cushioning. Not only are they comfortable, but the stunning "director style" shape works to elevate any modern aesthetic. 
8. Vasos Bonded Leather Barstool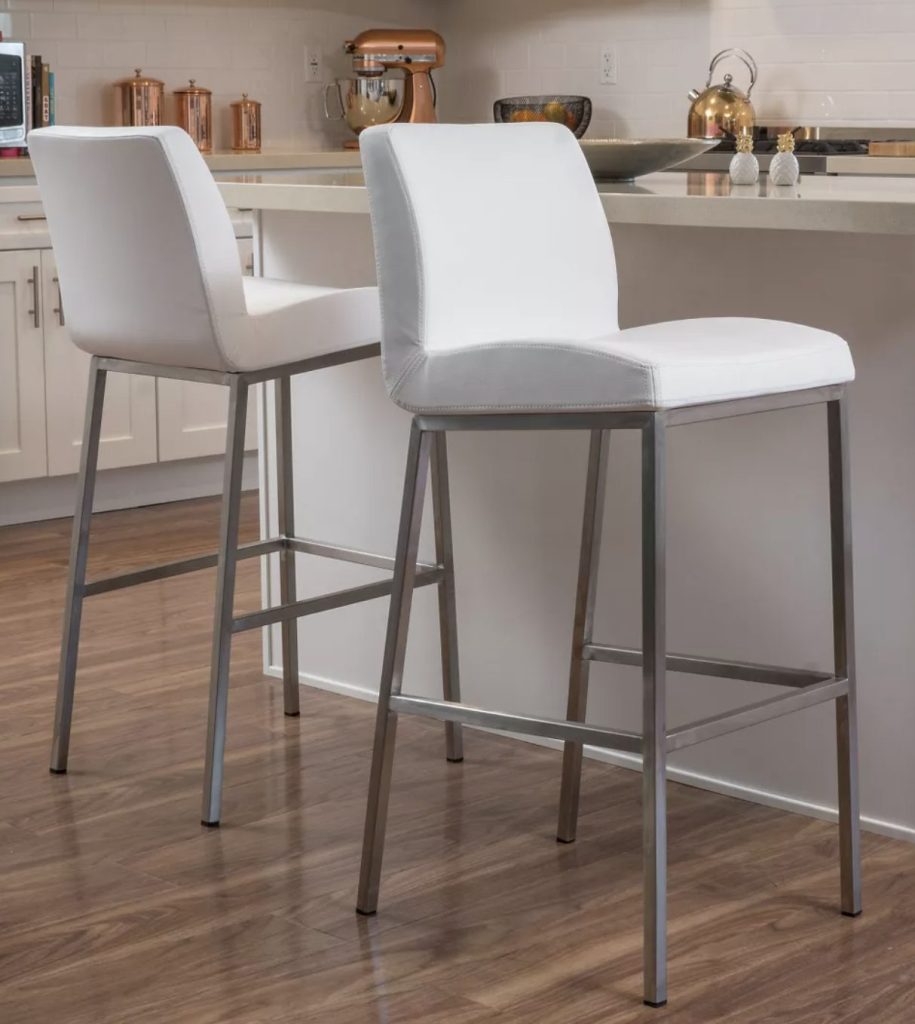 'If you're looking for a gorgeous and streamlined pair of barstools—the Vasos Bonded Leather Barstools are a great choice. These chairs feature a stainless steel frame that is sturdy and easy to clean, as well as bonded leather upholstered cushions and backrests for extra comfort. Though featured in white—these barstools also come in black.
9. White and Gold Bar Stools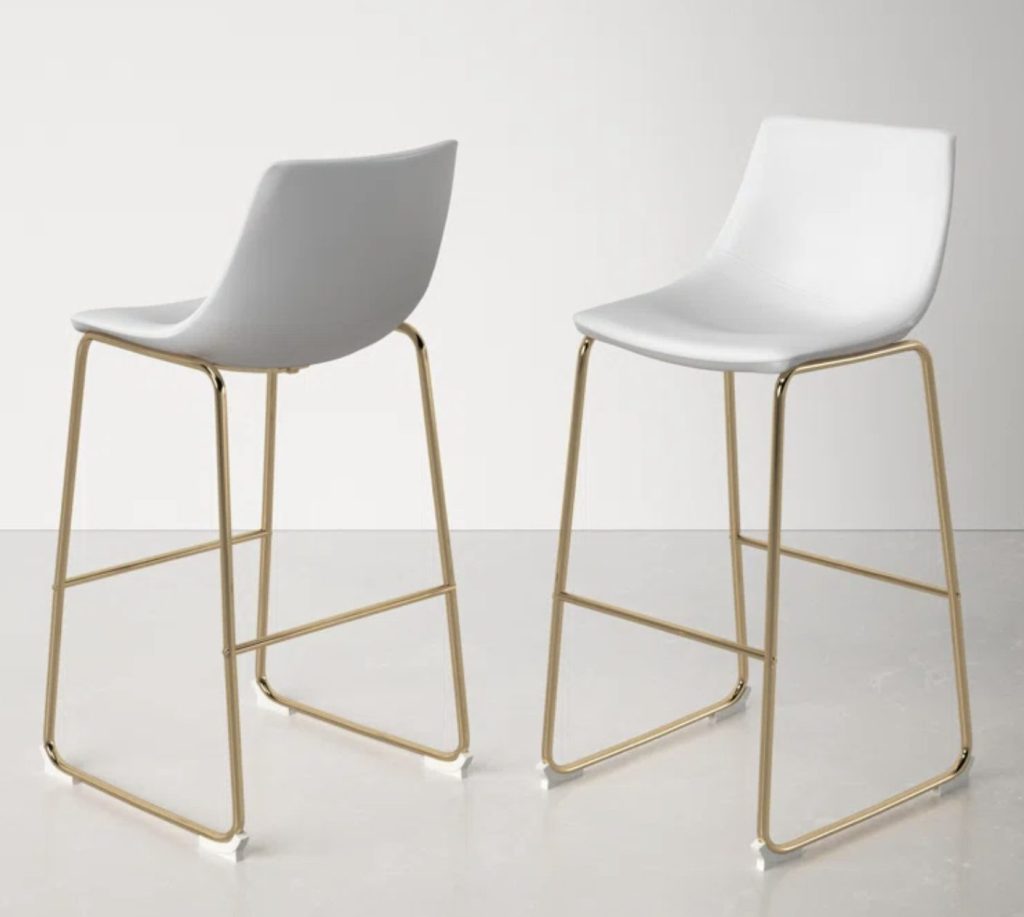 The Nia Bar & Counter Stool is an ideal choice for anyone who loves bold glam and a streamlined aesthetic. These stools come in sets of two and feature a beautiful brass base for a welcomed pop of luxury. The faux leather upholstered seats are completely vegan and cruelty free. 
10. White Metal Bar Stools
The Jordan Counter & Bar Stool is a great choice for anyone who can't help but daydream about mid-century modern design. This set of stools boast a stunning base that boasts an "eiffel tower" silhouette. The scooped seats are ergonomic and designed to keep you supported for long cocktail hours and conversations with friends. 
11. White Swivel Bar Stools With Backs
If you're a lover of more modern and minimal design—the Ross Swivel Counter and Bar Stools could be the perfect set for you. These stools swivel a full 180 degrees to make it easier for you to get in and out, and a sturdy footrest to help you stay comfortable for longer. These stools are made from completely vegan leather that is both stylish and cruelty free. 
12. White Wood Bar Stools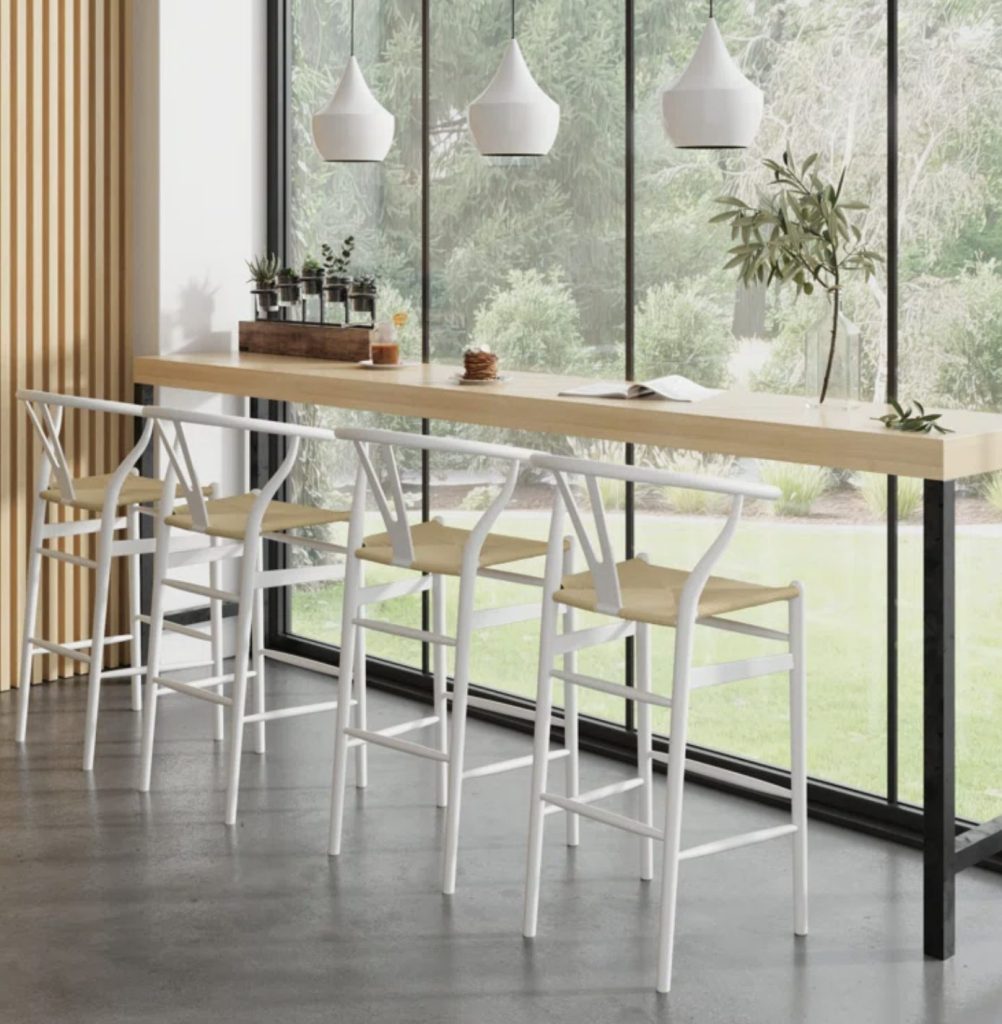 For those who crave a bit more natural texture and color—the Etta Solid Wood Bar & Counter Stools feature a gorgeous woven wicker seat that perfectly compliments the solid ashwood frame. These stools are inspired by the openness and natural beauty of Scandinavian design and are the perfect complement to any bright and airy design. 
13. White Bar Stools with Backs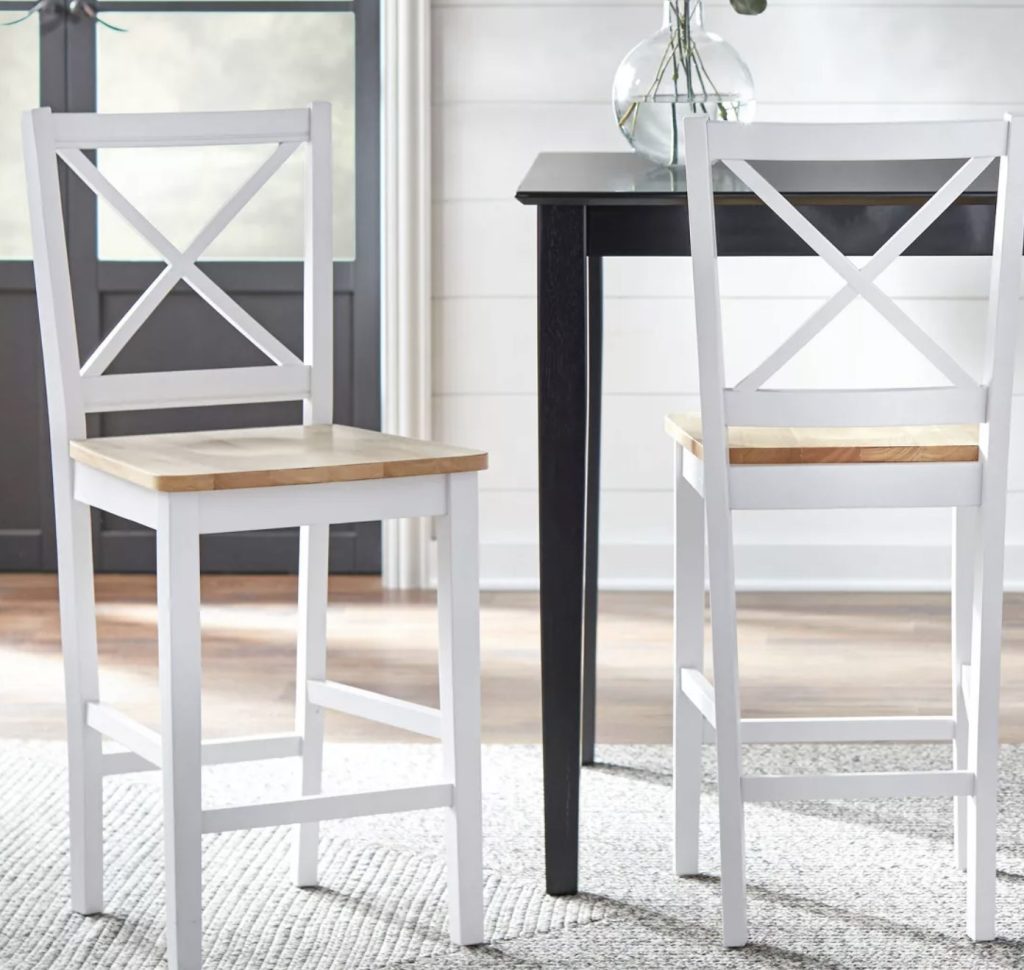 If you're looking for the perfect compliment to a modern farmhouse kitchen, the Virginia Cross Back Chairs are a stunning choice. The natural color and texture of the seat is the perfect complement to the crisp white of the frame, and the footrests provide a very welcomed place to kick your feet up. The Virginia stools come in sets of two and can even be purchased in black and a deep espresso brown.
14. Germain Bar & Counter Stool
If you love an upscale and understated design—you'll love the Germain Bar & Counter Stool. This design is wrapped head to toe in a high quality genuine leather and features a polished metal support that gives this stool an extra pop. The low backs help keep your sightlines open when not in use. 
15. Viola Armless Counter Stool
Looking for a timeless design with an elegant and modern flair? The Viola Armless Counter Stool is a gorgeous pairing of textures and materials that work together to create a classically beautiful piece. It's hand crafted from solid oak and topped with a plush cushion made with performance fabric. The Viola Stool is contract grade—so you know it's built to last. 
16. Michael Amini Stool
The Michael Amini Stool is perfect for those who love contemporary design and the crispness of a minimalist design. This stool is made from a high quality and easy to clean white vinyl that pairs beautifully against the stainless steel base. The Michael Amani stool is 32.5 inches tall which makes it an ideal counter height design.
17. Ultis Design
Looking for ways to bring more clean and modern geometry into your space? The Ultis Design Stool features a gorgeous and subtle geometric silhouette that works to bring structure and interest to your bar area.  The gorgeous heathered fabric works with the deep wood grained base to bring plenty of texture and intrigue to any space—without overwhelming.
18. White and Gold Bar Stools
The Xenia Bar Stool is the epitome of bold, sleek, and gracefully feminine design. The white velvet fabric creates the perfect contrast to the golden angular frame. This stool stands 31 inches tall and makes the perfect companion to any chic bar space. 
19. Kody Bar & Counter Stool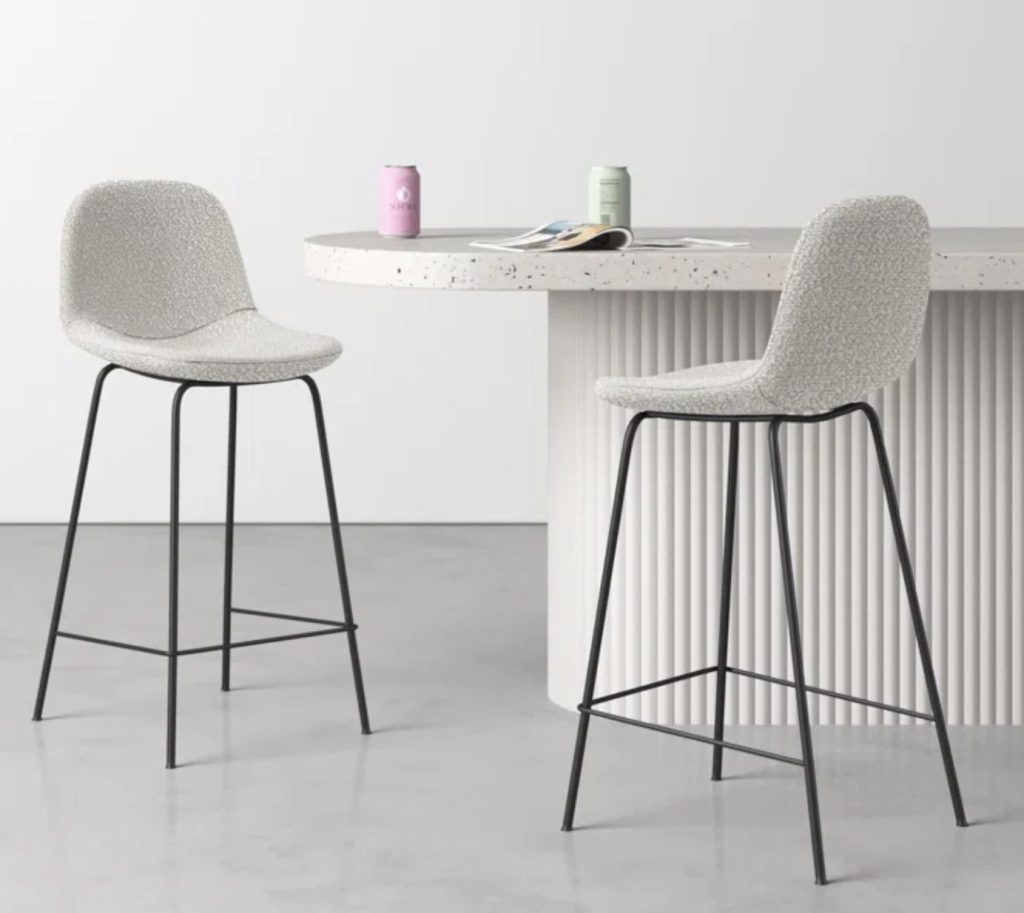 The Kody Bar & Counter Stools are a set of two chairs that feature a perfectly scooped bucket seat for maximum comfort, and a sleek and dainty powder coated metal frame. The seat is wrapped in a padded velvet that works to both keep you comfortable, but also elevate your design. These stools come in a wide array of different colors for those who crave a slightly bolder vibe.
20. Carey Counter Height Barstool
The Carey Counter Height Barstool is an ideal design for those who crave an elevated and sophisticated farmhouse aesthetic. This stool features a criss cross back design, and even a foot to give you plenty of stability while you're visiting with family and friends. These chairs are made from solid hardwood and finished with polished and smooth lacquer
21. Range Bar & Counter Stools
The Range Bar & Counter Stools are perfect for those looking for a design that will stand the test of time. These classic sled backed seats are padded and cushioned to give you the maximum amount of comfort so you can sit and visit for longer. This set is contract grade so you know it is built to last.
22. Gymax Stools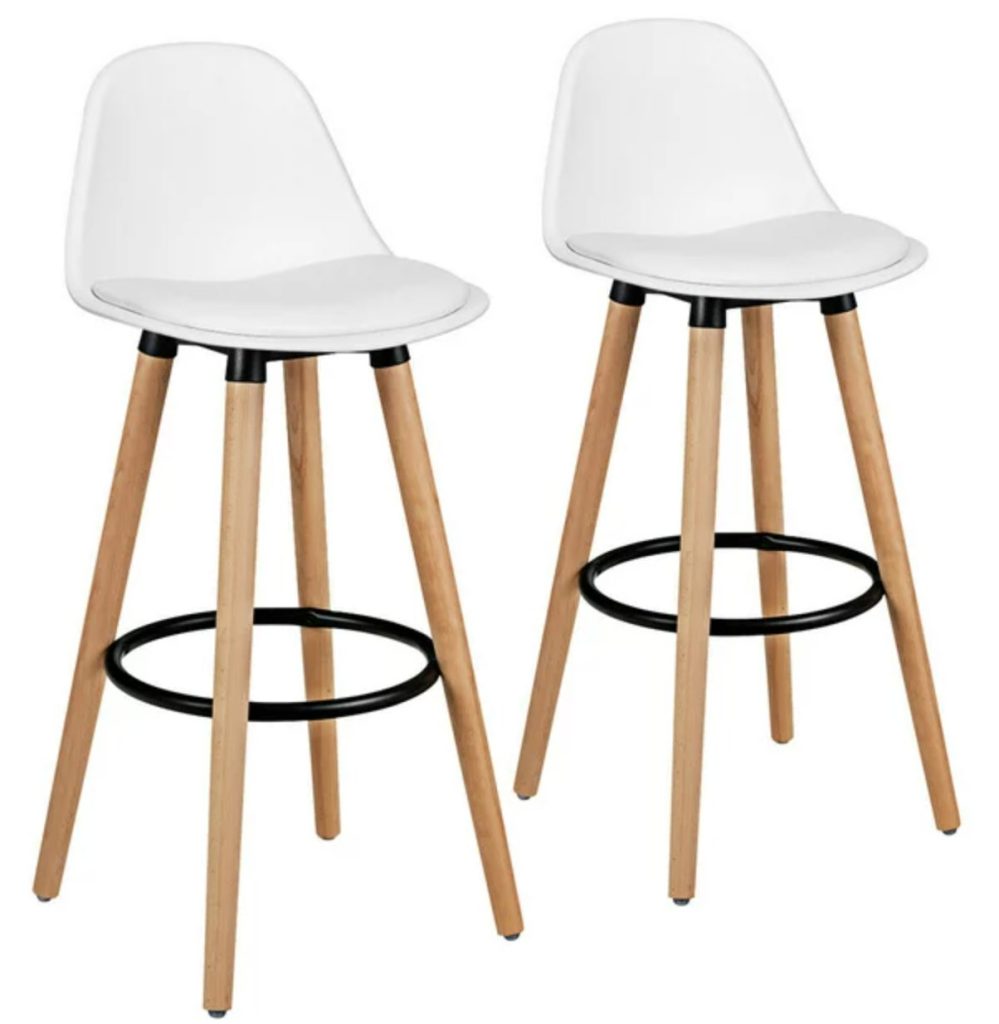 The Gymax Stools feature a playful and modern design that is perfect for small spaces. The tapered legs are crafted from hardwood and feature deep wood grain, and the white scooped back seat features a padded cushion to keep you comfortable. These stool are 28.5 inches tall and a perfect counter height design. 
23. White Modern Bar Stools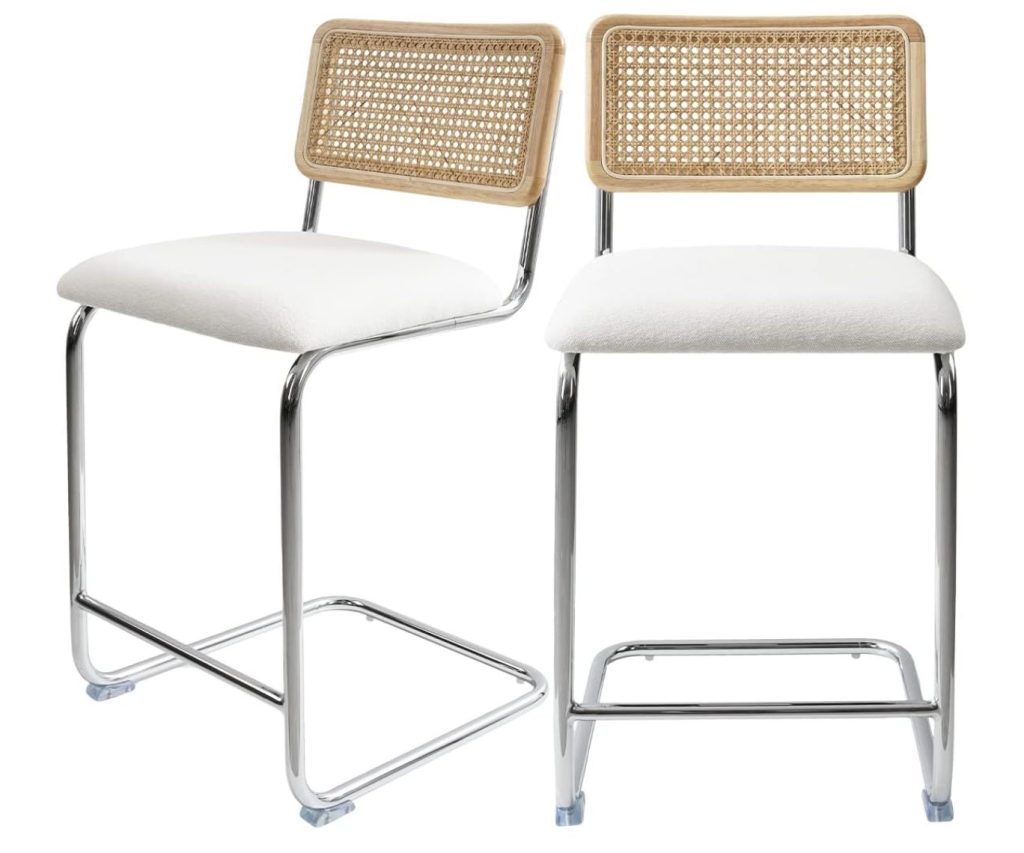 If you're looking for a gorgeous and streamlined stool to add texture to your space, you'll love the Modern Counter Height Bar Stools. These chairs sit on a sturdy metal base and feature a gorgeous wood and cane backrest that brings a much needed warmth and textural intrigue to the design. The padded boucle cushion is both comfortable and stylish. 
24. White Bar Stools Set of 2
Are you in the market for a pair of elegant bar stools that won't break the bank? The Farini Counter Height Bar Stools are rich with details that will make you and your guest swoon with their supple faux leather padded cushions, sleek seamless frame and bronze accents. They're ideal for those craving luxury on a budget.
25. White Bar Stools Set of 4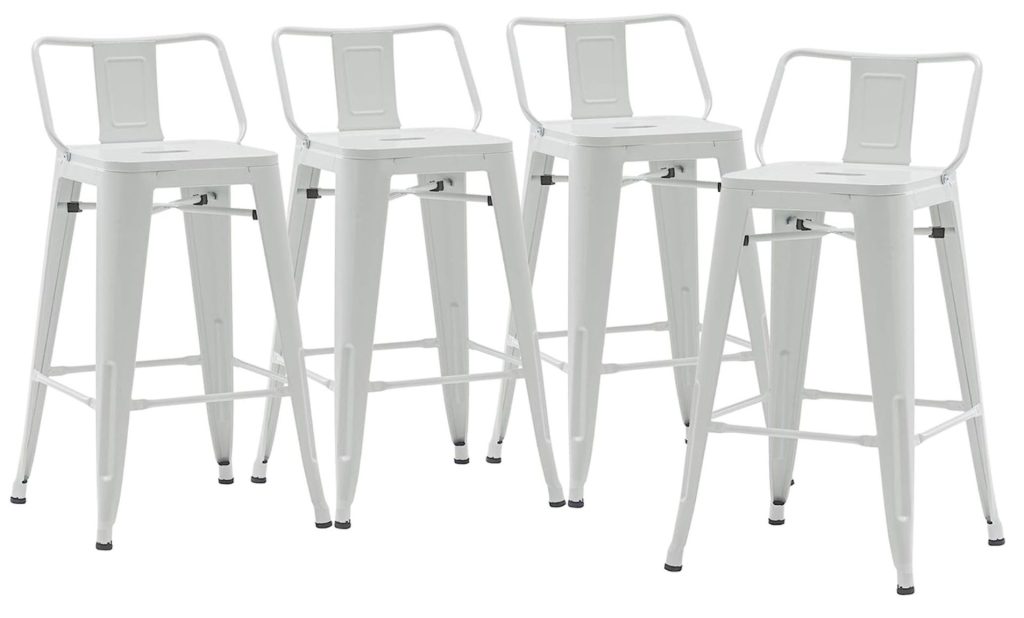 The Yongqiang Barstools feature a playful modern silhouette that can be used for both indoor and outdoor space. Each of the backrests are detachable, so you can quickly turn these into the perfect backless stools and open up any space. They're crafted from a sturdy steel, so you won't have to worry about them holding up to rigorous use. 
26. White Bar Stools set of 3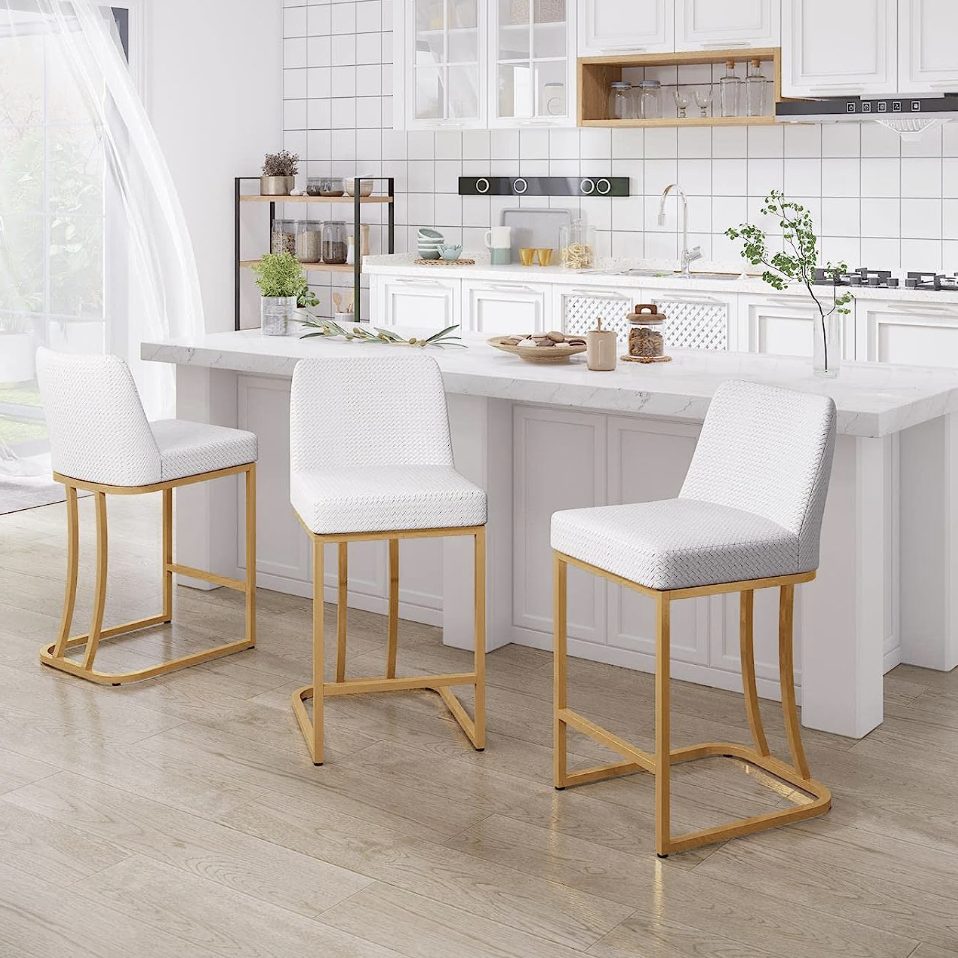 If you're looking for an exciting way to spruce up your space, the Sophia & William Stools could be a great addition to your bar area. This set of three barstools sits on a fun and geometric frame that is coated in a deep gold finishing. The padded seats are overstuffed for a supported and comfortable experience. This design is the perfect compliment to a chic and modern space. 
27. AC Pacific Stool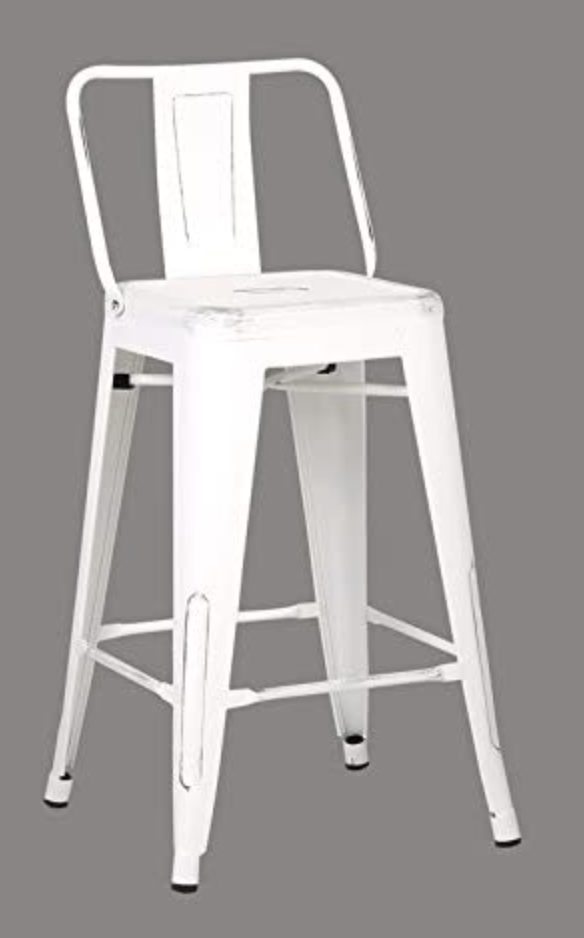 If you're looking for the ultimate versatile design for entertaining—look no further than the AC Pacific Stools. These chairs are crafted from a sturdy metal frame and even have detachable backrests so you can use them for a multitude of different purposes. They are built to withstand the demands of both indoor and outdoor spaces. 
28. Maison Arts Stools
If you need a stool that won't obstruct your sightline, the Maison Arts Stools are the perfect backless design to help keep your space open. These stunning stools sit on a rectangular base that features crisp and refreshing lines. The cushions are extra padded to keep you sitting comfortably for longer. 
29. ARTETHYS Modern Swivel Chair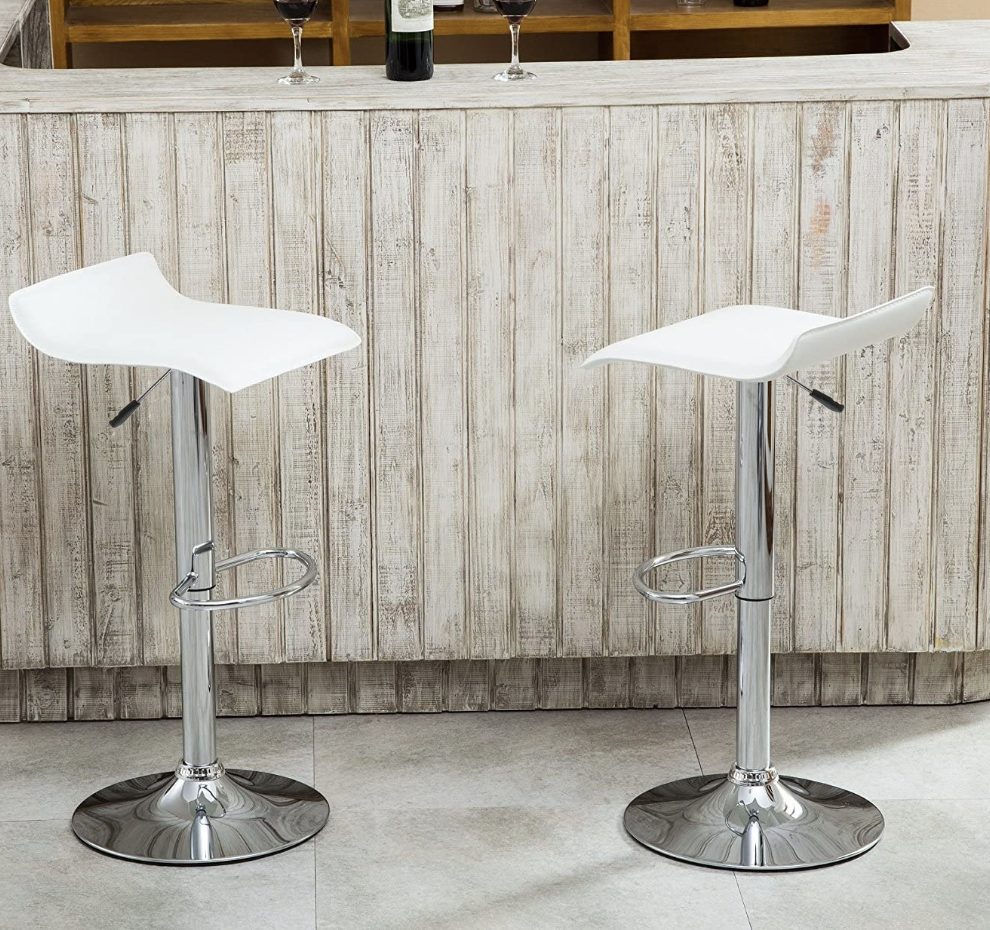 The ARTETHYS Modern Swivel Chairs are the perfect addition to a playful and modern bar area. These stools swivel 360 degrees and can raise and lower like classic barber stools. The swoop stool design helps keep you planted, and the footrest helps to keep you stable. These could be the perfect addition to a kitchen, home bar area, or vanity space. 
30. Dessau Leather Counter & Bar Stool
If you're looking for a design that is modern, clean and elegant, the Dessau Leather Counter & Bar Stools are an ideal choice. The polished metal frame comes powder coated in black, but can also be finished in an array of other stunning metals like gold, brass, and silver. The padded cushion and backrest boast a gorgeous genuine leather finish that truly helps to elevate any space. 
Final Thoughts
Finding the right bar stools can really make or break any dining or bar area in your home. We hope you've found the perfect crisp white barstools to perfectly complement your space and provide the perfect area to dine, chat, and relax for years to come.